Sometimes it's hard to see the woods for the trees. Or should that be gyro for the tzatziki. Feel free to insert your own edible idiom, then proceed onto this most mammoth of lists. Essentially a rough recap of the better plates of food that were placed before my greasy mitts in 2022.
Stuck in a rut? Looking for dining inspiration? Feel like you've missed some of our essential coverage? Please then, dig into the following one hundred and one small bites. If this isn't a smorgasbord I don't know what is.
101 – Twisted Tiramisu
Tiramisu
Banana cream and salted caramel, Boston cream pie, Thai tea – just three of the myriad flavor creations that you can have delivered to your door in tiramisu format. Since fizzing into life in 2021 Twisted can now be found in several stores around town now as well.
100 – Crack Shack
Fried chicken
99 – Crack Shack
Coup de ville sandwich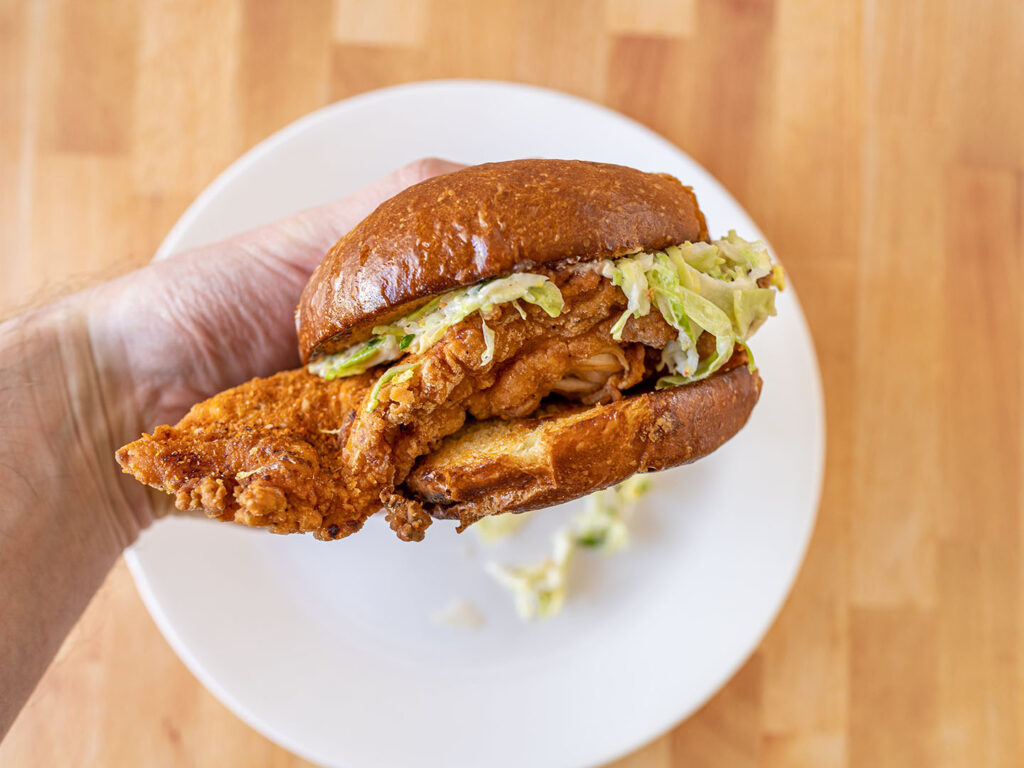 Winging its way from Southern California is this chain that's worth your time. Originally co-founded by molecular-maestro Richard Blais, Crack Shack famously rely on Jidori chicken; high quality, organic and free range. This is used to power a myriad menu of fried chicken and sandwiches.
98 – Tacos Garay
Family pack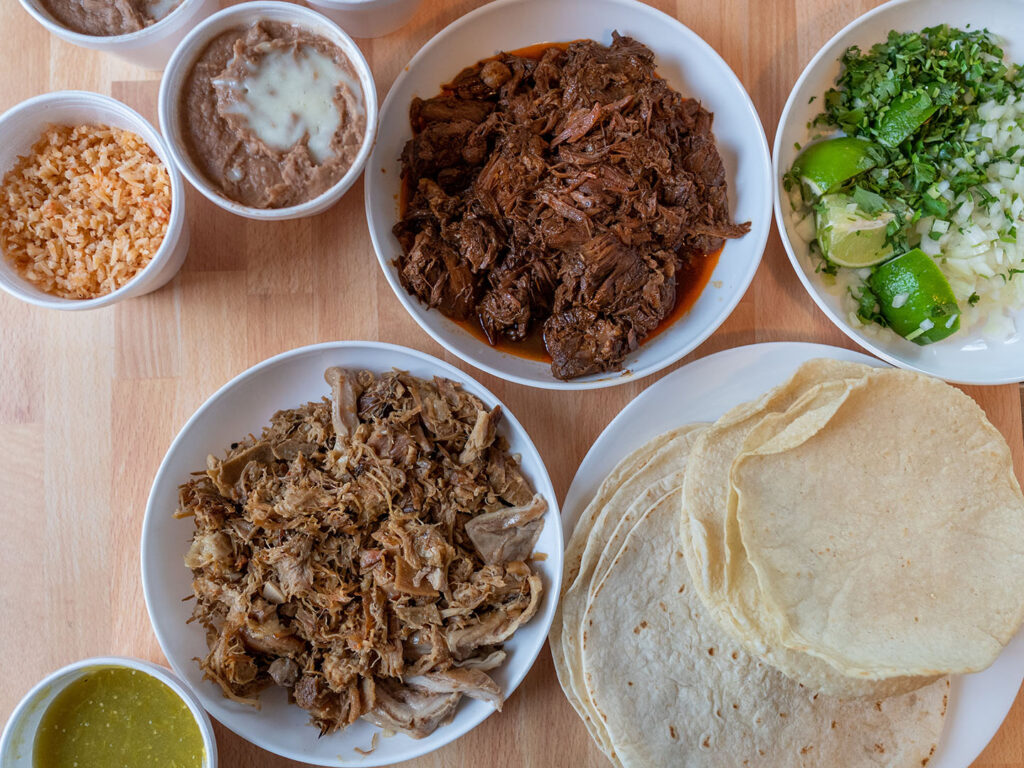 The pictured bounty? At the time it cost me roughly fifty bucks. That relative pittance secured a pound of barbacoa, a pound of carnitas, three dozen-ish tortilla, rice, beans, salsa and toppings galore. The Granary District Mexican eatery sits just over the road from T.F Brewing. What I can neither confirm nor deny is that I ate the lot myself. I'm taking that information to the grave.
97 – Chettinad House
Seekh kebab and kadai chicken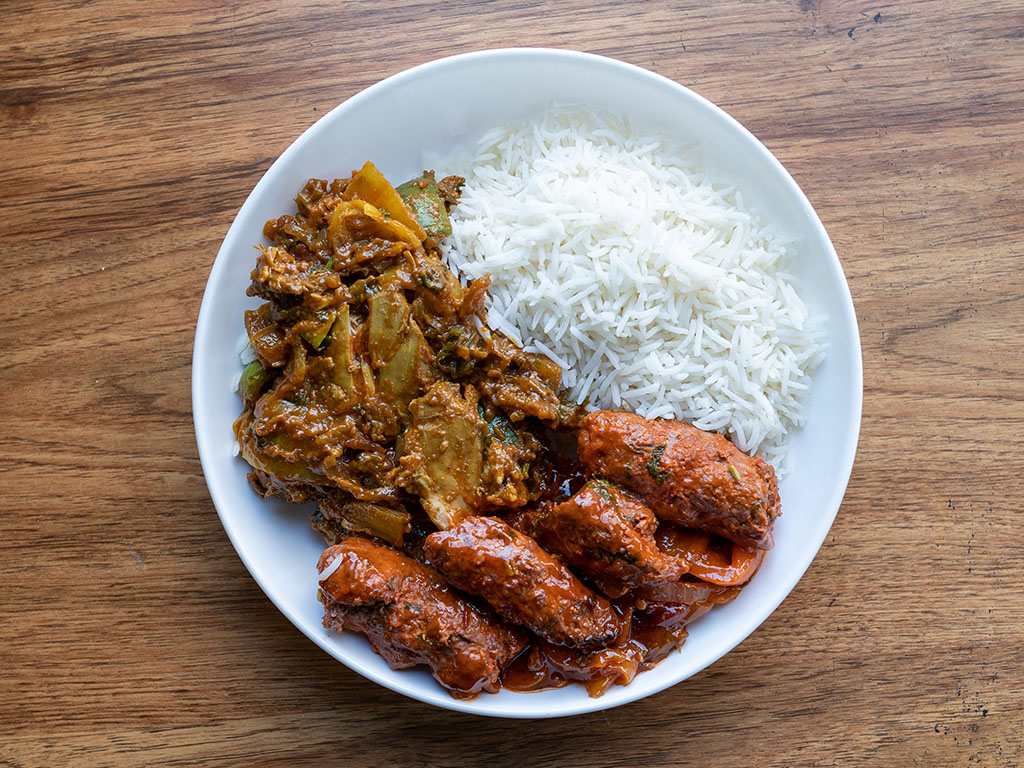 96 – Chettinad House
Biryani and chicken tikka
Chettinad moved into the historic digs of the century-long lived Lamb's Grill. They brought another great Indian option to downtown SLC, and one I've been back to time and again. Their biryani and kadai chcicken in particular are strong dishes.
95 – Golden Gyros
Gyro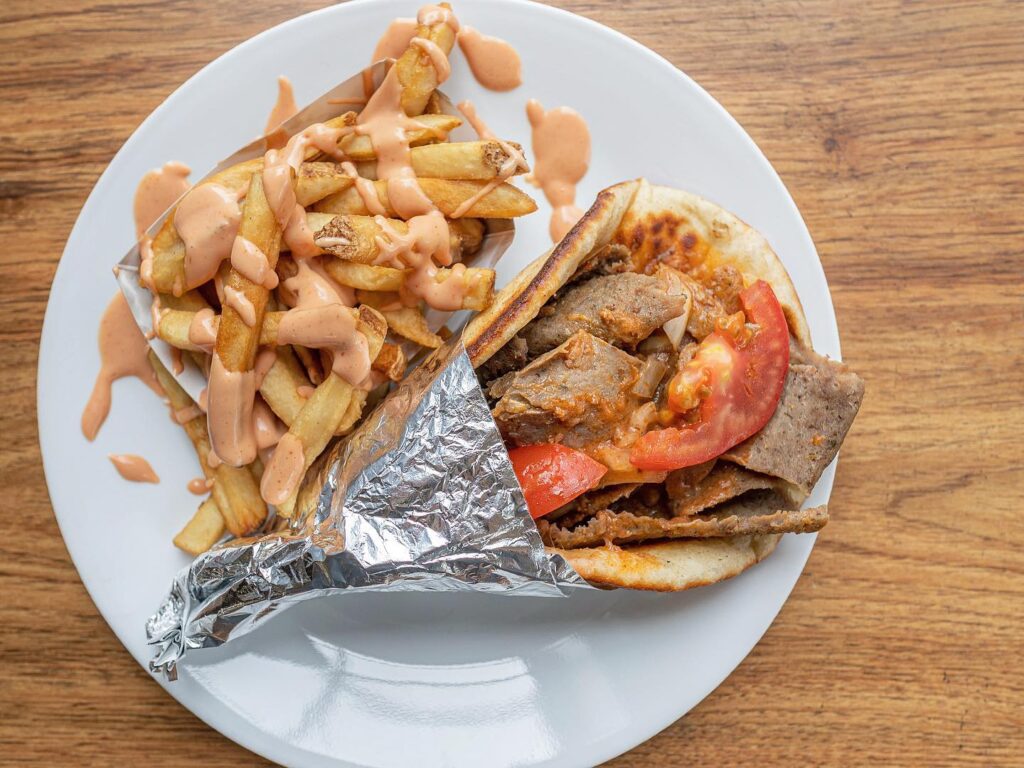 94 – Golden Gyros
BLT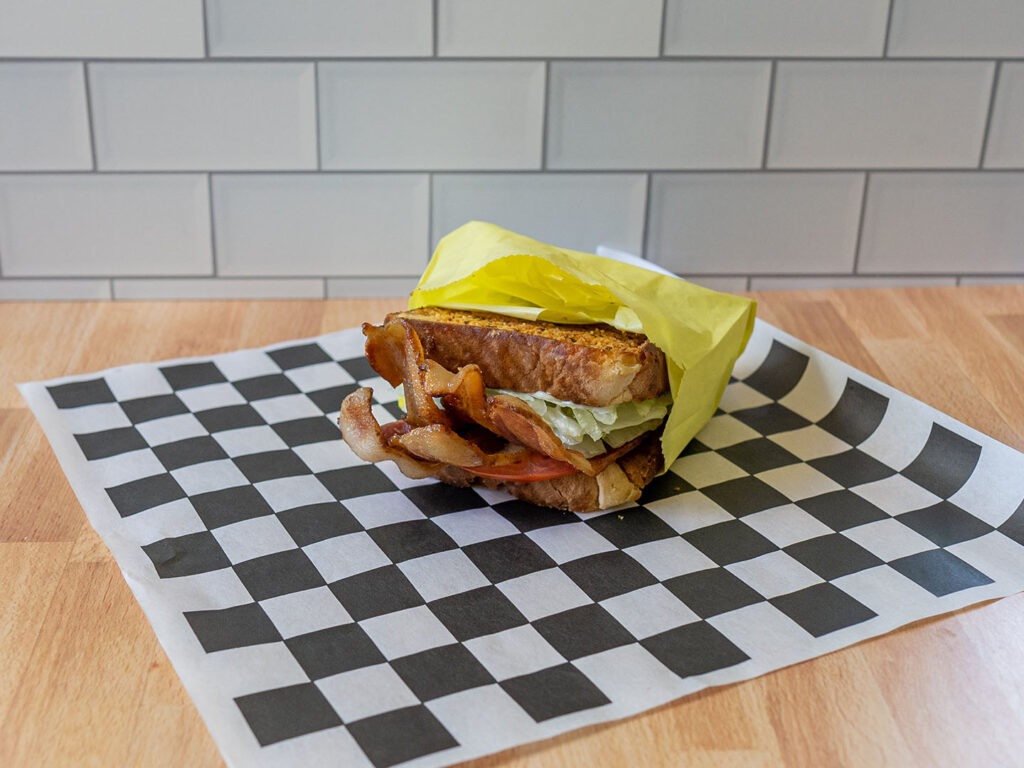 This might be my goto for a solidly reliably gyro right now (ask me in person about the litany of damp squibs I've tried over the past twelve months, some from supposed big names). Available with red, white or both sauces, the gyro is one of the most densely stacked I know of. And when you want a gyro, you want MEAT. Also notable at Golden Gyros is the BLT, a hangover savior constructed with big thick slices of greasy Texas toast, all crisp and caloried. The wallet friendly prices are icing on the cake.
93 – Copper Common
Radicchio salad
92 – Copper Common
Nduja and mussels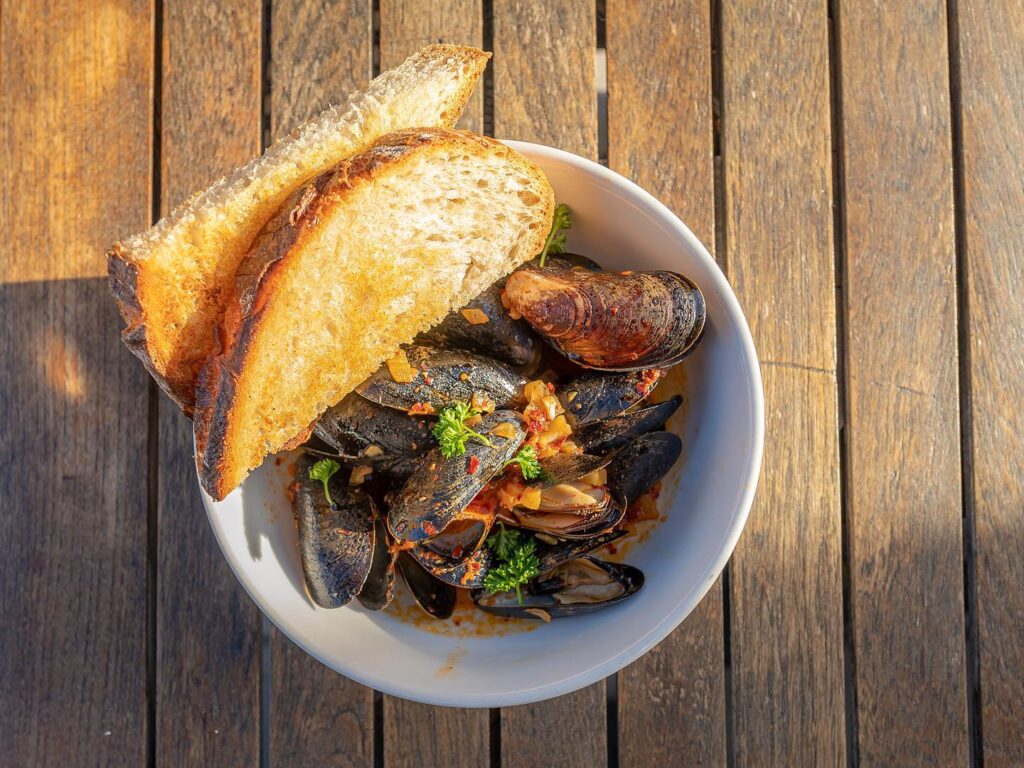 This 21+ only bar has seen me returning time and time again over the last year. So much so I wondered if they might suspect me of casing the joint. Since their reboot about a year ago, Ryan Lowder's idiosyncratic nod to a former life in NYC features an ever rotating menu of small plates, some of the best craft cocktails in the city, and a trendy all natural wine list.
91 – Feldman's Deli
Roast beef sandwich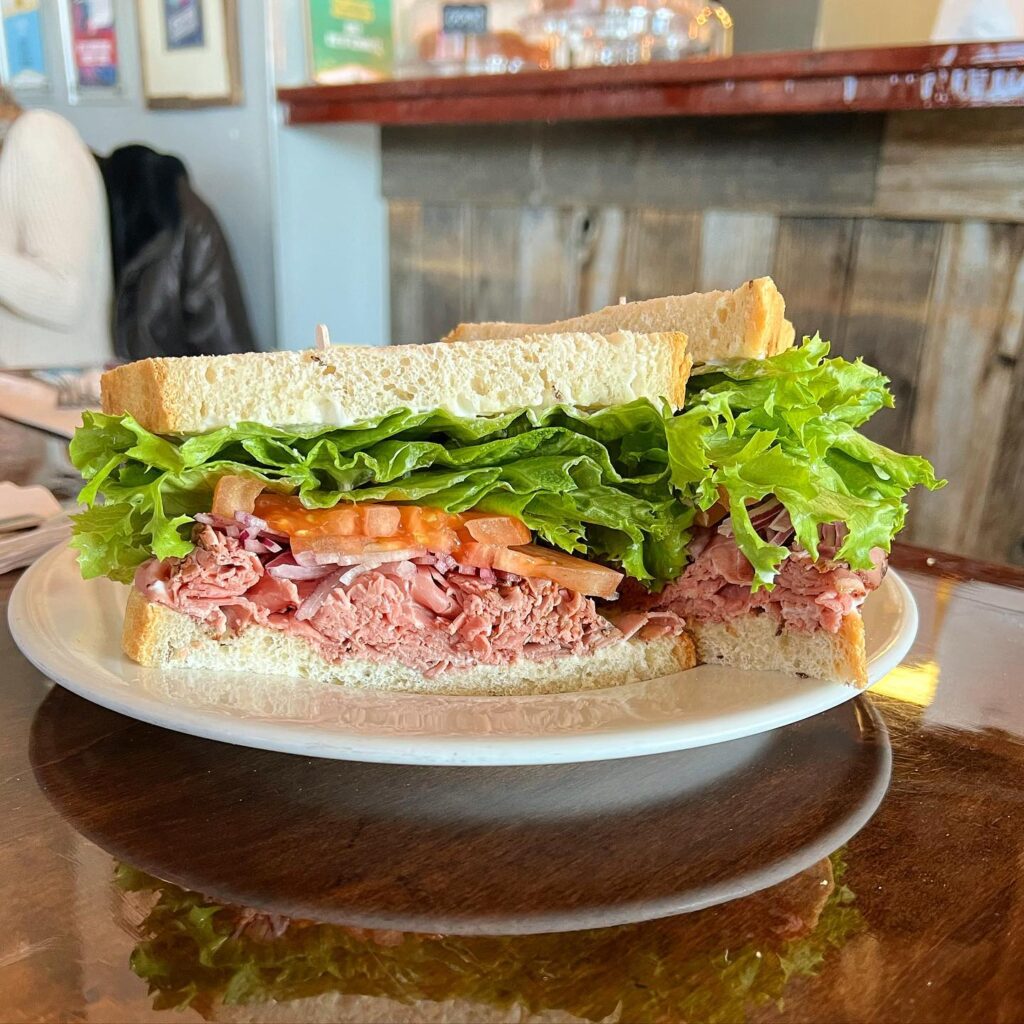 An oldie, but a goldie. In 2022 I dared to venture outside the sensual charms of Feldman's pastrami and went with a more sedate roast beef cold cut. For a moment existential panic gripped me. What had I done. Best roast beef I've had in as long as I can remember. Best decision I made that week.
90 – Sasa Kitchen
Popcorn chicken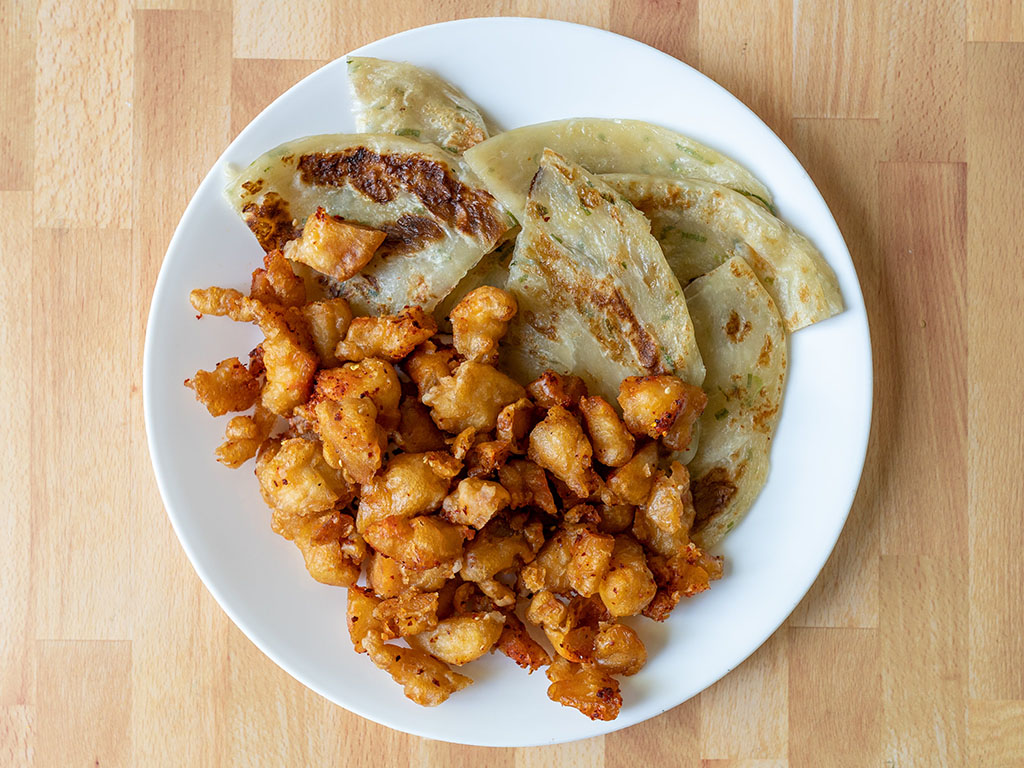 Over on the East benches you will find this fine Chinese spot. Sasa's Popcorn chicken makes for a safer bet for those that might not crave the rocket fuel fire of their Sichuan spiked dishes.
89 – Gurkha's
Chicken tikka fried biryani
You'll need to employ some effort yourself to achieve this one – but first you will need to enjoy a meal at Gurkha's. This plate was the resulting amalgamation of leftover biryani and a few chunks of tandoor roasted chicken. Into the pan they went with some extra onion, quickly scrambled egg and a flurry of fenugreek leaves. The result was a fried rice that rocked my socks right off into my raita.
88 – Sara Thai Kitchen
Khao man kai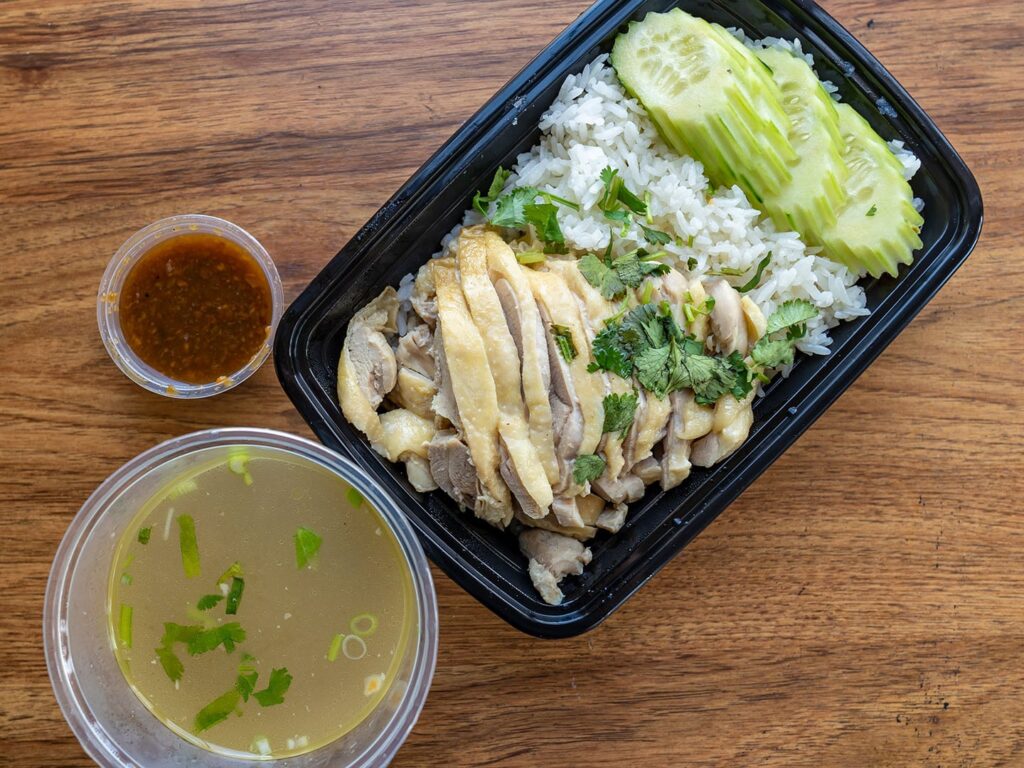 87 – Sara Thai Kitchen
Thai sausage
Sara Thai landed on our streets out of Vegas. The family behind Sara moved to Utah for some well earned rest after a fast paced three decade stint in Sin City. The standout dish for me was the khao man kai – a Thai take on Hainanese chicken. Skin on chicken is poached and served over jasmine rice. A side of garlic/ginger sauce adds a little more intrigue to a dish that's delicately light and energizing.
86 – IndieGo Coffee
Chicken tikka pastry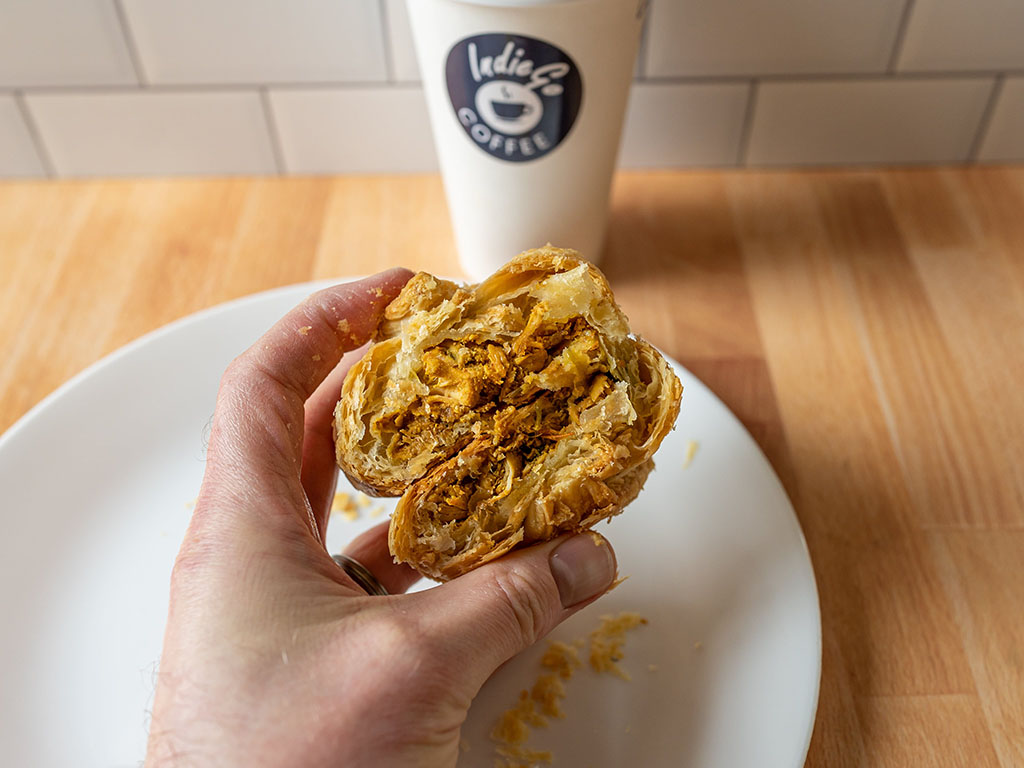 Over in South Salt Lake you will find this cozy coffee spot that eschews the usual blueberry muffins. Instead of the day old Costco cast offs you will find a range of hand held savory pastries infused with Indian flair – all made in house. The buttery and flaky chicken tikka is my pick of the bunch at IndieGo.
85 – Neutral Ground Lounge
Jambalaya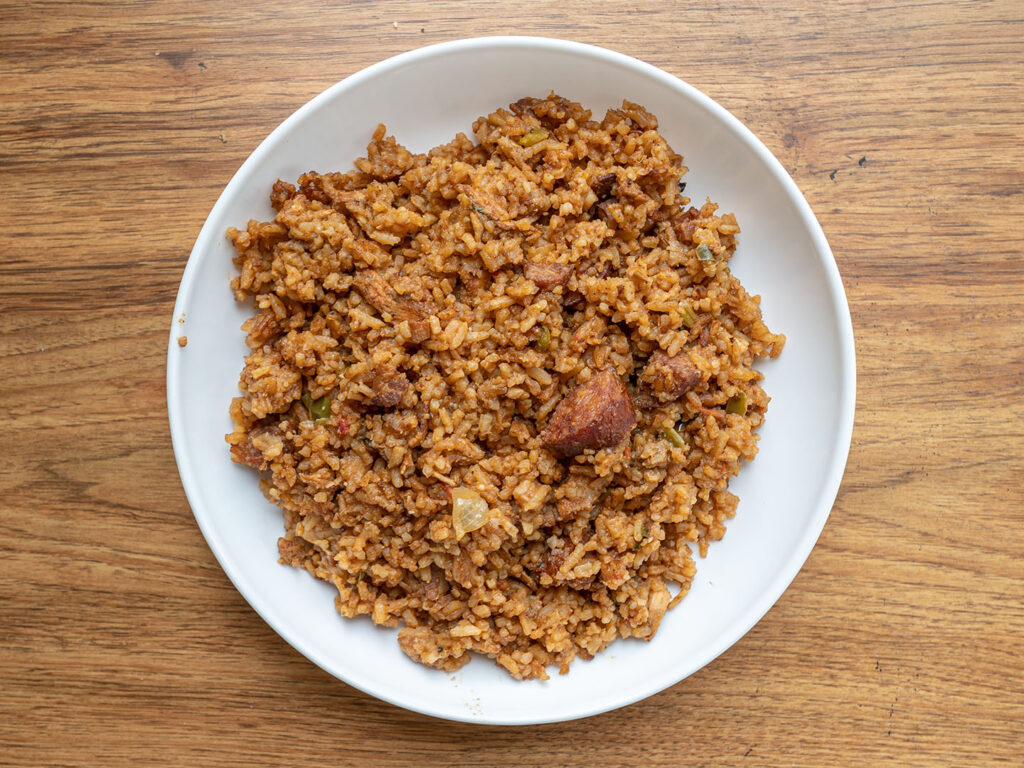 Since I snagged this robust rice dish at the start of last year, I believe the chef has moved on; the restaurant itself though has grown and evolved. While I haven't been back to Neutral Ground since, the jambalaya I enjoyed way back when was replete with that deep, deep flavor that only long studied technique achieves.
84 – Flanker Kitchen
Spicy tuna bites
83 – Flanker Kitchen
Wings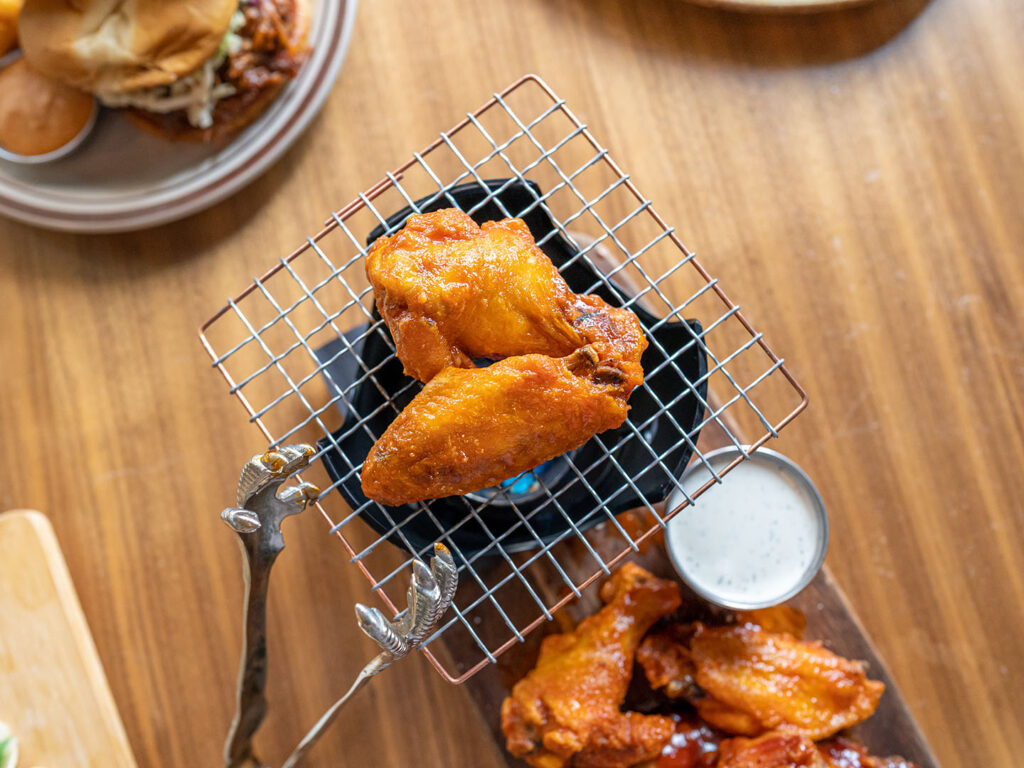 82 – Flanker Kitchen
The big tacowski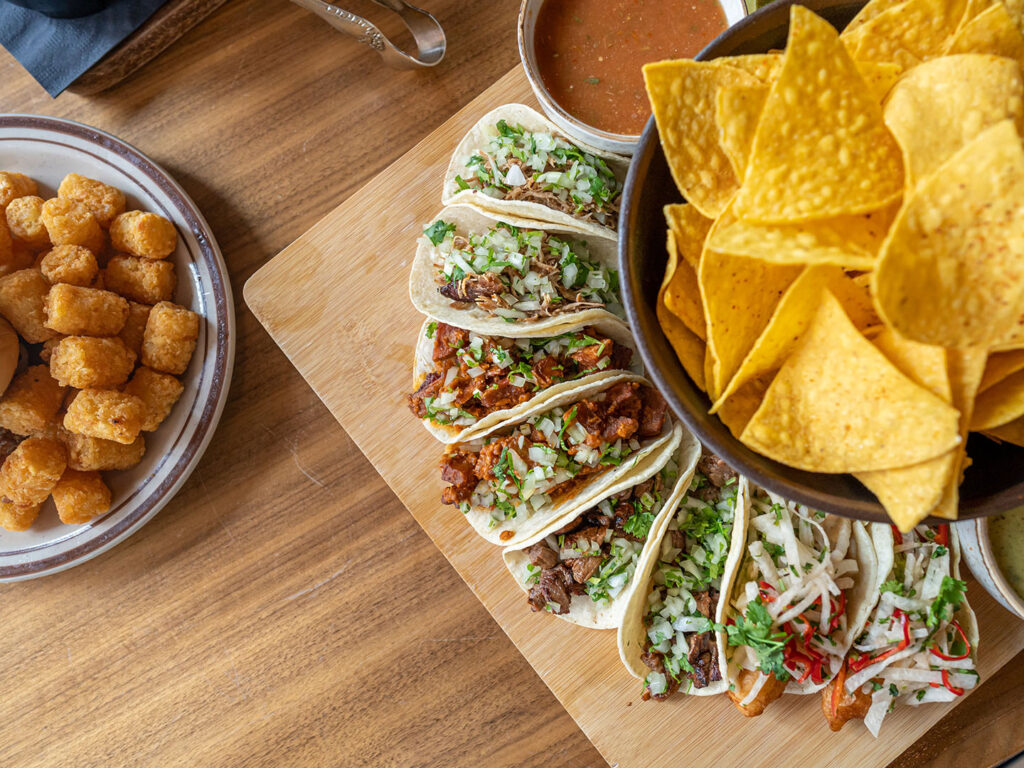 SLC's Flanker was the first spot for the national rollout of a brand everyone will become more and more familiar with. Arizona just turned the lights on, while a spot inside the Mandalay Bay (on the walk to the Raider's stadium) will open this Summer. More will follow. All should build on the Utah template of smart bar food, given a lift from a hands on chef. The spicy tuna bites on crispy rice cakes made for one of the best appetizers I enjoyed last year. They couldn't be more removed from the deep fried jalapeño poppers of your dad's bar. The big tacowski platter is priced better than some standalone taco shops, and the side salsas are sublime.
81 – Crown Burgers
Gyro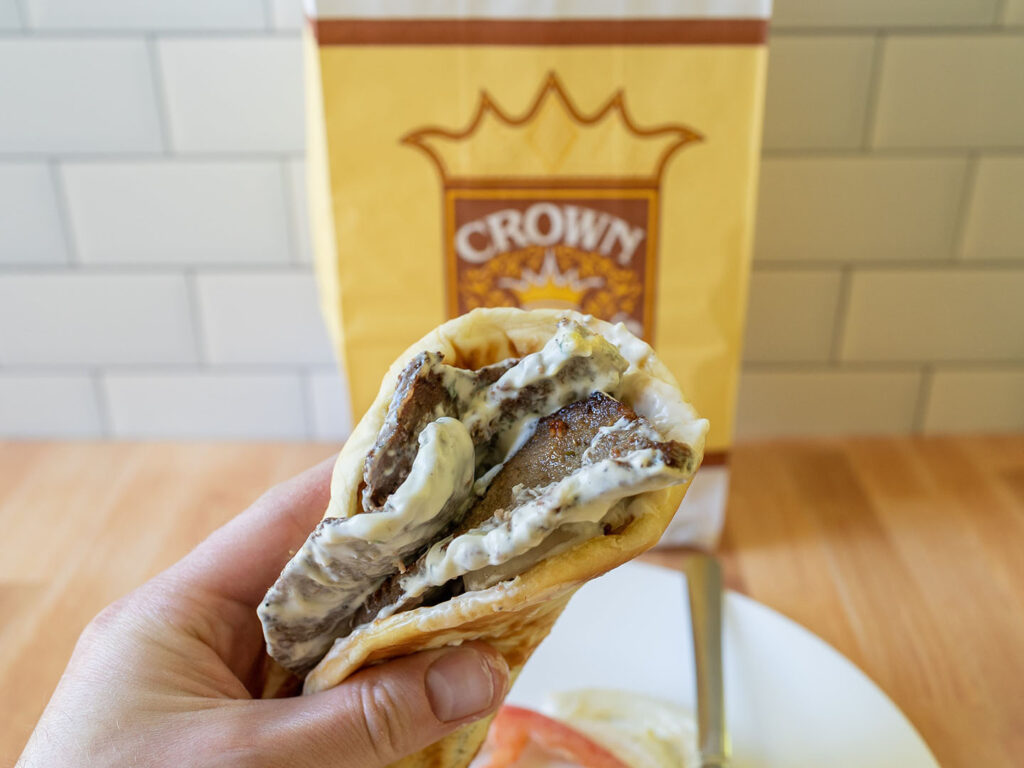 A perennial favorite. Here's a zen koan for you – if you go a full year and don't eat at Crown – can you even call yourself a Utahn? Their gyro is solid and simple without unnecessary fuss. There's no lettuce or arugula here, just meat and sauce wrapped in carbohydrate.
80 – Katrina's Mexican Restaurant & Cantina
Chile Colorado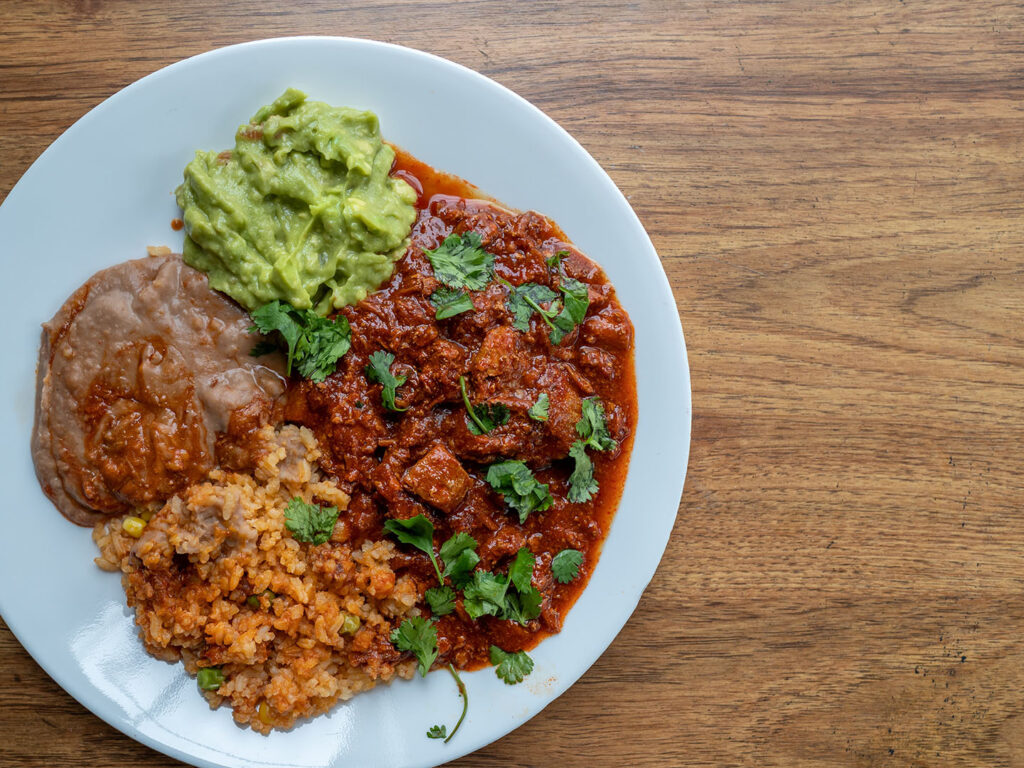 79 – Katrina's Mexican Restaurant & Cantina
Mole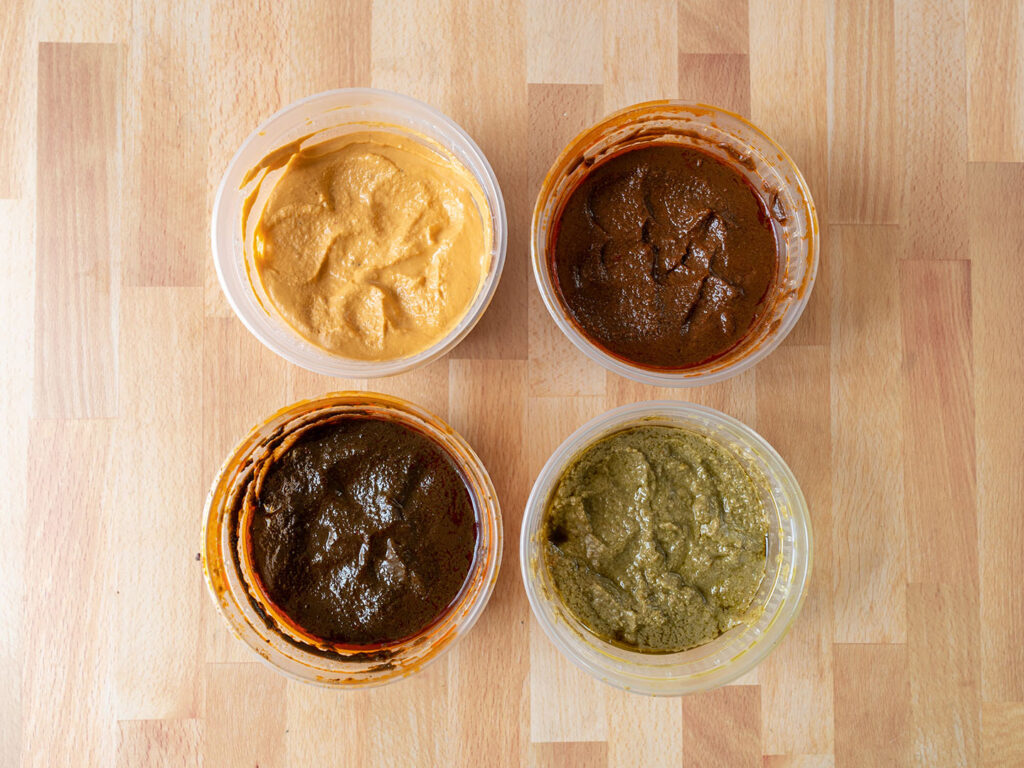 By my estimation, I'd say this Millcreek Mexican spot is still under the relative radar of most folks. I don't see them talked about all that often, nor do they popup on my social media that much. That's a real shame. Katrina's chile Colorado is top tier and their quartet of moles all demonstrably unique and complex. The latter are all available individually too, grab a bunch and then use them in your home cooking all week long.
78 – Grid City
Veggie Bangkok bowls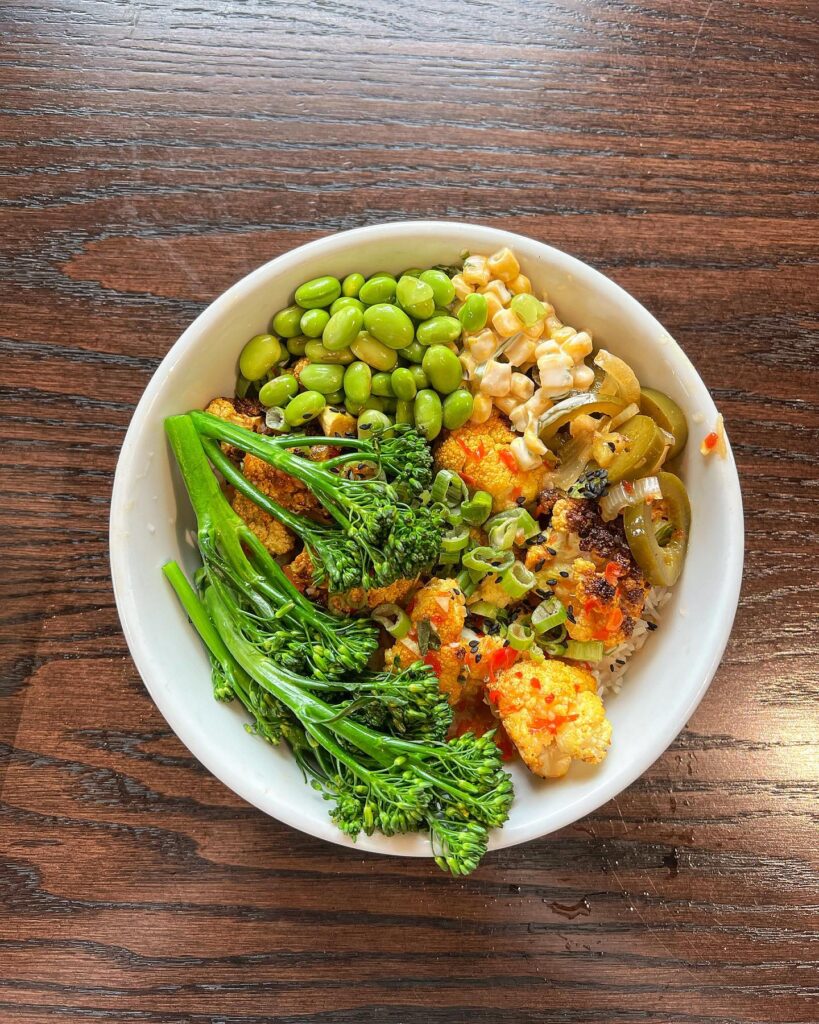 While the menu at this South Salt Lake brew spot is always in flux, there's typically a solid line up of vegan friendly dishes. If you do stop by, their honey cream all (ask for the cask) is a good a taste of an English style beer you can hope to ever taste in Utah. Except of course if a certain brewer is ever allowed to brew Mr Mellings that is.
79 – Sushi Groove
Maki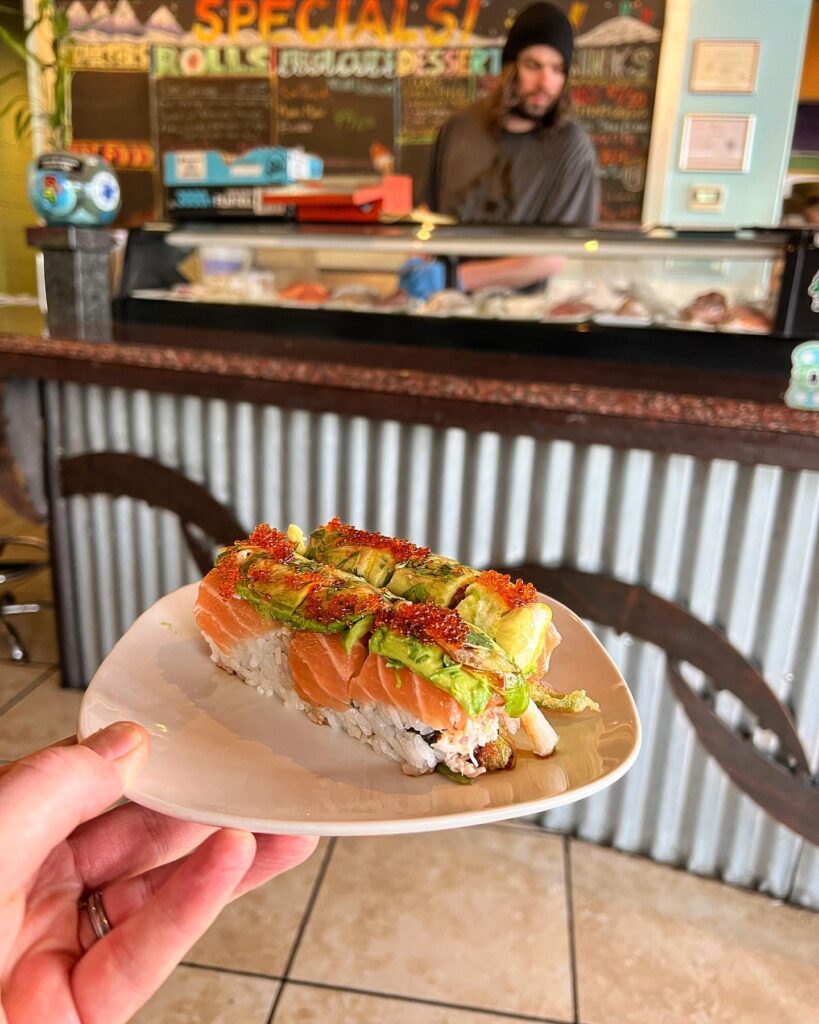 78 – Sushi Groove
Nigiri
77 – Sushi Groove
Cookie challenge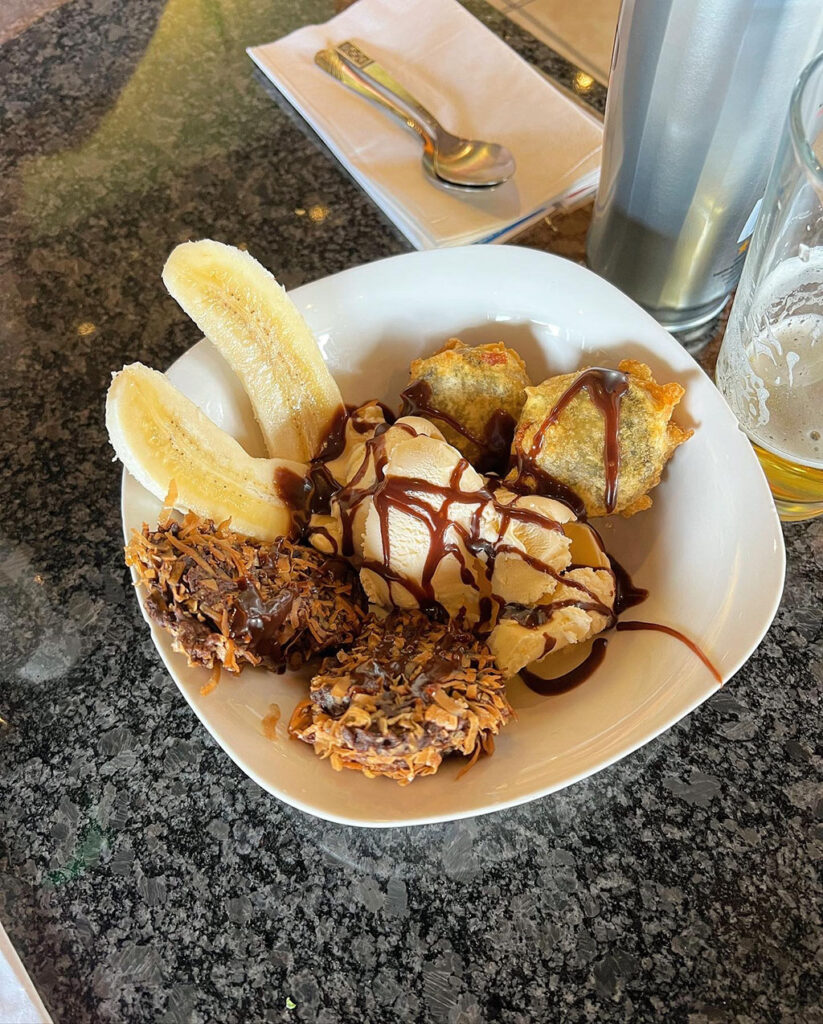 I've been a customer at the 'Groove since day one, which is now more than ten years. The atmosphere is bright and buzzy, and there's always a lively crowd. Swing by on Tuesday's for $2.50 nigiri specials, and don't even think about leaving without sharing the cookie challenge – deep fried Oreos folks.
76 – Caputo's
Muffuletta
I managed to pry myself away from the signature Caputo for the first time last year. I know, I know, I do it for you guys. Instead I went with this Big Easy classic; layers of quality Genoa ham and salami supported by an arresting briny thwack of spicy tapenade. The ciabatta roll means business and doesn't disintegrate into soggy regret. I couldn't pick a favorite, but I can easily say Caputo's are top ten when it comes with sandwiches in Utah.
75 – Kao Thai
Braised short rib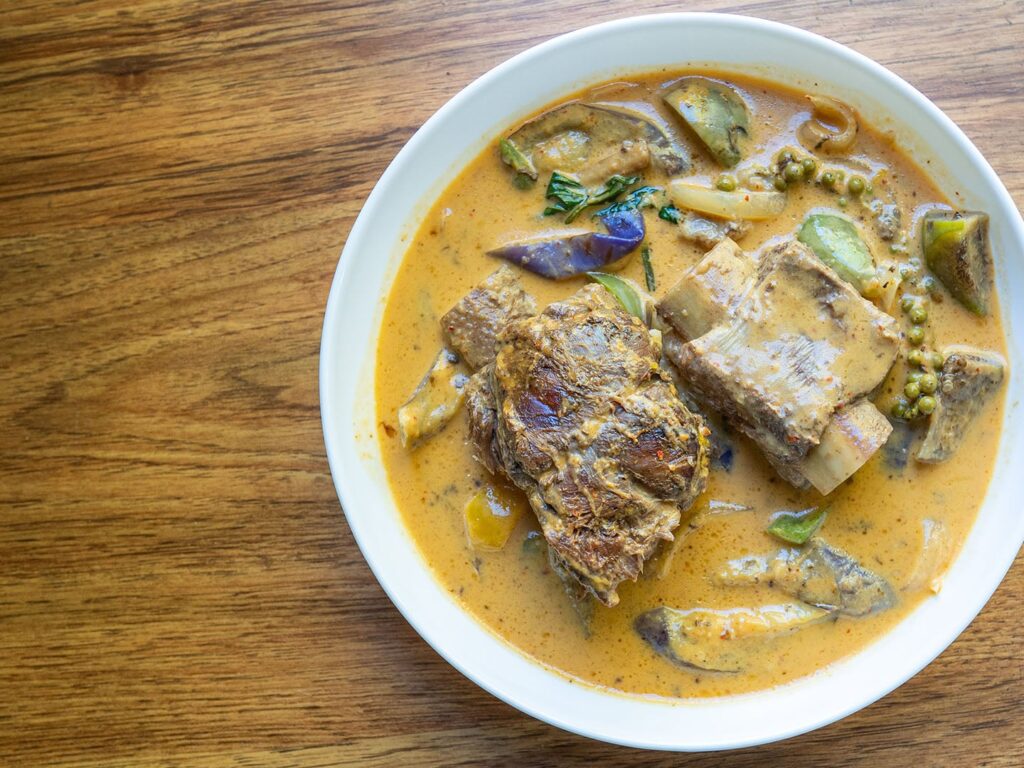 74 – Kao Thai
Basil fried rice
73 – Kao Thai
Penang curry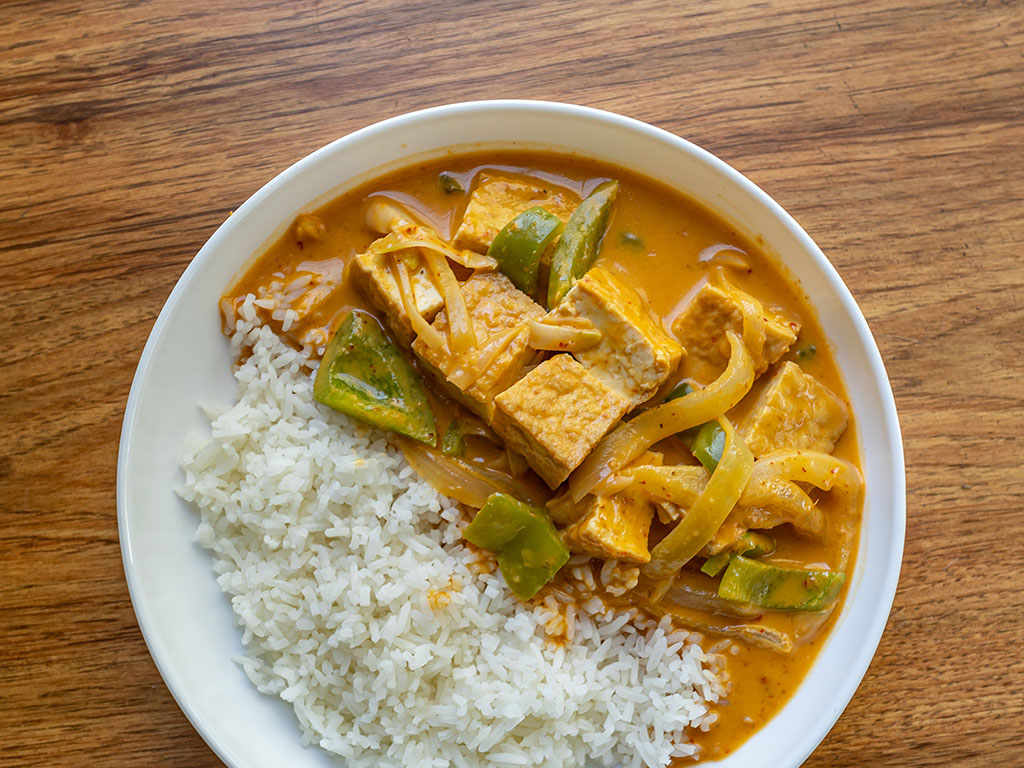 For my money, Kao Thai place in the top three of Thai restaurants in Salt Lake City. That braised rib falls right off the bone and is comfort food heaven. The basil fried rice is up there with the best I've tasted, same for the curries. They float under the radar, they shouldn't.
72 – De Los Muertos – Mexican Restaurant
Chicken mole burrito
71 – De Los Muertos
Carne asada burrito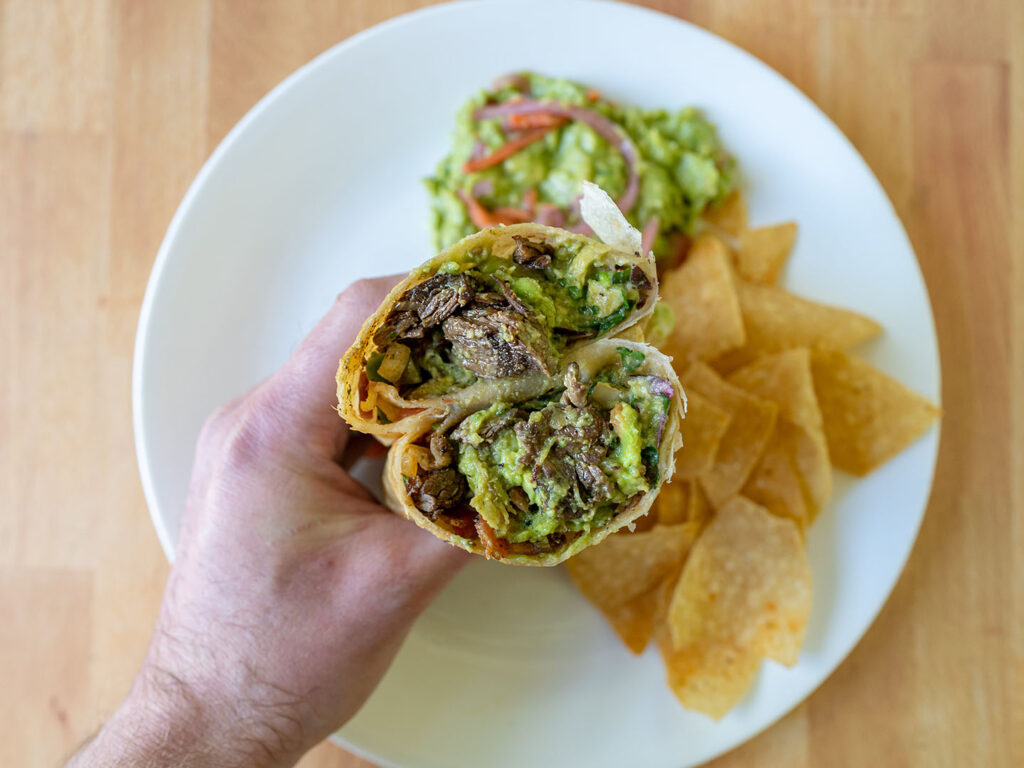 Owned by the team behind Spitz, right across the plaza in Sugar House I believe; the food is just as good, and the space is vivacious and vibrant. The patio out front is probably one of the most slept on al fresco spots, but I can see that changing this Summer. Burritos are the bulk of the De Los menu, and I am quite partial to the shredded chicken topped with thick mole.
70 – Whiskey Street
Crab Louis salad
69 – Whiskey Street
Fries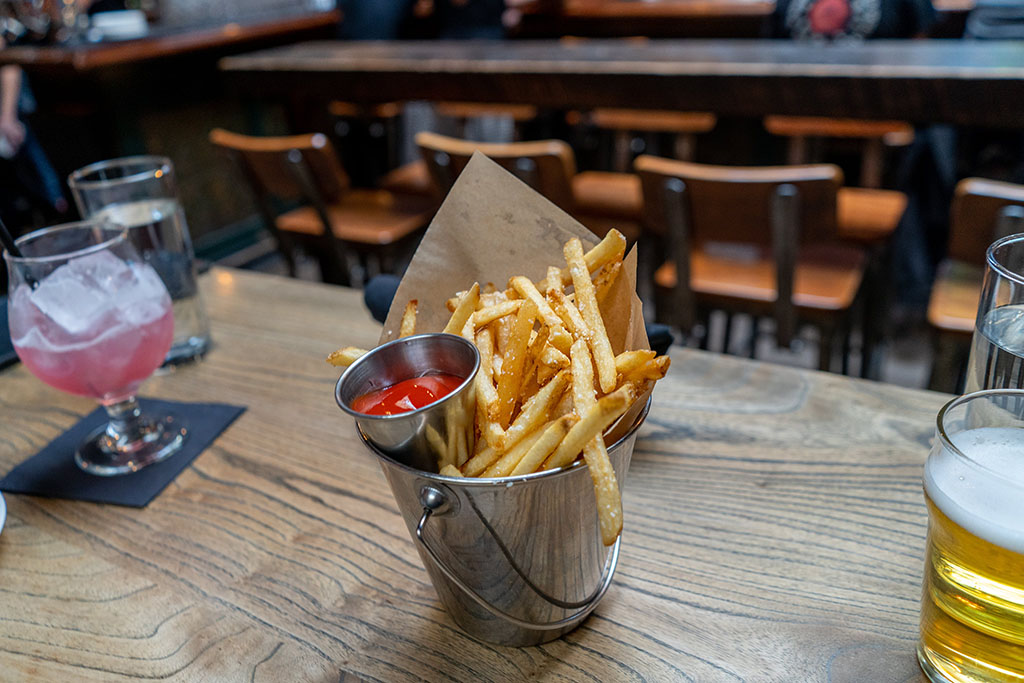 Matt Crandall's first real outing as part of the Bourbon Group. The massively popular Whiskey Street draws crowds seven days a week. I like to sneak in mid to late afternoon to beat the rush. The crab Louis is an old school throwback given modern day reframing. Lump crab meat joins a crispy soft boiled egg, while green goddess sauce works its magic.
68 – Baby's Bagels
Bagels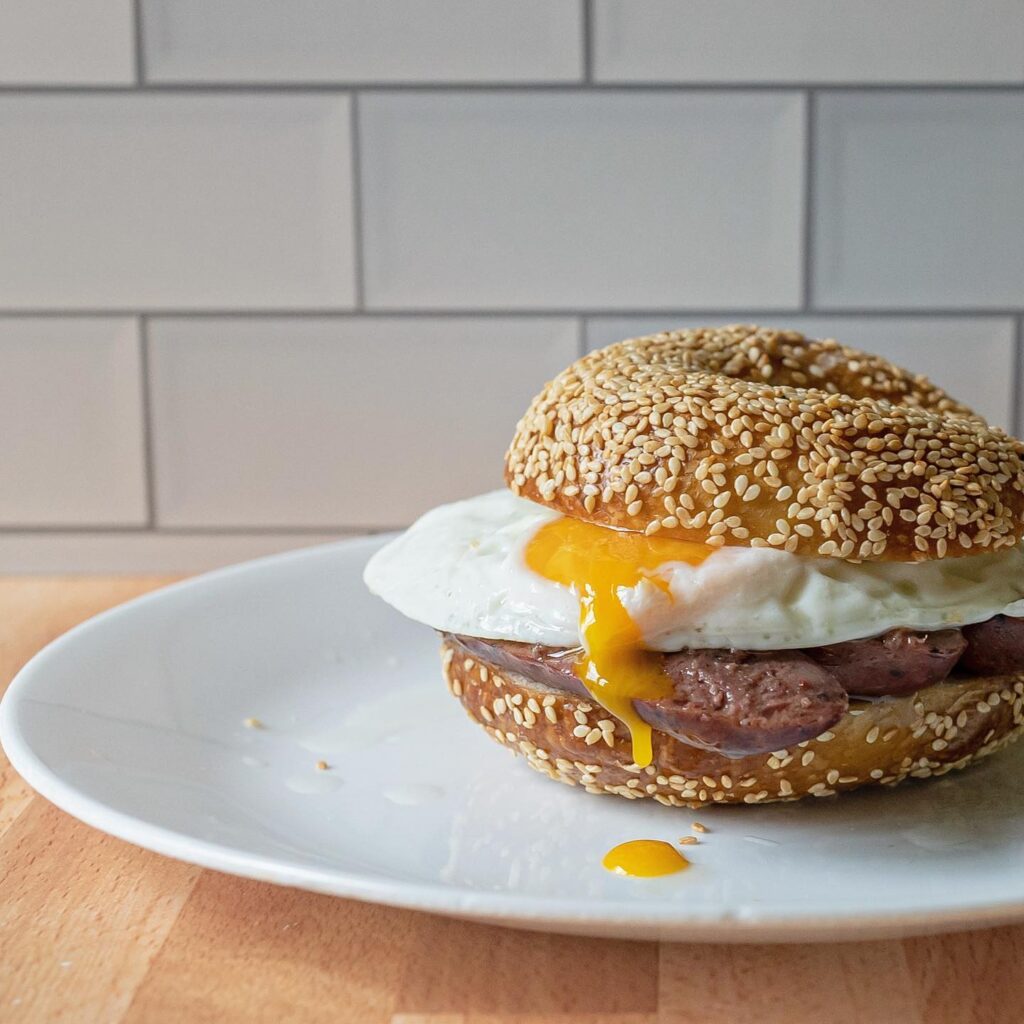 If you missed it, here's my full write up on Baby's Bagels last year. They provide the boiled breads, you do the rest. Baby's can be found at both the Winter and Summer markets as well as weekly popups in South Salt Lake.
67 – Kyoto
Shrimp tempura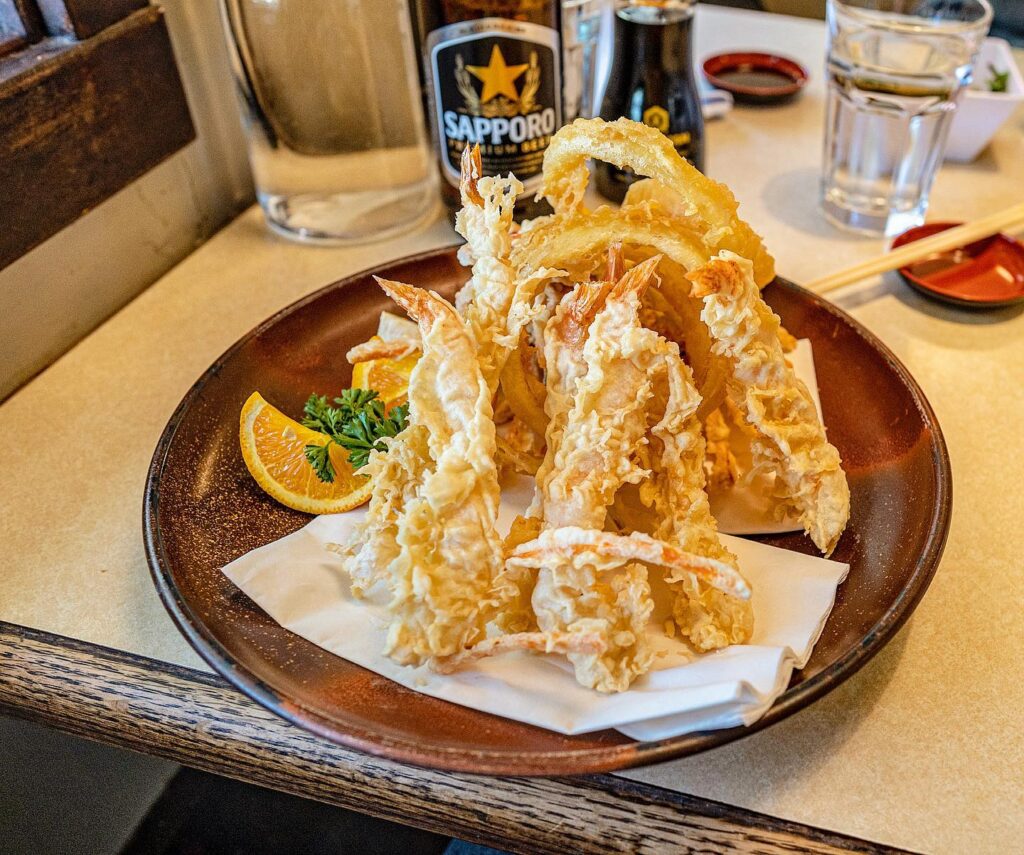 A Utah icon without peer, Kyoto has been one of the must visit Japanese restaurants for more than three decades. The tempura shrimp remains one of the most reliable dishes in town, big as your arm shrimp dressed in the lightest batter I know of. The prices have only marginally increased down through the years, making the food here a steal.
66 – The Pearl
Pork belly and eggs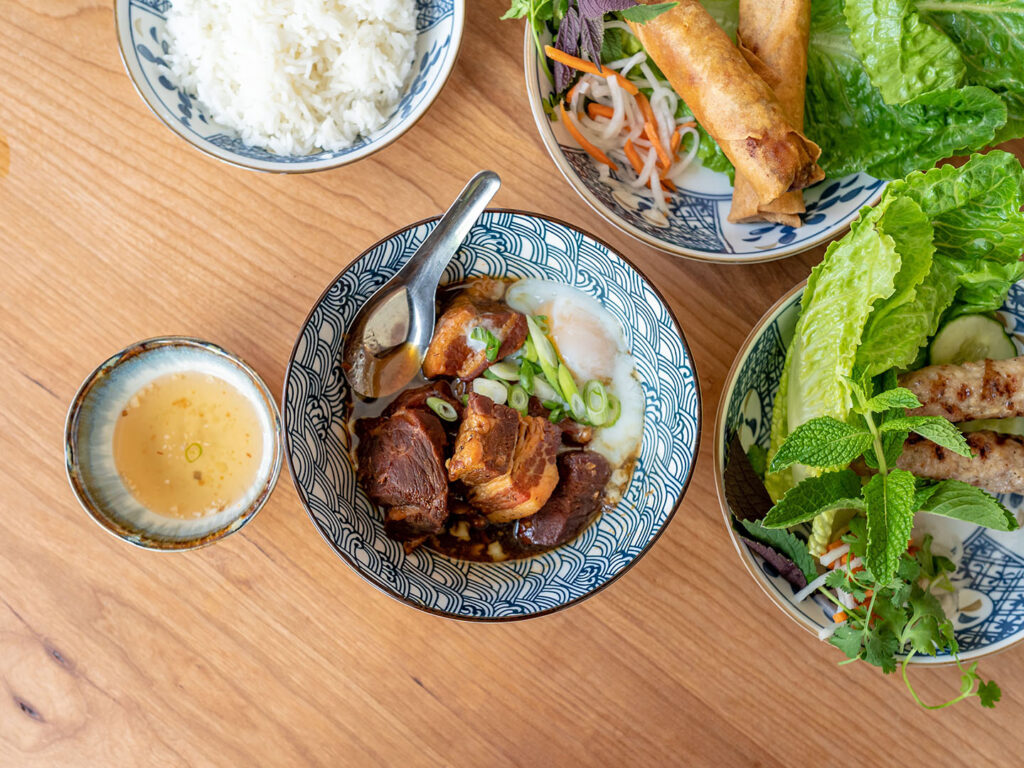 65 – The Pearl
Lemongrass pork skewers
64 – The Pearl
Greens and mushrooms
Chef Tommy Nguyen's resume is stacked with some of the best names in the biz: Takashi, Post Office Place, Copper Onion. Nguyen's latest outing at The Pearl might be his best to date seeing him cook up dishes with a family history. Don't miss the pork belly with wobbly egg if it's available, and the egg rolls are astounding good. See my full writeup here, then head on down.
63 – Arthur
Black cod and caviar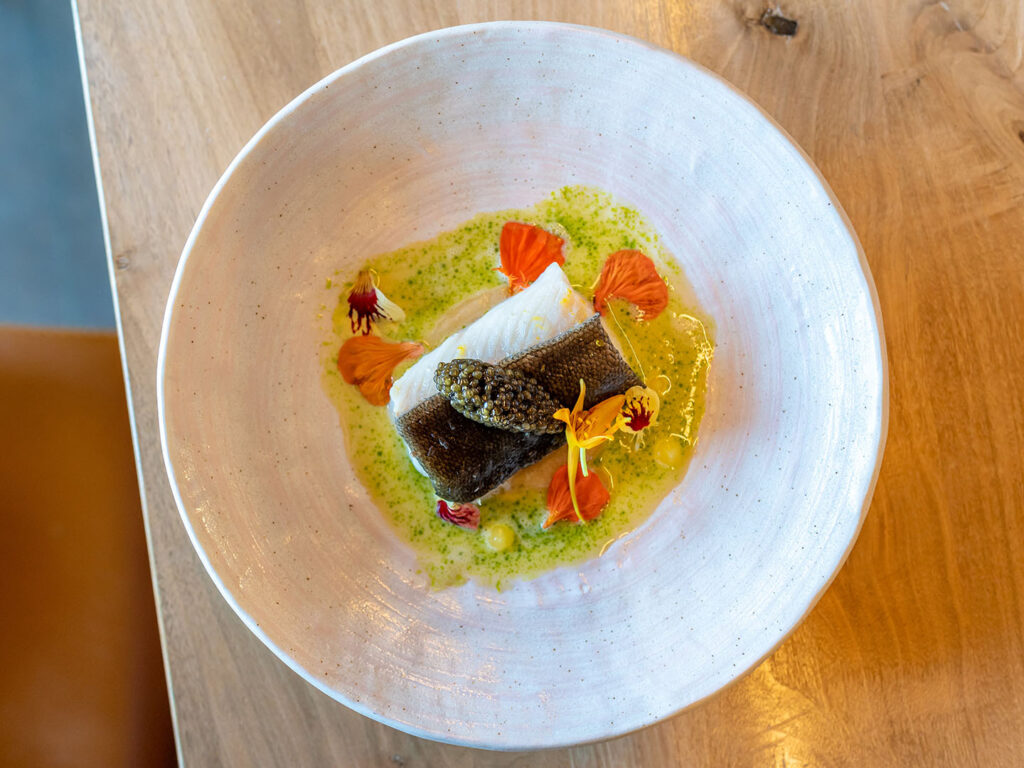 For just a few brief weeks, Arthur was the best meal in town during 2022. Chef Kevin Finch and team headed to SLC and unfurled their Arthur popup which duly sold out in days. That pictured cod was the stuff of dreams, ethereally buttery and gossamer like. Here's the full recap of the meal. I'm betting they'll be back in town at some point – be sure you're on our weekly mailing list and I'll let you know when.
62 – The Dough Miner
Funeral potatoes pasty
61- The Dough Miner
Cornish pasty
Be still my British heart. Say what you want about English cooking, but a Cornish pasty is a hard thing to beat. While this neighborhood has been beset by road work hell, the 'Miner have steadily increased their output and gone from strength to strength. They now deliver through DoorDash, offer donuts, bagels and also stock the shelves of nearby businesses like Scion Cider bar.
60 – Franklin Ave
Wagyu burger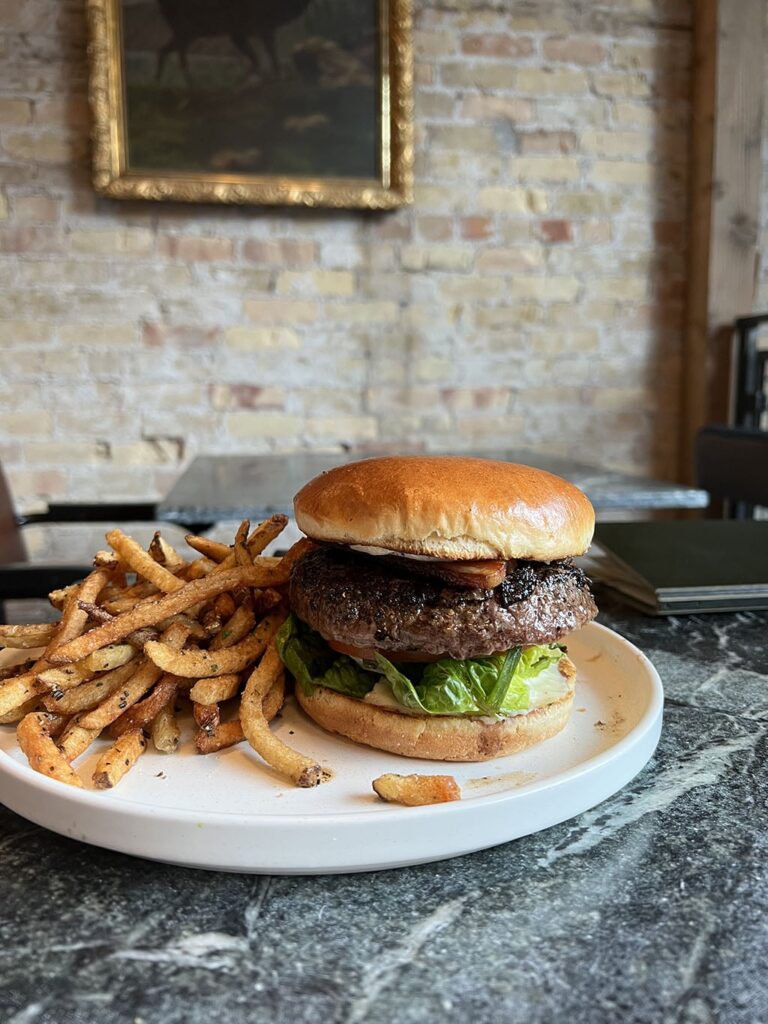 59 – Franklin Ave
Snap Peas
58 – Franklin Ave
Pasta with Dungeness crab
57 – Franklin Ave
Specials
A second appearance for the talented Mr Crandall on this list, where said chef goes wild with International abandon, building on the brasserie blueprint of White Horse prior. The snap peas with South East Asian influence are a knockout, and right now I'm calling Franklin's, the best burger Salt Lake City. There I said it. It doesn't lean into schticky toppings or patties piled high to the ceiling – no – it relies simply on excellent beef, and looks you in the eye. It whispers, this is what a burger is all about. I wrote a more detailed story last year on Franklin.
56 – Contigo Peru
Roast chicken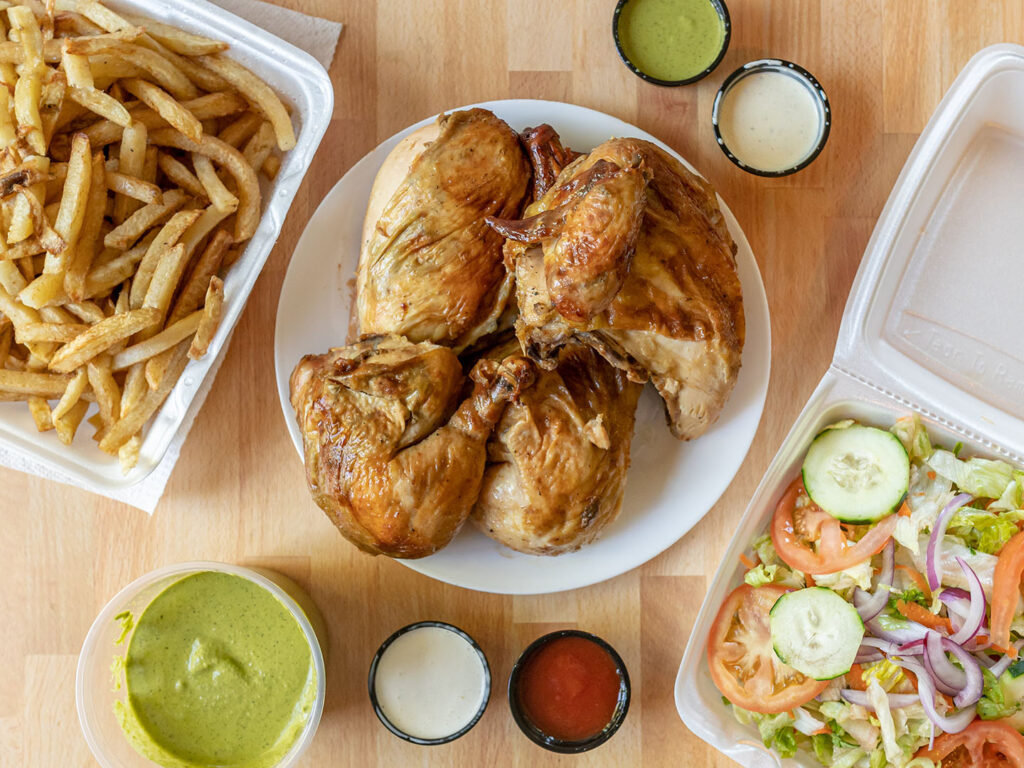 A full roast bird at this West Valley City Peruvian spot costs about thirty bucks. Accompanied by a small country's surplus of fried potato and salad, it's a feast for the family. Juicy as you like, this beats any grocery store rotisserie station hands down.
55 – Fillings And Emulsions
Ropa vieja Cuban pie
Chef Adalberto Diaz's pastry shop is best known for the dessert cases lined with sugar and cream and butter. But look a little longer and you'll spy several savory hand pies. Order em to go, or have the staff microwave them in situ for you. A shower of flaky pastry and greasy paws awaits. I'm always fond of their rope vieja, stuffed with sweet olives and a hint of acidic sharpness.
54 – O' Falafel
Chicken tikka tin with the works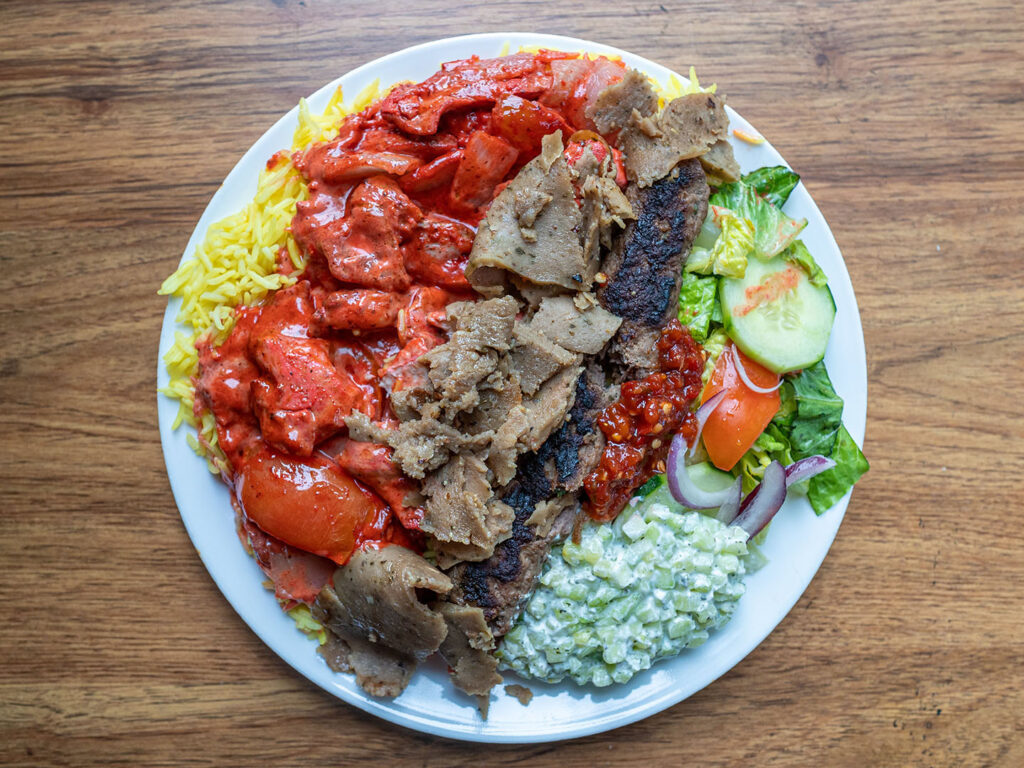 Here's an example of how I act when no one's looking, when I'm left to fend for myself. AKA my wife is out with friends and I'm giddily ticking "add this" on the DoorDash app. This O' Falafel dish starting life as a mere chicken tikka tin, you'll see I've made smart life decisions like adding extra meat, kebob and gyro to the heaving plate. Hint: go get the big plate from the back of the cupboard before you copy such behavior.
53 – Central 9th
Burger Mondays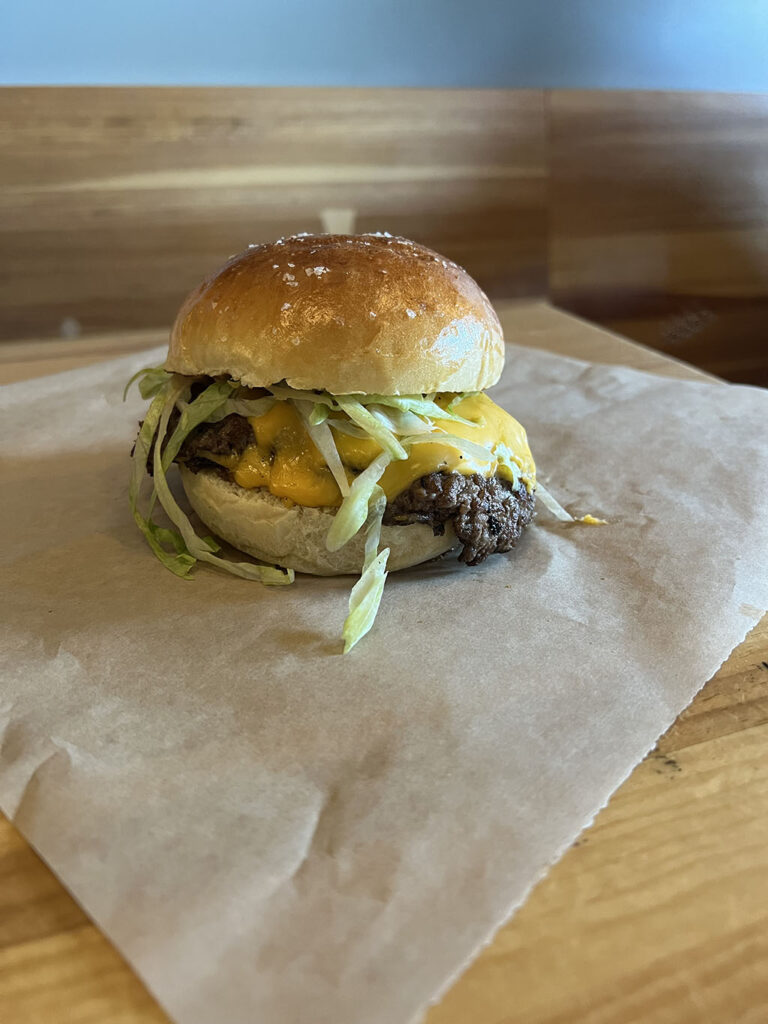 Monday nights are the only time of the week you can catch the smash burger special at this Central 9th baker and market. Lines form eagerly outside well before the 6.00 p.m. grill ignition and supplies are usually exhausted within two hours. If you're lucky enough to walk away in success, you'll probably head to Water Witch to enjoy it. Here you'll find the bar packed with cocktails and burgers. True story: one Monday evening I watched as the entire patronage of Water Witch temporarily decamp to C9 Market, only to return one and all, filling the bar to the brim with burgers.
52 – Beehive Distillery
Al pastor sliders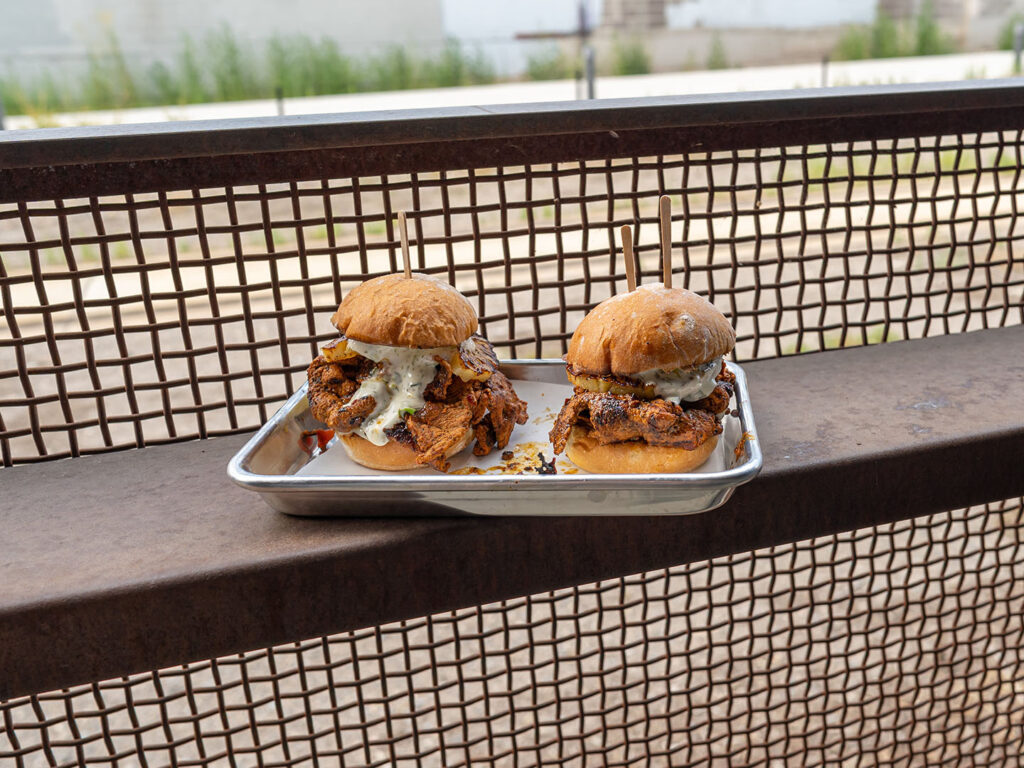 51 – Beehive Distillery
Smacked cucumbers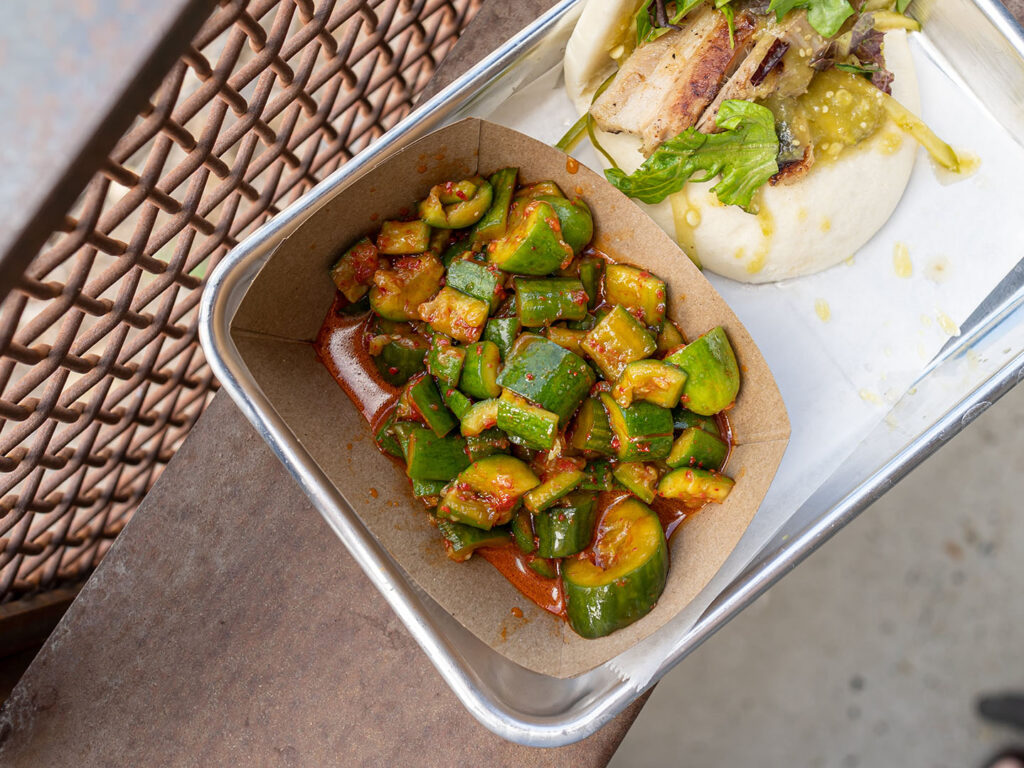 50 – Beehive Distillery
Carne asada sliders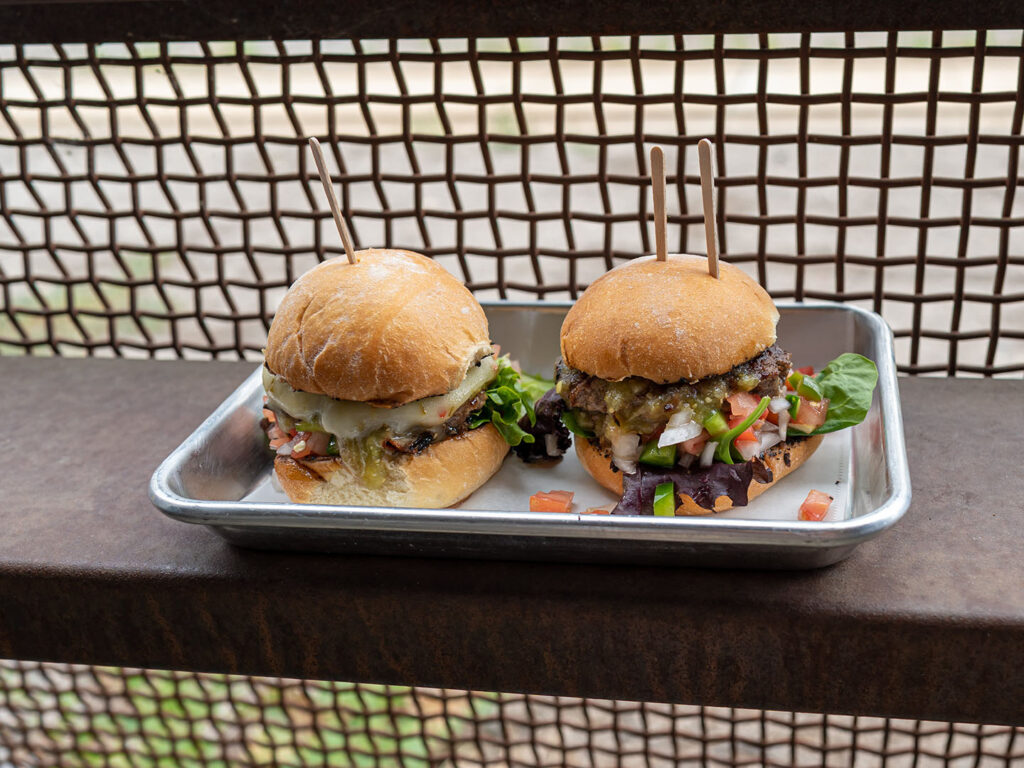 49 – Beehive Distillery
Tornado potatoes
Chef Bictor Tirado is the man in the kitchen, lighting the ovens for the first time last Summer. Tirado puts out a menu of dishes that make staying for another cocktail at this South Salt Lake distiller an easy choice. The al pastor sliders are the pick of the bunch, but the spicy sharp holy of the smacked cucumbers shouldn't be missed either.
48 – The Med
Lamb sandwich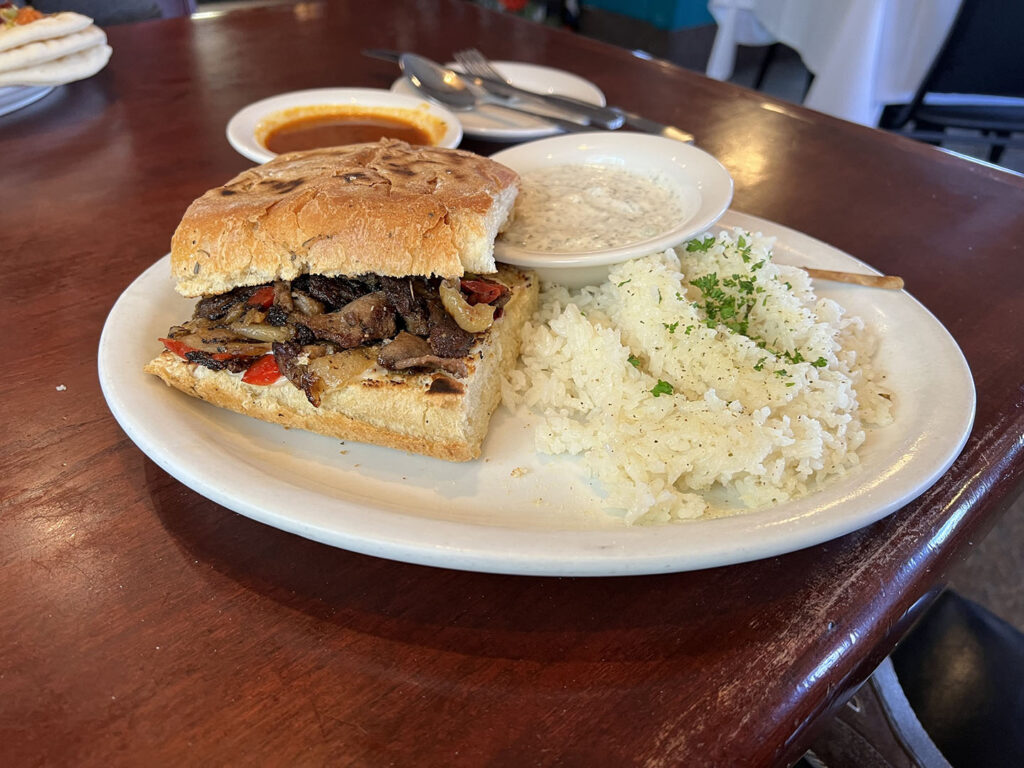 47 – The Med
Hummus and pita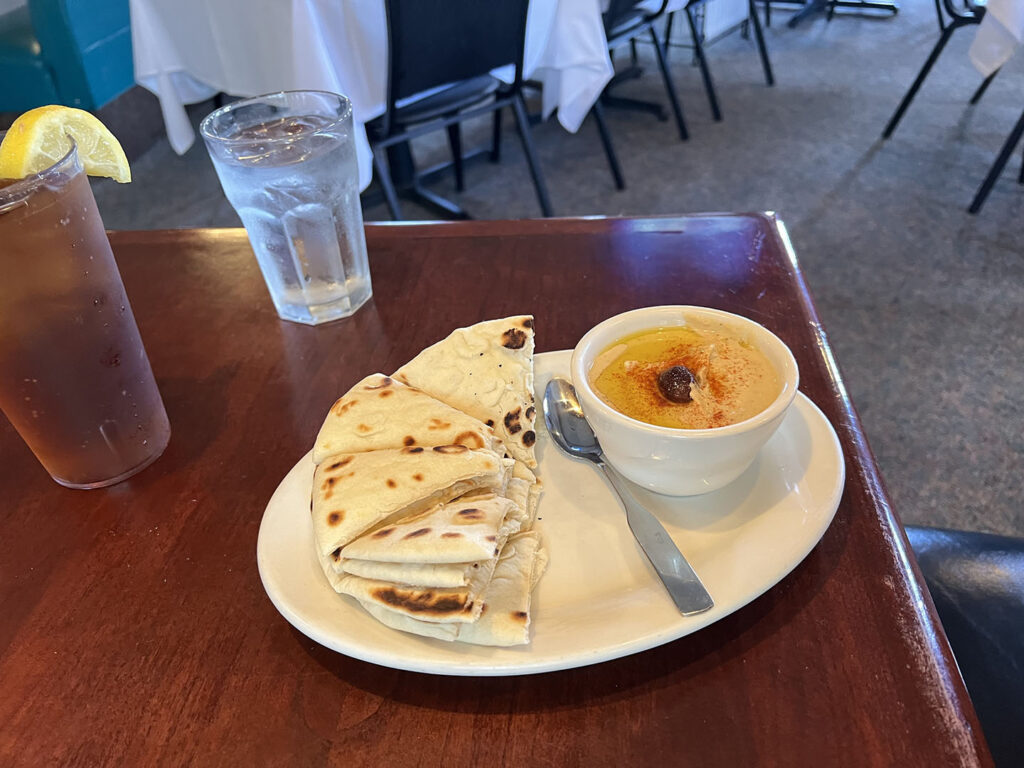 The Med has anchored this section of bustling 33rd South for as long as I can remember. And I can remember a lot. Narrator: he can't actually remember faces, names, but does remember a plate of food. The pita is the pillowy stuff you want to lay your head on and take a snooze.
46 – Eggsburgh
Breakfast plate
The latest to chance their arm at this spot on the South West edge of the Peery hotel in downtown SLC are Eggsburgh. Breakfast for lunch and dinner is the order of the day. I swung in one day and was pleasantly surprised by the runny eggs.
45 – Chinese Taste
Mapo tofu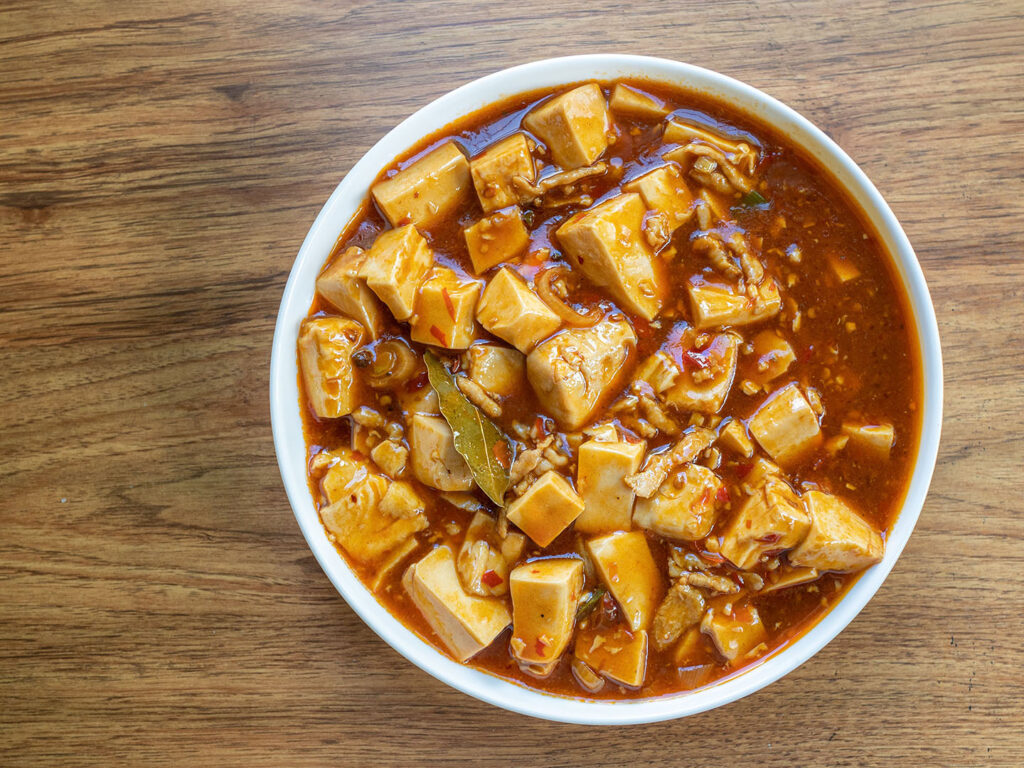 If you're not up to the task of making your own mapo tofu (here's my recipe, it's easy peasy), Chinese Taste's version of this traditional Sichuan classic is a decent on ramp. It's got all those electrifying notes of Sichuan peppercorn and funky fermented beans. You can turn it up to eleven in your own kitchen, but you can also scoot on down here and enjoy with a lot less effort – and mess.
44 – Avenues Proper
Burger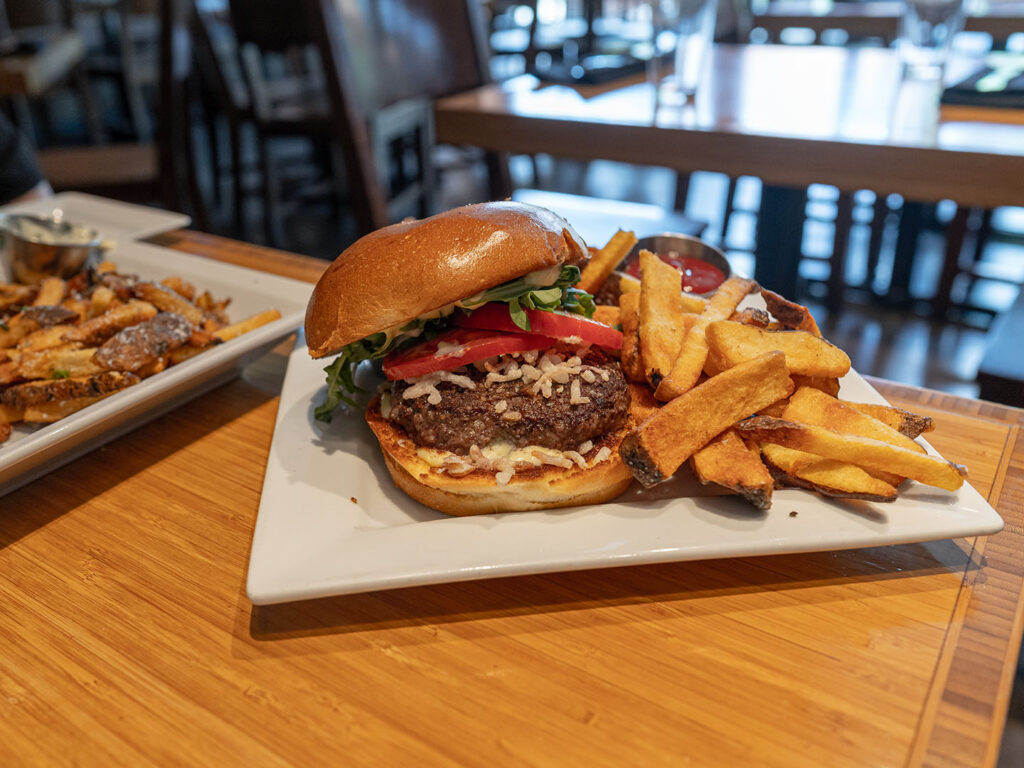 Avenues Proper is where you'll find me in that weird hinterland between lunch and dinner. There are surprisingly few restaurants these days that offer service day through, but this brew pub is one of the better. The burger is big brute of a thing and come with a side of fries that come chopped in weirdly distinct fashion. Yep, hand cut.
43 – Fat Fish
Bento box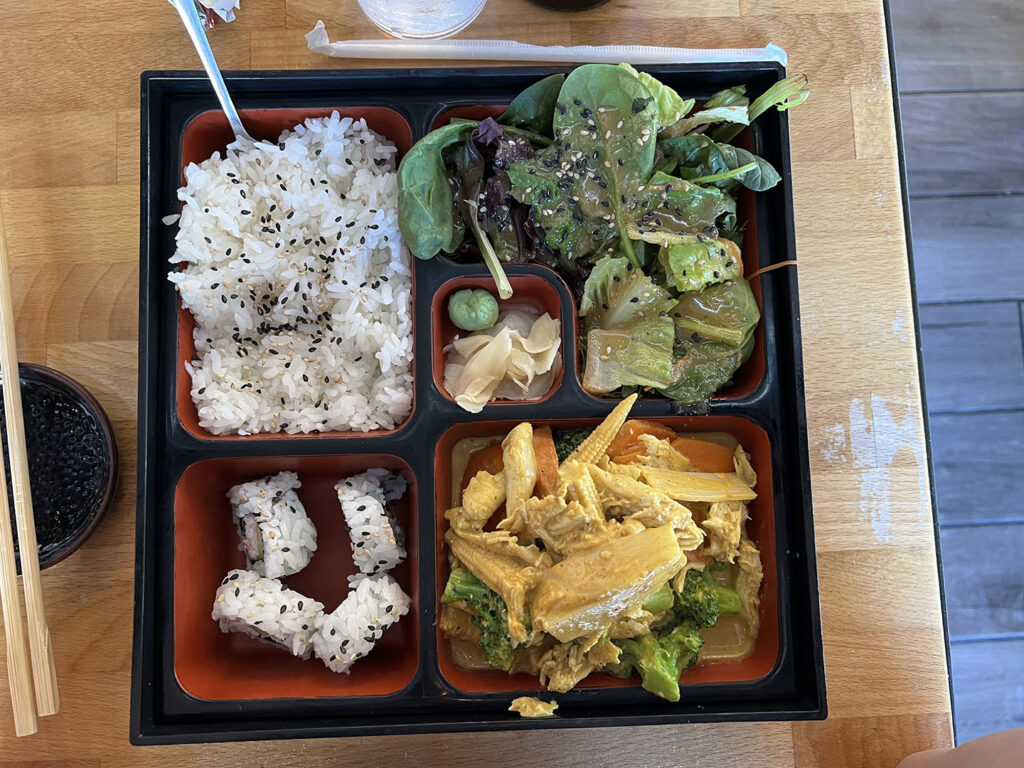 The bento box is to lunch, what those little multipack cereal boxes are to breakfast. They are the salve of the indecisive, a platter of OCD soothing geometry. Once a twice a year I find myself at the WVC location of Fat Fish, and if it's lunch, I'm picking the bento.
42 – Coco Wok
Basil fried rice
An eager young team are now at the helm of the Coco Wok. This State Street location you might recall before as the long lived Thai Siam. Swing by for lunch and you'll score slightly keener pricing.
41 – Deadpan Sandwich
BLOT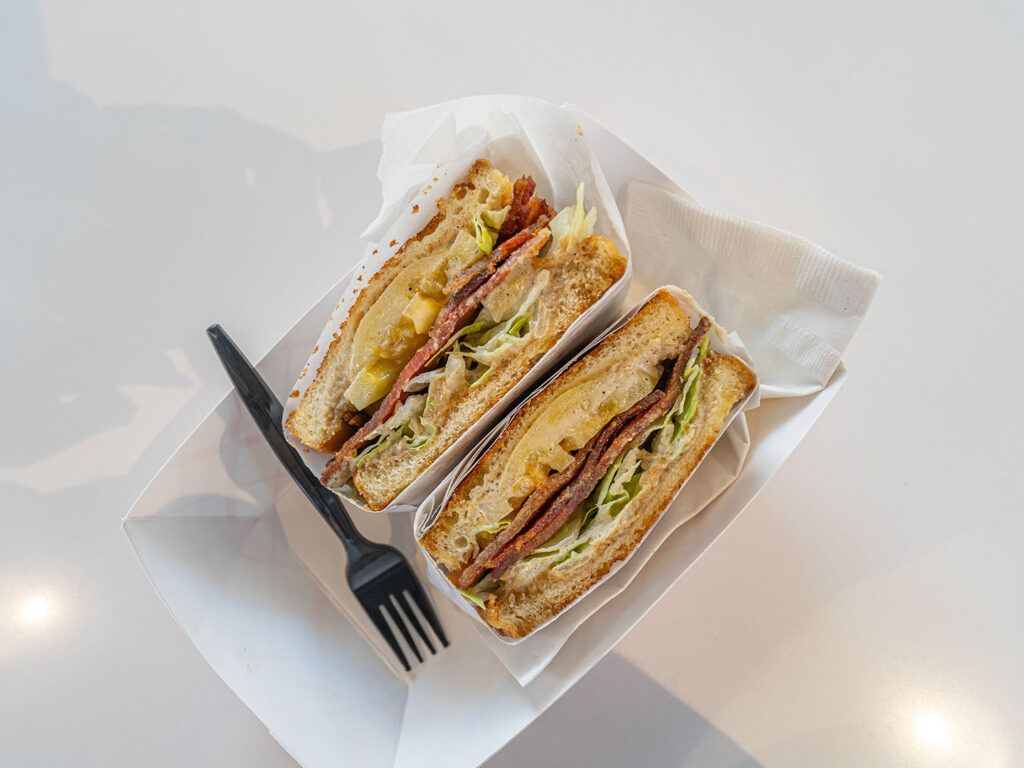 40 – Deadpan Sandwich
Oh Schnitzel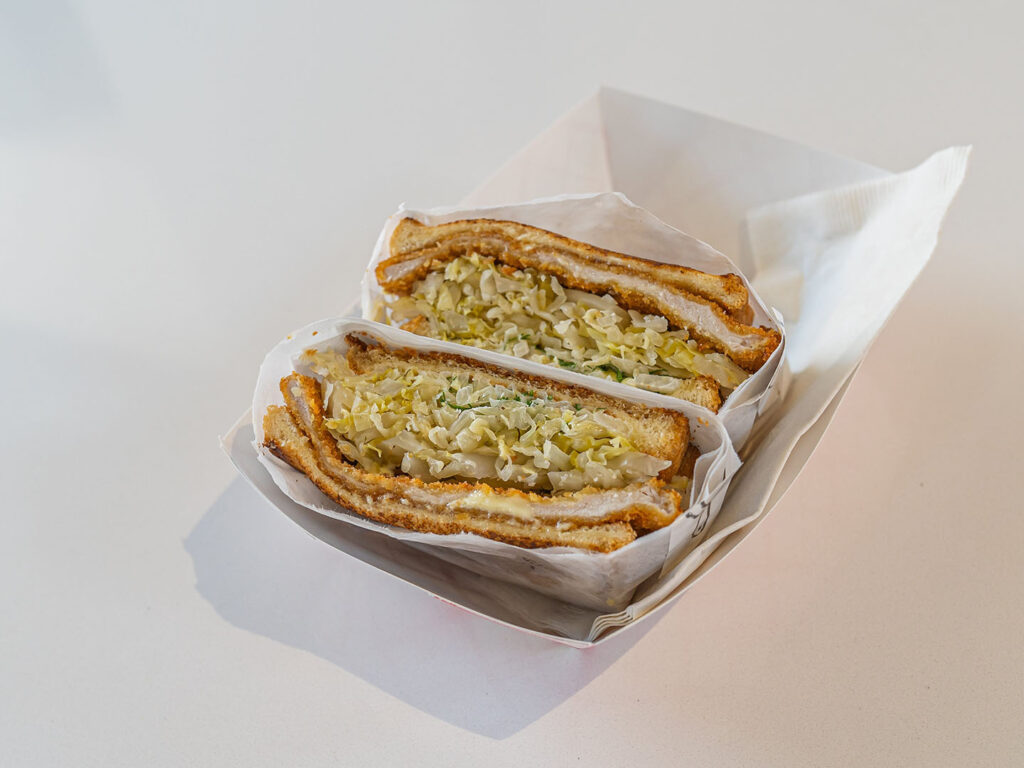 Deadpan is perhaps the best of the food options I've tried to date in the newly opened Woodbine Food Hall. There's an impish intelligence behind all the fancy pants sandwiches, not least enough calories to see you through lunch and dinner right on to supper. Pictured are the BLOT, a pickled green tomato update on the good old bacon butty; below that the oh schnitzel, pounded thin and fried pork with plenty of zippy kraut.
39 – Dos Olas
Pollo tinga tacos
38 – Dos Olas
Salsa
37 – Dos Olas
Ceviche
It might be in a Park City resort. And, it might cost a whole heap more than your local mom and pop. But, but, – it is really rather excellent cooking. The Dos Olas salsa alone makes a mockery of most efforts, rammed with sultry smoke flavors, a callback to the street vendors of chef Carlos Seguras Mexico City youth. Start with the ceviche, then move onto the pollo time tacos – dip everything in that salsa. I waxed lyrical on Segura's cooking in this previous story.
36 – Apres Pendry
Elk and bison bolognese
Just over the plaza from Dos Olas is the Pendry resorts house restaurant, open for breakfast, lunch and dinner. It's priced for the property as you might expect, but that spaghetti ain't half bad.
35 – RIME
Ribeye
34 – RIME
Carpaccio
33 – RIME
Hamachi crudo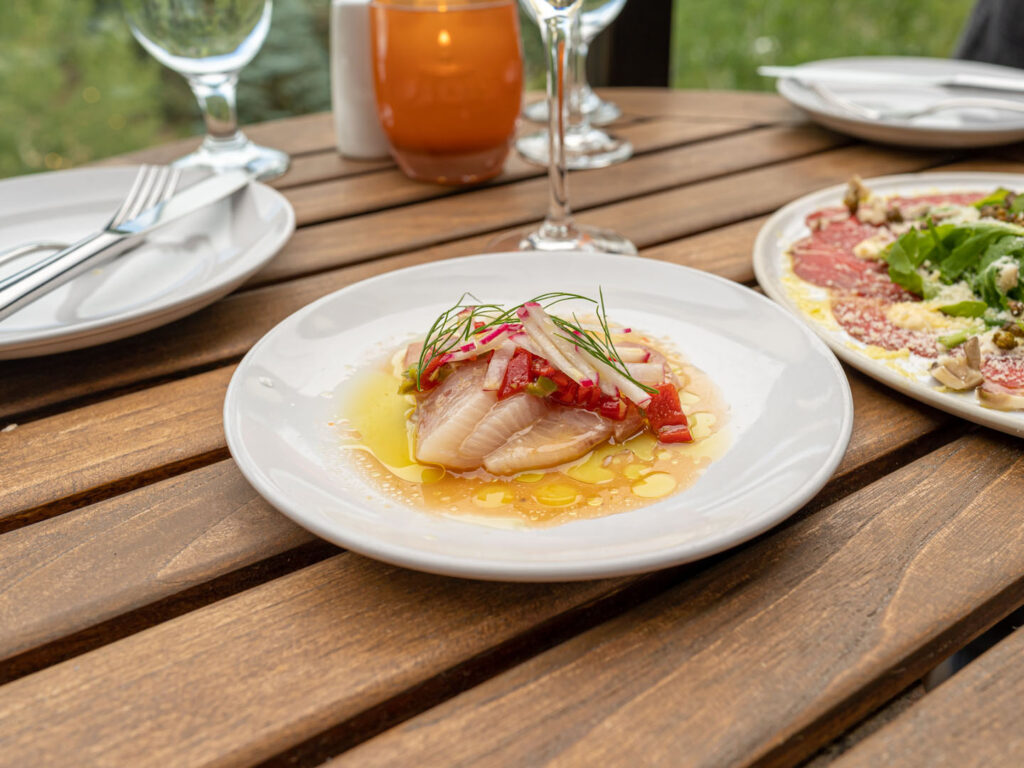 These pictures are part of a meal that caused me to write, the best steak I ate this year. RIME might just be the best steakhouse in town. Yes it costs as much as a car payment, yes it's worth every penny and then some.
32 – KITA
A5 wagyu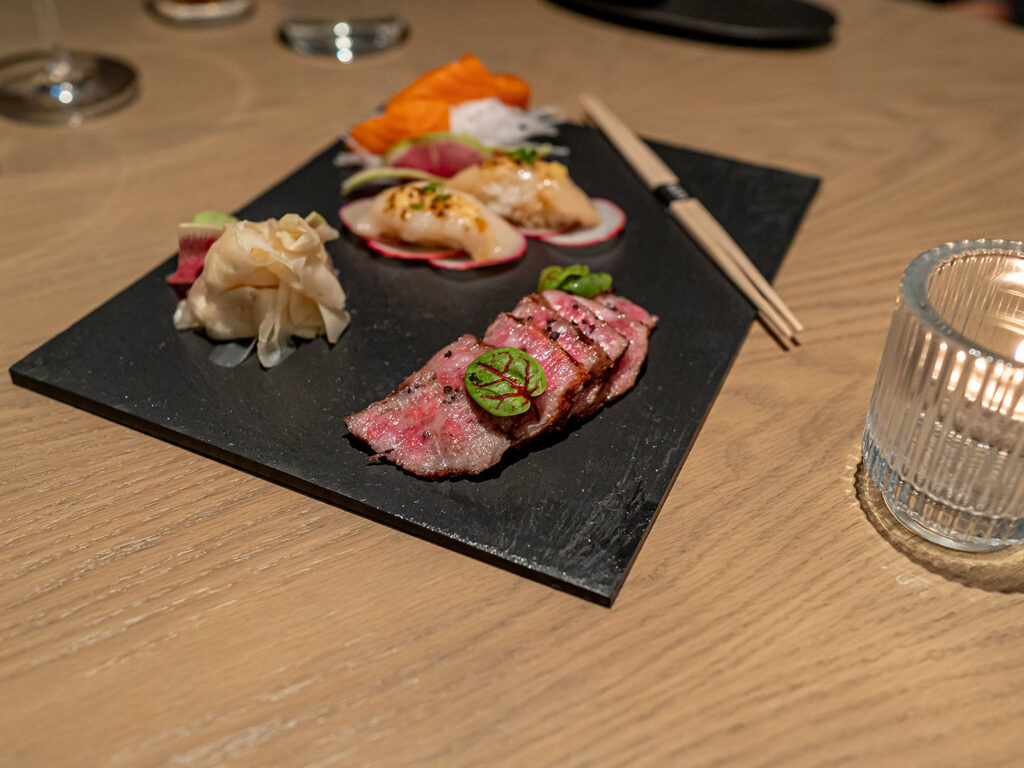 31 – KITA
Octopus
If you're in the market to splurge on some of the finest Japanese A5 wagyu that's available in Utah – you can find it at KITA up in Park City. I won't lie, it's priced commensurately astronomical as you might expect. The surprise hit on their menu is the delicate octopus that I swear must be sous vide cooked given the absolutely beautifully soft and supple texture.
30 – Tandoor Indian Grill
Madras
29 – Tandoor Indian Grill
Biryani and kachumber salad
I have no evidence for it, but it feels like something changed in the last year at this Millcreek Indian restaurant. The cooking at Tandoor is now as good, perhaps even better, than I've ever tasted it. I'd tentatively also suggest this might be one of the very best in SLC. Laal maas and madras are both visually and detectably unique dishes – not the same basic sauce redressed with more of less spice or cream.
28 – Pretty Bid
Tenders
The opening of the Midvale location made for four outposts in the growing Viet Pham chickempire; and with the fourth store, chicken tenders also hit the menu. They follow the same design of those big brutish sandwiches, rubbed with the same cinnamon spiked seasoning.
27 – Brick And Mortar
Burger
I believe this spot on Edison Street has now rebranded as Mayor Voss (just waiting on formal confirmation and details). Last year while living life as Brick And Mortar, I gave their house burger a spin. The all too circular formation initially worried, but the lusty grill char and flavor made everything right.
26 – Big Dipper
She's Shrimp-ly Irresistible
Located underneath the famous Star Bar at the top of Park City's swanky Main Street is this sandwich shop. The menu is built on the premise of "what if every sandwich was made in the same mold as the French dip." Which is to say, every roll here, comes with a suitable bowl.
25 – Laziz Kitchen
Chicken escalope
26 – Laziz Kitchen
Lamb burger
I've been coming to Laziz ever since their Central 9th spot opened up way back when. Now with locations in Midvale and downtown SLC, they're easier than ever to seek out. The fun menu works just as well for a grab and go lunch, as it does a sit down dinner.
25 – Utah Dog
While the streets are awash with pastrami laden burgers, the humble hot dog gets no such love. Which is why last Summer I "invented" the Utah Dog, an uncompromising mission to bring the best of burger would to the hoagie roll. Success I'd say. You'll need pastrami, fry sauce, onion, tomato, lettuce, quality hot dogs and a side of green jello to craft this one.
24 – Beltex Meats
American wagyu
Here's some more homework for you while we're at it. The next time you find yourself craving a steak like no other – consider Beltex. The boutique butcher offers impeccably pristine and perfect proteins. The second best steak I ate this year, you're looking at it.
23 – Monarca
Lobster enchiladas
Taking up residence in the space once home to Alamexo, this State Street Mexican comes from the same owners as Santo Taco. The approach is more upscale and refined, and should you catch this lobster enchilada on the specials menu, I wouldn't advise against it.
22 – Bhutan House
Chicken tikka wrap
What to do with leftover chicken tikka, saag curry and naan bread you ask? Make the wrap of your life. Bhutan House started life in the Spice Kitchen Incubator in SLC, but these days live life in their own restaurant space in Sandy.
21 – Noemi's Cafe
Empanada
20 – Noemi's Cafe
Choripan sandwich
19 – Noemi's Cafe
Alfajores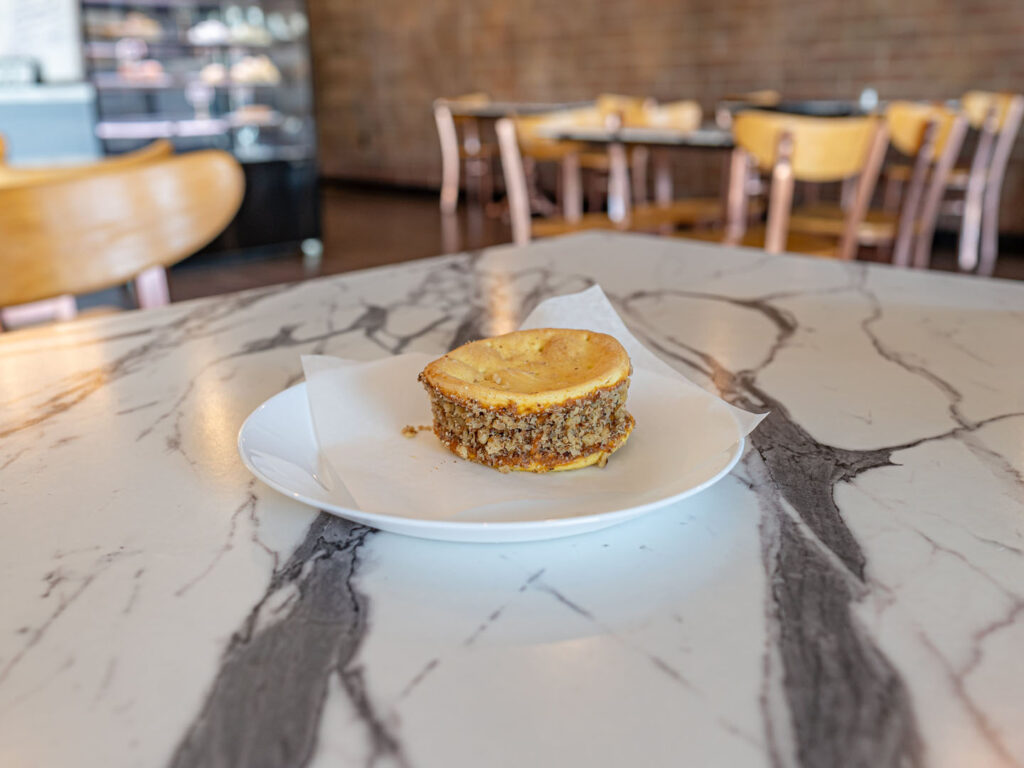 I defy you to find better empanadas or alfajores in SLC. I've been a fan of Noemi's ever since their food truck days, and I'm head over heels in love with the sweetly egg and olive studded carne pastries. The dessert cases alone will take you a lifetime to ponder over.
18 – Meat Hook BBQ
Ribs
Meat Hook can be found over in West Valley City, just next door to The Westerner. Of everything we sampled on our initial visit, the ribs were the standout smoked item to my tastes.
17 – Zeitoon Cafe
Koobideh cafe
The absolute best beef kebob in Utah, probably hundred of miles in fact. Zeitoon use a particularly sagacious mix of ground beef and fat, making for an almost sausage like suppleness. Instead of rice, go with the flatbread, the hefty blanket can be used to sop up every last little drop.
16 – Mr Rice
Fire dragon zesty pork
Mr Rice offers a grab and go selection, perfect for weary shoppers who just want to get they feet up. Found in the Chinatown complex, everything on the menu is ready and packed within minutes of ordering.
15 – Carson Kitchen
Chicken skins with smoked honey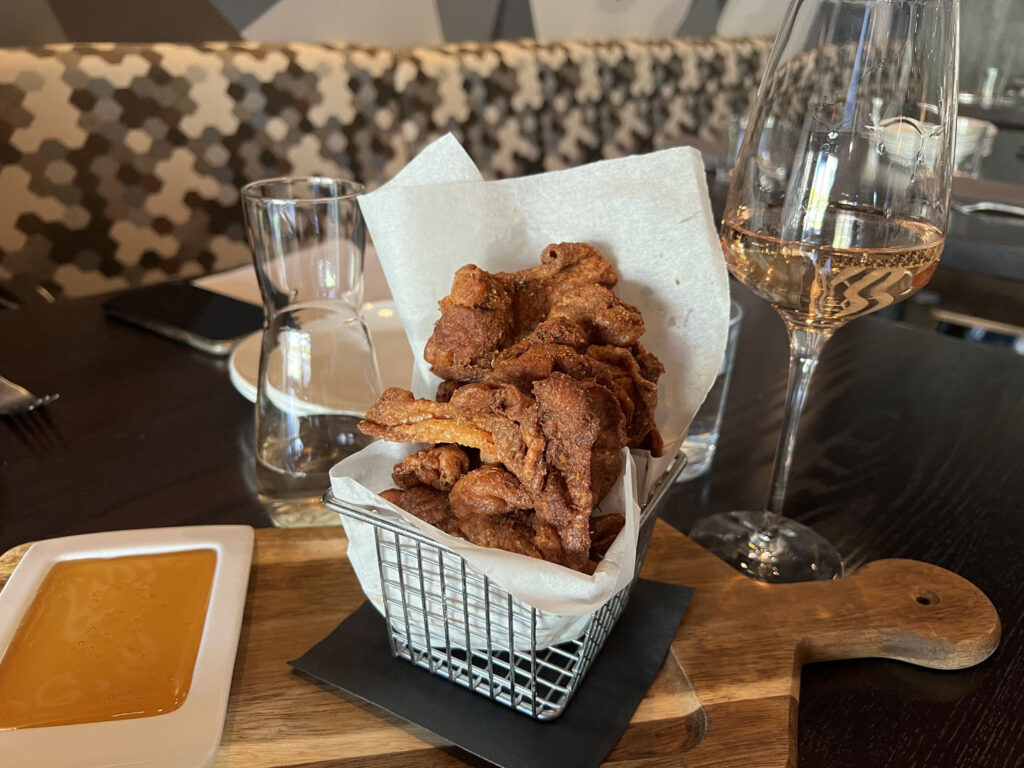 14 – Carson Kitchen
Hot dog burnt ends
Something new, something old. The deep fried chicken skins have been a staple of the menu since day one at this downtown SLC restaurant; served with a smoked honey dipper, they're every bit the guilty pleasure you might imagine. The hot dog burnt ends meanwhile are a recent addition – allowing us all to pretend like ordering a skillet of fried sausage rounds is acceptable in public. Thank you Carson Kitchen, thank you.
13 – Beirut Cafe
Kabob
Absolutely stunning kibbeh, frothy as you like toum and mind blowing hummus. Beirut Cafe even make their own gyro meat – who else is doing that? It's often hard to say who is the best at X or Y – I can handily tell you that Beirut Cafe is the best Lebanese food in the state. There's no debate.
12 – Current Fish And Oyster
Fish and chips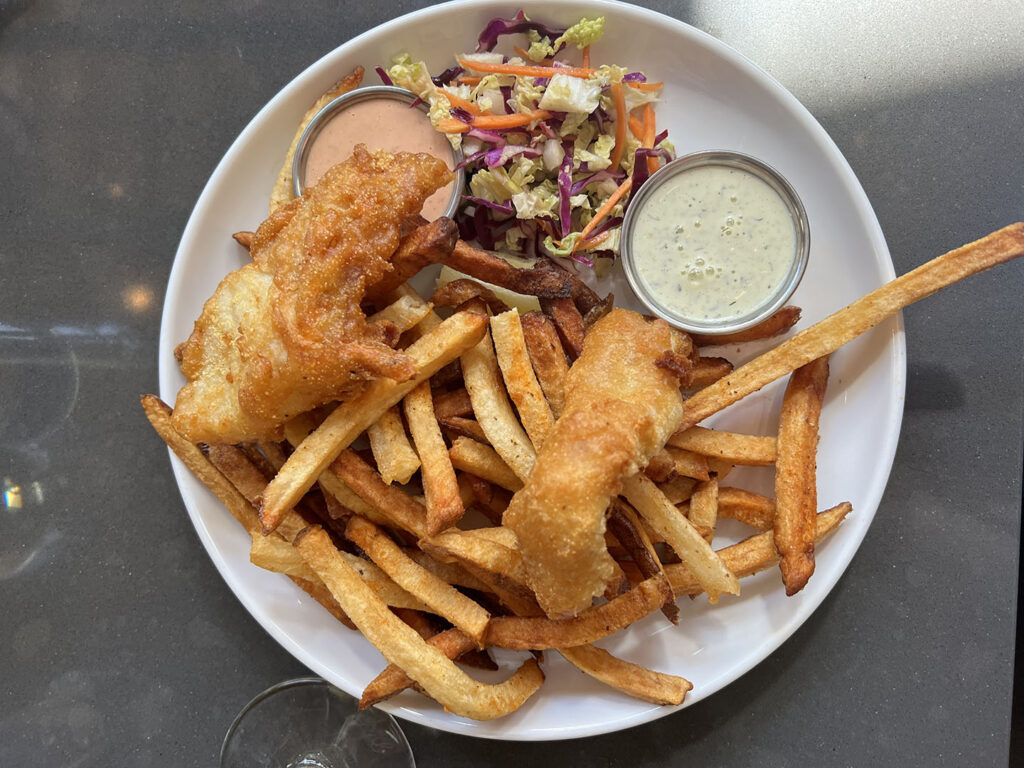 This classic is always on the menu at Current. There are chips. There is fish. There's fry sauce and tartar. There might be a slightly unnecessary slaw of sorts, but we can overlook that.
11 – HallPass
Lobster roll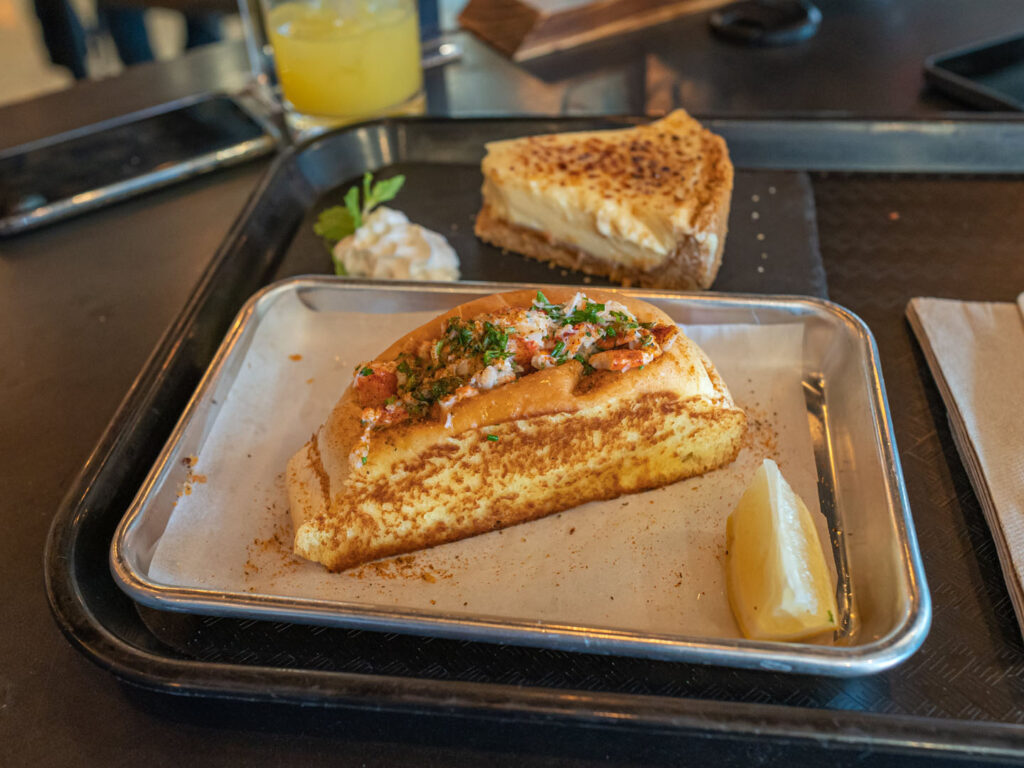 The "Maine" style lobster rolls from HallPass' Colossal Lobster might be my favorite. The greased and grilled bread puts the whole thing over the top. Oh, that key lime pie you spy in the background, it's not half bad too. Those of us on the wrong side of forty might need a small mid afternoon nap after this one.
10 – Mar | Muntanya
Patatas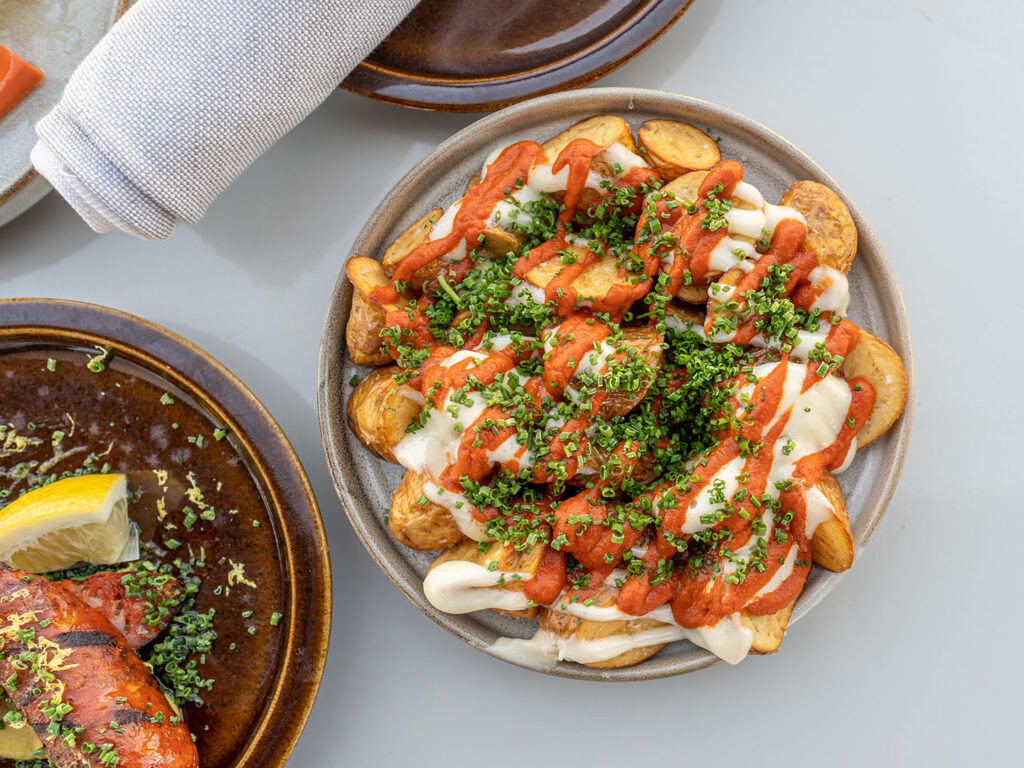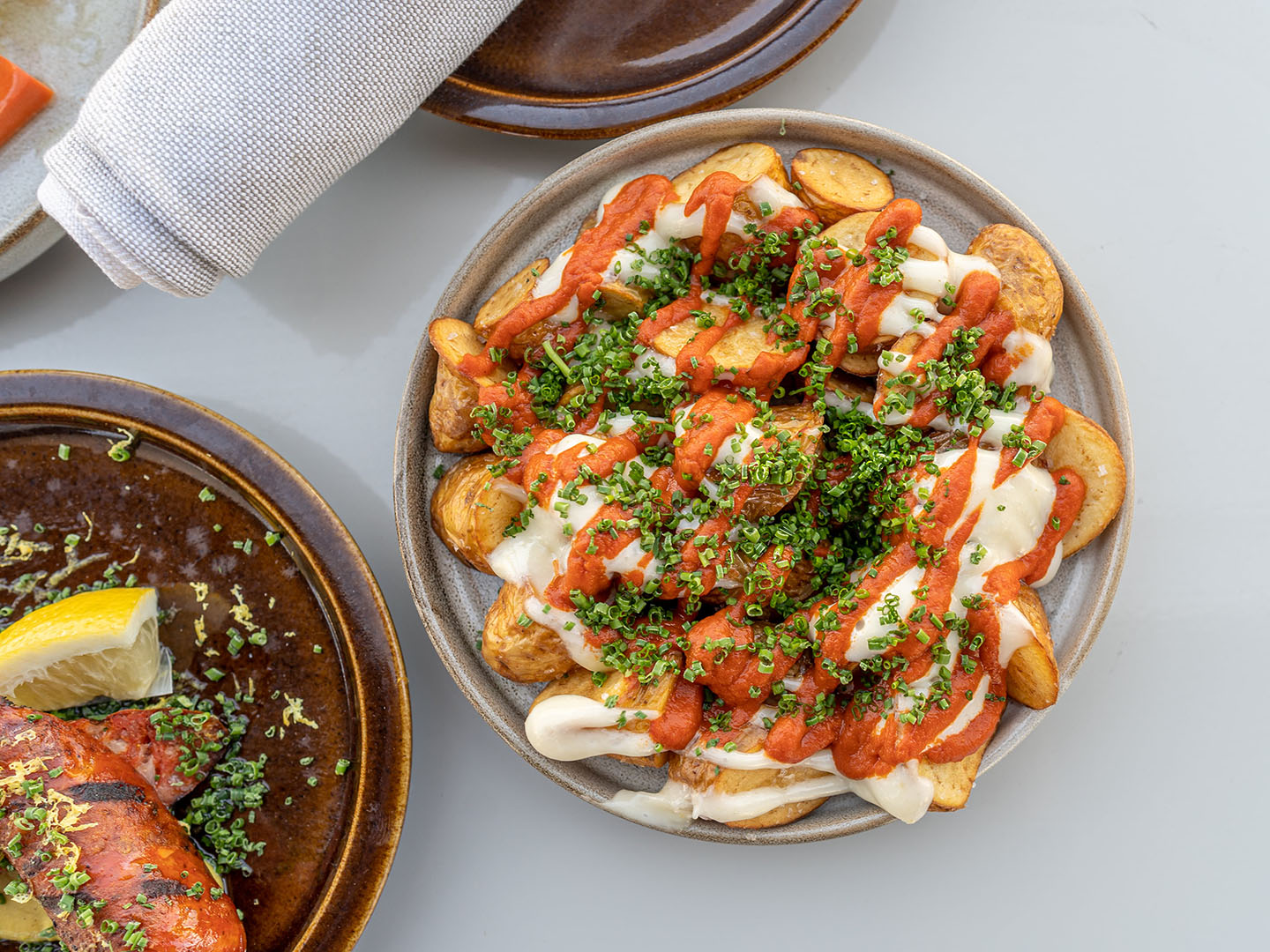 Did anyone ever meet a plate of potatoes they could say no to? At the signature restaurant in the towering glass and steel that is the Hyatt Regency, you can enjoy some Spanish spuds while sipping on one of their many gin and tonic variations. If the weather's plating ball, take a seat on the patio, one of the best views in the city. Here's some snaps of that from when I took a peak last Fall.
9 – San Fran Burrito N Fryz
Korean corn dogs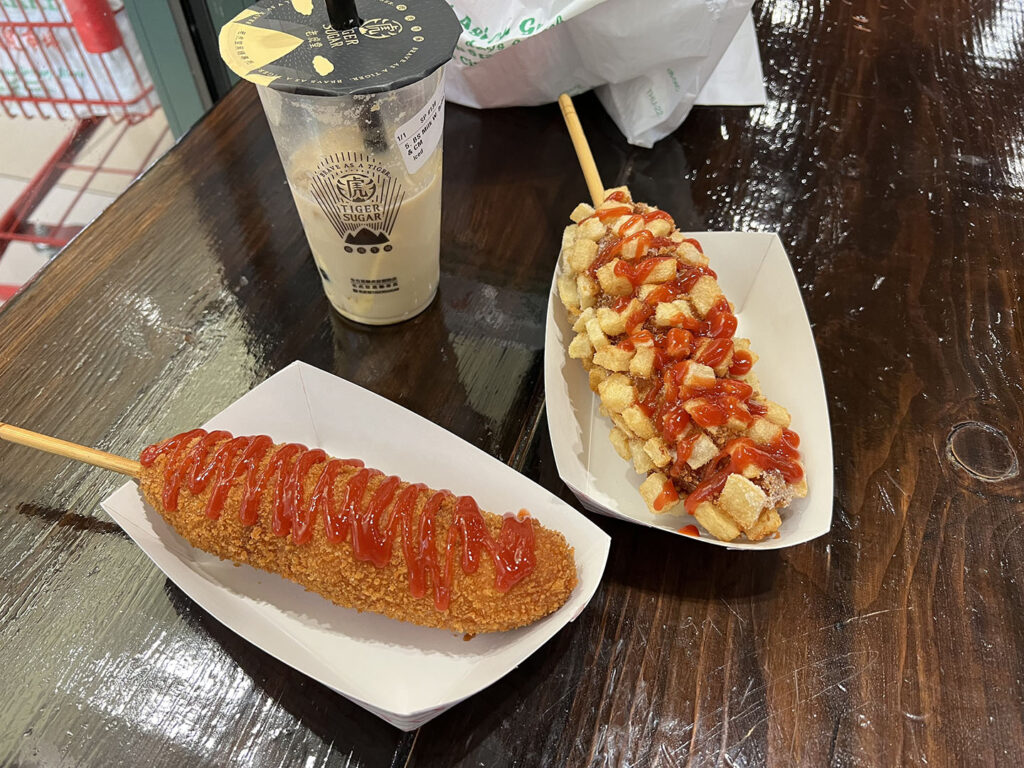 In these hyper-inflated days, getting your hands on anything for less than five bucks feels like theft. The deep fried Korean corn dogs from San Fran in China Town don't even break the four dollar mark. There are several versions, all gloriously reckless.
8 – ACME
Cocktails and cuisine
When I stopped by the popup opening of ACME's Christmastime extravaganza last December, it was cocktails only. I suppose you could gnaw on that finished pineapple if you wanted – but now there are other options. David Chon (Nohm) is back in town and pending the renovation of Nohm (set to return to life as Bar Nohm under Water Witch auspices) he's at this Sugar House bar cooking up a micro menu. I guarantee it's great. I wrote about the bar and what to expect from the whole team this year over in this article.
7 – Oh Mai
Cold cuts banh Mi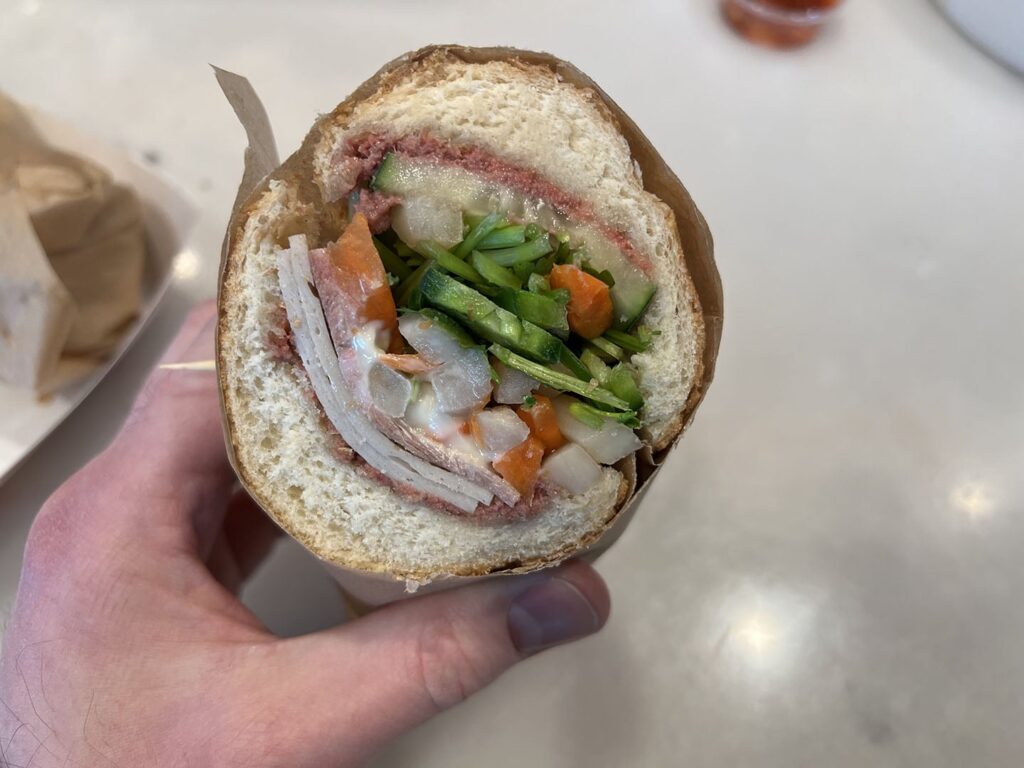 Time was that talk of banh mi was conducted in hushed tones, in weird forgotten places like the chowhound forums (hands up who remembers that). The Viet-Franco mashup was hard to get around these parts a decade ago – not anymore. Oh Mai can easily be credited with bringing the fabulous sandwich to more mainstream attention on our streets, and they still rock a mean baguette. Pictured is the legit S1 cold cuts – steamed pork roll, jambon ham, pork head cheese, pork pate, mayo, cucumber, cilantro, pickled carrots & daikon. Yes.
6 – Pho 777
Pho
5 – Pho 777
Bo luc lac
Towards the end of last year I finally chanced upon Pho 777 and cursed my luck for having been so previously inattenive. One meal was all it took to get hooked, two more for me to declare it a top three Vietnamese restaurant in Utah. I am sure a few more meals here will see it battle for a spot in my personal top ten overall. The pho reaches dizzying heights and the shaking beef above is a textbook example of the magic of wok cooking. The restaurant are currently moving digs, they should be open again soon, read my review here while you wait.
4 – Umi Shabu Shabu
AYCE hot pot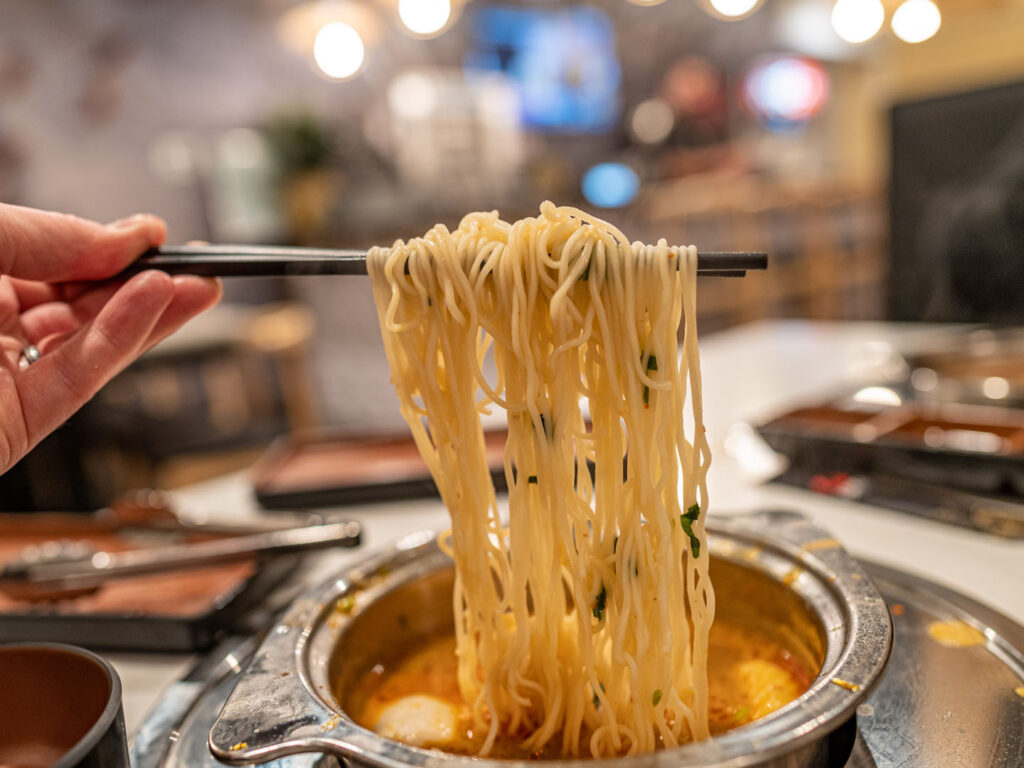 All you can eat, allow me to haiku this one if you will:
Bowls of noodles piled
Endless strands to fill your soul
Slurp, savor, repeat
If you need more info, I wrote a big ol' detailed write up of Umi Shabu. Shabu here.
3 – Urban Hill
Crudo
2 – Urban Hill
Carrots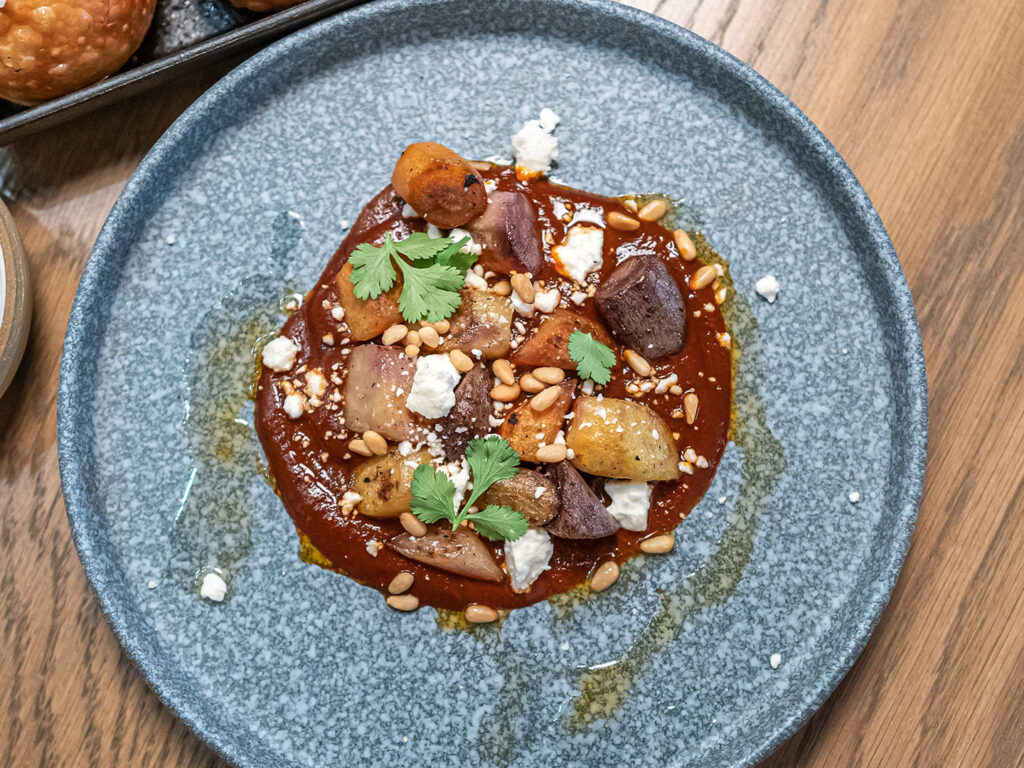 1 – Urban Hill
Pork chop Milanese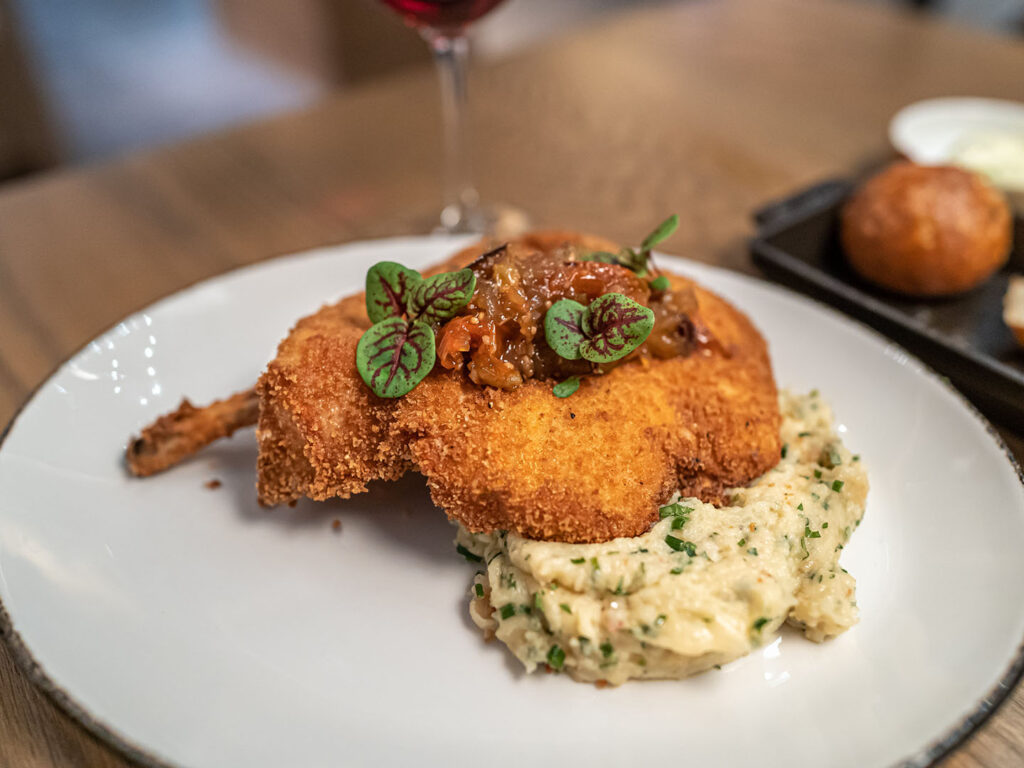 The last major restaurant of 2022 that I sampled was a biggie. Chef Nick Zocco has seen all ends of the culinary spectrum; he once stalked the mega kitchen of the SW Steakhouse in Vegas. He's also chefed uo more boutique charms at Park City's tupelo's as well. His menu is one of the best in town. The sea trout crudo is better than most sushi places, the carrots in mole are a stunning display of color and flavor, and that bone in fried chop. Yeah, you know. Here's the full preview from late last year.
Keep the conversation going
Want to stay on top of the SLC food scene, minute by minute, dish by dish? Here are a few other places you should follow along:
Hi, I'm Stuart, nice to meet you!  I'm the founder, writer and wrangler at Gastronomic SLC.  I'm a multiple-award winning journalist and have written in myopic detail about the Salt Lake City  dining scene for the better part of seventeen years.
I've worked extensively with multiple local publications from Visit Salt Lake to Salt Lake Magazine, not least helped to consult on national TV.   Pause those credits, yep, that's me! I'm also a former restaurant critic of more than five years, working for the Salt Lake Tribune.    I'm largely fueled by a critical obsession with rice, alliteration and the use of big words I don't understand.   What they're saying about me: "Not inaccurate", "I thought he was older", "I don't share his feelings".
Want to know more? This is why I am the way I am.
This article may contain content provided by one of our paid partners. These are some of the best businesses in Utah. For a list of all our current and past relationships see our
partnership history page
.