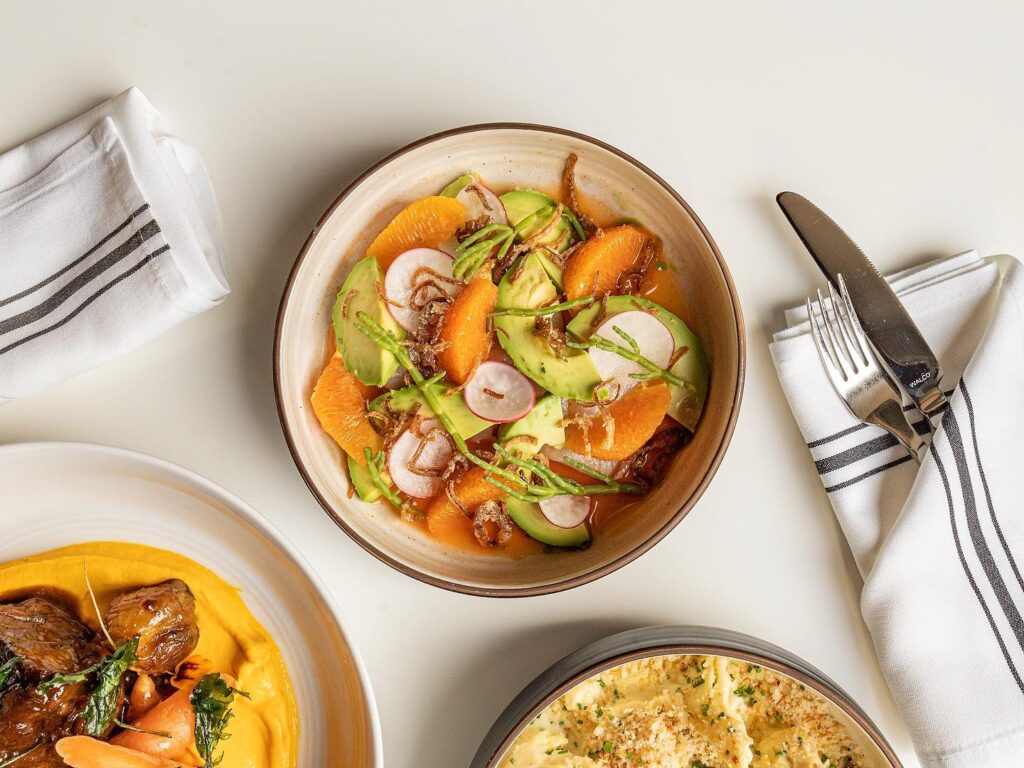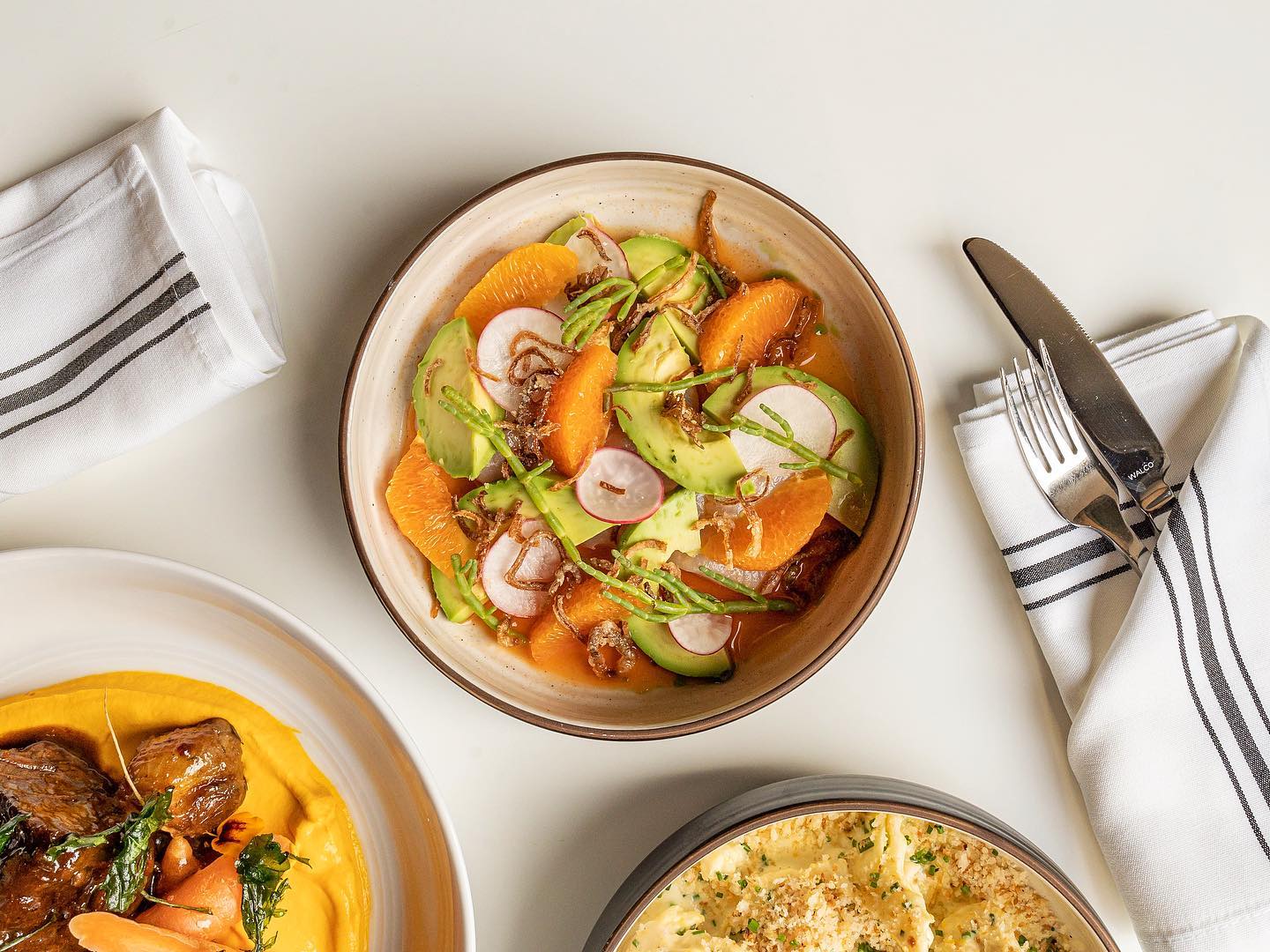 One of the most popular questions we're always answering? "What's the best restaurant in Salt Lake City?" Truth is, we have so many unique restaurants in SLC that it's impossible to pick just one.
Hopefully this complete guide to the best of the best in Utah, will help guide you to the perfect meal. As you scroll down the page you'l find guides to the best food in each of our neighborhoods, the best by culinary style or time of day. Some of the following restaurants are sponsors of our site, we think they're the creme de la creme, there marked with a *.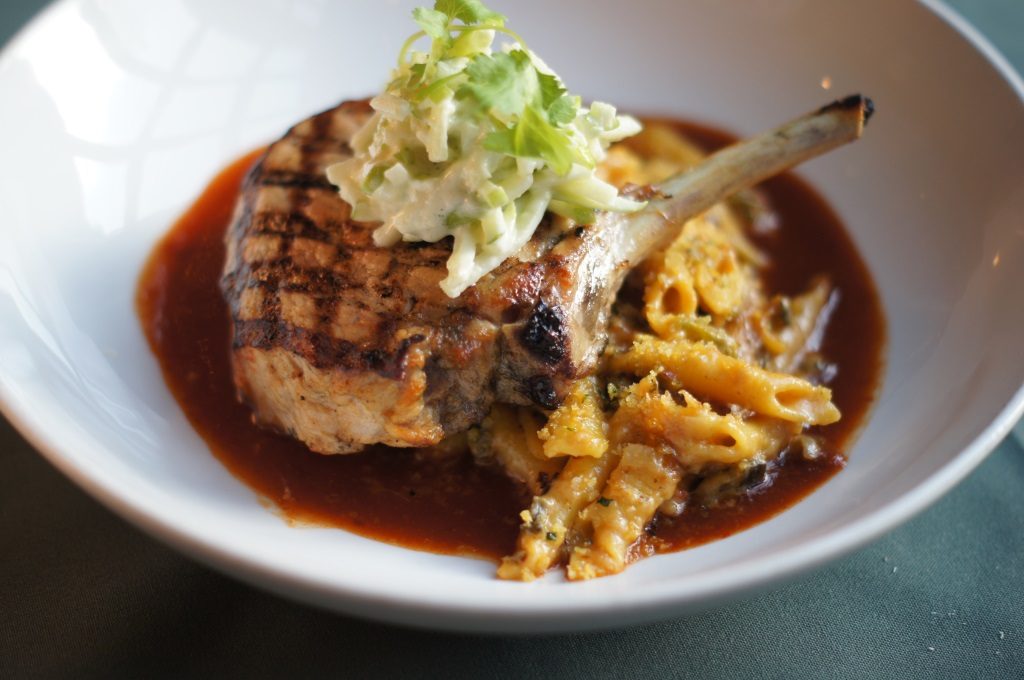 Log Haven * Located just four scenic miles up idyllic Millcreek canyon you'll find this spectacular restaurant. Chef Dave Jones' menu embraces the rustic mountain setting with a dash of Southwestern spice and flair. Keep an eye out for sublime dishes like Achiote Grilled Calamari with salsa verde, fresno peppers and onions, crisp tortillas, lime aioli; or Tea Brined Duroc Pork Tenderloin with hazelnut – apricot quiona pilaf, roast winter squash, huckleberry gastrique.
The wow factor at Log Haven isn't just on the plate though, the restaurant traces its root back to 1920, built by Salt Lake steel magnate L.F. Rains. Rains' eye popping creation sits amongst flowing waterfalls, wildlife and soaring trees. We can't think of any other Utah restaurant that can compete on the scenery alone.
Essential eats – coffee and cocoa rubbed elk striploin, cherry – port gastrique, honey roasted carrots, brown butter yams. Read the full menu.
6451 E Millcreek Canyon Rd, Salt Lake City, UT 84109
(801) 272-8255
www.log-haven.com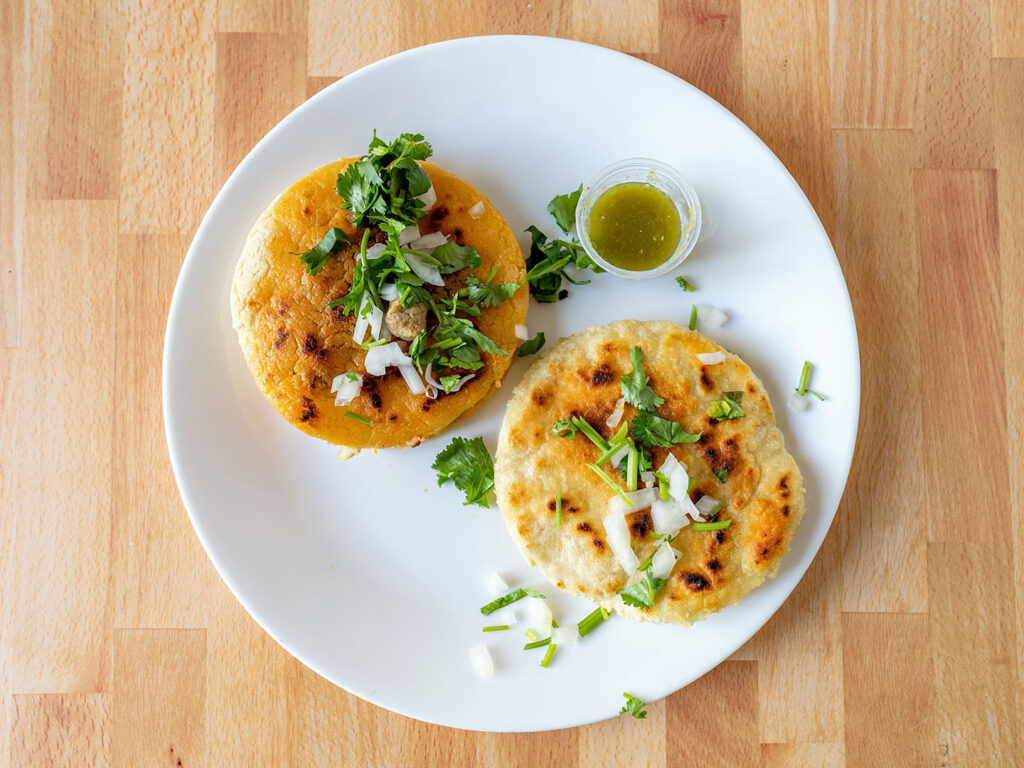 Taqueria Los Lee – You'll find multiple generations of the family that run this restaurant in South Salt Lake – welcoming diners into their space to enjoy their home style cooking. Pull up a chair and dive into a menu that's as crazily affordable as it is fresh and vibrant. The tacos are great but the gorditas are tremendous. See our full review of Los Lee.
Essential eats – home made gorditas with ground beef and potato. Read the full menu.
2646 700 E, Salt Lake City, UT 84106
(385) 259-0764
taquerialoslee.com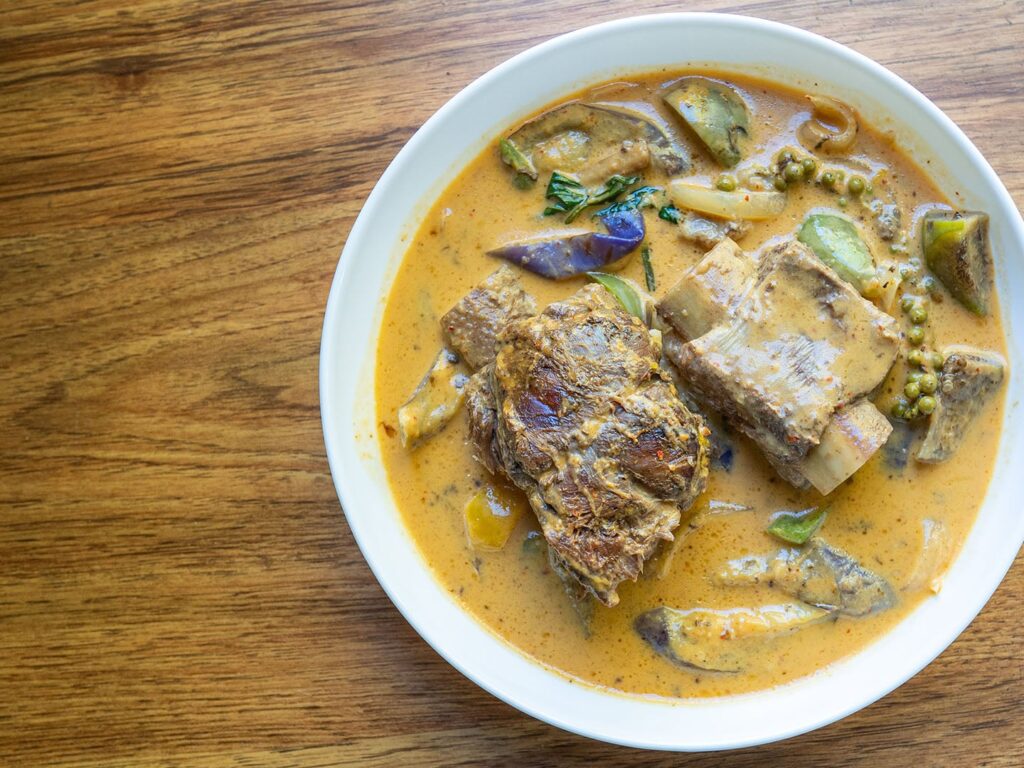 Kao Thai * Tucked away on the East benches of Millcreek, you will find Kao Thai, a fabulous Thai restaurant. Inside the well appointed modern space, you will find both authentically cooked Thai classics, as well as contemporary spins too – Thai ceviche anyone?
The owners have been cooking away on the SLC dining scene for many years at a variety of restaurants you've probably enjoyed, and are now cooking up a great menu at Kao Thai. The menu also includes a range of Thai dishes you might not find elsewhere; check out that fork tender braised short rib above, and we have it on good authority that their Khao So is as good as you get in Chiang Mai.
Essential eats – braised short ribs cooked in curry paste, coconut milk, Thai eggplant, Thai chili, fresh peppercorn, & Thai basil. Read the full menu.
3011 E 3300 S, Salt Lake City, UT 84109
(385) 202-7257
kaothai-slc.com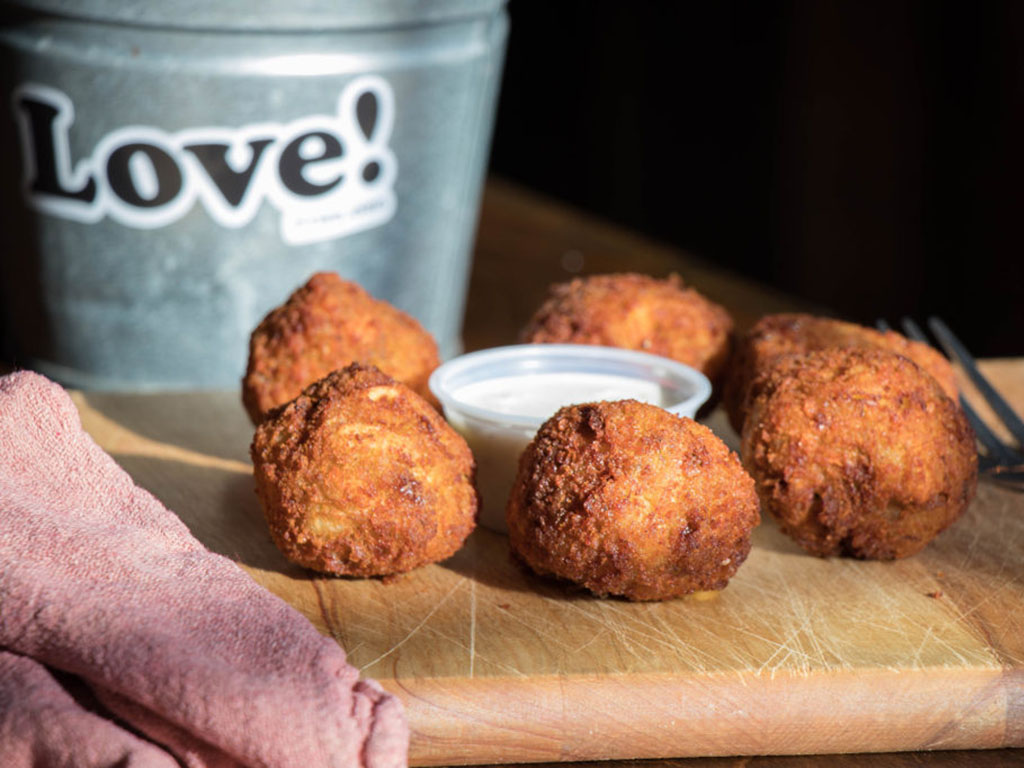 Head to North of downtown to the Marmalade area for this ultra-cool converted former auto-shop. Inside the fun spot you'll find a recognizable bar food menu (thank burgers and deep fried things) execute with more than a little aplomb and tongue in cheek. Case in point, this signature dish – Fried Mormon Funeral Potatoes. Eight bucks scores you a cheeky dish that plays on the traditional Utah spud dish. Idaho potatoes, cheddar Cheese, jalapeño, bacon and scallops are wrapped in a cornflake crust, then "Baptized in Hot Oil". Served with Utah Ranch they come in regular, fiery, and vegetarian options.
Essential eats – Southern twice-fried chicken, breast, leg and thigh brined for 24-hours, served with a side of coleslaw and French fries. Read the full menu.
1199 Beck St, Salt Lake City, UT 84103
(801) 521-3904
garageonbeck.com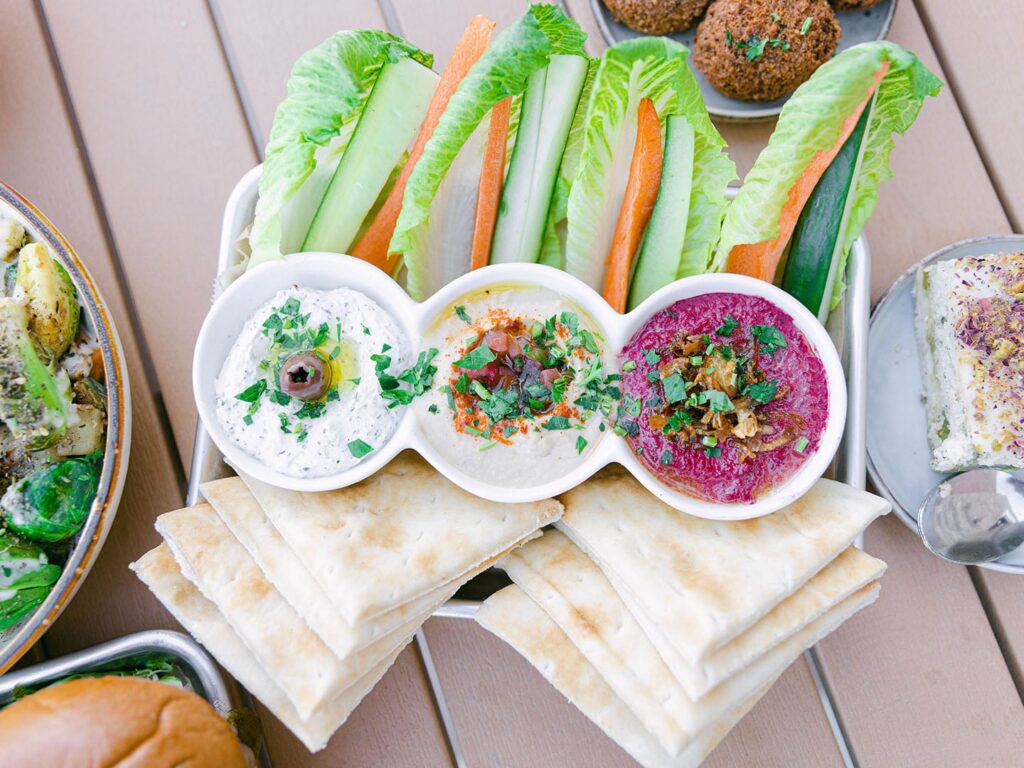 Laziz Kitchen * Now with two locations in SLC (Central 9th and Midvale) this Lebanese-focused restaurant offers some of the very best Middle Eastern cuisine in Utah. Start with the pictured trio sampler – our favorite is the vibrant roasted beet dip – before moving onto a selection of wraps, salad bowls and platters. All lean into big, bold flavors like earth za'atar and sharp sumac. Both restaurants also have great wine and beer lists, making them equally adept for a lingering lunch or fun dinner!
Essential eats – Lamb burger with ground lamb, lettuce, tomato, yoghurt sauce, caramalized onion, beet crisps. Read the full menu.
912 Jefferson St W, Salt Lake City, UT 84101 | (801) 441-1228
1076 Fort Union Blvd, Midvale, UT 84047 | (801) 849-8887
lazizkitchen.com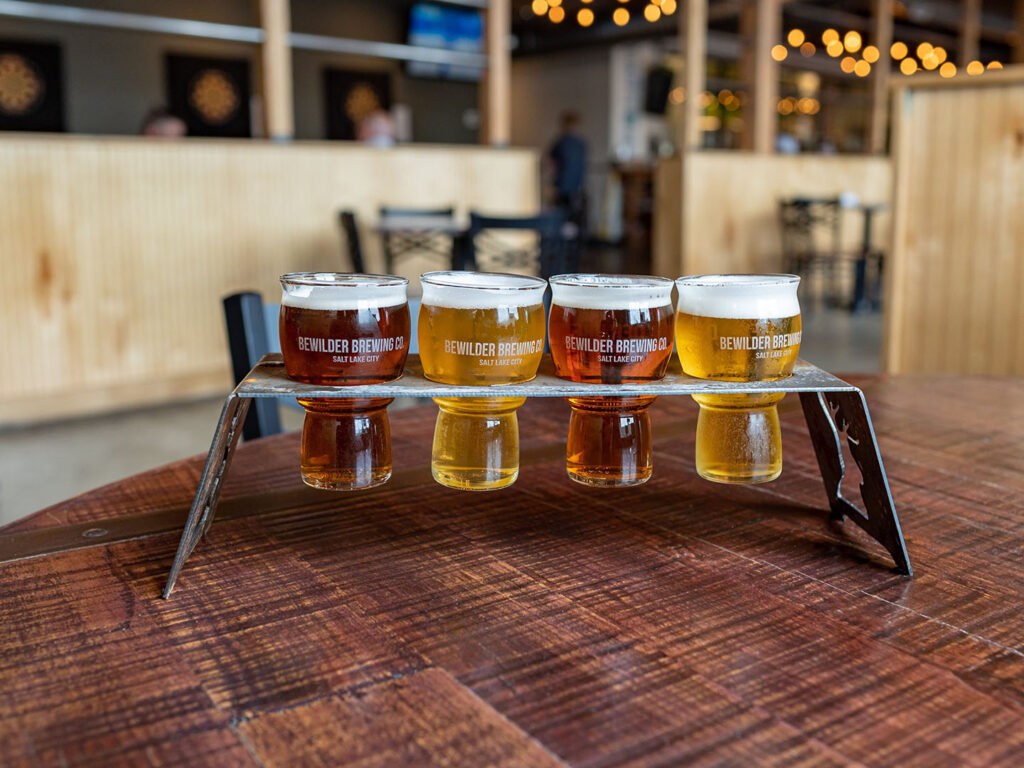 Bewilder Brewing – Bewilder Brewing is with the work of Salt City Brew Supply owners, Ross Metzger and Cody McKendrick. As you'd expect then, they know a thing or two about beer and put out a range of award winning brews.
You'll want to drop in for more than their traditional brews though, you'll want to to stop by to taste chef Justin Field's from scratch food. Field excels with his handcrafted sausages, offering a menu that rummages through a global recipe book encompassing everything from English bangers through German weisswurst and more. We initially wrote about Bewilder and Field's food here.
Essential eats – Suffolk sausage, English pork sausage made with sage, mace, ginger, served on mashed potatoes and onion gravy, with garlic bread. Read the full menu.
445 400 W, Salt Lake City, UT 84101
(385) 528-3840
bewilderbrewing.com
Best all in one night out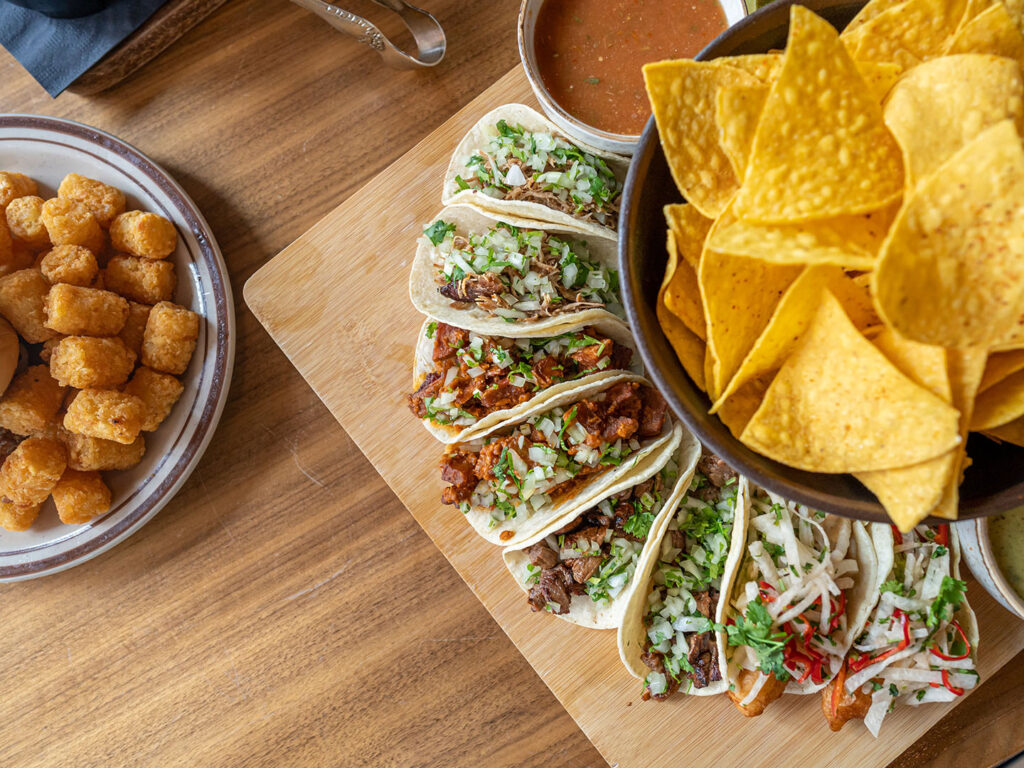 Flanker * Located in the The Gateway in downtown SLC is this massive 17,500 square foot facility; you'll find multiple bars, upscale and fun bar food, not to mention tons of hands on fun like sports simulators, karaoke, bowling and more. The menu takes traditional pub grub and lends a refined hand. Chef Roman Contreras previously chef'ed in San Diego prior to Utah, so definitely begin your exploration of the menu with his fabulous taco platter.
Essential eats – The Big Tacowski with carnitas, carne asada, vegan chorizo and battered fish. Come Sith side of chips and two house salsa. Read the full menu.
6 N Rio Grande St, Salt Lake City, UT 84101
(801) 683-7070
flankerslc.com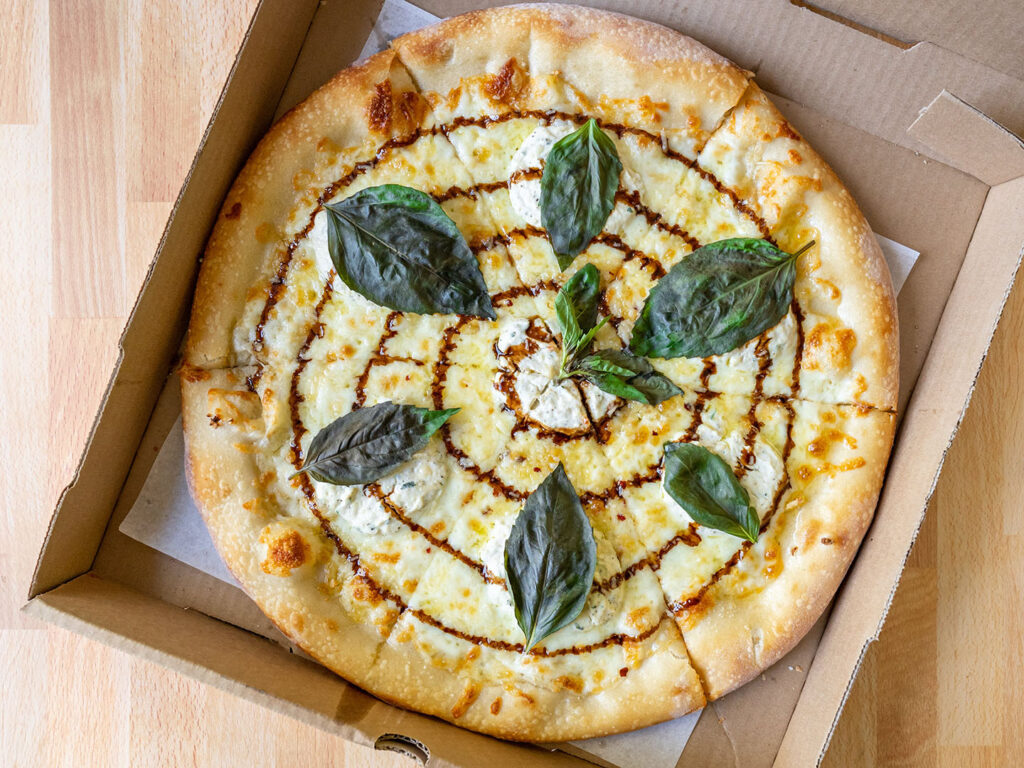 Villagio Pizzeria – Owner Ricci Rondelli hails from the Bronx and brings with him, a roster of fabulous pies. His South Salt Lake pizza shop offers legit East coast style pizzas crafted with care and impeccable ingredients. Expect to pay a couple dollars more than the cheap facsimiles out there, but also expect one of the best pizzas in Utah – hands down.
Essential eats – pizza Bianca with mozzarella, garlic, crushed red pepper, olive oil, ricotta, pecorino, basil, balsamic glaze. Read the full menu.
3144 S State St suite 1, South Salt Lake, UT 84115
(801) 410-4355
villaggio-slc.com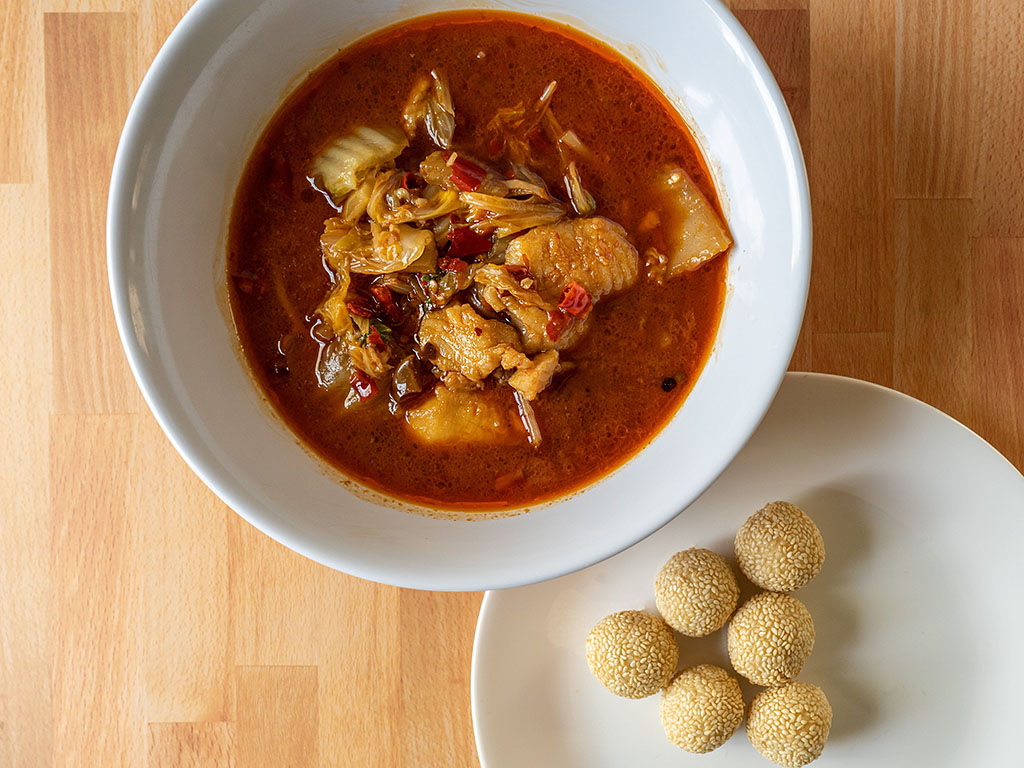 Chinese Taste – Found in the South Salt Lake Chinatown complex is this mighty fine Chinese restaurant that has everything from Chinese-American favorites through more authentic dishes like the pictured Sichuan dish – spicy boiled fish. Once you're finished with your meal you can wander the well appointed Chinatown for a little shopping too!
Essential eats – mapo tofu, silken tofu in spicy Sichuan sauce with pork. Read the full menu.
3424 State St, Salt Lake City, UT 84115
(801) 466-0888
chinesetasteut.com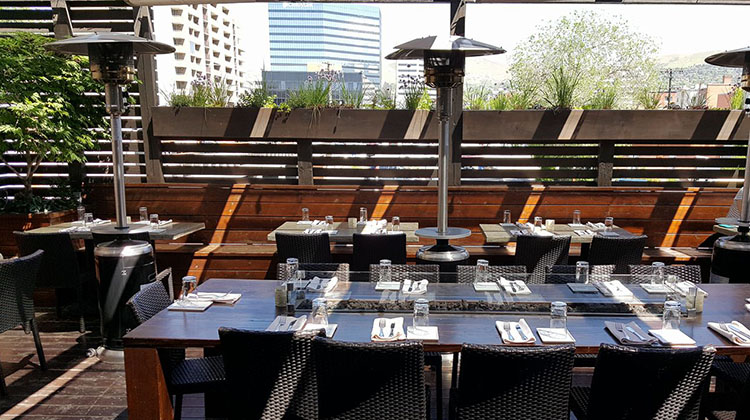 Stoneground Italian Kitchen * While Stoneground is located in the heart of the city, their patio is nicely hidden away from the hustle and bustle of the busy streets outside. Stop by in warmer months and enjoy their NY style pizzas and handmade pastas while dining al fresco.
The pretty patio space comfortably seats 45 and is also heated on colder days! While you're enjoying one of the best outdoor spaces in the city you can choose from a creative Italian menu that features dishes such as pork tenderloin with fried polenta, burette with harissa oil and black tagliatelli with lobster.
Essential eats – black tagliatelle with lobster claw & knuckle, cremini & oyster mushroom, chardonnay-cream sauce. Read the full menu.
249 E 400 S, Salt Lake City, UT 84111
(801) 364-1368
stonegrounditalian.com
Curry Fried Chicken – This fast casual restaurant offers a unique dish you won't find anywhere else in Utah – and maybe surrounding states. Curry. Fried. Chicken. Take a moment to let that sink in. While you can find more common Indian dishes on the menu the star here is the lush chicken. This would be award winning fried chicken in its own right, but coupled with the lip smacking heat and flavour from Indian spices, this is a taste senstation like no other.
Beyond the curry fried chicken the restaurant also offers some great wraps and plates too – we love the pictured tandoori grilled chicken. Vibrantly colored chicken is served with a side of basmati, veggie curry, salad with sambal and raita plus a little pita too.
Essential eats – chicken tikka plate with super basmati rice, veggie curry, house salad and warm pita. Read the full menu.
660 State St, Salt Lake City, UT 84111
(801) 924-9188
facebook.com/cfcslc/
Avenues Proper * This Avenues neighborhood staple has been a must goto brunch spot for nearly a decade. The first restaurant in the Proper group of business serves up one of the best morning starts in town at the weekend. Options include biscuits and gravy, steak and eggs, eggs benedict and plenty of modern twists to keep things interesting. Fancy one of their award winning beers or a cocktail to wash things down with? Go right ahead.
The original business in the Proper group, which now also includes other fine destinations like Proper Brewing, Proper Burger, Stratford Proper and Craft by Proper – the latter – Utah's only, Utah only beer bar!
Essential eats – burger with 7oz beef patty, arugula, tomato, sharp white cheddar, roasted garlic aioli, fried shallots, toasted brioche. Read the full menu.
76 8th Ave, Salt Lake City, UT 84103
(385) 227-8628
avenuesproper.com/dine-in/weekend-brunch
Little Saigon – A fast casual eatery, on the edge of Sugar House. The specialty is banh mi, grab and go Vietnamese sandwiches, but also on offer: rice plates, noodle dishes and appetizers like wings and spring rolls.
Essential eats – garlic-butter steak banh mi, steak with garlic-butter, mayo, lettuce, cucumber, pickled daikon & carrots, cilantro, black pepper, tomatoes, onion vinaigrette. Read the full menu.
2021 E Windsor St, Salt Lake City, UT 84105
(801) 906-8630
littlesaigonutah.com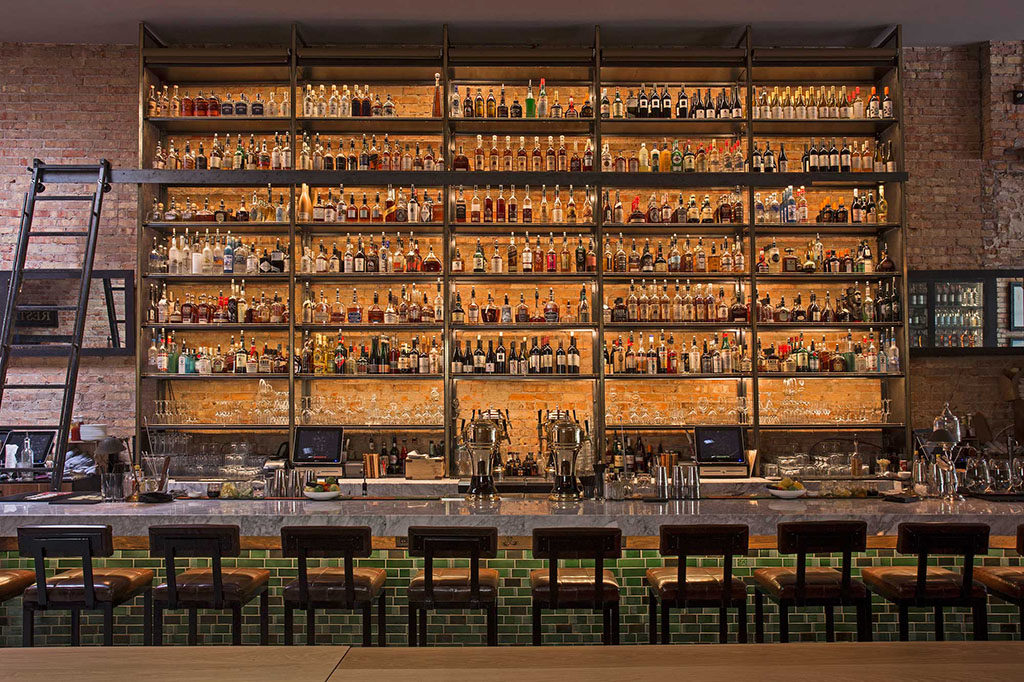 White Horse * The third outing from the Bourbon Group's trio of downtown hotspots (including Whiskey Street and Bourbon House) follows the same winning formula: great food, great drinks, great vibes. White Horse offers an upscale menu of modern American brasserie food in a chic setting. Located on downtown's vibrant Main Street, you can stroll the heart of the city and sight see, before or after your meal.
Essential eats – American wagyu burger, Snake River Farms wagyu, smoked pork belly bacon, house pickles, American cheese, onion, dijonnaise, gem lettuce. Read the full menu.
325 S Main St, Salt Lake City, UT 84111
(801) 363-0137
whitehorseslc.com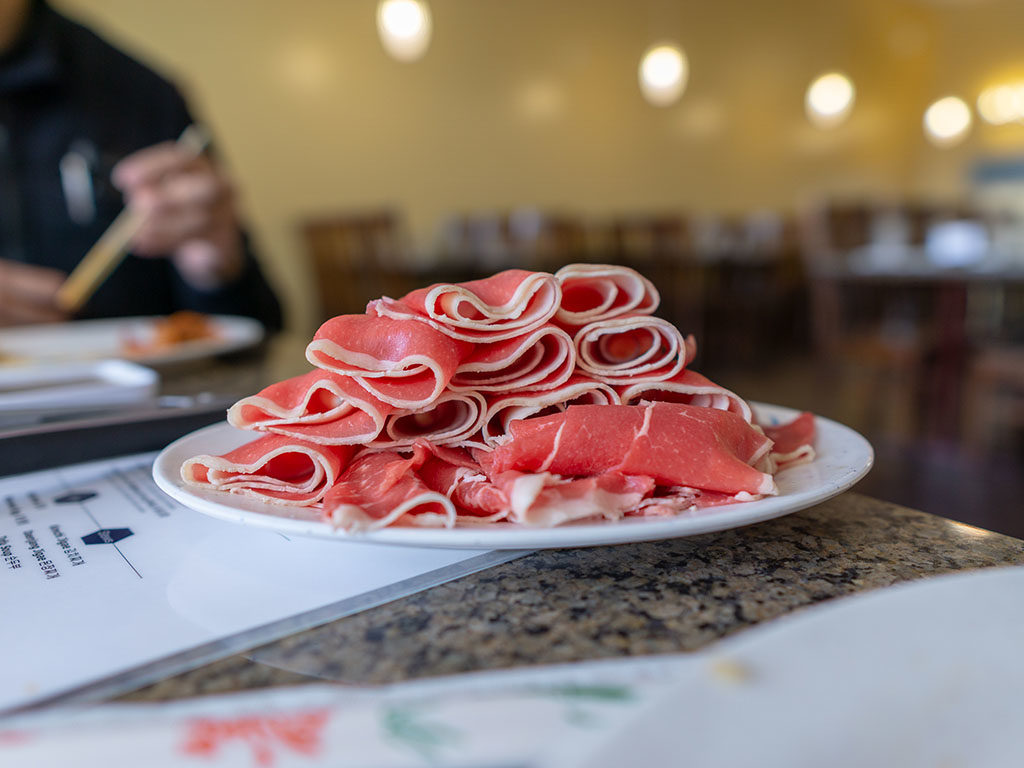 EJO Korean BBQ – For Korean style BBQ our pick is EJO located in South Salt Lake. If you're new to Korean BBQ you're in for a real treat. The friendly staff bring plate after plate of raw meats to your table, which yo then grill yourself, there and then.
At EJO, the whole affair is an all you can eat setup too. As well as the table side meats there's also a great buffet setup with hot and cold dishes, japchae to banchan – plus a number of hot dishes that you can order up cooked from the kitchen too.
Essential eats – all you can eat Korean BBQ. Read the full menu.
633 3300 S, South Salt Lake, UT 84106
(801) 474-0047
ejokoreanbbq.com
Feldman's Deli * Stop what you're doing right now and head to Feldman's for some of the most sublime sandwiches in all of Salt Lake City. The star of the menu at this NYC-styled deli is mammoth half pound sandwiches, each one an ode to the owners roots from back East, Jersey to be precise. Indeed that's where the luscious pastrami and corned beef are imported from, not least other items like authentic pickles and NYC cheese cake too.
The fabulous corned beef and pastrami is hand carved daily at Feldman's and everything that's not carefully shipped from the East coast, is hand made in house.. From the classic corned beef with mustard through the funky sloppy Joe or soul satisfying reuben – each creation is a masterpiece. Moreover, these enormous sandwiches are enough to share, or split over two meals.
And it's not just the best sandwiches in Salt Lake City you will find here (though honestly you'll be hard pressed not to order one), the restaurant also seeks to offer a true taste of authentic Jewish deli's from New York. The business offers a variety of homemade entrees including pierogi, stuffed cabbage, kielbasa, brisket, bacon-wrapped meat loaf, homemade bagels, matzo ball soup and more. Stop by for dinner (Thursday through Saturday) to check out some of these rustic entrees, plus a range of specials. Also keep note of Feldman's breakfast hours and start your day with a bagel, some lox, and perhaps a schmear?
Essential eats – sloppy Joe sandwich with corned beef, pastrami, thousand island and coleslaw on Jewish rye. Read the full menu.
2005 E 2700 S, Salt Lake City, UT 84109
(801) 906-0369
feldmansdeli.com
Caffe Molise * A stalwart of the downtown dining scene and one of the best independent restaurants in Salt Lake City. Chef and owner Fred Moessinger focuses on fresh ingredients to power the seasonal and regional Italian cuisine Caffe Molise is known for. Dishes to keep an eye out for include the spectacular Pappardelle Al Sugo with house-made fresh pappardelle tossed with a slow-cooked sauce of pork and beef with tomatoes and topped with Asiago, or for something sweeter, the classic and elegant Tiramisu – one of the best in town.
Located conveniently next to the Salt Palace and all of SLC's arts and entertainment venues, Caffe Molise makes for a great option for business dinners, convention dining or just a night out on the tiles. Which reminds us, be sure to check out the the adjoining wine bar, BTG, also owned by the same folks. BTG is perfect for pre or post dinner drinks and is the finest wine bar in Salt Lake city bar none.
Essential eats – pappardelle al sugo, house-made fresh pappardelle tossed with a savory, slow-cooked sauce of pork and beef with tomatoes, topped with Asiago. Read the full menu.
55 W 100 S, Salt Lake City, UT 84101
(801) 364-8833
www.caffemolise.com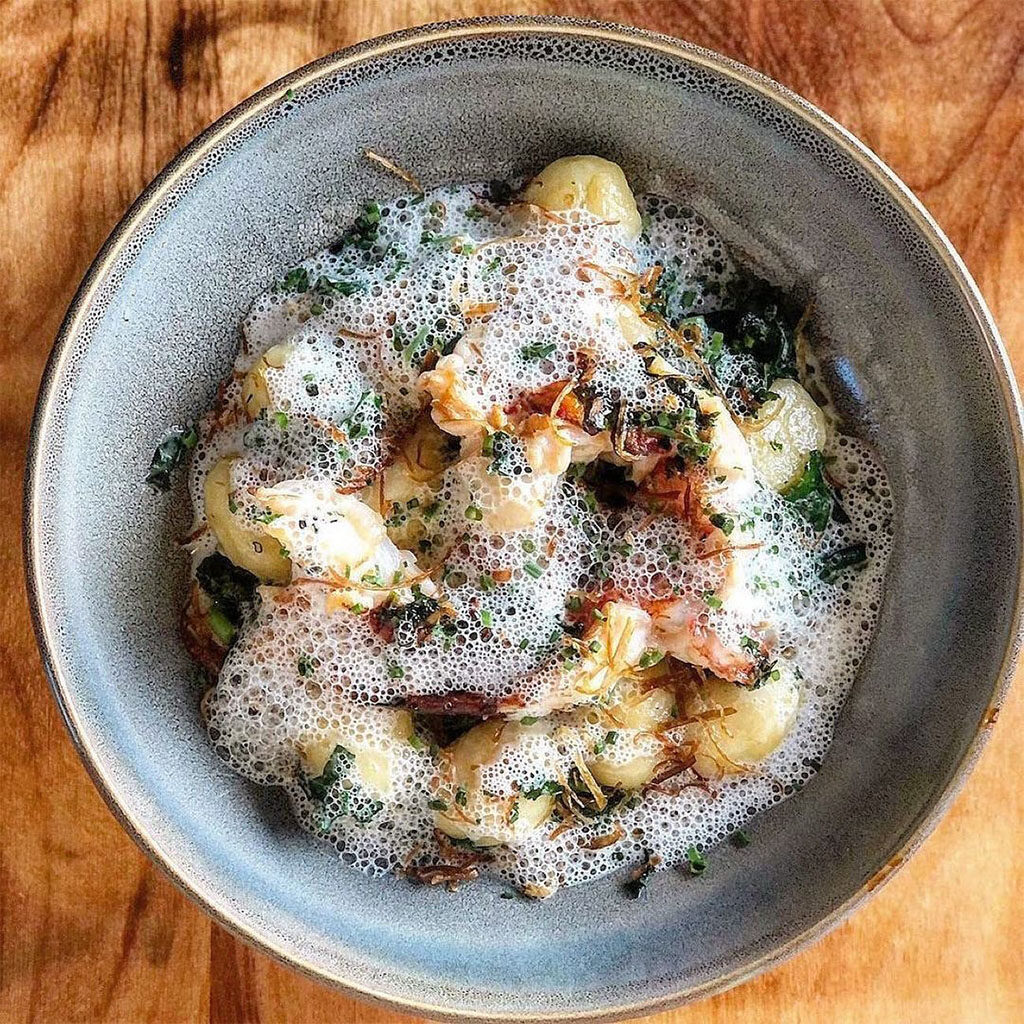 SLC Eatery * Paul Chamberlain and Logen Crew are the duo behind this powerhouse of a restaurant, offering one of the most unique menus in town. Not only does the restaurant check all the boxes in terms of local, organic, seasonal and more – but it also offers a completely unique dining experience – a modern take on the classic dim sum cart serving style.
In addition to the regular ala carte options at SLC Eatery, you'll find the dim sum cart roving the restaurant space with highly specials aplenty. Inspired by San Francisco's State Bird Provisions restaurant, SLC Eatery offers unique flavors coupled with a wholly unique experience in Utah. One not to miss. One of the best in the state.
Essential eats – nightly cart service. Read the full menu.
1017 Main St, Salt Lake City, UT 84111
(801) 355-7952
slceatery.com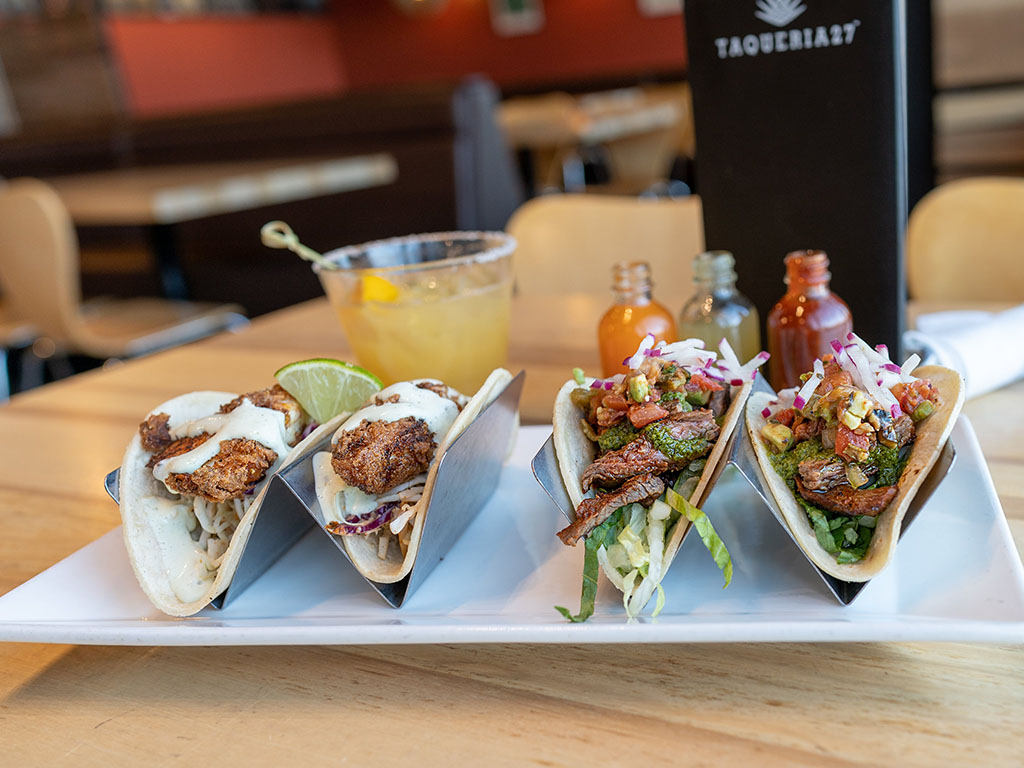 Taqueria 27 * What's for lunch? Tacos, that's what! Not just any tacos mind you, the fresh cuisine at Taqueria 27 is crafted with care and precision – at all five locations. Yep, wherever you are in the valley, you're close to a T27 location, and all five are open for lunch.
On the menu you'll find a contemporary take on one of our favorite foods; that means tacos loaded with gourmet selections such as slow cooked short rib or chipotle spiked duck confit. You'll also find small bites and salads if you're looking for a lighter lunch, plus more substantial enchilada options if you're looking to load up too. Moreover, every visit to T27 is always offers something unique and fun to explore. Every location offers GODs, TODs and MODs. Wait, errr what? That's guacamole, taco and margarita of the day to you!
That ever changing menu is offered alongside a full bar (with one of the largest tequila selections in Utah) not to mention every location is chic, modern and comfortable. If you're looking for something different for lunch that the regular boring old soup and sandwich, T27 would be our first stop!
Essential eats – duck confit taco, chipotle spiked confit of duck, roasted corn, squash and peppers, chipotle crema and crispy leek strings. Read the full menu.
Holladay | 4670 S Holladay Village Plaza, Holladay, 84121 | (801) 676-9706
Downtown | 149 E 200 S, SLC, 84111 | (385) 259-0940
Murray | 6154 S. Fashion Blvd, Murray, 84107 | (801) 266-2487
Lehi | 1688 W Traverse Parkway, Lehi, 84043 | (801) 331-8033
taqueria27.com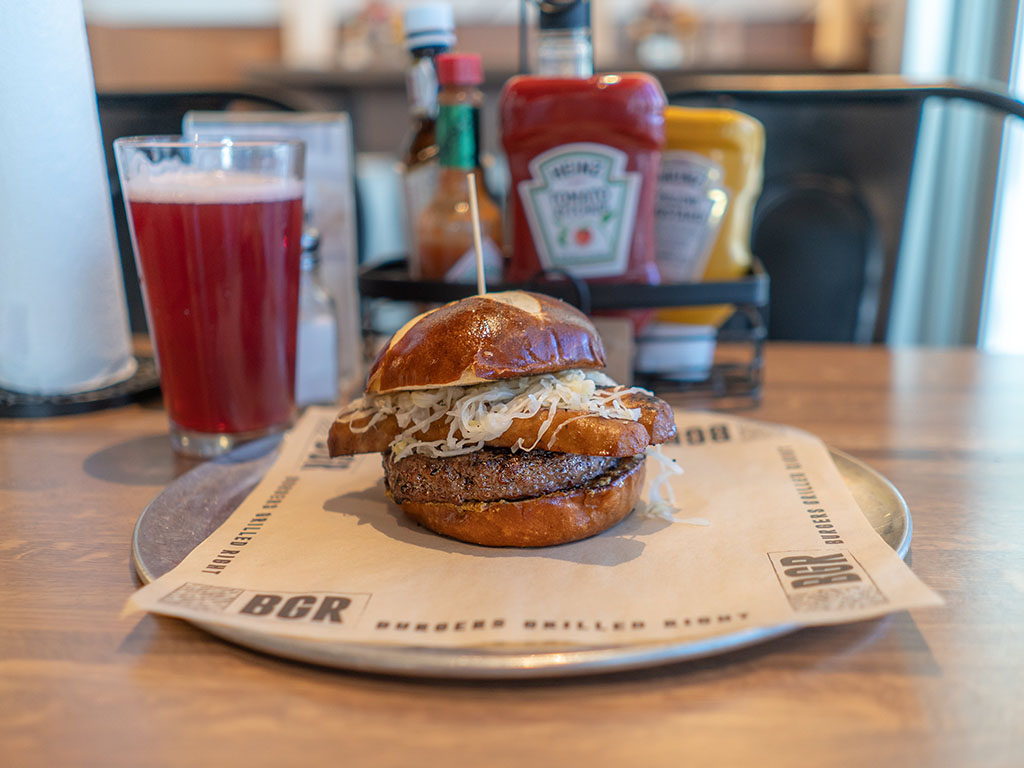 BGR * While BGR might be a national chain, it's a modest, boutique one; and it's one focused on quality and definitely one worthy of your attention and time. Currently the only BGR in Utah can be found in the heart of Sugar House on Wilmington.
First up, the name tells you right away what to expect at this gourmet burger joint. Burgers at BGR are grilled to order: rare, medium, welldone, or anything in between – you call the shots here. Same goes for your bun choice too where you can select from a brioche bun, gluten free, pretzel bun or lettuce wrap.
And you know when a restaurant is happy to serve you a burger to order – that means you can count on quality. At BGR everything is top shelf and fresh, from the premium 6 oz beef patties to their all natural chicken burgers, turkey burgers, sushi grade ahi and hand made veggie burgers. The same goes for their range of complimentary and premium toppings too – made fresh in house when appropriate. There's a great selection of craft beer, wine and thick hand-spun milkshakes too!
Essential eats – wagyu Wellington, custom blend wagyu truffle infused burger, deep-roasted mushrooms, caramelized onions with bleu cheese and mojo. Read the full menu.
1202 E Wilmington Ave, Ste 120, Salt Lake City, UT 84106
(801) 487-6301
bgrtheburgerjoint.com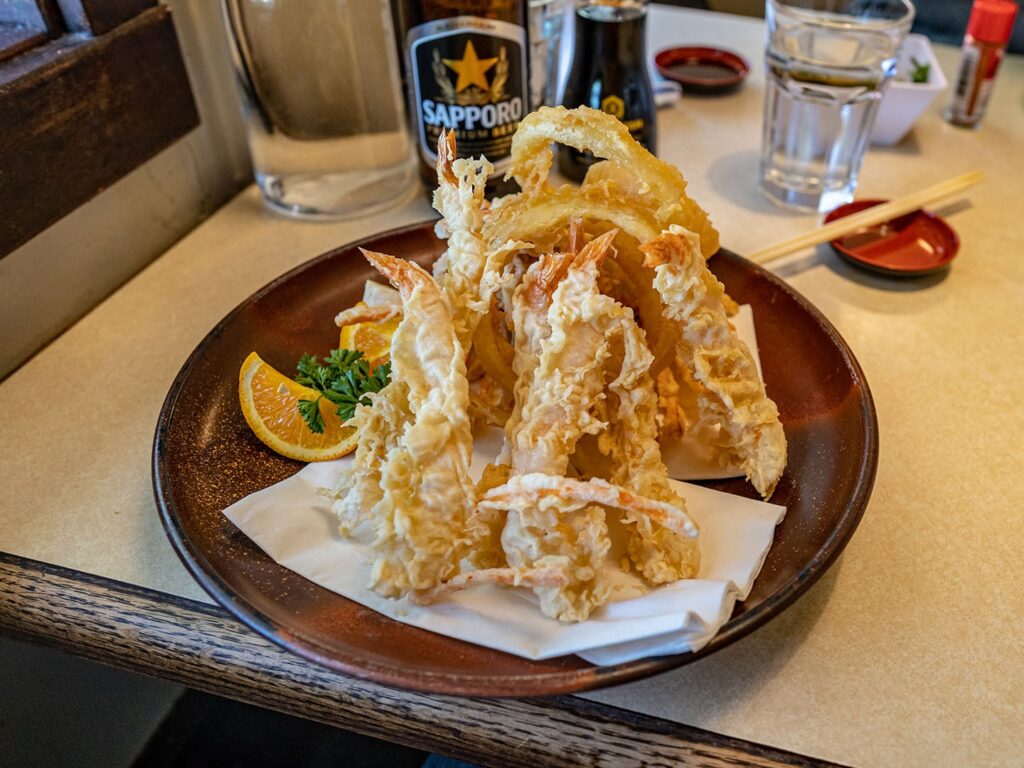 Kyoto * A staple since the 1980s and one of Utah's first Japanese restaurant's is Kyoto, located on the East side of town. Focused on authentic Japanese cuisine, not to mention housed in a traditionally upholstered Japanese space that's relaxed and bubbling with atmosphere. The space features private tatami style booths, a sushi counter and is always busy. Parking can be tight so plan ahead, or arrive early/later to avoid the rush.
One particular specialty at Kyoto Japanese Restaurant are the fabulous tempura shrimp served as part of a complete dinner with salad, soup and rice. They're the stuff of dreams, epic in both size and terrific crunch. In fact all the traditional comfort food dishes here rock: tonkatsu, sukiyaki, teriyaki, tempura and more.
Essential eats – six piece tempura shrimp entree with salad and rice. Read the full menu.
1080 E 1300 S, Salt Lake City, UT 84105
(801) 487-3525
www.kyotoslc.com
Best Chicken And Ribs – What do we mean when we say holes in the wall? For me it's not a negative, far from it; we're talking about a restaurant that is focused more on the food than the fancy light fixtures. Humble and homespun. Cheap and cheerful. Reliable and rock solid.
Best Chicken in South Salt Lake meets all those criteria and more. Sporting a menu strikingly familiar to nearby Chicken Express, this completely separate location on 27th South is our favorite of the two. The restaurant is the epitome of humble mom and pop and their chicken is some of the very best in town.
Essential eats – double chicken kabob over rice with house salad. Read the full menu.
111 E 2700 S, Salt Lake City, UT 84115
(801) 466-8311
slcmenu.com/2014/07/19/best-chicken-and-ribs-menu/
Want more Utah food recommendations?
So you've tried all the above? You want more places to check out? We've got you covered. Head on over to our comprehensive dining guide here. The dining guide includes everything from best dishes, best by neighborhood and best by time of day.
Hi, I'm Stuart, nice to meet you!  I'm the founder, writer and wrangler at Gastronomic SLC; I'm also a former restaurant critic of more than five years, working for the Salt Lake Tribune.  I've worked extensively with multiple local publications from Visit Salt Lake to Salt Lake Magazine, not least helped to consult on national TV shows.
I'm a multiple-award winning journalist and have covered the Utah dining scene for the better part of fifteen years.   I'm largely fueled by a critical obsession with rice, alliteration and the use of big words I don't understand.   What they're saying about me: "Not inaccurate", "I thought he was older", "I don't share his feelings".