I arrive at Acme Bar Company just before the lights go up for service. The switch is flipped as several million (or so a brief glance and terrible estimation skills would suggest) tiny lights flicker into festive life; we peer through the window to make sure the surrounding neighborhood doesn't blink out in response. Welcome to Acme, the latest effort from the constellation of cocktail stars you might've encountered prior at the James Beard nominated Water Witch.
Acme opened just last week in the former Campfire Lounge (837 E 2100 S) space in Sugar House – unwrapped to the public with a dazzling Christmas makeover and menu. If you want to toast the season in style, make a beeline, and please, don't forget the fabulous Christmas Parlor over at Flanker too – I wrote about that one last week here (free popcorn and a movie folks).
Acme technically wasn't even in the game plan for the Witchers, "but well, it just kinda happened", laughs Sean Neves, co-owner (alongside Scott Gardner) of the businesses; who last night graciously agreed to sit down talk current and future plans with me. Neves – an elder statesman of the local bar community – recounts the recent call that came from Campfire Lounge owner Seth Radford, asking if he wanted to take the keys and move the space forward. "We just couldn't say no to all this character. These unique types of properties in Sugar House, they just don't become available all that often." Neves isn't wrong, we glance across the street, a scene of frenzied construction. The soaring new build rental properties have already crept this far down 21st South and show no sign of stopping.
The current Christmas popup at Acme is just that, a temporary place holder while the real work is underway for the space. Neves explains the company's unique build out approach, that sees much of the interior design constructed off site, before rapidly installed and unveiled on site. It'll come next year, but in the interim expect a series of seasonally apropos popups (say that with a mouth of rum I dare you) while the master plan comes into focus in early 2023.
And then? Tiki! Acme Bar Co will be the physical home for the until now virtual, Island Time; a roaming tiki concept, the brainchild of Sam Miller and Mikey Edwards. You might have seen them spring into ephemeral action at Caputo's or The Ruin as they practiced their fiery extravaganza. I first met Miller at Copper Common back in March, shortly after his return from the San Fran cocktail scene. Miller gamely tried to explain the core concept of tiki to me. After some back and forth and one perplexed Brit, "It's a state of mind really", I recall Miller explaining. "Ahhh so like Margaritaville", I offered. Thankfully Miller didn't eject me on the spot. While, tiki is fun, it's anything but Jimmy Buffet kitsch. At its heart it's serious business. Amongst the fire and fruit there's balance, intelligence and yes some swaggering style. Real tiki isn't the sticky floors and sugary overdose of your college years.
The sensibility behind the fun and flame reflects on Water Witch; really to have this much fun, there's sober business acumen at work. Neves looks around the newly minted Acme and laughs at the happenstance turn of events that quickly unfurled. Right now it's a belts and braces approach with plenty of work ahead. The bathrooms are in need of an overhaul, the kitchen (there's a small food menu right now) is going to undergo a transformation, and the outside patio will be remade into a Summer hot spot. "I think it's easily the best bar patio spot in Sugar House, and we're going to overhaul it in dramatic fashion," Neves excitedly notes. A work in progress it may be, but social media has already got things off to a bustling beginning. As we talk a crowd is already forming. The bar has been open for barely 30 minutes and the pineapples are flying off the shelves. And yes, yes I asked. The crew at Acme are already getting through several hundred pineapples a week…
Ahem. As well as completing the transition to the permanent home for Island Time, Neves and co have a few more surprises up their sleeve for 2023; the group is expected to employ some fifty or more staff through a series of rapid expansions by this time next year. One big plan for downtown Salt Lake City I'm sworn to secrecy on for now. And who argues with a man who owns a fire gun. One exciting opening I can reveal though is a revamp of a much loved Central 9th spot – Nohm.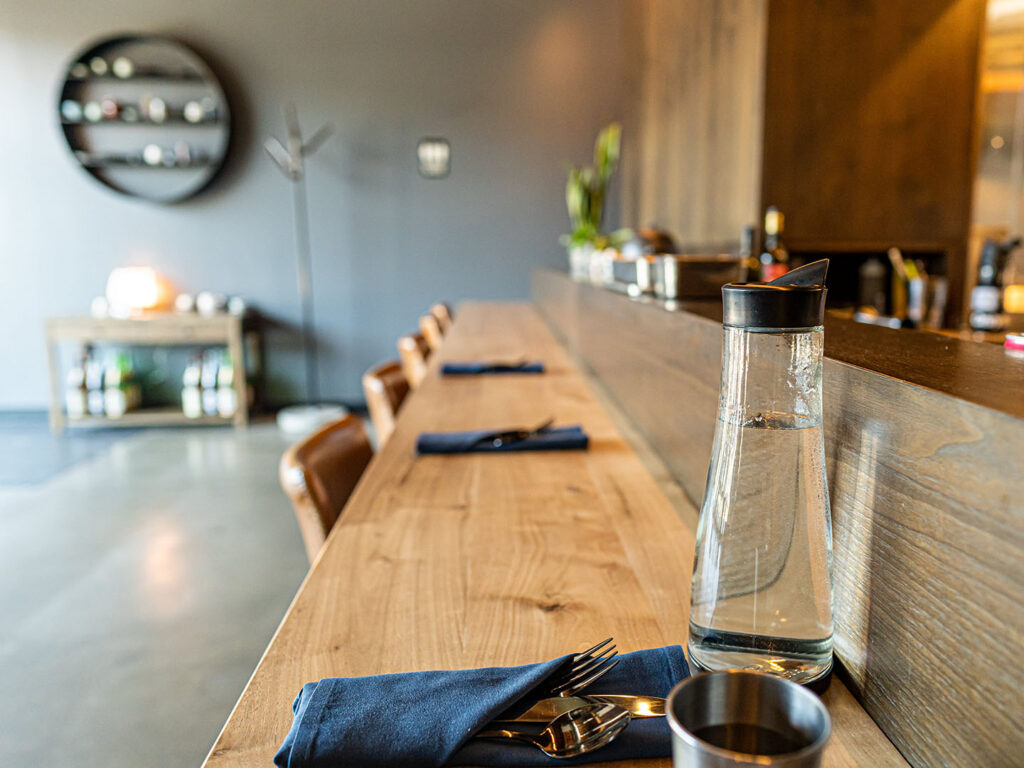 The eagle eyed no doubt noticed the closure of Central 9th's Nohm as Summer came to a close this year. David Chon's upscale Japanese/Korean restaurant (which served as the main home for the Arthur pop up) shuttered for unspecified refurbishment and until now, detail has been scant on his return. After talking to Neves I can happily tell you that Chon will be partnering up with Water Witch for what's sure to be one of 2023's must eat and drink openings.
With the refurb complete, Bar Nohm will open, formally operating under the Water Witch liquor license – and becoming a 21+ only space in the process. The new business will ostensibly operate as a separate space, and see the cocktail talents of the Water Witch empire fused with Chon's exemplary cuisine. Patrons will be free to move from Water Witch to Bar Nohm, or vice versa (kinda like the Bar X / Beer Bar setup). This will undoubtedly make this block in the Central 9th, the coolest little spot in Salt Lake county (and yes, I'll have that story in full next year).
As I mentioned, those in the know have already found Acme. If you plan to swing by, do so early, or expect to get friendly with a larger crowd. Acme Bar Company is open Thursday – Sunday from 5.00 p.m.
Keep the conversation going
Want to stay on top of the SLC food scene, minute by minute, dish by dish? Here are a few other places you should follow along:
Hi, I'm Stuart, nice to meet you!  I'm the founder, writer and wrangler at Gastronomic SLC.  I'm a multiple-award winning journalist and have written in myopic detail about the Salt Lake City  dining scene for the better part of seventeen years.
I've worked extensively with multiple local publications from Visit Salt Lake to Salt Lake Magazine, not least helped to consult on national TV.   Pause those credits, yep, that's me! I'm also a former restaurant critic of more than five years, working for the Salt Lake Tribune.    I'm largely fueled by a critical obsession with rice, alliteration and the use of big words I don't understand.   What they're saying about me: "Not inaccurate", "I thought he was older", "I don't share his feelings".
Want to know more? This is why I am the way I am.
This article may contain content provided by one of our paid partners. These are some of the best businesses in Utah. For a list of all our current and past relationships see our
partnership history page
.