While I'm not saying I can predict the future (if I did, Franklin Idaho and a Powerball ticket would be my next stop) I can absolutely spot a winning plate of food; speaking of which let me introduce you to a much closer Franklin, and a surer fire bet to boot: Franklin Ave Cocktails & Kitchen – the latest installment in the ongoing chronicles of the Bourbon Group.
Before we thumb through this latest chapter, let's first leaf back through the previous pages. The story all started in 2013 when the Bourbon Group tapped chef Matt Crandall to spearhead the culinary side of their would be success story.
Crandall joined the team shortly after the opening of Bourbon House – the underground bar on 2nd South. While Bourbon House has been fancied up around the edges over the years, Crandall's first major impact was seen at Whiskey Street. The goal was clear, a whiskey forward bar with chef-elevated cuisine. The familiar roster of burgers and sandwiches and salads given more thought than the freezer and fryer. In case you just landed here from Mars, know that the crowds now spill out into the streets by late afternoon on any day of the week.
Next up White Horse, which cantered onto the Main Street scene some four years later. Rather than copy their sophomore smash – and who could blame them – the plan was for something else. White Horse menu upped the group's culinary game. Fruits de mer, charcuterie and one of the city's first hard cider programs appeared – an American brasserie was born circa 2017.
Which brings us neatly to the present day and the opening of Franklin Ave Cocktails & Kitchen. The restaurant debuted over on Edison Street last week; a part of town being re-imagined by a number of newer operators such as ROCTACO and Bricks & Mortar. And to the point of this article, the crowds have yet to discover this spot. You'll want to find it before they do. Trust me.
Like Bourbon's previous outings, this is a 21+ only bar and restaurant. Stop by for just a drink, maybe a bite, why not both. Linger as long as you like. The business can be found in the richly-rebooted Franklin Avenue Variety Theatre, built around 1891. The new stewards of the space have been respectful in their repurposing; as well as exposing century old brickwork, check out the upstairs bar. Newly minted wooden panelling creeps only half way up original wooden beams. A little bit of modern, a little bit of history. They can use that phrase if they like, that's royalty free.
The whole shebang runs across two floors, offering a range of places to plonk your backside. There's seating at the bar, three separate ones to be precise. There are a range of banquettes, snug booths in the basement, a pending patio sits to the South. It's all rather quite fun, and has a big city feel. Oh and Franklin Ave? That's the once upon a time name for the contemporarily monikered Edison Street.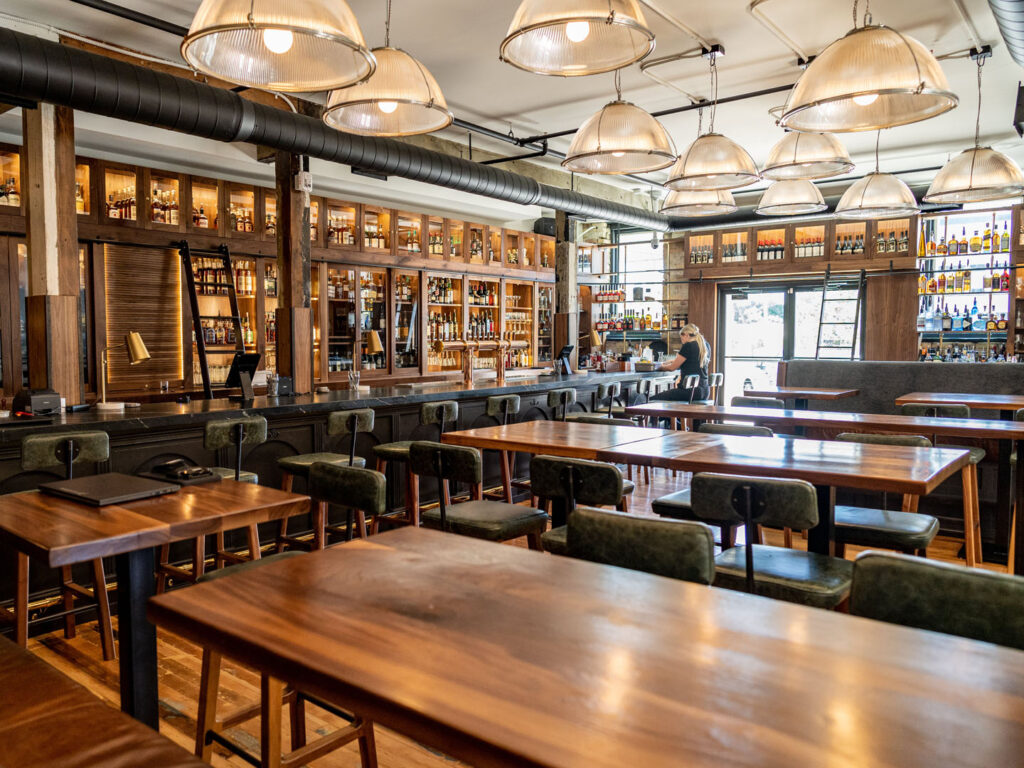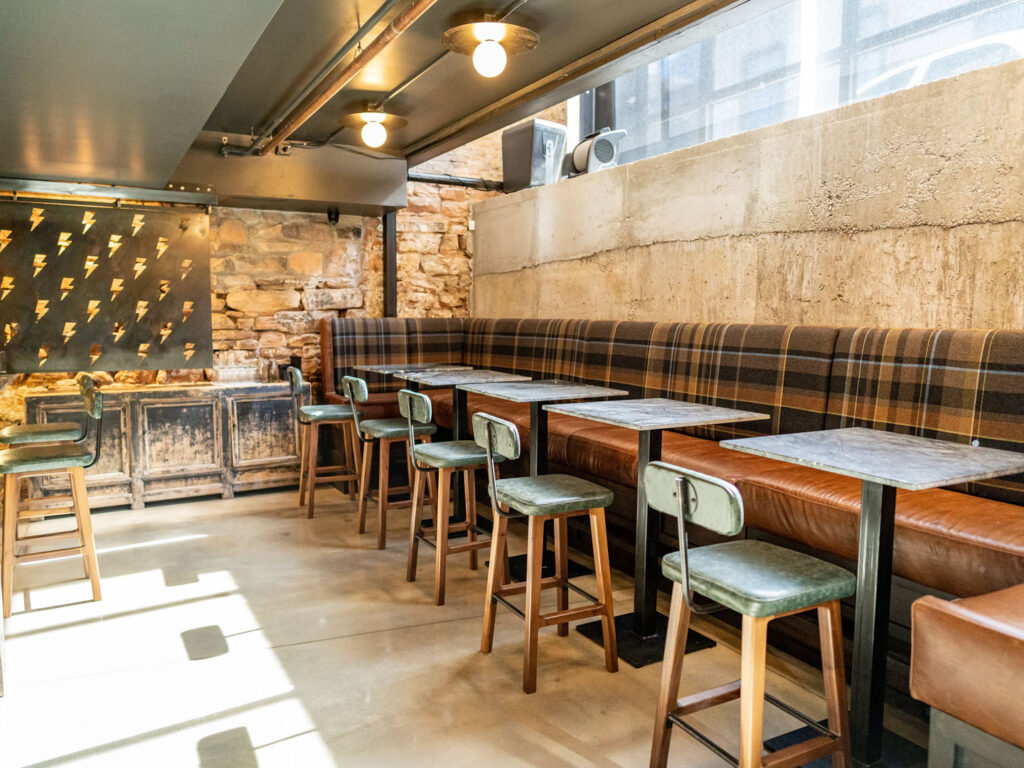 Moving onto the food, it's not a Xerox of tales already told, it's another evolutionary step for both the group, and Crandall himself who confides, "I didn't wan't to tie myself down with a strict menu concept. I wanted to explore more flavors, more dishes I personally love to eat." Think of Franklin as White Horse's younger sibling that decided to skip college, and travel the world. It's an American brasserie burnished by wanderlust.
Case in point, my favorite plateful of veggies for 2022 so far, a starter of snap peas. It took Crandall a couple of visits to nudge me into ordering these, but I'm glad I relented. The sweet greens are plated with a flurry of fresno chiles and an herbaceous storm of fresh mint and Thai basil. A couple dollops of chili crisp bring bite, crushed cashews do the same for the texture. Underneath the pile is a rich coconut cream, and as the dude would say, it ties the whole room together. It's a sort of South East Asian party on a plate, and frankly I wish I would have thought of it first. Looking to temper those meltingly harsh temps right now – eat this. Plus like me, you get to brag about eating your veggies.
Other favorite dishes I enjoyed on the starter section of the menu included deviled eggs sassed up with brittle bites of duck cracklin' and for those wanting something a smidge more elegant, a fabulous hamachi crudo. Strawberries, jalapeño and meyer lemon bring a bright Summery glow to the thinly sliced raw yellowtail.
Onto entrees and a range of sandwiches make an appearance before heartier plates star. Across my visits I forcibly restrain myself from ordering the wagyu burger, a dish essentially copied verbatim from White Horse's menu. It's a swooningly simple thing, side stepping the pitfall trap that is topping after ludicrous topping. Nope, this burger mostly relies on Snake River Farm's wagyu beef and it's an unforgettable experience, top three in town. No arguments, I won't hear them. You're wrong. None of this should come as surprise. Crandall's backstory includes a five year stint at Spencer's steakhouse, and who's that, a certain Don Hale of Hires Big H fame in the family lineage. Meat and grilling runs in the DNA.
Let me also encourage you to take one more detour into the world of vegetables before you move onto your entrees as well – seek out the baby gem salad – big enough to share between two. Crisp lettuce is dressed with a house made buttermilk ranch, while crunchy pepitas and radish afford bite. A generous topping of sweet Dungeness crab follows before a final addition of grilled avocado brings a smoky and rich kiss. Mwah.
For the bigger plates it's back aboard the airplane for another whistle top tour. Spin the globe with your index finger and see where we stop. What about the Mediterranean and chermoula spiked wagyu? How does Japan sound, and an exploration of umami – miso and dashi doing their thing for black cod? How does the Middle East strike you? Well here's some za'atar to earthily ground the roasted chicken. I particularly loved the gemelli pasta, all frenzied squiggles of mad dough, topped with more of that Dungeness crab and a bold bash of Japanese togarashi. Miso butter helps smooth out the spice's heat, while meyer lemon keeps the plate honed.
There's of course much more, there's dessert, drinks and dishes aplenty. Here's the full menu. As I said at the beginning, when it comes to prognostication I know a plate of food when I see one. And there are a brunch of them here. See you there folks…
Franklin Ave Cocktail & Kitchen
231 S Edison St, Salt Lake City, UT 84111
franklinaveslc.com
Keep the conversation going
Want to stay on top of the SLC food scene, minute by minute, dish by dish? Here are a few other places you should follow along:
Disclosure: The Bourbon Group are a sponsor of this website and kindly comped with food in writing this article. All thoughts are my own, and that of the overly stuffed hamster that runs around the wheel in my skull.
Hi, I'm Stuart, nice to meet you!  I'm the founder, writer and wrangler at Gastronomic SLC.  I'm a multiple-award winning journalist and have written in myopic detail about the Salt Lake City  dining scene for the better part of seventeen years.
I've worked extensively with multiple local publications from Visit Salt Lake to Salt Lake Magazine, not least helped to consult on national TV.   Pause those credits, yep, that's me! I'm also a former restaurant critic of more than five years, working for the Salt Lake Tribune.    I'm largely fueled by a critical obsession with rice, alliteration and the use of big words I don't understand.   What they're saying about me: "Not inaccurate", "I thought he was older", "I don't share his feelings".
Want to know more? This is why I am the way I am.
This article may contain content provided by one of our paid partners. These are some of the best businesses in Utah. For a list of all our current and past relationships see our
partnership history page
.