Anyone who's escaped downtown via 5th South has no doubt glanced left towards soaring construction. The $200 million dollar Post District has been rising for several years, and as 2022 closes, it's finally coming into focus. By this time next year as many as 500 residents could be milling around the 13 acre site, a blend of repurposed and new builds. Naturally, food and beverage will play a large role (Level Crossing Brewing have already signed on) and the first business therein opens today (December 15th).
Urban Hill will arguably be the centerpiece restaurant, and is the work of the team behind Park City's Hearth And Hill. While H&H opened as a community friendly counterpart to PC's spendy Main Street, its newer sibling is unabashedly fine dining. This is a destination restaurant and quite clearly aims to go toe to toe with the biggest names in the city.
In the kitchen Nick Zocco is the man plotting that path. Zocco's CV is an interesting one. At one end of the spectrum we have the mega kitchen of SW Steakhouse in Wynn Las Vegas; at the other, the boutique charms of Tupelo in Park City. Hearth And Hill preceded his arrival here in downtown SLC. While we're talking team, followers of the scene will take some excitement in spying Bijan Ghiai (Pallet, Copper Onion) back behind the bar. I relied on his better judgement for wine pairings on our visit. Rounding out the roster, Kyle Williams (Handle, Waldorf) is sous, and Jessie Rae Nakoneczny pastry chef (Montage, Stein Eriksen).
There's a lot to unpack inside the 7,000+ square foot facility. The main space seats 190, with 90 spots slated for al fresco action as soon as Winter releases its icy grasp. The main dining room (designed by Denver-based Semple Brown) snakes West to East, affording a variety of seating options; this cleverly helps break up the potential cacophony into smaller, more intimate spaces. There are two separate private dining areas, a couple of bar counter spaces and everything from high tops to banquettes. You could visit five times and enjoy a different vantage point every time. We find ourselves relaxing into plush leathery sofas, poised to watch the kinetics from the open kitchen.
It's all very grown up, which is why we start with a salad. Because that's what all well adjusted and serious people do right? The salad is just about as good a potted encapsulation of the whole concept on one plate as is possible. It's considered, impeccably executed and slightly unexpected. And again, it's all very adult, very sophisticated. The dish comes with frisee, grilled radicchio, fennel, roasted red pepper, dried fig, marcona almonds, apple, manchego and a gentle quince vinaigrette. I make mental notes to scold myself with this one the next time I lazily blabber on about not liking salads.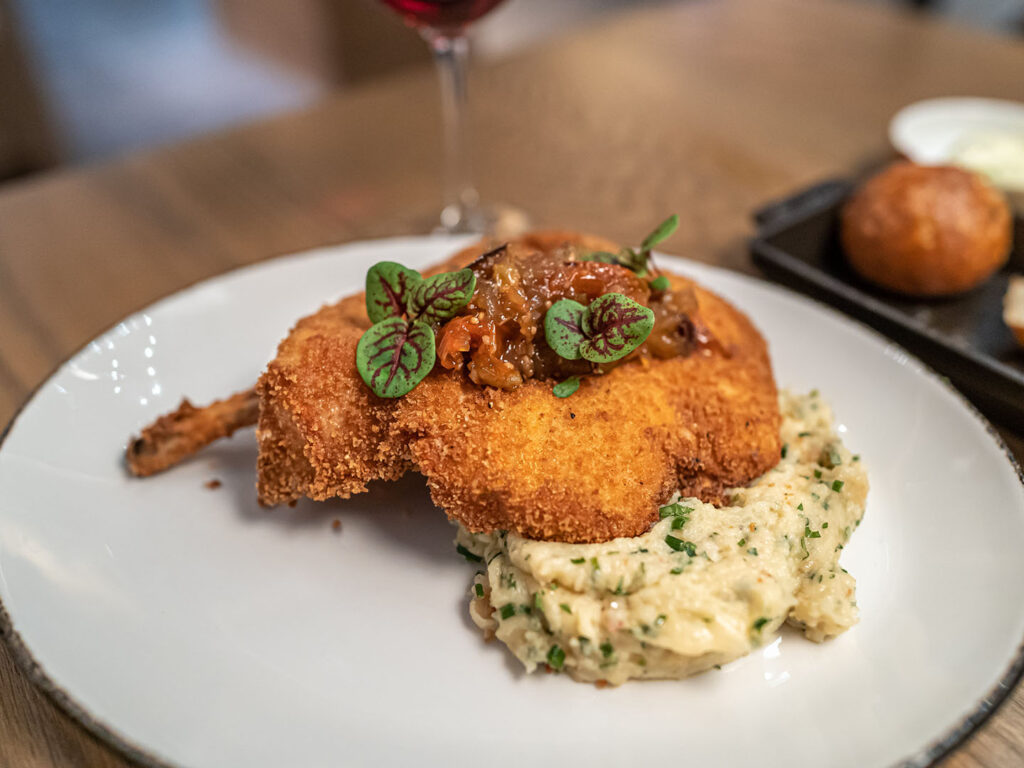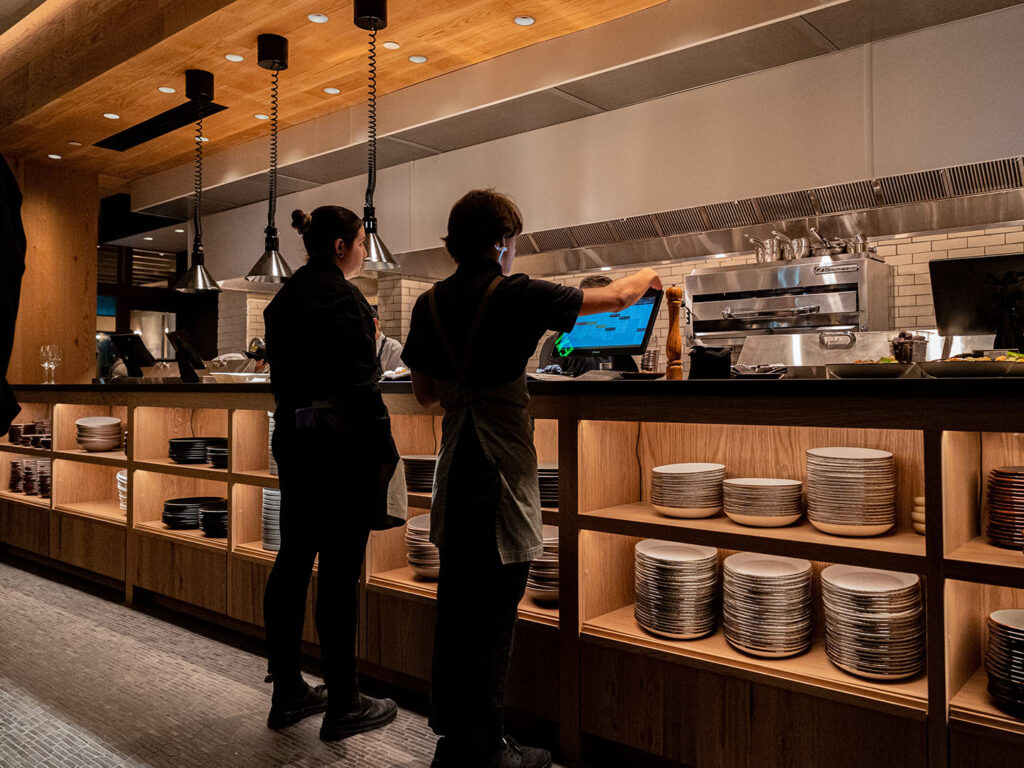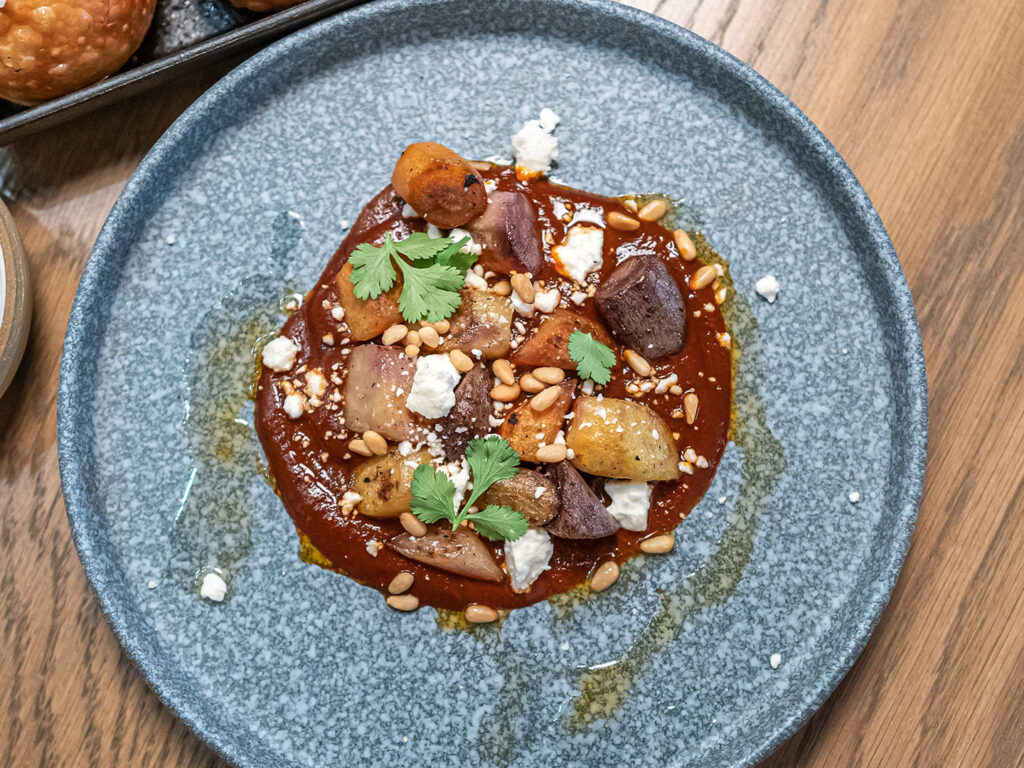 Next, we take our server's suggestion that the evening's crudo is a must. Tangerine aguachile paints the plate, six daintily curled pieces of sea trout sit on top. The fat-striped fish is scattered with jalapeño and salted cuke. Mercifully it's under-assaulted by citrus, and it stands shoulder to shoulder with any sushi joint in town. The fish is buttery bliss and mostly left to shine by itself. Mussels, oysters and more can also be found on this part of the menu too.
Onto appetizers proper then, and where we spend much of our attention. We begin with ravioli, a brace come stuffed with Blue Hill Bay crab. Coral-hued vodka sauce lightly envelops the pasta, a little more than to help affix some thinly sliced and fried salami on top. Our gaze is quickly stolen by the roasted beets mind you. Watercress crowns a trio of beet preparations. There's a smooth emulsion of sorts, a tumble of diced pieces, and thick smoked slices. Furikake granola adds bite, maple-sweetened creme fraiche lurks amongst the whole collection – it's arguably the best beet dish I've stumbled across in some time.
Ember roasted carrots prove to be the the sleeper hit of the starters we sample. A handsome arrangement of color spanning amber through maroon. Carrots are artfully embraced by a thick sauce with the unmistakeable earthy fingerprints of dried chiles rehydrated and blitzed. I'm also assured it's one of the many tricks in Zocco's bag from his New Mexico background. Elsewhere on the menu achiote emboldens bass, mole negro burnishes a bison ribeye – keep your eyes peeled. The carrots here are finished with cotija, cilantro, pine nut and pepita.
It should be noted that my own attempts in passing myself off as a real grown up go out the window around this point. A near miss with a carrot skids giddily along the table; a chile trail of shame marks bold my less than graceful ability with a fork. The restaurant has been open for approximately an hour and I've already messed the joint up. Thankfully it's all smiles, I am allowed to proceed.
A pork chop Milanese is the sole entree we order on this visit; a bone in cut, lightly breaded and given a brisk fry. The crisped exterior gives way to juicy pork, not least with a reassuring hint of pinkish blush. Remember folks, you don't need to cook premium pork to a punishing West desert finish. The accompanying preserved tomato-apple chutney pushes a little hard on the sweet side for me personally, but I get the idea – pig n apple. It's a small issue, it gets pushed aside as I carve and gnaw away at the main event.
Other entrees point to Zocco's steak house past, big primal cuts with bold finishes. Expect them to switch up seasonally. They're served alongside a few additional sides that all look a tad more interesting than your regular chain-backed steak pit. Rather than dive into dessert, we take a last bit from the side dishes and order up some skillet rolls for a last bite; they're fab, pointedly salted, with a pretzel-esque thin crust.
For now, Urban Hill will open for dinner only – and remember – tonight's the first night folks. Except for my carrot flinging escapes, it's brand spanking shiny and fresh. Expect lunch to come sometime in the new year when the team get every last aspect dialed in. I think we'll be hearing a lot about this one.
Urban Hill
510 S 300 W, Salt Lake City, UT 84101
(385) 295-4200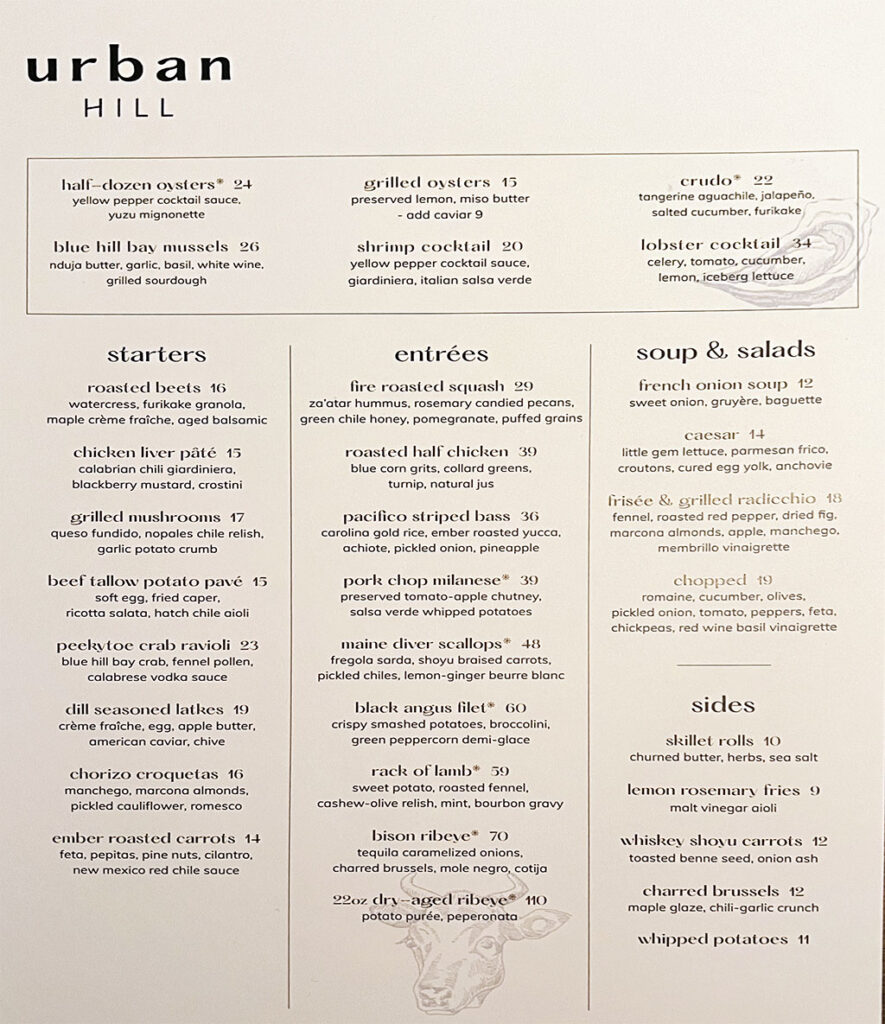 Disclosure: I was an invited guest of the restaurant during their 'friends and family' soft opening. This article is not meant to be a review, merely a first look at what you can expect. All thoughts are my own.
Keep the conversation going
Want to stay on top of the SLC food scene, minute by minute, dish by dish? Here are a few other places you should follow along:
Hi, I'm Stuart, nice to meet you!  I'm the founder, writer and wrangler at Gastronomic SLC.  I'm a multiple-award winning journalist and have written in myopic detail about the Salt Lake City  dining scene for the better part of seventeen years.
I've worked extensively with multiple local publications from Visit Salt Lake to Salt Lake Magazine, not least helped to consult on national TV.   Pause those credits, yep, that's me! I'm also a former restaurant critic of more than five years, working for the Salt Lake Tribune.    I'm largely fueled by a critical obsession with rice, alliteration and the use of big words I don't understand.   What they're saying about me: "Not inaccurate", "I thought he was older", "I don't share his feelings".
Want to know more? This is why I am the way I am.
This article may contain content provided by one of our paid partners. These are some of the best businesses in Utah. For a list of all our current and past relationships see our
partnership history page
.