Ordinarily speaking, when you find yourself grappling with the culinary options at your local bar, the evening has probably taken a turn for the worse; sticky menus will be tossed towards you, replete with dishes deep fried and freezer sourced. Several of these will no doubt be stacked, loaded or stuffed. Maybe all three if you're especially lucky.
Which is where The Pearl, one of Utah's newest bars, aims to re-imagine what a local watering hole can be. Vietnamese inspired street food anyone? Oh and we before I ramble on about my first encounter, let me save you the annoyance of a litany of pearl and nautical based puns, the world's your oyster and all that stuff. You're welcome, no lazy dad jokes here.
The Pearl is the work of Jacob Hall, Chase Worthen, Mike Askerlund and Tommy Nguyen, a quartet that will likely be familiar to many. Nguyen counts Takashi, Rye and most recently Post Office Place on his kitchen CV; the remaining trio are owners of downtown cocktail bar Alibi, a cosy cocktail spot on downtown's Main Street.
The Pearl is the collision of their experience combined. To be clear, The Pearl is first and foremost a bar; you'll need your ID in hand, and twenty one years of life lessons under your belt to enter. Whether it's a fancy cocktail or a bite to eat, you'll head to the bar to place your order. I particularly appreciated the lack of bar stools along the center of the bar; no having to lean through chummy conversations to grab your glass.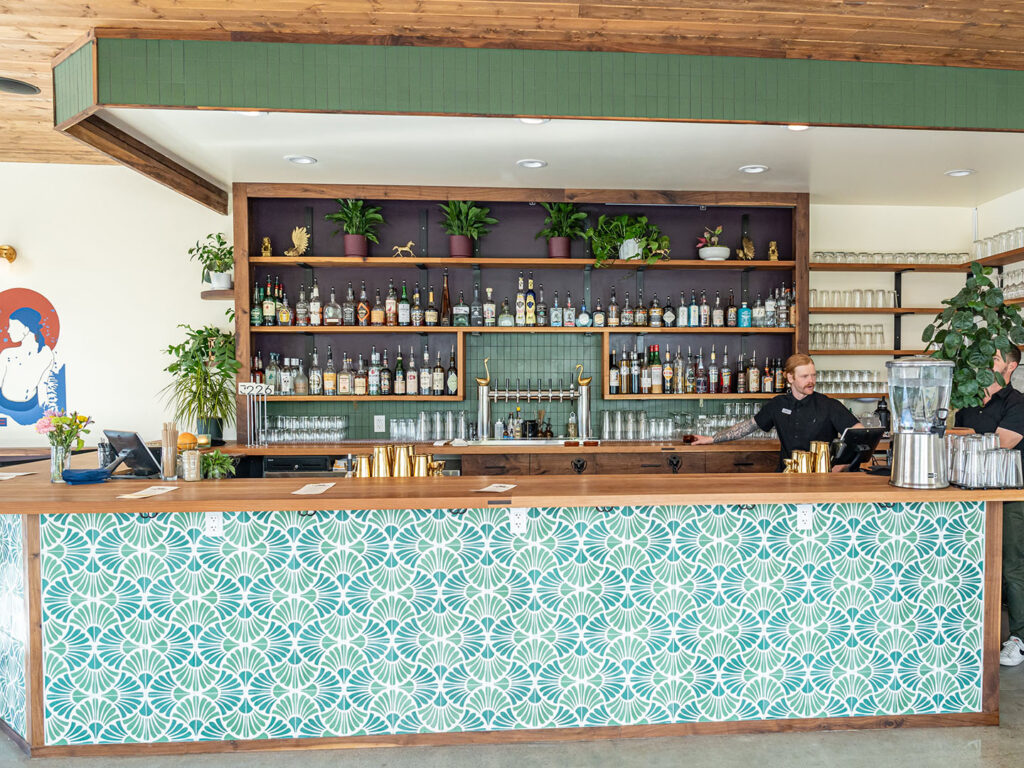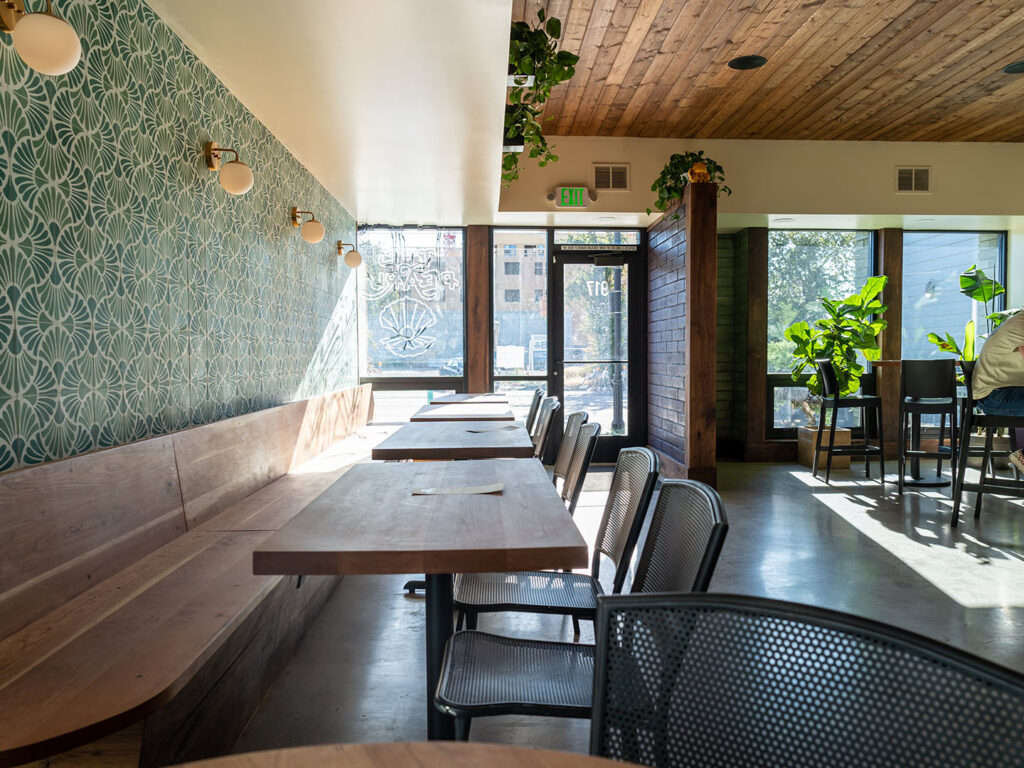 The menu is sparingly-concise and features ten dishes right now. Nguyen whizzes by our table and reckons it'll be a constantly evolving collection. The residents of the two adjoining apartment blocks going up (built *after* The Pearl was in progress apparently) are going to have some fun exploring how this one matures.
We start with a few skewers, Lemongrass Pork ($5) and Vietnamese Sausage ($7), and forget entirely the suggestion that we wrap our proteins up in the accompanying romaine leaves (with pickled veggies and herbs on the side). The regretful mistake quickly gives way to gleeful giddiness when the next dish, Caramel Pork Belly with Egg ($14) is presented before us.
Ample pieces of tenderly rendered pork belly are served up alongside the silkiest, most quivering of eggs. The egg – only barely formed – is easily converted back to a satiny slick with the merest of chopstick flourishes. From there it's the most decadent of dips, an umami cloak fit for the porky king. As Hall slides by our table, he encourages us to enjoy the egg and pork together. Too late. He needn't have bothered, the dish is self evident, elementary stuff. I briefly consider ordering five more. The fact I plan to return and not be treated like the glutton I am stops me.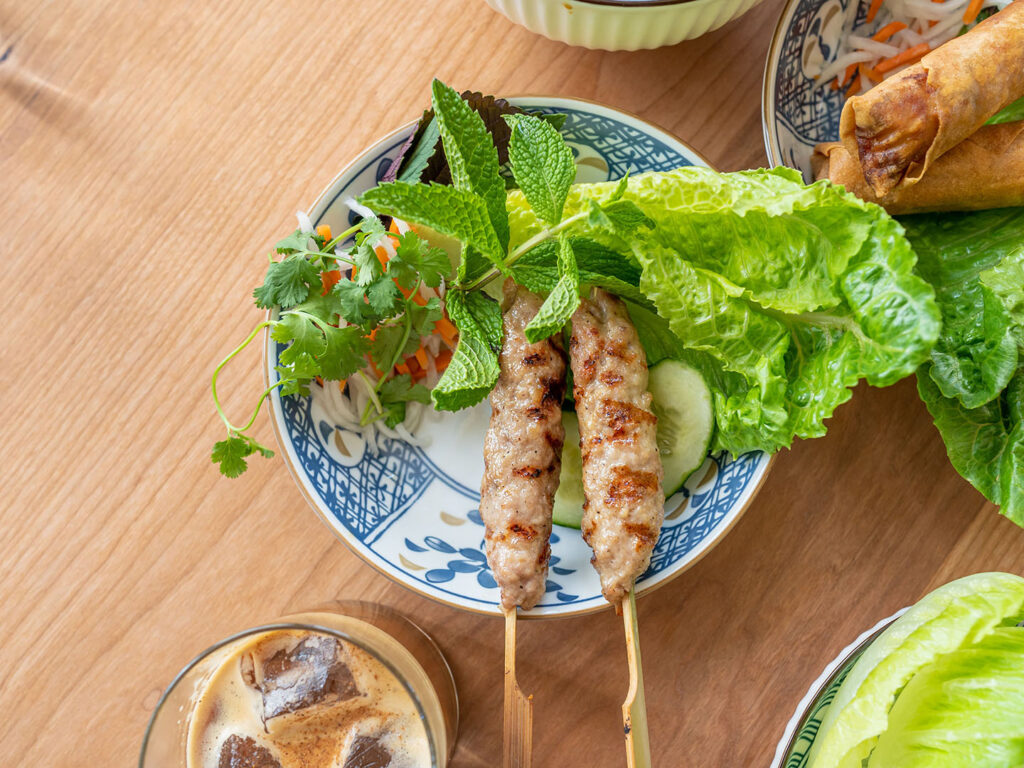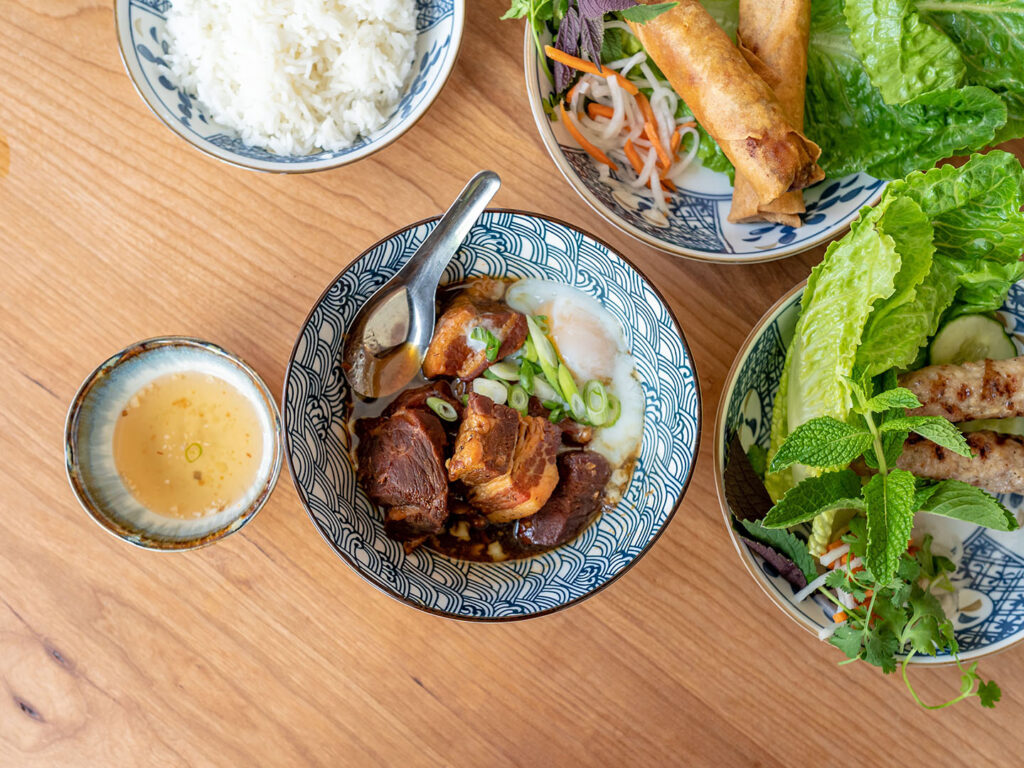 The initially unassuming Kim's Egg Rolls ($8) come next, implored to our table by various members of the team. I wonder, how good can an egg roll really be? We've all been eating them for years, surely this is well trodden turf? These are light and brittle, packed tightly with pork, shrimp, wood ear mushroom and more. There's little greasiness, and from start to finish, the experience is revelatory. This is literal family style cooking from the heart, as Nguyen explains, "the recipe is my mom's [hence the name Kim] and she's been here watching over me prepare it every night this week."
Finally, it's onto a plate of Greens And Mushrooms ($12). An attempt to atone for all the porky abandon of the dishes that came before, it quickly transforms into much more than repentance. In this familiar Asian rendition, firm bok choy is gilded with caramelized garlic, teetering perfectly on the side of sweetly exhilarating, not bitter burnt. Mushrooms bring snap and yet more umami. Getting the picture yet?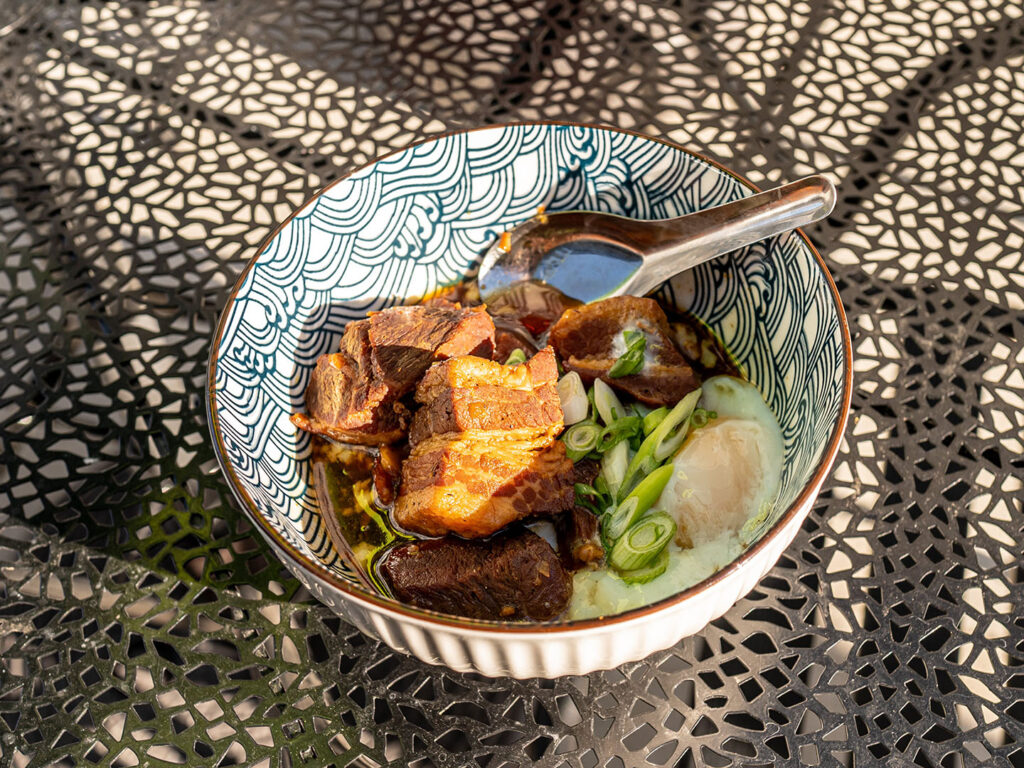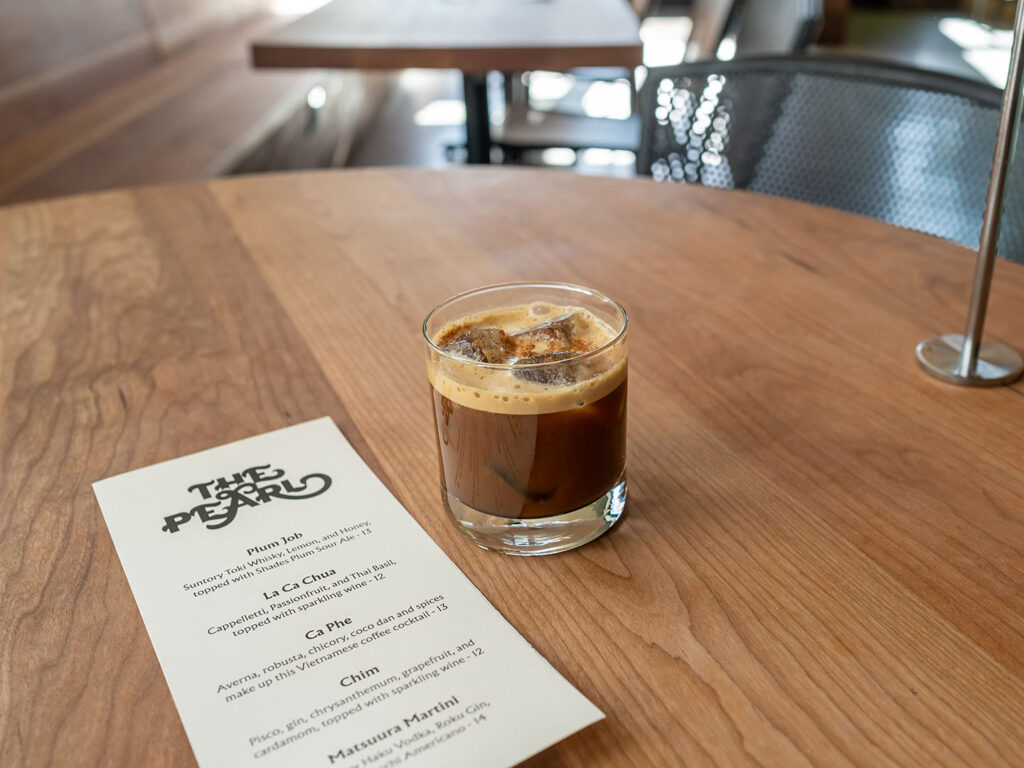 The South East Asian flair flows through to the cocktail list. They'll whip up anything you like of course, but when we stopped by the menu featured five considered compositions. At the suggest of Hall I try the Ca Phe ($13), described as a Vietnamese coffee cocktail with robusta, chicory, coco dan and spices. It's everything that espresso martini you secretly order is not. This is the grown ups version and there's no need to sheepishly look around the room before ordering (hands up who remembers the Kristauf's Martini Bar days).
Speaking on that, The Pearl joins an all star cast in a neighborhood that I'd place money on becoming the next hot spot. Around the corner lies Blue Copper Coffee, Nohm, Water Witch, Laziz Kitchen, Central 9th Market and Scion Cider Bar. Right now the area is undergoing apocalyptic roadworks, so plan ahead, but also know you'll get a seat here before the crowds inevitably descend.
Tuesday – Saturday 4.00 p.m. – close
Sunday brunch 11.00 a.m. – 4.00 p.m.
917 S 200 W, Salt Lake City, UT 84101

Hi, I'm Stuart, nice to meet you!  I'm the founder, writer and wrangler at Gastronomic SLC.  I'm a multiple-award winning journalist and have written in myopic detail about the Salt Lake City  dining scene for the better part of seventeen years.
I've worked extensively with multiple local publications from Visit Salt Lake to Salt Lake Magazine, not least helped to consult on national TV.   Pause those credits, yep, that's me! I'm also a former restaurant critic of more than five years, working for the Salt Lake Tribune.    I'm largely fueled by a critical obsession with rice, alliteration and the use of big words I don't understand.   What they're saying about me: "Not inaccurate", "I thought he was older", "I don't share his feelings".
Want to know more? This is why I am the way I am.
This article may contain content provided by one of our paid partners. These are some of the best businesses in Utah. For a list of all our current and past relationships see our
partnership history page
.