All you can eat. Four simple words that have by now either instilled a sense of dread and terror, or perhaps, sent a surge of greedy endorphins rushing. Maybe both, we're complex people after all. Should your tolerance for all things unlimited skew toward the insatiable – let me introduce you to the new Umi Shabu Shabu. Such are the charms of this relatively new South Salt Lake, even a few die hard never-tongs might be won over too.
The spacious spot on the corner of 27th South and State was most recently home to Big Tortas – Seoul Garden and Jang Soo Jang before that. Opening late last year, the interior has undergone a complete reworking, with little remaining from tenants prior. Seating is a mix of private booths and roomier tables, as well as a tidy counter space for smaller parties. Thankfully the large parking on the East side of the business remains a holdover from previous businesses.
Shabu shabu then is the muse of Umi, the Japanese equivalent to Chinese hot pot – a table-top bubbling broth that guests direct themselves. The phrase shabu shabu translates as swish swish, supposedly the relaxing noise of ingredients swayed back and forth to completion in the cooking pot.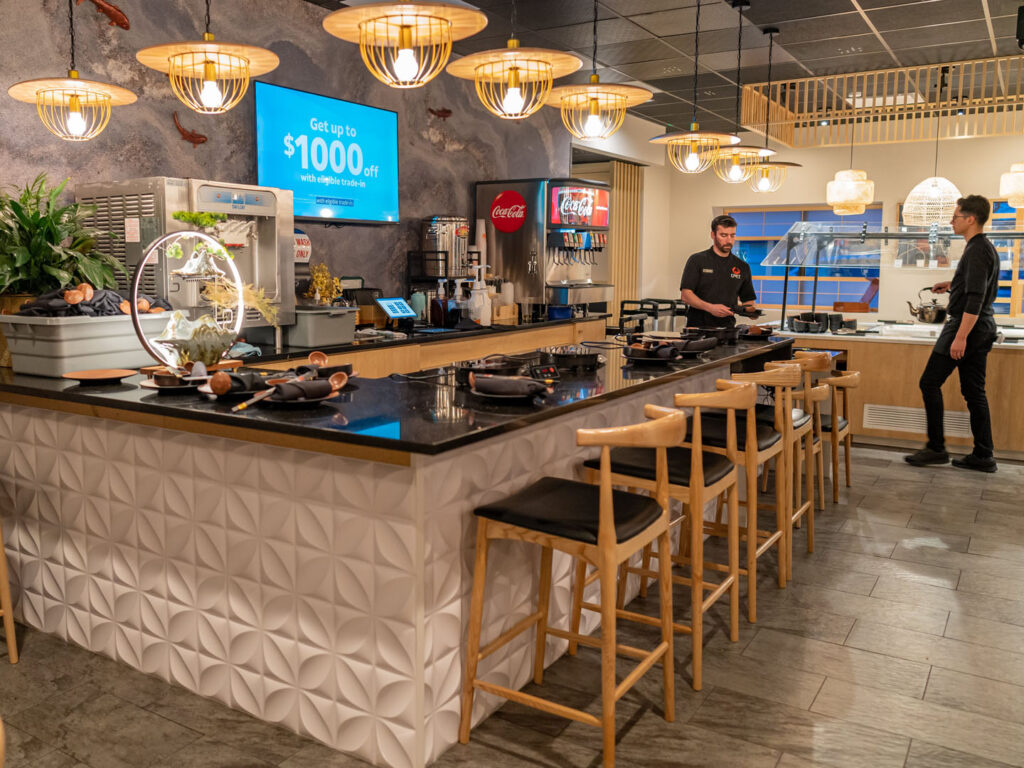 Through the front doors, the central buffet setup immediately greets arrivals. The spread comprises four quadrants: noodles, veggies, proteins and sauces. From the first you can select a handsome variety, fat squiggles of udon, dried thin discs of ramen. Rice sticks, purple yam noodles, glass and vermicelli – there's plenty to experiment with.
Self serve proteins are respectable, with whole crab, prawn, calamari and mussels. There are myriad frozen balls, of the type you may have likely spied at Chinese markets, fish and crab and beef. There's also a geometry (it's the collective noun thank you) of spam-esque slices, tofu pieces and rolls.
Veggies line a whole side of the display, a mix of the familiar and more obscure. Bayberries popped up on our most recent visit; and yes, I had to Google that one. Finally, there are sauces and adjuncts, staples like soy and garlic and sriracha, as well as piles of bowls and plates to keep the party moving apace.
But wait. Before we get all eye of newt, it's time for an appetizer, and one of the restaurant's signature moves. The unlimited app menu is delivered table side via robot. Yes it's as much a robot as your calculator is a quantum computer. And yes, it's absolutely gimmicky as hell. But it's a cold deadened heart that doesn't giggle and squeal as the automaton wheels it's way over to you, all LED hearts for eyes, singing it's little song as it delivers up a plate of gyoza and egg rolls.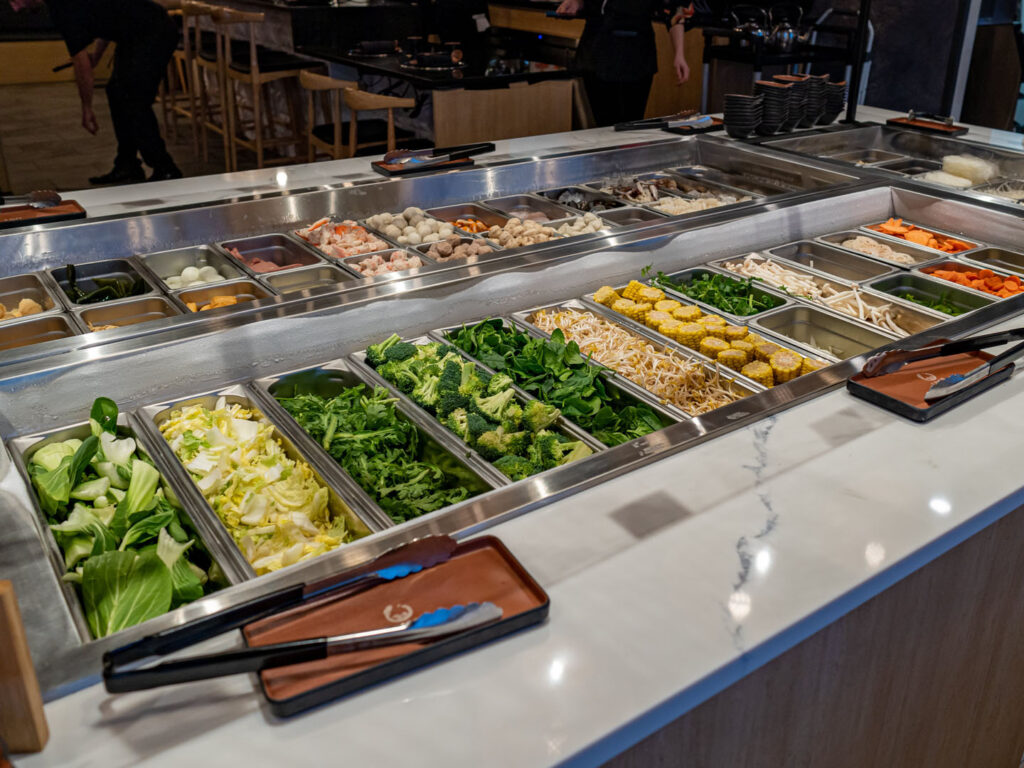 Feel free to welcome back your new pal as many times as you like, but around this point I find myself getting started on the main event. As well as the help yourself buffet counter, the piece de resistance is an unlimited supply of raw meats. Six cuts of beef (ribeye through brisket) join Australin lamb leg and pork shoulder. Your server will bring these two at a time to your table, thinly sliced.
If you're new to all of this, the restaurant recommends the following advice for hot pot beginners:
Choose your broth
Order meat from your server
Check out the food bar and create your own shabu plate
Wait for the broth to come to a boil
Add your vegetables to the broth and let them cook first
Cook one piece of meat at a time by swishing it in the broth for 10 seconds
Dip your food in the sauces after you cook them
My personal reality differs greatly, and can be approximated as follows:
Pick a random broth, consider briefly asking for a blend of three
Ask your server how much meat the best person has ever managed in one sitting
Reflect if you too can reach those great heights (believe in yourself)
Merrily wander off to select an infant like platter of spam and fish balls and hot sauces
Realize you've achieved zero vegetables and repeat visit to buffet
Flip item after item into the pot, impatiently so, prodding often while looking on sagely
Attempt to gracefully swish swish that meat, but end up loosing half to the mysteries of the pot
Proudly display your final efforts to the table making a huge mess in doing so
Forget that the sauces are meant for dipping and add the lot to the pot
Work on the proviso that more is better
Broths include beef bone, tonkotsu, sukiyaki, hot and spicy, miso and tomato (veggies friendly). Of the trio or so I've tried, the soups themselves aren't home to deep flavor per se. The beef bone broth is light with a funky white pepper back note, while the veggie friendly tomato base is thin with a sharp citric tang. While we could linger on the mild broths, I think that misses the point. This is diner driven dining, you're in charge here chef. Speaking of which.
Plonked in your seat you'll find the controls to your personal pot somewhere around your midriff and bellybutton. You'll need to navigate your own way with the controls, simple as they are, one through five, on and off. My only notable tip – don't leave that dial set to the max before sauntering off to the buffet – lest you want to return to an ignominiously scaled table.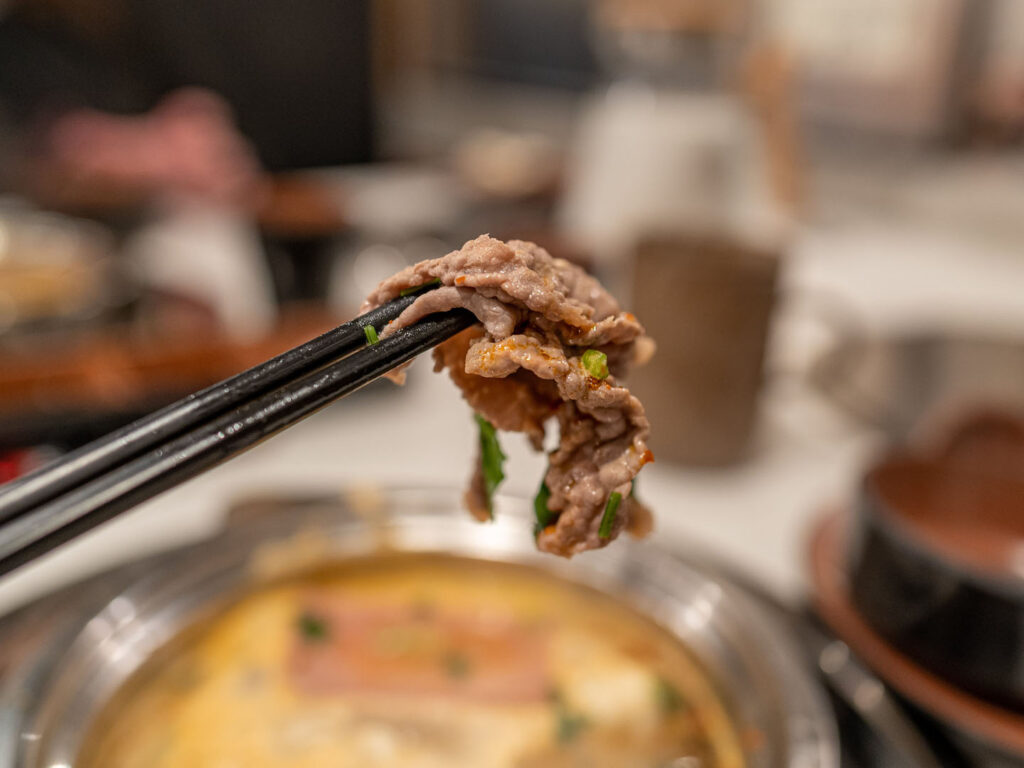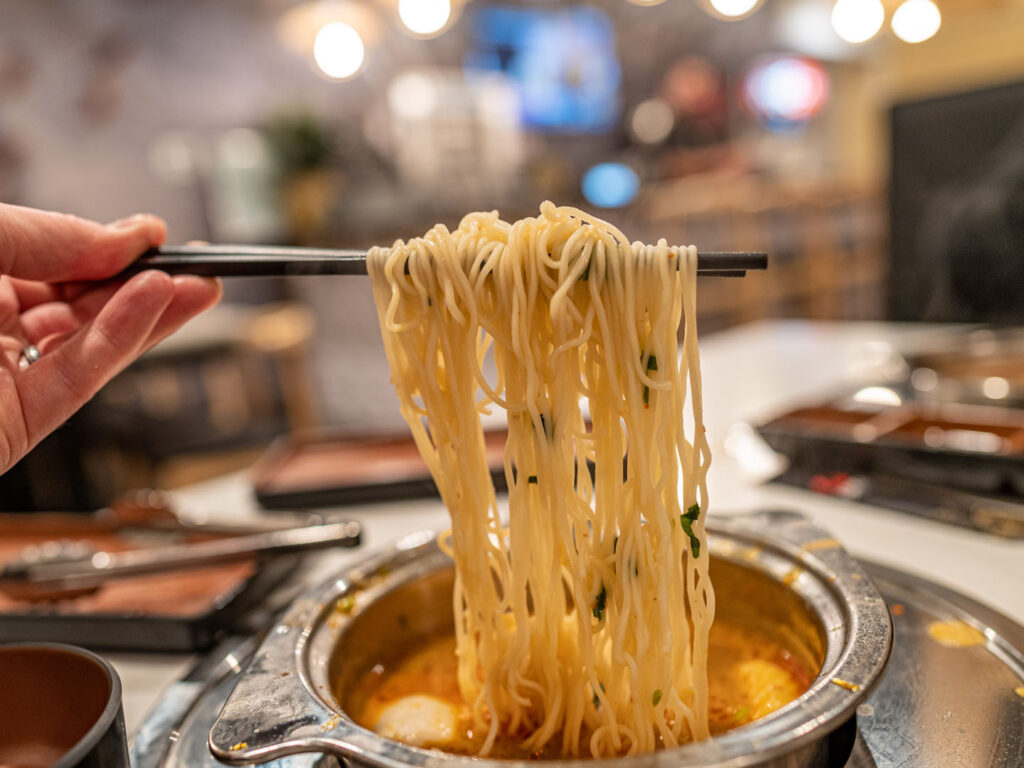 The restaurant isn't without quirks, though many of them are happily overlooked; both the sedate atmosphere and green (though fabulously friendly and helpful) staff are nothing more than a restaurant finding its feet – and don't dampen an overall experience.
Perhaps the largest quibble, is the lack of detail on the menu's centerpiece. Cuts of protein listed stoically without description. The ambiguity stretches through to the delivery table side, where platters of thinly sliced red meats may be dropped off with bundles of smile, but little detail.
It can be a hit and miss affair cycling through various items to see what works best, and then still to sit perplexed as to what was just swish swished. I will add this also comes from the son of a butcher, many a year spent living above a cold case of hanging viscera. I was able to visually separate the pork from lamb, but brisket from rib eye? It's a harder challenge.
Minor issues aside, Umi affords a fun dining experience and one that's extra obvious in these frigid months. The all you can eat experience is priced $32.99 with the restaurant opening from 3.00 p..m on weekdays, mid-morning at weekends. Unlike some places, there's no dining time limit nor litany of rules and procedures to observe. There's a small menu of alcohol (two sake, four beers) and a solo (additionally priced dessert) – but really there's only one major item to consider – exactly how much meat can one eat in polite company without arousing concern.
2701 S State St, South Salt Lake, UT 84115
(385) 229-4216
umishabu.com
Keep the conversation going
Want to stay on top of the SLC food scene, minute by minute, dish by dish? Here are a few other places you should follow along:
Hi, I'm Stuart, nice to meet you!  I'm the founder, writer and wrangler at Gastronomic SLC; I'm also a former restaurant critic of more than five years, working for the Salt Lake Tribune.  I've worked extensively with multiple local publications from Visit Salt Lake to Salt Lake Magazine, not least helped to consult on national TV shows.
I'm a multiple-award winning journalist and have covered the Utah dining scene for the better part of fifteen years.   I'm largely fueled by a critical obsession with rice, alliteration and the use of big words I don't understand.   What they're saying about me: "Not inaccurate", "I thought he was older", "I don't share his feelings".  Want to know more? This is why I am the way I am.
This article may contain content provided by one of our paid partners. These are some of the best businesses in Utah. For a list of all our current and past relationships see our
partnership history page
.