Mexican cuisine holds a particular soft spot in my heart. I washed up on these American shores from limier climes some 22 years ago. Paper husked tomatillos, armies of peppers unknown, achiote and jicama, none of these words existed in a youth packed with pie and pudding. I was like the man peering wide eyed from Plato's cave. Two decades of remedial endeavor later, let's just say I make a mean cochinita pibil. I wouldn't consider a cook off against a Yucatan abuelita, but remember my backstory, white pepper was considered dangerous stuff.
Along the journey I've had more than one kindly pendejo inform me that there is in fact, no good Mexican food in Utah. The notion suggests that immigrants are magically relieved of their talent and taste by merely entering the 45th state. This is of course balderdash. It's a nonsense repeatedly applied to many a culinary tradition barely appreciated or understood. You know you can't get good Chinese food in Utah right?
You fine people gathered here today of course know better. I see you at the back with your hand raised, I'll take your recs for great Mexican eats at the end if you please. Let me first add one more to the list for you, the newly opened Dos Olas up at the Pendry Park City resort. The kitchen is helmed by chef Carlos Segura, landed here recently in Utah from Los Cabos' Garza Blanca, a rather ritzy joint in Baja California, named in the top 25 Mexico hotels apparently.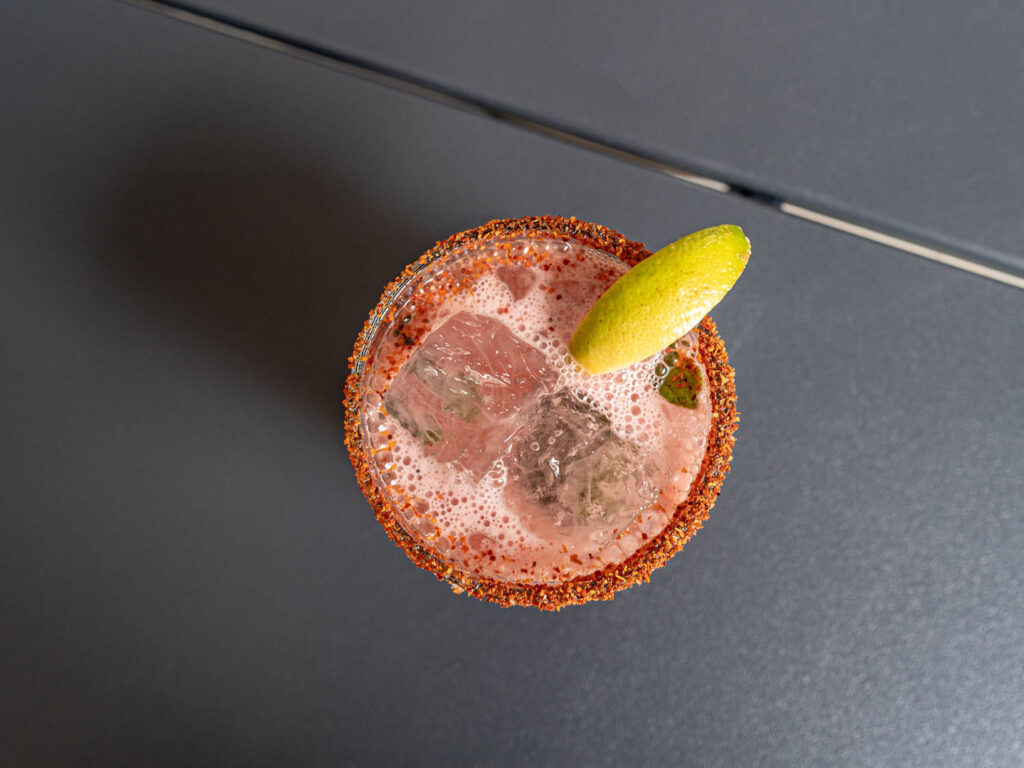 Meals start with a familiar chips and salsa delivery. These aren't those bag borne stale chips paired with watery salsa mind. These are immediately identifiable as from scratch cooking. On multiple visits to my table (hey that's the perk of this gig kids) chef Segura recounts the various inspirations in his cooking – one such memory, the parade of street vendors back home in Mexico City – the char, the kinetic sizzle, the smoke. This motif runs through the menu and both salsas are layered with the sultry stuff. The tomatillo has none of that slithering slippiness, it's tartly sharp and urgent. The roja is the sweeter, more laid back counterpoint.
A handsomely assembled ceviche is next. Meaty mahi mahi is is jumbled up with neatly knifed mango, onion, cucumber and avocado. Discs of sliced jalapeño plate the exterior armor like. As you'd expect from the dish there's a razor like swashbuckle of citrus, but the fish remains resistant; it's a dish that can collapse into a mushy mistake, made the night before, listless the next. This is not that.
I'm not really not one for margaritas per se, but at the suggestion of our waitress I opt for the Sandy facil basil around this point. A blend of blanco, watermelon, basil, lime juice, agave. It's a fresh and sweet blast, it sits well with the ceviche; especially when enjoyed al fresco on the patio.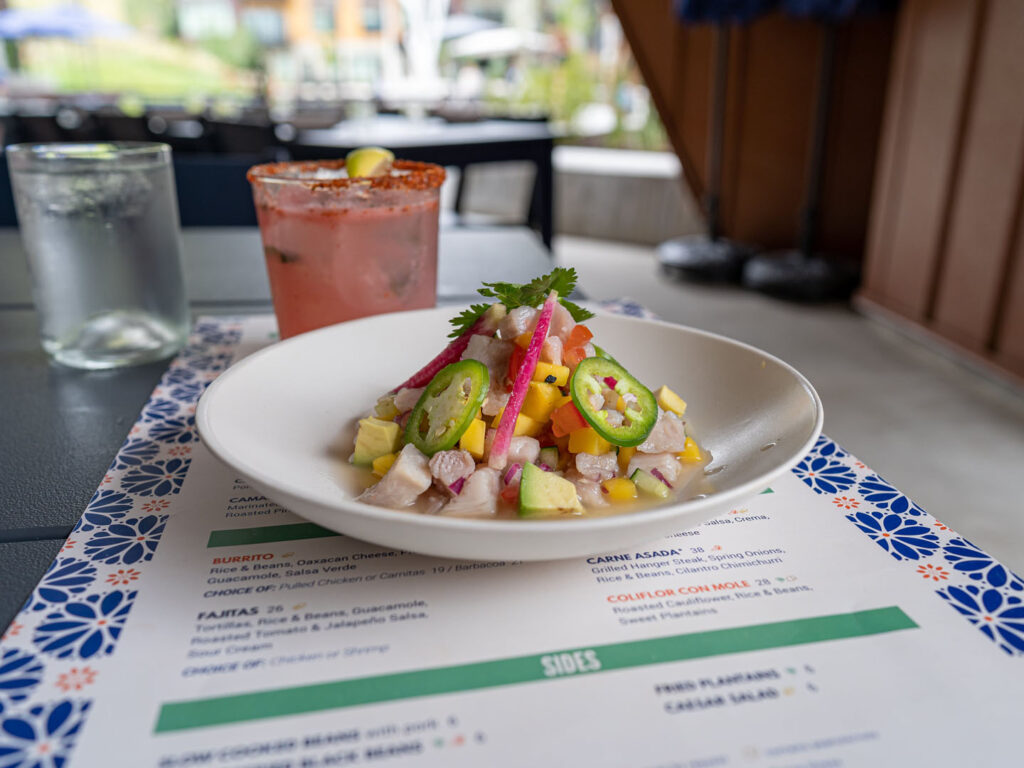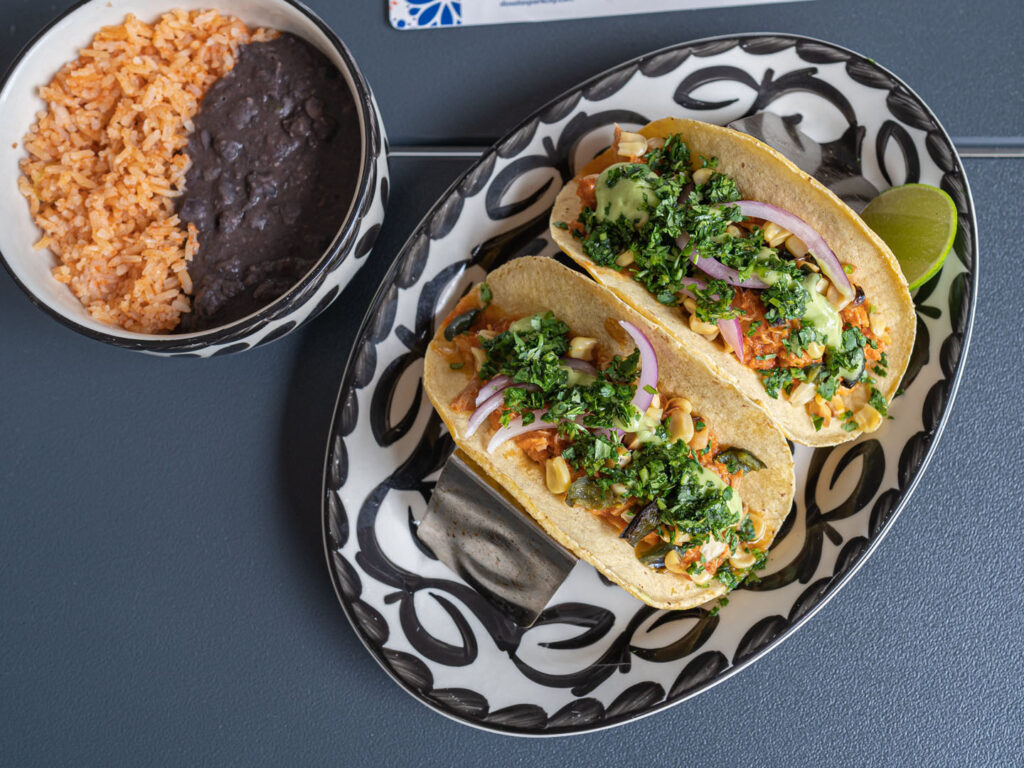 Coliflor con mole comes next. A rustic 'steak like cut' of cauli comes roasted atop a morass of mole. A quartet of crisp and sweet plantains encircle proceedings, rice and black beans look on from an accompanying bowl. As Segura tells the story, the complex sauce is five days in the making. A couple of bites into the cinnamon tinged mole, I don't argue with his claims.
The highlight of my brief lunch visit are the tinga de pollo tacos, a dish I love to cook at home. Just like the tales recounted to me by the likes of Tommy Nguyen at The Pearl and Bictor Tirado at Beehive Distilling, Segura credits his mom for this one. The best recipes are those that come from familial toil and time testing – listen to your parents kids – they've made all the mistakes so you don't have to.
If you're new to the dish, it's essentially slow cooked chicken with chipotles. Segura's tinga is top notch. There's roasted poblano that adds an extra layer of smoke (remember that theme?), and a first for me, kernels of corn doubling down on the sweetness. Segura assures me corn tortillas are essential, he's right. I don't bother asking for the recipe, I've struck out with too many chefs on that gambit. Here's my own tinga de pollo recipe if you fancy giving it a whirl at home. I have no kids to pass this one too, it's yours to do as you will.
Segura's dish is tamer than I prefer, but that's no doubt weighted towards the average Utahn and their pearl clutching fear of capsaicin. As we continue to talk I'm asked if I like hot sauces. I briefly consider the possibility the Dos Olas crew has in fact jury rigged a live stream of my refrigerator somehow; a place home to more bottles of hot sauces, than, well, actual food.
A quick thumbs up results in a duo of off menu sauces appearing table side; not least a whole pile of warnings that stop nanometers shy of a waiver requirement. The first is genuinely spicy and reminiscent of a Chinese chili crisp, the second, well quite frankly, I'd place it somewhere between molten basalt and fusion ignited plasma. Proceed with humility not machismo and someone get ITER on the line. Also double check the liquor list, and have a glass of the Bohemian Brewery Sir Veza Mexican lager ready to hand.
The prices at Dos Olas match the upscale resort it calls home; but they're hardly egregious considering the quality of the cooking and the smart digs. There's plenty of outdoor space for al fresco fun, and the interior is replete with a variety of seating and large bar area. Service was well drilled and happily answered any query I had with poise and thoughtfulness. Check out the fun menu and give em a whirl next time you decide to escape the doldrums of the valley.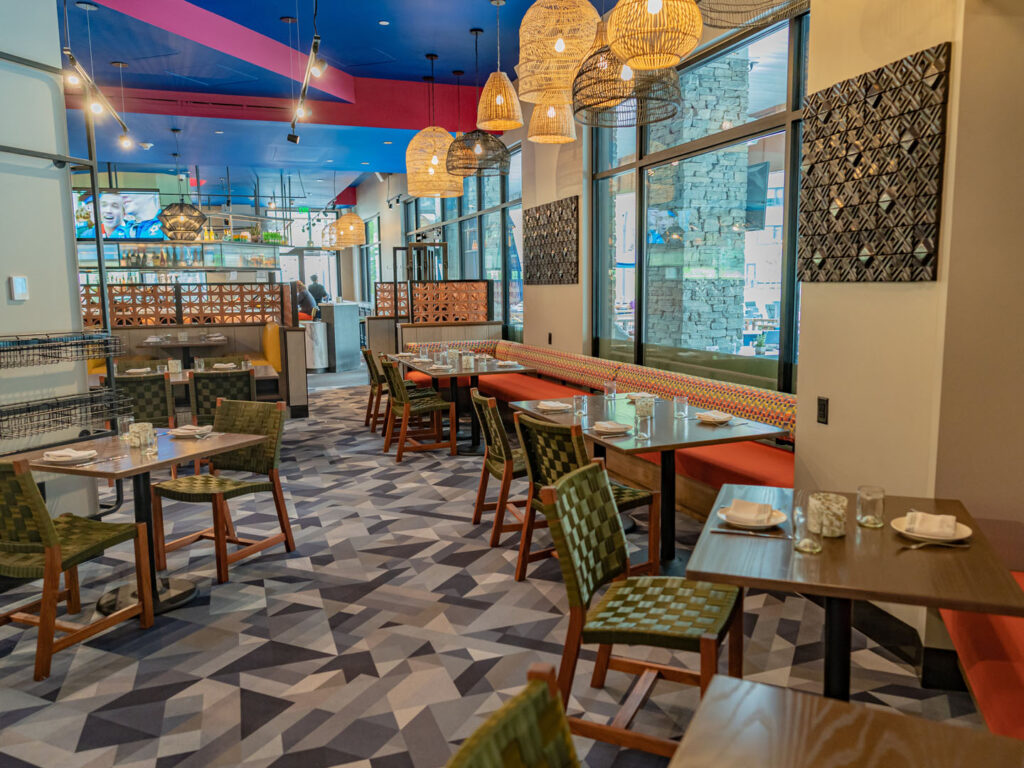 2417 W High Mountain Rd, Park City, UT 84060
(435) 513-7198
dosolasparkcity.com
Keep the conversation going
Want to stay on top of the SLC food scene, minute by minute, dish by dish? Here are a few other places you should follow along:
Discloure: I was an invited guest to Dos Olas, to check out chef Segura's cooing. All thoughts are my own and the tiny hamster that runs around the wheel in my head.
Hi, I'm Stuart, nice to meet you!  I'm the founder, writer and wrangler at Gastronomic SLC.  I'm a multiple-award winning journalist and have written in myopic detail about the Salt Lake City  dining scene for the better part of seventeen years.
I've worked extensively with multiple local publications from Visit Salt Lake to Salt Lake Magazine, not least helped to consult on national TV.   Pause those credits, yep, that's me! I'm also a former restaurant critic of more than five years, working for the Salt Lake Tribune.    I'm largely fueled by a critical obsession with rice, alliteration and the use of big words I don't understand.   What they're saying about me: "Not inaccurate", "I thought he was older", "I don't share his feelings".
Want to know more? This is why I am the way I am.
This article may contain content provided by one of our paid partners. These are some of the best businesses in Utah. For a list of all our current and past relationships see our
partnership history page
.