Despite the ever present threat of Covid this year, the food and drink scene in Utah has boomed unlike any other I can remember in recent memory. The following list contains nigh on two hundred different business that opened their doors around the Beehive this year: bars, coffee shops, bakeries, food trucks, delivery services and so many restaurants. I'm willing to bet my Christmas card money that there are several restaurants you haven't yet heard of in this collection – and many more still you haven't tasted.
Let me underscore the size of this gargantuan compendium before you dive in. If you wanted to sample each and every one, you'd need to try a new place every other day to fit them all in during 2022. Actually, that sounds like a grand idea to me. Bookmark this page and check back next year when you're looking for dining inspiration; I guarantee you will find something interesting and exciting here.
Oh, that milkshake above you ask? You can now grab one of those at a brand new restaurant in Utah – you'll nee to read on to find out where…
Ada's Sweet City
Ada's promises to, "remind you of Grandma's-pure deliciousness with no added preservatives." The story behind this one couldn't be more diametrically opposed to the mega-corp cookie overlords dominating the food apps right now. You can read their story here, then go get some cookies delivered.
Afghan Kitchen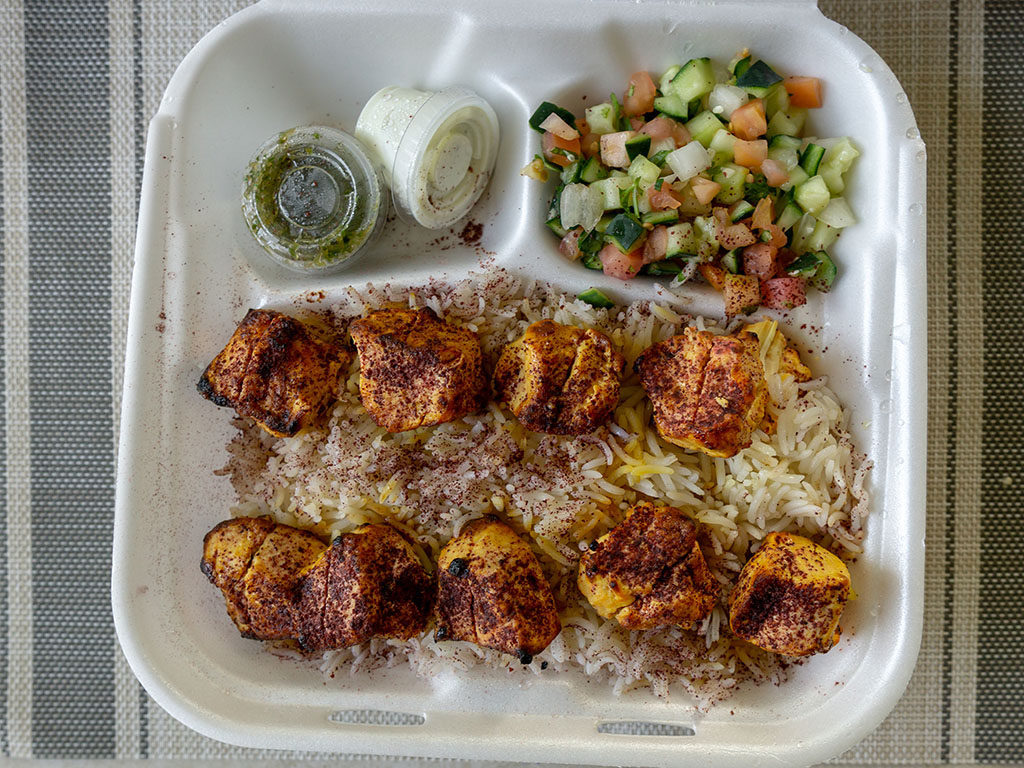 From my work over at Visit Salt Lake here's the skinny on this opening: "For Afghanistan cuisine in Salt Lake City, you needn't look further than Wali Arshad Salem's ode to his home city of Kabul. On settling in Utah Salem noted the lack of Afghani options in Utah, and after obtaining the help of another Afhani transplant, chef Naeem Amel, the rest as they say is history. Recently the business expanded with a second location on Salt Lake's State Street; meaning between the brace of locations, you can now sample Amel's award-winning dishes seven days a week."
1465 S State St, Salt Lake City, UT 84115
(801) 953-1398
afghan-kitchen.com
Akita Ramen And Boba
While the frenzied gold rush for ramen riches is starting to ease up, a modest number of noodle shops are still staking their claim. This one sneaked into the Cache Valley Mall during 2021, with prices running $11-$12 ish for a bowl of the good stuff.
1300 Main St, Logan, UT 84341
(307) 433-4723
Al Toke Peruvian Fast Food
These folks just blipped on my radar while I was finalizing this article. A quick and casual Peruvian option that delivers right to your door each Saturday – you just need to place your order during the week. Popular dishes like tallarin saltado and Peruvian fried rice are all here.
Ascoli Espresso
A new downtown coffee shop whose owners hail from Seattle. I hear those guys might know a thing or two about brewing a cup of java. All the trendy names are here, cortado to flat whites. There's a modest food selection with crepes and croissant too – some stuffed with meat and cheese.
30 E Broadway Suite 104, Salt Lake City, UT 84111
(801) 556-0835
ascoli.coffee
Bakes N Bubbles
This Midvale treats and boba spot was formerly Noodle Run; that shut up shop fairly quietly back in the Fall of 2020. Noodle Run as you may recall was part of Anny Sooksri's empire (Chabaar, FAV Bistro, Tea Rose) – she's also at the helm here too.
6014 State St, Murray, UT 84107
(385) 270-9700
Barrio
Barrio was out for the count in 2020, knocked to the canvas by the pandemic's almighty right hook. The end of the year saw the restaurant stage a spirited twelfth round comeback though. Barrio's existing owner partnered up with new investor/owner Ryan Stover and the restaurant is back at it, and with it, some new menu items.
282 E 900 S, Salt Lake City, UT 84111
barrioslc.com
Bartolo's
Landing in SLC during 2021, this sophomore Italian effort hails from Park City. The business moves into the relatively new build once home to Yoyi's, just next door to Liberty Heights Fresh and Kyoto in the greater Sugar Hood.
The restaurant offers dishes with a little more excitement than most, dishes like grilled octopus with pancetta, charred broccolini with nduja and slow braised leg of lamb with mint cream.
1270 1100 E, Salt Lake City, UT 84105
(801) 410-4606
bartolos.com
Batch Baked Goods
A second Provo location joins an existing Riverton operation, for this award winning bakery. Cookies, cinnamon rolls, stuffed ice cream sandwiches – there's plenty for those with a sweet tooth here. Oh, they deliver too, you've been warned…
1270 N State St, Provo
batchbakedgoods.com
Batista
For those pounding the streets desperately seeking Cuban cuisine amidst our boba soaked streets – your prayers have been answered. Opening up at the collectively-eclectic spot (roughly 27th South and 5th East) in South Salt Lake this new joint that serves up Cuban and Nicaraguan cuisine. You can find the Batista menu here on our sister site SLC Menu.
In case you we're wondering if this place is the real deal, I spotted Adalberto Diaz (owner of Filling's And Emulsions and our chef/baker of the year) waxing lyrical about Batista and imploring folks to head on down.
493 East 2700 South
(385) 484-757
Bigeye Poke & Grill
New to South Salt Lake, a second location for this poke chain that hails from California. You'll find their initial Beehive location down in Draper. Poke bowls start from $11.45.
3144 S State St, South Salt Lake, UT 84115
(801) 883-9991
Blue Blue SLC
The people are thirsty. Oh so thirsty. It's a thirst that will never be slaked. It's an unending torment of tantalusian proportions. Or at least so goes the logic when it comes to the current boba boom.
Blue Blue opened up shop on the streets of Draper in the second half of this year, hoping to help soothe some of the parched masses. Blue Blue reckon to have the "the best quality Boba tea", and also, "the most unique DIY art studio."
3599 S 2700 W, West Valley City, Utah
(801) 529-6735
Big Dipper
That name had me immediately re-imaging the lyrics to Big Spender as a sandwich based anthem. While you work on a new arrangement, check out a few of the dishes on the fun menu.
Concoctions like the she's shrimp-ly irresistible come with crispy rock shrimp, pickle, romaine, tomato, and remoulade are served with a nod and a wink, and in this case a side of creamy clam chowder. Meanwhile the hot tejana loads up shaved pork, cotija, red onion, cucumber, fresh jalapeños, cilantro and Hot Cheetos. That one comes with a chile broth dip. Indeed every sandwich has a matching liquid for your dipping pleasure. The picture above is their Saigon In Sixty Seconds.
The concept is from the team behind 350 Main And The Spur – Cortney Johanson, Fabio Ferreira and chef Matthew Safranek. This looks like a solid new addition to those seeking both calories and warmth post slalom. It's opening up along with the impending Star Bar in the old Star Hotel.
All together now, the minute you walked in the joint…
227 Main St, Park City, UT 84060
instagram.com/bigdipperparkcity
Blatch's Backyard BBQ
One more to add to the ever growing pile of homespun operators – this one for vegans bemoaning the lack of BBQ options beyond a cucumber salad and a pat on the head. Blatch's offers pickup on Fridays 3-6.00 p.m. with pre-ordering accepted through the week until Thursday late afternoon.
In case you're concerned Blatch doesn't have the chops – he also cooks up a decent looking range of carnivoristic options too – brisket, pork, burnt ends and more.
BLOX Dessert Bars
American Fork is home to this angular dessert shop. The BLOX in question are the geometrical concoctions like the Skippy – a peanut butter blondie blended with steel cut oats, topped with milk chocolate & Reese's peanut butter cups. Singular BLOX start at $4.50, with a jenga ready 16 pack on offer for $60.
541 S 500 E, American Fork, UT 84003
(385) 205-8088
bloxdesserts.com
Blue Gene's
Blue Gene's is the new name for a revamped Rye – the 21+ only bar attached to the Urban Lounge. The space has undergone a revamp. I'm guessing the name is a reference to the composer, not the IBM super computer of chess fame. But hey, I guess the Queen's Gambit wasn't that long ago.
From what I've heard, the food side of operations remains the same as the old Rye. The ever fabulous Salt Plate City team sent us the cocktail menu pictured above – from their opening weekend.
239 S 500 E, Salt Lake City, UT 84102
bluegenesslc.com
Boomerang's Down Under Bar
Sometime back in March 2021 one of downtown SLC's most venerable bars (Murphy's) made way for this new operator. Gone are the Irish charms and in their place, Aussie trappings. Sadly the menu does not include a certain shellfish, so you won't be able to cackle something asinine about throwing a shrimp on the barbie to your server. There are snags and chucks though. If you know, you know.
160 S Main St, Salt Lake City, UT 84101
boomerangsdownunderbar.com
Botana
A new taco truck for the streets of SLC – because, more tacos is scientifically better than less tacos. Prices start from $2.75 a pop and include selections like pork adobada with crispy pineapple and nopales cactus empanadas with Oaxacan cheese.
Bricks Corner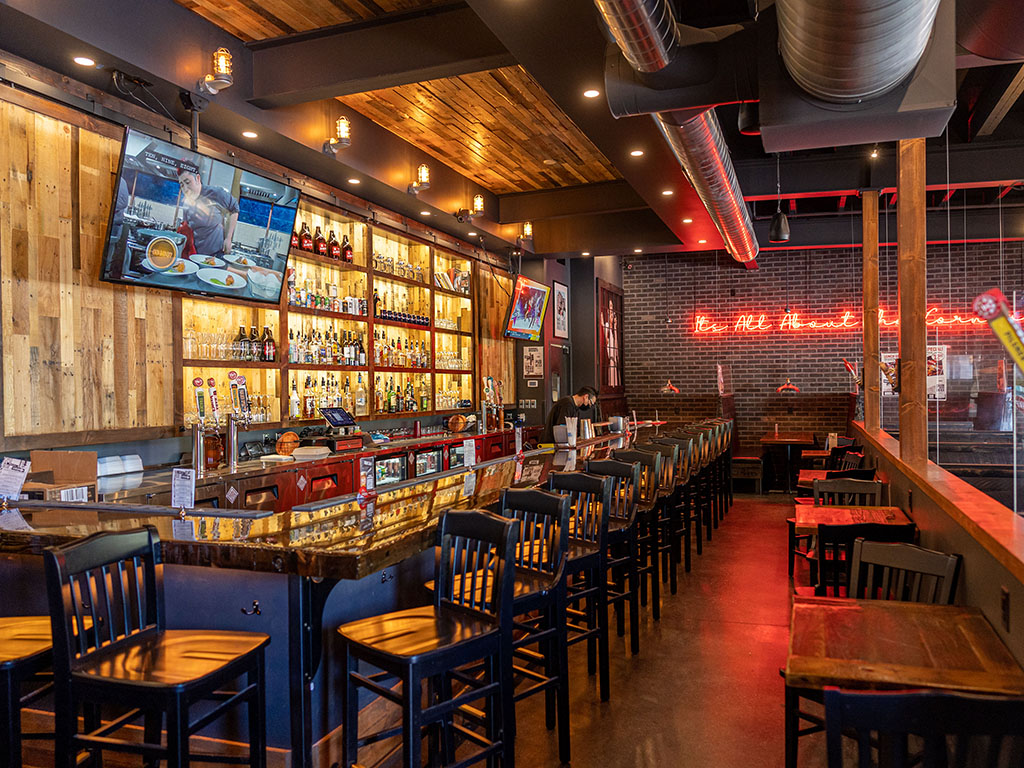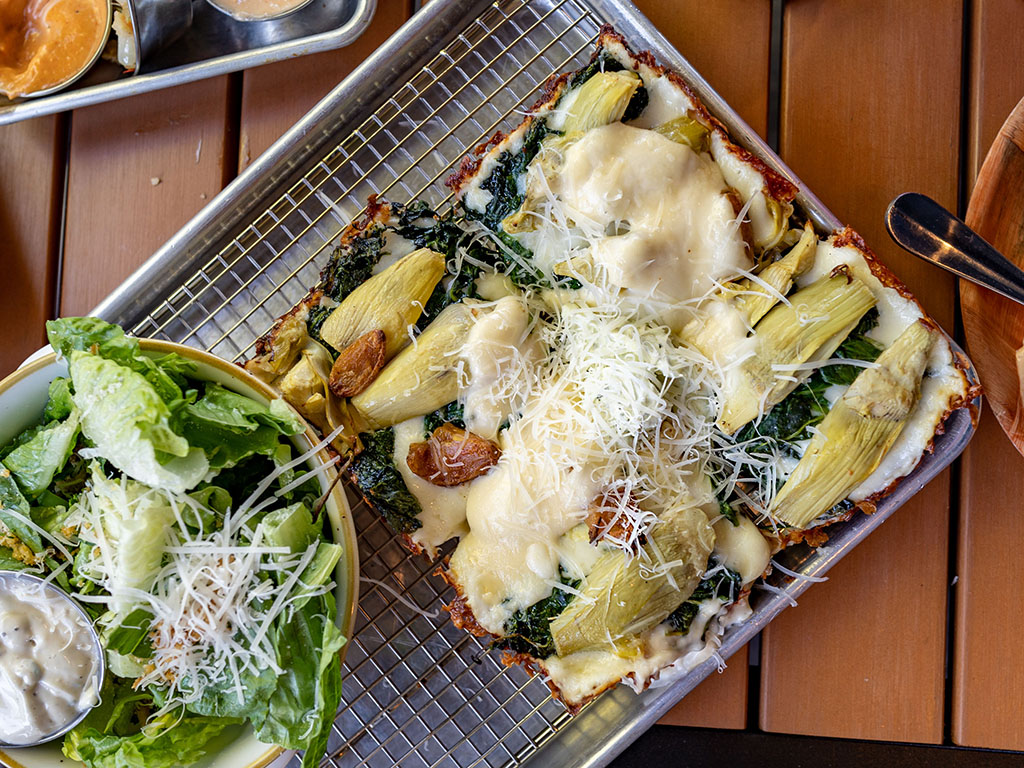 This new Salt Lake pizza parlor has surely been one of the most talked about openings in 2021, with nary a nasty word said, best I can tell at least. Bricks is the work of chef owner Josh Paticha whose career to date spans everywhere from South East Asia to right next door at Wolfgang Puck's Spago outpost in sin city.
The menu at bricks is 'Detroit-style' pizza, which I'll be honest, I had to Google. We've all heard of the geological like Chicago style and grab and go NYC style – but Detroit?
1465 S 700 ESalt Lake City, UT 84105
(801) 901-8659
brickscornerslc.com
Brick & Mortar
This spot re-imagines the now departed Campos Coffee over on Edison Street. It's a chicly modern space that now lives life as this upscale bar. Opening in the Fall, the 21+ only bar offers an eclectic menu built around elevated pub fare. Amongst the more familiar dishes like burgers and tacos you'll find internationally inflected fun; al pastor skewers are served with house tortilla; wings are given a foodie makeover using duck confit.
Weekend brunch is equally imaginative, and those wanting to really make a splash – check out the Boss Brunch that comes with a 30oz tomahawk steak and bottom of Dom – served for a party of three to share!
228 S Edison Street, Salt Lake City, UT 84111
(801) 419-0871
Bunz Gourmet Burger
Located in the Orem Mall this new burger shop. The menu is relatively restrained with a quartet of burger making up the menu core – but hey – one of them is a pastrami burger ($9.99) so it's all good.
575 E University Pkwy Suite M-205, Orem, UT 84097
(801) 691-0720
bunzgourmetburger.com
Cafe Anh Hong
Be still my beating heart. Monday 23rd of August was the date for the re-opening of this much missed Cantonese restaurant. Cafe Anh Hong are officially back in business now. The dim sum experts are now located in Sandy's former Pei Pei House spot. Here's the all new menu.
8650 S 1300 E, Sandy, UT 84094
(801) 486-1912
facebook.com/cafeanhhong
Cafe Juniper
This new coffee shop has made its home in downtown SLC, in the modest unit that once hosted the pop up meals of Katie Weinner's SLC POP. You can see the small toast menu here and stop by any morning of the week for a slice and brew.
29 E 400 S, Salt Lake City, UT 84111
(385) 213-5061
cafejuniperslc.com
Cafe Trang
American Fork is the latest location to see a posting of this storied Utah favorite. If my failing memory is right, I think Cafe Trang might have been host to my very first Vietnamese meal in Utah, oooh, some 20+ years ago now. This latest opening sees the group grow to a sextuplet of businesses.
529 S. 500 E. American Fork
(801) 448-5714
cafetrangbistro.com

Cajun Boil
Laissez les bons temps rouler – as the doors on this new seafood boil business in downtown SLC are now open. The menu offers something for everyone, even those who don't want to get their hands messy. Fried baskets start the menu which runs right through to build your own seafood boils and combo plates. If you do want to get dextrous with your dinner, selections and prices run the whole oceanic spectrum starting at $7 per pound for clams, up to $42 per pound for king crab.
618 E 400 S, Salt Lake City, UT 84102
(385) 252-6666
cajunboilutah.com
Central 9th Market
This one replaced the Jade Market in the central ninth area – nestled in between places like Laziz and Water Witch and Nohm. The core improvement to the business in that transition seems to be a wood fired oven and a collection of eye opening sandwiches. Need proof? Check out the pictured sandwich above with mortadella, lemon, spinach, shaved fennel, peppers, Duke's mayo, and house baked ciabatta (credit, figeats). This ain't your old school sandwich shop, that sells by the weight and heft.
161 W 900 S, Salt Lake City, UT 84101
instagram.com/central9thmarket/
ChaiYo Thai Togo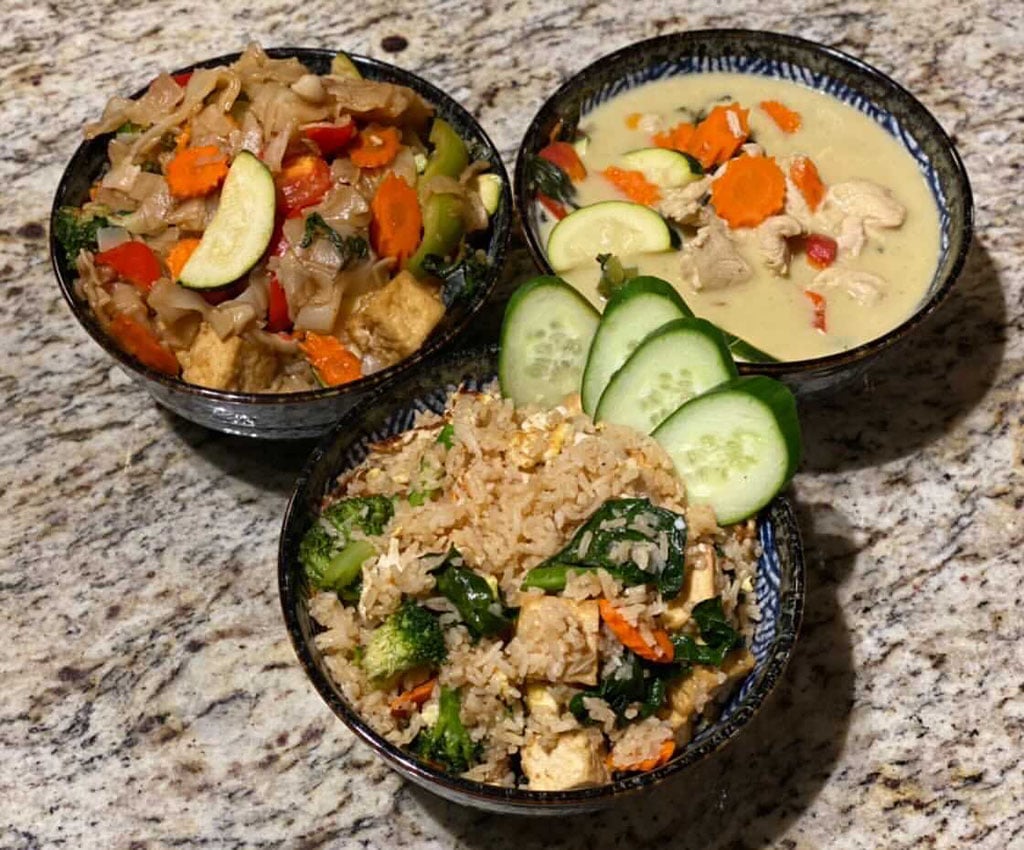 As I wrote about last year, smart businesses are getting on board quickly with the notion of the changing habits of consumers. This new Thai to go spot straddles the Millcreek / Sugar House border along Highland Drive and offers a by the numbers Thai menu to go. Reviews so far are favorable.
3804 Highland Dr, Millcreek, UT 84106
(801) 890-0036
chaiyotogo.com
Changs Food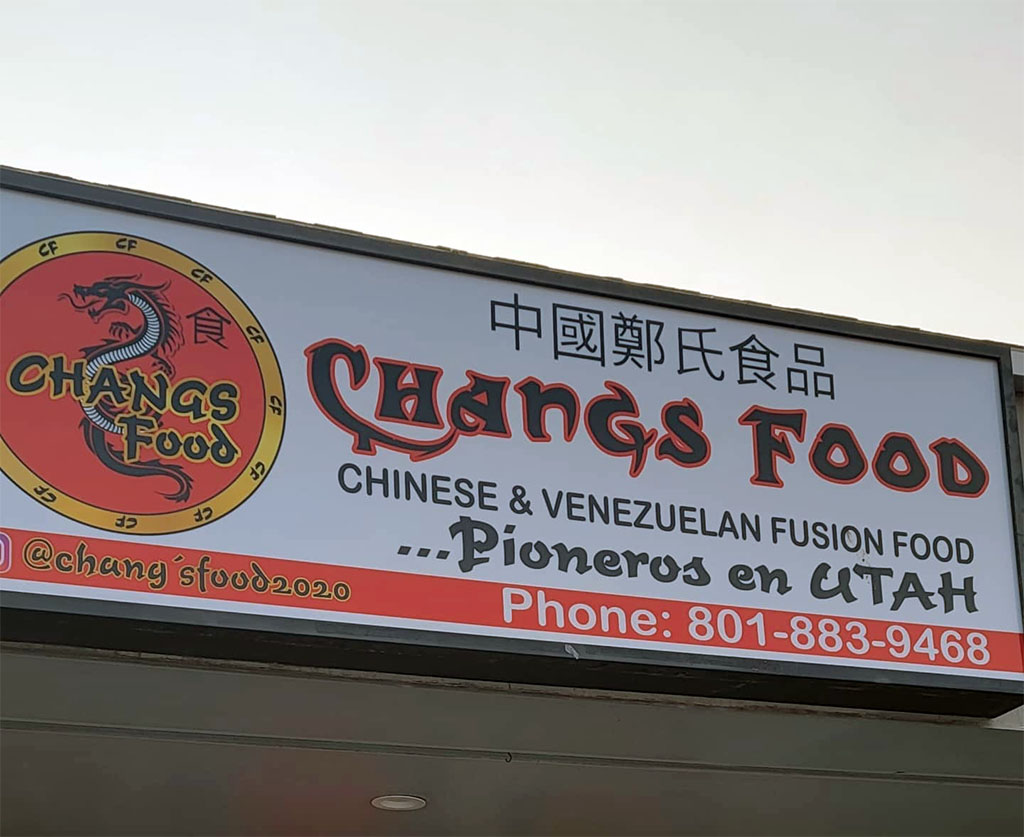 To my knowledge this is the first and only restaurant that offers "Chinese and Venezuelan fusion food" in Utah. This Facebook group post was my tip off to the new restaurant, but beyond that I've no idea how the mash up of South American and Asian foods works in practice. For sure, I will be remedying that sooner than later. Check out their menu here.
3576 S Redwood RdWest Valley City, UT 84119
(801) 883-9468
Chickenology
American Fork's Temptasian Restaurant might have shuttered last year, but some of their dishes lived on through this new food tuck – Chickenology. As the name says on the tin, it's all about cluckin' good stuff. See their menu here here. Update – sadly this one ended up closing in August.
The Chicken Shack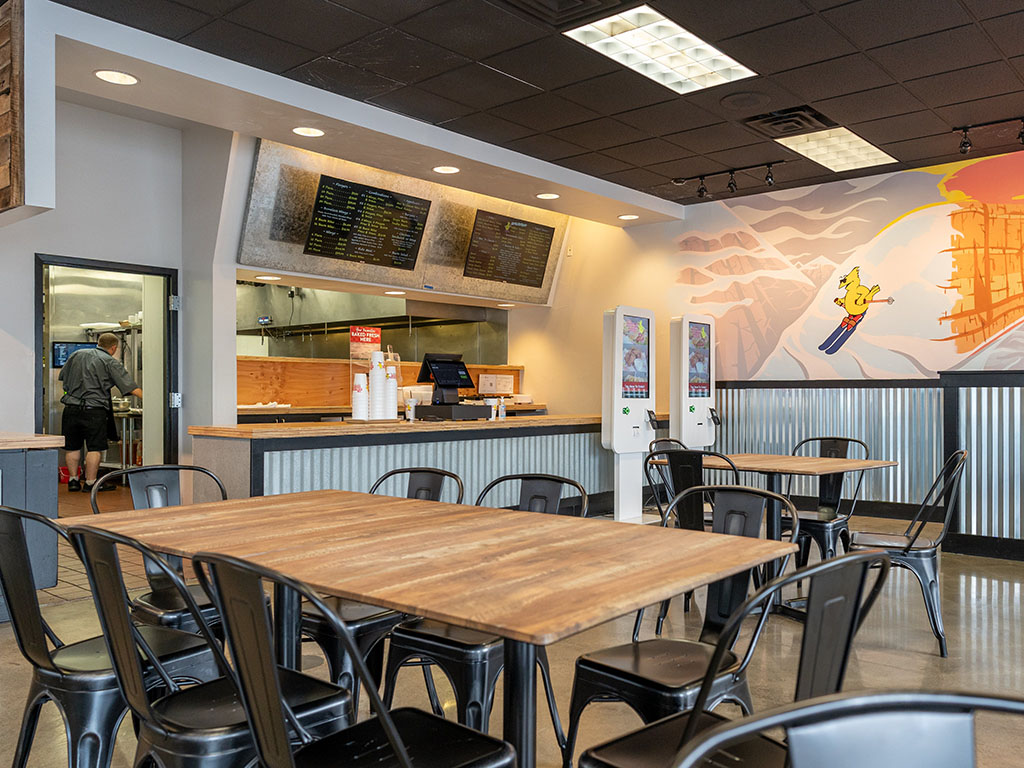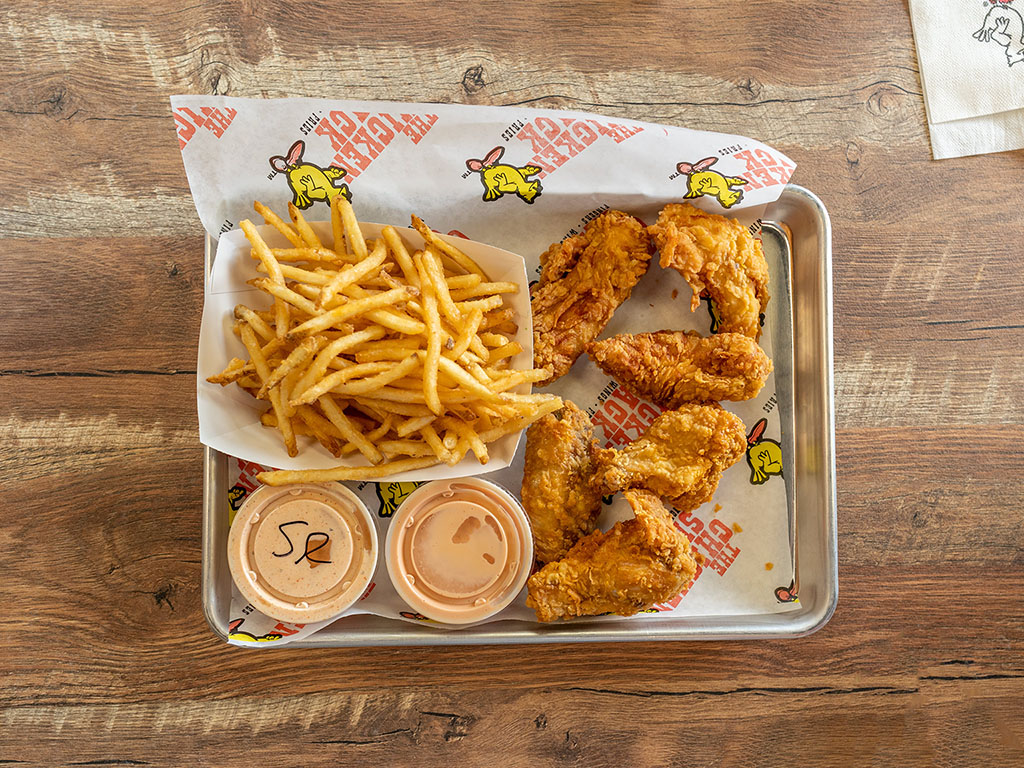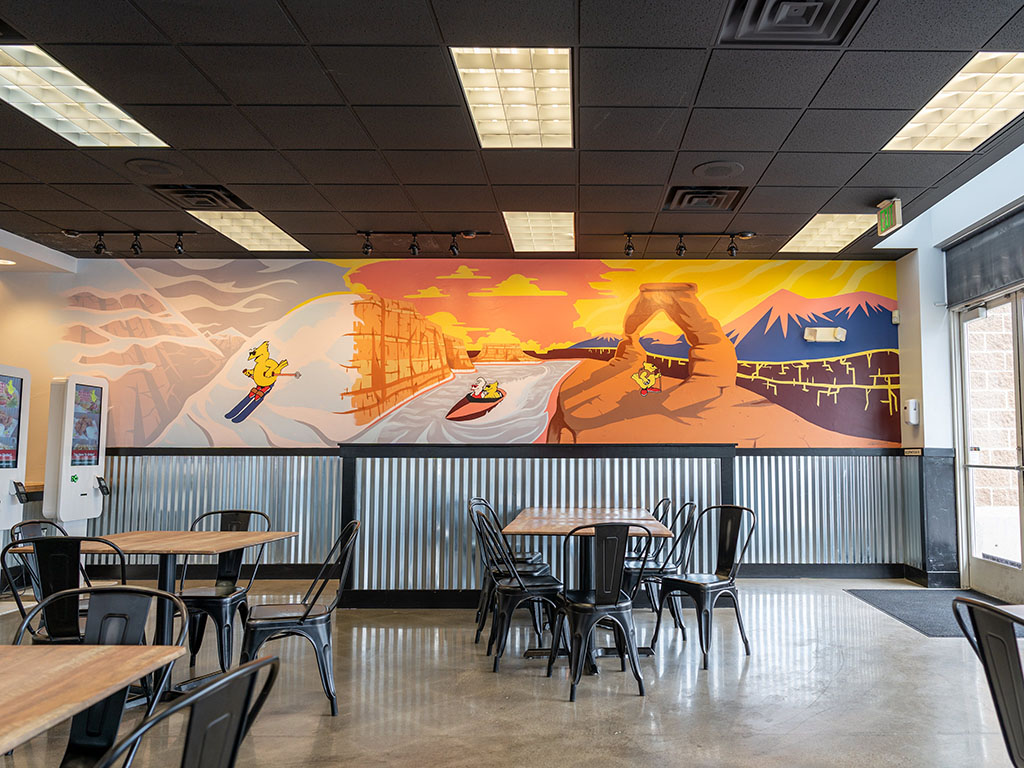 The Vegas-invasion continues with the Summer opening of this Salt Lake fried chicken shop. Launching in Sin City back in 2005 the chain now has multiple locations, this being the first in Utah. For the chain's first foray here the walls are bedecked in Utah-themed artwork featuring their mascot, Fred. The menu mainly offers wings and fingers supported by a cast of sauces and dips. You'll also find burgers, chili and more.
Pictured above is one of the combo plates I sampled just after they opened, a mix of fingers and wings. The quick 60 second review: kinda dry and bland fingers, these need work. Very respectable wings and fries – and yes – they have fry sauce. The fryers and oil at the time were noticeably fresh and clean, here's hoping it stays that way.
358 S 700 E, Salt Lake City, UT 84102
(385) 229-4856
mychickenshack.com
Chonchi's Taco Shop
I found this Farmington based restaurant pop up on the lively Utah Restaurant Review Facebook page. Street tacos are the name of the game with all the good stuff like tripas, buche, cabeza and al pastor on offer here.
1324 US-89 ALT, Farmington, UT 84025
(385) 988-3970
https://www.facebook.com/Chonchis-Taco-Shop-102884394900743/

Chop Shop Park City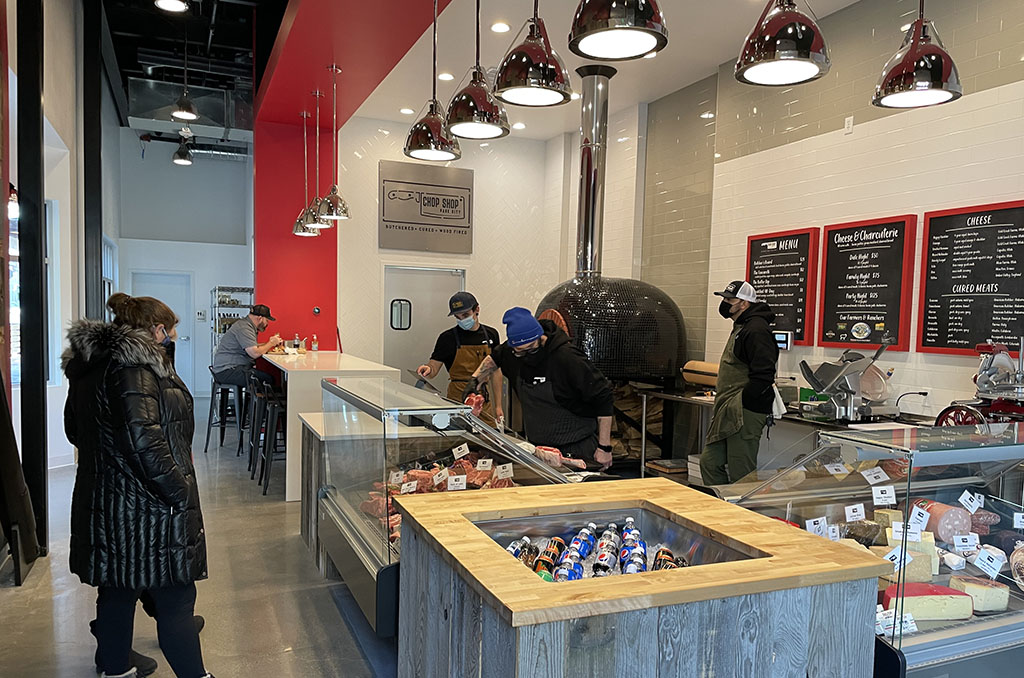 Park City-zens can welcome this brand new butcher chop into their midst. Comparison to the valley's Beltex are inevitable; house made charcuterie? Check. House made sandwiches? Check. That's of course not bad company to be in. Here's the full press release on the opening.
Centrally located in the Newpark Town Center, Chop Shop Park City is Park City's first full-service butcher shop. Serving the highest quality cuts of beef, pork, lamb and poultry, Chop Shop is focused on providing customers with responsibly sourced products from their local purveyors.
"We recognized there was a big need for quality meat in Park City and decided to make our dream of creating a European-style butcher's shop a reality," said Dan Ibach, one of Chop Shop's co-founders. "We want customers to enjoy a variety of meat and cheese offerings, sourced from Utah."
John Courtney, who has an extensive culinary background, is at the helm as Chop Shop's butcher and co-owner. Courtney worked his way up the industry ladder after culinary school and has assisted in opening and operating many of Las Vegas's most well known restaurants. After relocating to Utah, Courtney found himself in the middle of the farm to table movement, joining the Chop Shop team along with Chuck Heath and Dan Ibach.
"At Chop Shop, we are providing the highest quality of meats and service available," said Courtney. "We believe the farmers and ranchers are the cornerstone of our business which is why we pick the best of the best when it comes to our purveyors. We pride ourselves on knowing each purveyor we work with personally."
The 17-hundred square foot space houses the butcher counter, 3-dry aging units and a wood-fired oven. In addition to providing exceptional cuts of meat, Chop Shop offers customers a variety of local cheeses and charcuterie options. Customers can also enjoy made-to-order, wood-fired sandwiches and pizzas.
Located at 1177 Center Drive in the Newpark Town Center, Chop Shop will be open Tuesdays through Saturdays from 9am until 6pm and on Sundays from 11am until 4pm for limited dine-in seating, curbside delivery and grab & go items.
1177 Center Dr, Park City, UT 84098
(435) 604-0244
chopshopparkcity.com
Cinder Pig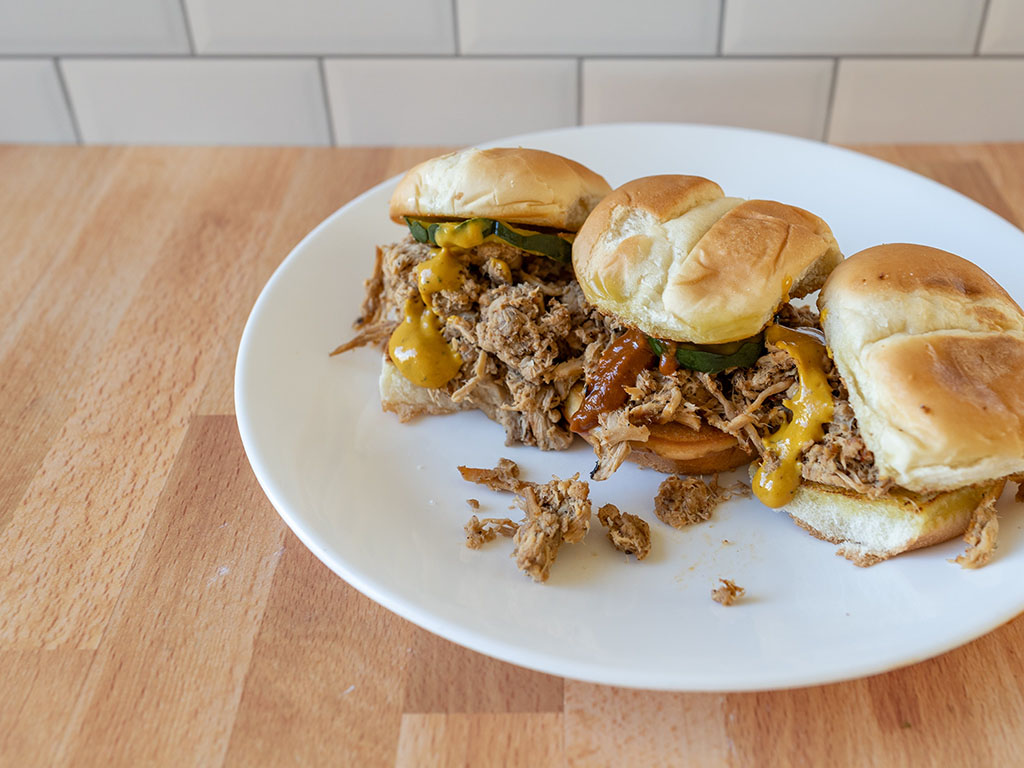 The coolly branded Cinder Pig is the work of wife and husband team Kate Panzer and Jerry Pacheco. Those with sharp memories will note I've written about Pacheco for several years – chef'ing around town at the likes of Pallet and Bambara – and latterly at the ill fated Blue Marlin.
Skip forward to a world beset by killer invisible bugs, and the duo's plans to explore fine dining on their own terms were put on ice. An episode of Chef's Table BBQ here and a home made cinder block BBQ pit there – and a whole hog BBQ business was born. As far as I know, it's the only such operation in Utah; maybe even West of the Mississippi Panzer speculates. That's because this is a labor intensive process. As Panzer told me:
You don't cook whole hogs because it is an efficient way to cook pork. You do it because you love the process. When Jerry ran this idea by me, I said "Okay, but first you have to cook 100 pigs." This is not a style of cooking you can just pick up. You have to commit yourself to mastering the technique. We are now on pig number 20 or so and still learning every time.
We started out just two of us, waking up at 4am to put the hogs on the pit and spending whole days taking turns shoveling coals. At first, we just sold the pork to our family and friends. And then, things got out of hand real quick. Luckily, our friends at Oquirrh were willing and able to accommodate us. We've also brought on Jerry's brother Marco Trujillo (also a Bambara alum) as our sous chef/co pitmaster.
Sadly, the project went on hiatus towards the end of 2021 as Pacheco took the exec chef reigns at Bambara. Here's hoping we see this one come back in some form in the future though!
Chubby Baker
A new sugar-fueled spot for SLC. I'll let our friend and writer Christy, explain this one, "brilliant Chubby Baker had a hell of a time getting her storefront open, but it's finally here! she makes incredible donuts with flavorful fillings like this ube, plus cakes, croffles, and killer drinks—the iced coffee and tonic with passionfruit was my fave. this is one of those rare cases where a super trendy, highly 'grammable shop is also serving a truly fantastic menu. you will love. it's open today, on 9th south just a little west of the park!"
317 900 S, Salt Lake City, UT 84111
chubby-baker.com
Chubby Llama
They've got cream cheese, they've got raspberry Danish, they've got cortado, they've got Brazilian coffee – Sandy you have a new coffee spot to check out.
8526 S 1300 E, Sandy, UT 84094
facebook.com/chubbyllamaroasting/
Coco Wok
Ahhh Thai food. You kids probably won't remember, but once upon a time, Thai food was itself the fried chicken of its day; no small amount of existential angst was writ and wrote, "do we really need more Thai food!". These days, it's a refreshing change of pace amidst the sea of poke shops and healthy bowl eateries opening up – those are the other two hot concepts right now with chickum.
Anyway, State Street is now home to this new Thai spot which was previously Thai Siam. I haven't been able to discern if this is a rebrand or a whole new business – let me know in the comments below if you have more intel!
1435 S State Street, Salt Lake City, UT 84115
(801) 474-3322
cocowokslc.com
Cocina Familiar
This family ran Mexican spot over in West Valley City sports a menu with the stuff of fevered dreams for anyone that loves Mexican cuisine: birria tacos, tinga, al pastor, molcajete, mole and more.
3952 W 3500 S, West Valley City, UT 84120
(801) 600-1584
cocinafamiliarslc.com
Coffee Mama
Slotting into the vacant unit left behind by Dough Co in Sugar House is this new coffee house that specializies, "in dark roast pour-over coffees."
2121 S McClelland St, Salt Lake City, 84106
coffeemamaslc.com
Conte De Fee
This bakery in Midvale takes both French and Asian inspiration on board for an eye popping variety of sweet treats. Rainbow cake, matcha green tea cake, Japanese strawberry cake – it's all here – and so will you I suspect.
7695 S 700 E Midvale, UT 84047
(801) 987-8112
contedefeebakery.com
Corleone Italian Fast Food
Displacing the former occupants Chronic Tacos, is this new fast-casual concept in the heart of Sugar House. Corleone offers Italian comfort food classics such as lasagne, spaghetti and more for around ten bucks a pop. The price point is a refreshing change of pace in contrast to practically every other Italian restaurant that aspire to fine dining echelons (see $30 a plate).
121 McClelland St, Salt Lake City, UT 84106
(801) 935-4141
corleoneitalianfood.com
The Cotton Bottom Inn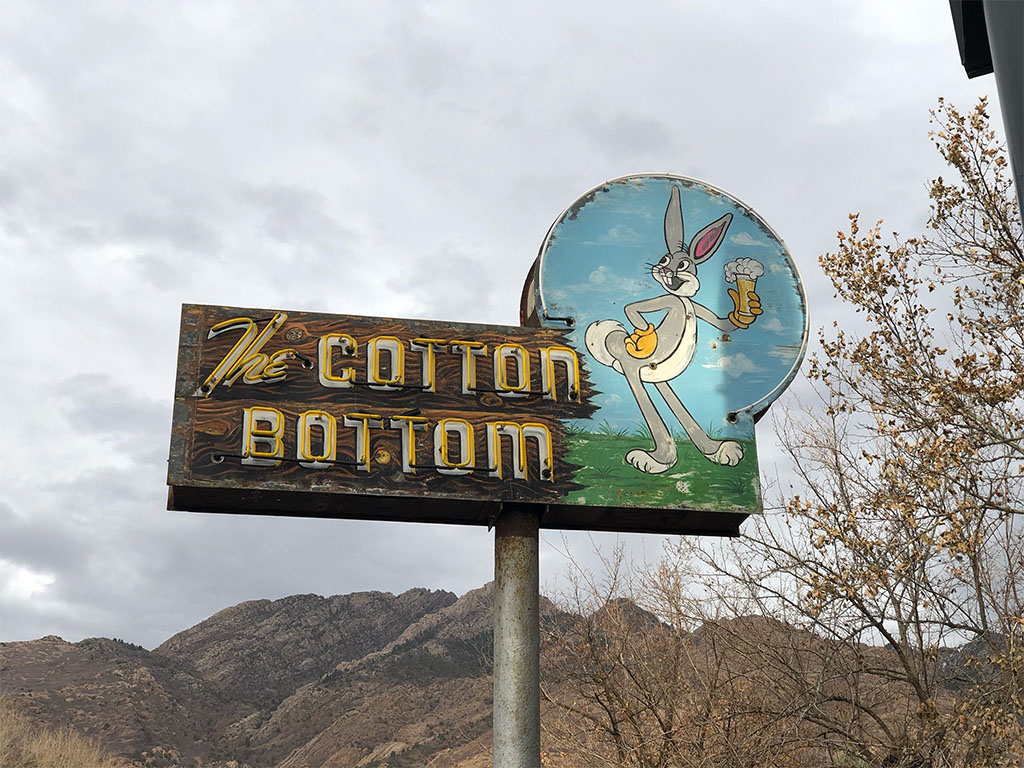 This iconic Cottonwood Heights bar was revamped and re-imagined last year by new owners, the Bar X Group. The business re-opened under a new restaurant-type liquor license, then promptly sold burgers by the bajillion, such was the expectant-demand.
That change in license type (this was a bar previously) means if you're not 21 and want to sample their fabled garlic burgers, you're good; you might be doubly happy to hear you can get actual French fries now too.
2820 6200 S, Holladay, UT 84121
(801) 849-8847
thecottonbottom.com
Crown Burgers
Here's something you don't see everyday, a new Crown! And not any old Crown. It's an opening that is surely a portent of a staff-strapped future for many restaurants. This one looks more like a CPAs, than a palace of pastrami.
The new Holladay operation is geared more to takeout and delivery than it is dine in. If you study the fast food sector with meticulous rigor you will know this is one of the next big things headed our way; all the big guys are re-imagining how they can function in a future where delivery and drive thru are the main revenue generators. People increasingly don't want dine in, nor that troublesome human contact thing.
Crunchy Munchy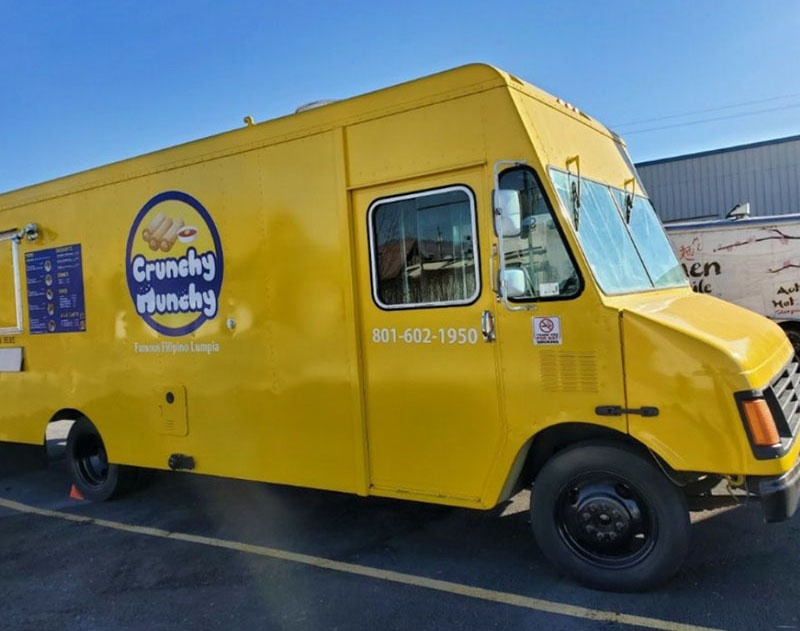 It's hard to argue with a name like that. Here's hoping the munchy matches the crunchy. Oh the crunchy? That would be the Filipino lumpia that the truck slings across the valley – you can see all their items on this menu.
Chow Time Seafood Buffet And Grill
New. Or not new? Chow Time seems to have a profile going back a couple years, but also popped up Yelp's new business listings this year. Reviews talk about the "recent opening" of this West side buffet. I'm guessing a re-naming, re-branding or otherwise changeup of an existing buffet?
2819 S 5600 W, West Valley City, UT 84120
(801) 890-3838
Crack Shack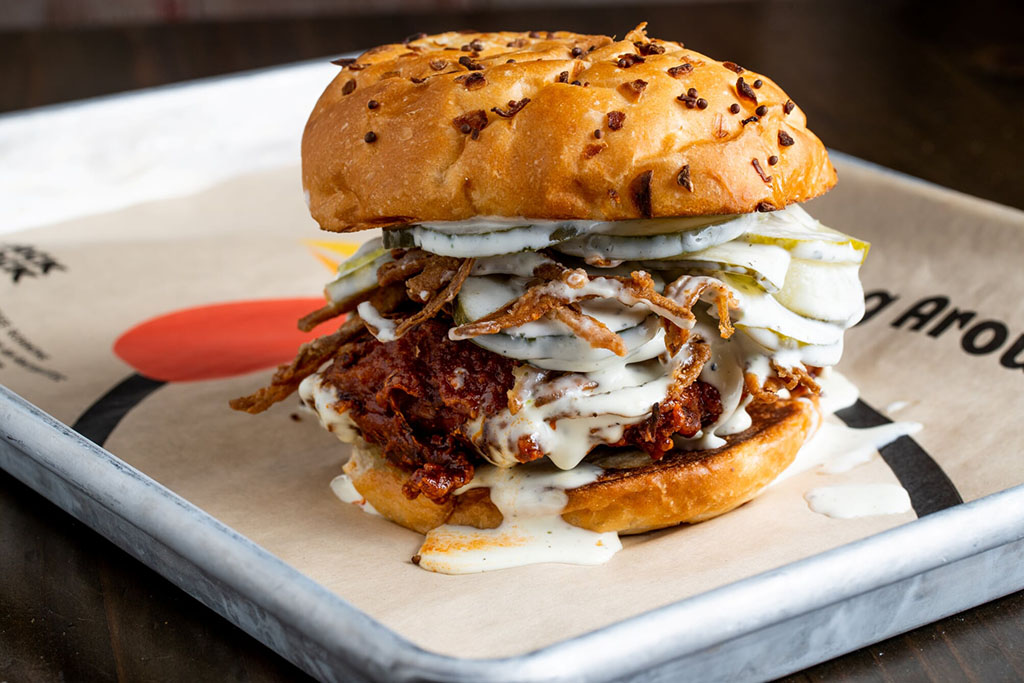 It's been a long time coming, but this much anticipated arrival from San Diego is now open. Here's the full press release from the opening:
The Crack Shack announces the highly anticipated opening of its first Utah unit on Friday, December 17th. The team behind the popular fried chicken restaurants is opening in the 9th & 9th neighborhood, centrally located in Salt Lake City, at 912 East 900 South. The space is being transformed into a culinary "coop" that features its iconic chicken artwork, pet-friendly patio and full bar featuring local craft beer from KiiTOS, Shades Brewing and T.F. Brewing, craft cocktails and wine.
The Crack Shack originally started as a passion project to transform the pristine, local ingredients from the founding team's fine dining restaurant, Juniper and Ivy, into a more accessible, casual setting. What started as a humble open-air chicken spot in San Diego's Little Italy in 2015 –- before the fried chicken sandwich craze began — has now transformed itself into six fine casual eateries, earning the title of one of the best fried chicken restaurants in the US and recognition as a Michelin Plate honoree.
Culinary Director Jon Sloan is behind the SoCal/Baja-inspired fried chicken that combines non-GMO, "beyond free range" birds fresh from Jidori Farm and a proprietary "Crack Spice" blend from Le Sanctuaire. While bone-in fried chicken is their signature, the menu boasts fried chicken sandwiches packed with homemade sauces and local produce, fresh & hearty bowls for the healthy-ish at heart and a Lil' Cluckers menu kids will love and grown-ups will feel good about serving. Patrons will also have access to The Crack Shack's beloved sauce bar which will feature housemade condiments like ranch, sriracha, 1000 Island, pineapple mustard and Sweet Baby G's BBQ.
"We could not be more excited about becoming a part of the Salt Lake City community," said Dan Pena, Director of Operations for The Crack Shack. "From the aesthetic to the ingredient sourcing, to the organizations we support and every decision we make, this location will uniquely cater to this neighborhood that we're so grateful to be a part of."
The 9th & 9th eatery will open officially to the public on Friday, December 17th. A portion of proceeds on grand opening day will be donated to local non-profit organization Encircle. Those who subscribe to The Crack Shack's e-newsletter via betterchickeniscoming.com will have access to the VIP preview. For the latest opening updates and announcements, follow The Crack Shack on Instagram at @getcrackshacked.
912 E 900 S, Salt Lake City, UT 84105
(385) 715-0250
crackshack.com
Cupbop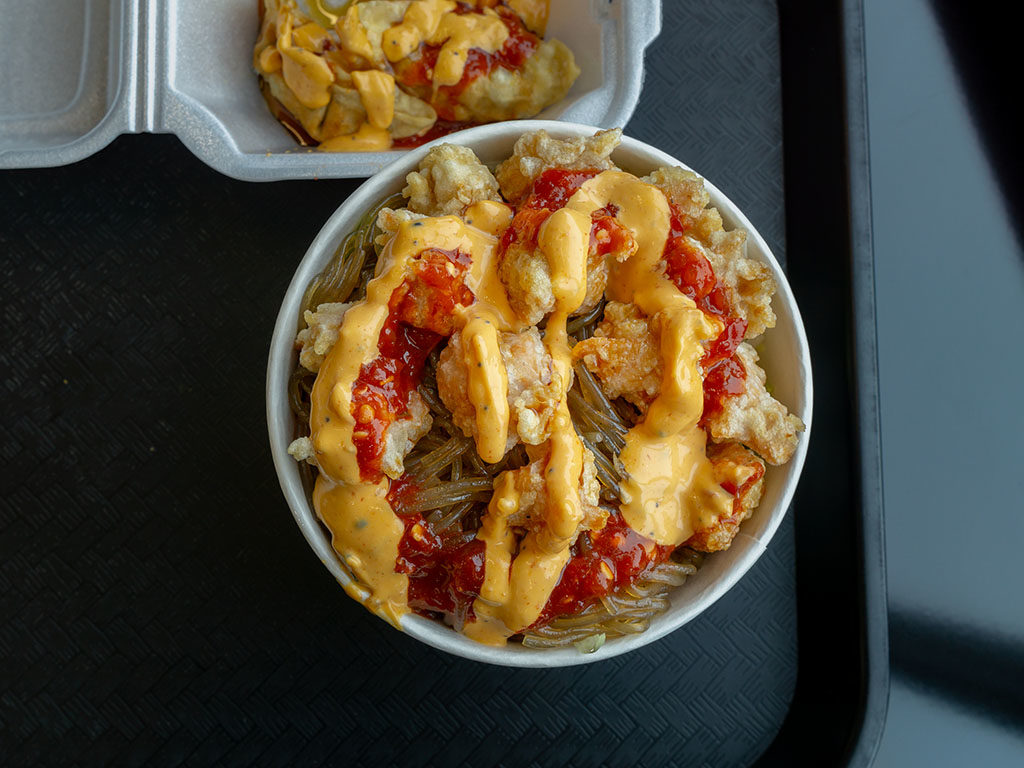 I don't think it's humanly possible to count the number of Cupbop locations these days. Go ahead and try, I dare you. There, you see, there aren't numbers possible to describe it. At any rate, Midvale and West Valley both saw new openings this year – Logan should be coming online soon as well.
2662 S 5600 W, West Valley, UT 84120
cupbop.com
7178 Union Park Ave, Midvale, UT 84047
(801) 618-1024
cupbop.com
Da Cloud
Boba. This one seeping its delicious way onto the streets of Pleasant Grove. Boba you see has the patience of the ocean, slowly lapping and chipping away until it's everywhere. Grovers will also want to check out the food options at Da Cloud. Check out this potato ponado twist if you need reminding that even potatoes can make you giggle with excitement. Oh wait that's just me huh.
1051 S Valley Grove Way Ste B, Pleasant Grove, UT 84062
(385) 387-1371
instagram.com/dacloud.bobashoppe
Day Dreams Cakes And Pastries
Replacing Sweetaly Gelato is this all new South Salt Lake bakery. Alicia Berardo is owner and baker and her line up of goodies includes artisan cakes, cookies, pastries and an interesting selection of South American treats such as alfajores.
465 E 3300 S, Salt Lake City, UT 84115
(801) 941-9491
facebook.com/DaydreamscakesandpastriesLLC/
Del Barrio Cafe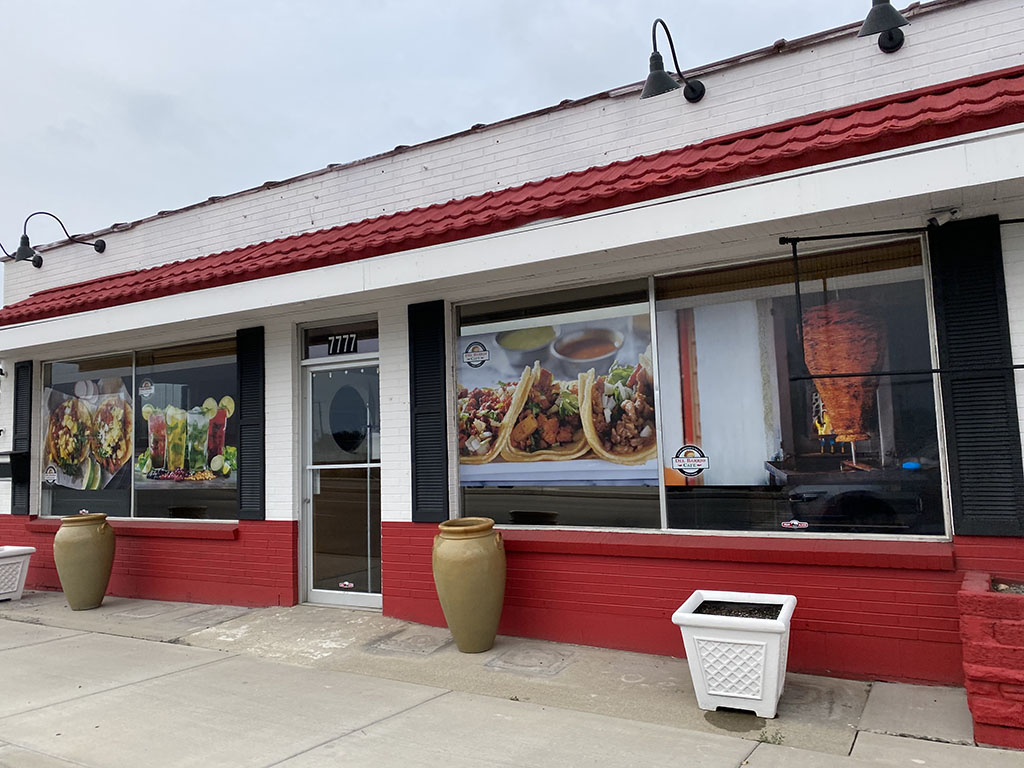 Now open in the former Mekong Cafe spot in Midvale, this brand new taqueria. The menu features the currently in vogue birria tacos (three for $11.99) as well as old classics like al pastor (3 for $10.49) and fish tacos (pictured above). Burritos, quesadillas and nachos round out proceedings.
7777 S State St, Midvale, UT 84047
(801) 902-9971
delbarriocafe.business.site
Ding Tea
Boba. This one opening over in Bountiful. The new Davis County installation for this international brand joins existing Utah shops in Taylorsville, West Valley and South Jordan.
175 N 500 W, West Bountiful, UT 84010
(801) 992-3133
dingtea.com
Dirty Bird
The second location of this fried chicken shop is now open in Ogden; you might recall the original opened back in early 2020 in Provo's The Hut – a food hall concept. The newly minted Weber County debut also came alongside news that Wags Capital acquired a majority ownership in this McHenry Group concept – with a reported $20 million investment set to pour into the brand for continued chickeny expansion.
Fried chicken is part of a holy trinity of trendy concepts now (along with boba and bowls). An ever increasing number of combatants are falling over themselves to fire a salvo in the chicken sandwich war.
350 Park Blvd, Ogden, UT 84401
dirtybirdchxx.com
Doughboy's Pizza
There was a time a couple years back that everyone and their dog was opening a Lehi-location. That buzz has somewhat cooled off in recent times. Doughboy's Pizza is the most recent opening I'm aware of, offering pies, slices and wings. The location also serves up BYU Creamery to complete to calories rolling for those types of day.
380 N 850 E, Lehi, UT 84043
(801) 768-7133
doughboyslehi.com
Eight Settlers
If you drove past this spot – nestled just up behind The Pocurpine / Saola – over the last couple years you might've wondered what the construction would bring. Wonder no more. The all new Eight Settlers Distillery flung their luxurious doors open to the public amidst rapidly changing plans.
Eight Settlers' Californian owners originally intended to lure in some of the nearby apres ski hunger and thirst – but C19 took one look at those plans and made merry.
As you'd expect from the name, there's on site distilling here (as well as a New American styled menu) aping the Wild/Mountain West aesthetic that High West so expertly mastered. That name? Apparently a reference to the eight families who settled between Big and Little Cottonwood Canyons way back when.
7321 South, Canyon Centre Pkwy, Cottonwood Heights, UT 84121
(385) 900-4315
eightsettlersdistillery.com
Electric Alley Sliders
Brand new inside Ogden's The Yes Hell bar, this slider based business began tentatively welcoming customers during the Fall of 2021. Nick Jones and Pat Bashō (former Red Iguana) are the names behind the operation which offers perfectly pub paired sliders; starting from around five bucks..
2430 Grant Ave, Ogden, UT 84401
facebook.com/ElectricAlleySliders/
El Rico Sanguchom D'chalo
If you're slightly jaded by the procession of fried chicken and boba like me, you might also find it takes something extra special to pique your palate. Check this one out and behold a marvelously intriguing little spot along 35th South in West Valley. "The Best Peruvian Burger" bedecks their main sign. I might suggest a change to "Utahs only Peruvian burger", unless you know otherwise dear reader? These magical creations even come with a branded sear…
1576 W 3500 S , West Valley City, UT, United States, Utah
(385) 234-9923
facebook.com/people/El-Rico-Sanguchom-Dchalo/100051319969710/
Facil Taqueria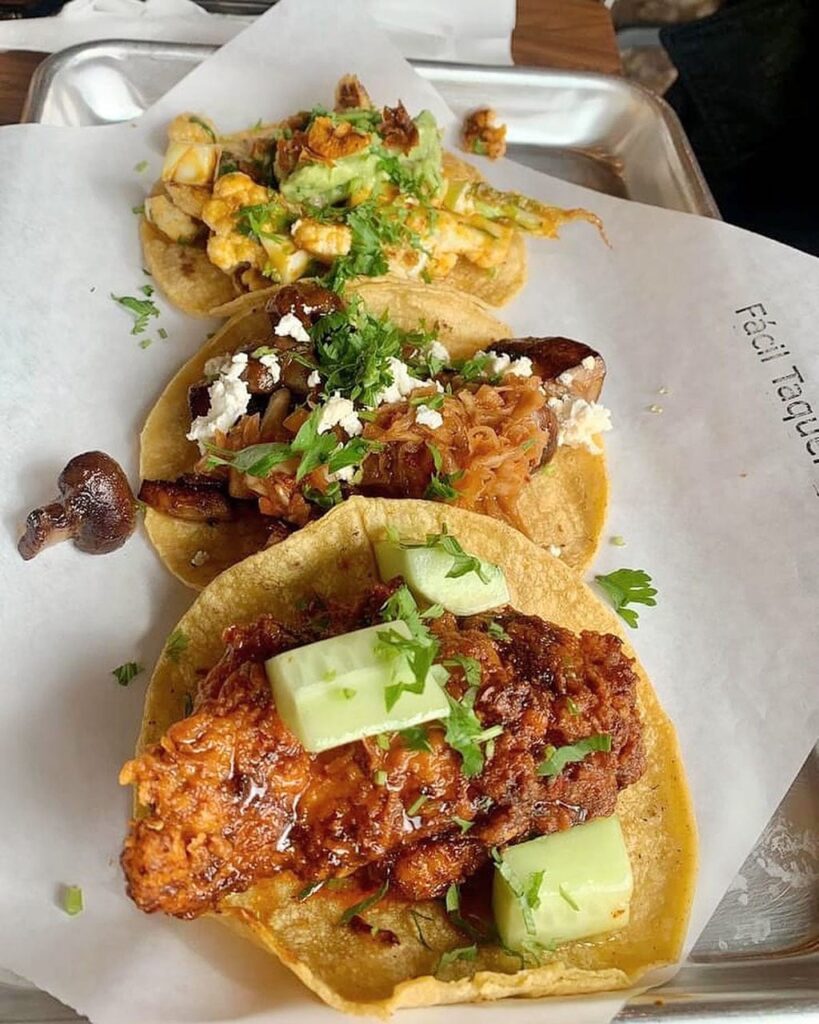 Tacos, and what tacos at that. Confit pork, chicken tinga, smoked brisket, Nashville hot chicken, hungry yet? The picture above from the ever in the know Gather Nosh Savor. Facil still operate the food truck that started their story – you'll find their bricks and mortar over in Holladay.
4429 South 2950 East, Salt Lake City, UT 84124
(801) 878-9969
faciltaqueria.com
Flake Pie Co
"All you need is love…and pies" proclaims this new sweet treats outfit. I'd also counter that you need gyros and beer, but hey, they're close enough. Located in South Jordan's Towne Center, Flake's menu includes pies, flakies (no not me after too many gyros and beer) and pots de creme.
1665 Towne Center Dr #3, South Jordan, UT 84095
(385) 342-2620
flakepie.com
Fenice
A sold core of Italian cuisine is ably supported by a mix of Mediterranean dishes at this new opening on downtown SLC's Regent Street. You might recall the elongated space was previously home to Fireside. Chef Michael Richey's restaurant has long since departed, though the old wood fired oven still dominates the kitchen.
The menu works through a range of pizza and pasta dishes as well as seasonal fare. Owned by Lisa and Jeff Ward, of Silver Star Cafe fame, watch this space for a first look at the restaurant soon. Our writer Christy covered the opening in this first look review.
126 Regent St, Salt Lake City, UT 84111
(801) 359-4500
fenicebistroslc.com
Flanker Kitchen + Sporting Club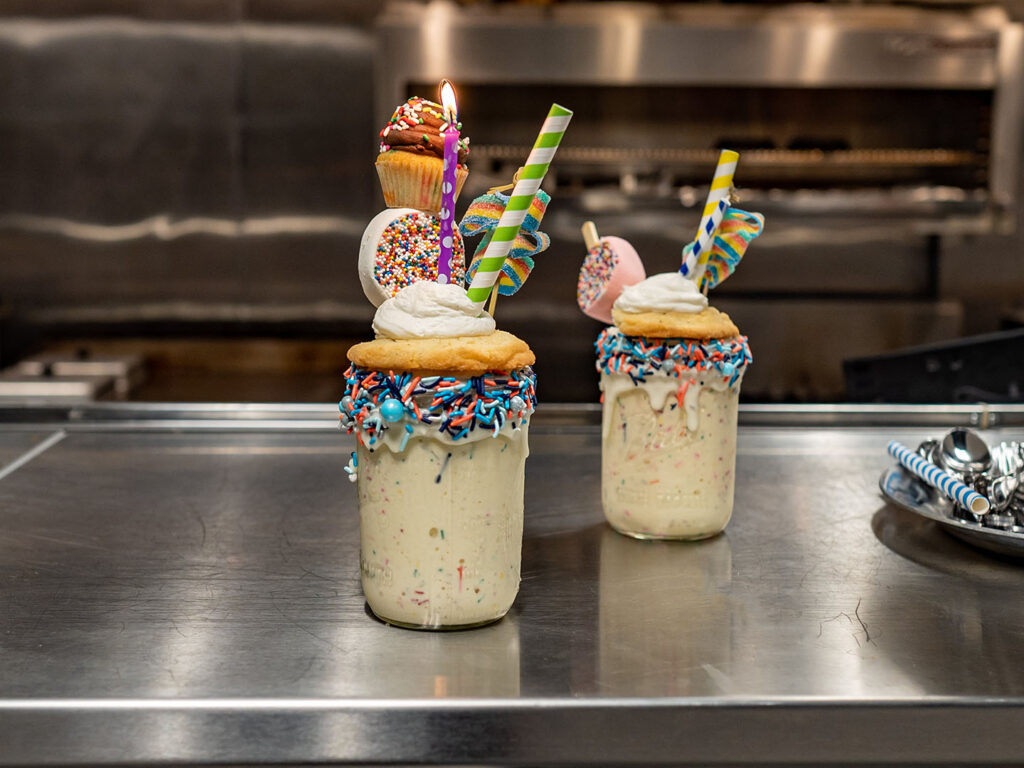 O.k. you waited long enough, here's that milkshake I promised you at the start. This birthday cake inspired creation is one of several fun additions at the new Flanker + Sporting Kitchen that flung their doors open this December.
Flanker Kitchen + Sporting Club is a dining, drinking, and entertainment destination operated by Carver Road Hospitality – and lands in the old Punch Bowl space in the The Gateway. Flanker sports a 360-degree bar anchoring a central dining area offering a range of seating options with the bar and lounge, high-tops, patio and traditional restaurant seating.
On the food side of the business you will find an American menu created by culinary director Jeannie Glass. Glass' resume includes many well known names on the Las Vegas' dining scene: xecutive Chef of Bavette's Steakhouse and Bar at Park MGM, Estiatorio Milos at The Cosmopolitan of Las Vegas, and the Bardot Brasserie, Five50 Pizza Bar, and Sage restaurants at ARIA; Glass has also served as a Master Cook under Joël Robuchon.
Glass' menu is an entertaining take on pub grub. Chicken wings are served with a table side sterno burner so you can crispy them up as you like, lobster fritters are finished with a flurry of powdered sugar – and there's that milkshake – you know you're ordering it.
6 N Rio Grande St Suite 35, Salt Lake City, UT 84101
(801) 683-7070
flankerslc.com
Fresh Fin Poke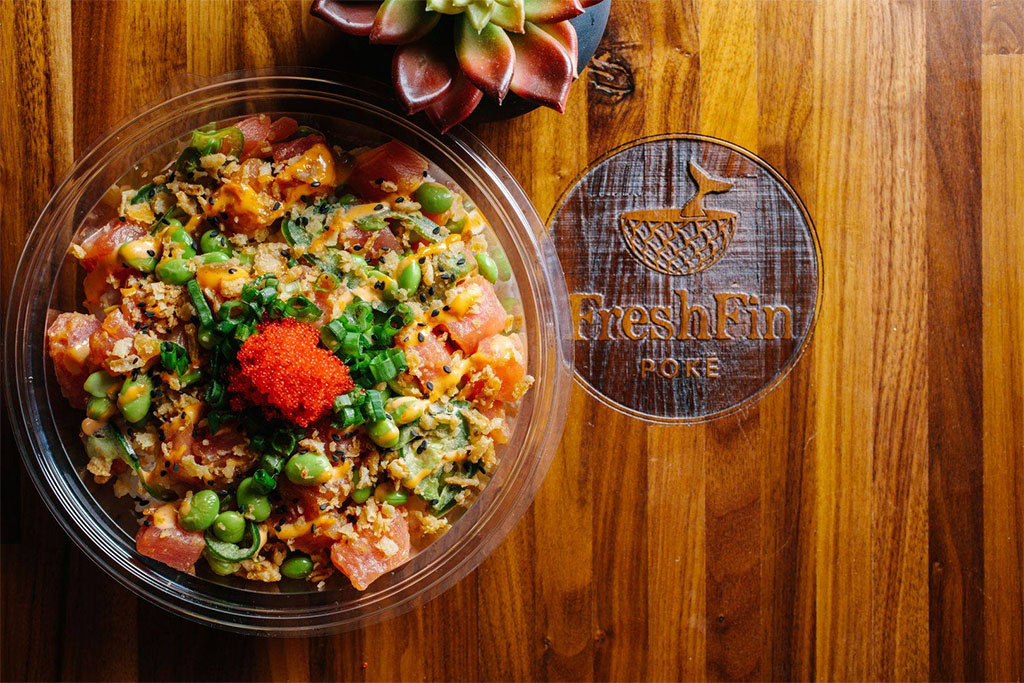 It's enough to make you wonder, was there a national fire-sale on bulk seafood recently? Well, here's yet another poke option for you. This one is set for Draper, which willl be the second location of this national chain in Utah. The brand first launched their bowls on downtown Salt Lake on Regent Street.
185 E 12300 S, Draper, UT 84020
freshfinpoke.com
Gallo Loco
This new West Valley City quick casual offers Mexican food through the lens of the "build it yourself" model. The menu features bowls, burritos, tacos, nachos and more – that allow you to customize them as you see fit with a choice of proteins, sides and salsas. Make mine an al pastor crazy fries with mango habanero please.
1850 3500 S, Salt Lake City, UT 84119
(801) 972-1303
Ganesh Indian Cuisine
Look at these new Fort Union digs for one of Utah's best Indian restaurants. Ganesh was one of the very first in in the state to showcase South Indian staples like dosa, and their popularity has never waned. Back in the day I was particularly in love with their chicken 65 dish, a jalapeño-fueled party on a plate.
145 E Fort Union, Midvale, UT 84047
(801) 569-3800
ganeshindiancuisine.com
Great Indian
Also in Midvale. Also Indian cuisine. Do you live in Midvale? Do you like Indian food? Then I just made your day, you're welcome. Great Indian is open seven days a week and has a pretty extensive menu including some lesser seen dishes, paneer samosa anyone?
752 Blue Vista Ln Suite 400, Midvale, UT 84047
(801) 495-4141
Gonzalez BBQ
"Texas-style BBQ available Friday dinner, Saturday lunch and dinner, and Sunday lunch." – and just opened up shop in Logan, barely in the past few days. The businesses Facebook page already shows folks lining up down the street to get their hands on some tasty-Q and also advises, "we generally sell out before closing time, so get there early." Wise words. Read more on their backstory, here in the Herald.
64 Federal Ave, Suite 120 Logan, UT 84321
gonzalezbbq.com
Golden Gyros
Long term readers sufferers of my nonsense will know of my devout-like reverence of the gyro, in all it's shapes and forms. So you can bet I got a little hot under the collar to hear about another option in town; if memory serves this was once the Off Trax Diner location.
Yes there's red sauce, yes there's white sauce. And of course I ordered my gyro with both, and then added fry sauce. Because 🐖
259 W 900 S, Salt Lake City, UT 84101
(801) 214-0099
golden-gyros-utah.business.site
Greek House
What's that, more gyros you say. Excuse me, I'll need a few minutes.
…
O.k. this new Taylorsville Greek spot (in the Westwood Village shopping center) opened up in August; owner Winsten Eugin reckons the gyros are the star of the show but you'll also find Grecian staples like kebabs, platers, salads, falafel etc too.
2654 W 4700 S, Salt Lake City, UT 84129
(801) 666-6742
Graffiti Bao
Graffiti Bao is the first new kitchen space to open up at HallPass since it's opening in early 2020. Newcomers to HallPass in general should check this piece for my original first look. Here's the full press release about the all new Graffiti Bao kitchen and chef, another Vegas import to hit these shores of late:
Get ready for bao buns and asian fusions. Graffiti Bao, a fast-casual Chinese based in Las Vegas is opening its first location outside Nevada in HallPass. They'll offer their signature dishes like chili garlic noodles with hand-pulled spinach noodles, crispy chili garlic sauce, Chinese broccoli and choy sum.
Marc Marrone, chef at Graffiti Bao is becoming the new chef-partner at HallPass in an effort to incorporate new flavors and textures into the food hall located in the Gateway. Marrone will also run Hibachican, a fusion of Japanese teppanyaki, tartare and small plates with Mexican food.
"HallPass has already established itself as a staple in Salt Lake City, and what we have rolling out will further solidify that. Having seven different kitchens to play around with isn't so bad either," said Marrone in a press release.
Graffiti Bao, Hibachican will join six other eateries and bars at HallPass, including SkinnyFATS, Waffadopolis and Beer Zombies Draft Room & Beer Garden. Open Sunday through Thursday from 5 p.m. to 11 p.m. and Friday and Saturday from 5 p.m. to midnight.
153 S Rio Grande St Suite 107, Salt Lake City, UT 84101
graffitibao.com
Guy's Flavortown Kitchen
A militantly-pro attitude to caloric indulgence leads the charge here: cheesesteak egg rolls, jalapeño pig poppers, the real cheezy burger. Grown up food need not apply. So grab your best flame emblazoned shirt, spike that hair and head out the door. Only don't.
This restaurant doesn't exist, at least not in any physical sense. Flavortown you see isn't so much a location, but a state of mind. Think Jimmy Buffet's Margaritaville besieged by a manic Guy Fieri wielding handfuls of molten cheese and declaring everything, the bomb. Flavortown is presumably a raucous place.
Guy's Flavortown Kitchen is a ghost kitchen, and one that sprang up relatively instantaneously, delivering right from Guy's brain, to your door; just in case that's the kinda thing you've always dreamed of. I know I did.
Expect to see a lot more of these brand name link ups. For example, I'm guessing you're probably too old to know who MrBeast is – but the YouTuber turned overnight burger brand – dropped 300 virtual locations in astonishingly swift time last year.
Hak Sho Ramen
The address for this ramen shop in SoSL's China town complex seems to be the same as the wonderful Chinese Taste. I'm unsure if they're one and the same or Google's AI brain has yet to update properly. My current guess is they're a delivery-only play out of the same kitchen. Here's their menu on DoorDash.
3424 S, State St, South Salt Lake, UT 84115
(385) 242-7075
Hana Ramen Bar
Ramen, the boba of it's era if you will. In the last new restaurant roundup I wrote about a new ramen shop for Park Citizens. The previously unnamed spot has now been monikered. Hana Ramen Bar is the work of the same team behind Toole's Ninja Ramen Bar.
6546 N Landmark Dr, Park City, UT 84098
hanaramenbar.com
Himalayan Flavor
This new Nepali/Indian restaurant hails by way of Idaho. In June the newcomers opened up shop taking over the spot vacated by Indian Oven in Logan (more info).
130 N Main St, Logan, UT 84321
himalayanflavorlogan.com
Holy Taco Utah
This Utah County taco spot promises, "Real Mexican al pastor tacos, no kidding." Said al pastor tacos start from a wallet friendly $1.99.
327 E 1200 S, Orem, UT 84058
(801) 607-1126
holytacoutah.com
House Of Frybread
All restaurants should be named in this fashion. Life would be less complicated and more gratifying. Think about it. House of beer. House of gyro. House of fried chicken. This is the way of the future people.
House Of Frybread then, suitably undertakes what it sets out to do with that splendid moniker. The restaurant is the work of Bleu Adams (Black Sheep) and the menu offers myriad ways to enjoy this most delicious of fried foods, pozole to fish tacos to burgers.
Sadly this restaurant didn't managed to see out the years end and is now listed as permanently closed.
660 N Freedom Blvd, Provo, UT 84601
(801) 709-1120
houseoffrybread.com
Itto Sushi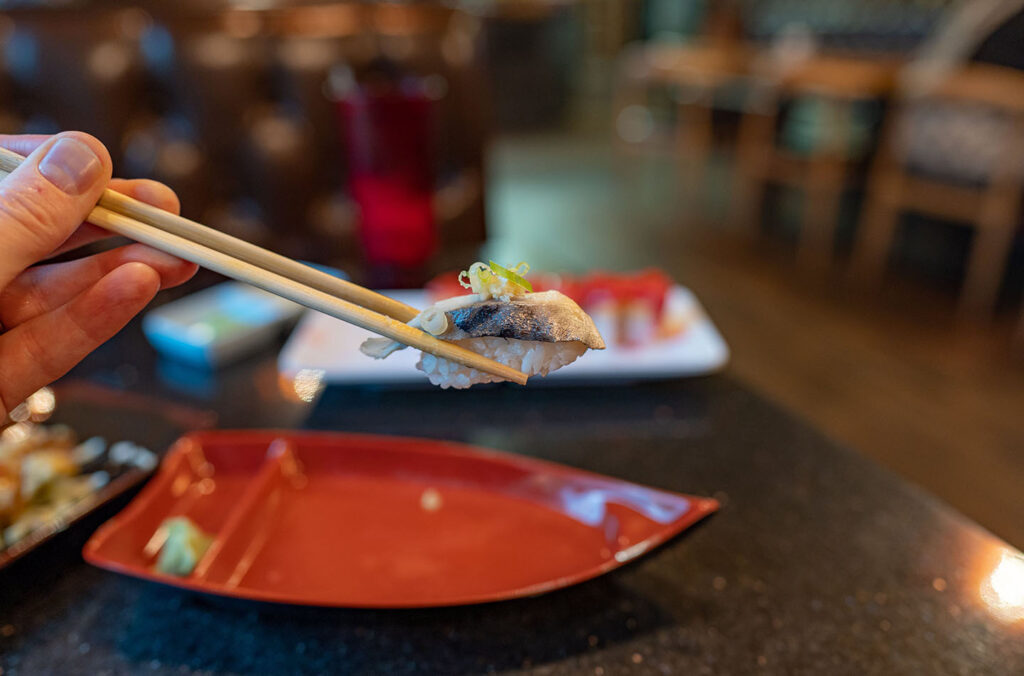 A fourth location of this mini Japanese chain is now open, slinging sushi over in South Jordan. The new location brings a familiar menu to the South Valley, replicating those found in the popular existing locations of SLC, Midvale and Orem.
10555 S Redwood Rd, South Jordan, UT 84095
(385) 281-2684
ittoutah.com
Jurassic Street Tacos
I just spent the last thirty minutes Googling possible Venn diagram overlaps between taco and dinosaur puns. This is why this website takes so much damed time, you need to do the research people.
Sadly, I couldn't come up with any amazing witticisms so I'll leave it to the JST folks who have opened a second bricks and mortar location of their taco concept in Pleasant Grove. This joins a prior Provo location and a food truck operation. On the menu plenty of on brand items such as T-Rex tacos, burrosaurio, raptor tacos and more.
1809 W State Street, Pleasant Grove, Utah 84062
(801) 674-3242
jurassictaco.com
June's Southern Table
Now operating Monday through Friday during lunch hours is this new ghost kitchen operation out of the Com Com Kitchen facility. Chef Christine King puts out a menu that's available direct and exclusively to your door via Grubhub. Southern dishes (which are in short supply amongst all the chicken and poke around these parts) include gumbo, jambalaya, etoufee, and a variety of po'boys .
Kabob Bros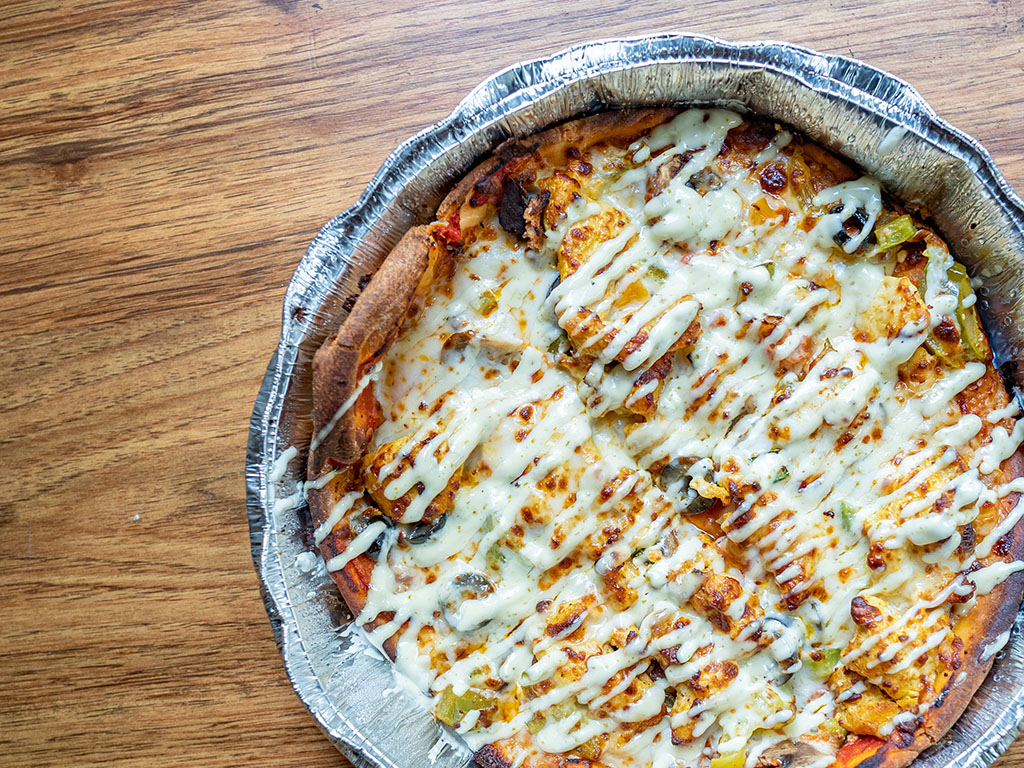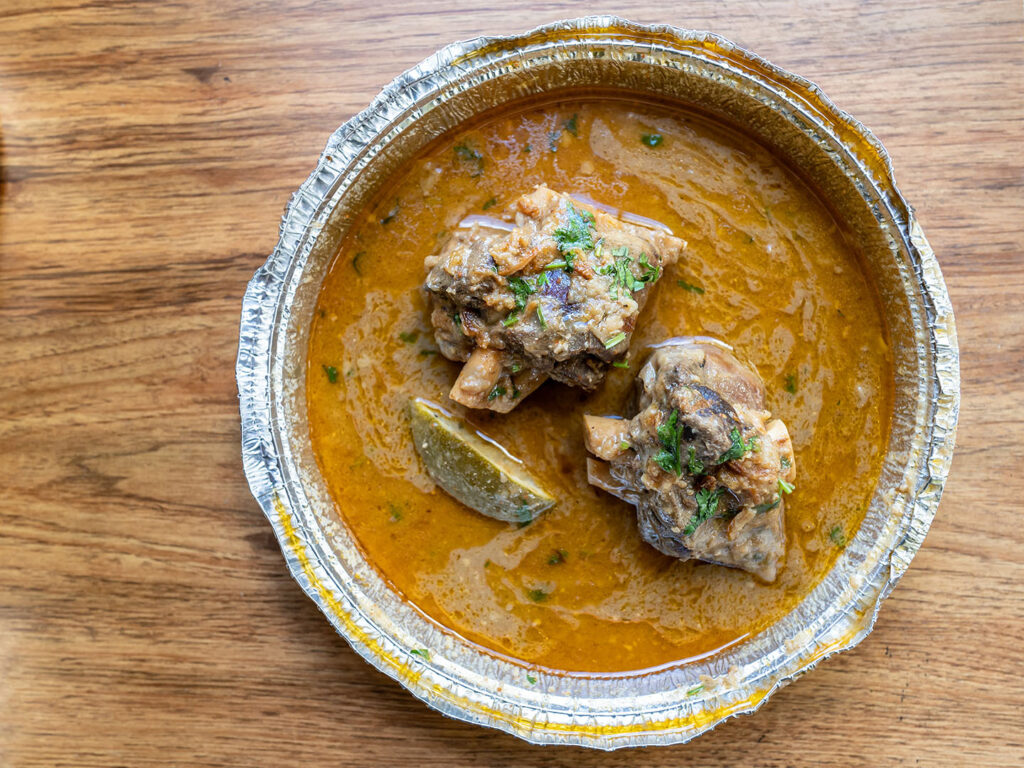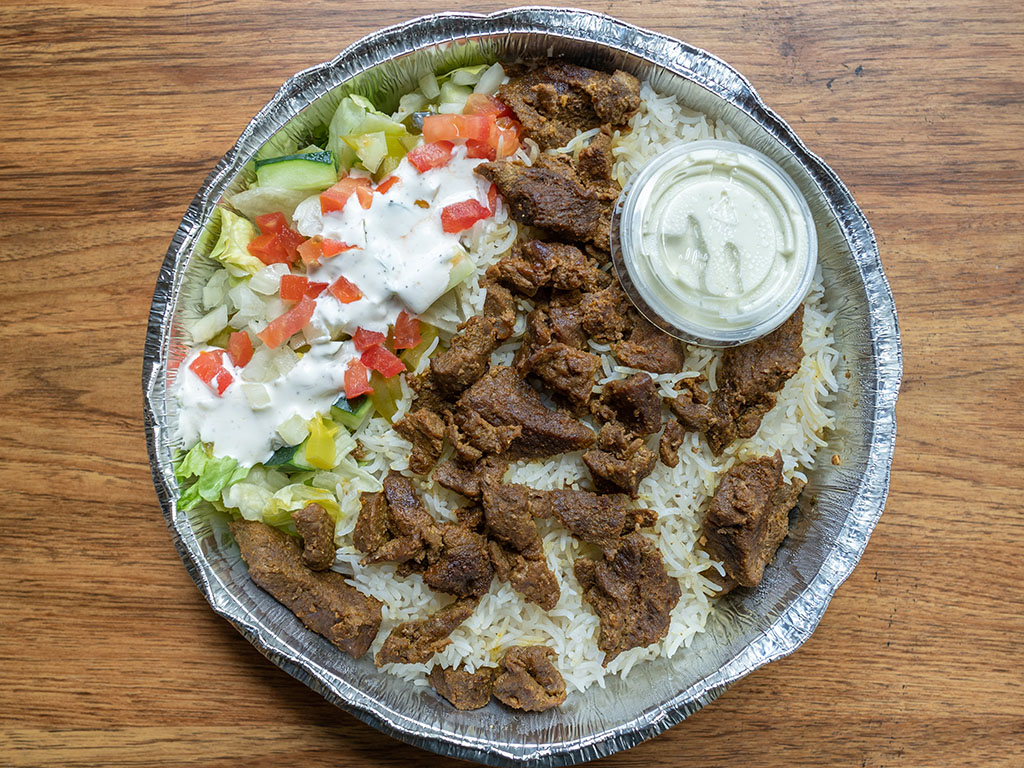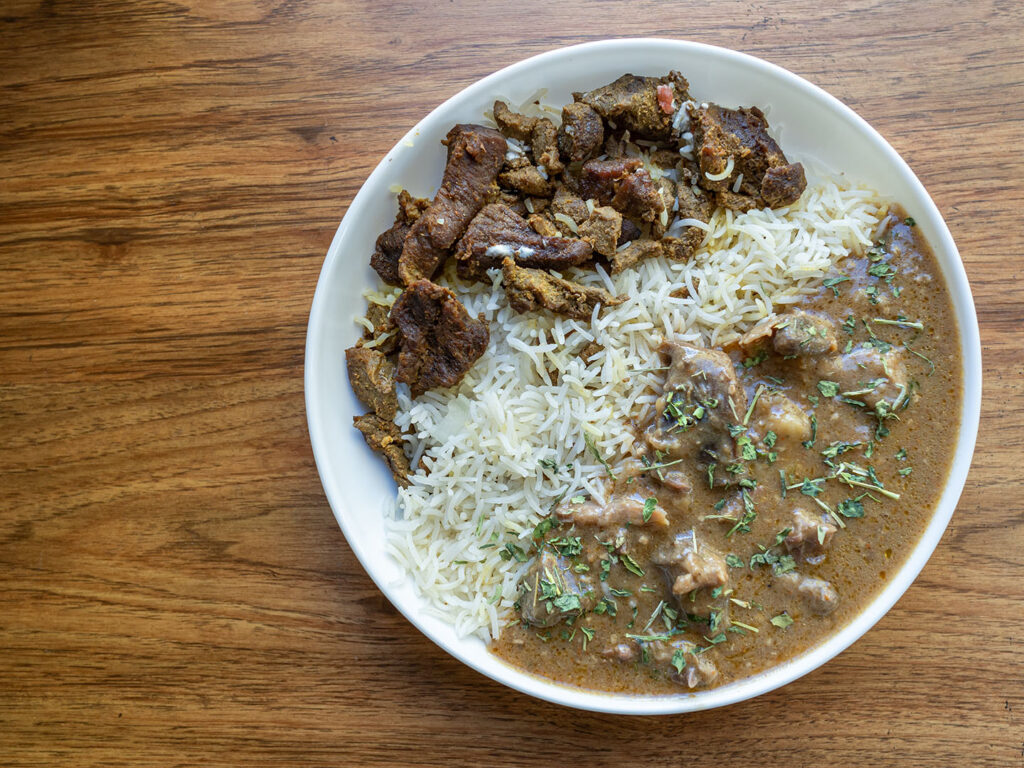 Fusion cuisine at it's finest from this Midvale Pakistani restaurant; brought to you by the same family as South Salt Lake's Kabob Spot. Kabob Bros wields a glorious menu mainly built around kabobs, respun in a variety of ways including the intriguing looking kabob'za – a pizza unlike any you've tried by the looks of things. Be sure to read our full review from earlier in the year.
Kahve Cafe
A menu of sweet meets savory at this now open Turkish coffee spot. If dishes like gozleme, borek and baklava sound like your cup of tea – well um – head here and get a cup of tea. Or Turkish coffee. Elif Ekin's downtown cafe also offers plenty of items to go as well, from tea and coffee through regional specific spices.
57 600 E, Salt Lake City, UT 84102
(801) 674-7047
kahvecafeslc.com
KFTea
In the future everything will be boba. Burgers, fries and pizza will all be distant memories of a confused past. Lunch, breakfast and dinner will be boba. Plates, utensils and tables and chairs, they will all be boba. These guys are headed to South Salt Lake's Chinatown complex, our sister account newinutah spotted them here.
As far as I know KFTea are not to be confused with Kung Fu Tea – another boba spot in the valley. Or at least I think so. I have written boba so many times, reality is now starting to blur.
Koino Poke
I wasn't lying to you, I was serious about the poke-splosion, this one for Midvalians (186 Union Park Ave). Koino offers a familiar looking menu of composed poke bowls or ones of the DIY variety. Prices run $8.99 and up, and they're open seven days a week.
7186 Union Park Ave, Midvale, UT 84047
(801) 948-4771
koinopoke.com
Kokonut Island Grill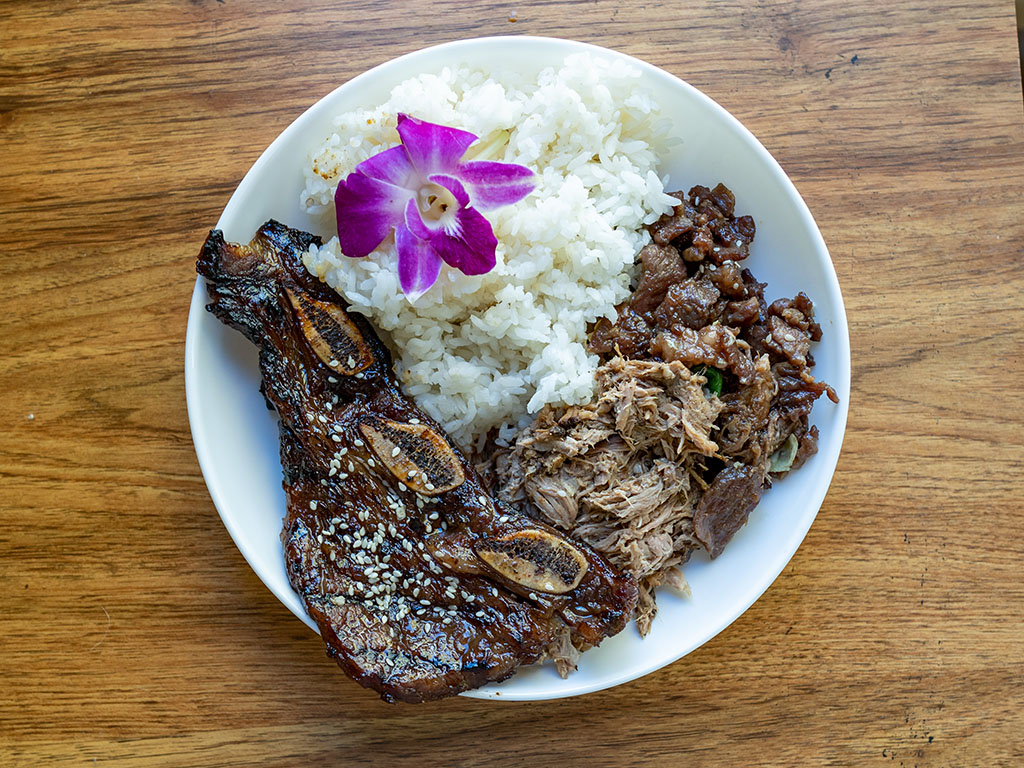 Making the move Northward from Utah County is this downtown SLC eatery, serving up the brand's easy on the eye Hawaiian food. There's everything your rumbling stomach wants stuffed inside it right now: mac salad, chicken katsu, kalua pork and a gravity-defying Maui burger that's stacked jenga-high with an angus beef patty, eggs, spam bacon, cheddar, lettuce, tomato, onion, spicy mayo, house sauce and teriyaki sauce. Get a napkin.
Oh, I hear a Woods Cross location is in the works too.
358 S 700 E, Salt Lake City, UT 84102
(385) 379-3299
kokonutislandgrill.com
Krab Kingz
Putting a Z on it, is like putting an egg on it. It just makes things better folks, this is science. Do the research. The only way this name could be better is if they really doubled down, Krabz Kingz. Anyway.
This new restaurant in South Jordan is now open and adds to an increasingly large roster of seafood boil spots along the Wasatch.
Edit: Z Krabz Kingz – even better.
1072 South Jordan Parkway South Jordan, UT 84095
facebook.com/krabkingzslc/
La Barba
Creek Tea in the Central 9th (if we say it enough, its really a neighborhood right?) might have shuttered up shop , but tacos helped resurrect the location under the La Barba brand. Breakfast tacos to be precise – those are the menu speciality here, alongside La Barba's popular selection of coffee and teas.
155 E 900 S, Salt Lake City, UT 84111
labarbacoffee.com
La Bonita Palateria
New to Ogden, I don't really have much more on these guys. Check out their FB page for more info.
2470 S Redwood Rd, Salt Lake City, UT 84119
(801) 973-6263
https://www.facebook.com/LaBonitaIceCreamShop/
Lakehouse at Deer Creek
A reminder that chef Tamara Stanger is now at the wheel at this Deer Creek restaurant. Our newest contributor Christy wrote about them here – and what's arguably one of the more interesting menus and concepts to open up in the state for sometime.
5317 US-189 S, Heber City, UT 84032
(435) 210-7474
thelakehousedeercreek.com
Laurel Brasserie And Bar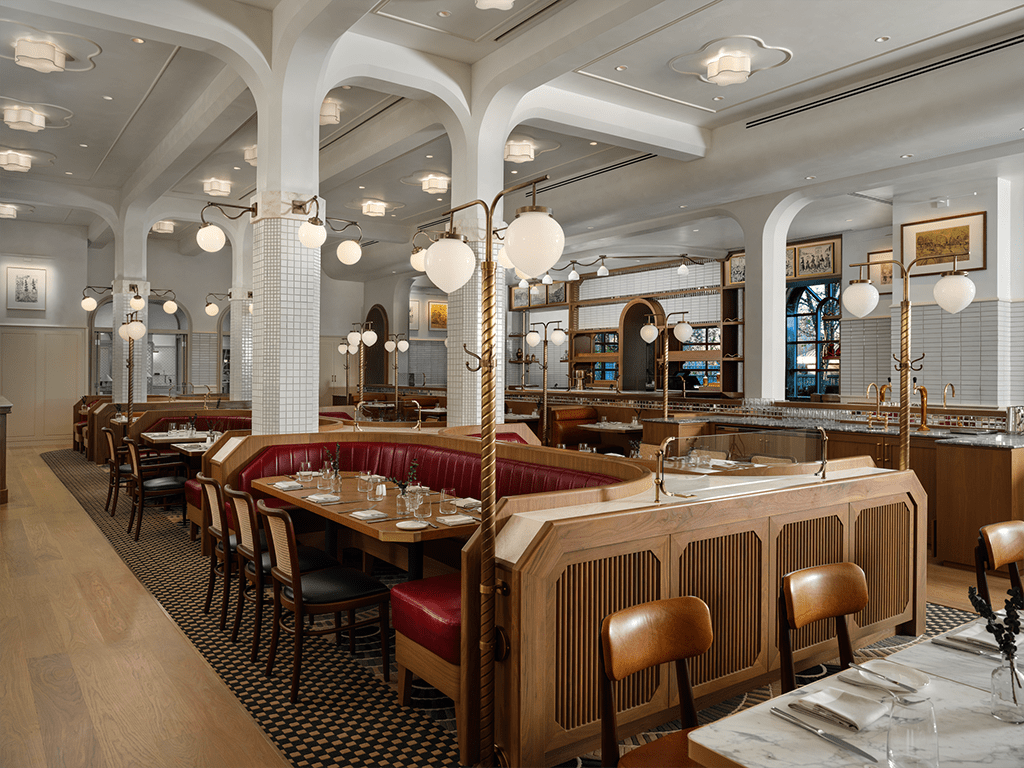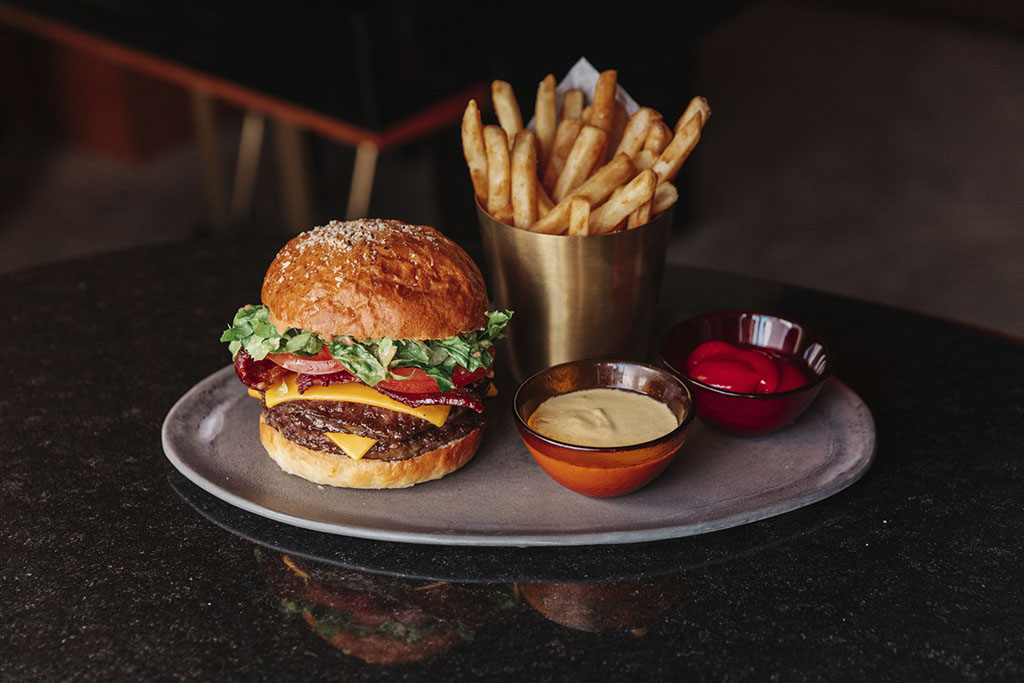 The massive revamp of the main dining and drinking space at the Grand America hotel is now complete; this is supposedly the most expensive restaurant build out in Utah's history. The all new Laurel offers an all day restaurant alongside a chic 21+ bar.
In contrast to its former days the watchword here is accessibility and affordability – the most expensive entree on the menu is $29. Speaking of which the menu is a who's who of classic French and Italian. There's nothing scary or intimidating here, not from a culinary or price point. There's a French onion soup, a Caesar, a burger and steak frites.
555 S Main St, Salt Lake City, UT 84111
(801) 258-6708
Late Night Ghost Kitchen
Operating out of the University of Utah campus is this virtual only play – squarely focused on late night munchies; moreover ones that go just beyond sweet treats. Available 8 p.m. through midnight the delivery based business offers up dishes like banh mi, Philly cheesesteaks and Mac and cheese. Menu here.
Limon
Remember how I was banging on about the changing face of food last year? I'm sure you do, because frankly I won't ever shut up about it. Anyway, Limon is one of those plucky new startups, serving a simple menu of big bold burritos. For their part Limon write,
"Delivery food sucks (most of the time). That's why we set out to build a new Mexican food brand that gives quality food for delivery. We're heavily involved in helping local independent businesses and use our business as the vehicle to provide awesome Mexican food while giving back to our community. Thanks for checking us out! We hope you love our food as much as we do."
The restaurant operates Monday – Saturday 11 am through 10 pm and I seem to recall it operates out of Chunga's – though I can no longer find the reference that verifies that. You can order here, burritos start at $9.50.
Little India
American Forkers (I wish I lived here, I would be a proud Forker) can welcome this brand new Indian eatery into their midst. The menu is largely the one you know and love starting with pakora and samosa before moving onto a mix of veg, chicken and lamb dishes.
987 W 500 N, American Fork UT 84003
(801) 756 8888
littleindiaut.com
The Local Greek
Upping sticks and making their way to over to the former Cubby's location in Taylorvsville, this once Riverton restaurant. Their menu has all the Grecian classics you crave like souvlaki and gyro – not least a slew of more interesting tricks up its sleeves; whole grilled fish, slow cooked beef with orzo, and fried grilled lamb chops are just three dishes that leaped off the pages to me.
1764 west 5400 south Taylorsville, UT 84129
(801) 996-3042
thelocalgreek.com
Loco Burger
An all new for 2021 food truck that slings "the best Mexican style burgers". Loco Burger has a compact menu that loads meat upon meat (my kind of thing). Ham, smoked pork chop, hot dog and bacon are all used to gussy up beef patties. Prices run $9.85 through $12.55 – be sure to keep an eye out for the bacon wrapped jalapeño side dish too.
Lola
The latest opening from Samuel Oteo, who you might recall from Tottilla.bar and Oteo down in urrm Orem. Lola moves into the space once home to Birdhouse, and sees the temporary closure of the Utah County original become permanent, for this new spot in SLC.
Oteo's is upscale and contemporary stuff, it'll be interesting to see how this one plays out in a neighborhood that came, saw, and walked away from the similarly styled Alamexo Cantina a couple years back. I reviewed Tortilla.bar back in the annals of history (2013) for the SL Tribune; the online review seems to have vanished now, but from my own archives, these where my final thoughts back then:
Many will fall instantly in love with the concept and execution at Tortilla.bar. Meanwhile others will be put off by the tight quarters or the fact that plates skew smaller in portion size, with prices going in the opposite direction. If like me and you're in the market for creative, chef driven cuisine using great ingredients, Tortilla.bar hits plenty of high notes. If you're looking for a smothered burrito at bargain bucket prices, you might need to look elsewhere.
856 E 900 S, Salt Lake City, UT 84105
visitlola.com
Long Life Veggie House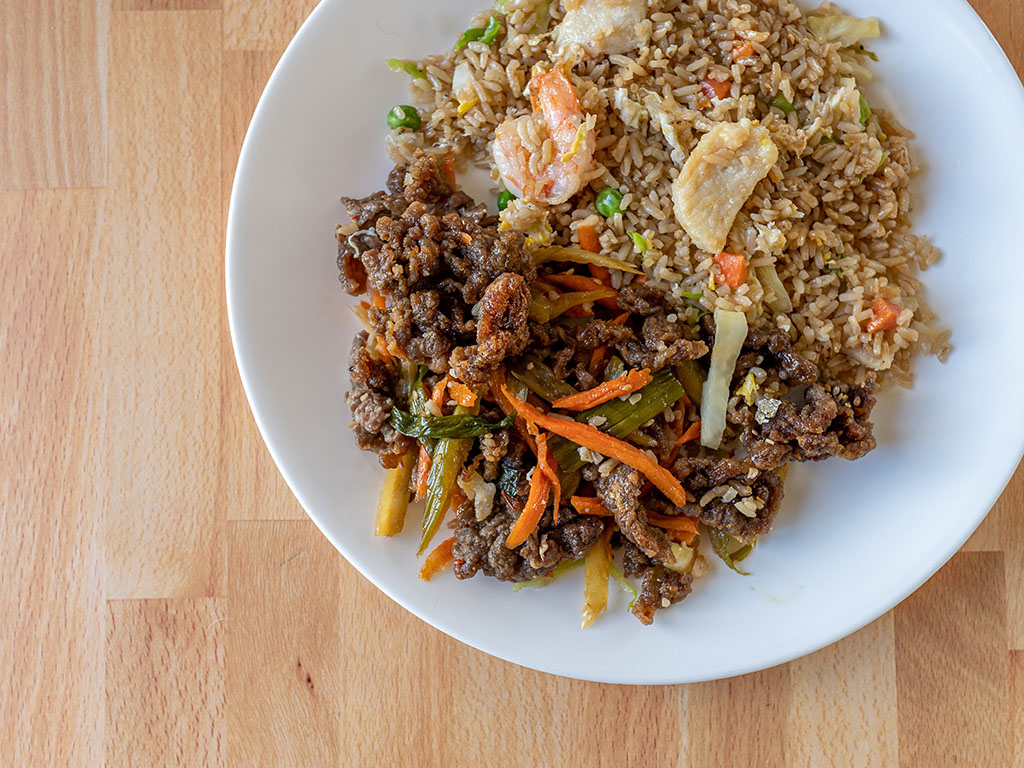 Now back in business on State Street following the loss of their multi-decade-spanning location on 33rd South. With their return comes the same menu of vegetarian dishes that made the restaurant THE goto spot for veggies, long before the millennial-vegan revolution; and also the same faux-brick wallpaper. New though, a range of meat dishes too – see the full menu here here.
2561 S State Street, Salt Lake City, UT 84115
(801) 467-1111
longlifevegihouseut.com
Los Tapatios
Of this new Mexican restaurant's ambition, the website states, "Los Tapatios was created by two brothers who immigrated from the state of Jalisco, with a simple idea in mind: To bring flavorful, rich, authentic birria to their family, friends, and community."
According to one email that landed in my inbox this year "just to let you know, they're open! THE best birria tacos I've ever had".
120 900 W, Salt Lake City, UT 84116
(801) 364-1794
lostapatiostacogrill.com
Louks Greek Baby Donut
A new greek spot that dares to go beyond the gyro. The City Weekly's Alex Springer sums up this sweet spot as follows, "They take the basic concept of loukoumades, adorable baby Greek doughnuts, and top them with everything from dulce de leche, strawberry shortcake, Oreos, to gelato. Plus, don't forget to try some baklava if you don't get too sugared out."
6949 S 1300 E, Cottonwood Heights, UT 84047
(801) 981-8090
babylouks.com
Love N.T.
Fox 13 has all the details on this new North Temple (N.T. get it) eatery that hopes to help rejuvenate the area. LNT operates out of a former Wienerschnitzel building notable for their angular lines. The restaurant opens up at 7 a.m. most days with an affordable menu. Given the previous tenants of this location, the restaurant also offers drive thru too.
805 W North Temple, Salt Lake City, UT 84116
(801) 931-9576
The Lovin Cup
Huntsville, if you didn't already know, you have this all new casual cafe in your midst. The menu is built around robust comfort foods – ruben sandwiches and French toast.
7355 E 200 S, Huntsville, UT 84317
(385) 364-4200
thelovincup.com
Luna's Tacos
If you like tacos, 2021 has been a very good year for you. And if you don't like tacos, what the hell is wrong with you. Seriously guy. Anyway, this new WVC taco spot looks picture perfect, prices start from just two bucks and there's everything from al pastor through tongue, tripe and head.
808 W 3500 S Ste 1, West Valley City, UT 84119
(801) 419-0926
lunas-tacos-llc.business.site
The MAD Menehune's
This all new food truck can be found winding their way through SLCs streets as I write. The menu offers a "taste of the pacific with a twist of aloha", which means an eclectic mix of dishes taking in Korean chicken wings, Chinese char siu noodle bowls and garlic shrimp with mac salad.
Makam's Indian Restaurant
Millcreek is home to this new Indian restaurant that follows the familiar DIY menu approach – see the menu and process here. Some names that track back to the same location on DoorDash include: Butter Chicken Snob, Hot Kurry Indian Dhaba and Matchstick Masala.
894 E 3900 S Suite B, Millcreek, UT 84107
(801) 905-1921
makamskitchen.com
Maria's Mexican Restaurant
Now open in Taylorsvile – and NOT – to be confused with the existing Maria's in Millcreek. This is a completely new business and as ABC4 report: "the owners of the restaurant, Ana and Salvador Paredes, says their staff is committed to the satisfaction of their customers — quality and experience guaranteed. Ana Paredes and her husband of 15 years, Salvador, are from San Luis Potosi, Mexico. They have worked in restaurants since coming to the United States.
Food is part of our culture; we grew up cooking. We love Mexican food because it has always been in our hearts, and it is the reason why we wanted to start this project. Opening this restaurant has always been our dream."
1732 W 5400 S, Taylorsville, UT 84129
(385) 474-7792
Mas Gorditas
We mentioned these guys a while back, and it looks like they've now finally hit the road selling gorditas aplenty. The menu includes both carnoviorius and meat free topics with prices starting at $8. Pozole, menudo and tamales are other items and specials that round out proceedings.
Mercantile Cafe
Dishing Park City has the scoop on this modest new cafe on Park City's Main Street. Packed into an efficient 100 square feet the cafe features a number of local products such as Normal Ice Cream and Vosen's Bread Paradise.
523 Main St, Park City, UT 84060
(435) 631-0925
Moge Tee / Croffle House
The doors are open at his duo of concepts recently launched for the first time in SLC. Moge is a national chain that offers a broad and eclectic range of Asian teas such as cheese tea, tofu pudding and yogurt avocado tea. Perhaps the most noteworthy item though is the arrival of Utah's first croffle. Huh? Here's the info from the business on this new sweet treat:
The CROFFLE is a soft, buttery, and layered croissant toasted to a caramelized, honeycomb crispiness in a waffle iron before it's dressed in either a sweet or savory manner. The initial menu launch will consist of 3 sweet CROFFLE flavors: Strawberry, Mango, Grape and 2 savory flavors: Nutella Almond and Triple Cheddar Bacon.
535 N 300 W, Salt Lake City, UT 84103
(347) 705-2136
mogeteeusa.com
Momo's Gourmet Cheesecake
City Weekly's Alex Springer sprung the news on this one. Here's what Alex wrote about this new dessert spot for the CW:
This Provo bakery eecently hosted a grand opening event for their new South Jordan location. If you've never had the privilege of combining their vast menu of custardy cheesecake options with an equally impressive range of crust flavors, now is a good time to check out their new digs. They specialize in personal-sized cheesecakes which are rich and flavorful enough to satisfy two reasonably hungry diners, or just one unreasonably hungry diner. Momo's likes to keep their diners surprised with a rotating list of flavors that you can check out via their Instagram page. If you're a cheesecake fan in Salt Lake County, this place is worth keeping on your radar.
671 W 10600 S, South Jordan, UT 84095
(801) 987-8125
momoscheesecakes.com
Monarca
Monarca opened in the spot left vacant by the departed Alamexo at 268 S. State Street and is operated by the same team behind the popular Santo Tacos restaurant. The Monarca menu retains the table side guacamole service that Alamexo was known for, as well as adding their own unique touches in the chic space – dishes like molcajete, steak blossom fajitas, birria tacos and more.
268 S State St Suite 110, Salt Lake City, UT 84111
(801) 214-0111
MunchKart
Operating out of the ComCom Kitchen commissary is this fast-casual Indian, catering to your curry needs via both delivery and pickup in person. Preparations include dishes like saoji and makhani, alongside options of bowls and wraps. Prices are remarkably keen, starting at $7.99 for some of the veggie dishes on their compact menu.
Mint Tapas 2
Ariunbold Batsaikhan aka chef Soy is the man behind the curtain at this new Holladay eatery. As the name nods to, this is the second location for Batsaikhan's higher end Mint Tapas sushi concept, the first living out in Sandy. Batsaikhan also runs Murray's Soy Sushi along state, and was also the chap at work at the now defunct Rice Basil in Holladay.
Mint takes a different approach to the usual BOGOF sushi joints littering town, with a menu that encourages a multi-course kaiseki dining experience. I have to say, the pictures sure do always look pretty from their social media.
3158 E 6200 S, Holladay, UT 84121
mintsushiutah.com
Morty's Cafe
Time was you couldn't move without tripping over a brand new burger brand. This third opening of Morty's sees the business plant flags across the State; their sister locations being found in Logan and St George respectively.
The menu is a fun collection of international travel made burgers; the kimchi burger hops on a plane to Seoul while the Yucatan comes back from it's vacation with Pepper Jack and jalapeños. Veggie burgers, sandwich, salads and a grab n go breakfast setup round out proceedings.
877 S 200 W, Salt Lake City, UT 84101
(801) 906-0863
www.mortyscafe.com/slc
Mr Charlie's Chicken Fingers
The expansion of Mr Charlie's Chicken Fingers is now complete with the 2021 opening of their Draper location. The new location features an all new chicken and waffle dish, as well as a handy dandy drive thru if you're in a rush. The chicken tenders/fingers have also undergone a slight upgrade in recent time too, notably from the input of the new co-owners.
You might recall Penny Ann's Cafe recently a 50% owner in the chicken finger based business this year. With the recent arrival of Raising Cane's in Utah, and the ensuing comedic lines of cars, perhaps expect to see more of these pop up; not least also the fact Penny Ann's are exploring franchising too.
I found out from first hand experience that should you have any leftover fried chicken and waffles – you also have a surprinsgly great breakfast sandwich the next day. Just saying, I did the research.
592 E 12300 S, Draper, UT 84020
(801) 938-9561
mrcharlies.com
Mr Donuts
No prizes for guessing what these guys do. The all new Rose Park business is one more to add to the list of hotly debated, "who has the best fried dough in town", a debate that refuses to ever be settled.
950 W 1000 N Salt Lake City, UT 84116
(801) 699-6876
facebook.com/mrdonuts.slc/
Mr Fries Man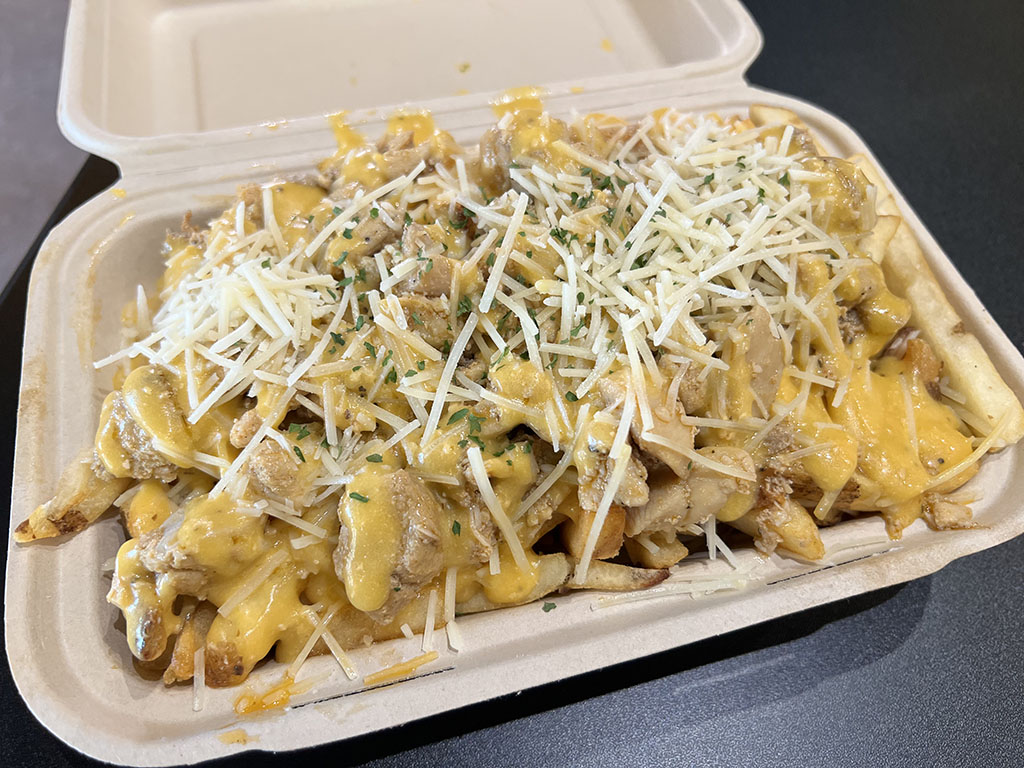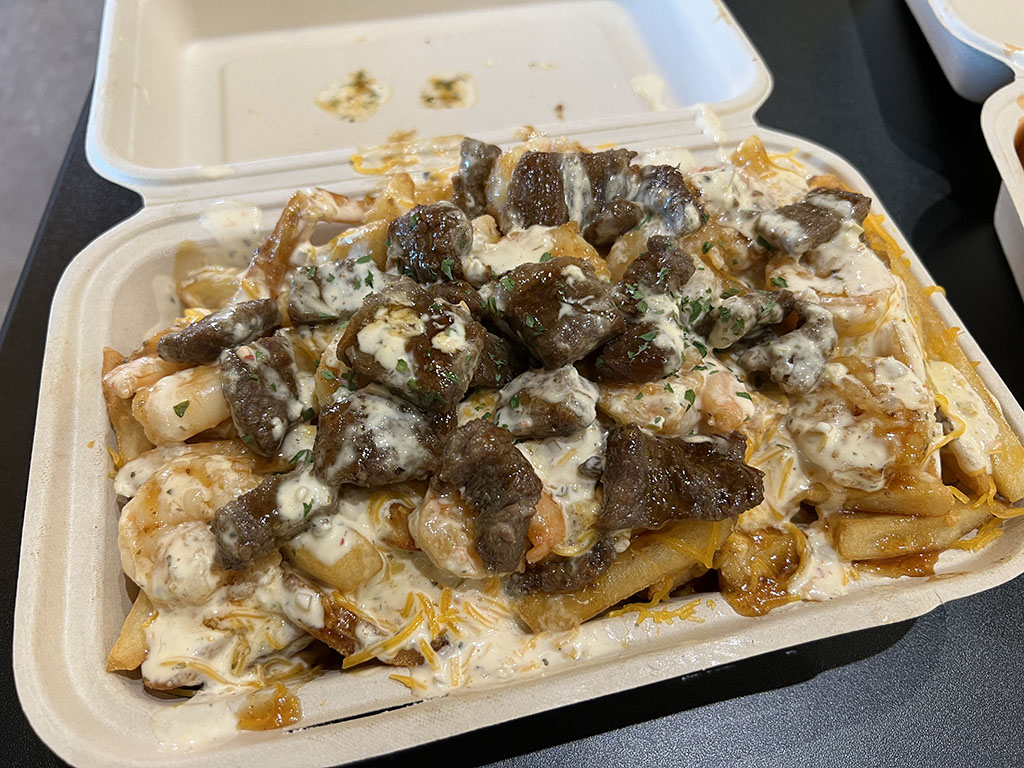 Two Beehive locations of this Cali-import are now open. Mr Fries Man, does exactly what it says on the tin – fries, fries and then, well, more fries. Prices and options run the gamut, from a simple buffalo chicken fries ($12) through to a lemon garlic, crab and shrimp ($25). See the full menu here.
3778 Center View Way Suite 150, West Jordan, UT 84084
13338 W Rosecrest Rd Suite D, Herriman, UT 84096
mrfriesman.com
Myungrang Hot Dog
Korean hot dogs, they just might be the next boba, or so they say? Another Cali-import and one with a menu stuffed with plenty of them. Big, bold, cheesy oozing things crusted with this and that. Can't choose a favorite? Just grab a box featuring the whole quintet and gaze lovingly, before posting on Instagram. That's what we do you see.
11428 S. Pkwy Plaza Dr. South Jordan, UT 84095
myungrangamerica.com
Nino Viejo
Celebrity chef – the restaurant website's own words not mine – Marco Niccoli is the name on the door here; Niccoli nods to appearances on Guy's Grocery Games, a stint at local smokers Traeger as well as cooking for multiple US presidents on his CV. Brandon Price from Oakwood Fire Kitchen is also on the roster too.
Nino's menu is "Latin" which supports a globe trotting cooking style encompassing the likes of Spain, Mexico, Costa Rica, and Portugal.
Far be it from me to wonder if the Farmington location might be a stretch for such International charms, especially when the opening fanfare was diluted with shouts of, "hey where's the free chips and salsa" from Davis County. That said, there's now free chips and salsa on the menu, so they're listening and learning; which hot damn, more businesses could get on board with, so they're off to a very solid start.
It's worth noting Niccoli has a hand in a few other pies; Salt And Olive – an Italian restaurant coming to the stalled out Odd Fellows in downtown SLC – and an as yet to be named sushi spot coming to Fashion Place mall.
160 W Promontory, Farmington, UT 84025
(801) 451-1967
ninoviejoutah.com
No Manches Way
Another new Mexican option, this one coming to Ogden (1580 Washington Blvd) as of mid April. Of particular note, I spied a dish described as the Quesabirria – a crispy shredded beef taco with mozzarella – ready for dipping into rich broth. I hear they also make their own tortillas in store too. Val Phillip's Chew And Chat blog has a good story on them here.
1516 Washington Blvd, Ogden, UT 84404
(801) 600-1949
nomanchesway.net
Nomad Eatery
The original Nomad Eatery closed up shop when chef and owner Justin Soelberg took his trade East bound to open up Nomad East at the start of last year. With things presumably settled in now, Soelberg has brought back his upscaled-comforts to the West side of town – opening up inside Uinta's West side brew pub.
I think I've mentioned this before, but this type of symbiosis strikes me as particularly smart. Who wants a microwaved burrito with their craft beer – idiots – that's who. On the whole brew pubs and breweries are unremarkable food destinations (Bewilder Brewing and Grid City comes to mind as the exceptions that prove the rule), a lackluster failing of imagination and execution. This type of partnership just warms the cockles of my heart, belly and liver. More please.
1722 Fremont Dr, Salt Lake City, UT 84104
(801) 467-0909
nomad-eatery.com
Offset Bier
Back in Spring KPCW ran this half hour interview with owners Conor Brown and Patrick Bourque, co-owners and brewers. The doors are now open to the public and you can see what's on taps here.
1755 Bonanza Dr Unit C, Park City, UT
(435) 659-7517
offsetbier.com
Ogden River Brewing
It's in Ogden. They brew. But you kinda guessed that huh? Here's a detailed writeup by beer guru Mike Riedel over in the City Weekly.
358 Park Blvd, Ogden, UT 84401
(801) 884-6939
ogdenriverbrewing.com
O-Ku Sushi & Poke
This corner spot in the Sandy's Union Square plaza has changed faced a few times of late. Most recent the space transformed from Brittons to Cafe Berlin, that now has given way to O-Ku. Long gone are the currywurst and spaetzle, in their place now maki and poke.
694 E Union Square, Sandy, UT 84070
(385) 281-2164
okusushipoke.com
Old Cuss
A former mobile coffee shop now making a concrete home in South Salt Lake proper. I'll let the business use their own words to do the talking here:
Old Cuss was a mobile coffee camper constructed with love by owners Fyffe & Brent'lee. It will soon be a beautiful cafe saloon in South Salt Lake, projected to open in the Fall of 2021. Fyffe is a deeply talented artist in the Salt Lake Valley with enough ambition to build a castle and an overflow of kindness. Brent'lee is a deeply crazy drink & food artist who was raised by farmers/chefs/artists in KCMO, and has been working in coffee for over a decade.
Together they have built Old Cuss and served Salt Lake with unique drinks and killer burritos. In the new venture, they are diving headfirst into fresh sustainable lunch fare, unbeatable grab-and-go breakfasts, and those unique monthly drinks you have come to love.
One Dude's Pizza
The USP at this new Northern Utah spot is a waffle crust. Whether the pizza needed such re-invention and re-tooling is a question far beyond my wisdom. You'll need to head to Layton to check out exactly how a waffle crust works.
21 S Main St, Layton, UT 84041
(801) 544-5469
onedudespizzaco.com
Onyx Cafe
Now open in St George, this new pizza parlor. The Southern Utah spot offers up wood-fired pies as well as a raft of cooling sweets treats such as gelato, floats and shakes, no doubt to help deal with those temps.
969 N 3050 E C3, St. George, UT 84790
(435) 218-9612
onyxcafepizza.com
Pago On Main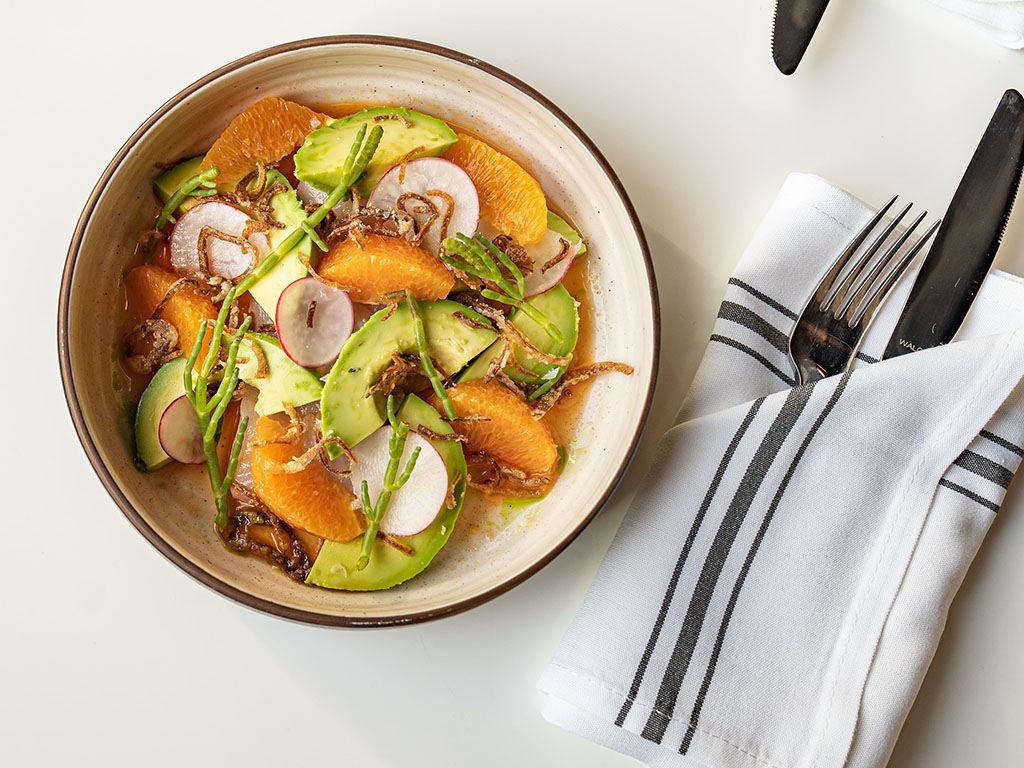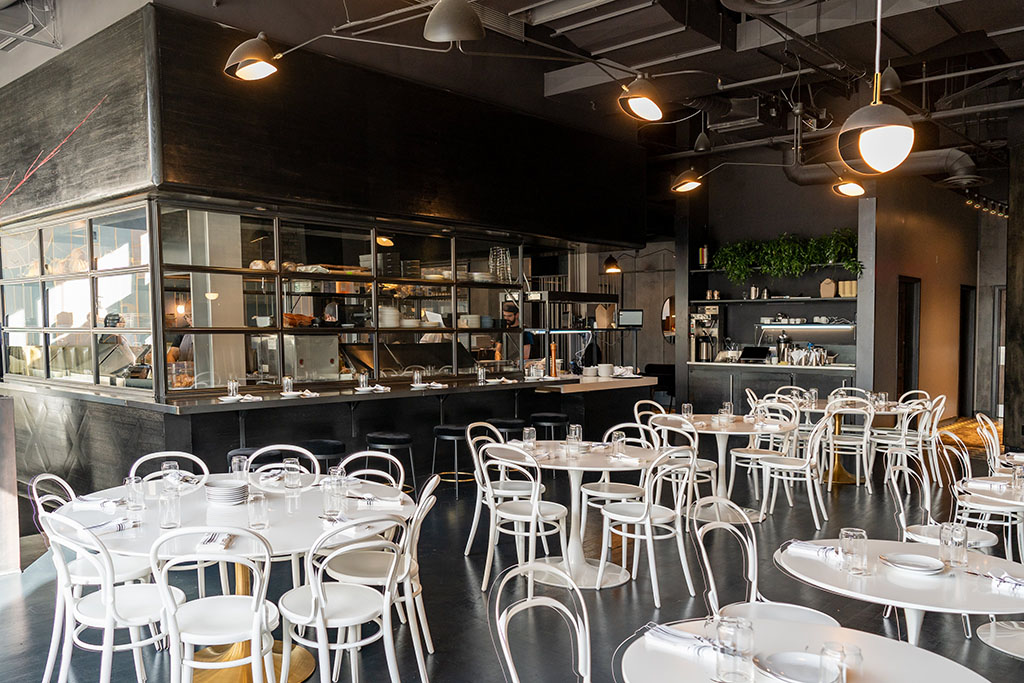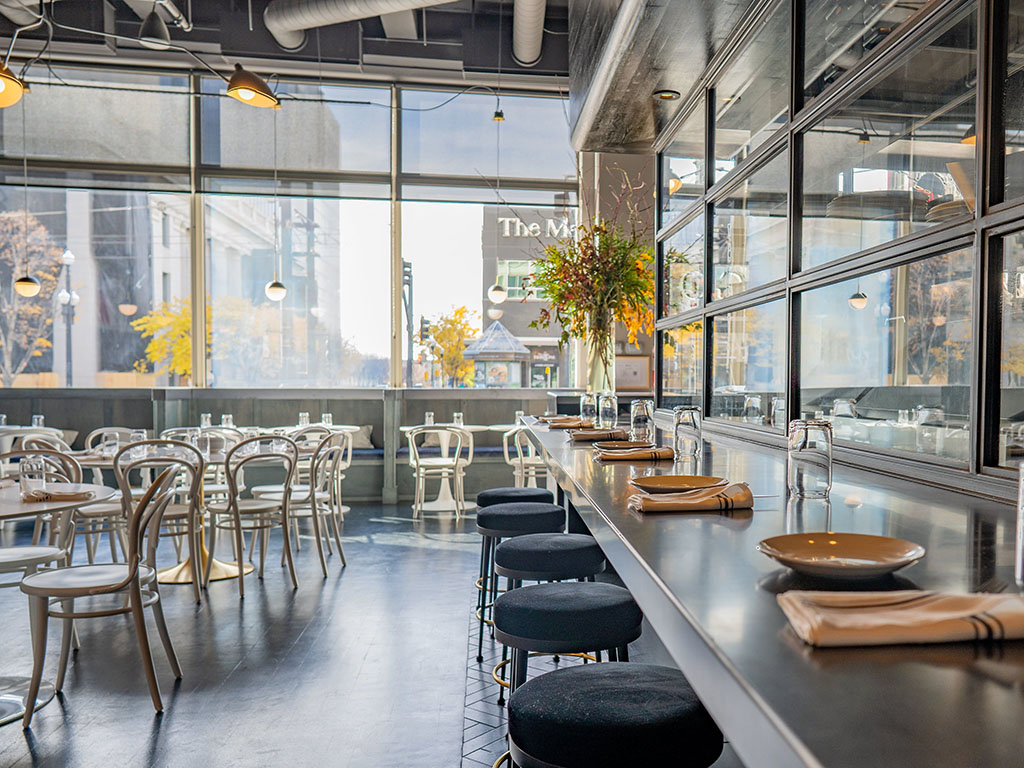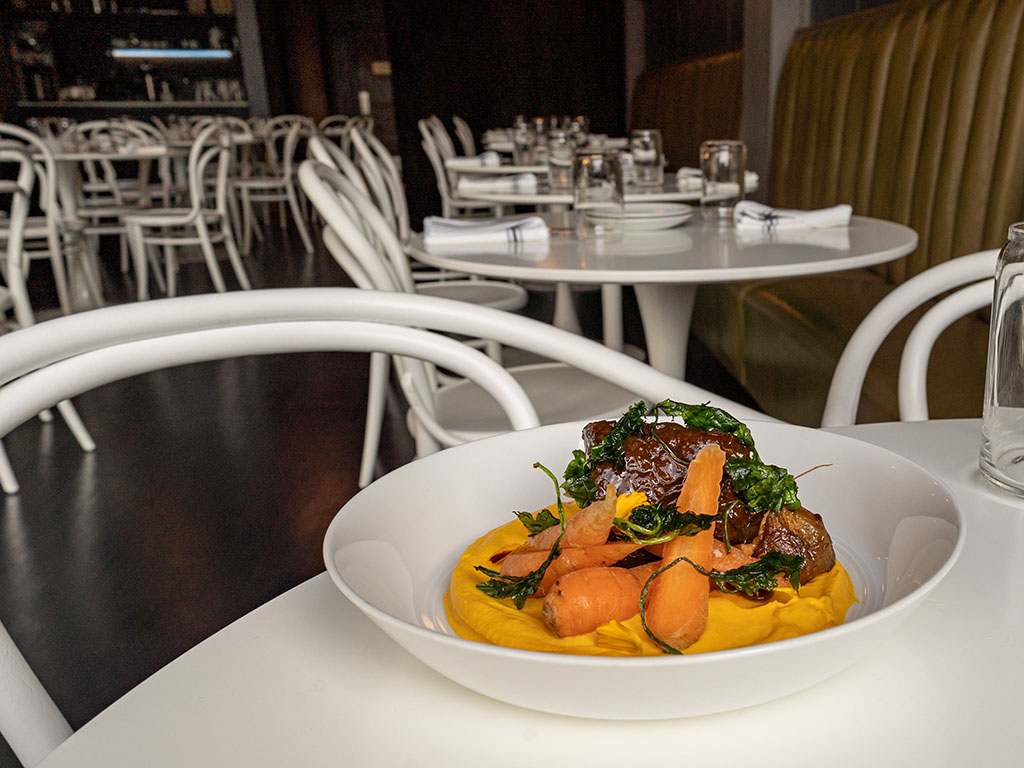 Now welcoming diners in downtown SLC is this sophomoric effort built on the many successs of the 9th and 9th original. The new Main Street location in the Felt building completely re-imagines the space; which was once upon a time home to J Dawg's. Gone is the minimalistic tube steak menu. Instead, you'll discover an arrestingly appealing space, dominated by the exhibition kitchen. Located in the center of dining room it affords a 360 degree view of the action no matter where you're seated.
The general vibe is in stark contrast to the high energy tempo of Main Street's bar scene and the menu naturally follows the same farm-to-table mentality of the original. There's Morgan Valley Lamb, Clifford Family Farm, Frog Bench Farms, Stoneground and many more familiar local names. Expect this one to get popular real quick.
341 S Main St, Salt Lake City, UT 84111
(801) 441-2955
pagoslc.com
Panera Bread
Go hit up the Delta website and buy yourself a plane ticket right now. Where to you ask? Pfft it doesn't matter, that's not the point. Instead of traveling far and wide and enjoying the wonders of the world, you can experience Utah's very first Panera Bread, located in the heart of SLC International. Hyperbole? Maybe. But I wouldn't put it past some chain-crazed fanatics to have done this. I mean what sane and rational human waits in a drive thru lane with 150 other cars…
Pie Fight
Grab your pies and get ready. One, two, three, errr, fight? Located in the heart of 9th and 9th this new shop sells as many pies as your grubby little hands can grab, and well, please don't fight with them actually.
937 E 900 S, Salt Lake City, UT 84105
(385) 222-5373
thepiefight.com
Proper Burger Vivint
Now ensconced in the downtown Vivint Arena, another local face. If you need a burger at half time, check em out.
Puerto Vallarta
A second location of this Mexican Grill & Cantina opened at Jordan Landing back in November; specialty dishes include molcajete, fajitas and a heaving parrilla familiar – massive platter for a whole family to share including carne asada, chicken, chorizo, Mexican sausage, cactus, jalapeños, cheese, rice, beans… phew!
7268 Plaza Center Dr, West Jordan, UT 84084
(801) 810-0091
puertovallartacantina.com
Presto Tea
Presto is a new bubble tea shop out of California, now open in Midvale.
7710 Union Park Ave, Midvale, UT 84047
801) 207-4719
presoteaamerica.com
Pretty Bird Sugar House
Pretty Bird Mk2 opens in the spot left vacant by the now departed Sampan (just over the road from Dee's at 675 E 2100 S) and with it, a slew of changes for the business. First up, the inaugural location on downtown's Regent Street becomes a walk up, grab and go operation only. That's probably for the best given the original's microscopic interior.
The second major change sees a much teased new item finally hit the Pretty Bird menu. Eagle eye'd fans of the restaurant will now spot crispy tenders on the menu available as either three piece portions or as part of the new crispy tender roll. Ala carte options start from $8.50 and combos $13.00. The new items are available only at the new Sugar House location at the time of writing.
If you're new to the Pretty Bird phenom, which littered social media with crave worthy chicken pics for endless months – the restaurant is centered around spicy Nashville-style fried chicken. The restaurant uses some pretty pricey pressure fryers and fans swear it's the best chicken in town. Pre-pandemic thronging crowds lining up out of the door at the downtown location suggest they're not wrong.
Park City and Idaho are also slated for the next phase of expansion.
675 E 2100 S, Salt Lake City, UT 84106
prettybirdchicken.com
Prodigy Brewing Co.
The always fabulous Tim Haran and his Utah Beer News website has this story detailing the opening of the all new Logan brewery. Expect around 12 beers on tap, high-point cans, a small food menu with late night snacks and an outdoor patio.
25 W Center St, Logan, UT 84321
prodigy-brewing.com
Q One Korean Grill Express
If words like mandu and dosirak get your belly all a flutter – you'll want to hit up this Murray spot. The menu is largely focused around rice bowls in the same style of local food truck entrepreneurs made trillionaires, Cup Bop. A dozen different rice bowls are ably supported by a few extras such as Korean dumplings, kimchi etc.
5612 S 900 E, Murray, UT 84121
(385) 332-4245
qonekoreangrillexpress.com
Raising Cane's
June 8th was the official date for the grand opening of the Louisiana based chicken finger chain here in Utah. The franchise landed in South Jordan and with it an absolutely avalanche of cars all lining up for a taste of the South.
3788 W 11400 S, South Jordan, UT 84095
(801) 254-1028
Red Tacos
Another food truck made real life boy in bricks and mortar fashion. Open now in Orem. The house specialty of the family owned business? Birria de Res estilo Jalisco. You want this.
1077 S 750 E Orem Ut 84097
facebook.com/Redtacos801/
Richie Lush's Tennesse BBQ
Tennessee-style is the approach to the smoked goodies at this now opened Kamas restaurant. Amidst the standard roster of ribs and brisket are other items like fried chicken, bison burgers and meatball subs. The restaurant is currently open Thursday through Sundays 11-9. I only just recently managed to check these guys out and wow. Read my full first look here.
215 S Main St Kamas, UT 84036
(850) 398-2487
lushsbbq.com
Rio Grande Cafe
Following the 5.7 temblor that rocked and rolled and rumbled about this time last year, the famous Rio Grande Cafe downtown had to officially suspend on site trading; the building apparently suffering enough damage to risk crumbling into tacos and enchiladas.
Anyway, the restaurant has now resurfaced over on the East side of Salt Lake in the former Porcupine spot that ousted Market Street before it. Fact fans will probably note that the Rio had been under the stewardship of the Porcupine Pub and Grille group for some time already.
258 1300 E, Salt Lake City, UT 84102
(801) 364-3302
riograndecafeslc.com
Rio Sonora
This new food truck hopes to bring you, "The best carne asada ever!!!". Said aspirations are also also backed by a terribly affordable menu, so you won't risk much in taste testing those ambitions. Check em out on Facebook.
RJ Grill
Bountiful recently said howdy to this new old school cafe/diner joint. City Weekly's Alex Springer writes, "a nostalgic little burger joint that also whips up wings and breakfast burritos. You'll see bacon mac 'n' cheeseburgers, fried chicken sandwiches, stacked breakfast sandos and the Fluffy Burger." See the menu here.
567 W 2600 S, Bountiful, UT 84010
(801) 992-3320
rjgrillut.com
ROC.TACO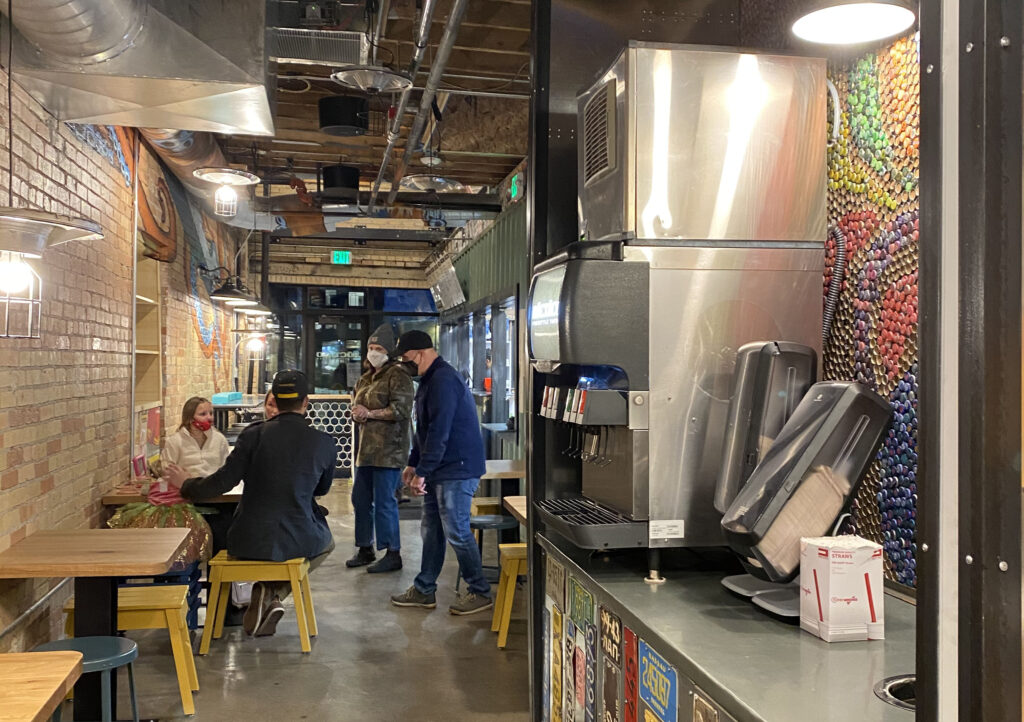 Word has it this new Edison Street taqueria (downtown SLC) is from the same folks behind the new Flake Pie Co. The menu is a fun read, a modern mish mashing of a variety of flavors from around the world, neatly wrapped up in taco format. There's Vietnamese banh mi reimagined as a taco, tikka masala betwixt tortilla and the tabbouleh packed 'Lebanese Blond'.
248 S Edison St, Salt Lake City, UT 84111
facebook.com/Roctaco-105109258208359/
Rooster's @ SLC International
By way of completeness, more spots continue to open at the oft maligned new SLC International. Other local names now filing out the concourses are Fillings And Emulsions, Gourmandise, Granato's, Market Street, Squatters, Uinta and Wasatch.
Roy City Buffet
Gotta love a name that gets right to the goddamn point. Look, its a buffet, it's in Roy, do you really need any more information? If you do, you can read and see much more over on their Facebook page here. Val Phillips unearths some details on the business in this article.
5673 S 1900 W Roy, UT 84067
(801) 525-8888
roycitybuffet.com
The Ruin
A few months back the Downtown SLC Alliance broke news on this new location for The RUIN. The cocktail-focused bar have now moved their established operation in the heart of Sugar House along Wilmington Ave downtown. The new location lands in the former Mollie And Ollie space along Main Street.
159 S Main St, Salt Lake City, UT 84111
ruinslc.com
Saida Sushi and Noodle House
Open Monday through Saturday is this new sushi and noodle spot in Provo.
163 N University Ave, Provo, UT 84601
(801) 607-2394
saidautah.com
Saigon Vegan
A Russian doll of sorts, a business within a business. Saigon Vegan can be found within Saigon Noodle House 2 in Murray, just a few seconds stroll down from Soy's Sushi along State. SNH is still open, but this vegan friendly operation is now running at full speed too – see the menu here.
4907 South State, Murray, UT 84107
Salt Box Eatery
A new catering concept for Summit County, here's all the details via press release:
Riverhorse Hospitality Group expands its reach beyond Park City's historic Main Street with the unveiling of Salt Box Eatery and Catering in the Prospector neighborhood. Primarily designed as a home base for the Group's catering services, Salt Box Eatery and Catering will also offer signature coffees, convenient to-go breakfast, lunch and family meal options.
"We're excited to open Salt Box Eatery and Catering to serve as a central hub for our wide range of casual to fine dining catering services," says Executive Chef Seth Adams of Riverhorse Hospitality Group. "The location will also fill a need for locals, visitors and small businesses in the Prospector neighborhood by offering grab-and-go items at a comfortable price point."
Opening Wednesday, Nov. 18 at 1792 Prospector Avenue in the former Good Karma space, Salt Box Eatery and Catering will offer coffee, espresso, fresh juices, pastries, house made breakfast burritos, sandwiches, wraps, soups and paninis seven days a week from 8 a.m. – 3 p.m. Limited indoor seating is available, as well as an outdoor patio in the summer months. For menus of Salt Box Eatery and Catering, visit saltboxpc.com.
1782 Prospector Ave, Park City, UT 84060
(435) 962-9662
saltboxpc.com
Salt City BBQ
It's unclear to me *how* new this one is, but it recently popped up in a variety of places such as Yelp and Google Business as "new". Anyway, check out the menu of this food truck, which offers a new option for smoked meats along the Wasatch. The owner's of this one also run the fire fueled Pitmaster Podcast too.
facebook.com/saltcitybarbecue/
Salt And Olive
Formely slated to open under the guise of Niccoli's – the business performed a last minute pivot and changed their name to Salt And Olive. Brought to you by the same team as Farmington's Nino Viejo, the business is now seating customers right next door to Undercurrent. The menu is built around an Italian core of pizza and pasta.
270 S 300 E, Salt Lake City, UT 84111
San Fran Burrito N Fryz
Garnering bring plenty of rave reviews this year, this fun looking casual restaurant in South Salt Lake's China town complex. San Fran serves a mix of familiar comfort foods with a pan-Asian inspiration. Amidst the burgers and burritos are Japanese, Hawaiian and Korean flavors.
3390 S State St, Salt Lake City, UT 84115
(801) 419-0227
Santorinis Greek Grill
This Farmington based casual Greek eatery have now made their mark a second time over in Bountiful. July 19th saw the grand opening – with their website also indicating a possible Sandy location will make three sooner than later. Santorini's menu offers a build it yourself model based around bowls and pita.
135 N 500 W C, West Bountiful, UT 84010
(801) 451-5850
santorinisgreek.com
Santos Bar & Grill
The Herald Journal reports on this new Logan opening. The sophomore effort from the same team behind Rose Park's much lauded Santo Tacos headed North to open this new bar and grill in Logan. You'll find dishes from the original location as well as specialties like the current en vogue birria tacos or the molcajete platter, featuring grilled foods from "sky, land and sea".
880 Main St #170, Logan, UT 84321
(435) 799-3701
santosbarandgrill.com
Scion Cider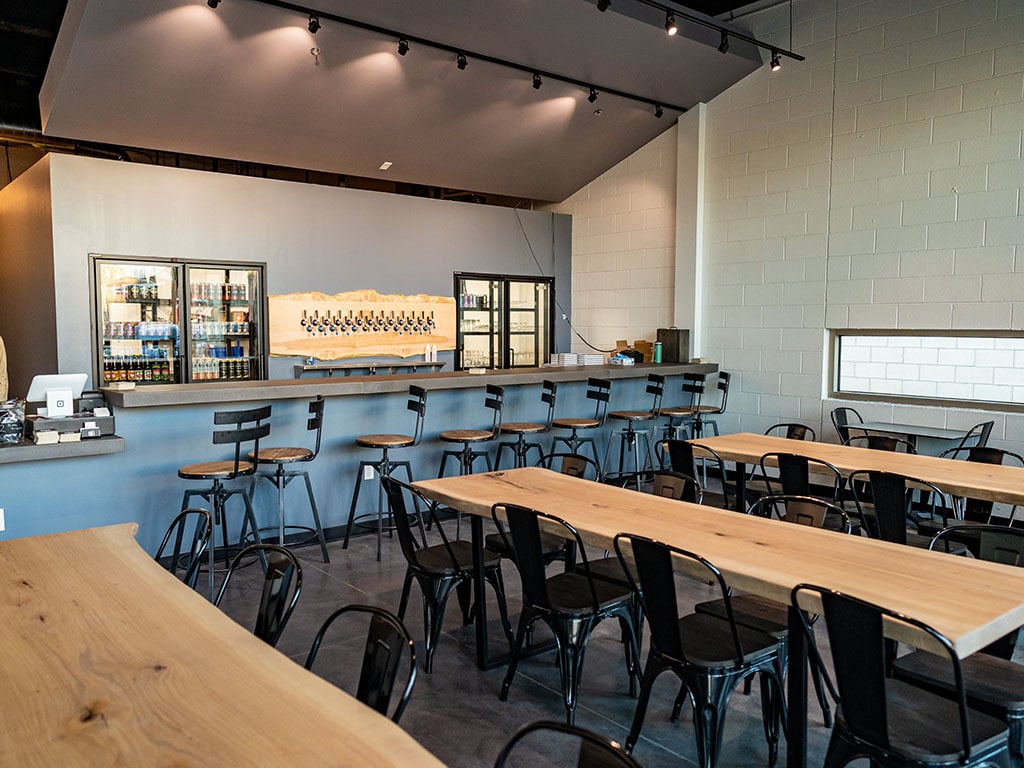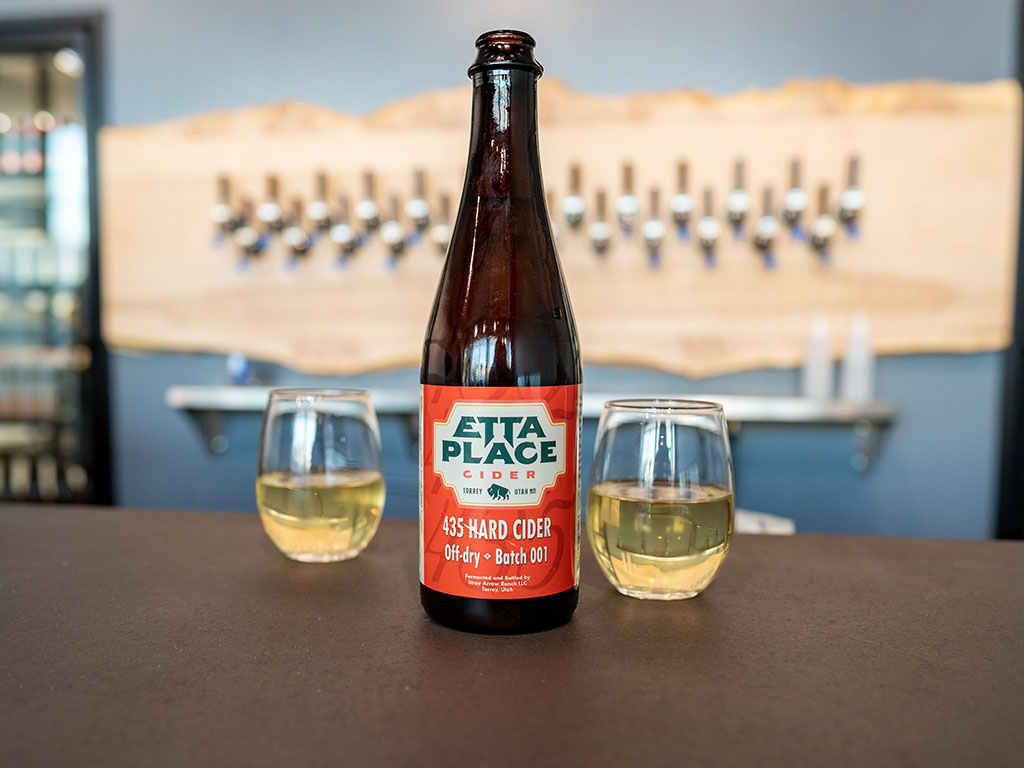 Months in the waiting and making – this fabulous bar is now open in the Central 9th – right next door to Laziz Kitchen. The focus here is craft cider – local, regional and international. Check out my initial first thoughts here. TL;DR I love it. Bonus points – Scion encourages you to bring in food from neighboring Nohm, Laziz and Central 9th and chow down here with some lovely local cider.
916 Jefferson St W, Salt Lake City, UT 84101
scionciderbar.com
Senor Pollo
A fourth spot of this Sinaloan-style chicken shop is now open in Orem.
1365 S State Street, Orem, Utah
(801) 607-1886
senorpollomg.com
Sergio's NY Pizza
For those of you out there still not satisfied with East coast cuisine here in Utah – check this one out. NYC based Sergio's has earmarked Utah as one of only two new states for their authentic New York Style Pizza. A new Sergio's just opened in South Jordan at the District – and the crowds have already started to descend.
3537 W 11400 S, South Jordan, UT 84095
(385) 346-1968
sergiosnypizza.com/south-jordan-ut/
Shades Brewing
Taking over the liquor license from the former Habitat Events Center on State Street – Shades Brewing have now opened a brand new downtown bar. The 21+ space is also notable for the varied food menu – offering their own creations alongside their neighbors – Himalayan Kitchen and Arempas. And of course – their award winning brews.
Share Tea
Boba. Resistance is futile. This West Valley City opening joins an existing operation in Orem.
2927 S 5600 W, West Valley City, UT 84120
(385) 695-5141
1992sharetea.com
Shane's Donuts
Milkmen, santa claus, spring heeled jack…and err… donut makers. The list of those who leap into life at ludicrous hours such as four a.m. Actually the start time listed here is so preposterously early that this seems like a fantastically magical place. Go check them out in person and let me know if this is indeed fact. Do the research. Tasty tasty donut research.
5471 S State St Murray, UT 84107
facebook.com/shanesdonutsmurray/
Smoked Taco
Now open over in American Fork, building on the success of their food truck; the cuisine remains the same – tacos, masa fries and smoked meats.
933 W 500 N Ste 102, American Fork, UT 84003
(801) 821-5550
instagram.com/thesmokedtaco_
SLC Salads
Another delivery only play, and for once, something that isn't fried, loaded with cheese or tempting you with caloric overload. In fact, that's kind of the point, which I am guessing by know you picked up on from the name. Which is solid and to the point, but hey, House Of Salads?
Operating out of the Com Com Kitchen facility the options for a healthier delivered dinner are myriad; everything from citrus arugula through red beets and crispy quinoa. Find them on DoorDash (we get a referral fee if you make a first time purchase on DD).
In fact – there's been a whole host of virtual businesses popping up this year – search for the names: Breakfast Beauties, Wavy Baby Subs, Buns, Juicy's Cheesesteaks, Tornado Crepe, Mel's Melts, The Meatball Corner, Indian & American Fusion Snob over there…then have fun working out where each is being served up from.
Sobo
Is this the beginning of the un-ramen-ing? Did we hit peak noodle? In a recent Facebook post by the Lehi based Ramen Nation, the business has decided to pivot to the all new Sobo. Here's what they wrote:
To all our Ramen Nation Fans: we have collaborated with some new chefs at our Lehi location and Ramen Nation has transitioned into a Ramen and sushi restaurant called SOBO! Their sushi is infused with a unique Peruvian influence so now you can get your hot ramen on cold days and refreshing sushi on hot ones. If you're looking for something different and honestly spectacular, let our sushi chefs make you some specialty torched sashimi only found at SOBO! Thanks for your support and we hope you're all healthy and safe in 2021!
3320 N Digital Drive Suite 160 Lehi, UT 84043
(801) 341-8902
facebook.com/ramennation/
Sol Agave
American Forkers have something to cheer with this opening, or at least I think they do, I've heard nothing but good rumblings about chef Oscar Perez's menu; which aims a little higher than most.
The menu reaches some heady heights (at least for the area) maxing out at $35 dollar entrees but it reads fabulously; slow braised short rib fueled Chile Colorado, New Zealand lamb in mole, lobster stuff enchiladas in serrano tomatillo cream sauce. Need an excuse to get on down to AF? Here it is.
598 W Main St, American Fork, UT 84003
(801) 692-1758
solagaveaf.com
Somalia Restaurant – Midnimo
Not much to go on here but I did find this menu on Clover for a new Somalian restaurant. The West side restaurant seems to be garnering great reviews from diners so far. One Googler noting, "We had the goat and rice which was delicious! The restaurant is well decorated and has an amazing ambiance. The good was well priced. Close to the truck stop, it is definitely worth going to." Here's some more on Yelp.
55 N Redwood Road, Salt Lake City, UT 84116
(385) 227-8481
South Side Pizza
A reader tip, errr, tipped me off to this one. SSP is a new ghost kitchen operation that lists Michael McHenry (Ginger Street, Oak Wood Fire Kitchen, Dirty Bird etc) and chef Ryan Nelson.
The menu starts around eight bucks and doesnt try to cross the ten dollar mark and comprises wings and pizza. It's a delivery only concerto to your door via Door Dash and it's all cooked out of the Draper Oakwood Fire Kitchen location.
Side Bar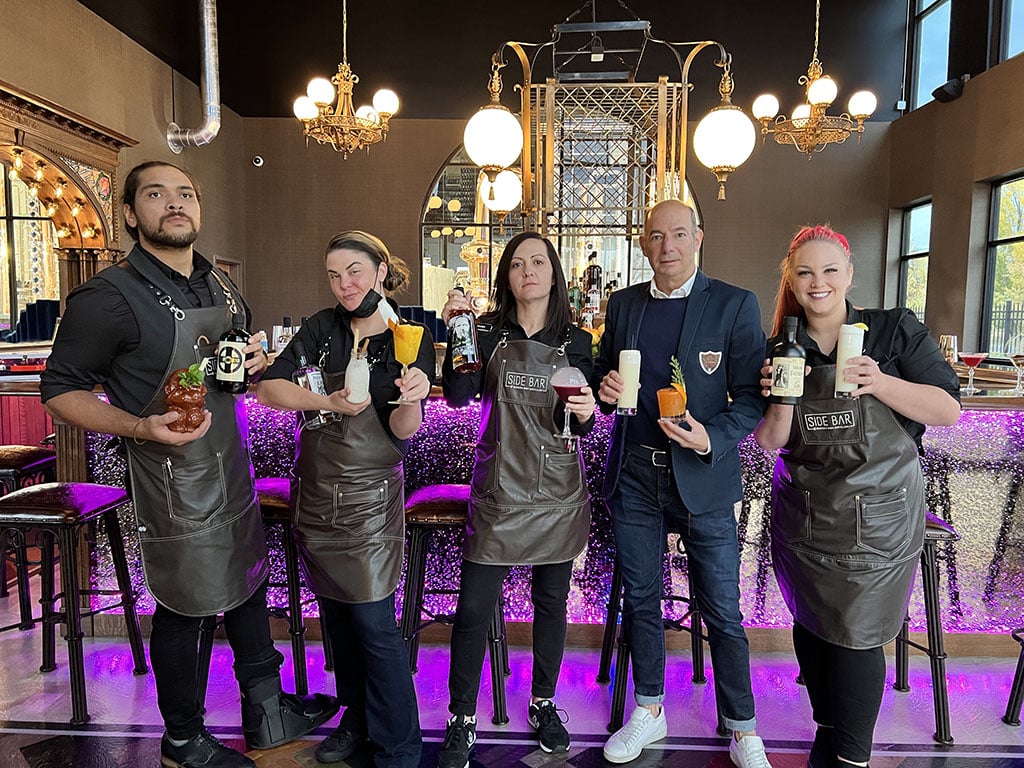 Ogdenites have this new fun looking bar to scope out. Located inside the Ogden's Own Distillery new build, and with an eye on craft cocktails and mocktails alike. The bar was one of the last recipients of precious as gold, bar licenses. Actually given Utah bar licenses change hands on the open market for $50K, and presumably weigh no more than a few grams of paper – they're defacto the most expensive commodity on planet earth by weight. Take that saffron, diamonds and Californium 252.
615 W Stockman Way, Ogden, UT 84401
(801) 458-1995
Slim Chickens
This popular national chain has now landed in Herriman. Here's the full press release for the Utah opening.
Slim Chickens, a leader in the "better chicken" segment of fast-casual restaurants, will continue expansion of its 100% all-natural, fresh chicken and unrivaled flavor in Utah, with its newest opening at 5167 W Anthem Park Blvd. in Herriman on January 14.
Franchising veteran of L.O.V.E. Restaurant Group, Byron Wheeler has decades of experience in the restaurant franchise space as a co-owner of 13 Burger King locations. Wheeler felt ready to tackle a new venture within the booming chicken sector of the QSR space, and, after meeting co-founders Tom Gordon and Greg Smart at the brand's franchising conference in 2018, signed on for the exclusive rights for all Slim Chickens restaurants to be developed in Colorado and Utah.
"We were immediately impressed with Slim Chickens' growth, southern hospitality, and menu," said Wheeler. "After opening the first Slim Chickens restaurants in Utah, we knew that we wanted to expand the concept further across the state and know that it's going to be the perfect fit for the Herriman community."
Aside from bringing its famous, delicious fried chicken and Southern-inspired sides to the area, the new Slim Chickens location in Herriman will also make a positive economic impact with over 75 new jobs anticipated for creation in the community.
The Herriman opening is one piece in Slim Chickens' larger growth story. Since its founding in 2003, the brand has celebrated over 100 openings in 17 states, with an overall goal of opening 600 restaurants by 2025. In Utah alone, the brand has already opened two locations with plans for more in the future.
"Our freshly made southern dishes and homemade recipes create loyal guests who feel good about the food they're eating and we're proud to be able to grow our loyal fan base into the Herriman market," said Slim Chickens Chief Operating Officer Sam Rothschild.
By focusing on providing only 100% fresh, all-natural chicken tenders that are buttermilk-marinated, hand-breaded and always cooked fresh-to-order, the brand has committed to providing a "better chicken" experience that can't be found anywhere else. In addition, a choice of 17 housemade sauces adds exceptional flavor and has earned admiration from both guests and critics alike. Slim Chickens also offers fresh sandwiches, salads, wraps and its signature chicken and waffles. To offset the savory side of the menu, rotating desserts served in Mason jars are also available.
South West Market
A new Asian grocery located on the North side of 3500 S, right next to the swap meet and across the street from Lucky. Find more info here – word to the wise, they offer a compact selection of some unique Vietnamese dishes such as sweet and sour fish, periwinkle snails (pictured above) and fried chicken wings with sweet potato.
1602 W 3500 S, West Valley City, UT 84119
(801) 906-0448
south-west-market.business.site
Space Tea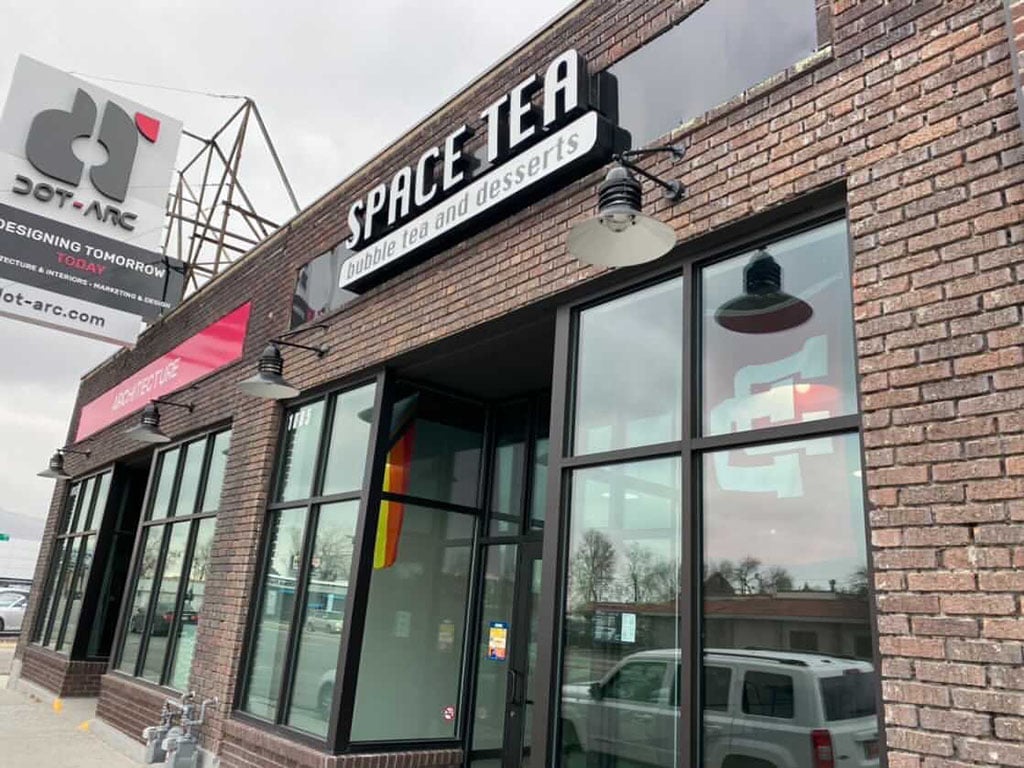 The name alone conjures up so many possibilities. Space. Tea. Just sit back and imagine all the wild and wonderful prospects. And then check out the menu for this new State Street bubble tea spot.
1085 S State St, Salt Lake City, UT 84111
(385) 528-0141
facebook.com/SpaceTeaSLC/
Spiced Chix
I love the look of this new Roy fried chicken shop. The MO is simple, take classic American comfort foods like fried chicken and hot dogs – then give em a lashing of Indian spice and flavor. Can we have more of this type of thing please? Pretty please with raita and sev on top?
5651 S 1900 W, Roy, UT 84067
(385) 405-3982
facebook.com/spicedchix/
Sunday's Best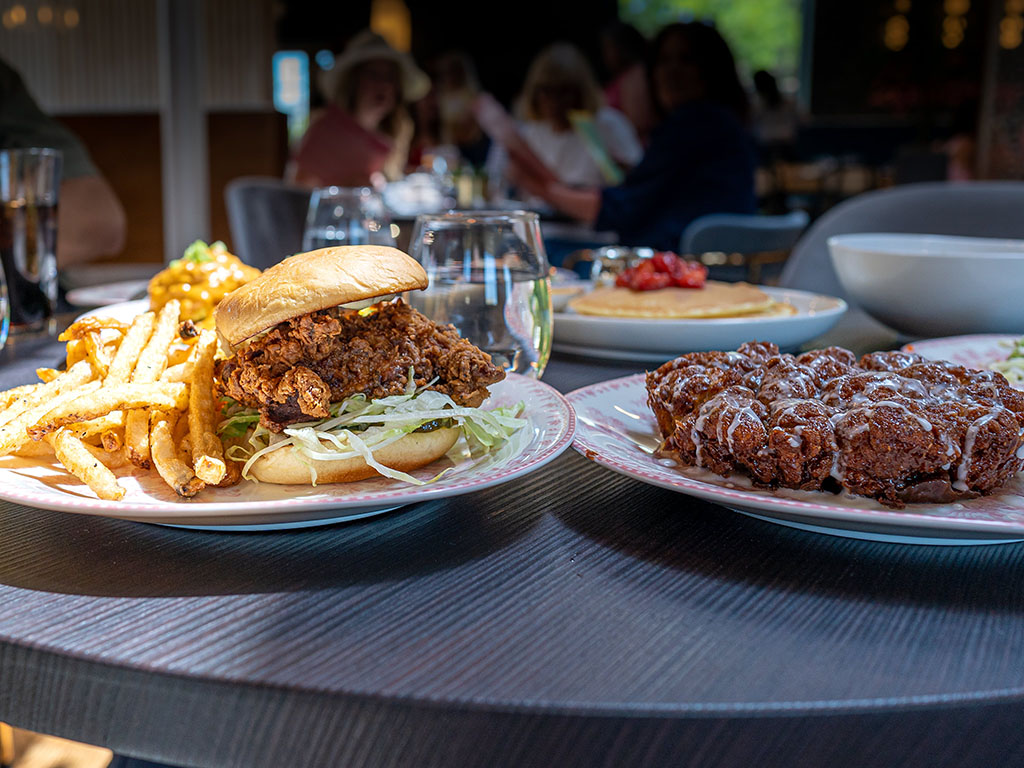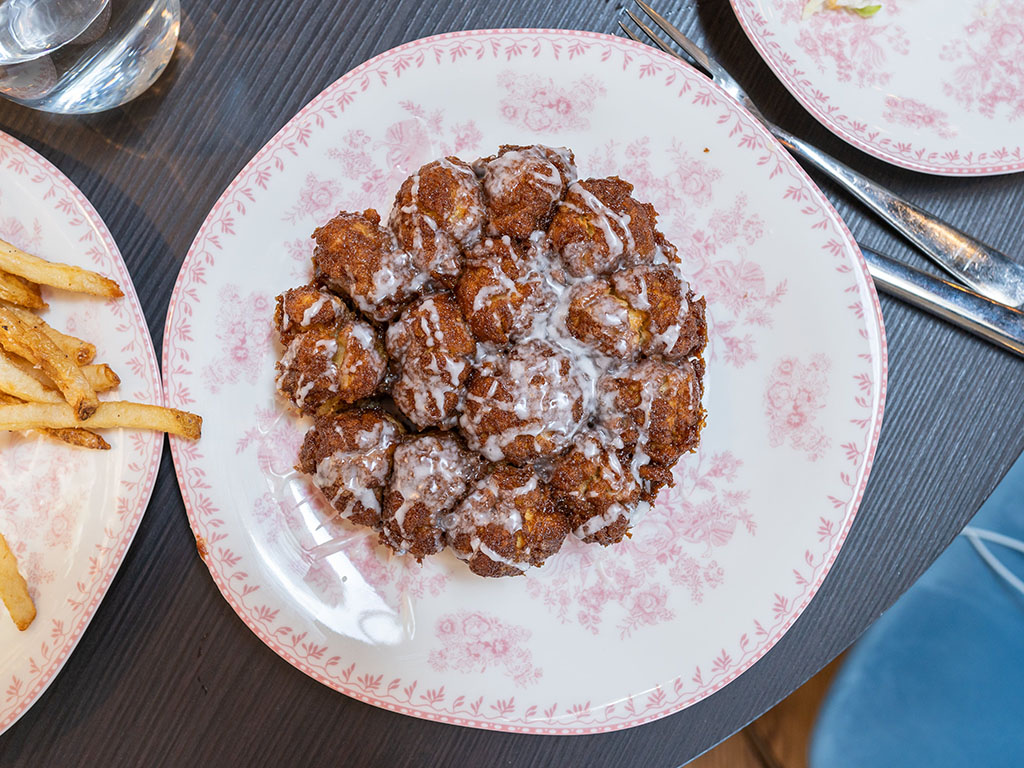 The latest collaboration between chef Tyler Stokes and restaurateur Michael McHenry is now open in Sandy. The duo last worked together on downtown SLC's Ginger Street and have teamed up again to deliver this all day brunch spot at 102nd South; this former Southerly outpost of Mazza retains some of the previous occupants design motifs with a hefty dash of modernist-cafe chic dolloped on top.
The menu affords a diverse range of brunch items, ranging from the traditional to the trendy; the picture above is their fried chicken sandwich and sticky-sweet monkey bread. Open till 4 p.m. every day the restaurant has a slew of fizz options ranging right upto a $600 Dom.
10672 State St, Sandy, UT 84070
(801) 441-3331
brunchmehard.com
Sweet Lake Biscuits And Limeade
American Fork makes for a third location for this once upon a time farmer's market star. The centerpiece of their brunchy menu is The Hoss, a monster of a sandwich that loads buttermilk fried chicken breast, cage-free eggs, Daily's bacon, local cheddar, house-made Tooele Valley sausage gravy and green onions on a mighty biscuit.
197 NW State St, American Fork, UT 84003
(801) 953-1978
sweetlakefresh.com
Table 25
Numerous readers and industry vets reached out to me about this one. Just one such example:
There is a new restaurant opening in Ogden in the next week called Table Twenty Five. This restaurant is being opened by long time Copper Onion Servers, husband and wife couple Jamie and Justin Buehler. Jamie and Justin are very attention detailed to service, which I feel like many Utah restaurants struggle with, so it's exciting to see what they can do, although finding good staff has proved challenging.
The menu is solidly New American with nods to all the right things like seasonality and local product.
195 25th, Ogden, UT 84401
(385) 244-1825
table25ogden.com
Table X Bread
You might have spotted fine-dining Table X's picture perfect bread at many places around town, Beltex to Caputos. Now you can grab it in person at their all new bakery spot too. TXB is open in the space below the Millcreek restaurant itself and serves baked goods Wednesday through Saturday, 8 a.m. through 3 p.m.
1457 E 3350 S, Salt Lake City, UT 84106
(385) 528-3712
Taco Land
This one opened up in the spot left vacant on the corner of 5th and 27th South – that was once home to Cafe Guanaco. If you've ever drove by, or ventured in, you'll know it's a small affair. The menu is a fun and affordable exploration of tacos guisado, which I believe roughly means homestyle.
499 E 2700 S, South Salt Lake, UT 84115
(801) 953-0421
facebook.com/Tacoland-111633773986877/
Tandoori Taqueria
State Street's old La Puente building at 3540 S. is the newest location for this Panguitch based business that fuses Mexican and Indian cuisine. There's pozole, there's traditional beef and chorizo tacos and there's phulkopir – a "bengali-inspired cauliflower and garbanzo beans seasoned with a smoky array of mexican spices". Check out the full menu here.
3540 S State St, South Salt Lake, UT 84115
(801) 590-9473
thetandooritaqueria.com
Tamarind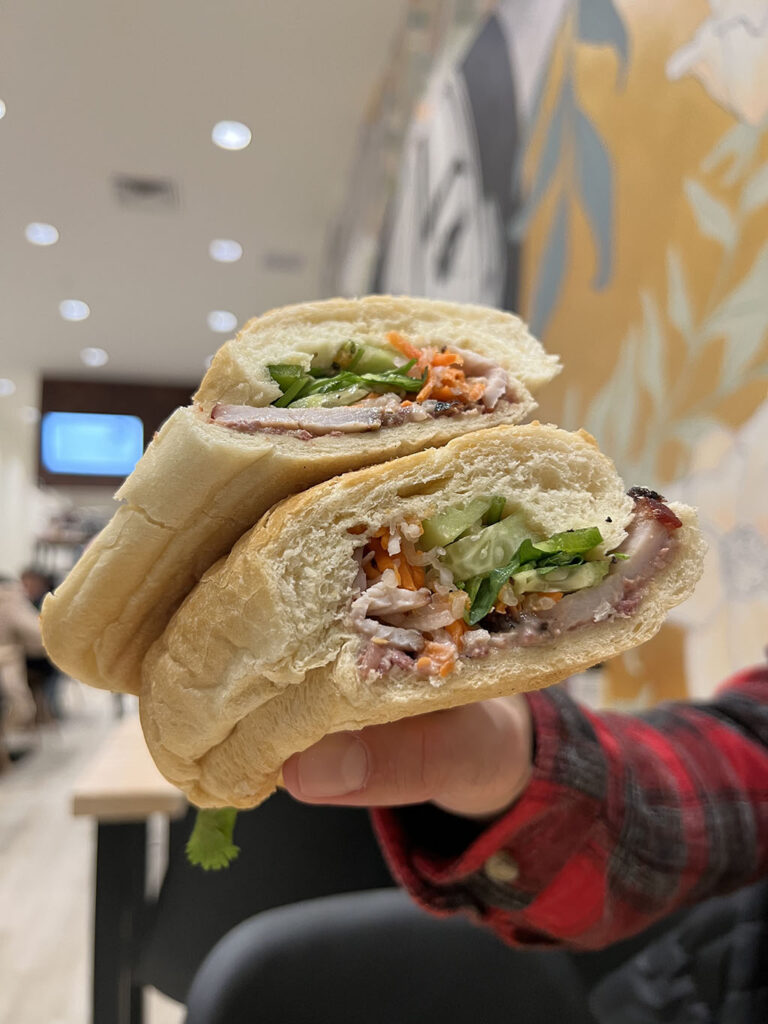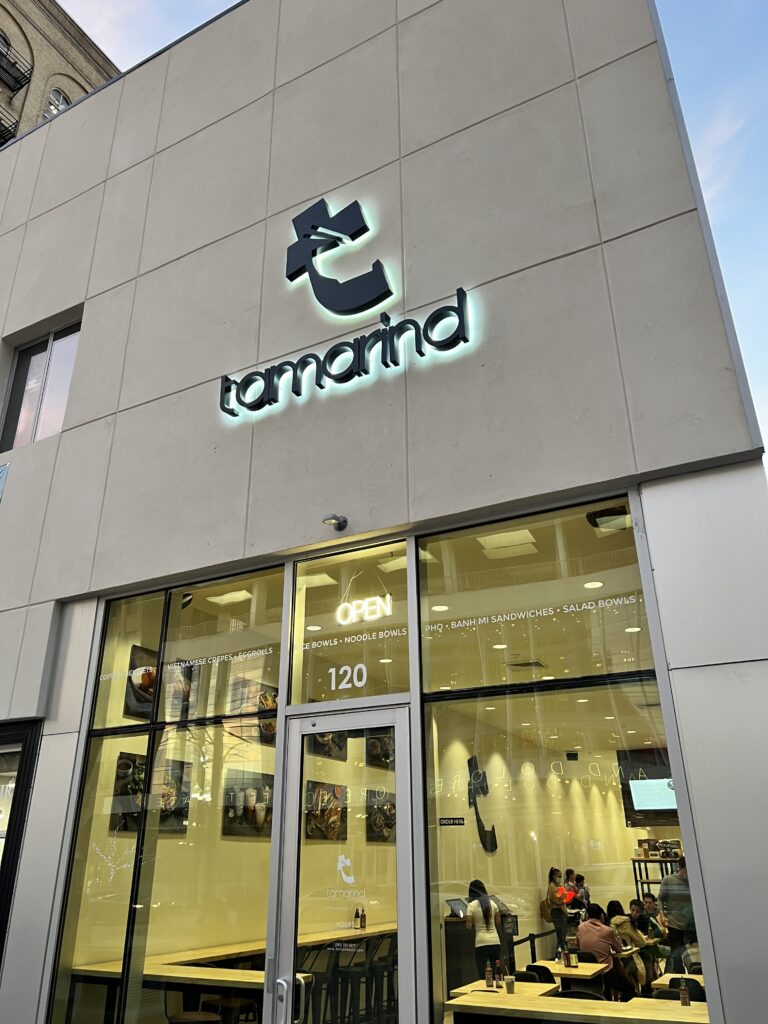 Tamarind is a Vietnamese restaurant located in downtown Salt Lake City. The restaurant opened in the Winter of 2021. The Downtown SLC Alliance writes the restaurant is a, " bright and colorful Vietnamese restaurant owned by two downtown lawyers, is set to open December 2 across from the Eccles Theater. They're offering healthy, quick and flavorful Pho from a family recipe."
120 S Main St, Salt Lake City, UT 84101
(385) 259-0277
Tapas Ohana BBQ
This Lindon restaurant aims to, "bring the most authentic Hawaiian style food experience that we can to the UTAH VALLEY!! From the moment you enter the restaurant we want you to be able to feel the ALOHA SPIRIT and smell the aroma of the Hawaiian Islands!" The menu includes saimin, poke, loco moco and more.
133 South State, Lindon, UT 84042
(801) 701-0313
hapasohanabbq.com
Taste Of Thai
New for Park Citizens is this brand spanking new Thai joint. Opening at 1241 Center Dr you can check out the full menu here which is a by the numbers run down of Thai curries, stir fries, salads and the like. They also have the following IG page to check out those dishes.
241 Center Dr Unit L160, Park City, UT 84098
(435) 604-0139
tasteofthaiparkcity.com
Thai In Town
This one a tip off from our always informed local foodie group. Opening right around the start of 2021 is this Bountiful-based Thai eatery. Appetizers start from $7 with entrees priced roughly $13-$14.
273 W 500 S, Bountiful, UT 84010
(801) 295-9595
thaiintownbountiful.com
Tiger Sugar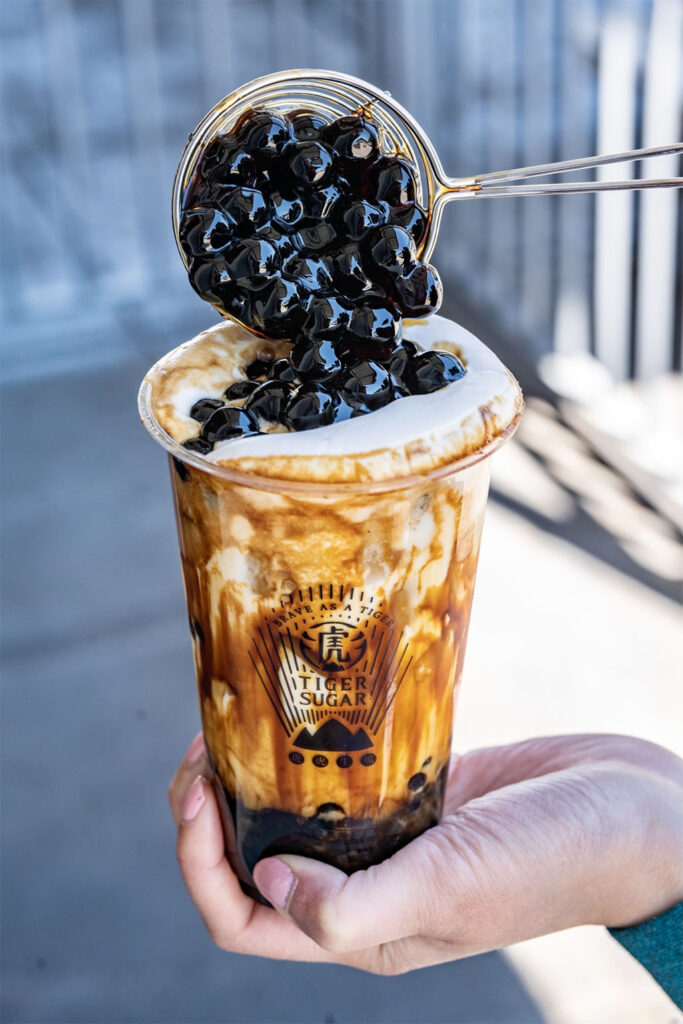 Utah's first location of this buzzy national chain is now open in SoSL's China town. Tiger Sugar offers a visually arresting twist on boba drinks, the popular Taiwanese dessert drink. On their signature concoction the brand writes:
Tiger Sugar is the original caramelized brown sugar bubble drink with fresh mousse cream. Our dessert drink originated in Taiwan and has become an international sensation thanks to the unique "tiger stripes" created by our hand-poured syrups.
Many companies have tried to imitate our drinks, but nothing compares to our proprietary 8-hour method for cooking our syrups and tapioca pearls. The result is a perfect blend of tea, milk, and syrup featuring our one-of-a-kind stripes.
If social media is anything to go by, Utahns are already lining up in their droves to sample this one.
3390 S State St, South Salt Lake, UT 84115
(385) 418-7128
tigersugarec.com
Tina's Bakery
Do you need to know more than empanadas, available for a miserly three bucks? Ok, right, you do. These guys are over in Park City, you can find the menu here, and they offer a range of savory pastries with fillings such as Malbec beef and spicy chicken. There's a slew of other savory tarts and sweet treats too.
6699 N Landmark Dr Suite N200, Park City, UT 84098
(435) 731-8156
Toro Ramen
Toro Ramen is a new noodleria over in Midvale and you can read the menu here. Worthy of note is that one of the team involved here is Sunny Tsogbadrakh, the super star chap that ran the sushi counter at Naked Fish / Ikagai, and it's departure packed his bags for Kaysville's Nikko Sushi & Ramen. With Tsogbadrakh at work here, it's about as good a guarantee of excellence as you're likely to ever get.
7194 S, Union Park Ave, Midvale, UT 84047
(801) 996-3365
facebook.com/Toro-Ramen-107687417833124/
Trolley Cottage Cafe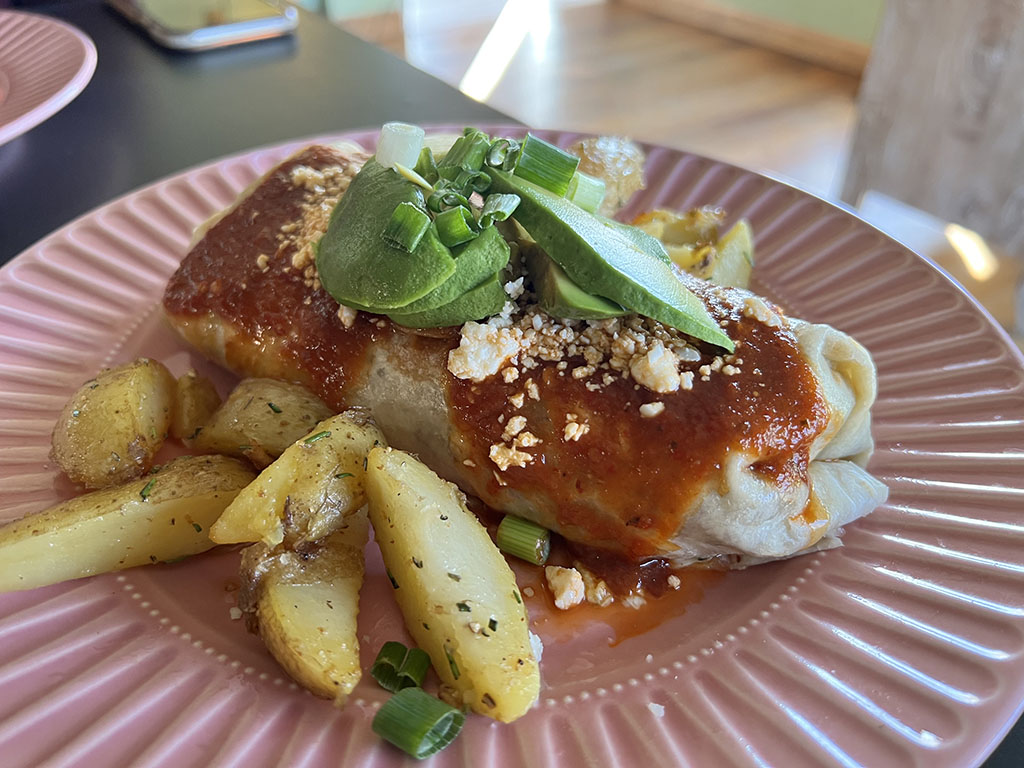 Trolley Cottage is now open next door to Skewered Thai and offers a cafe menu perfect for brunching and lunching. Breakfast staples like benedicts, brioche and burritos sit alongside lunchables like salads and sandwiches. Prices range $12-$16.
703 E 600 S, Salt Lake City, UT 84102
(801) 419-0579
instagram.com/trolleycottagecafeslc/
Trolley Wing Company
Taylorsville becomes the fourth port of call for this local wing emporium and sports bar. The new wing shop is now open for dine in 4 p.m. through midnight every day. Existing locations include the Trolley Square original, Sugar House and Midvale. In the last week Trolley moved their bar license from the Trolley Square location to this Tatertown branch. This makes the space 21+ only now, and also means you can just stop by and grab a drink by itself if you like.
5418 S 1900 W, Taylorsville, UT 84129
(801) 432-7685
trolleywingco.com/taylorsville-1
Tupelo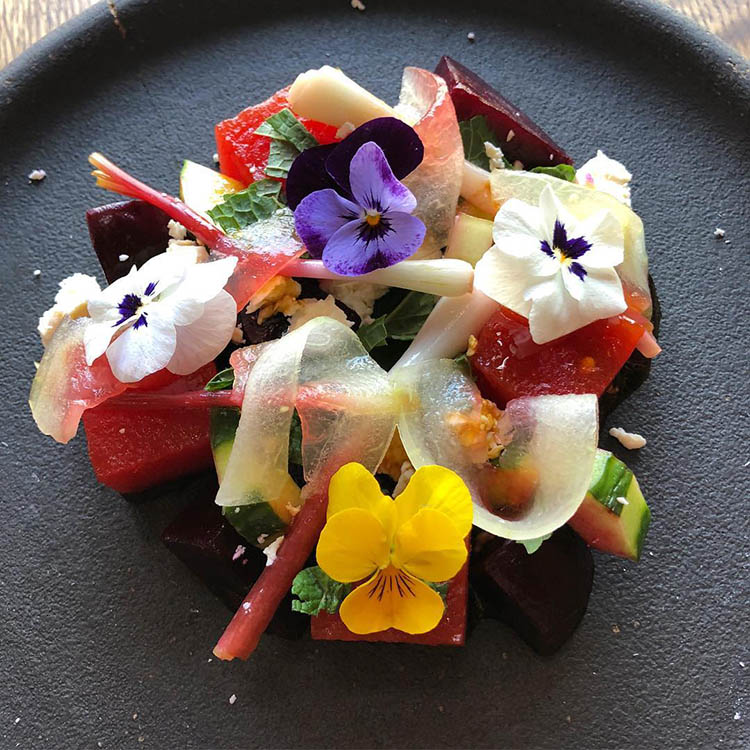 This popular Park City fine dining restaurant made a return to Summit county this December, and with it a new location, taking over the building once home to Adolph's. Here's the press release that detail the re-opening of this one:
A prominent fixture in Park City's fine dining scene and previously located on Historic Main Steet, tupelo Park City will opened its doors in its brand new home at 1500 Kearns Blvd. (formerly Adolph's) to serve eager locals and guests Saturday, Dec. 18.
"We are thrilled to invite the Park City community into our new space just in time for the holidays," said tupelo Partner Maggie Alvarez. "From our fresh menus born from the region's finest ingredients, stylish interiors and refreshing Southern hospitality, our team has been working hard to create a uniquely-tupelo experience for first-time patrons and loyal guests who have been patiently awaiting our return."
tupelo Park City will be open for dinner service from 5 – 10 p.m. nightly. Reservations are available now online on Resy. Further details on tupelo's inventive, hyper-local menu will be available soon at tupeloparkcity.com.
tupelo partners Maggie Alvarez and Chef Matt Harris also oversee Afterword by tupelo in Heber City, RIME at the St. Regis Deer Valley open year-round, and RIME Raw Bar, located at the top of the Jordanelle Gondola at Deer Valley Resort during the winter season.
1500 Kearns Blvd, Park City, UT 84060
(435) 292-0888
tupeloparkcity.com
Twisted Tiramisu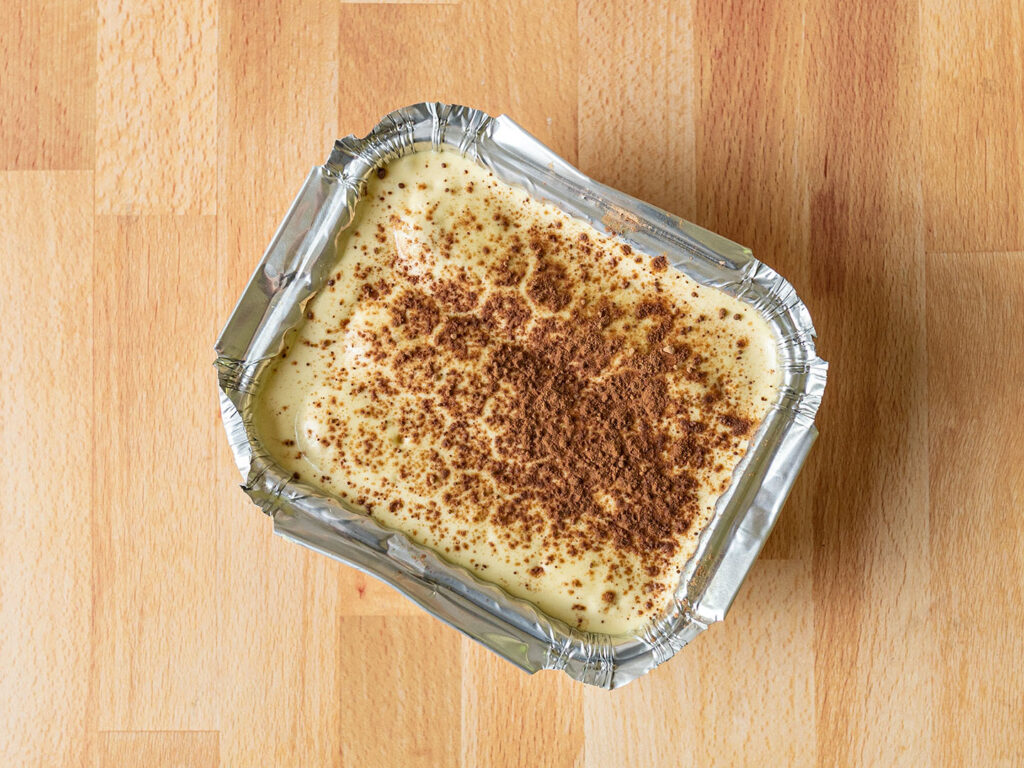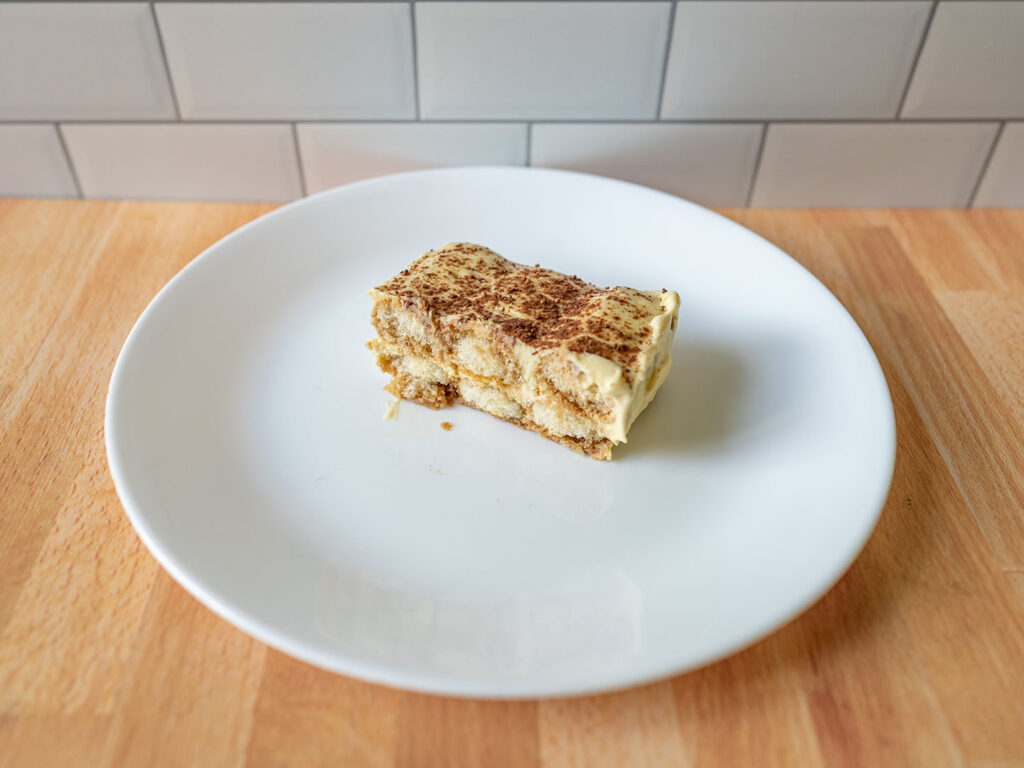 I first heard about this new dessert company when a friend started an email with, "hey can I bring you some tiramisu loaded with Waterpocket Rum so you can tell me what you think about my new business idea."
My response was roughly along the lines of: yes, how quickly can you get here, and are you the devil? Thankfully no souls changed hands for this decadent delight, though I might consider it given Tasty Tiramisu's fabulous products; Italian dessert, doorstep dropped around town. The menu has already evolved since my first sample a couple weeks back, now featuring concoctions like dulche de leche and matcha green tea.
Uncle Sharkii
More poke. I hope you like poke. So much poke. This one a national franchise that has landed here in the City Creek shopping mall in downtown SLC. Now sing it with me, Uncle Sharkii, do de doo do doo…
Urban Sailor Coffee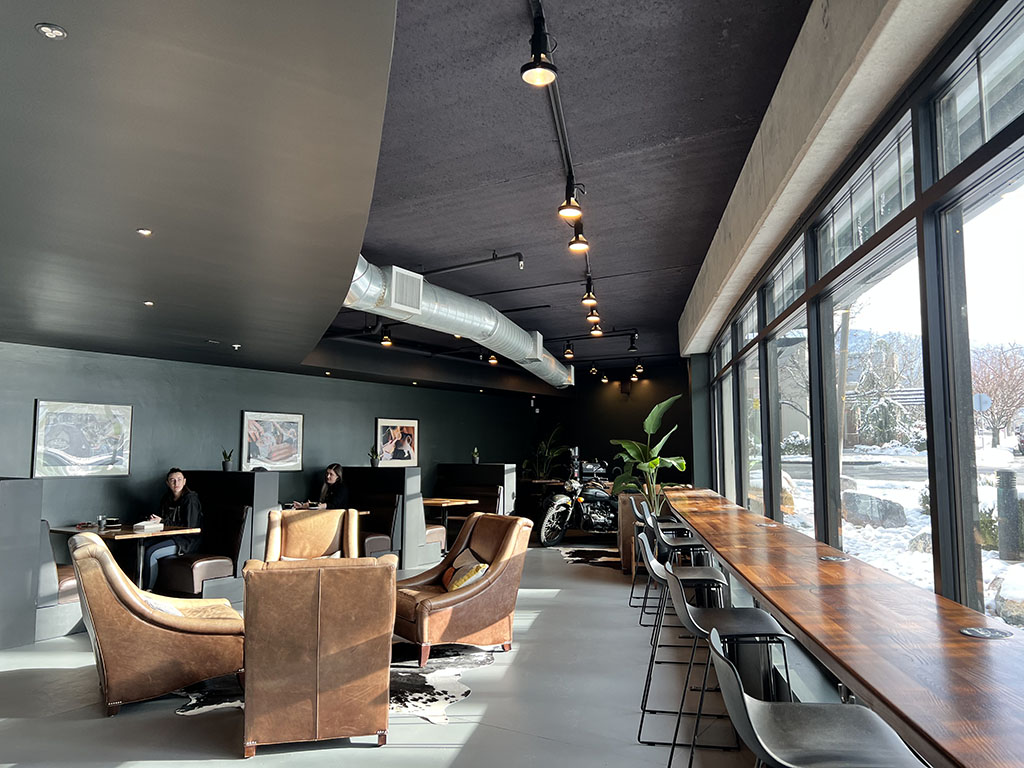 This striking and modern new coffee shop space opened up in Sugar House in just the last couple weeks.
1327 E 2100 S Suite 102, Salt Lake City, UT 84105
(385) 227-8978
urbansailorcoffee.com
Varley / Ivy
This brace moved into the spaces left empty by BTG and Caffe Molise respectively; the twinned businesses have now brought some hustle and bustle back to a corner of the city that was starting to look a little empty. Like their predecessors the latter brings the grown up drinks while the former brings food to the Easterly building.
Ivy – 55 W and 63 W 100 S, Salt Lake City, UT 84101
Varley – 63 W 100 S, Salt Lake City, UT 84101
Via 313
The first Utah location of this national chain is now slinging Detroit style pies down in Orem. The business is part of the local Savory Fund which also owns R&R, Mo Bettah's, Crack Shack and more.
212 E University Pkwy, Orem, UT 84058
(385) 292-4313
via313.com
Vickey's Peruvian Fusion Restaurant
Another Peruvian option in the valley gets three thumbs up from me (don't ask). I love the melting pot of flavors that Peruvian cuisine affords – a dash of Chinese influence, a hit of South American spice, heck even Swiss inspiration (Google it). Vickey's recently opened their doors in West Valley and I can't personally wait to see what's cooking.
4616 4000 W, West Valley City, UT 84120
facebook.com/Vickys-Peruvian-Fusión-Restaurant-108491268336365/
Virg's
After the long time Erda spot closed, Virg's are back in business, now over in Tooele. Here's the full story over on Fox13.
White Horse @ SLC International
The paint is barely dry at this new location for White Horse – if you find yourself traveling through SLC International anytime soon, check em out on Terminal A. I can think of worse ways to while a few hours away.
Wildside Bowls
Healthier types (really who are you people) should check out this new Draper business (12243 S. Draper Gate Drive). Offering "Açaí and Pitaya bowls" in a variety of formats it's eye catching stuff.
12243 Draper Gate Dr, Draper, UT 84020
facebook.com/wildsidebowls1
Wimpy And Fritz
This new Weber county eatery is right next door to Ogden River Brewing; they in turn got all neighborly and helped mark the bricks and mortar opening by supplying the restaurant with their very own hibiscus saison. The team reckon the Hibiscus Haole brew pairs perfectly with the whole menu of tacos, tortas and nachos.
352 Park Blvd, Ogden, UT 84401
facebook.com/wimpyandfritz
Wingers
The prodigal wing hath returned, notably to their spiritual home of Bountiful where it all began in 1993. In making this mark, their 14th in Utah location to be precise – comes an brand spanking new 4K square-foot Wingers Restaurant and Alehouse; the wing shop will open in the former Mikado location at 255 N. 500 West Here's some more info.
Wu Kong BBQ
New to the South Salt Lake Chinatown area, this new Chinese BBQ place. Chicken hearts, lamb ribs, pork belly – all the good stuff is here.
390 S State St Ste 22, Salt Lake City, UT 84115
(626) 328-4797
Yummy's Korean BBQ
A quick casual Korean-Japanese restaurant. The new West Valley City location looks to build on the success of the Orem original with dishes such as kalbi short ribs, teriyaki chicken and katsu.
2946 W 4700 S, West Valley City, UT 84129
(801) 769-6614
Yumz
If memory serves this State Street building once housed an East Coast Subs. Now the South Salt Lake building is home to this all new vegan bakery and cafe. Since their opening a few months ago, word has it they've been routinely selling out on a regular basis, such is the love for their dishes.
Long time fanz of my caffeine-addled writing will know that I am a complete sucker for namez with zs. Everything iz better with a z. Try it today as you go about life and talk to others, people don't even know you're doing it…
3490 S State St. Salt Lake City, UT 84115
facebook.com/YUMZ-111035714007835
Wild Ember BBQ
Wild Ember is a popup concept from tupelo chef Matt Harris. The menu is offered exclusively to guests of the St. Regis' Snow Park Residences. If you're luck to find yourself there in the upcoming weeks, here's the full press release on what to expect:
The latest venture from the renowned Chef Matt Harris, Wild Ember BBQ combines the chef's fine-dining background with the deep flavors of his Southern roots for a unique pop-up style dining experience. The upscale smokehouse concept begins offering curbside and catering services at The Snow Park Residences at The St. Regis Deer Valley
Designed to fuel a handful of friends or feed a large crowd, the Wild Ember BBQ menu highlights the seasonality of local agriculture while providing thoughtful vegetarian, vegan and gluten-free options. Southern classics with surprising nuances abound with starters and sides like deviled eggs, jalapeño cornbread fritters, collard greens and passion fruit baked beans. Locally sourced meats, such as pulled Berkshire pork, smoked chicken, smoked elk sausage, Berkshire pork ribs and beef tri-tip are available by the portion, thoughtfully paired with housemade signature sauces like Cherry Ancho or Whiskey Peach. Sweet treats include decadent triple chocolate brownies, Rice Krispie cookies and Wasatch Creamery ice cream.
Curbside and catering services are available Wednesday – Saturday, 4 – 8 p.m. at the pop up location at The Snow Park Residences at The St. Regis Deer Valley beginning Wednesday, September 15 Although there is no dining room or seating available at this time, there are future plans for a brick-and-mortar location. For more information, a full menu, and to order online, visit wildemberbbq.com.
Zaperoco
Another hat tip to CW's Alex Springer. Here's what he wrote about this Venezuelan spot in Lehi recently:
When a new Venezuelan place like Zaperoco opens, a food writer gets their first piece published—or so the legend says. True or not, a new place for cachapas, arepas and tequeños is always worth celebrating. I'm a recent convert to the wonders of Venezuelan cuisine; arepas have the sandwich market cornered with their overflowing fillings and crisp exteriors, and the first time I had a cachapa, I went weak in the knees. We've got a few places in our neck of the woods that scratch this particular itch, but now folks in Lehi and its surrounding area have better access to these wonderful Venezuelan eats.
785 E 200 S, Lehi, UT 84043
(813) 802-1463
facebook.com/zaperocofoodut/
Coming very soon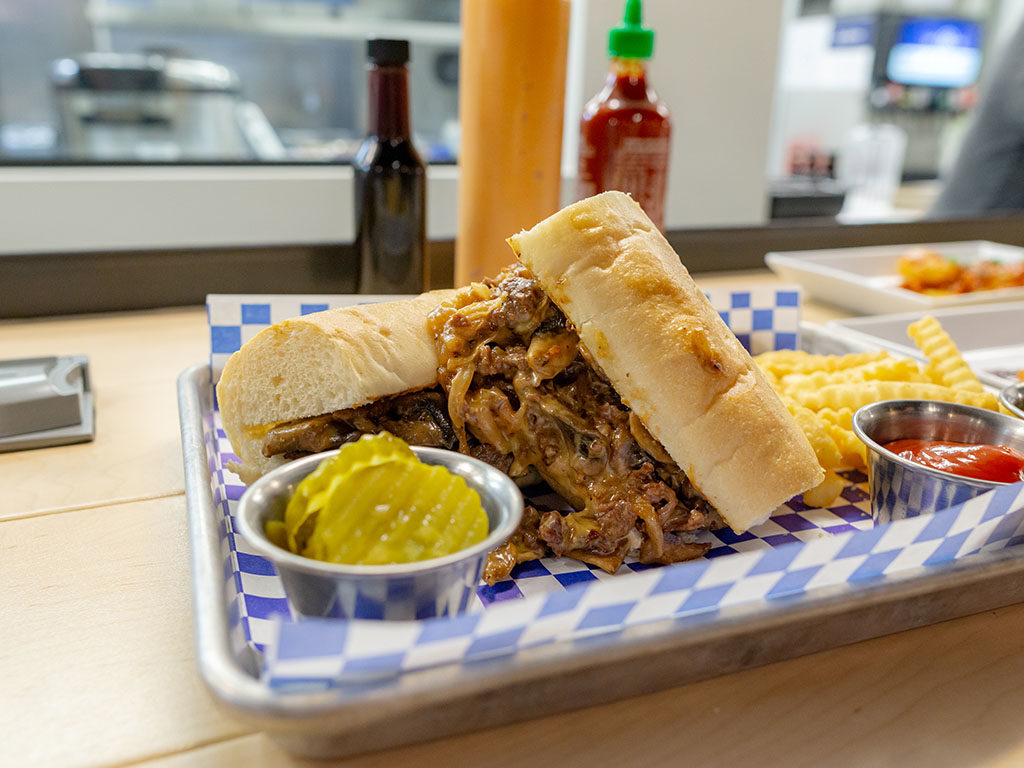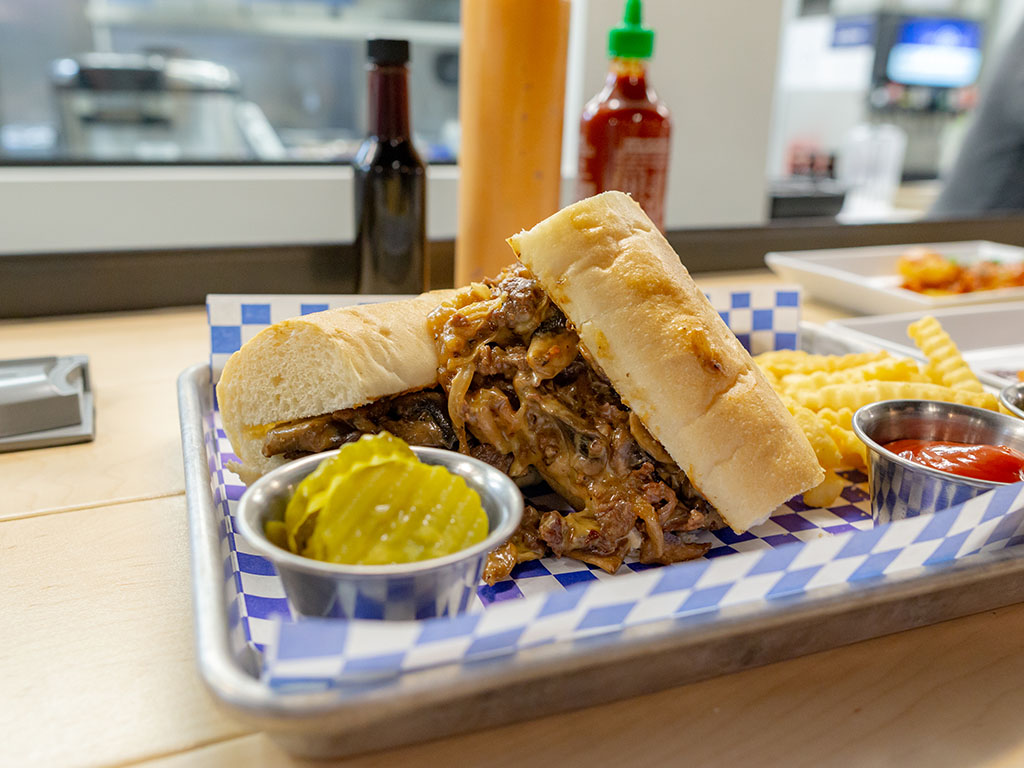 Here's a quick look at what's coming down the line in 2022. Guess what? It's gonna be another busy year.
Angry Korean
A Cottonwood Heights location is set to open soon for this modern take on Korean food. The second location joins an existing one that I love out in South Jordan. (source)
Dolly Donuts
Crack Shack
With the 9th and 9th location now – the California imported chain is eyeing up Lehi for their second Utah property.
Eat Italian Graffiti
Chef Marc Marrone (Graffiti Bao) is bringing a second concept to the downtown SLC HallPass facility. Where Graffiti Bao is a modern spin on Asian street food – this will be the same for Italian cuisine. (source)
Hash Kitchen
Expect one or more of these to land in Utah down the road. This Arizona borne breakfast-brunch concept recently secured a $20 million investment from Savory Fund – the same name behind R&R, Mo Bettahs, Crack Shack, Via 313 and more. (source)
Hearth And Hill / Hills Kitchen / Urban Hill
2022 looks like it's going to be exceptionally busy for Park City based Hearth And Hill. Coming next year will be a new PC grab and go / catering option (Hills Kitchen) as well as two new openings down here in the valley.
Hearth And Hill MK2 will be an SLC facsimile of the Summit County restaurant while Urban Hill will offer "a high-end concept in the Post District west of downtown". (source)
Hope Gallery
If you follow the dining scene with the meticulous madness that I do – you might have heard that Scott Evans (Pago, Finca, East Liberty Tap House) has a restaurant planned for Main Street's Hope Gallery space. I sat down with Evans a few weeks back and got a first glimpse at what he has up his sleeves. Suffices to say – its fun, it's very different, and I'll have a full story soon.
The Local Market & Bar
This is a potentially huge opening for 2022 – and maybe Salt Lake's first really food hall. Chef Akhtar Nawab is the headline name and will oversee the culinary operations at The Local Market & Bar which will offer a 125 seat, 7,500 sq. ft. space; inside that, a plan for "seven culinary concepts and one innovative cocktail bar and will open as the anchor tenant within Avia at The Exchange in Salt Lake City, UT".
Definitely watch this space – as the downtown SLC skyline rapidly changes there are going to be some BIG bold concepts like this cropping up. And a lot of interest from out of state operators who want a piece of the action. (source)
Mochinut
Coming to Utah soon Korean hot dogs and mochi donuts. (source)
Mountain View Village
A dizzying 34 restaurants are expected to open up at this sprawling Riverton facility. Amongst them, "five first to the Utah market – upon its phase two opening in May 2022." (source)
Noemi's
I loved the Chilean charms of Noemi's in 2020 when I sampled their cooking via Chefpanzee. Check out that here. Next year though the business will open a bricks and mortar location in Midvale – 777 E Fort Union Blvd to be precise. (source)
Poke And Sushi Hut
Poke and sushi headed to downtown SLC. (source)
Raising Cane's
Riverdale and West Valley should both be seeing openings from this national chicken chain soon. (source)
Redfort Cuisine Of India
A new Indian eatery set to debut in Logan. (source)
Roll'd Vietnamese
Coming to Utah in 2022 is this casual concept from Australia of all places. I received the following news via email from the brand:
Australia's leading fresh, fast-food chain, Roll'd Vietnamese is taking their brand global by bringing its brand of fresh Vietnamese fare to Salt Lake City, USA in May 2022! This is Roll'd's first international store and will include seeing key members of their Australian team relocated to launch and grow Roll'd within the US market.
As the youngest and fastest growing state in the United States, Utah is the perfect location for Roll'd's international expansion. Salt Lake City residents will fall in love with Roll'd's affordable and delicious menu options, especially with its offering of fast and fresh meals including traditional Vietnamese noodle soup (Phở), Solider (Roll'd rice paper rolls), bánh mì (Vietnamese baguettes), bún (noodle salad) and gỏi (salad).
The success of Roll'd boils down to the creative, precise and tenacious mind of founder, Bao Hoang. Along with his cousin Tin Ly and friend Ray Esquires, Hoang opened the first Roll'd Vietnamese in Australia in the heart of Melbourne's CBD in 2012 as a bid to knock the famed sushi roll off its pedestal.
Riva's Real Mexican Grill
Here's another Nevada import, headed our way soon. (source)
Viv Bubble Tea
The boba is still headed our way too. This one coming to the old Starbucks location on 700 E 400 S. (source)
Ziggi's Coffee
The Tribune report that this company that "specializes in fine-roasted coffee, locally made breakfast and unique snack and beverage options" is headed to Herriman at 12058 S. Carlsbad Way, Herriman.
Previously mentioned with no further update
We've written about the following new restaurants in recent posts tracking new restaurants around SLC. We've heard no further news on these at this time:
Opening a new restaurant in Utah? Be sure to check out our Utah restaurant resources mini site for the businesses and services you will need to help you open your restaurant.
Keep the conversation going
Want to stay on top of the SLC food scene, minute by minute, dish by dish? Here are a few other places you should follow along:
Hi, I'm Stuart, nice to meet you!  I'm the founder, writer and wrangler at Gastronomic SLC; I'm also a former restaurant critic of more than five years, working for the Salt Lake Tribune.  I've worked extensively with multiple local publications from Visit Salt Lake to Salt Lake Magazine, not least helped to consult on national TV shows.
I'm a multiple-award winning journalist and have covered the Utah dining scene for the better part of fifteen years.   I'm largely fueled by a critical obsession with rice, alliteration and the use of big words I don't understand.   What they're saying about me: "Not inaccurate", "I thought he was older", "I don't share his feelings".  Want to know more? This is why I am the way I am.
This article may contain content provided by one of our paid partners. These are some of the best businesses in Utah. For a list of all our current and past relationships see our
partnership history page
.