The time is once again upon us my hungry friend. That's right, it's our routine recap of everything new and noteworthy. O.k. I know the headline says restaurants but in truth it's always a map of the masticable; food trucks, ghost kitchens, brewers, bakers and more. Basically if you can stuff it in your face, it's fair game. With that in mind, we start with this brand new cookie delivery business.
Ada's Sweet City
Ada's promises to, "remind you of Grandma's-pure deliciousness with no added preservatives." The story behind this one couldn't be more diametrically opposed to the mega-corp cookie overlords dominating the food apps right now. You can read their story here, then go get some cookies delivered.
Blue Blue SLC
The people are thirsty. Oh so thirsty. It's a thirst that will never be slaked. It's an unending torment of tantalusian proportions. Or at least so goes the logic when it comes to the current boba boom (bear with me on this one, keep reading).
Blue Blue recently landed on the streets of Draper, hoping to help soothe some of the parched masses. Blue Blue reckon to have the "the best quality Boba tea", and also, "the most unique DIY art studio."
3599 S 2700 W, West Valley City, Utah
(801) 529-6735
Blue Gene's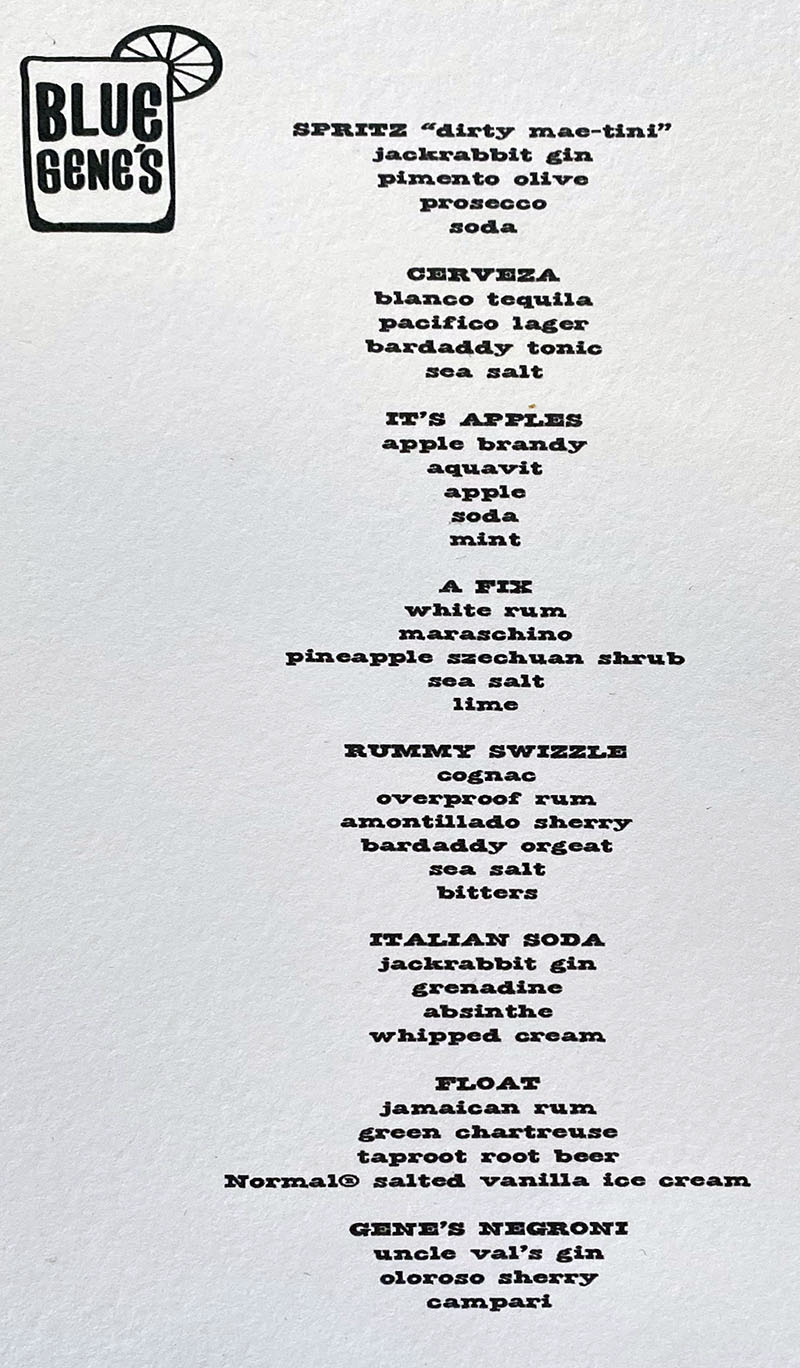 Not boba. In fact, cocktails with nary a tapioca pearl in site. Blue Gene's is the new name for a revamped Rye – the 21+ only bar attached to the Urban Lounge. The space has undergone a revamp. I'm guessing the name is a reference to the composer, not the IBM super computer of chess fame. But hey, I guess the Queen's Gambit wasn't that long ago.
From what I've heard, the food side of operations remains the same as the old Rye. The ever fabulous Salt Plate City team sent us the cocktail menu pictured above – this from their opening weekend.
239 S 500 E, Salt Lake City, UT 84102
bluegenesslc.com
Chubby Baker
A new sugar-fueled spot for SLC. I'll let our friend and writer Christy, explain this one, "brilliant Chubby Baker had a hell of a time getting her storefront open, but it's finally here! she makes incredible donuts with flavorful fillings like this ube, plus cakes, croffles, and killer drinks—the iced coffee and tonic with passionfruit was my fave. this is one of those rare cases where a super trendy, highly 'grammable shop is also serving a truly fantastic menu. you will love. it's open today, on 9th south just a little west of the park!"
317 900 S, Salt Lake City, UT 84111
chubby-baker.com
Crown Burgers
Here's something you don't see everyday, boba. Ha, just joking, this is in fact a new Crown! And not any old Crown. It's an opening that is surely a portent of a staff-strapped future for many restaurants. This one looks more like a CPAs, than a palace of pastrami.
The new Holladay operation is geared more to takeout and delivery than it is dine in. If you study the fast food sector with meticulous rigor you will know this is one of the next big things headed our way; all the big guys are re-imagining how they can function in a future where delivery and drive thru are the main revenue generators. People increasingly don't want dine in, nor that troublesome human contact thing. No, no, the people want…
Ding Tea
Boba. This opening over in Bountiful. The new Davis County installation for this international brand joins existing Utah shops in Taylorsville, West Valley and South Jordan.
175 N 500 W, West Bountiful, UT 84010
(801) 992-3133
dingtea.com
Facil Taqueria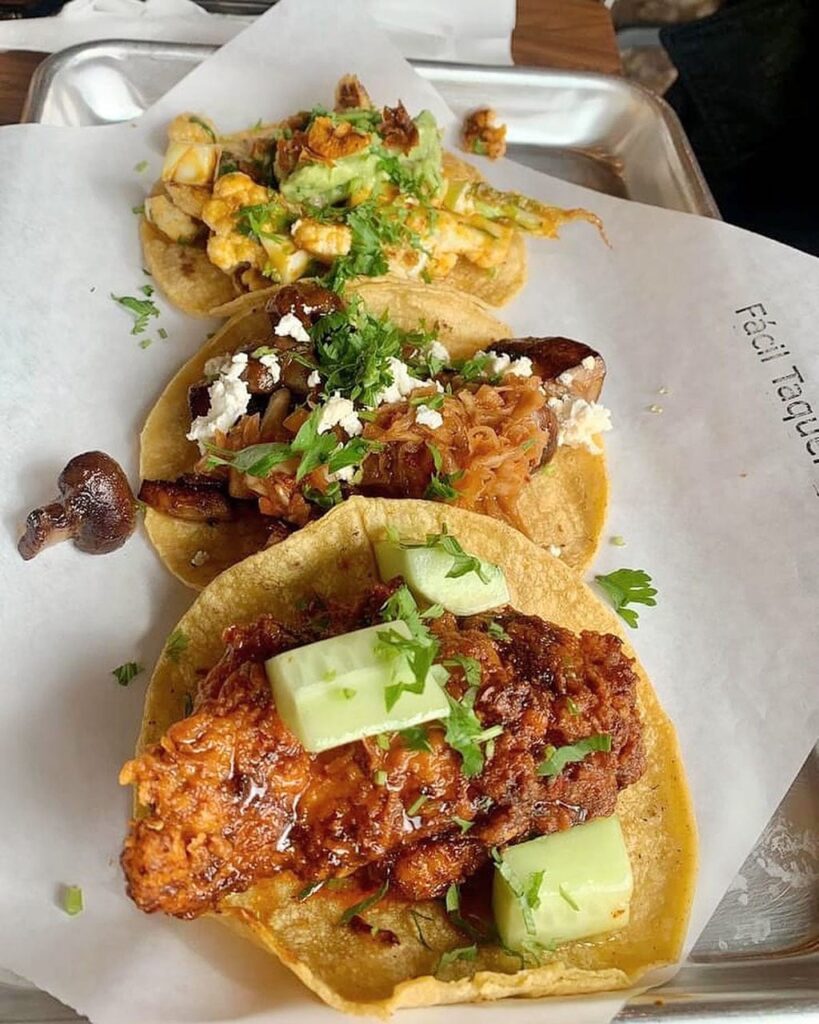 Tacos, not boba, to be clear. And hot damn, what tacos. Confit pork, chicken tinga, smoked brisket, Nashville hot chicken, hungry yet? The picture above from the ever in the know Gather Nosh Savor. Facil still operate the food truck that started their story – you'll find their bricks and mortar over in Holladay.
4429 South 2950 East, Salt Lake City, UT 84124
(801) 878-9969
faciltaqueria.com
Da Cloud
Boba. This one seeping its delicious way onto the streets of Pleasant Grove. Boba you see has the patience of the ocean, slowly lapping and chipping away until it's everywhere. Grovers will also want to check out the food options at Da Cloud. Check out this potato ponado twist if you need reminding that even potatoes can make you giggle with excitement. Oh wait that's just me huh.
1051 S Valley Grove Way Ste B, Pleasant Grove, UT 84062
(385) 387-1371
instagram.com/dacloud.bobashoppe
Fenice
A sold core of Italian cuisine is ably supported by a mix of Mediterranean dishes at this new opening on downtown SLC's Regent Street. You might recall the elongated space was previously home to Fireside. Chef Michael Richey's restaurant has long since departed, though the old wood fired oven still dominates the kitchen. The menu works through a range of pizza and pasta dishes as well as seasonal fare. Owned by Lisa and Jeff Ward, of Silver Star Cafe fame, watch this space for a first look at the restaurant soon.
126 Regent St, Salt Lake City, UT 84111
(801) 359-4500
fenicebistroslc.com
Hana Ramen Bar
Ramen, the boba of it's era if you will. In the last new restaurant roundup I wrote about a new ramen shop for Park Citizens. The previously unnamed spot has now been monikered. Hana Ramen Bar is the work of the same team behind Toole's Ninja Ramen Bar. Currently in soft opening mode, the noodle shop is open 4-8 p.m. daily.
6546 N Landmark Dr, Park City, UT 84098
hanaramenbar.com
KFTea
In the future everything will be boba. Burgers, fries and pizza will all be distant memories of a confused past. Lunch, breakfast and dinner will be boba. Plates, utensils and tables and chairs, they will all be boba. These guys are headed to South Salt Lake's Chinatown complex, our sister account newinutah spotted them here.
As far as I know KFTea are not to be confused with Kung Fu Tea – another boba spot in the valley. Or at least I think so. I have written boba so many times, reality is now starting to blur.
Kokonut Island Grill
Making the move Northward from Utah County is this downtown SLC eatery, serving up the brand's easy on the eye Hawaiian food. There's everything your rumbling stomach wants stuffed inside it right now: mac salad, chicken katsu, kalua pork and a gravity-defying Maui burger that's stacked jenga-high with an angus beef patty, eggs, spam bacon, cheddar, lettuce, tomato, onion, spicy mayo, house sauce and teriyaki sauce. Get a napkin.
Oh, I hear a Woods Cross location is in the works too.
358 S 700 E, Salt Lake City, UT 84102
(385) 379-3299
kokonutislandgrill.com
Little India
American Forkers (I wish I lived here, I would be a proud Forker) can welcome this brand new Indian eatery into their midst. The menu is largely the one you know and love starting with pakora and samosa before moving onto a mix of veg, chicken and lamb dishes.
987 W 500 N, American Fork UT 84003
(801) 756 8888
littleindiaut.com
Myungrang Hot Dog
Korean hot dogs, they just might be the next boba, or so they say? This Cali-import has a menu stuffed with plenty of them. Big, bold, cheesy oozing things crusted with this and that. Can't choose a favorite? Just grab a box featuring the whole quintet and gaze lovingly, before posting on Instagram. That's what we do you see.
11428 S. Pkwy Plaza Dr. South Jordan, UT 84095
myungrangamerica.com
Pago On Main
Now welcoming diners in downtown SLC is this sophomoric effort built on the many successs of the 9th and 9th original. The new Main Street location in the Felt building completely re-imagines the space; which was once upon a time home to J Dawg's. Gone is the minimalistic tube steak menu. Instead, you'll discover an arrestingly appealing space, dominated by the exhibition kitchen. Located in the center of dining room it affords a 360 degree view of the action no matter where you're seated.
The general vibe is in stark contrast to the high energy tempo of Main Street's bar scene and the menu naturally follows the same farm-to-table mentality of the original. There's Morgan Valley Lamb, Clifford Family Farm, Frog Bench Farms, Stoneground and many more familiar local names. Expect this one to get popular real quick.
341 S Main St, Salt Lake City, UT 84111
(801) 441-2955
pagoslc.com
Red Tacos
Another food truck made real life boy in bricks and mortar fashion. Open now in Orem. The house specialty of the family owned business? Birria de Res estilo Jalisco. You want this.
1077 S 750 E Orem Ut 84097
facebook.com/Redtacos801/
Richie Lush's Tennesse BBQ
Tennessee-style is the approach to the smoked goodies at this now opened Kamas restaurant. Amidst the standard roster of ribs and brisket are other items like fried chicken, bison burgers and meatball subs. The restaurant is currently open Thursday through Sundays 11-9.
215 S Main St Kamas, UT 84036
(850) 398-2487
lushsbbq.com
Rio Sonora
Provonians now have this delicious looking spot to visit. Promising authentic carne asada, just like they make in Sonora. A quick glimpse of their Instagram page – I don't doubt their claims at all.
279 E 300 S, Provo, UT, 84606
riosonoramx.com
Senor Pollo
A fourth spot of this Sinaloan-style chicken shop is now open in Orem.
1365 S State Street, Orem, Utah
(801) 607-1886
senorpollomg.com
Smoked Taco
For the completionists out there, I previewed this one quite some time ago, but never got around to confirming their final opening. Oops. Anyway. They are indeed now open over in American Fork, building on the success of their food truck; the cuisine remains the same – tacos, masa fries and smoked meats.
933 W 500 N Ste 102, American Fork, UT 84003
(801) 821-5550
instagram.com/thesmokedtaco_
Share Tea
Boba. Resistance is futile. This West Valley City opening joins an existing operation in Orem.
2927 S 5600 W, West Valley City, UT 84120
(385) 695-5141
1992sharetea.com
Yumz
If memory serves this State Street building once housed an East Coast Subs. Now the South Salt Lake building is home to this all new vegan bakery and cafe. Long time fanz of my caffeine-addled writing will know that I am a complete sucker for namez with zs. Everything iz better with a z. Try it today as you go about life and talk to others, people don't even know you're doing it…
3490 S State St. Salt Lake City, UT 84115
facebook.com/YUMZ-111035714007835
Coming soon
Cupbop
Ogden – you'll have your very own Korean BBQ in a cup spot in just a few days time.
Java Espress
Just in case you're wondering, no that wasn't a typo. And yes, yes it's killing me (and my spellchecker) to not add an o to the end. Headed our way straight outta Idaho is this coffee shop chain. The ground breaking in Draper was recently announced here.
Louk's Greek Baby Donuts
This one appears to be a California import, who will have a bunch of Greek loukoumades stuffed in their suitcase when they arrive here in Cottonwood Heights (just by the Trader Joes). The CA menu starts at six bucks for a small order and goes up from there. The 'louks come topped and stuffed with just about everything you can imagine.
Mochinut
Another out of stater coming to SLC shores. Indeed the parent corp for this mochi meets donut concept has international tendrils with branches across the US, South Korea and Thailand. The currently in vogue Korean hot dogs are also served on the savory side and the brand are currently promising a trio of Beehive postings: Sugarhouse, Park City and St. George.
Mr Fries Man
Holy arterial blockage batman. A glimpse of this Cali brand's loaded fry plates is all it takes to reach for the statins. Heck, why stop there, some of the piled high plates of fried goodness come stuffed in a pizza box such are their fried mass. No doubt there will be plenty of naysayers bemoaning and hand wringing over another import, another fast casual. I'm not one of them. I'll be at the front of the queue when they fling the doors open – this is the type of behavior I have an unabashed love of. Expect this one to be a huge hit, and light up Instagram for months to come.
Pincho
This one is speculation on my part, but I'd put good money on seeing this one around these parts. Local investment group Savory Fund just dropped $20 million into this burgers and kabobs concept. Given Savory's considerable Utah footprint and experience (R&R, Mo Bettahs, Crack Shack, Via 313) it seems a slam dunk that this one is is matter of when, not if. Check em out here.
Salt And Olive
This snap was taken at the spot next door to cocktail crafters Undercurrent. The site is increasingly becoming something of a bedeviled building. Once the planned home for the Oddfellows food hall, the location was then slated for Niccoli's. This recent photo seems to indicate a new business yet again. As soon as I hear more, I'll let you know.
Share Tea
Boba. Orem.
Sweet Lake Biscuits And Limeade
Not here just yet but the brand recently teased this American Fork location. Once opened this will join the brace of existing operations in SLC and Draper. The burgeoning bricks and mortar imprint for the business is a huge leap from the humble origins, slinging at the weekend farmer's markets.
Tupelo
This one came to us us via press release. Park City's chef-driven operation is headed back for apres-ski this year. Here are the details:
The search is over for tupelo's newest opportunity to provide their world-class dining experience in the Park City community. Formerly located on Historic Main Street, the award-winning fine dining restaurant will open its doors in its new home at 1500 Kearns Blvd. (formerly Adolph's) to serve eager locals and guests later this fall.
"We've been waiting for the perfect time and opportunity to reestablish ourselves in Park City, and we are thrilled that time is now," said tupelo Partner Maggie Alvarez. "We are honored to once again be among Park City's passionate local businesses, and we look forward to offering our renowned dining experience in our new, reimagined space."
Further details on tupelo's official opening and menu will be available soon. Afterword, the most recent passion project of tupelo partners, Maggie Alvarez and Chef Matt Harris, continues to thrive in downtown Heber City, and will continue to do so after tupelo's Park City arrival. Seafood lovers can enjoy Harris' other inspired entities, including RIME at the St. Regis Deer Valley open year-round, and RIME Raw Bar, located at the top of the Jordanelle Gondola at Deer Valley Resort opening for its winter guests for the 2021-2022 ski season.
Viv Bubble Tea
Can you guess what this one is? I bet you can. This one is coming to an old Starbucks location at 700 East and 400 South.
Honestly… I know rumors (that I can't share just yet) of several more local business musing their boba play. The future is boba, just accept it. And then do some research on tapioca pearl manufacturers, you're gonna want to switch your bitcoin over to this new asset.
Previously mentioned with no further update
We've written about the following new restaurants in recent posts tracking new restaurants around SLC. We've heard no further news on these at this time:
Opening a new restaurant in Utah? Be sure to check out our Utah restaurant resources mini site for the businesses and services you will need to help you open your restaurant.
Keep the conversation going
Want to stay on top of the SLC food scene, minute by minute, dish by dish? Here are a few other places you should follow along:
Hi, I'm Stuart, nice to meet you!  I'm the founder, writer and wrangler at Gastronomic SLC.  I'm a multiple-award winning journalist and have written in myopic detail about the Salt Lake City  dining scene for the better part of seventeen years.
I've worked extensively with multiple local publications from Visit Salt Lake to Salt Lake Magazine, not least helped to consult on national TV.   Pause those credits, yep, that's me! I'm also a former restaurant critic of more than five years, working for the Salt Lake Tribune.    I'm largely fueled by a critical obsession with rice, alliteration and the use of big words I don't understand.   What they're saying about me: "Not inaccurate", "I thought he was older", "I don't share his feelings".
Want to know more? This is why I am the way I am.
This article may contain content provided by one of our paid partners. These are some of the best businesses in Utah. For a list of all our current and past relationships see our
partnership history page
.