First a little about me…I love sausages, I am in love with sausages. I grew up in a butchers shop surrounded by ropes of the things. One time on holiday in the UK, I ordered myself a shipment of of sausages, a 12lb batch of artisan sausages…for a five day stay. My love of sausages is so well understood, a friend once sent me a heavy duty steel sausage grinder all the way from Czechoslovakia to the US. On a recent trip to the Bay Area I skipped reservations at ritzy Atelier Crenn for working my way through multiple plates at Rosamunde.
Why am I telling you this? Well, Bewilder Brewing has sausages. When owner and brewer Ross Metzger invited me down to the new craft brewery, and casually mentioned "oh hey we have sausages on the menu", you can imagine my response. Handily, I have a defibrillator within easy reach of my desk.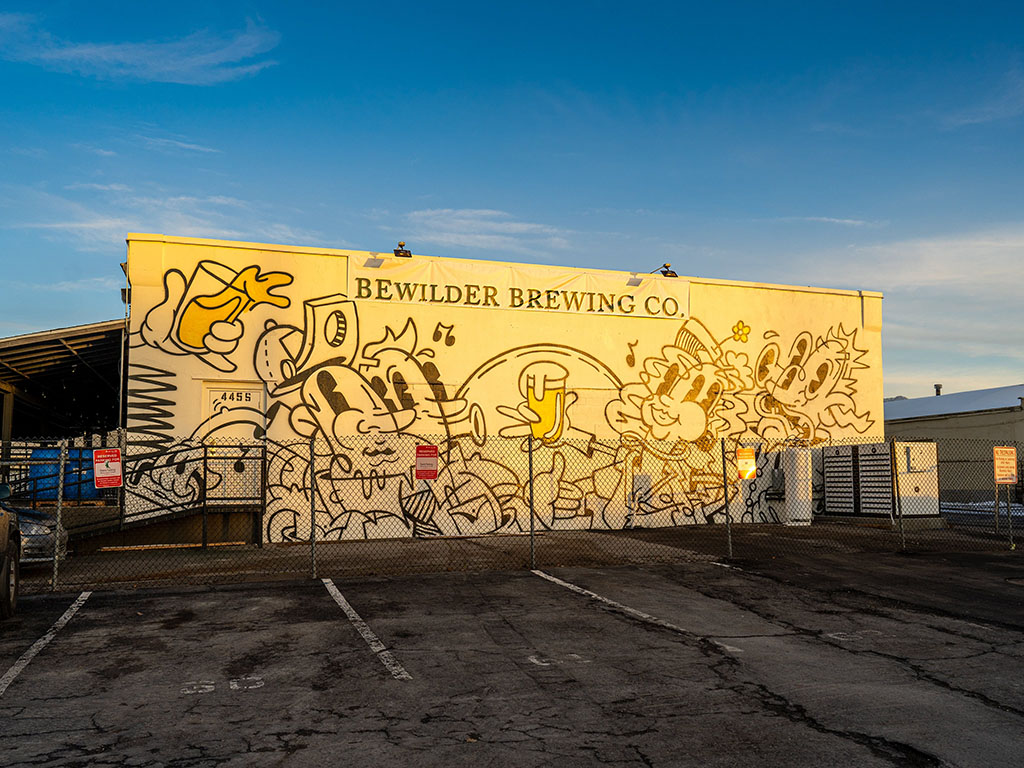 That name might ring a bell to those of a sudsy inclination. That's because Metzger along with co-owner and brewer Cody McKendrick, also own Salt City Brew Supply with locations in Midvale and Ogden. While running the supply shop for the better part of a decade, the duo saw more than one home brewer make the leap from cottage industry to craft brew house, which is where the concept for Bewilder started to ferment.
The business officially opened in December 2019 after a successful Kickstarter campaign. It's impressive to note that the business has largely been bootstrapped with only minimal investment from friends and family. There are no mega-backers, and vaguely mentioned backers here. It's clear a lot of elbow grease and sweat went into bringing Metzger and McKendrick's vision to life; six tonnes of sand alone went into sand blasting away the remnants of the old Club X. The result is a bright and roomy space.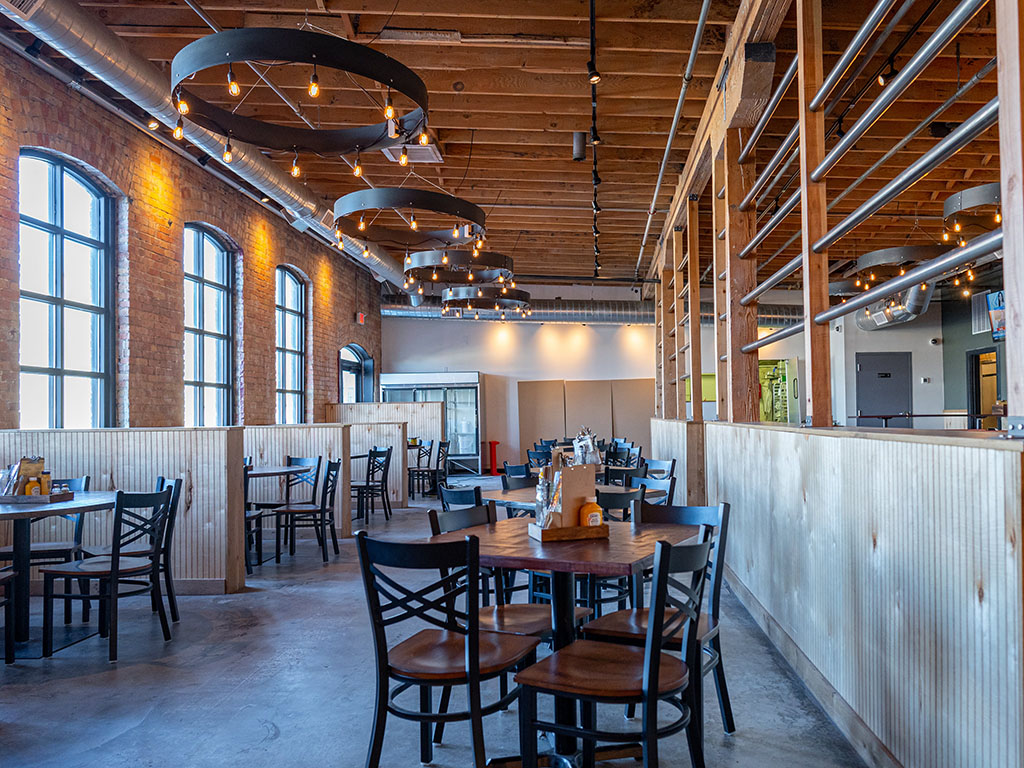 As you'd hope with the pedigree of the owners, some considerable thought went into the design and build out of the brewery side of things. Metzger explains, "We have a 10 barrel brewhouse from Alpha Brewing Systems. We are starting with 4, 20 barrel fermentation tanks with room for 5 more. Our plan is to sell over the bar, but eventually package beer for sales to go." He points to brewing kettles and reverse osmosis water tanks, much of it over my feeble brain, addled by too much off the stuff from said kettles. What's patently clear is that these guys know their malt, hops and water.
Metzger continues, "Our focus will be German Lagers and British Pub style beers, but we have 16 tap handles and will rotate most of them, so something new will be available on a regular basis. Most beers will be style specific using regional malts, hops, and water chemistry. Our first beers on tap will be an American Pale, an English Strong Bitter, and a German Hefeweizen with American hops."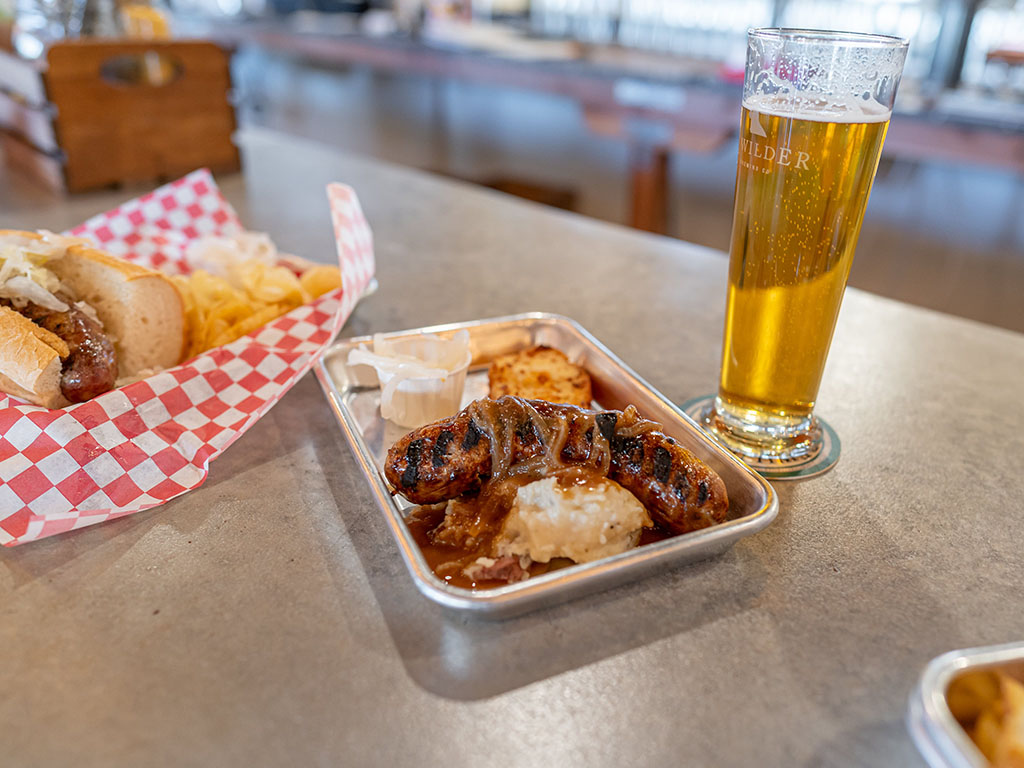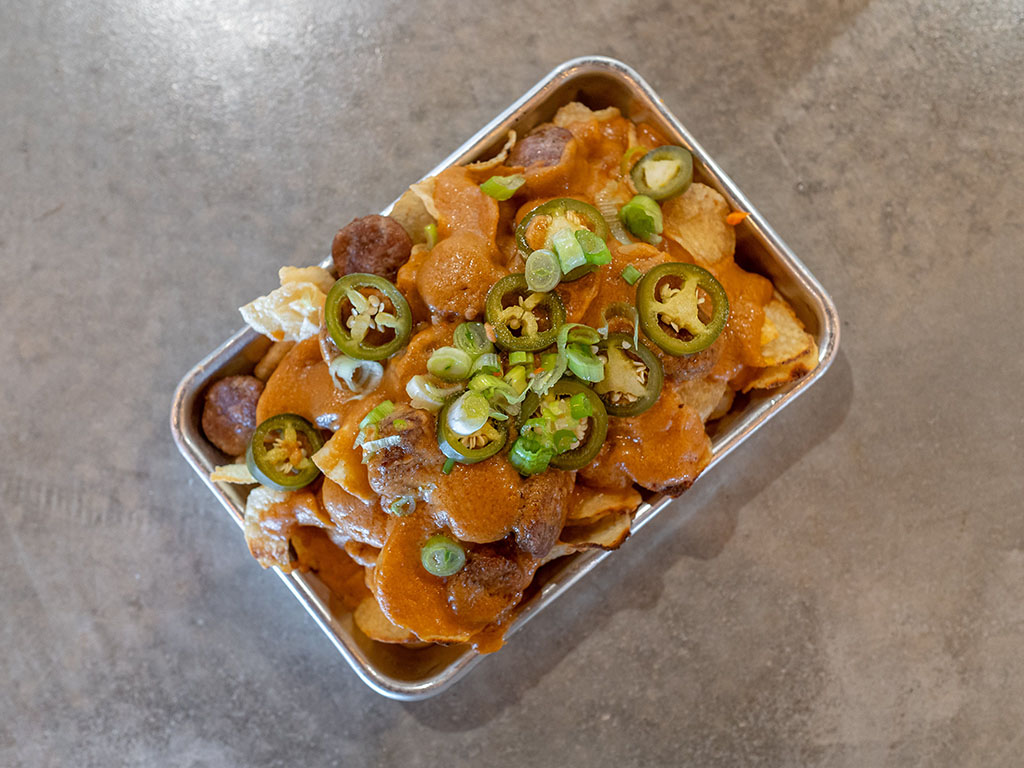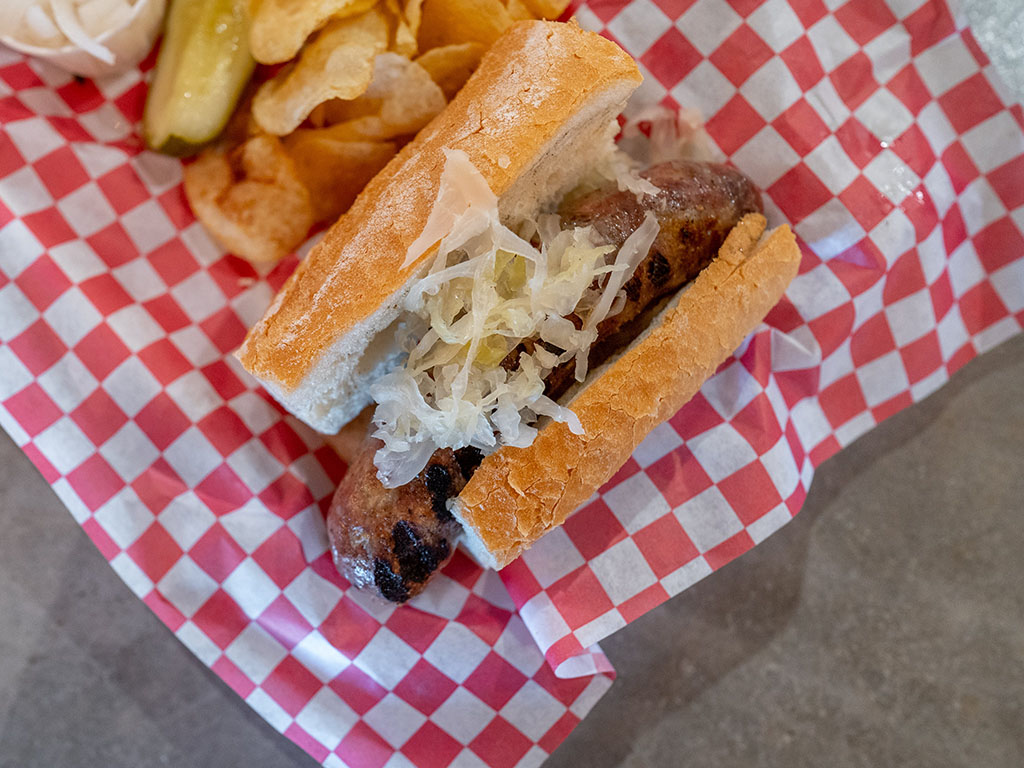 Back to sausages though. Bewilder Brewing is notable amongst the recent crop of craft breweries in that the kitchen side of the operation isn't an afterthought. There are no food trucks here, no lazy burgers thrown together by an overworked bar tender. Bewilder actually have a real god to honest chef at work in the kitchen. That man is Justin Field.
Field's former life was in food education, training other would be chefs for the front lines. It only takes a few minutes of poking and prodding through Field's brain to see he's keen to test his mettle too. There are vats of fermenting sauerkraut and giardiniera bubbling away in the back, there are pork rillettes alongside overflowing Chicago beef sandwiches. And yes, there are sausages; and they're some of the best I've tasted in the state. Hey don't make me pick my favorite sausage guys, thats like trying to pick a favorite child.
The sausages, and the food in general, march along to the beer's anglo-teutonic rhythm. The menu I sampled on my recent visit included a Suffolk style sausage brought to life with the warm sage, mace and ginger. Bratwurst was brightly spiked with lemon zest and ginger. These aren't your run of the mill dogs, nor are they emulsified and pasty. Field prefers a coarser meat grind and the resulting texture is all the more enjoyable.
Field has plans aplenty for the future. Expect sausages to rotate in and out as the seasons and brew taps change. This is just the beginning and Field has grand plans as the business grows. USDA certification and sausages to go? Who knows…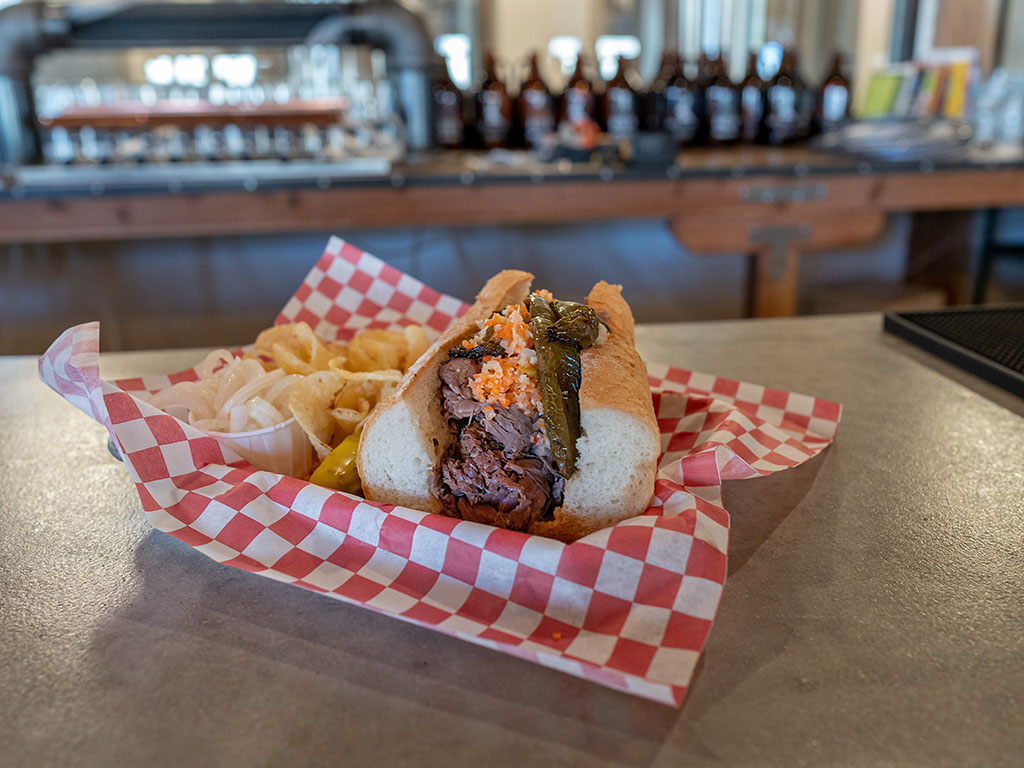 Due to DABC licensing Bewilder were only able to start brewing on site in those shiny vats as of January 1st. Until now, they've been serving up a range of beers in collaboration with other local. Metzger confirms what I've always thought about the brew scene; they're a tightly connected bunch eager to help each other out. I don't think I've ever heard one brewer talk ill of another, lets not mention the restaurant world 😉
Which brings us rather neatly to today – January 17th 2020. Today's the day for the big reveal, the moment for Bewilder to take their next stride forward. Bewilder's first on site brewed beers are hitting the taps as I write. There's a smaller handful for sure, but Metzger and McKendrick's decade long brewery in the making is finally joining the rank and file of our steadily growing brew scene. I'll be raising a glass to their success, you should too.
445 400 W, Salt Lake City, UT 84101
(385) 528-3840
bewilderbrewing.com
Disclosure: Bewilder Brewing invited me to their business to create this profile piece.
Hi, I'm Stuart, nice to meet you!  I'm the founder, writer and wrangler at Gastronomic SLC; I'm also a former restaurant critic of more than five years, working for the Salt Lake Tribune.  I've worked extensively with multiple local publications from Visit Salt Lake to Salt Lake Magazine, not least helped to consult on national TV shows.
I'm a multiple-award winning journalist and have covered the Utah dining scene for the better part of fifteen years.   I'm largely fueled by a critical obsession with rice, alliteration and the use of big words I don't understand.   What they're saying about me: "Not inaccurate", "I thought he was older", "I don't share his feelings".  Want to know more? This is why I am the way I am.
This article may contain content provided by one of our paid partners. These are some of the best businesses in Utah. For a list of all our current and past relationships see our
partnership history page
.