As I wrote about back in March, I've started to drip feed opening updates at a much quicker cadence years gone by. Since that last major roundup we've had a few smaller, more easily digestible pieces. You can see everything here.
Still, sometimes you need one big roundup to rule them all. A recap of recaps to end all recaps. An eagle eye view of the landscape. With that in mind, here's everything of interest that's opened up over the past three months – and what you can expect to see next on the Salt Lake dining scene. Bon appetit!
Akita Ramen And Boba
While the frenzied gold rush for ramen riches is starting to slow, a modest number of noodle shops are still staking their claim. This one has recently sneaked into the Cache Valley Mall, with prices running $11-$12 ish for a bowl of the good stuff.
1300 Main St, Logan, UT 84341
(307) 433-4723
Bigeye Poke & Grill
New to South Salt Lake, a second location for this poke chain that hails from California. You'll find the initial location in Draper. Poke bowls start from $11.45. Actually there's something in the water right now when it comes to poke. Read on to see what I mean…
3144 S State St, South Salt Lake, UT 84115
(801) 883-9991
BLOX Dessert Bars
American Fork is home to this new dessert shop. The BLOX in question are the geometrical pieces pictured above, consisting of concoctions like the Skippy – a peanut butter blondie blended with steel cut oats, topped with milk chocolate & Reese's peanut butter cups. Singular BLOX start at $4.50, with a jenga ready 16 pack on offer for $60.
541 S 500 E, American Fork, UT 84003
(385) 205-8088
bloxdesserts.com
Boomerang's Down Under Bar
Sometime back in March one of downtown SLC's most venerable bars (Murphy's) made way for this new operator. Gone are the Irish charms and in their place, Aussie trappings. Sadly the menu does not include a certain shellfish, so you won't be able to cackle something asinine about throwing a shrimp on the barbie to your server. There are snags and chucks though. If you know, you know.
160 S Main St, Salt Lake City, UT 84101
boomerangsdownunderbar.com
Botana
Barely a couple of weeks old at this point, a new taco truck for the streets of SLC; because, more tacos is scientifically better than less tacos. Prices start from $2.75 a pop and include selections like pork adobada with crispy pineapple and nopales cactus empanadas with Oaxacan cheese.
Central 9th Market
This one replaced the Jade Market in the central ninth area – nestled in between places like Laziz and Water Witch and Nohm. The core improvement to the business in that transition seems to be a wood fired oven and a collection of eye opening sandwiches. Need proof? Check out the pictured sandwich above with mortadella, lemon, spinach, shaved fennel, peppers, Duke's mayo, and house baked ciabatta (credit, figeats). This ain't your old school sandwich shop, that sells by the weight and heft.
161 W 900 S, Salt Lake City, UT 84101
instagram.com/central9thmarket/
Chubby Llama
They've got cream cheese, they've got raspberry Danish, they've got cortado, they've got Brazilian coffee – Sandy you have a new coffee spot to check out.
8526 S 1300 E, Sandy, UT 84094
facebook.com/chubbyllamaroasting/
Doughboy's Pizza
There was a time a couple years back that everyone and their dog was opening a Lehi-location. That buzz has somewhat cooled off in recent times mind you. Doughboy's Pizza is the most recent opening I'm aware of, offering pies, slices and wings. The location also serves up BYU Creamery to complete to calories rolling for those types of day.
380 N 850 E, Lehi, UT 84043
(801) 768-7133
doughboyslehi.com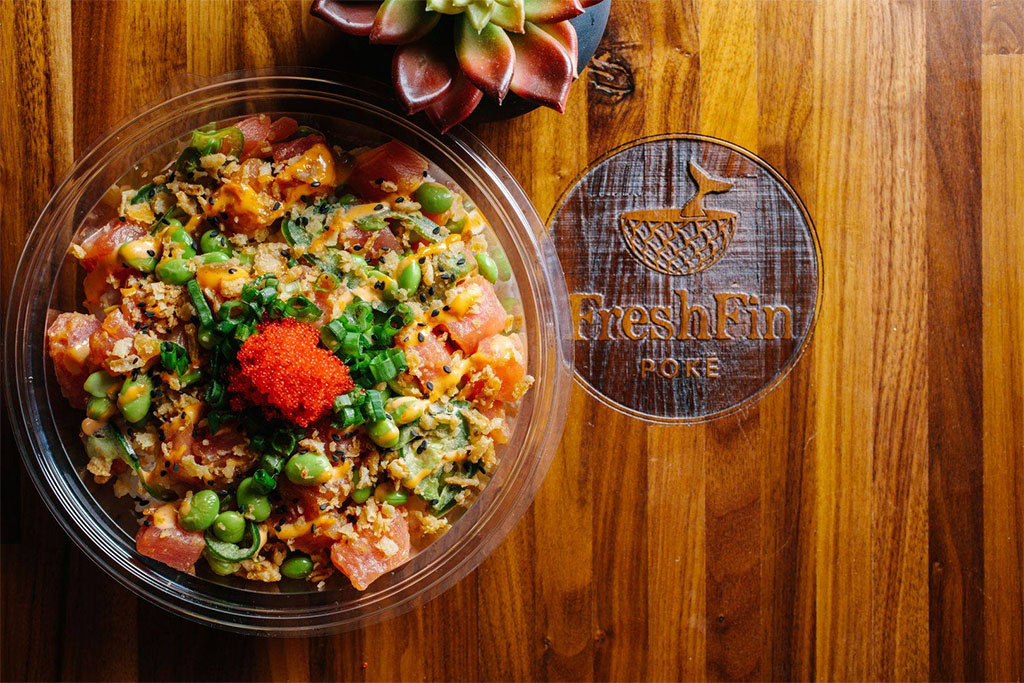 Fresh Fin Poke
It's enough to make you wonder, was there a national fire-sale on bulk seafood recently? Well, here's one more poke option for you. This one is set for Draper, which willl be the second location of this national chain ib Utah. The brand first launched their bowls on downtown Salt Lake on Regent Street.
185 E 12300 S, Draper, UT 84020
freshfinpoke.com
Habitat Coffee House
A new coffee shop slash events space in downtown SLC, just next door to Chakra Lounge at 366 S State. As well as the standard range of drinks there's also a modest food menu with grilled cheese, breakfast sandwiches and avocado toast.
Long term readers will note I've long since given up my attempts to stymy the avocado toast onslaught with snark and bitterness, it proved futile. People. Love. Toast.
366 State St, Salt Lake City, UT 84111
(385) 341-8150
habitatslc.com
Hak Sho Ramen
The address for this new ramen shop in SoSL's China town complex seems to be the same as the wonderful Chinese Taste. I'm unsure if they're one and the same or Google's AI brain has yet to update properly. My current guess is they're a delivery-only play out of the same kitchen. Here's their menu on DoorDash.
3424 S, State St, South Salt Lake, UT 84115
(385) 242-7075
House Of Frybread
All restaurants should be named in this fashion. Life would be less complicated and more gratifying. Think about it. House of beer. House of gyro. House of fried chicken. This is the way of the future people.
House Of Frybread then, suitably undertakes what it sets out to do with that splendid moniker. The restaurant is the work of Bleu Adams (Back Sheep) and the menu offers myriad ways to enjoy this most delicious of fried foods, pozole to fish tacos to burgers.
660 N Freedom Blvd, Provo, UT 84601
(801) 709-1120
houseoffrybread.com
Koino Poke
I wasn't lying to you, I was serious about the poke-splosion, this one for Midvalians (186 Union Park Ave). Koino offers a familiar looking menu of composed poke bowls or ones of the DIY variety. Prices run $8.99 and up, and they're open seven days a week.
7186 Union Park Ave, Midvale, UT 84047
(801) 948-4771
koinopoke.com
Late Night Ghost Kitchen
Operating out of the University of Utah campus is this virtual only play – squarely focused on late night munchies; moreover ones that go just beyond sweet treats. Available 8 p.m. through midnight the delivery based business offers up dishes like banh mi, Philly cheesesteaks and Mac and cheese. Menu here.
Limon
Remember how I was banging on about the changing face of food last year? I'm sure you do, because frankly I won't ever shut up about it. Anyway, Limon is one of those plucky new startups, serving a simple menu of big bold burritos. For their part Limon write,
"Delivery food sucks (most of the time). That's why we set out to build a new Mexican food brand that gives quality food for delivery. We're heavily involved in helping local independent businesses and use our business as the vehicle to provide awesome Mexican food while giving back to our community. Thanks for checking us out! We hope you love our food as much as we do."
The restaurant operates Monday – Saturday 11 am through 10 pm and I seem to recall it operates out of Chunga's – though I can no longer find the reference that verifies that. You can order here, burritos start at $9.50.
No Manches Way
Another new Mexican option, this one coming to Ogden (1580 Washington Blvd) as of mid April. Of particular note, I spied a dish described as the Quesabirria – a crispy shredded beef taco with mozzarella – ready for dipping into rich broth. I hear they also make their own tortillas in store too.
1516 Washington Blvd, Ogden, UT 84404
(801) 600-1949
nomanchesway.net
Onyx Cafe
Now open in St George, this new pizza parlor. The Southern Utah spot offers up wood-fired pies as well as a raft of cooling sweets treats such as gelato, floats and shakes, no doubt to help deal with those temps.
969 N 3050 E C3, St. George, UT 84790
(435) 218-9612
onyxcafepizza.com
Pretty Bird
They've been open for a while now, but by way of completism – Viet Pham's ode to Nashvulle hot chicken is now slinging away merrily in Sugar House. There's not a bowl of ramen or poke in sight.
The move sees Pham switch the original downtown location to a walk up only joint, as well as eyeing Park City for location three, with Idaho also on the cards. Mark my words, I've said it since day one, if this isn't a regional franchise play, I'll eat my hat.
146 Regent St, Salt Lake City, UT 84111
prettybirdchicken.com
Raising Cane's
June 8th was the official date for the grand opening of the Louisiana based chicken finger chain here in Utah. The franchise lands in South Jordan and with it an absolutely avalanche of cars all lining up for a taste of the South. I've heard stories about two hour wait times, just saying.
3788 W 11400 S, South Jordan, UT 84095
(801) 254-1028
RJ Grill
Bountiful recently said howdy to this new old school cafe/diner joint. City Weekly's Alex Springer writes, "a nostalgic little burger joint that also whips up wings and breakfast burritos. You'll see bacon mac 'n' cheeseburgers, fried chicken sandwiches, stacked breakfast sandos and the Fluffy Burger." See the menu here.
567 W 2600 S, Bountiful, UT 84010
(801) 992-3320
rjgrillut.com
San Fran Burrito N Fryz
See, House Of Burritos and Fries would be simpler no? These guys have been operating for a while now within the South Salt Lake China town complex serving a mix of familiar comfort foods with a pan-Asian inspiration. Amidst the burgers and burritos are Japanese, Hawaiian and Korean flavors.
3390 S State St, Salt Lake City, UT 84115
(801) 419-0227
Santos Bar & Grill
The Herald Journal reports on this new opening. The sophomore effort from the same team behind Rose Park's much lauded Santo Tacos headed North to open this new bar and grill in Logan. You'll find dishes from the original location as well as specialties like the current en vogue birria tacos or the molcajete platter, featuring grilled foods from "sky, land and sea".
880 Main St #170, Logan, UT 84321
(435) 799-3701
santosbarandgrill.com
SLC Salads
Another delivery only play, and for once, something that isn't fried, loaded with cheese or tempting you with caloric overload. In fact, that's kind of the point, which I am guessing by know you picked up on from the name. Which is solid and to the point, but hey, House Of Salads?
Operating out of the Com Com Kitchen facility the options for a healthier delivered dinner are myriad; everything from citrus arugula through red beets and crispy quinoa. Find them on DoorDash (we get a referral fee if you make a first time purchase on DD).
In fact – there's a whole host of virtual businesses popping up – search for the names: Breakfast Beauties, Wavy Baby Subs, Buns, Juicy's Cheesesteaks, Tornado Crepe, Mel's Melts, The Meatball Corner, Indian & American Fusion Snob over there…then have fun working out where each is being served up from.
South West Market
A new Asian grocery located on the North side of 3500 S, right next to the swap meet and across the street from Lucky. Find more info here – word to the wise, they offer a compact selection of some unique Vietnamese dishes such as sweet and sour fish, periwinkle snails (pictured above) and fried chicken wings with sweet potato.
1602 W 3500 S, West Valley City, UT 84119
(801) 906-0448
south-west-market.business.site
Spiced Chix
I love the look of this new Roy fried chicken shop. The MO is simple, take classic American comfort foods like fried chicken and hot dogs – then give em a lashing of Indian spice and flavor. Can we have more of this type of thing please? Pretty please with raita and sev on top?
5651 S 1900 W, Roy, UT 84067
(385) 405-3982
facebook.com/spicedchix/
Sweet Lake Biscuits And Limeade
American Fork is the home of the next location of this once upon a time farmer's market start up. If you want to uncover the best luminary on the food scene – don't forget the Food Fairway is now in full swing every weekend at the downtown farmer's market; you'll find a bunch of up and coming chefs eagerly putting out their best dishes for you to sample.
519 E 12300 S, Draper, Utah, 84020
(801) 998-8155
sweetlakefresh.com
Tandoori Taqueria
State Street's old La Puente building at 3540 S. is the newest location for this Panguitch based business that fuses Mexican and Indian cuisine. There's pozole, there's traditional beef and chorizo tacos and there's phulkopir – a "bengali-inspired cauliflower and garbanzo beans seasoned with a smoky array of mexican spices". I already said more of this type of stuff right? Check out the full menu here.
3540 S State St, South Salt Lake, UT 84115
(801) 590-9473
thetandooritaqueria.com
Taste Of Thai
New for Park Citizens is this brand spanking new Thai joint. Opening at 1241 Center Dr you can check out the full menu here which is a by the numbers run down of Thai curries, stir fries, salads and the like. They also have the following IG page to check out those dishes.
241 Center Dr Unit L160, Park City, UT 84098
(435) 604-0139
tasteofthaiparkcity.com
Tina's Bakery
Do you need to know more than empanadas, available for a miserly three bucks? Ok, right, you do. These guys are over in Park City, you can find the menu here, and they offer a range of savory pastries with fillings such as Malbec beef and spicy chicken. There's a slew of other savory tarts and sweet treats too.
6699 N Landmark Dr Suite N200, Park City, UT 84098
(435) 731-8156
Uncle Sharkii
More poke. I hope you like poke. So much poke. This one a national franchise that has landed here in the City Creek shopping mall in downtown SLC. Now sing it with me, Uncle Sharkii, do de doo do doo…
University Place
KSL writes about a number of new businesses coming to this Orem strip mall. On the restaurant side of things:
Bunz Burgers: expected to open in the Seasons Food Court later this month
Chubby's Neighborhood Cafe: rhe seventh restaurant location for the Pleasant Grove-based business since it was established in 2010.
Red Tacos: the first permanent brick and mortar restaurant location for the popular Provo food truck business.
The Churro Company: a handcrafted, made from scratch churro businesses.
Wildside Bowls
Healthier types (really who are you people) should check out this new Draper business (12243 S. Draper Gate Drive). Offering "Açaí and Pitaya bowls" in a variety of formats it's eye catching stuff.
12243 Draper Gate Dr, Draper, UT 84020
facebook.com/wildsidebowls1
Wu Kong BBQ
New to the South Salt Lake Chinatown area, this new Chinese BBQ place. Chicken hearts, lamb ribs, pork belly – all the good stuff is here.
390 S State St Ste 22, Salt Lake City, UT 84115
(626) 328-4797
Coming soon
Cafe Anh Hong
News just in this week about the impending return of one of SLC's iconic Chinese eateries. We lost the venerable Cafe Anh Hong more than a year ago, not to covid, but rent/lease issues. Chef Wu and team and now headed back to town – this time to Sandy and the old Pei Pei House location (8650 S 1300 E, Sandy, UT 84094).
Before their closure, Cafe Anh Hong was known to be THE place in town for dim sum, not least a reliable menu of Cantonese classics.
Cajun Boil
If you're a member of our Facebook food talk group – you would have already seen this one discussed. Cajun Boil is the name on the banner that's currently unfurled on a unit just next to the Trader Joe's in downtown SLC.
Famous Dave's
Utah (2435 S State) will be one of two locations for the BBQ chains new drive thru model. The "Quick 'Que" concept is also being tested in Vegas and aims to bring the brand's barbecue to customers at socially-distanced light speed.
Garage Grill
The currently Draper-based restaurant recently broke ground on this new site in Herriman.
Killler Burger
Utah Business reported on this one, coming our way soon out of the Pacific Northwest.
Krab Kingz
I've been tracking this one for a while but it looks like they'll be opening quite soon. The new seafood based business (presumably the boil in the bag type that's becoming increasingly popular in these parts) previewed their menu here.
Moge Tea
A little birdie tells me these folks are headed to Utah soon. More info when I have it.
Pago On Main
One of the most notable new updates for Salt Lake foodies is the impending arrival of Scott Evans' farm-to-table Pago in downtown SLC. Pictured above a recent scallop dish from their 9th and 9th location.
The new Pago On Main is set to open in the Felt Building (341 S. Main Street) sometime mid to late July. The restaurant will open seven days a week once it finds it feet, aiming to eventually serve up lunch, dinner and a weekend brunch service. I briefly spoke to Evans who confirmed, "We have a lounge area as well, that will be great for late night apps and wine."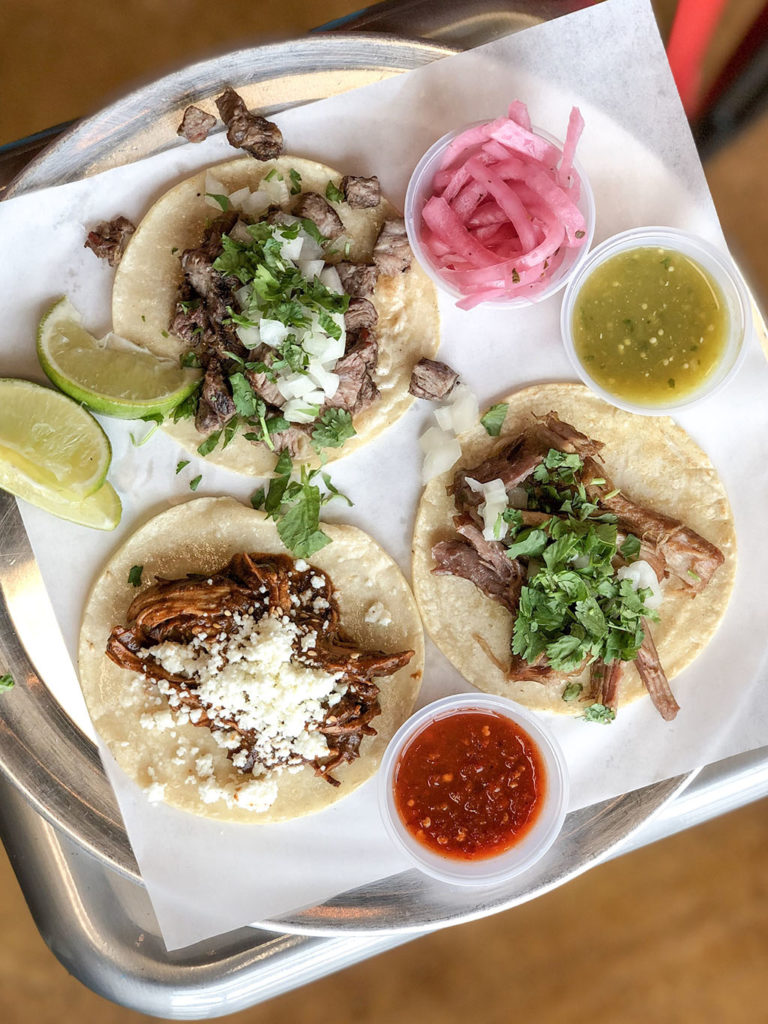 Santo Tacos
Also coming to downtown SLC later this year – no ETA just yet though. Santo owners Alfonso and Claudia Brito recently spoke with Kathy Stephenson of the Tribune confirming their intent to open their trendy taco spot in the former Alamexo spot on State Street (268 S.)
This will mark the third location for the operators who already run the well regarded Santo Tacos (picture above courtesy of SLC Eats) in Rose Park as well as the recently opened bar and grill concept in Logan.
Senor Pollo
One for Orem and previewed on their Facebook page here.
Sunday's Best
This one is planned to hit the streets of Sandy next week – June 16th to be precise. The new restaurant comes from restaurateur Michael McHenry and chef Tyler Stokes – the same duo that teamed up to launch Ginger Street in downtown Salt Lake City.
The restaurant will offer a unique menu of brunch items – seven days a week – 8 a.m. till 4 p.m. Options include everything from staples like pastries and avocado toast but dig a little deeper and there's some interesting stuff. Fried quail replaces the ubiquitous chicken alongside waffles. A tomahawk steak and eggs served for two, a whole fried chicken feeds four. One to watch.
Super Chix
The national chains continue to arrive in Utah, to satiate an almost unslakable thirst, especially for fried chicken. Read more here on the arrival of more Super Chix in Utah. Super join the likes of Raising Canes rushing to tempt Utahns.
Via 313
A kindly reader of the site sent me this one – a brand looking to expand from its home of Austin, TX to several places including SLC. Detroit pizza, is it the next ramen?
Previously mentioned with no further update
These potential new businesses where mentioned in previous posts, we're still hoping to hear more!
Calavera Cantina – last mentioned October 2019
Captain D's – last mentioned March 2020
Congregation Spirits – last mentioned in June 2019
Crack Shack – last mentioned October 2020
Crane Ramen – last mentioned March 2020
Fat Jacks Burger Emporium – last mentioned October 2019
Fife Brewing – last mentioned March 2020
Gyro Shack – last mentioned October 2020
Hangry Dog – last mentioned March 2021
K-Recipe – last mentioned March 2020
Lemon Shark Pole – last mentioned October 2020
Mountain Mike's – last mentioned March 2021
Niccoli's – last mentioned October 2020
Noemi's – last mentioned March 2021
Roots Coffee Co – last mentioned March 2021
Shrimpies – last mentioned June 2020
Slim Chickens – last mentioned June 2020
The Smoked Taco – last mentioned October 2020
Ta'contento – last mentioned in April 2019
Wingin It – last mentioned October 2019
Yoko Taco – last mentioned October 2020
Opening a new restaurant in Utah? Be sure to check out our Utah restaurant resources mini site for the businesses and services you will need to help you open your restaurant.
Keep the conversation going
Want to stay on top of the SLC food scene, minute by minute, dish by dish? Here are a few other places you should follow along:
Hi, I'm Stuart, nice to meet you!  I'm the founder, writer and wrangler at Gastronomic SLC.  I'm a multiple-award winning journalist and have written in myopic detail about the Salt Lake City  dining scene for the better part of seventeen years.
I've worked extensively with multiple local publications from Visit Salt Lake to Salt Lake Magazine, not least helped to consult on national TV.   Pause those credits, yep, that's me! I'm also a former restaurant critic of more than five years, working for the Salt Lake Tribune.    I'm largely fueled by a critical obsession with rice, alliteration and the use of big words I don't understand.   What they're saying about me: "Not inaccurate", "I thought he was older", "I don't share his feelings".
Want to know more? This is why I am the way I am.
This article may contain content provided by one of our paid partners. These are some of the best businesses in Utah. For a list of all our current and past relationships see our
partnership history page
.