Pull up a chair, close the blinds, pour yourself a triple. This is going to be a long one. October was the last time we corralled all the recent restaurant openings in one place, and wow, things have been piling up – 60+ shiny new businesses. Ulp.
Ordinarily I intertwine these pieces with some snark about the theme du jour, but for fun and games this time around, I'll leave it to the denouement. See if you can spot the current trend amongst this bevy of new businesses. I'll meet you at the end and we can discuss, got it? Right, onwards.
Cinder Pig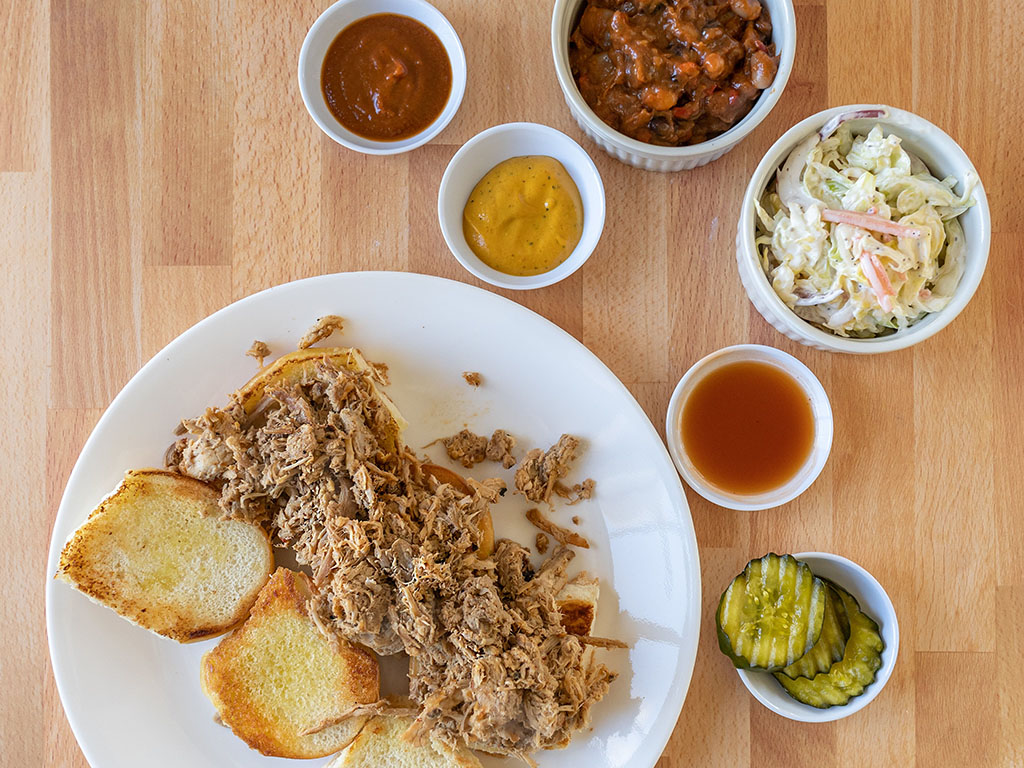 Yes, we're starting out of A-Z order this time around, because hey, I'm wildly excited about these guys. And when I get overly hyped up I do brash things like abandoning the alpha-numeric system.
The coolly branded Cinder Pig is the work of wife and husband team Kate Panzer and Jerry Pacheco. Those with sharp memories will note I've written about Pacheco for several years – chef'ing around town at the likes of Pallet and Bambara – and latterly at the ill fated Blue Marlin.
Skip forward to a world beset by killer invisible bugs, and the duo's plans to explore fine dining on their own terms were put on ice. An episode of Chef's Table BBQ here and a home made cinder block BBQ pit there – and a whole hog BBQ business was born. As far as I know, it's the only such operation in Utah; maybe even West of the Mississippi Panzer speculates. That's because this is a labor intensive process. As Panzer told me:
You don't cook whole hogs because it is an efficient way to cook pork. You do it because you love the process. When Jerry ran this idea by me, I said "Okay, but first you have to cook 100 pigs." This is not a style of cooking you can just pick up. You have to commit yourself to mastering the technique. We are now on pig number 20 or so and still learning every time.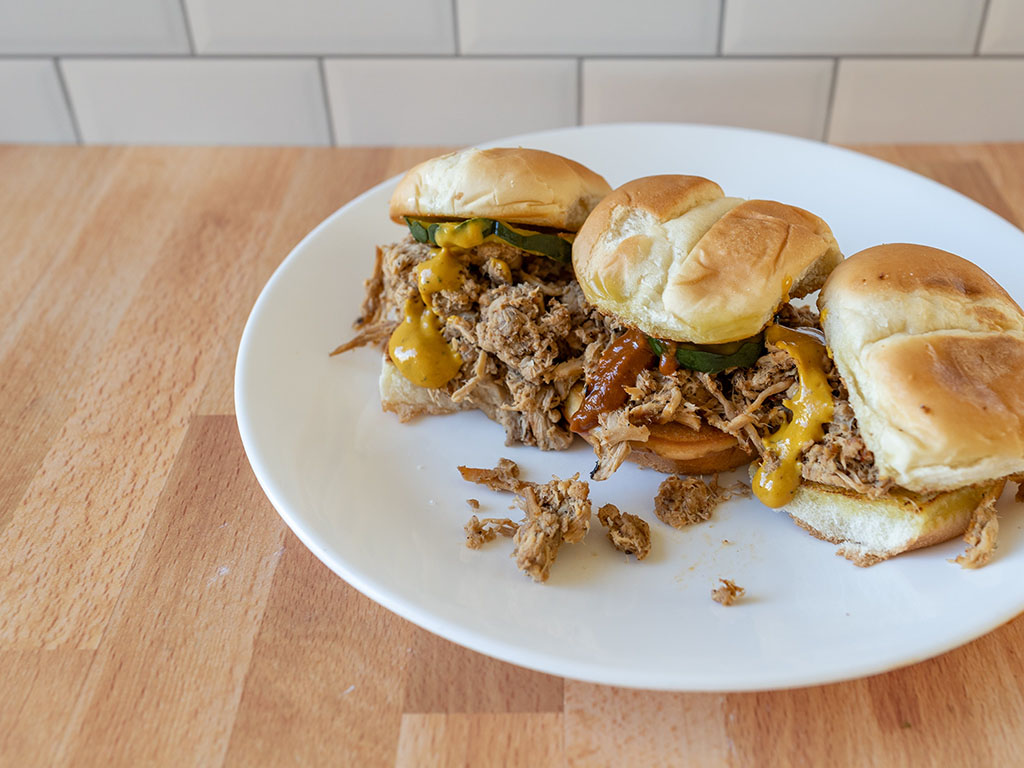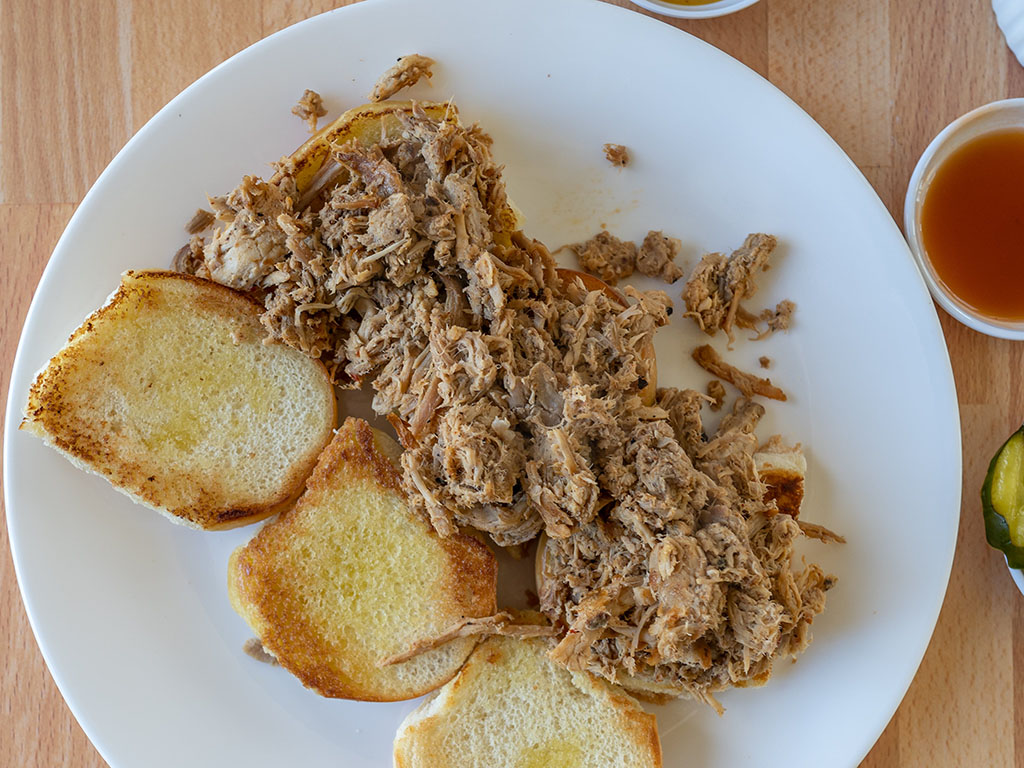 Cinder Pig currently cranks out a single, simple weekly menu centered around that smoldering whole pig. Alongside the smoked piggie are a range of familiar sides and sauces with a North Carolina BBQ angle (think vinegar spiked rather than sugar drowned). Order online, pickup in person, currently from Oquirrh in downtown SLC. Cash or Venmo. The menu changes each week as the the business evolves. Panzer underscored the rapidly changing nature of the setup as we talked:

We started out just two of us, waking up at 4am to put the hogs on the pit and spending whole days taking turns shoveling coals. At first, we just sold the pork to our family and friends. And then, things got out of hand real quick. Luckily, our friends at Oquirrh were willing and able to accommodate us. We've also brought on Jerry's brother Marco Trujillo (also a Bambara alum) as our sous chef/co pitmaster.
This is definitely one to watch, not least in a state where BBQ might be one of the more weakly-executed of cuisines. Word to the wise – their fusion of corn bread and banana bread will come to haunt your dreams…
Bakes N Bubbles
Open now in soft launch mode, this Midvale treats and boba spot was formerly Noodle Run; that shut up shop fairly quietly back in the Fall of 2020. Noodle Run as you may recall was part of Anny Sooksri's empire (Chabaar, FAV Bistro, Tea Rose) – she's also at the helm here too.
6014 State St, Murray, UT 84107
(385) 270-9700
Barrio
Another restaurant that faltered last year. Barrio was out for the count, knocked to the canvas by 2020's almighty right hook. The end of the year saw the restaurant stage a spirited twelfth round comeback though. Barrio's existing owner partnered up with new investor/owner Ryan Stover and the restaurant is back at it, and with it, some new menu items.
282 E 900 S, Salt Lake City, UT 84111
barrioslc.com
Bartolo's
Landing in SLC, this sophomore Italian effort hails from Park City. The business moves into the relatively new build once home to Yoyi's, just next door to Liberty Heights Fresh and Kyoto in the greater Sugar Hood.
The restaurant offers dishes with a little more excitement than most, dishes like grilled octopus with pancetta, charred broccolini with nduja and slow braised leg of lamb with mint cream.
1270 1100 E, Salt Lake City, UT 84105
(801) 410-4606
bartolos.com
Bricks Corner
This new Salt Lake pizza parlor has been one of the most talked about new openings in recent months, with nary a nasty word said, best I can tell at least. Bricks is the work of chef owner Josh Paticha who's career to date spans everywhere from South East Asia to right next door at Wolfgang Puck's Spago outpost in sin city.
The menu at bricks is 'Detroit-style' pizza, which I'll be honest, I had to Google. We've all heard of the geological like Chicago style and grab and go NYC style – but Detroit?
1465 S 700 ESalt Lake City, UT 84105
(801) 901-8659
brickscornerslc.com
Cafe Juniper
This new coffee shop has made its home in downtown SLC, in the modest unit that once hosted the pop up meals of Katie Weinner's SLC POP. You can see the small toast menu here and stop by any morning of the week for a slice and brew.
29 E 400 S, Salt Lake City, UT 84111
(385) 213-5061
cafejuniperslc.com
Cafe Trang
American Fork is the latest location to see a posting of this storied Utah favorite. If my failing memory is right, I think Cafe Trang might have been host to my very first Vietnamese meal in Utah, oooh, some 20+ years ago now. This latest opening sees the group grow to a sextuplet of businesses.
529 S. 500 E. American Fork
(801) 448-5714
cafetrangbistro.com

ChaiYo Thai Togo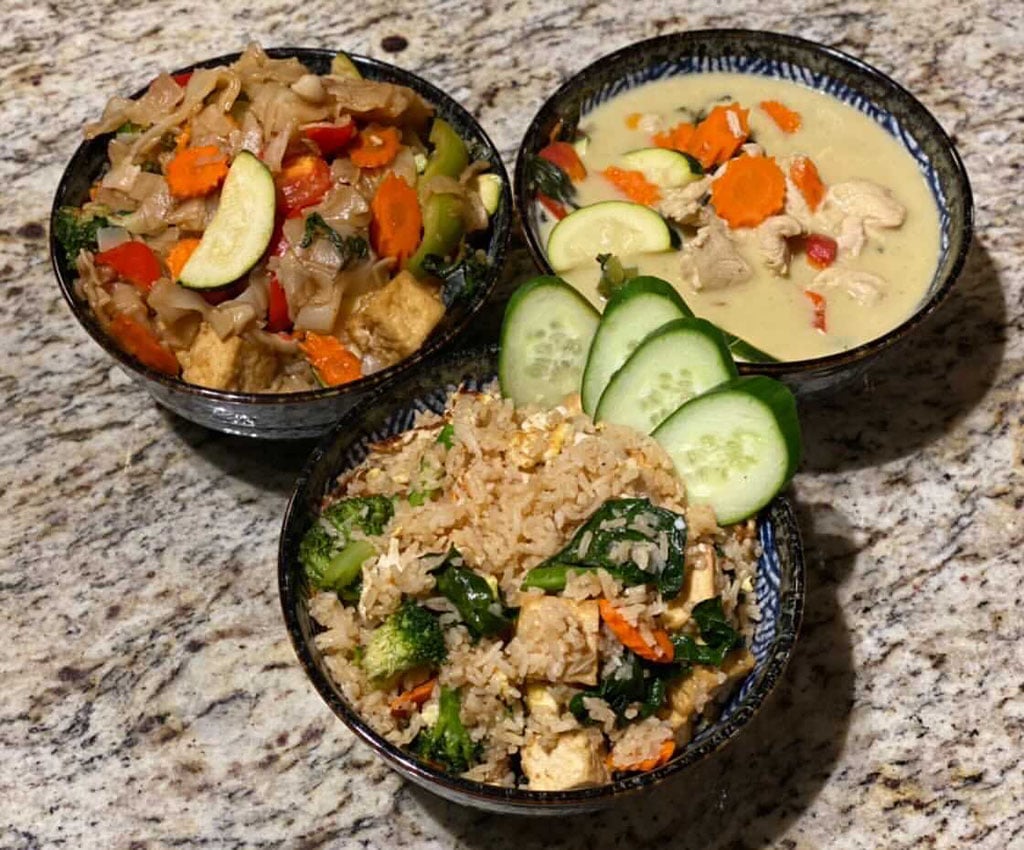 As I wrote about last year, smart businesses are getting on board quickly with the notion of the changing habits of consumers. This new Thai to go spot straddles the Millcreek / Sugar House border along Highland Drive and offers a by the numbers Thai menu to go. Reviews so far are favorable.
3804 Highland Dr, Millcreek, UT 84106
(801) 890-0036
chaiyotogo.com
Chonchi's Taco Shop
I found this Farmington based restaurant pop up on the lively Utah Restaurant Review Facebook page last year. Street tacos are the name of the game with all the good stuff like tripas, buche, cabeza and al pastor on offer here.
1324 US-89 ALT, Farmington, UT 84025
(385) 988-3970
https://www.facebook.com/Chonchis-Taco-Shop-102884394900743/

Chop Shop Park City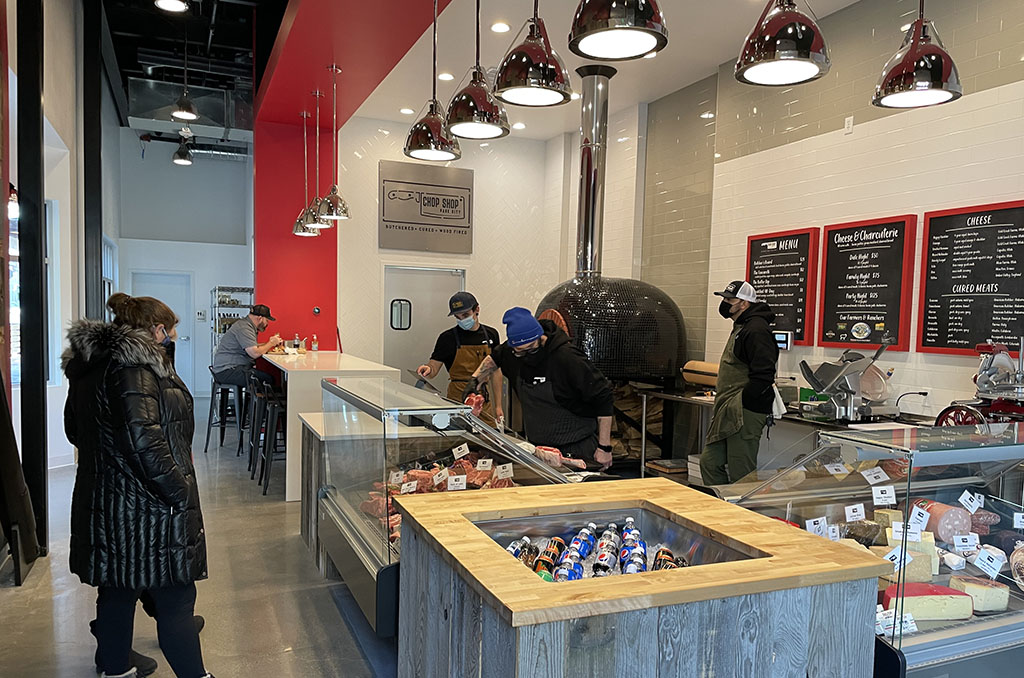 Meanwhile, Park City-zens can welcome this brand new butcher chop into their midst. Comparison to the valley's Beltex are inevitable; house made charcuterie? check. House made sandwiches? check. That's of course not bad company to be in. Here's the full press release on the opening.
Centrally located in the Newpark Town Center, Chop Shop Park City is Park City's first full-service butcher shop. Serving the highest quality cuts of beef, pork, lamb and poultry, Chop Shop is focused on providing customers with responsibly sourced products from their local purveyors.
"We recognized there was a big need for quality meat in Park City and decided to make our dream of creating a European-style butcher's shop a reality," said Dan Ibach, one of Chop Shop's co-founders. "We want customers to enjoy a variety of meat and cheese offerings, sourced from Utah."
John Courtney, who has an extensive culinary background, is at the helm as Chop Shop's butcher and co-owner. Courtney worked his way up the industry ladder after culinary school and has assisted in opening and operating many of Las Vegas's most well known restaurants. After relocating to Utah, Courtney found himself in the middle of the farm to table movement, joining the Chop Shop team along with Chuck Heath and Dan Ibach.
"At Chop Shop, we are providing the highest quality of meats and service available," said Courtney. "We believe the farmers and ranchers are the cornerstone of our business which is why we pick the best of the best when it comes to our purveyors. We pride ourselves on knowing each purveyor we work with personally."
The 17-hundred square foot space houses the butcher counter, 3-dry aging units and a wood-fired oven. In addition to providing exceptional cuts of meat, Chop Shop offers customers a variety of local cheeses and charcuterie options. Customers can also enjoy made-to-order, wood-fired sandwiches and pizzas.
Located at 1177 Center Drive in the Newpark Town Center, Chop Shop will be open Tuesdays through Saturdays from 9am until 6pm and on Sundays from 11am until 4pm for limited dine-in seating, curbside delivery and grab & go items.
1177 Center Dr, Park City, UT 84098
(435) 604-0244
chopshopparkcity.com
Chickenology
American Fork's Temptasian Restaurant might have shuttered last year, but some of their dishes live on through a new food tuck – Chickenology. As the name says on the tin, it's all about cluckin' good stuff. See their menu here here.
Conte De Fee
This brand new bakery in Midvale takes both French and Asian inspiration on board for an eye popping variety of sweet treats. Rainbow cake, matcha green tea cake, Japanese strawberry cake – it's all here – and so will you I suspect.
7695 S 700 E Midvale, UT 84047
(801) 987-8112
contedefeebakery.com
The Cotton Bottom Inn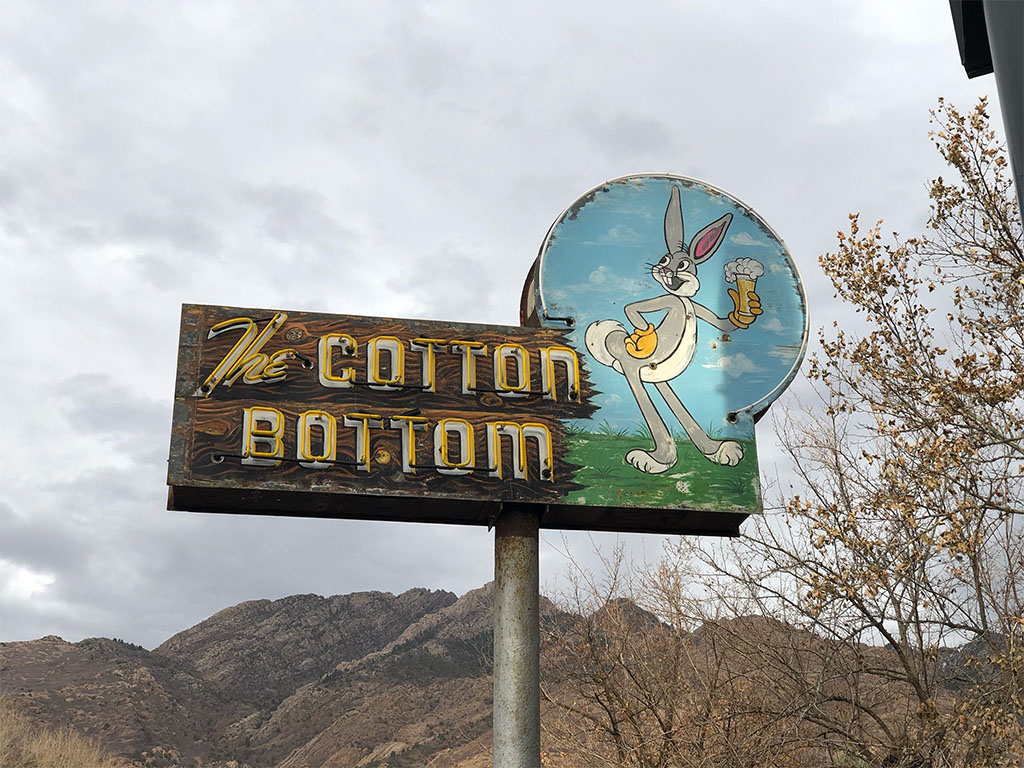 This iconic Cottonwood Heights bar was revamped and re-imagined last year by new owners, the Bar X Group. The business re-opened late last year under a new restaurant-type liquor license, then promptly sold burgers by the bajillion, such was the expectant-demand.
That change in license type (this was a bar previously) means if you're not 21 and want to sample their fabled garlic burgers, you're good; you might be doubly happy to hear you can get actual French fries now too.
2820 6200 S, Holladay, UT 84121
(801) 849-8847
thecottonbottom.com
Crunchy Munchy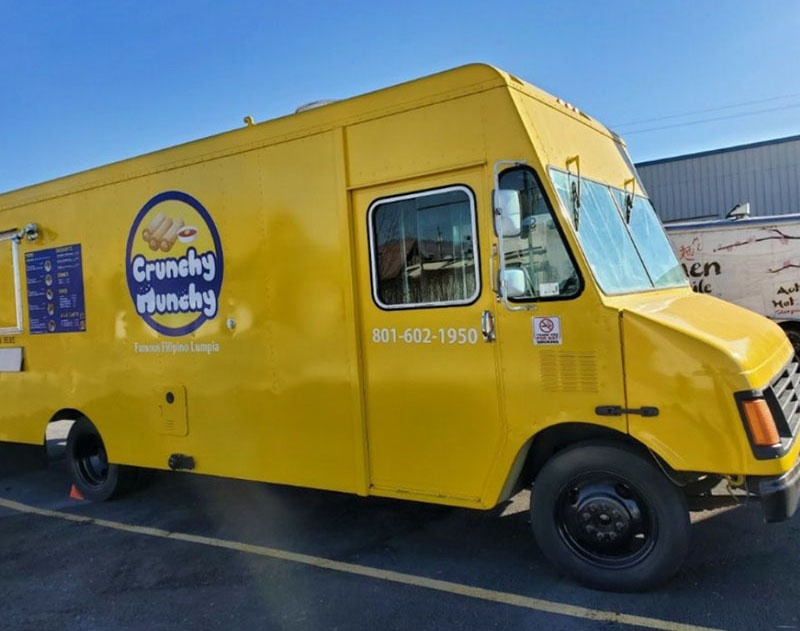 It's hard to argue with a name like that. Here's hoping the munchy matches the crunchy. Oh the crunchy? That would be the Filipino lumpia that the truck slings across the valley – you can see all their items on this menu.
Eight Settlers
If you drove past this spot – nestled just up behind The Pocurpine / Saola – over the last couple years you might've wondered what the construction would bring. Wonder no more. The all new Eight Settlers Distillery recently flung their luxurious doors open to the public amidst rapidly changing plans.
Eight Settlers' Californian owners originally intended to lure in some of the nearby apres ski hunger and thirst – but C19 took one look at those plans and made merry.
As you'd expect from the name, there's on site distilling here (as well as a New American styled menu) aping the Wild/Mountain West aesthetic that High West so expertly mastered. That name? Apparently a reference to the eight families who settled between Big and Little Cottonwood Canyons way back when.
7321 South, Canyon Centre Pkwy, Cottonwood Heights, UT 84121
(385) 900-4315
eightsettlersdistillery.com
Flake Pie Co
"All you need is love…and pies" proclaims this new sweet treats outfit. I'd also counter that you need gyros and beer, but hey, they're close enough. Located in South Jordan's Towne Center, Flake's menu includes pies, flakies (no not me after too many gyros and beer) and pots de creme.
1665 Towne Center Dr #3, South Jordan, UT 84095
(385) 342-2620
flakepie.com
Ganesh Indian Cuisine
Check out these new Fort Union digs for one of Utah's best Indian restaurants. Ganesh was one of the very first in in the state to showcase South Indian staples like dosa, and their popularity has never waned. Back in the day I was particularly in love with their chicken 65 dish, a jalapeño-fueled party on a plate.
145 E Fort Union, Midvale, UT 84047
(801) 569-3800
ganeshindiancuisine.com
Great Indian
Also in Midvale. Also Indian cuisine. Do you live in Midvale? Do you like Indian food? Then I just made your month, you're welcome. Great Indian is open seven days a week and has a pretty extensive menu including some lesser seen dishes, paneer samosa anyone? And no, if you guessed Indian food as the theme of this article, keep guessing.
752 Blue Vista Ln Suite 400, Midvale, UT 84047
(801) 495-4141
Graffiti Bao
Graffiti Bao is the first new kitchen space to open up at HallPass since it's opening in early 2020. Newcomers to HallPass in general should check this piece formy original first look. Here's the full press release about the all new Graffiti Bao kitchen and chef, another Vegas import to hit these shores of late:
Get ready for bao buns and asian fusions. Graffiti Bao, a fast-casual Chinese based in Las Vegas is opening its first location outside Nevada in HallPass. They'll offer their signature dishes like chili garlic noodles with hand-pulled spinach noodles, crispy chili garlic sauce, Chinese broccoli and choy sum.
Marc Marrone, chef at Graffiti Bao is becoming the new chef-partner at HallPass in an effort to incorporate new flavors and textures into the food hall located in the Gateway. Marrone will also run Hibachican, a fusion of Japanese teppanyaki, tartare and small plates with Mexican food.
"HallPass has already established itself as a staple in Salt Lake City, and what we have rolling out will further solidify that. Having seven different kitchens to play around with isn't so bad either," said Marrone in a press release.
Graffiti Bao, Hibachican will join six other eateries and bars at HallPass, including SkinnyFATS, Waffadopolis and Beer Zombies Draft Room & Beer Garden. Open Sunday through Thursday from 5 p.m. to 11 p.m. and Friday and Saturday from 5 p.m. to midnight.
153 S Rio Grande St Suite 107, Salt Lake City, UT 84101
graffitibao.com
Guy's Flavortown Kitchen
A militantly-pro attitude to caloric indulgence leads the charge here: cheesesteak egg rolls, jalapeño pig poppers, the real cheezy burger. Grown up food need not apply. So grab your best flame emblazoned shirt, spike that hair and head out the door. Only don't.
This restaurant doesn't exist, at least not in any physical sense. Flavortown you see isn't so much a location, but a state of mind. Think Jimmy Buffet's Margaritaville besieged by a manic Guy Fieri wielding handfuls of molten cheese and declaring everything, the bomb. Flavortown is presumably a raucous place.
Guy's Flavortown Kitchen is a ghost kitchen, and one that sprang up relatively instantaneously, delivering right from Guy's brain, to your door; just in case that's the kinda thing you've always dreamed of. I know I did.
Expect to see a lot more of these brand name link ups. For example, I'm guessing you're probably too old to know who MrBeast is – but the YouTuber turned overnight burger brand – dropped 300 virtual locations in astonishingly swift time last year.
Golden Gyros
Long term readers sufferers of my nonsense will know of my devout-like reverence of the gyro, in all it's shapes and forms. So you can bet I got a little hot under the collar to hear about another option in town; if memory serves this was once the Off Trax Diner location.
Yes there's red sauce, yes there's white sauce. And of course I ordered my gyro with both, and then added fry sauce. Because 🐖
259 W 900 S, Salt Lake City, UT 84101
(801) 214-0099
golden-gyros-utah.business.site
Greek House
What's that, more gyros you say. Excuse me, I'll need a few minutes.
…
O.k. this new Taylorsville Greek spot (in the Westwood Village shopping center) opened up in August last year and somehow eluded me until now. Owner Winsten Eugin reckons the gyros are the star of the show but you'll also find Grecian staples like kebabs, platers, salads, falafel etc too.
And no, the them of this article isn't Greek.
2654 W 4700 S, Salt Lake City, UT 84129
(801) 666-6742
Holy Taco Utah
This Utah County taco spot promises, "Real Mexican al pastor tacos, n kidding."
Said al pastor tacos start from a wallet friendly $1.99.
327 E 1200 S, Orem, UT 84058
(801) 607-1126
holytacoutah.com
Kahve Cafe
Turkish coffee shop – not a trio of words I write anywhere near as often as trifectas such as new ramen spot or fried chicken sandwich. Savory stylings at this new cafe include a variety of borek (flaky basked pastries) and gozleme (stuffed flatbreads) not least a raft of unique sweet treats such as black tea cake and Turkish fig cake.
If you're looking to end those lockdown blues (that's light at the end of the tunnel isn't it?) and teach your palate some new tricks, I can think of worse ways to get started.
(801) 674-7047
kahvecafeslc.com
La Barba
Creek Tea in the Central 9th (if we say it enough, its really a neighborhood right?) might have shuttered up shop in recent months, but tacos have helped resurrect the location. Breakfast tacos to be precise – those are the menu speciality here, alongside La Barba's popular selection of coffee and teas.
155 E 900 S, Salt Lake City, UT 84111
labarbacoffee.com
La Bonita Palateria
New to Ogden, I don't really have much more on these guys. Check out their FB page for more info.
2470 S Redwood Rd, Salt Lake City, UT 84119
(801) 973-6263
https://www.facebook.com/LaBonitaIceCreamShop/
Lola
The latest opening from Samuel Oteo, who you might recall from Tottilla.bar and Oteo down in urrm Orem. Lola moves into the space once home to Birdhouse, and sees the temporary closure of the Utah County original become permanent, for this new spot in SLC.
Oteo's is upscale and contemporary stuff, it'll be interesting to see how this one plays out in a neighborhood that came, saw, and walked away from the similarly styled Alamexo Cantina a couple years back. I reviewed Tortilla.bar back in the annals of history (2013) for the SL Tribune; the online review seems to have vanished now, but from my own archives, these where my final thoughts back then:
Many will fall instantly in love with the concept and execution at Tortilla.bar. Meanwhile others will be put off by the tight quarters or the fact that plates skew smaller in portion size, with prices going in the opposite direction. If like me and you're in the market for creative, chef driven cuisine using great ingredients, Tortilla.bar hits plenty of high notes. If you're looking for a smothered burrito at bargain bucket prices, you might need to look elsewhere.
856 E 900 S, Salt Lake City, UT 84105
visitlola.com
Long Life Veggie House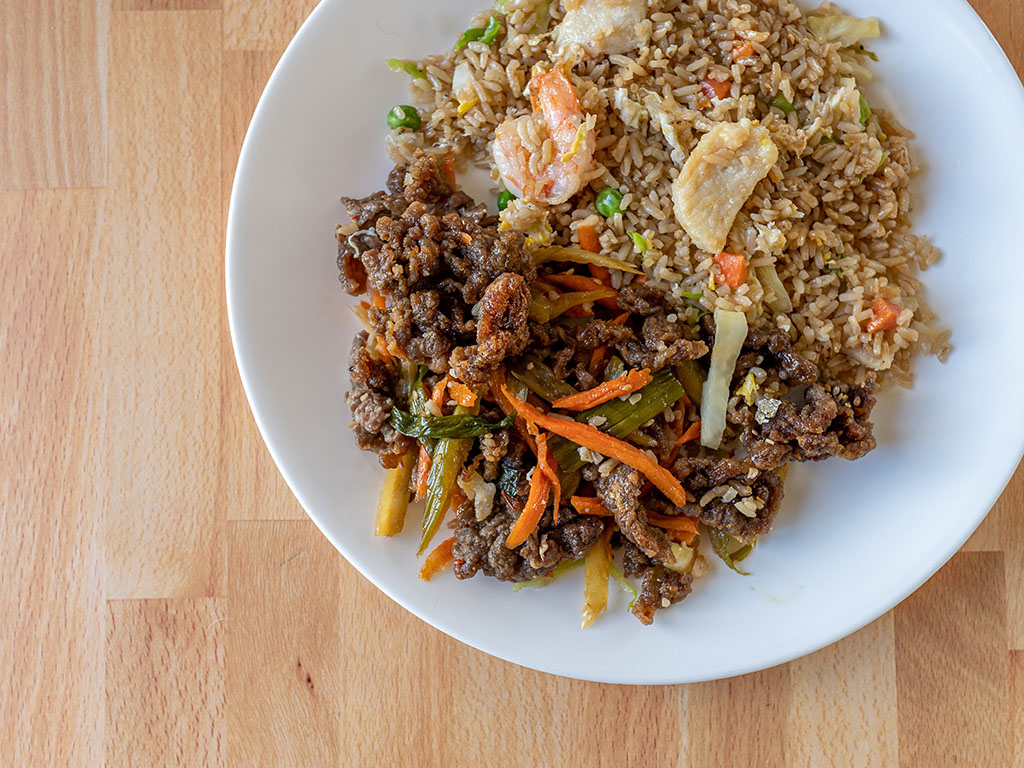 Now back in business on State Street following the loss of their multi-decade-spanning location on 33rd South. With their return comes the same menu of vegetarian dishes that made the restaurant THE goto spot for veggies, long before the millennial-vegan revolution; and also the same faux-brick wallpaper. New though, a range of meat dishes too – see the full menu here here.
2561 S State Street, Salt Lake City, UT 84115
(801) 467-1111
longlifevegihouseut.com
Los Tapatios
Previously mentioned under the 'coming soon' section, Los Tapatios has now opened. At least according to one email that landed in my inbox with not just a little bit of enthusiasm, "just to let you know, they're open! THE best birria tacos I've ever had too".
Remember, I love email, please contact me if you have news, tips, info, questions, complaints, musings or would like to chat about Guy Fieri.
120 900 W, Salt Lake City, UT 84116
(801) 364-1794
lostapatiostacogrill.com
Makam's Indian Restaurant
Millcreek is home to this new Indian restaurant that follows the familiar DIY menu approach – see the menu and process here.
Some names that track back to the same location on DoorDash include: Butter Chicken Snob, Hot Kurry Indian Dhaba and Matchstick Masala.
894 E 3900 S Suite B, Millcreek, UT 84107
(801) 905-1921
makamskitchen.com
Mas Gorditas
We mentioned these guys a while back, and it looks like they've now finally hit the road selling gorditas aplenty. The menu includes both carnoviorius and meat free topics with prices starting at $8. Pozole, menudo and tamales are other items and specials that round out proceedings.
Mint Tapas 2
Ariunbold Batsaikhan aka chef Soy is the man behind the curtain at this new Holladay eatery. As the name nods to, this is the second location for Batsaikhan's higher end Mint Tapas sushi concept, the first living out in Sandy.
Batsaikhan also runs Murray's Soy Sushi along state, and was also the chap at work at the now defunct Rice Basil in Holladay.
Mint takes a different approach to the usual BOGOF sushi joints littering town, with a menu that encourages a multi-course kaiseki dining experience. I have to say, the pictures sure do always look pretty from their social media.
3158 E 6200 S, Holladay, UT 84121
mintsushiutah.com
Morty's Cafe
Time was you couldn't move without tripping over a brand new burger brand. This third opening of Morty's sees the business plant flags across the State; their sister locations being found in Logan and St George respectively. The menu is a fun collection of international travel made burgers; the kimchi burger hops on a plane to Seoul while the Yucatan comes back from it's vacation with Pepper Jack and jalapeños. Veggie burgers, sandwich, salads and a grab n go breakfast setup round out proceedings.
877 S 200 W, Salt Lake City, UT 84101
(801) 906-0863
www.mortyscafe.com/slc
Mr Donuts
No prizes for guessing what these guys do. The all new Rose Park business is one more to add to the list of hotly debated, "who has the best fried dough in town", a debate that refuses to ever be settled.
950 W 1000 N Salt Lake City, UT 84116
(801) 699-6876
facebook.com/mrdonuts.slc/
Nino Viejo
Celebrity chef – the restaurant website's own words not mine – Marco Niccoli is the name on the door here; Niccoli nods to appearances on Guy's Grocery Games, a stint at local smokers Traeger as well as cooking for multiple US presidents on his CV. Brandon Price from Oakwood Fire Kitchen is also on the roster too.
Nino's menu is "Latin" which supports a globe trotting cooking style encompassing the likes of Spain, Mexico, Costa Rica, and Portugal.
Far be it from me to wonder if the Farmington location might be a stretch for such International charms, especially when the opening fanfare was diluted with shouts of, "hey where's the free chips and salsa" from Davis County. That said, there's now free chips and salsa on the menu, so they're listening and learning; which hot damn, more businesses could get on board with, so they're off to a very solid start.
It's worth noting Niccoli has a hand in a few other pies; the namesake Niccoli's, an Italian restaurant coming to the stalled out Odd Fellows in downtown SLC, and an as yet to be named sushi spot coming to Fashion Place mall.
Side note: no, Guy Fieri is not the thematic link you're looking for, despite managing the most mentions he's garnered in a single post, in our 14 year history.
Nomad Eatery
The original Nomad Eatery closed up shop when chef and owner Justin Soelberg took his trade East bound to open up Nomad East at the start of last year. With things presumably settled in now, Soelberg has brought back his upscaled-comforts to the West side of town – opening up inside Uinta's West side brew pub.
I think I've mentioned this before, but this type of symbiosis strikes me as particularly smart. Who wants a microwaved burrito with their craft beer – idiots – that's who. Sorry, I said I'd leave the snark by the door for this edition. On the whole brew pubs and breweries are unremarkable food destinations (Bewilder Brewing comes to mind as the exception that proves the rule), a lackluster failing of imagination and execution. This type of partnership just warms the cockles of my heart, belly and liver. More please.
1722 Fremont Dr, Salt Lake City, UT 84104
(801) 467-0909
nomad-eatery.com
Ogden River Brewing
It's in Ogden. They brew. But you kinda guess that huh? Here's a detailed writeup by beer guru Mike Riedel over in the City Weekly.
358 Park Blvd, Ogden, UT 84401
(801) 884-6939
ogdenriverbrewing.com
O-Ku Sushi & Poke
This corner spot in the Sandy's Union Square plaza has changed faced a few times of late. Most recent the space transformed from Brittons to Cafe Berlin, that now has given way to O-Ku. Long gone are the currywurst and spaetzle, in their place now maki and poke.
694 E Union Square, Sandy, UT 84070
(385) 281-2164
okusushipoke.com
One Dude's Pizza
The USP at this new Northern Utah spot is a waffle crust. Whether the pizza needed such re-invention and re-tooling is a question far beyond my wisdom. You'll need to head to Layton to check out exactly how a waffle crust works.
21 S Main St, Layton, UT 84041
(801) 544-5469
onedudespizzaco.com
Pie Fight
Grab your pies and get ready. One, two, three, errr, fight? Located in the heart of 9th and 9th this new shop sells as many pies as your grubby little hands can grab, and well, please don't fight with them actually.
937 E 900 S, Salt Lake City, UT 84105
(385) 222-5373
thepiefight.com
Proper Burger Vivint
Now ensconced in the downtown Vivint Arena, another local face. If you need a burger at half time, check em out.
Q One Korean Grill Express
If words like mandu and dosirak get your belly all a flutter – you'll want to hit up this Murray spot. The menu is largely focused around rice bowls in the same style of local food truck entrepreneurs made trillionaires, Cup Bop. A dozen different rice bowls are ably supported by a few extras such as Korean dumplings, kimchi etc.
5612 S 900 E, Murray, UT 84121
(385) 332-4245
qonekoreangrillexpress.com
Rio Grande Cafe
Following the 5.7 temblor that rocked and rolled and rumbled about this time last year, the famous Rio Grande Cafe downtown had to officially suspend on site trading; the building apparently suffering enough damage to risk crumbling into tacos and enchiladas.
Anyway, the restaurant has now resurfaced over on the East side of Salt Lake in the former Porcupine spot that ousted Market Street before it. Fact fans will probably note that the Rio had been under the stewardship of the Porcupine Pub and Grille group for some time already.
258 1300 E, Salt Lake City, UT 84102
(801) 364-3302
riograndecafeslc.com
Rio Sonora
This new food truck hopes to bring you, "The best carne asada ever!!!". Said aspirations are also also backed by a terribly affordable menu, so you won't risk much in taste testing those ambitions. Check em out on Facebook.
ROC.TACO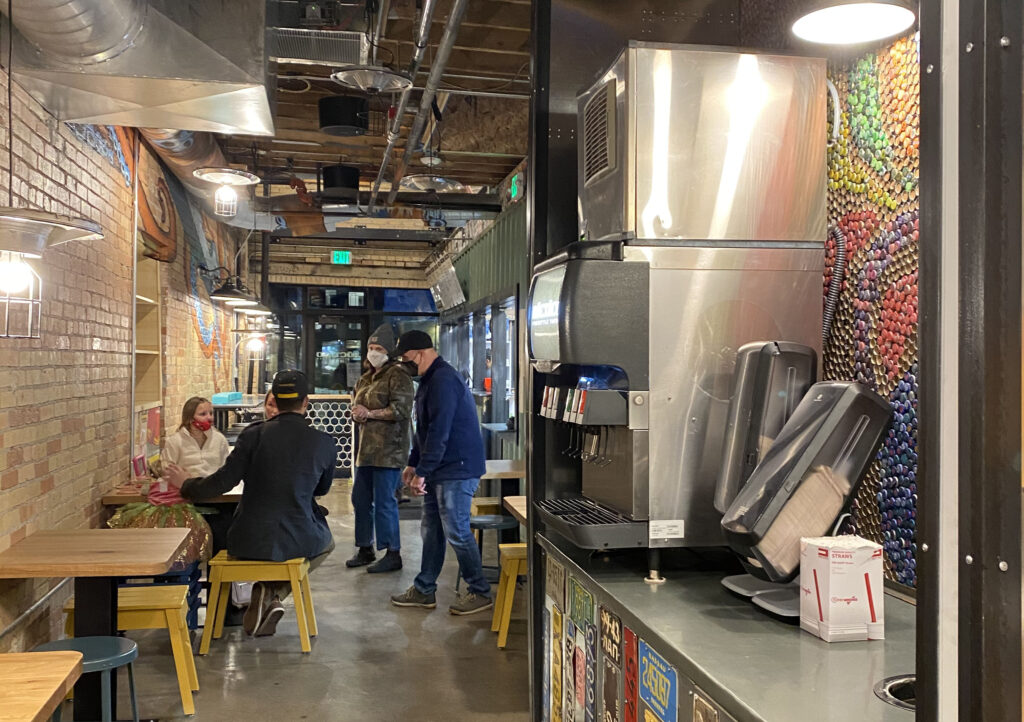 Word has it this new Edison Street taqueria (downtown SLC) is from the same folks behind the new Flake Pie Co. The menu is a fun read, a modern mish mashing of a variety of flavors from around the world, neatly wrapped up in taco format. There's Vietnamese banh mi reimagined as a taco, tikka masala betwixt tortilla and the tabbouleh packed 'Lebanese Blond'.
And no. The theme of this piece is not tacos.
248 S Edison St, Salt Lake City, UT 84111
facebook.com/Roctaco-105109258208359/
Roy City Buffet
Gotta love a name that gets right to the goddamn point. Look, its a buffet, it's in Roy, do you really need any more information? If you do, you can read and see much more over on their Facebook page here.
5673 S 1900 W Roy, UT 84067
(801) 525-8888
roycitybuffet.com
Saigon Vegan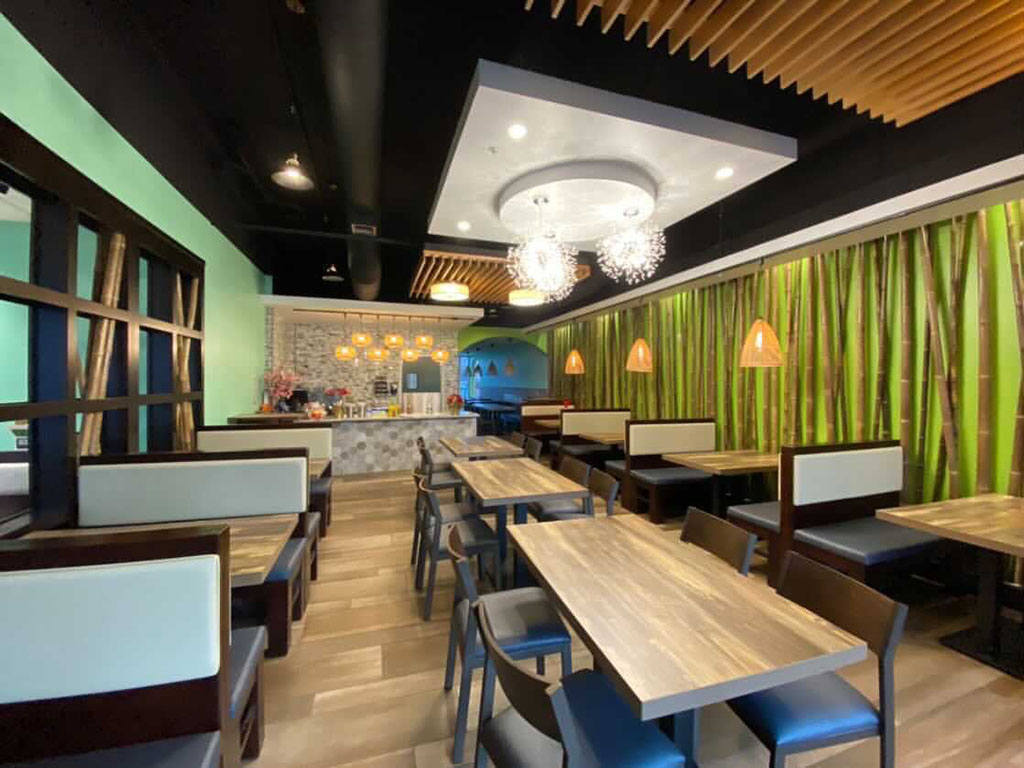 This spot within a spot is now open at Saigon Noodle House 2 in Murray, just a few seconds stroll down from Soy's Sushi along State. SNH is still open, but this vegan friendly operation is now running at full speed too – see the menu here.
4907 South State, Murray, UT 84107

Salt Box Eatery
A new catering concept for Summit County, here's all the details via press release:
Riverhorse Hospitality Group expands its reach beyond Park City's historic Main Street with the unveiling of Salt Box Eatery and Catering in the Prospector neighborhood. Primarily designed as a home base for the Group's catering services, Salt Box Eatery and Catering will also offer signature coffees, convenient to-go breakfast, lunch and family meal options.
"We're excited to open Salt Box Eatery and Catering to serve as a central hub for our wide range of casual to fine dining catering services," says Executive Chef Seth Adams of Riverhorse Hospitality Group. "The location will also fill a need for locals, visitors and small businesses in the Prospector neighborhood by offering grab-and-go items at a comfortable price point."
Opening Wednesday, Nov. 18 at 1792 Prospector Avenue in the former Good Karma space, Salt Box Eatery and Catering will offer coffee, espresso, fresh juices, pastries, house made breakfast burritos, sandwiches, wraps, soups and paninis seven days a week from 8 a.m. – 3 p.m. Limited indoor seating is available, as well as an outdoor patio in the summer months. For menus of Salt Box Eatery and Catering, visit saltboxpc.com.
1782 Prospector Ave, Park City, UT 84060
(435) 962-9662
saltboxpc.com
Sobo
Is this the beginning of the un-ramen-ing? Did we hit peak noodle? In a recent Facebook post by the Lehi based Ramen Nation, the business has decided to pivot to the all new Sobo. Here's what they wrote:
To all our Ramen Nation Fans: we have collaborated with some new chefs at our Lehi location and Ramen Nation has transitioned into a Ramen and sushi restaurant called SOBO! Their sushi is infused with a unique Peruvian influence so now you can get your hot ramen on cold days and refreshing sushi on hot ones. If you're looking for something different and honestly spectacular, let our sushi chefs make you some specialty torched sashimi only found at SOBO! Thanks for your support and we hope you're all healthy and safe in 2021!
3320 N Digital Drive Suite 160 Lehi, UT 84043
(801) 341-8902
facebook.com/ramennation/
Sol Agave
American Forkers have something to cheer with this opening, or at least I think they do, I've heard nothing but good rumblings about chef Oscar Perez's menu; which aims a little higher than most.
The menu reaches some heady heights (at least for the area) maxing out at $35 dollar entrees but it reads fabulously; slow braised short rib fueled Chile Colorado, New Zealand lamb in mole, lobster stuff enchiladas in serrano tomatillo cream sauce. Need an excuse to get on down to AF? Here it is.
598 W Main St, American Fork, UT 84003
(801) 692-1758
solagaveaf.com
South Side Pizza
A reader tip, errr, tipped me off to this one. SSP is a new ghost kitchen operation that lists Michael McHenry (Ginger Street, Oak Wood Fire Kitchen, Dirty Bird etc) and chef Ryan Nelson.
The menu starts around eight bucks and doesnt try to cross the ten dollar mark and comprises wings and pizza. It's a delivery only concerto to your door via Door Dash and it's all cooked out of the Draper Oakwood Fire Kitchen location.
Space Tea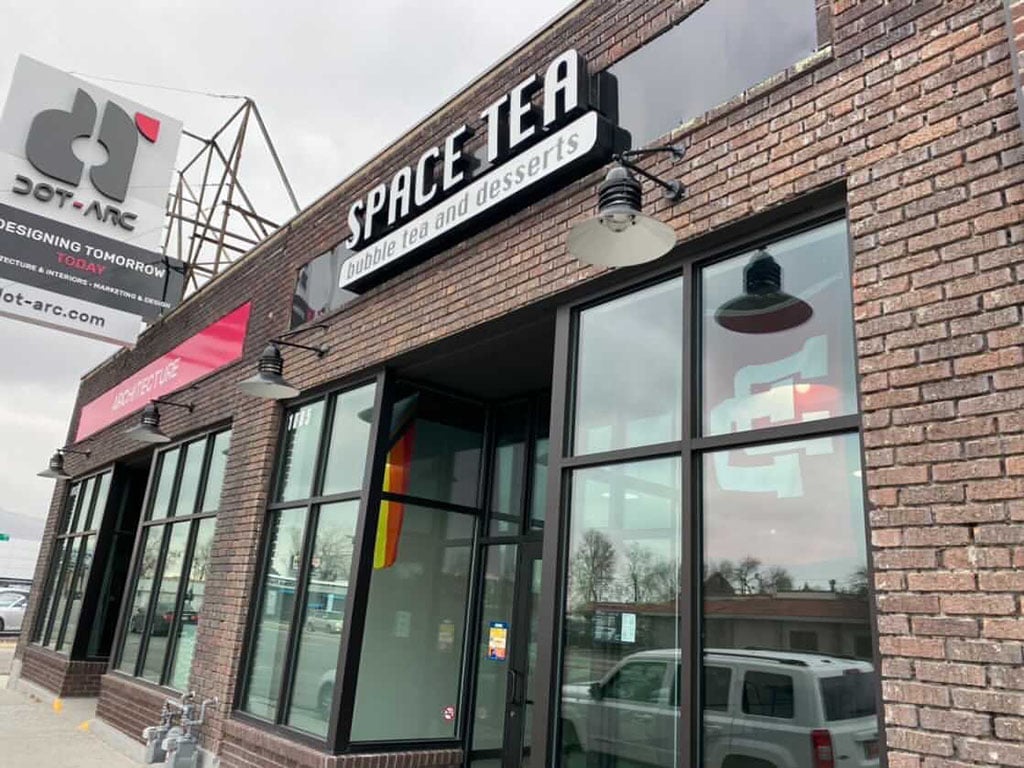 The name alone conjures up so many possibilities. Space. Tea. Just sit back and imagine all the wild and wonderful . And then check out the menu for this new State Street bubble tea spot.
1085 S State St, Salt Lake City, UT 84111
(385) 528-0141
facebook.com/SpaceTeaSLC/
Taco Land
This one opened up in the spot left vacant on the corner of 5th and 27th South – that was once home to Cafe Guanaco. If you've ever drove by, or ventured in, you'll know it's a small affair. The menu is a fun and affordable exploration of tacos guisado, which I believe roughly means homestyle.
And no, no the theme of this article isn't tacos.
499 E 2700 S, South Salt Lake, UT 84115
(801) 953-0421
facebook.com/Tacoland-111633773986877/
Toro Ramen
Fooled you, ramen aint going anywhere, ramen is life. Toro Ramen is a new noodleria over in Midvale and you can read the menu here. Worthy of note is that one of the team involved here is Sunny Tsogbadrakh, the super star chap that ran the sushi counter at Naked Fish / Ikagai, and it's departure packed his bags for Kaysville's Nikko Sushi & Ramen. With Tsogbadrakh at work here, it's about as good a guarantee of excellence as you're likely to ever get.
7194 S, Union Park Ave, Midvale, UT 84047
(801) 996-3365
facebook.com/Toro-Ramen-107687417833124/
Santo Bar And Grill
Now open in Logan, the guys that made their mark in Rose Park with Santo Tacos have opened a brand new bar and grill for our Northern cousins. Check out what's happening on their Facebook grill.
880 S Main St Logan, UT 84321
(385) 222-8327
santosbarandgrill.com
Slim Chickens
This popular national chain has now landed in Herriman. Here's the full press release for the Utah opening.
Slim Chickens, a leader in the "better chicken" segment of fast-casual restaurants, will continue expansion of its 100% all-natural, fresh chicken and unrivaled flavor in Utah, with its newest opening at 5167 W Anthem Park Blvd. in Herriman on January 14.
Franchising veteran of L.O.V.E. Restaurant Group, Byron Wheeler has decades of experience in the restaurant franchise space as a co-owner of 13 Burger King locations. Wheeler felt ready to tackle a new venture within the booming chicken sector of the QSR space, and, after meeting co-founders Tom Gordon and Greg Smart at the brand's franchising conference in 2018, signed on for the exclusive rights for all Slim Chickens restaurants to be developed in Colorado and Utah.
"We were immediately impressed with Slim Chickens' growth, southern hospitality, and menu," said Wheeler. "After opening the first Slim Chickens restaurants in Utah, we knew that we wanted to expand the concept further across the state and know that it's going to be the perfect fit for the Herriman community."
Aside from bringing its famous, delicious fried chicken and Southern-inspired sides to the area, the new Slim Chickens location in Herriman will also make a positive economic impact with over 75 new jobs anticipated for creation in the community.
The Herriman opening is one piece in Slim Chickens' larger growth story. Since its founding in 2003, the brand has celebrated over 100 openings in 17 states, with an overall goal of opening 600 restaurants by 2025. In Utah alone, the brand has already opened two locations with plans for more in the future.
"Our freshly made southern dishes and homemade recipes create loyal guests who feel good about the food they're eating and we're proud to be able to grow our loyal fan base into the Herriman market," said Slim Chickens Chief Operating Officer Sam Rothschild.
By focusing on providing only 100% fresh, all-natural chicken tenders that are buttermilk-marinated, hand-breaded and always cooked fresh-to-order, the brand has committed to providing a "better chicken" experience that can't be found anywhere else. In addition, a choice of 17 housemade sauces adds exceptional flavor and has earned admiration from both guests and critics alike. Slim Chickens also offers fresh sandwiches, salads, wraps and its signature chicken and waffles. To offset the savory side of the menu, rotating desserts served in Mason jars are also available.
Varley / The Ivy
This brace move into the spaces left empty by BTG and Caffe Molise respectively; the twinned businesses have now brought some hustle and bustle back to a corner of the city that was starting to look a little empty. Like their predecessors the latter brings the grown up drinks while the former brings food to the Easterly building.
Where the older BTG/Molise team where about curated wines and Italian foods, the new tenants are cocktails and fancified-on trend-pub food; 'everything' seasoned Brussels,
Ivy – 55 W and 63 W 100 S, Salt Lake City, UT 84101
Varley – 63 W 100 S, Salt Lake City, UT 84101
Virg's
After the long time Erda spot closed, Virg's are back in business, now over in Tooele. Here's the full story over on Fox13.
Wingers
The prodigal wing hath returned, notably to their spiritual home of Bountiful where it all began in 1993. In making this mark, their 14th in Utah location to be precise – comes an brand spanking new 4K square-foot Wingers Restaurant and Alehouse; the wing shop will open in the former Mikado location at 255 N. 500 West Here's some more info.
---
So, did you spot the common theme that loosely ties most of these plucky new businesses together? No, it wasn't tacos, fried chicken, ramen, or Italian food. Indeed, it's not even a specific dish or cuisine at all. All together now…
casual, quick, comfort, simple
Those are the watchwords for anyone smart/crazy enough to open a new restaurant during a global pandemic that has cratered a greedy public's desire for fancy, formal and flocking. We want of quickly, cheaply and stay the hell away from me as well please.
The bulk of these new businesses are based around easily accessible dishes that put a smile on your face. No one was ever sad with tacos and cake. High end dining will return, but for now, just put on those eating pants and chill out. Things are gonna get a bit more casual for a bit, o.k.
---
Coming Soon
These businesses should be with us
Gallo Loco
Over by Donut Boy on 35th South this new sign was seen late last year. Gallo Loco was formerly slated to arrive in the spot that gave rise to the short lived Yoyi's. Ultimately it never transpired.
Hangry Dog
This taco and hot dog spot is expected to come to Sunset shortly. The linked FB post mentioned, "He has hott (sic) dogs (different kinds) tacos (chicken. Beef. Pork.) I believe his hours are 11 to 8 ish fridays and Saturdays close at 11 but I'm not 100%"
Krab Kingz LLC
I forget where I saw this one mentioned, but I swear I did. For the life of me, I can't find the reference now, let me know…
Mountain Mike's
Thirty stores have been inked and are headed this way, read more here.
Noemi's
Mentioned over on eFacebook here, the Chilean charms of Noemi's are set to come to a bricks and mortar to you soon. I wrote about their fab food previously in this piece a while ago.
Pretty Bird
This one was last mentioned in October 2020, but Viet Pham recently spoke with the SL Tribune indicating the next chapter in their Nashville hot chicken history will commence in about a months time – so look for this one in the March-April window. And bring a fold out chair, because there's gonna be a line down the street.
Park City should also be coming along soon too we here for PB Mk3. And then, then the world.
Raising Cane's
Last mentioned June 2020, here's the latest.
Roots Coffee Co
A new SLC coffee spot, read more here.
San Fran Burrito N Fryz
This spot in SoSL's Chinatown complex was first previewed on our sister account New In Utah. If you love hearing about new stuff as and when it happens, following along at:
https://www.instagram.com/newinutah/
Tandoori Taqueria
A second spot for the Indian-inspired taco spot, see more here.
Wow Wow Hawaiian Lemonade
Another chain set to come your way any day soon. You can see them here.
Previously mentioned with no further update
These potential new businesses where mentioned in previous posts, we're still hoping to hear more!
Calavera Cantina – last mentioned October 2019
Captain D's – last mentioned March 2020
Congregation Spirits – last mentioned in June 2019
Crack Shack – last mentioned October 2020
Crane Ramen – last mentioned March 2020
Fat Jacks Burger Emporium  – last mentioned October 2019
Fife Brewing – last mentioned March 2020
Gyro Shack – last mentioned October 2020
K-Recipe – last mentioned March 2020
Lemon Shark Pole – last mentioned October 2020
Niccoli's – last mentioned October 2020
Shrimpies –  last mentioned June 2020
Slim Chickens – last mentioned June 2020
The Smoked Taco – last mentioned October 2020
Ta'contento – last mentioned in April 2019
Wingin It  – last mentioned October 2019
Yoko Taco – last mentioned October 2020
Opening a new restaurant in Utah? Be sure to check out our Utah restaurant resources mini site for the businesses and services you will need to help you open your restaurant.
Keep the conversation going
Want to stay on top of the SLC food scene, minute by minute, dish by dish? Here are a few other places you should follow along:
Hi, I'm Stuart, nice to meet you!  I'm the founder, writer and wrangler at Gastronomic SLC; I'm also a former restaurant critic of more than five years, working for the Salt Lake Tribune.  I've worked extensively with multiple local publications from Visit Salt Lake to Salt Lake Magazine, not least helped to consult on national TV shows.
I'm a multiple-award winning journalist and have covered the Utah dining scene for the better part of fifteen years.   I'm largely fueled by a critical obsession with rice, alliteration and the use of big words I don't understand.   What they're saying about me: "Not inaccurate", "I thought he was older", "I don't share his feelings".  Want to know more? This is why I am the way I am.
This article may contain content provided by one of our paid partners. These are some of the best businesses in Utah. For a list of all our current and past relationships see our
partnership history page
.