I've been holding off highlighting this most recent addition to downtown SLC, as until now the business has been slowly ramping up their operating hours. This week however sees this brand new spot debuting their lunch service and finally hitting full stride; this seemed like a timely moment to go over the basics of this unique opening.
Not that it seems many Utahns need an introduction – the HallPass menu currently ranks amongst the top ten most viewed menus over on our sister site SLC Menu. I should rephrase that actually, menus is more like it. The undeniable lure of HallPass are the vastly varied array of items on offer. If there was ever a time to trot out the well worn phrase, "there's something for everyone", this would be the time.
HallPass bills itself as Utah's first food hall. In other markets the food hall concept is usually defined by a communal dining space outfitted with various independent food vendors vying for your dollar. In contrast, all the food options at HallPass are ostensibly operated by the same company, with Las Vegas-based SkinnyFATS anchoring the whole shebang.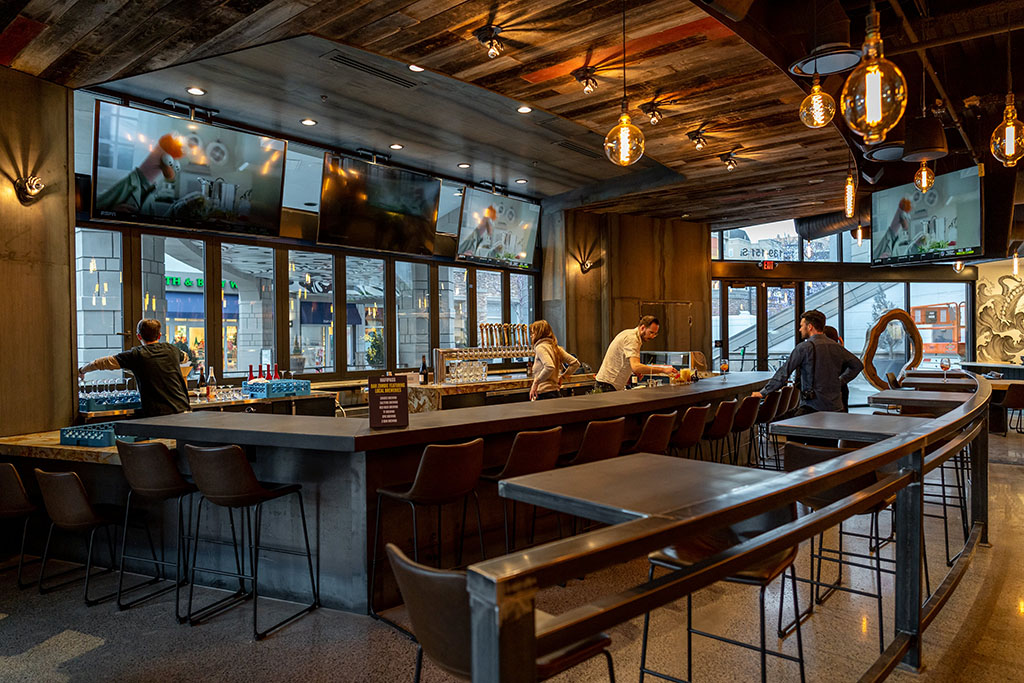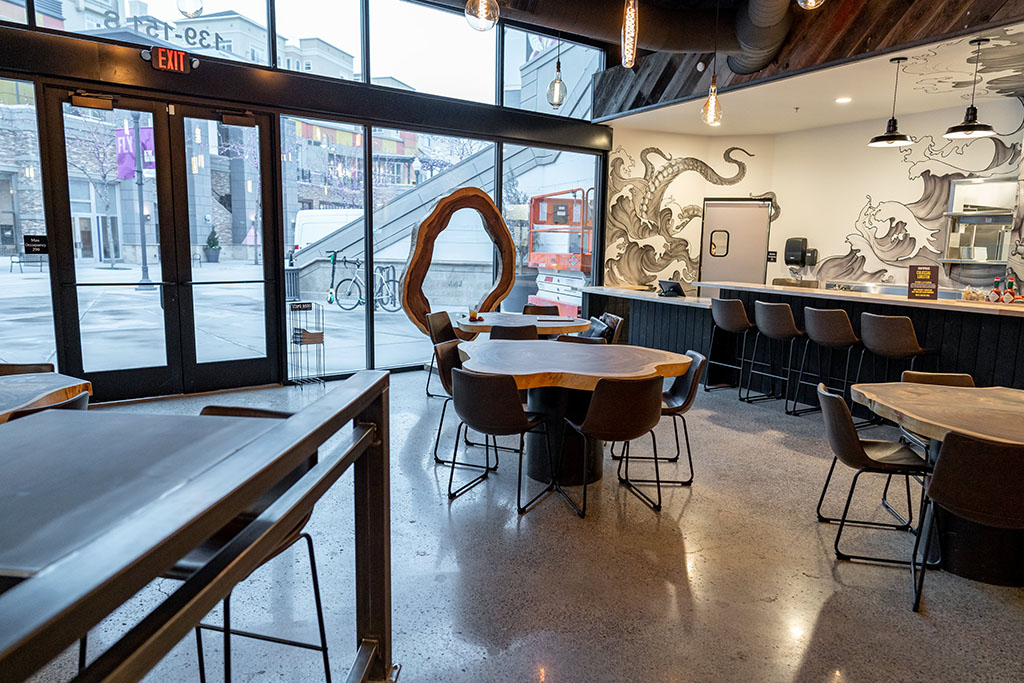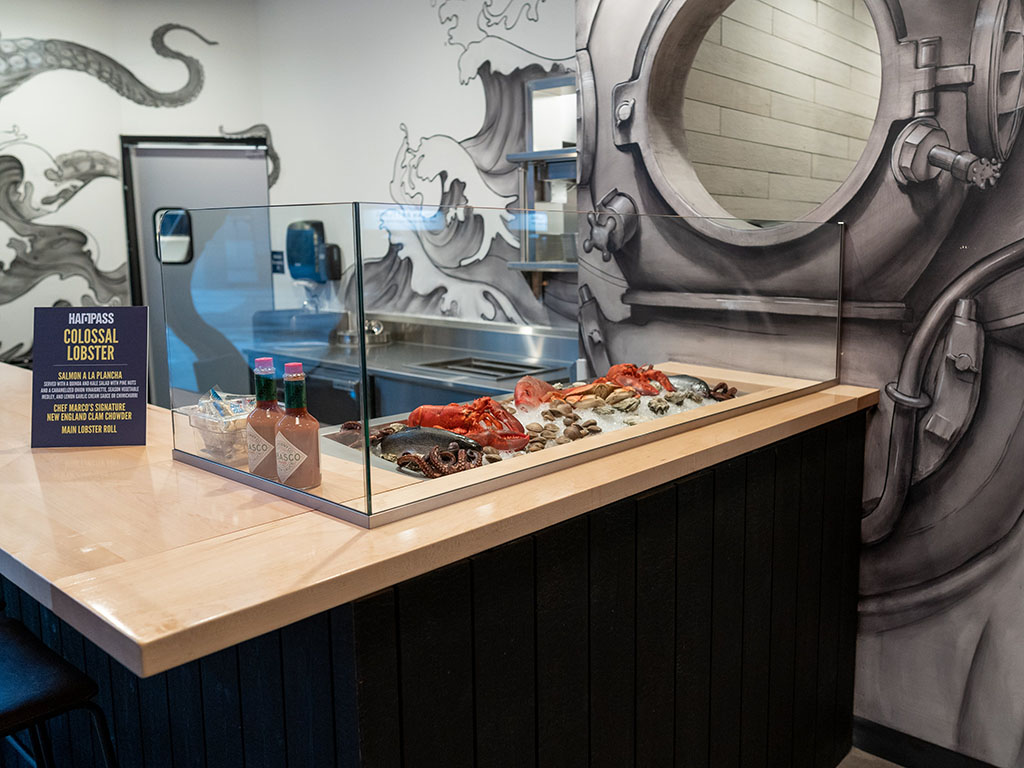 Some might quibble and ask how this really differs from a food court. It'd be hard to argue with the semantic logic but the 11,000 square foot HallPass, located on the South end of The Gateway is unlike any food court I've ever found myself stranded in. Indeed this new downtown dining room affords guests an eye popping space to while away a few hours. Something I've done a few times now.
The striking interior design features furniture hewn from golden acacia imported from Thailand; apparently the largest single piece in the US is found in the table that greets diners by the entrance. There are ornate Balinese doors, a quirky old time Zoltar machine and colorful murals and art pieces by a resident artist. In total there's seating for 300 with an additional 3500 square foot outdoor patio available for when the weather finally switches gears (it'll happen I promise!).
Amidst all of that HallPass packs in eight restaurants and two bars. You can order a bite from here and another from there, wander around and do it again. There's no formal ordering, simply walk up to one of the restaurant stations and pay there and then. You'll get a buzzer to take back to your table – it rarely takes more than a few minutes to go off. You bus your own food to your table and you can rinse and repeat as much as you, or your credit card limit like. Sadly there's no prize for conquering all eight restaurants in one herculean dining session. I may do it regardless.
The caveat to all of that is that if you decide to order a beer, wine or cocktail and want to leave the bar area, a server will need to deliver your drink to your table. I should note that it's also fine to bring food to the bar and just kick back there too; speaking of which the signature 'Beer Zombies' bar features an intelligently hand picked lineup of Utah craft beers that I enjoyed picking my way through once or twice.
The restaurant concepts at launch are a whats what of the voguishly trendy, with the current lineup including:
SkinnyFATS – a 50/50 mix of healthy and indulgent foods
Waffadopolis – waffles both sweet and savory
Beer Zombies – craft beer, wine, cocktails
Blaze of Thunder – Nashville hot chicken
Raining Ramen – ramen bowls
CodSpeed – fresh fish fast
Hibachican – rotating concepts & guest chefs
Colossal Lobster – lobster rolls, shellfish
Guac Pusher – fresh guacamole made table-side
Expect these to evolve over time, no doubt following larger trends in dining. It's also possible some of the kitchen space might be turned over to guest chefs, popups or startup concepts outside of the SkinnyFATS core family, but for now, its a completely in house offering.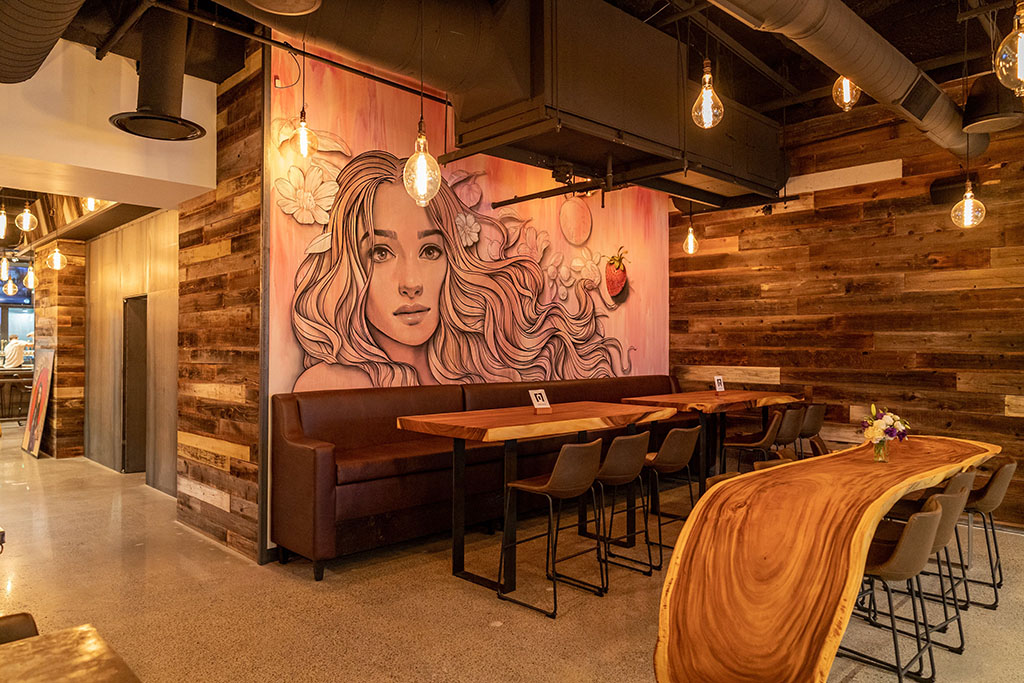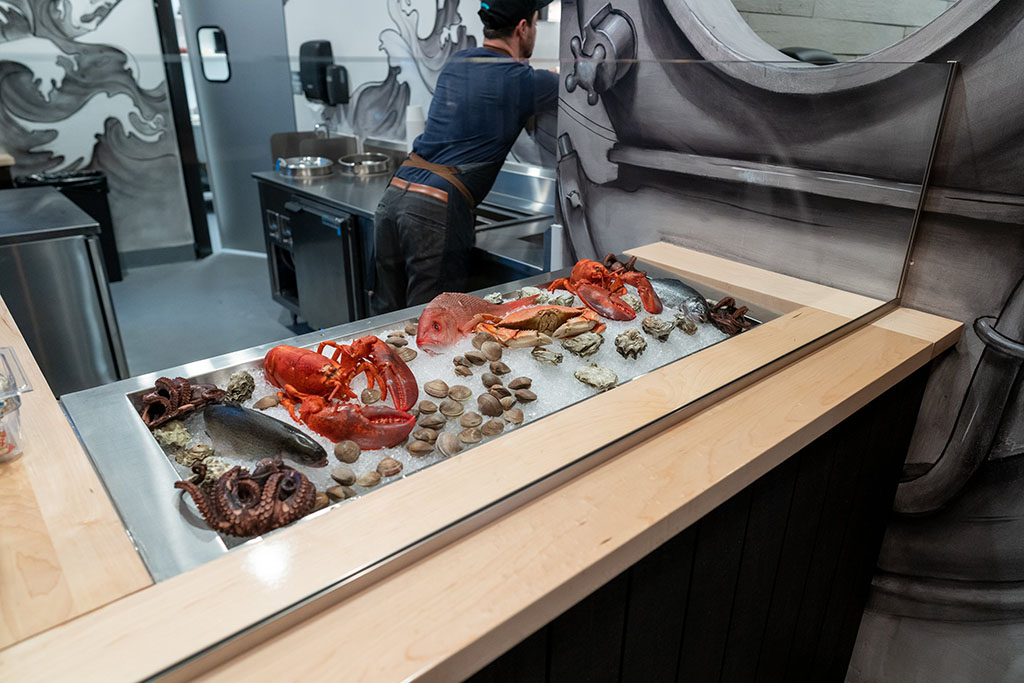 HallPass is located at 153 S. Rio Grande St, SLC, UT 84101, you can find them online at
HallPassSLC.com.
HallPass is open for lunch 11-2 and 5-10 Monday – Thursday, open 11 a.m. until 11 p.m. on Friday. HallPass is currently open nightly for dinner at from 5 – 9 p.m., and until 10 p.m. on Friday and Saturday.
HallPass food options
There's a lot to unpack here amidst the ten different food and drink options available. So much so, here's the official press release information from HallPass regarding each of the options you can find right now.
SkinnyFATS
The award-winning menu includes the healthy side: shareable of CauliFire (cauliflower with buffalo sauce, pico de gallo and cilantro) and Brussel Crowe (sautéed Brussels, caramelized onions, golden raisins, capers, almonds, parsley and a gentle balsamic glaze). Mouthwatering sandwiches include the T.A.T.S (turkey, bacon, avocado, tomato, spinach); Cranburkey (turkey patty, arugula, tomato, onion); Mean Bean / Chickpea Patty (house-made black bean patty, spinach, red onion, tomato, avocado and hummus); Steakation (shaved steak with arugula, tomato, red onion and horseradish); and Caes' the Day (grilled chicken, vegan Caesar, mixed greens, pickled red onion and smashed avocado in a spinach wrap). Things in Bowls include Smoke in a Bowl (with agave BBQ chicken, peppers, onions, pineapple, black bean pico and cilantro); Naked Chix (mango basil chicken with peppers, onions, and pineapple); and Zucc It (zucchini noodles, eggplant, squash, peppers, mushrooms, cherry tomatoes and arrabbiata sauce); and the Bleu Balsamic (sliced filet, spinach, cherry tomato, red onion, bleu cheese with balsamic). Juices are offered including the Liquid Defense (orange, carrot, apples, lemon, lime and basil) and Green Mile (apple, kale, spinach, cucumber, lemon and celery).
The "Happy" side of the menu includes such indulgences as 'sharables' of FAT's Pickles (fried pickle chips, Cajun seasoning and chipotle aioli); and Balls (spinach and corn risotto balls with pesto aioli, and greens dressed in tomato oil). Indulgent sandwich offerings of Meltdown (two ¼ lb. beef patties, cheddar, Provolone, caramelized onions, tomato and spicy aioli on sourdough); The Classic (1/2 beef patty with cheddar, lettuce, tomato, onion, pickles and SF sauce on a brioche bun); Cherry Popper (1/2 lb. beef patty with a fried egg, pepper jack cheese, spicy slaw and pepper marmalade on a Hawaiian roll); Sweet Cheese Us (shaved steak with pepper marmalade, caramelized onions, pepper jack, portobello and cheddar sauce on a hoagie); and Chix on Broadway (breaded chicken breast, BLT, red onion, cheddar and lemon herb aioli on brioche).
Things in Bowls include More Cow Bowl (teriyaki filet mignon, cauliflower portobello, peppers, scallions and egg fried rice); Buff Chix (fried Buffalo chicken tenders with truffle fries and ranch); Stuff on Curry (Buffalo chicken, romaine salad, fried jalapeño, bleu cheese, pico and avocado with jalapeño ranch). Hot Chix (Buffalo chicken, romaine salad, fried jalapeño, blue cheese, pico, avocado and jalapeño ranch. With sides including Cauliflower Rice, Jasmine Rice, House Salad, Truffle Fries, Yummus (house-made hummus) and Grapefruit Brûlée.
Beer Zombies Tap Room & Beer Garden
Beer Zombies Tap Room & Beer Garden is a sister brand to SkinnyFATS. A band of gypsy brewers collaborate closely with best-in-class craft breweries around the country to create unique brews unique to their taps. The bar opens to a refreshing covered patio that's sure to be the best people watching at The Gateway.
Waffadopolis
Liege waffles, crepes and liquid nitrogen treats are featured at Waffadopolis. Savory selections include Hammy Down (turkey, Havarti, Granny Smith apples with herb aioli); Monte Cristo or Croque Madame (smoked ham, Havarti and American cheese, powdered sugar and red currant jelly); Caprese (Roma tomatoes, basil, mozzarella, EVOO and a fruited balsamic glaze); Bacon Jammin (bacon, jam, arugula salad with blue cheese dressing); and the Mediterranean (tomato, green onion, cucumber, avocado, arugula and spicy hummus). Sweet selections include the Classic (whipped cream, strawberries and maple syrup); Drunken Monkey (bananas, chocolate sauce, marshmallow, chocolate chips, whipped cream and graham cracker); Cinnutella (Nutella, fresh berries, cinnamon sugar and orange syrup); SWPB&J (peanut butter, red currant jello, peanut brittle, whipped cream and powdered sugar); and Gaufre a la Glace (powdered sugar and a choice of ice cream).
Speakeasy
The speakeasy is a true, password protected, hidden getaway housed in the interior of HallPass.
Blaze of Thunder
Based on the popular chicken sandwich from SkinnyFATS, Blaze of Thunder offers crispy Nashville hot fried chicken available as a sandwich or breasts, legs, thighs wings or tenders. Diners can choose their heat level from 0 m.p.h to 500 m.p.h. Side offerings include: coleslaw, macaroni & cheese, collard greens, frog eye salad, potato salad and banana pudding.
Raining Ramen
Four broths are offered at Raining Ramen: Shoyu (chicken broth with chicken Chasu), Tonkatsu (pork broth with pork Chasu), Miso (chicken and pork broth with ground pork), Vegan Creamy Miso (white miso and veggie broth), and Hiyashi (cold ramen choice of pork or chicken Chasu). Diners have a choice of a wide variety of add-ins. Special dishes include Chasu Buns, steamed bao, pork or chicken Chasu with hoisin, kewpie and cilantro; Edamame with togarashi spice; Kimchi Fried Rice; Gyozas served with ponzu and hot mustard; Vegetable Tempura with shishito, mushroom and scallion; and spice marinated cucumbers with vinegar, chili oil and chili flake.
Hibachican
Chef driven, coursed tasting menus paired with wine and cocktails curated by Beer Zombies Craft Beer Bar and our Speakeasy. Chefs will be invited both from out of state and locally. The space will also offer incidental cooking classes and "Chopped"-style cooking competitions.
CodSpeed
Fresh Fish Fast. Daily seafood selections vary based on availability but include dock to table, freshly sourced seafood including Coho salmon, wild King salmon, mahi mahi, sole, snapper, haddock, barramundi, shrimp, scallops, tilapia, trout, ahi tuna, SWAI, catfish, swordfish, sheephead, soft shell crab, crab cakes tofu and chicken. Also offered are fish & chips, buffalo popcorn shrimp or shrimp burger. Delicious sides include garlic Parmesan tots, Italian Romano potatoes, power grains, seasonal vegetables and wild rice. All are served with a range of spices and sauces.
Colossal Lobster
Rolls include the Maine with chilled lobster meat, mayo and grilled split bun; Connecticut with warm lobster meat, drawn butter and lemon on a grilled split but and a 'roll of the week." Specials include a Lobster Reuben with pickled onion, sauerkraut, Gruyere cheese and 1000 Island dressing; the Shrimp Louie Salad with butter lettuce, tomato, onion, egg, avocado, cucumber, chives and 1000 Island dressing; and Shrimp Tacos with chipotle aioli, slaw, cotija cheese and pico de gallo. Two 'chowdahs' will be served, New England and a Lobster Bisque. Chilled seafood includes oysters, prawns, King Crab legs, Maine lobster, ceviche and an oyster bar.
Guac Pusher
This hole in the wall (literally) micro concept tucked inside HallPass features made to order gourmet guacamole on demand. "We had a lot of fun with this one. Flavor profiles in guacamole vary from one country to another. We wanted to make sure we showcased more than just one style." says Slobusky. If the door is closed that means the guac cart has rolled out for a lap around HallPass.
Hi, I'm Stuart, nice to meet you!  I'm the founder, writer and wrangler at Gastronomic SLC; I'm also a former restaurant critic of more than five years, working for the Salt Lake Tribune.  I've worked extensively with multiple local publications from Visit Salt Lake to Salt Lake Magazine, not least helped to consult on national TV shows.
I'm a multiple-award winning journalist and have covered the Utah dining scene for the better part of fifteen years.   I'm largely fueled by a critical obsession with rice, alliteration and the use of big words I don't understand.   What they're saying about me: "Not inaccurate", "I thought he was older", "I don't share his feelings".  Want to know more? This is why I am the way I am.
This article may contain content provided by one of our paid partners. These are some of the best businesses in Utah. For a list of all our current and past relationships see our
partnership history page
.