As I recently wrote, the hospitality industry is facing a tumultuous upheaval. Despite the shifting odds of success though, there's still more than one restaurateur willing to roll the dice. In fact there's a whole heap of them ready to lay down a bet. Here are all the latest businesses to open across the Wasatch Front over the past few months.
Arlo
When Emily Gassman's local bistro Em's closed, chef Milo Carrier decided to take over the mantle. A lick of paint andrevamped menu later, Arlo now lives in this Capitol Hill spot. The menu is modest and compact, but one would imagine watchwords like sustainable, slimmed-down and sensible litter chef's minds in the current climate.
Arlo represents one of only a few chef-driven style openings to talk about in this roundup. There's a marked increase in the number of franchise and chain names appearing though. Expect to see more of this. As places continue to close up shop, all the talk in the franchise world is about the possible expansion opportunities ahead in what's sure to become an increasingly distressed commercial real estate market.
271 N, Center St, Salt Lake City, UT 84103
(385) 266-8845
arlorestaurant.com
Beehive Breakfast
The little food stand that could. You'll find these guys slinging some slobberingly good looking breakfast foods in downtown SLC Monday through Saturday, 8-11 a.m. The picture above? Their worker bee sandwich, a mix of grilled golden hash brown, bacon, egg cheese and crispy onions. Today's top tip: no one counts calories during covus. Check em out here.
Carson Kitchen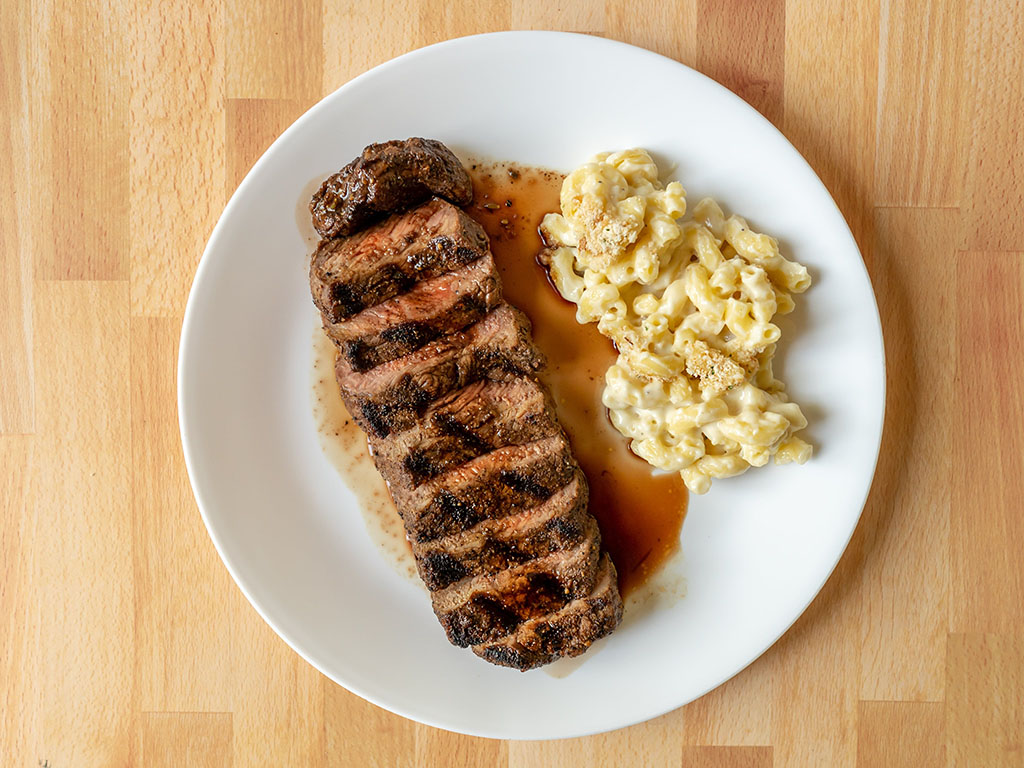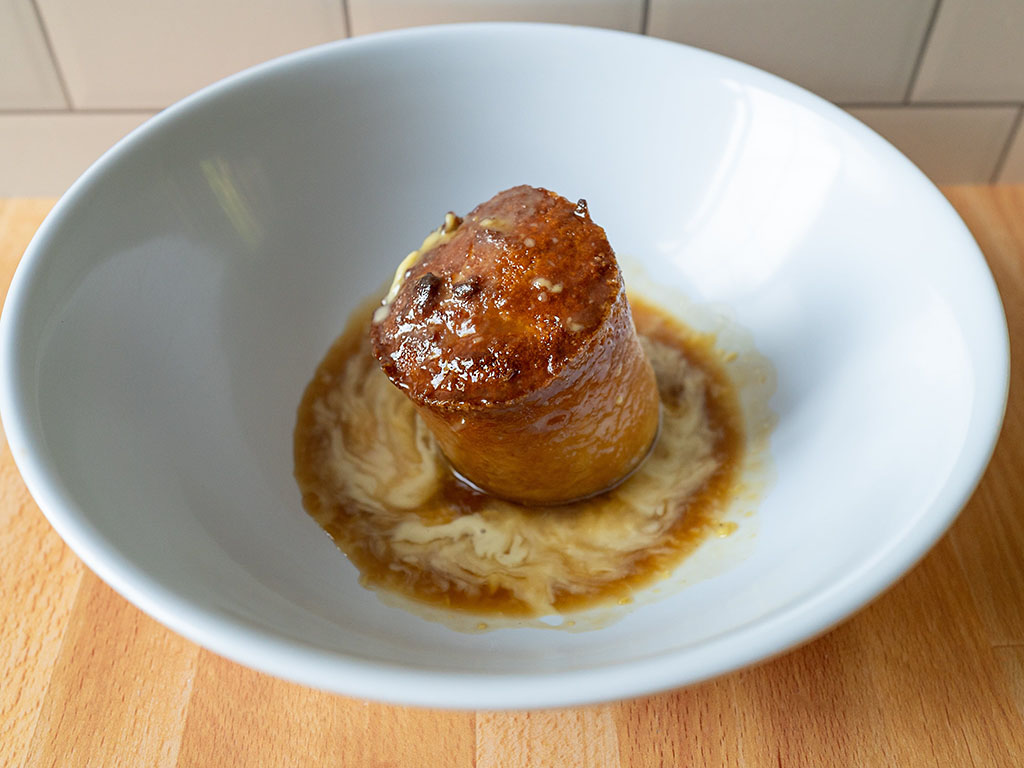 The praise for this downtown Vegas offshoot has been as effusive as it has been ebullient. And yes all the hype is all true, the food is fab and requires expedited exigency. And yes, this paragraph was more about using big words more than anything else.
You can check out the menu here. The concept is straight forward looking dishes with sneaky gourmet twists; foie hides out in the meatballs, a glazed donut is re-imagined as bread pudding. My wife reckons they have hands down the best mac n' cheese in town. I don't argue with my wife, neither should you.
241 W 200 S, Salt Lake City, UT 84101
(385) 252-3200
carsonkitchen.com
Chettinad House
With Lamb's Grill long gone, and the antique furniture bedecking the halls of Orem's Tru Religion, this Indian newcomer has moved in and opened their doors to a currently struggling Main Street.
The menu ticks all the boxes you'd expect but particularly worthy of note, the restaurant offers breakfast from 8 a.m. daily; from what I've heard the Chettinad team don't take the easy out either with American dishes – you can snag Indian dishes to rise and shine with here.
69 S Main St, Salt Lake City, UT 84111
(801) 410-4696
chettinad-house.com
Curry Up Now
This much talked up national franchise first landed out in Midvale. Their latest local expansion is the old Cedar's Of Lebanon space in Downtown SLC. It's all popping color and wide open spaces – check out the menu here. The brand's signature cocktail room (Mortar & Pestle) should be open any day soon as well, if it isn't already. Here's a bit more on the brands concept of Indian food with a modern twist.
152 E 200 S, Salt Lake City, UT 84111
(801) 953-0156
curryupnow.com
Everbowl
I suppose everyone hasn't been dealing with C19 like me – holed up behind barred doors, eyeing up the neighbors with suspicion and slowly depleting Utah's stock of boxed wine on the daily. I suppose some people have taken a more optimistic, nay, healthy approach to these end times.
If you're one of them, check out this other new chain in Pleasant Grove. The San Diego-based based "craft superfood" chain has more locations in the works too.
855 W State St #102, Pleasant Grove, UT 84062
(385) 352-9166
everbowl.com
Fatboy Phillies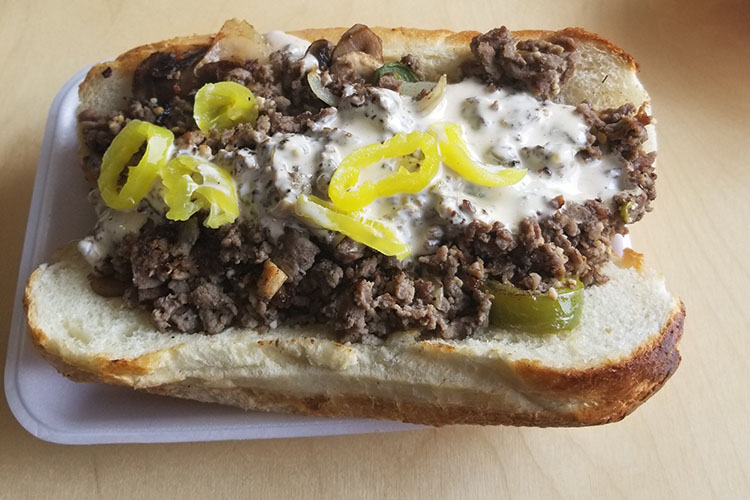 Do you remember the before times? Do you remember when your biggest worry was demanding to know when the downtown location of Fatboy's would finally open? Well these Redditors have news for you, that time is upon us. I've yet to divine if this is a portent of more doom, or the start of better times.
The new location on the corner of 4th and State Street looks markedly larger than the humbler Murray startup. Grab your best flame retardant gear and get ready to start writing online missives about the best and worst Phillies around town. People get rather het up about this stuff don't you know.
Finca
Eight years ago I reviewed the brand new Finca in the greater Sugar Hood; it was pretty pretty good, a refreshingly modern and Utah-centric take on a cuisine that was rollicking the foodie world. Following a probably ill advised move to an overly large and demanding space, the wheels fell off and the whole thing sputtered out.
The business has now moved for a third, and here's hoping, final charming time. With the move, also coming on board is chef Michael Richey (nee Fireside On Regent). Richey was the first chef to partner with Scott Evans at Pago, so the move back to the Evans' stable of businesses seems somewhat kismet.
1513 S 1500 E, Salt Lake City, UT 84105
(801) 532-3372
fincaslc.com
Fratelli
Here's a drone-tastic snap of the brand spanking new Fratelli spot in Sandy – you can probably still smell the new paint amidst the bubbling mozzarella and basil I'm betting. The new build is only a little ways down the road from their initial spot, but hey, it's all theirs.
With the closure of downtown SLC's Cannella's after some 40 years, this remains the singular spot in town to grab the family-Canella's popular Italian cuisine.
8612 1300 E, Sandy, UT 84094
(801) 495-4550
fratelliutah.com
Good Burger
I'm a fan of keeping things simple. Good Burger, I mean, if it does what it says on the tin, I'm in. Other concepts I'd like to see: Good Sausage, Good Gyro, Good Beer. Anyway, these guys are out of Idaho and promise, um, good stuff. You can now find them on Regent Street behind the Eccles Theatre.
133 Regent St, Salt Lake City, UT 84111
(208) 850-6011
itsagoodburger.com
Granary Bakehouse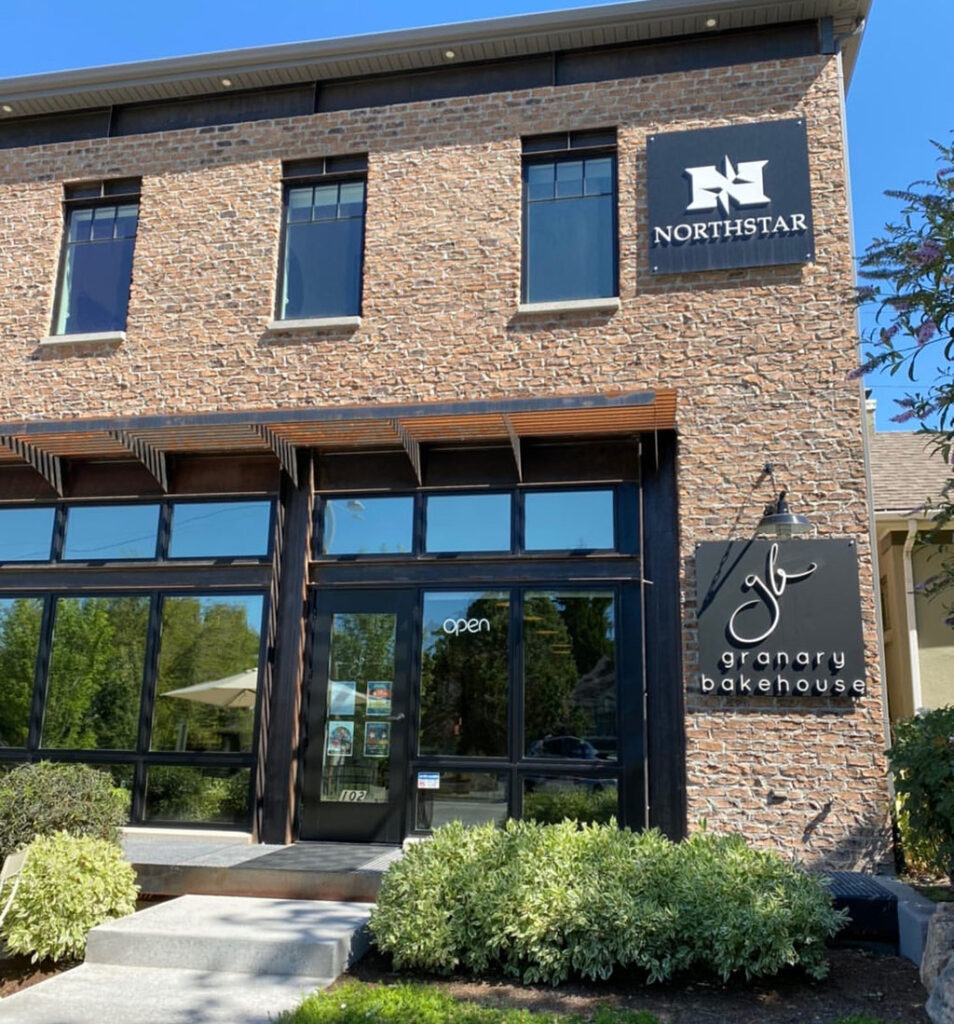 Meanwhile, over in the 9th and 9th an all new bakery. Take note of the relatively curtailed hours at present: Wednesday – Sunday: 8 a.m. through 3 p.m. and then head on over for "freshly baked artisan breads & pastries."
1059 E 900 S Unit 102, Salt Lake City, UT 84105
(385) 212-4298
granarybakehouse.com
Hero Hotpot
If you slept in the other day you probably missed Summer instantly succumb to Fall in the space of a few short hours. That means it's time to start ordering dishes slurped and spooned, bubbling and steaming. This new Chinese hot pot shop comes to the South Salt Lake China town area and you can see the full menu here.
My increasingly hazy memory wants to insist this is what became of State Street's shuttered Kung Fu Hot Pot – but I can't confirm that – let me know if you can.
3390 State St, South Salt Lake, UT 84115
(801) 906-8573
Hong Kong Banjum / Paik's Noodle
More bowls of piping hot, soul warming stuff – this time by way of Korean noodles. Depending what social media platform you look this business up on – it may go by either of the two names above, Or maybe both, I'm not sure. Whatever the name, you'll find this swooningly-good looking noodleria over in the Valley Fair Mall. Here's the menu replete with lovely things like jja jang (black bean noodle) and jjam bbong (spicy seafood noodle).
3513 Constitution Blvd, West Valley City, UT 84119
(385) 900-8607
Kobe
West Jordan recently welcomed Mike Fukumitsu's much loved Kobe Japanese Restaurant to their shores. They're lucky to have him. Those grey enough in the tooth probably remember Mike from way back when, an ever present beaming smile behind the Kyoto sushi bar counter.
He's got more than a winning smile mind you. Fukumitsu travelled to Japan to hone his ramen skills, and many will insist his Sandy based Kobe is the best in town. This new SW spot is a second location for his popular pots of pasta (hey I'm in an alliterative mood, chill out) so don't worry, the original is still there.
3763 Center Park Drive, West Jordan, UT 84084
(801) 849-1219
Kabul Kitchn
I never met a kabob I didn't instantly fall in love with. And right poetry about. Ahem. So it's with some excitement I spotted the opening of this new Afghani-leaning place out in WVC. It looks like it operates out of the Halal Market grocery store and amongst the meaty-menu delights, what's that? Free tea? When's the last time you saw free on a menu huh.
2407 S Redwood Rd, West Valley City, UT 84119, USA
(801) 952-0786
kabulkitchen-restaurant.business.site
L&P Bakery
If you don't follow our sister account on Instgram – here's your reminder. You'll find out about all of these new openings looooooong before I sit down and decide to rattle off a litany of nonsense.
Anyway L&P Bakery, this Chinese bakery at 895 E 9400 S is the second location for the business which started life inside Sandy's Ocean Mart.
Love Letter Wontons
One of a new breed of businesses as I wrote about here. The wonton menu changes each week, then you go and pick up your dumplings in person. Creations from LLW go way beyond the mundane: lobster/chive/butter or seat/black bean/sesame for example. You can follow along here.
Meet Fresh
A Taiwanese dessert shop, that has now joined the rotating roster of businesses at the SoSL Chinatown development. Boba, taro, egg waffle, tofu pudding – it's all here on the menu. It's worth highlighting that the business is one of the many chain's I mentioned at the start of this post.
3390 S State St Unit 32, South Salt Lake, UT 84115
(385) 549-1134
Nomad East
Not a chain, but a second location for Justin Soelberg's comfort food goes fancy menu. That's what I call it anyway. You can read the menu here. This East side spot moved into the former Eggs In The City building, while the original NWSL Nomad Eatery has now temporarily closed. Soelberg spoke with the Tribune last month and expects to find a new West-side home soon though.
1675 E 1300 S, Salt Lake City, UT 84105
(801) 883-9791
nomad-east.com
Ozora Izakaya
A new Izakaya styled eatery slots into the space (I think) that was left dark by the departure of Mellow Mushroom. To be honest I don't actually know much more than that, chatter has been relatively muted on this one. I get it mind you. I'd love to travel on down there and share a bunch of the $2 skewers over some beers with you all, but hey C19.
1078 E 2100 S, Salt Lake City, UT 84106
(801) 845-0405
ozoraizakaya.com
Pat's BBQ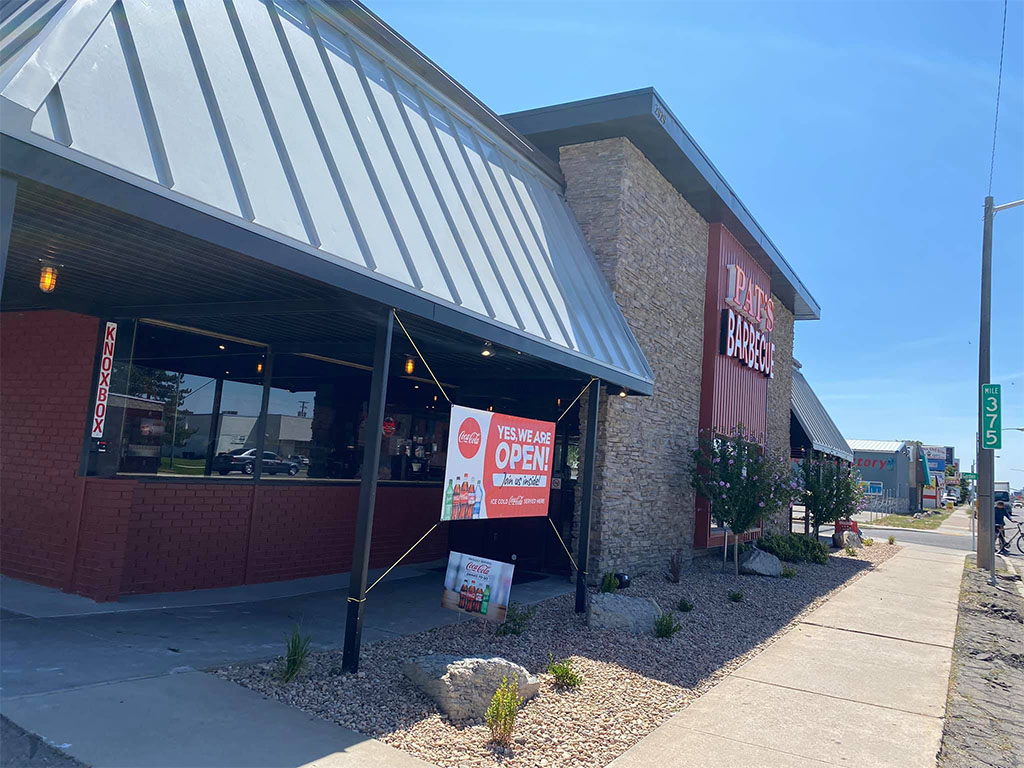 It once lived life as a Village Inn, now, it lives life as the second spot for this SLC BBQ institution. The original lives on in it's roadhousey kinda way. Also worthy of note, in the past twelve months the business also changed ownership from the namesake Pat Barber too.
2929 State St, South Salt Lake, UT 84115
(385) 528-0548
patsbbq.com
Rush Bowls
More healthy food, because some of you genuinely believe there's going to be a 2021 and not an alien invasion as the season finale (called it here guys). For you more optimistic souls out there, Rush Bowls recently added Utah to their growing list of states – they currently operate 31 locations across 18 states all told.
Herriman is the landing site for the first Utah incursion and the menu offers acai bowls (don't pretend you know how to pronounce it) and smoothies with a range of customizations on hand. The fast-casual restaurant also specializes in vegetarian, vegan, wheat-free, gluten-free, soy-free, dairy-free and nut-free options too.
13254 S 5600 W, Herriman, UT 84096
(801) 445-1577
rushbowls.com/herriman
Sabor Latino
The Latin-American cuisine of Sabor Latino has second home in North Salt Lake . The once upon a time home of Zillas now hosts Sabor's chicharron, empanadas, arepas and more. It's all available to your door via Uber Eats too…
2080 W North Temple, Salt Lake City, UT 84116
(801) 364-0885
saborlatinoutah.com
Toasters
Millcreekers take note, the former Divas Cupcakes building is now occupied once more. This time with a new location for Toasters, the quickly growing deli that serves up some mean looking breakfast items as well as lunch salads and sandwiches.
3300 S 1500 E, Salt Lake City
(801) 924-3333
toastersdeli.com
Wasatch Craft Cafe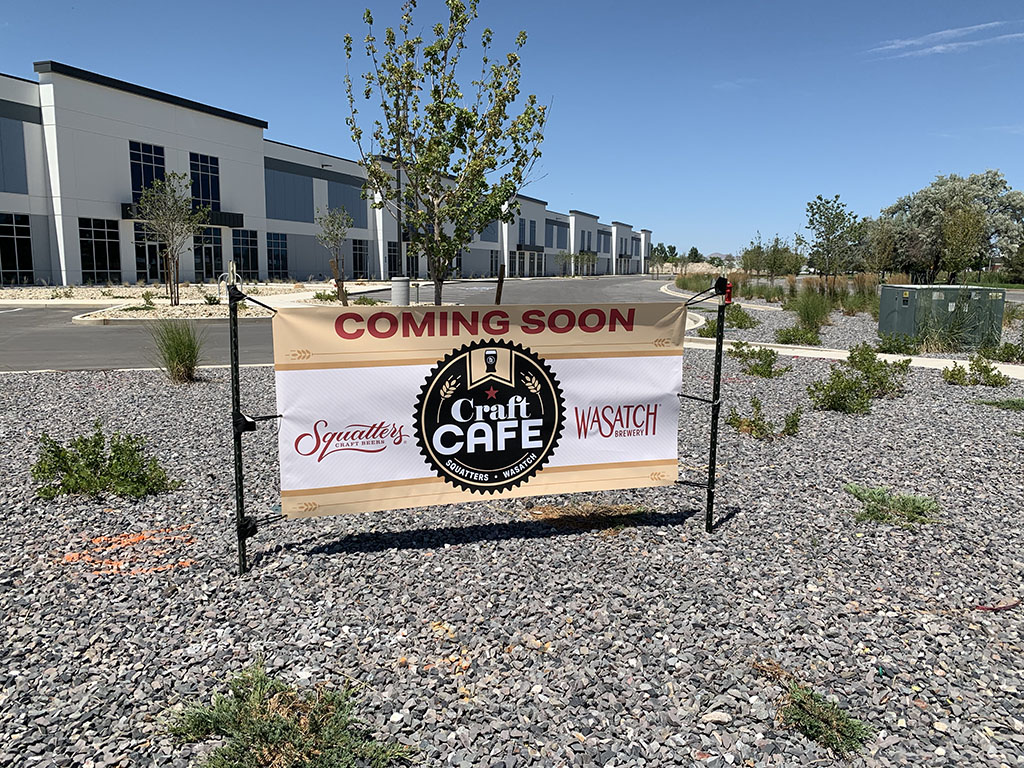 The above snap was sent to us by an eagle eyed reader (reminder, please send us all your tips, rumors and pics!). Here's the full presser from Wasatch on the new opening:
Wasatch Brewery and Squatters Craft Beers will soon add to their family of Pub locations. The expansion includes a new Craft Café, a relocation of Squatters' beloved airport pub at Salt Lake City International Airport, and the establishment of a new Wasatch Brewery airport location. The Craft Café opens for business today, September 8, at 5725 West Amelia Earhart Drive in Salt Lake City. Squatters' updated airport location opens in mid September, and Wasatch will serve airport guests starting in late October.
The Craft Café will offer specialty sandwiches, snacks and grab-and-go items, for both dine-in and to go service. Thirsty guests can enjoy fresh draft beer and canned beer on premise, or pick up packaged beer to go. Craft catering services, perfect for any corporate needs, can also be arranged through The Craft Café. Hours of operation are 8 a.m.-6 p.m.
5725 Amelia Earhart Dr, Salt Lake City, UT 84116
(801) 707-9382

Vitality Bowls
O.k. I give in. I probably should learn how to pronounce acai after all, seeing as this would seem to be the food of the future. Here's the menu for another new superfood spot, this one in downtown SLC.
51 South Main St, Salt Lake City, UT 84111
(801) 883-9065
vitalitybowls.com
Wow Bao
Delivery only bao is the name of the game here. The local iteration of Wow Bao is ran as a dark kitchen operation our of local Sizzlers kitchens. You can only grab the bao, potstickers and rice bowls over the likes of DoorDash.
Still not a customer? Order here and get first time time delivery fees waived. Note: this is also a dastardly affiliate link so we get a referral fee for first timers.
Wildwood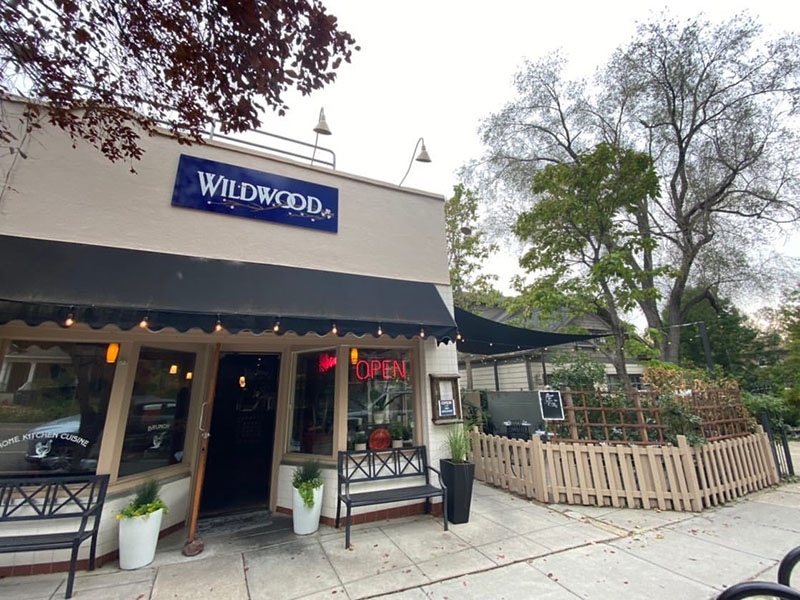 New name, new menu, same spot, same chef. The old Avenues Bistro on Third recently underwent a surprising make over and became Wildwood.
564 E 3rd Ave, Salt Lake City, UT 84103

Ones to watch
Scurrilous rumor, speculation, hope, fact, you name it – we have it. The following info is pieced together from tip offs, fevered dreams and scouring of social media.
Bartolo's
The Park City placed pasta parlor (!) recently unfurled their banner on the building once home to Yoyi's. No formal word on when this one will open yet.
Crack Shack
Nothing official as such here. But I found this story over in NRN pretty interesting. The SoCal based chain has caught the attention of the Utah based Savory fund. NRN writes that the investment group are eyeing up some pretty significant expansion, including the Midwest.
Gyro Shack
It's a bold business plan that seeks to bring fast casual Greek to Utah – but that's the strategy for the Boise based Gyro Shack. Also, if you ain't got shack in your name, you're just not hip.
The Ivy / Varley
These two snaps come to us from a reader of the site who recently spied the signs going up on the old Caffe Molise / BTG spaces in downtown SLC. There's not much more to talk about yet, though The Ivy was up on the DABC September docket applying for a full service restaurant license. I imagine the two businesses are linked, not least by the fact that there's a literal corridor between the two back of house already.
Lemon Shark Poke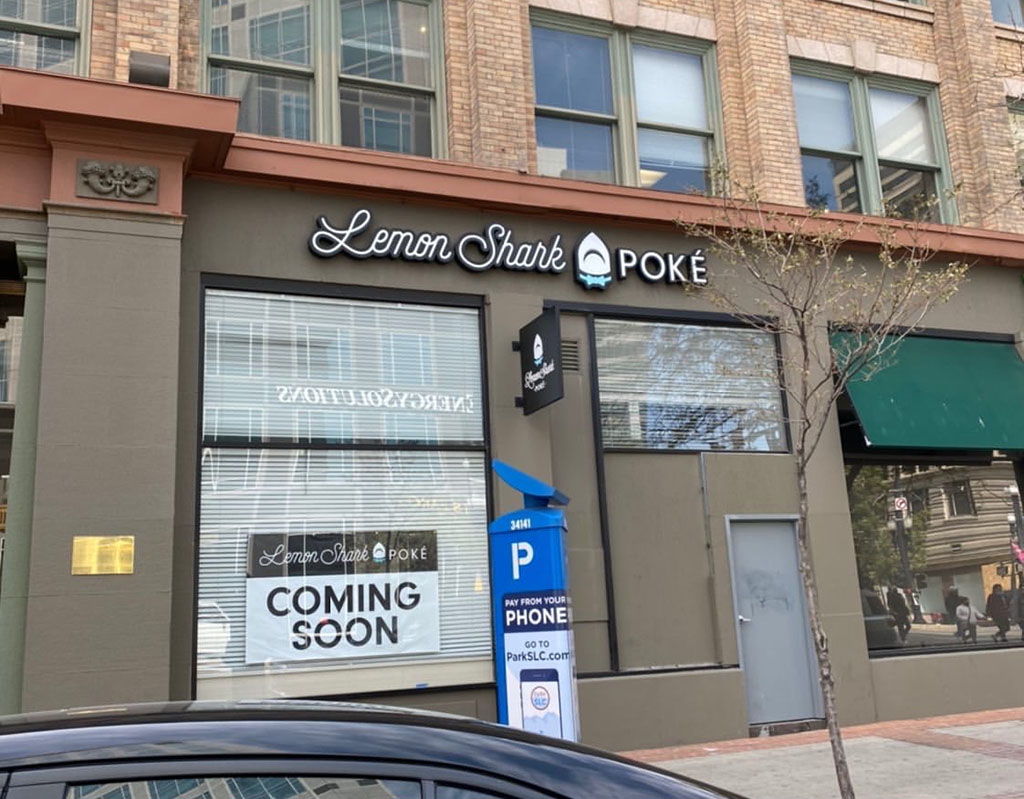 Spotted by our good friends at Salt Plate City – this new signage in downtown SLC. This new poke spot is going into the now departed Sicilia Mia downtown.
Mas Goditas
This was posted over on our Facebook discussion group, you're a member of that right? RIGHT!? For now it looks like these guys are in the test/family/friends mode, but a food truck seems imminent. Here's a snippet of a post from the group"
"As many of you know, my family and I are starting a food truck, Mas Gorditas! We have been doing taste test fundraisers as we are so so close to launching. We will be selling Menudo and Pozole this Sunday and Monday as a trial run for our weekly special. Menudo $12: 32 oz. Serving w/a fried chicken tamal for dipping. Toppings include oregano, onions, salsa & will come on the side. Pozole $12: 32 oz. Serving w/a fried chicken tamal for dipping. Toppings include avocado, radishes, lettuce, salsa & will come on the side."
Niccoli's
Opening any day now is this all new Italian restaurant (and market). The business went before the DABC in September for a full service restaurant license and they are set to open in the ever-stalled Odd Fellows Hall concept that never was – next door to Current/Under Current. Follow along here and here.
One Dude's Pizza
Home of "the waffle crust", which is apparently a Brussel's stye thingamajig and coming to Layton on October 22nd.
Pretty Bird
Now that Sugar House's Sampan has shuttered, the space in lower Sugar House (yeah I'm calling it that) will welcome Viet Pham's Nashville hot chicken joint. The plan is for this location to be the primary location for sit down dining (though who knows how that goes now, thanks 2020), with the original downtown SLC location serving as a walk up and go option.
Side note: Pham has previously talked about trying to help the Sampan owner's in some way to get back in the business, and just the other day, I heard (a very) unsubstantiated rumor about a possible Sampan comeback. Mind you, it does seem unlikely given Sampan where most recently selling everything from walk-in fridges through to single teacups in a massive fire sale on Facebook.
Santo Taco
Logan is next on the cards for these folks, here's the proof.
The Smoked Taco
Tacos, masa fries, smoked meats. Dear god I am excited. Follow along with the upcoming food truck here.
Yoko Taco
I have nothing more than this picture for you, but you can probably fill in the blanks with that alone. It would appear that the team behind Yoko Ramen are looking to blend Japanese flavors with Mexican meals and will be doing so at 300 W 800 S some time soon.
Previously mentioned with no further update
These potential new businesses where mentioned in previous posts, we're still hoping to hear more!
Bricks – last mentioned March 2020
Calavera Cantina – last mentioned October 2019
Captain D's – last mentioned March 2020
Congregation Spirits – last mentioned in June 2019
Crane Ramen – last mentioned March 2020
Eight Settlers Distillery – last mentioned March 2020
Fat Jacks Burger Emporium – last mentioned October 2019
Fife Brewing – last mentioned March 2020
Gallo Loco – last mentioned March 2020
K-Recipe – last mentioned March 2020
Los Tapatios – last mentioned March 2020
Ogden River Brewing – last mentioned October 2019
Raising Cane's – last mentioned June 2020
Shrimpies – – last mentioned June 2020
Slim Chickens – last mentioned June 2020
Ta'contento – last mentioned in April 2019
Wingin It – last mentioned October 2019
Hi, I'm Stuart, nice to meet you!  I'm the founder, writer and wrangler at Gastronomic SLC.  I'm a multiple-award winning journalist and have written in myopic detail about the Salt Lake City  dining scene for the better part of seventeen years.
I've worked extensively with multiple local publications from Visit Salt Lake to Salt Lake Magazine, not least helped to consult on national TV.   Pause those credits, yep, that's me! I'm also a former restaurant critic of more than five years, working for the Salt Lake Tribune.    I'm largely fueled by a critical obsession with rice, alliteration and the use of big words I don't understand.   What they're saying about me: "Not inaccurate", "I thought he was older", "I don't share his feelings".
Want to know more? This is why I am the way I am.
This article may contain content provided by one of our paid partners. These are some of the best businesses in Utah. For a list of all our current and past relationships see our
partnership history page
.