It's been quite the busy few months in restaurant world. Despite my own frenzied hand waving and chicken little-esque chirps of the sky is falling – a galaxy of starry eyed restaurateurs have thrown their hats in the ring. Who will succeed, who will fail, well that's pretty much up to you dear reader.
It's worth noting that while I promised I wouldn't do these mega round ups all that often (the last was barely two months ago) the velocity of new restaurants simply demands this pace right now. Without further ado the, here's nearly fifty new businesses that have recently opened along the Wasatch, or are almost ready to do so.
Now open
Twisted Tiramisu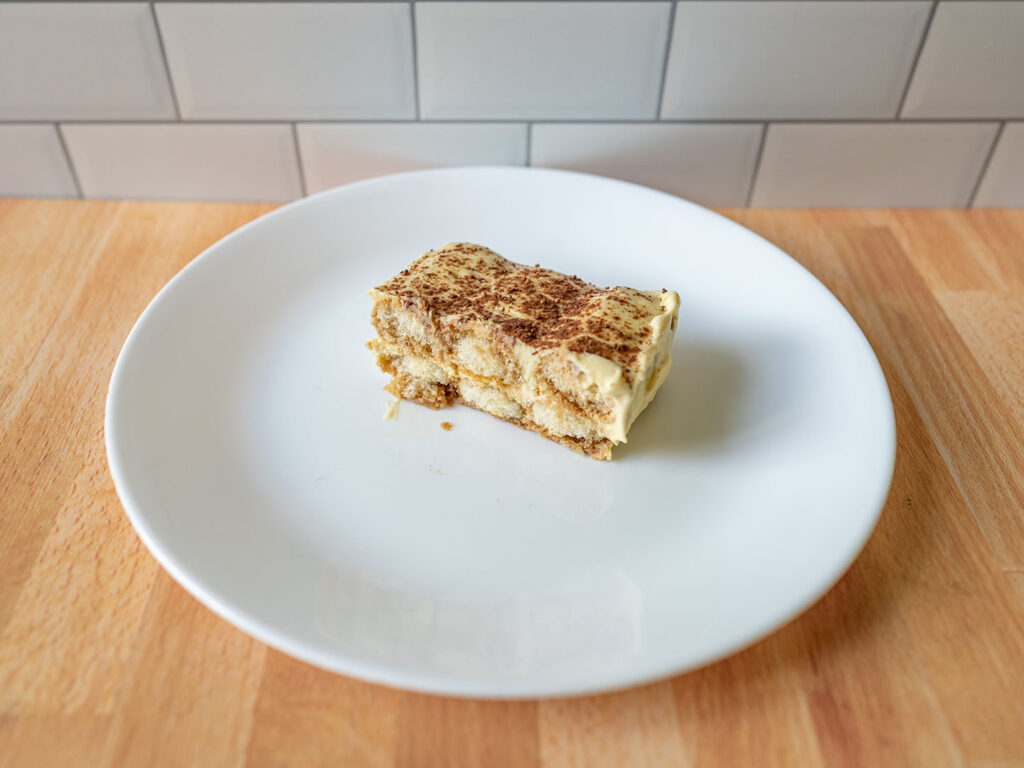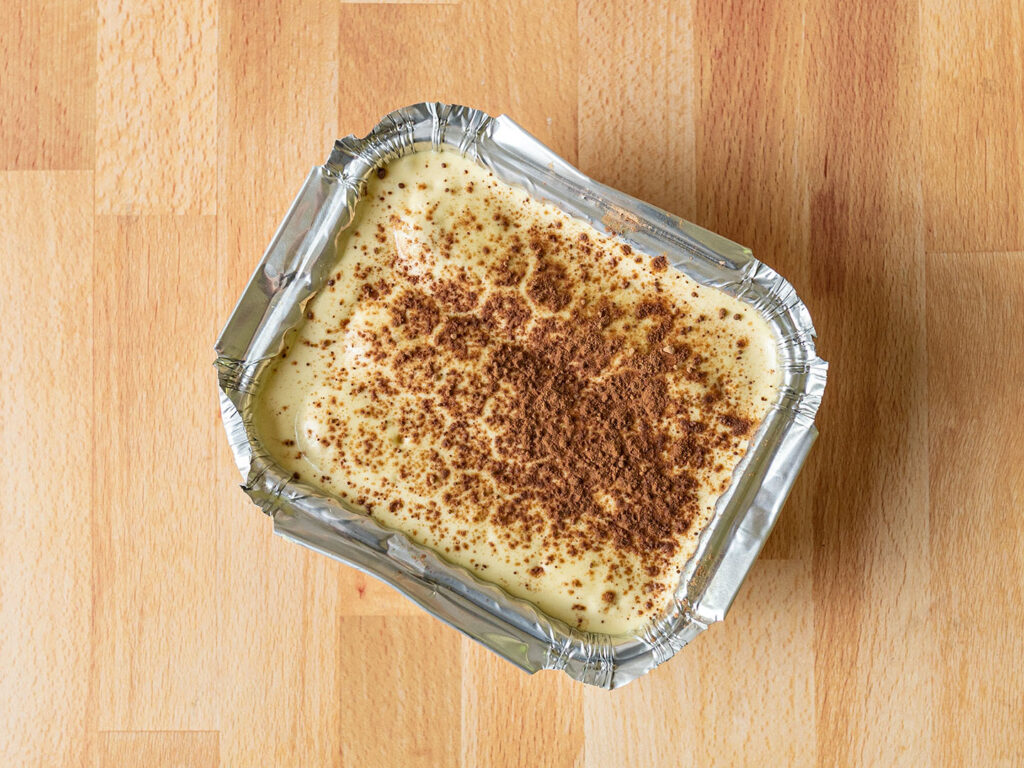 I'm starting this one again out of alphabetical order, my prerogative as it is to call out businesses I really want to spotlight. And Twisted Tiramisu is exactly one of those businesses. I first heard about this new dessert company when a friend started an email with, "hey can I bring you some tiramisu loaded with Waterpocket Rum so you can tell me what you think about my new business idea."
My response was roughly along the lines of: yes, how quickly can you get here, and are you the devil? Thankfully no souls changed hands for this decadent delight, though I might consider it given Tasty Tiramisu's fabulous products; Italian dessert, doorstep dropped around town. The menu has already evolved since my first sample a couple weeks back, now featuring concoctions like dulche de leche and matcha green tea.
Afghan Kitchen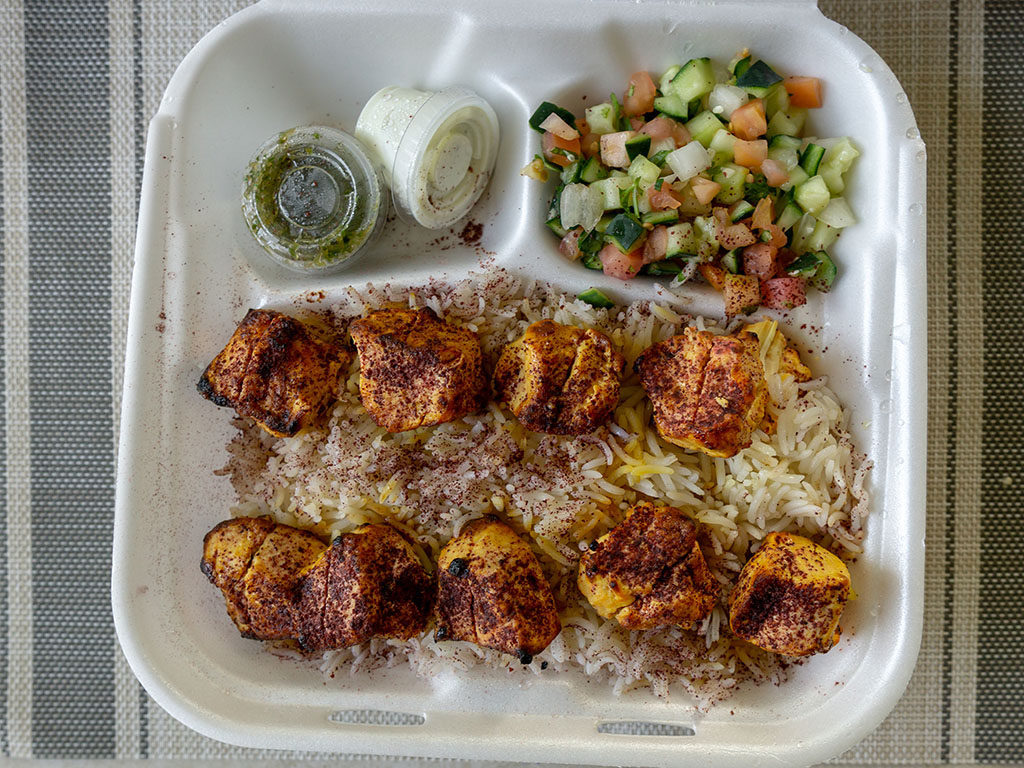 A second location of this very popular Afghan restaurant has recently opened up. I first spied the information over on Facebook here. I don't have too much more info at this time, but from what I can glean from social media is this new location offers the same menu and different opening days.
1465 S State St, Salt Lake City, UT 84115
(801) 953-1398
afghan-kitchen.com
Ascoli Espresso
A new downtown coffee shop whose owners hail from Seattle. I hear those guys might know a thing or two about brewing a cup of java. All the trendy names are here, cortado to flat whites. There's a modest food selection with crepes and croissant too – some stuffed with meat and cheese.
30 E Broadway Suite 104, Salt Lake City, UT 84111
(801) 556-0835
ascoli.coffee
Bunz Gourmet Burger
Located in the Orem Mall this new burger shop. The menu is relatively restrained with a quartet of burger making yp the menu core – but hey – one of them is a pastrami burger ($9.99) so it's all good.
575 E University Pkwy Suite M-205, Orem, UT 84097
(801) 691-0720
bunzgourmetburger.com
Cafe Anh Hong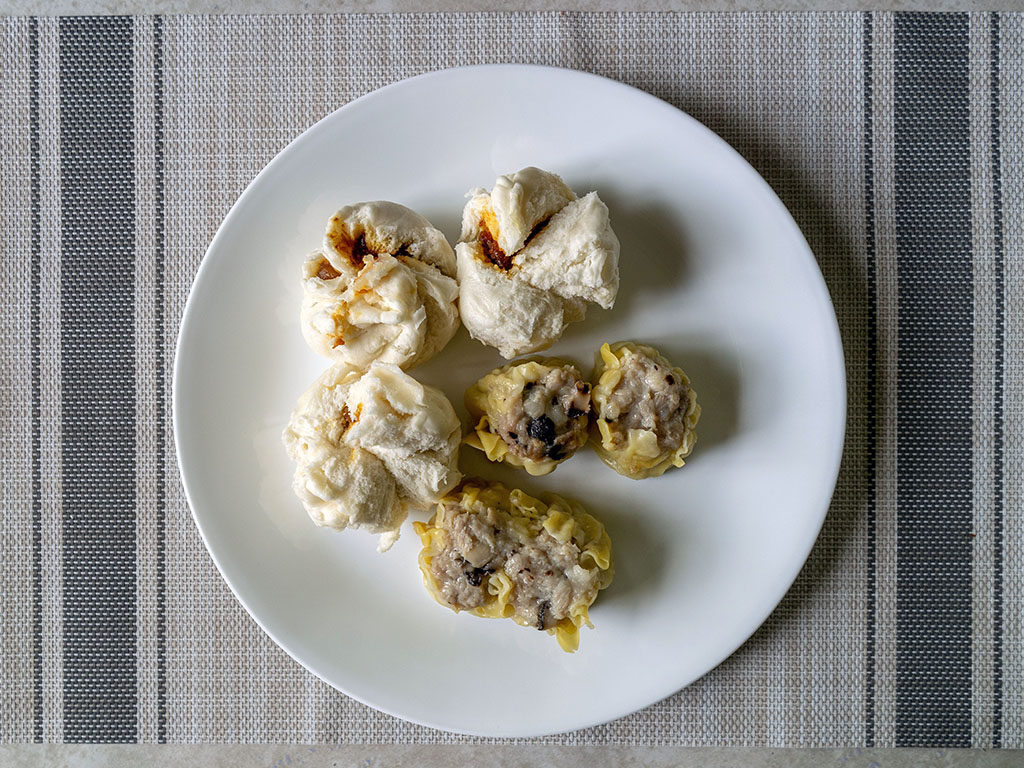 Be still my beating heart. Monday 23rd of August was the date for the re-opening of this much missed Cantonese restaurant. Cafe Anh Hong are officially back in business now. The dim sum experts are now located in Sandy's former Pei Pei House spot. Here's the all new menu.
8650 S 1300 E, Sandy, UT 84094
(801) 486-1912
facebook.com/cafeanhhong
Changs Food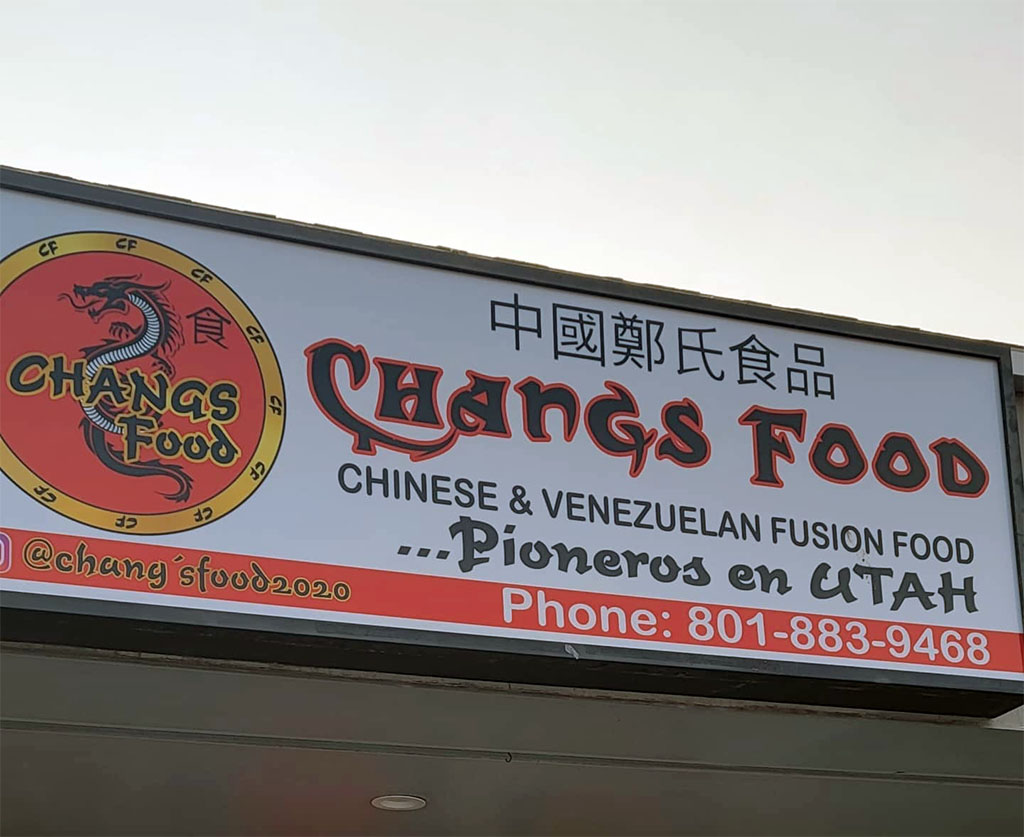 To my knowledge this is the first and only restaurant that offers "Chinese and Venezuelan fusion food" in Utah. This Facebook group post was my tip off to the new restaurant, but beyond that I've no idea how the mash up of South American and Asian foods works in practice. For sure, I will be remedying that sooner than later.
3576 S Redwood RdWest Valley City, UT 84119
(801) 883-9468
Cocina Familiar
This family ran Mexican spot over in West Valley City seemed to have escaped my gaze back when they opened in May, so here it is now. The menu is the stuff of fevered dreams for anyone that loves Mexican cuisine: birria tacos, tinga, al pastor, molcajete, mole and more.
3952 W 3500 S, West Valley City, UT 84120
(801) 600-1584
cocinafamiliarslc.com
Corleone Italian Fast Food
Opening up very recently is this new fast-casual concept in the heart of Sugar House – displacing the former occupants Chronic Tacos. Corleone offers Italian comfort food classics such as lasagne, spaghetti and more for around ten bucks a pop.
121 McClelland St, Salt Lake City, UT 84106
(801) 935-4141
corleoneitalianfood.com
The Chicken Shack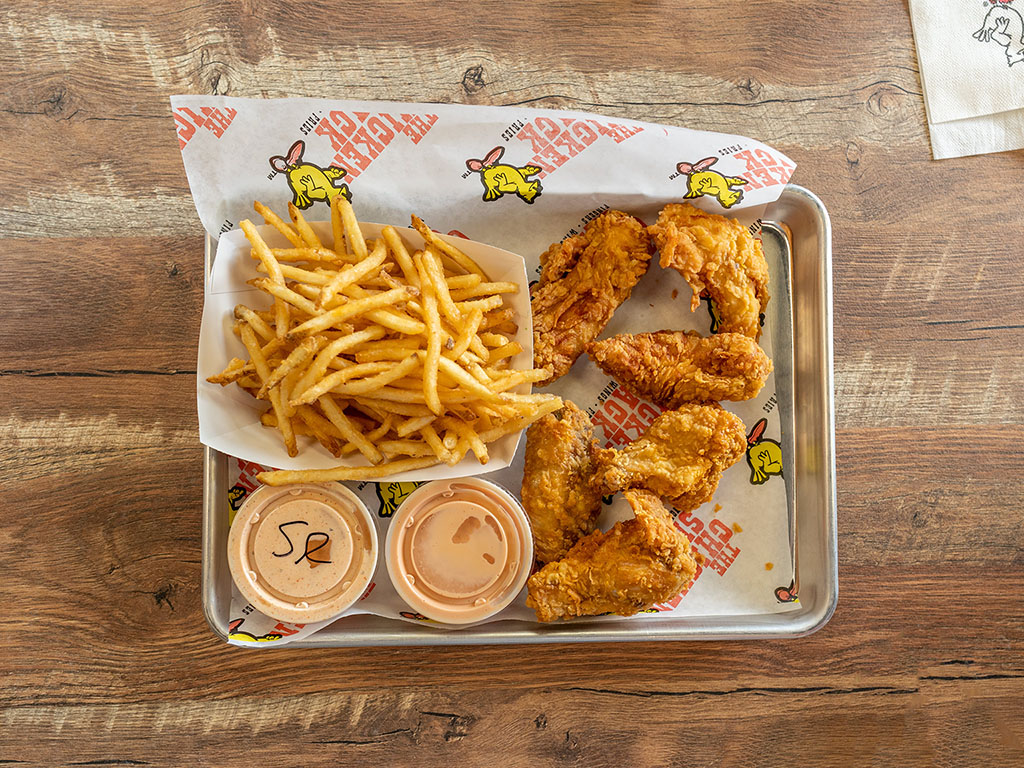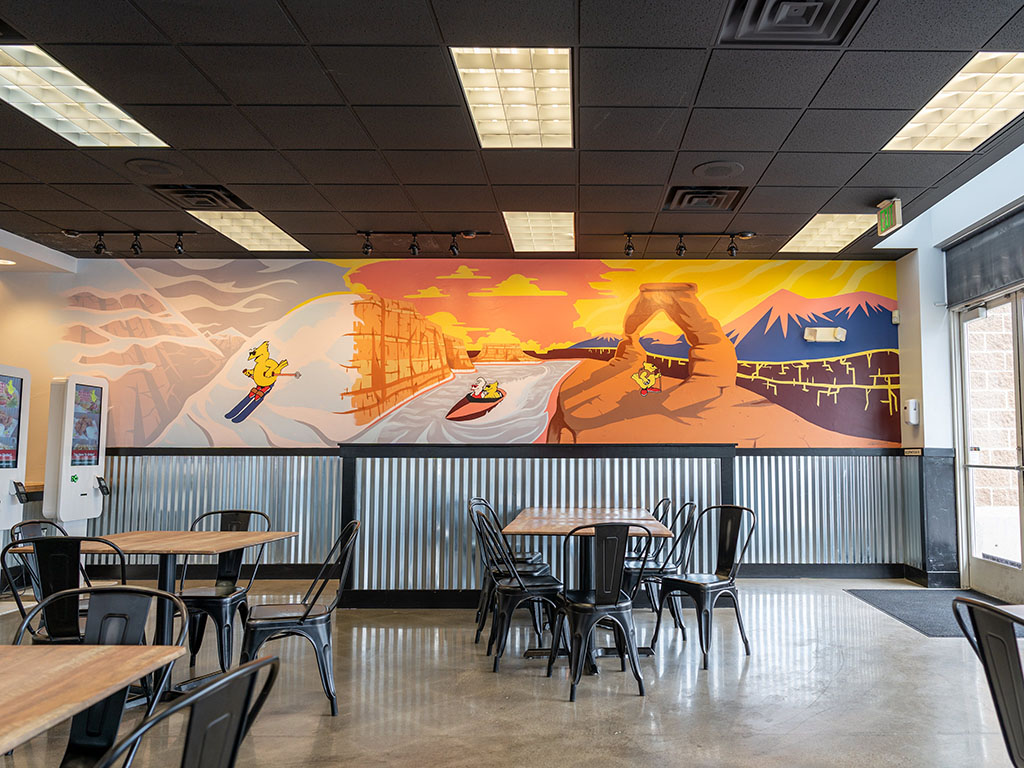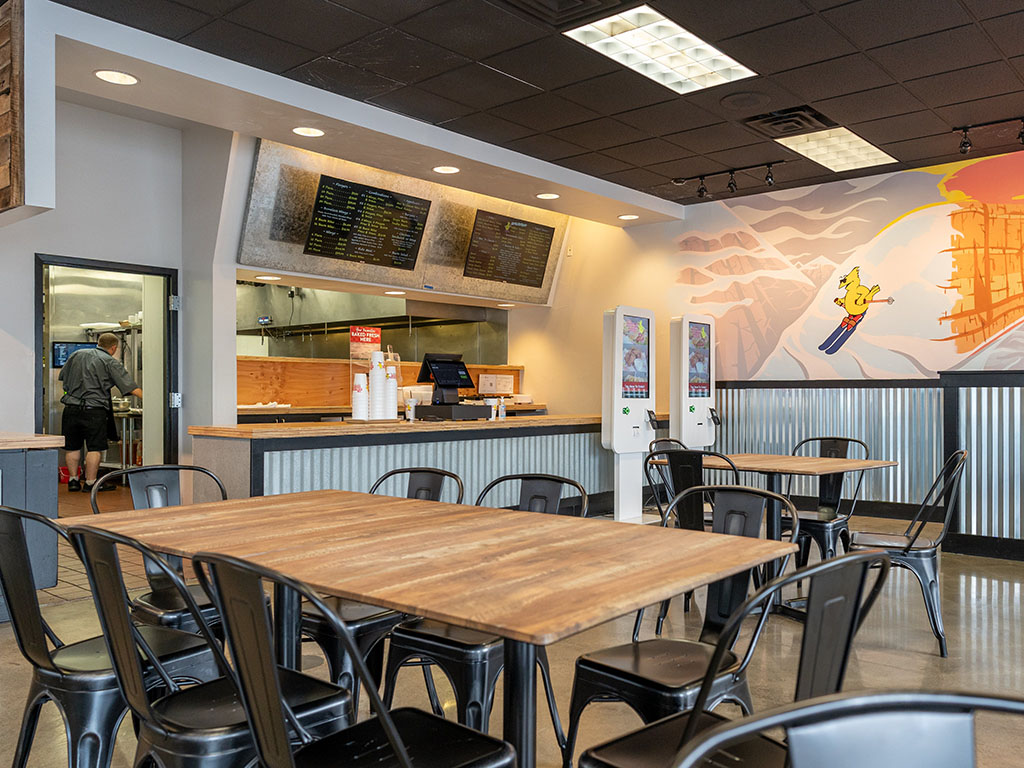 The Vegas-invasion continues with the recent opening of this Salt Lake fried chicken shop. Launching in Sin City back in 2005 the chain now has multiple locations, this being the first in Utah. For the chain's first foray here the walls are bedecked in Utah-themed artwork featuring their mascot, Fred. The menu offers a core of wings and fingers supported by a cast of sauces and dips. You'll also find burgers, chili and more.
Pictured above is one of the combo plates I sampled just a few days ago, a mix of fingers and wings. The quick 60 second review: kinda dry and bland fingers, these need work. Very respectable wings and fries – and yes – they have fry sauce. The fryers and oil are noticeably fresh and clean right now, here's hoping it stays that way. A restaurant still working out some kinks both front and back of house – but with solid reviews in Vegas.
358 S 700 E, Salt Lake City, UT 84102
(385) 229-4856
mychickenshack.com
Cupbop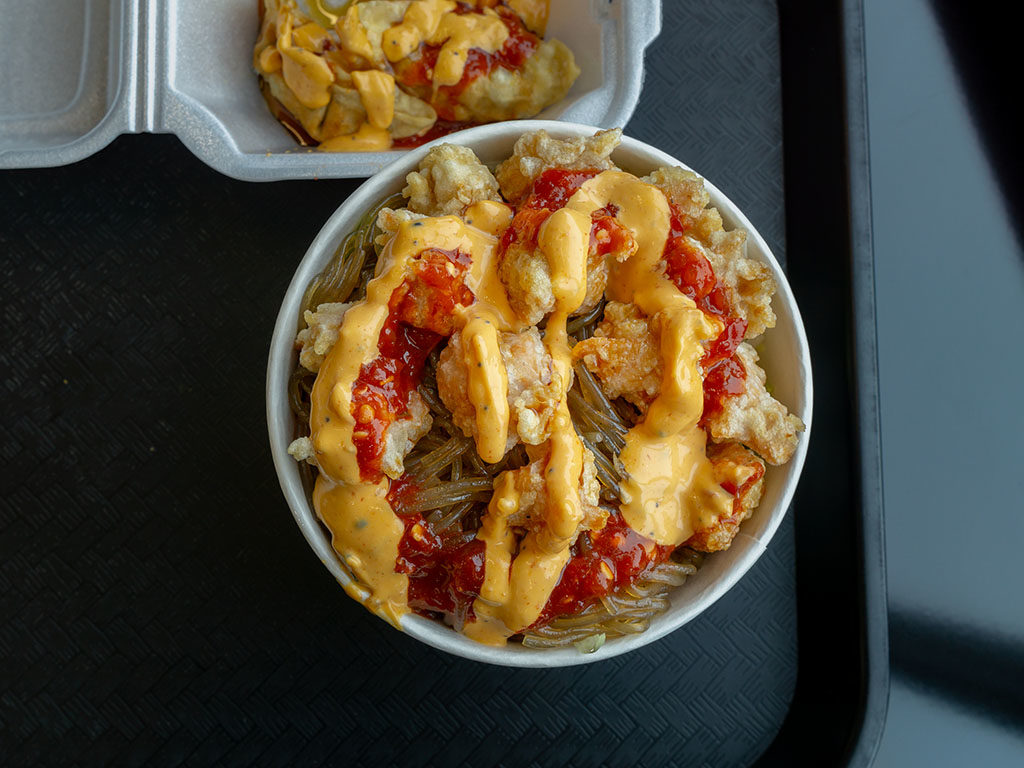 I don't think it's humanly possible to count the number of Cupbop locations these days. Go ahead and try, I dare you. There, you see, there aren't numbers possible to describe it. At any rate Fort Union is the latest to open (see here) with Logan also coming online soon as well (more info).
7178 Union Park Ave, Midvale, UT 84047
(801) 618-1024
cupbop.com
Day Dreams Cakes And Pastries
Replacing Sweetaly Gelato is this all new South Salt Lake bakery. Alicia Berardo is owner and baker and her line up of goodies includes artisan cakes, cookies, pastries and an interesting selection of South American treats such as alfajores.
465 E 3300 S, Salt Lake City, UT 84115
(801) 941-9491
facebook.com/DaydreamscakesandpastriesLLC/
Himalayan Flavor
This new Nepali/Indian restaurant hails by way of Idaho. In June the newcomers opened up shop taking over the spot vacated by Indian Oven in Logan (more info).
130 N Main St, Logan, UT 84321
himalayanflavorlogan.com
Itto Sushi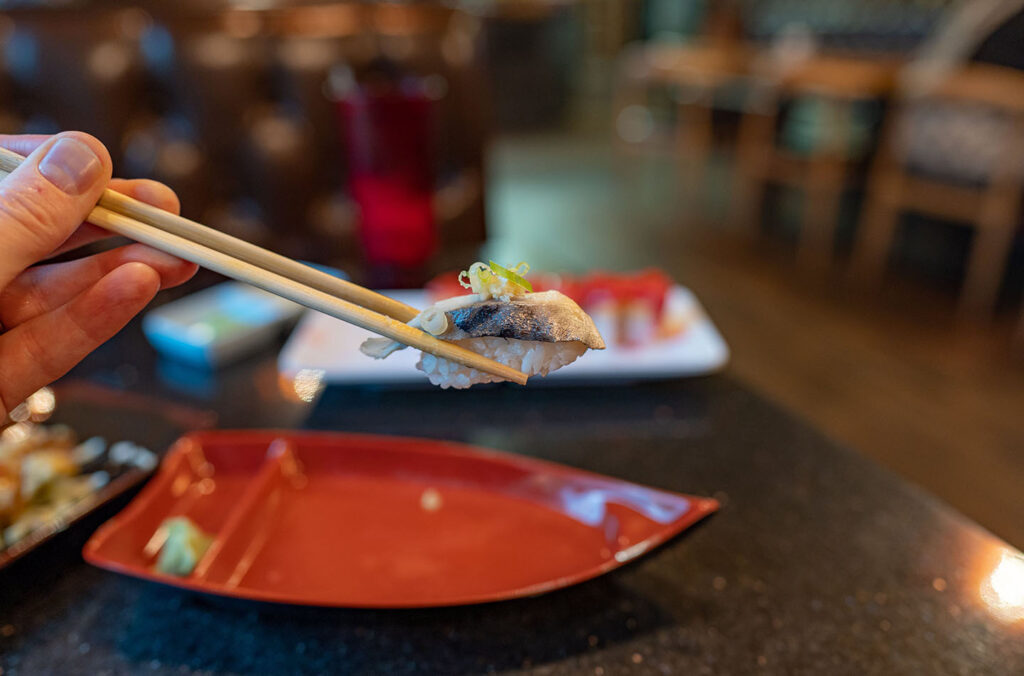 A fourth location of this mini Japanese chain is now open slinging sushi over in South Jordan. The new location brings a familiar menu to the South Valley, replicated those found in the popular existing locations of SLC, Midvale and Orem.
10555 S Redwood Rd, South Jordan, UT 84095
(385) 281-2684
ittoutah.com
Jurassic Street Tacos
I just spent the last thirty minutes Googling possible Venn diagram overlaps between taco and dinosaur puns. This is why this website takes so much damed time, you need to do the research people.
Sadly, I couldn't come up with any amazing witticisms so I'll leave it to the JST folks who have opened a second bricks and mortar location of their taco concept in Pleasant Grove. This joins a prior Provo location and a food truck operation. On the menu plenty of on brand items such as T-Rex tacos, burrosaurio, raptor tacos and more.
1809 W State Street, Pleasant Grove, Utah 84062
(801) 674-3242
jurassictaco.com
Kahve Cafe
A menu of sweet meets savory at this now open Turkish coffee spot. If dishes like gozleme, borek and baklava sound like your cup of tea – well um – head here and get a cup of tea. Or Turkish coffee. Elif Ekin's downtown cafe also offers plenty of items to go as well, from tea and coffee through regional specific spices.
57 600 E, Salt Lake City, UT 84102
(801) 674-7047
kahvecafeslc.com
Krab Kingz
Putting a Z on it, is like putting an egg on it. It just makes things better folks, this is science. Do the research. The only way this name could be better is if they really doubled down, Krabz Kingz. Anyway.
This new restaurant in South Jordan is now open and adds to an increasingly large roster of seafood boil spots along the Wasatch.
Edit: Z Krab Kingz – even better.
1072 South Jordan Parkway South Jordan, UT 84095
facebook.com/krabkingzslc/
Lakehouse at Deer Creek
A reminder that chef Tamara Stanger is now at the wheel at this Deer Creek restaurant. Our newest contributor Christy wrote about them here – and what's arguably one of the more interesting menus and concepts to open up in the state for sometime.
5317 US-189 S, Heber City, UT 84032
(435) 210-7474
thelakehousedeercreek.com
The Local Greek
Recently upping sticks and making their way to over to the former Cubby's location in Taylorvsville, this once Riverton restaurant. Their menu has all the Grecian classics you crave like souvlaki and gyro – not least a slew of more interesting tricks up its sleeves; whole grilled fish, slow cooked beef with orzo, and fried grilled lamb chops are just three dishes that leaped off the pages to me.
1764 west 5400 south Taylorsville, UT 84129
(801) 996-3042
thelocalgreek.com
Momo's Gourmet Cheesecake
City Weekly's Alex Springer sprung the news on this one. Here's what Alex wrote about this new dessert spot for the CW:
This Provo bakery eecently hosted a grand opening event for their new South Jordan location. If you've never had the privilege of combining their vast menu of custardy cheesecake options with an equally impressive range of crust flavors, now is a good time to check out their new digs. They specialize in personal-sized cheesecakes which are rich and flavorful enough to satisfy two reasonably hungry diners, or just one unreasonably hungry diner. Momo's likes to keep their diners surprised with a rotating list of flavors that you can check out via their Instagram page (@momosgourmetcheesecakes). If you're a cheesecake fan in Salt Lake County, this place is worth keeping on your radar.
671 W 10600 S, South Jordan, UT 84095
(801) 987-8125
momoscheesecakes.com
Mr Charlie's Chicken Fingers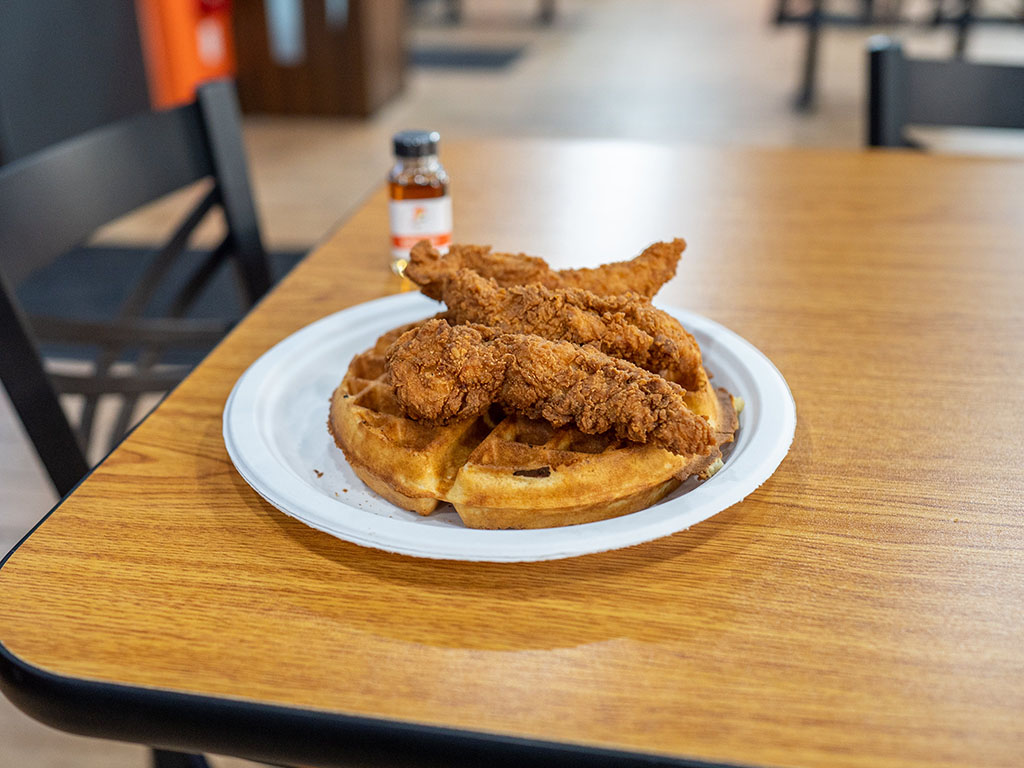 The expansion of Mr Charlie's Chicken Fingers is now complete with the recent opening of their Draper location. The new location features an all new chicken and waffle dish, as well as a handy dandy drive thru if you're in a rush. The chicken tenders/fingers have also undergone a slight upgrade in recent time too, notably from the input of the new co-owners.
You might recall Penny Ann's Cafe recently became a 50% owner in the chicken finger based business. With the recent arrival of Raising Cane's in Utah, and the ensuing comedic lines of cars, perhaps expect to see more of these pop up; not least also the fact Penny Ann's are exploring franchising too.
I found out from first hand experience that should you have any leftover fried chicken and waffles – you also have a surprinsgly great breakfast sandwich the next day. Just saying, I did the research.
592 E 12300 S, Draper, UT 84020
(801) 938-9561
mrcharlies.com
Prodigy Brewing Co.
The always fabulous Tim Haran and his Utah Beer News website has this story detailing the opening of the all new Logan brewery. Expect around 12 beers on tap, high-point cans, a small food menu with late night snacks and an outdoor patio.
25 W Center St, Logan, UT 84321
prodigy-brewing.com
Rooster's @ SLC International
By way of completeness, more spots continue to open at the oft maligned new SLC International. Other local names now filing out the concourses are Fillings And Emulsions, Gourmandise, Granato's, market Street, Squatters, Uinta and Wasatch.
Santorini's Greek Grill
This Farmington based casual Greek eatery have now made their mark a second time over in Bountiful. July 19th saw the grand opening – with their website also indicating a possible Sandy location will make three sooner than later. Santorini's menu offers a build it yourself model based around bowls and pita.
135 N 500 W C, West Bountiful, UT 84010
(801) 451-5850
santorinisgreek.com
Shane's Donuts
Milkmen, santa claus, spring heeled jack…and err… donut makers. The list of those who leap into life at ludicrous hours such as four a.m. Actually the start time listed here is so preposterously early that this seems like a fantastically magical place. Go check them out in person and let me know if this is indeed fact. Do the research. Tasty tasty donut research.
5471 S State St Murray, UT 84107
facebook.com/shanesdonutsmurray/
Somalia Restaurant – Midnimo
Not much to go on here but I did find this menu on Clover for a new Somalian restaurant. The West side restaurant seems to be garnering great reviews from diners so far. One Googler noting, "We had the goat and rice which was delicious! The restaurant is well decorated and has an amazing ambiance. The good was well priced. Close to the truck stop, it is definitely worth going to." Here's some more on Yelp.
55 N Redwood Road, Salt Lake City, UT 84116
(385) 227-8481
Sunday's Best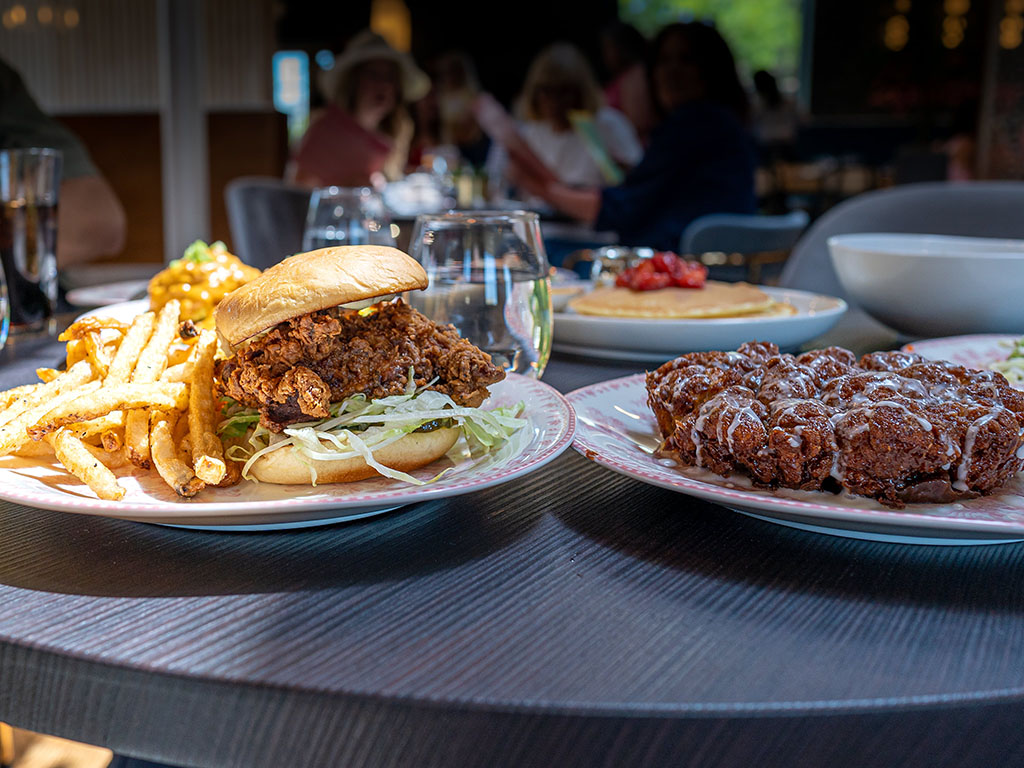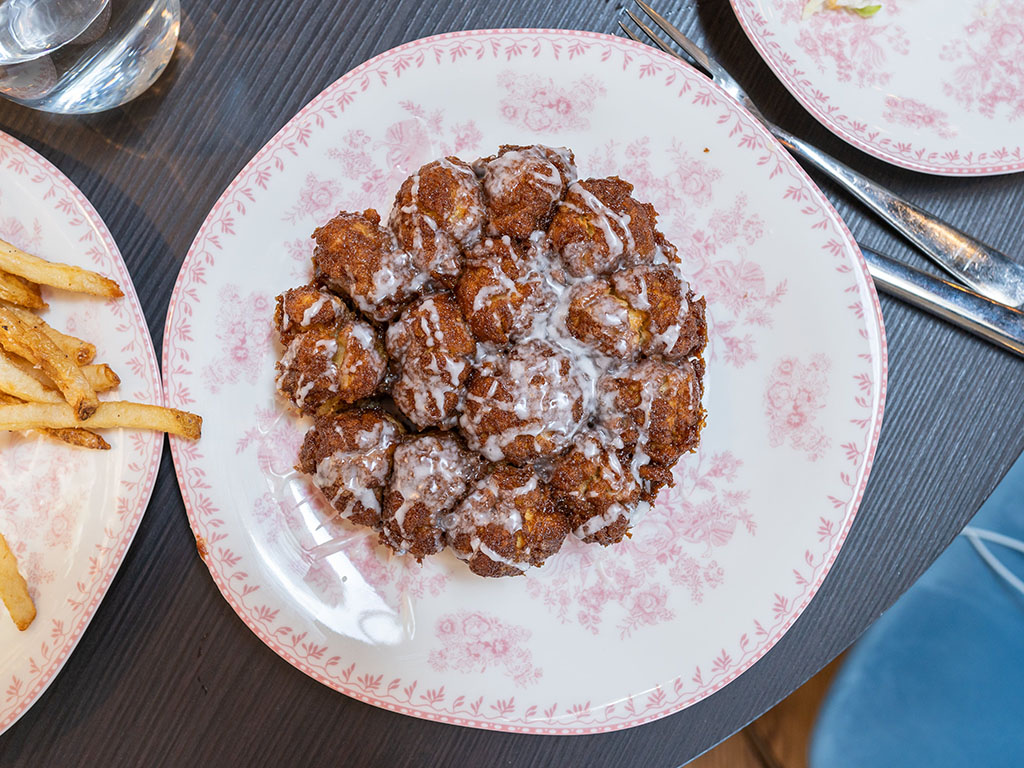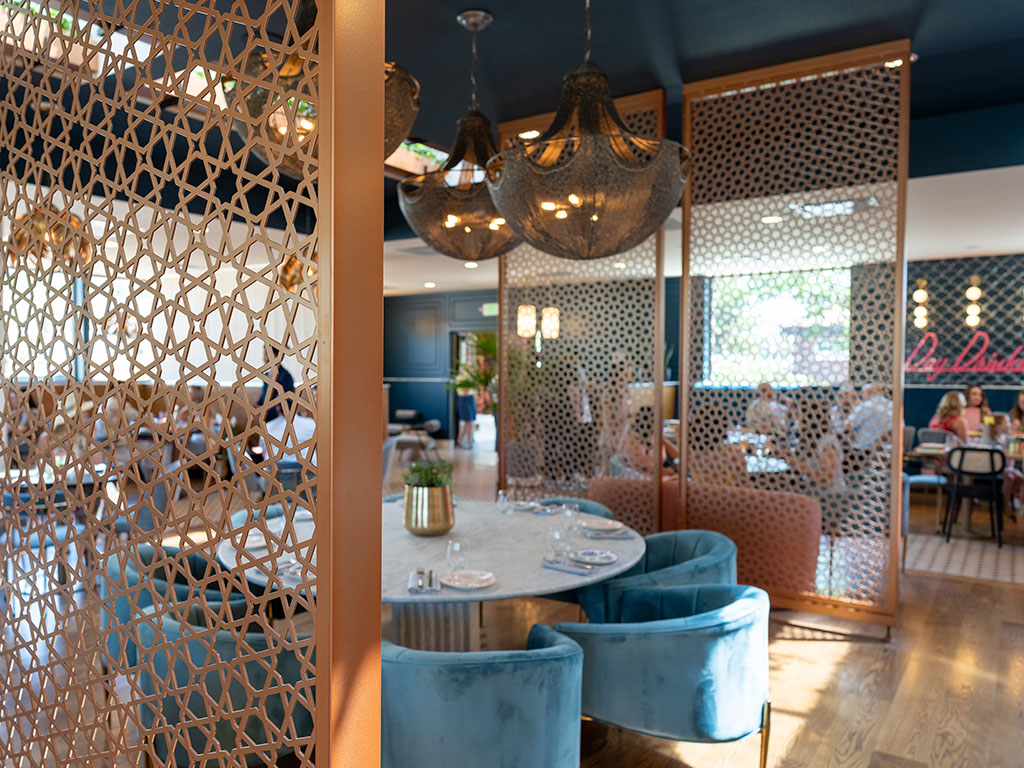 The latest collaboration between chef Tyler Stokes and restaurateur Michael McHenry is now open in Sandy. The duo last worked together on downtown SLC's Ginger Street and have teamed up again to deliver this all day brunch spot at 102nd South; this former Southerly outpost of Mazza retains some of the previous occupants design motifs with a hefty dash of modernist-cafe chic dolloped on top.
The menu affords a diverse range of brunch items, ranging from the traditional to the trendy; the picture above is their fried chicken sandwich and sticky-sweet monkey bread. Open till 4 p.m. every day the restaurant has a slew of fizz options ranging right upto a $600 Dom.
10672 State St, Sandy, UT 84070
(801) 441-3331
brunchmehard.com
Table 25
Numerous readers and industry vets reached out to me about this one. Just one such example:
There is a new restaurant opening in Ogden in the next week called Table Twenty Five. This restaurant is being opened by long time Copper Onion Servers, husband and wife couple Jamie and Justin Buehler. Jamie and Justin are very attention detailed to service, which I feel like many Utah restaurants struggle with, so it's exciting to see what they can do, although finding good staff has proved challenging.
The menu is solidly New American with nods to all the right things like seasonality and local product.
195 25th, Ogden, UT 84401
(385) 244-1825
table25ogden.com
Table X Bread
You might have spotted fine-dining Table X's picture perfect bread at many places around town, Beltex to Caputos. Now you can grab it in person at their all new bakery spot too. TXB is open in the space below the Millcreek restaurant itself and serves baked goods Wednesday through Saturday, 8 a.m. through 3 p.m.
1457 E 3350 S, Salt Lake City, UT 84106
(385) 528-3712
Trolley Wing Company
Taylorsville becomes the fourth port of call for this local wing emporium and sports bar. The new wing shop is now open for dine in 4 p.m. through midnight every day. Existing locations include the Trolley Square original, Sugar House and Midvale.
5418 S 1900 W, Taylorsville, UT 84129
(801) 432-7685
trolleywingco.com/taylorsville-1
Yummy's Korean BBQ
Currently in a soft opening mode, this quick casual Korean-Japanese restaurant. The new West Valley City location looks to build on the success of the Orem original with dishes such as kalbi short ribs, teriyaki chicken and katsu.
2946 W 4700 S, West Valley City, UT 84129
(801) 769-6614
Zaperoco
Another hat tip to CW's Alex Springer. Here's what he wrote about this Venezuelan spot in Lehi recently:
When a new Venezuelan place like Zaperoco opens, a food writer gets their first piece published—or so the legend says. True or not, a new place for cachapas, arepas and tequeños is always worth celebrating. I'm a recent convert to the wonders of Venezuelan cuisine; arepas have the sandwich market cornered with their overflowing fillings and crisp exteriors, and the first time I had a cachapa, I went weak in the knees. We've got a few places in our neck of the woods that scratch this particular itch, but now folks in Lehi and its surrounding area have better access to these wonderful Venezuelan eats.
785 E 200 S, Lehi, UT 84043
(813) 802-1463
facebook.com/zaperocofoodut/
Coming soon
The following list comprise completely new ones to watch, or others that we've mentioned before and have timely updates on. Looks like its gonna be a busy year folks…
Bubba's Favorite
Spotted on Instragram – this new private chef and catering option. Not much details yet.
Capital Grille
Stick this one in the diary. Actually you'll need a new diary as well. This one isn't expected to land until the backend of 2022. Capital Grill is another national steak house chain in the mold of Ruth's Chris and Flemings. The Grill will be coming to the heart of downtown SLC next Winter, in a new spot on Regent Street.
Capital Grille is part of the Darden empire which includes big nation named like Olive Garden, Red Lobster, Longhorn steakhouse amongst many others – not least including similar stablemate Eddie V's, another upscale steak concept.
Coffee & Tonic
Several readers contacted me about this one. As yet there are no concrete details beyond the name and the location. The seemingly beverage focused C&T is opening up in the old Einstein's Bagels location close to the U. I've not seen a related filing at the DABC (or city licensing for that matter) for this one just yet, so would wager on a coffee shop/restaurant focus. More info when I hear it.
Copper Creek Pub and Grub
I'd previously reported on the closure of this West Valley pub spot, but it seems like the business might be about to be taken over by new owners. If you can read this, you can read more. If you can't – join our Facebook discussion group 😉
Del Barrio Cafe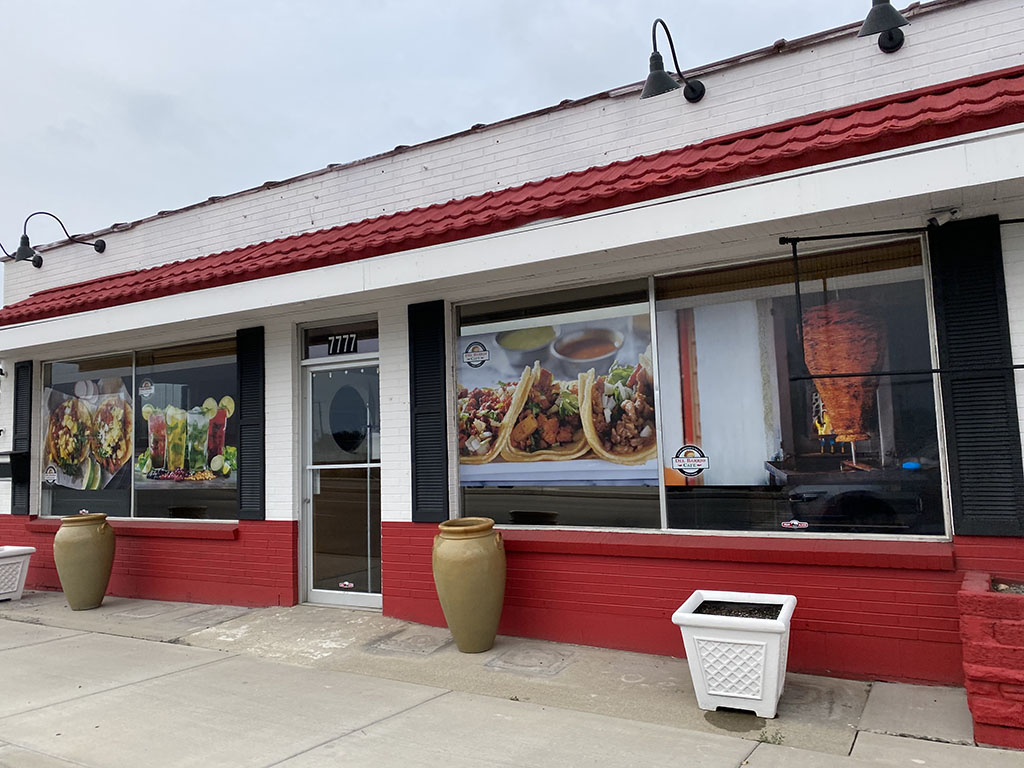 This one from the eagle eye Salt Plate City team. If someone even so much as misplaces a fork, I guarantee these guys will know where its at. Expect this new Mexican eatery to land sometime in September in the former Mekong Cafe spot at 7777 South State Street.
Fenice
Slated to open any day now is this operation from the owners of Summit County's Silver Star Cafe – a restaurant with no small amount of praise it should be noted. Fenice looks set to essentially reboot the former spaces's Fireside on Regent concept, no doubt in their own unique way. The restaurant's Facebook page states, "Italian and Mediterranean fare. Wood fired pizza". The restaurant was recently awarded a full service liquor license at last months DABC meetup.
126 Regent St, Salt Lake City, UT
Flanker Kitchen + Sporting Club
If you wondered what might emerge from the former Punch Bowl space at the Gateway, wonder no more. I received the following press release this week going into great detail about the next experiential concept going into the mammoth space. Presumably the existing layout and configuration of the multi-talented Punch Bowl (see the picture of their old bar above) is the perfect canvas for the new owners. Here's the full press release:
A game-changing dining, drinking and entertainment establishment is coming to Salt Lake City this September when Flanker Kitchen + Sporting Club (Flanker)opens across from Vivint Arena on the second floor above the Olympic Legacy Plaza at The Gateway. Owned and operated by Las Vegas-headquartered Carver Road Hospitality, the 17,500-square-foot multi-concept complex will feature a restaurant, three bars, 400-square-feet of LED screens, private karaoke and golf simulator rooms, a central sporting club/nightclub and a cocktail lounge. Flanker will serve adults ages 21 and over.
"We chose Salt Lake City because it's such a social and emerging culinary scene," said Sean Christie, chief executive officer of Carver Road Hospitality. "Our goal is to bring a world-class concept to the city where you can have a great meal, the best drinks, exceptional service and, most importantly, a fun time all in one space."
Designed by award-winning international design studio DesignAgency, the distinctive guest experience begins in the reception area that provides a warm and inviting entry point into the Restaurant. Pulling inspiration from Salt Lake City, the Restaurant will present a color palette inspired by the Utah Jazz and Utah Grizzlies sports teams. The 360-degree bar anchors the main dining area offering a range of seating options with the bar and lounge, high-tops, patio and traditional restaurant seating. 30 state-of-the-art screens will display sporting events, digital art and a variety of content. The area is complete with a fireplace, large stage for live music and entertainment, foosball and shuffleboard tables, and other activities to complement the inherently social scene and multi-sensory experience.
Open Monday through Friday nights from 5 p.m. to close and Saturday and Sunday beginning at 11 a.m., the Restaurant will serve elevated American fare including lobster fritters, smoked brisket nachos, a Black Angus burger, broiled NY Strip and more, all prepared from scratch in the full kitchen. Selections ranging from light and fresh to cheat-day indulgent are sure to please diverse tastes. Flavorful vegan options will be available. A Brunch menu includes shared plates, breakfast favorites and savory lunch items. Milkshake offerings will dare to be different with tempting flavors and playful garnishes. A curated selection of local spirits and crafted beers will also be offered.
The Sporting Club hosts Saturday viewing parties for the biggest college games and sporting events, with full brunch food and beverage offerings. A Sunday brunch party is sure to score extra points for locals and visitors alike with a special menu and game-viewing enhanced with the latest audio and visual technology, live DJs, interactive experiences and much more. On Friday and Saturday nights beginning at 10 p.m., guests can revel in the social nightclub atmosphere featuring a DJ booth with next-level production capabilities, dance floor and banquette seating that sits adjacent to the multiple private karaoke and Full Swing golf and sports simulator rooms. The full menu will be available. Programming will include original hosted parties, top DJs and live music. Restaurant guests will always have access to the Sporting Club's karaoke and simulator rooms.
Tucked away towards the back is The Parlor.With its leather banquettes and an inviting new bar design, The Parlor will present an elevated craft cocktail and worldwide spirits program created by an icon of cocktail culture and Carver Road Hospitality's VP of Beverage & Hospitality Culture, Francesco Lafranconi. Open Friday and Saturday evenings and Sunday days for the brunch party, guests can shoot pool, play classic parlor games, bowl on the retro-style lanes behind the bar, order from the full menu and enjoy a diverse selection of throwback music in the relaxed cocktail-driven social scene.
"Carver Road Hospitality's innovative vision for a high-energy, sophisticated dining, bar and state-of-the-art entertainment venue complements The Gateway's mission to be a community gathering place and lifestyle destination," says Jenny Cushing, vice president of leasing with Vestar. "Flanker's Vegas-style approach taps into Utah's sports-loving culture and our growing demand for elevated cuisine and inventive cocktails. It promises to be unlike anything Salt Lake City has seen before."
With so many unique experiences available within the expansive venue, from dining to drinking, to dancing and entertainment, Flanker is destined to offer something for everybody.
For additional information and to follow Flanker, visit linktr.ee/flankerslc.com.
Garage Grill
Herriman will be the next stop for this expanding restaurant. Posting to Facebook the brand writes, "WE'RE BREAKING GROUND!!! Coming this Fall 2021 to 12600 S Mtn View Corridor in Herriman, we'll be opening up a second Garage Grill location! More details to come as we continue to make progress, but we couldn't be more excited!"
Greek Streak 2
Making the trip from Price and landing in Logan, this second location for the Greek restaurant (more info). In other news – Logan is officially the new Lehi when it comes to new openings – you read it here first.
Kabob Bros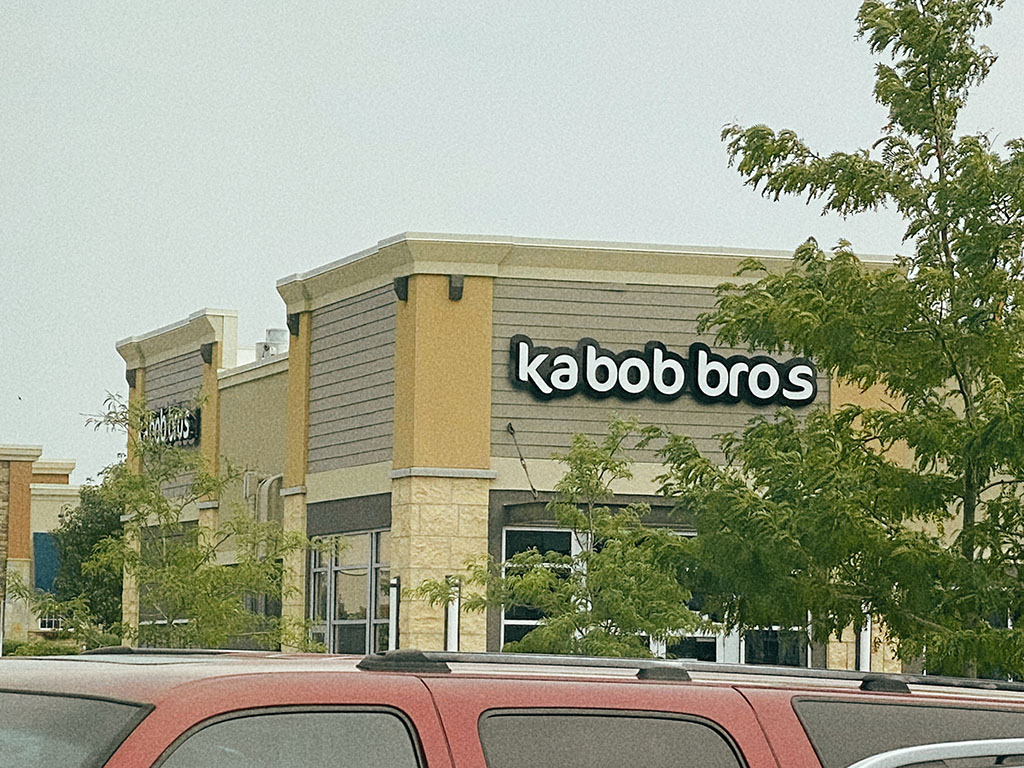 Another Salt Plate City spot. Coming to Midvale in September the Pakistani food looks right up my alley. I can't wait for this one. Here's the menu.
Loco Burger
Check out this post on the Restaurant Inner Circle food group. Loco Burger seems to be a new concept coming along in the not too distant future.
Monarca
In the last huge roundup I noted that Santo Tacos was mooted to takeover the now empty Alamexo space on State Street. An eagle eyed reader recently send me the snap above, suggesting more than just another installation of Santo owners Alfonso and Claudia Brito well regarded taco spot. More news as and when. A more recent update also suggests the lights are on here – opening soon hopefully!
268 S State St, Salt Lake City, UT 84111
Nona Bistro
Follow along here on IG for more info updates on the expansion of 9th and 9th's Pizza Nono. Nono meet Nona. All we know for sure so far is the brief description over on the social media page which states, "346 east 900 south. a (mostly) outdoor sister restaurant."
Pizza Nono
This picture seems to suggest a location of Pizza Nono is headed to the Millcreek area as part of the overall recipe of the area surrounding 3300 South and Highland.
Senor Pollo
Another local expanding at great pace and now with a penning new spot coming to Orem. Expect this one sometime in September.
Scion
Scion is a new cider-focused bar coming to the Central 9th neighborhood – just South of Laziz. Reps from the business contacted me this month to share a little more info on what to expect:
"We will have 20+ taps of cider, plus a significant selection of craft cider in cans & bottles imported from all over the US, the UK & elsewhere as we ramp up. We'll also serve cider focused cocktails & a smaller selection of non-cider beverages, along with snacks for pairing. We will also be doing our own in-house production of small batch cider as well."
916 Jefferson St, Salt Lake City, UT 84115
Slackwater Pizza
SLC will be the next destination for the famed Ogden based pizza and pub, which most recently made Sandy home as well. Here's the press release on the impending arrival:
Pizza lovers rejoice! INDUSTRY SLC will soon be home to Slackwater Pizza's mouth-watering artisan pizzas slated to open in late 2021. With locations in Ogden and Sandy, Slackwater Pizza has grown into a staple for foodies and craft beer connoisseurs in the Beehive State.
Selecting INDUSTRY for its third location was an easy choice for the Slackwater team who will look to employ 80+ employees from the area. The new space includes patio seating, an open air atmosphere, expansive garage doors for natural light, and will seat 250 people comfortably. From brunch to beer to buffalo wings, Slackwater will continue to serve its popular and curated menu in this new spot.
"We believe in having unique spaces that feed off of the areas they are in," said Blake Hirschi of Slackwater Pizza. "We hope that everyone can feel comfortable and welcomed by our space while enjoying our same great menu. We are excited and grateful for the opportunity to operate out of INDUSTRY with all the cool spaces and growth they have planned for the area."
The Slackwater team signed on to the INDUSTRY SLC location during the height of the COVID-19 pandemic, standing by their strong insight of the resurgence of dine-in-eating soon on the horizon and confidence in the Granary District location. 

"We are thrilled to add Slackwater to the INDUSTRY SLC family and excited to have executed this lease in the height of the pandemic. Slackwater is a strong local tenant and is embracing the revitalization of the Granary District neighborhood," said Jason Winkler, co-founder of INDUSTRY.  Slackwater's menu for their INDUSTRY location will be in a similar fashion to their existing locations with staple favorites, a rotating special menu, and an expansive beer and drink menu. 
650 500 W, Salt Lake City, UT 84104
Tiger Sugar
This one comes via press release, a new Taiwanese dessert drink spot is coming to South Salt Lake. Here's the deets:
Tiger Sugar is the original caramelized brown sugar bubble drink with fresh mousse cream. Our dessert drink originated in Taiwan and has become an international sensation thanks to the unique "tiger stripes" created by our hand-poured syrups.
Many companies have tried to imitate our drinks, but nothing compares to our proprietary 8-hour method for cooking our syrups and tapioca pearls. The result is a perfect blend of tea, milk, and syrup featuring our one-of-a-kind stripes.
The rumors are true — TIGER SUGAR is coming to 3390 S State St Unit 12, South Salt Lake, UT 84115, United States. Grand Opening Date & Time: Saturday, September 4, 2021 at 11:00 AM
We'll be giving out FREE Tiger Sugar merch to the first 200 orders during the grand opening weekend! (100 on Saturday and 100 on Sunday)
Pretty Bird
Park City should be home to the third iteration of the Viet Pham's fried chicken soon enough. Enigmatic as ever, Pham recently posted the following tease to social media on August 3rd:
Pretty Bird #ParkCity #Prospector #fall2021
Wimpy and Fritz
A new location for this quirkily named Ogden restaurant seems to be nearing completion. Check out the following IG video previewing the final stages of the build out.
Via 313
Coming to Orem is this Austin TX based business that err, makes Detroit style pizza. The Savory Fund owned operation (R&R, Mo Bettah's, Crack Shack et al) is currently hiring suggesting an opening for this one is impending.
Extra bonus new item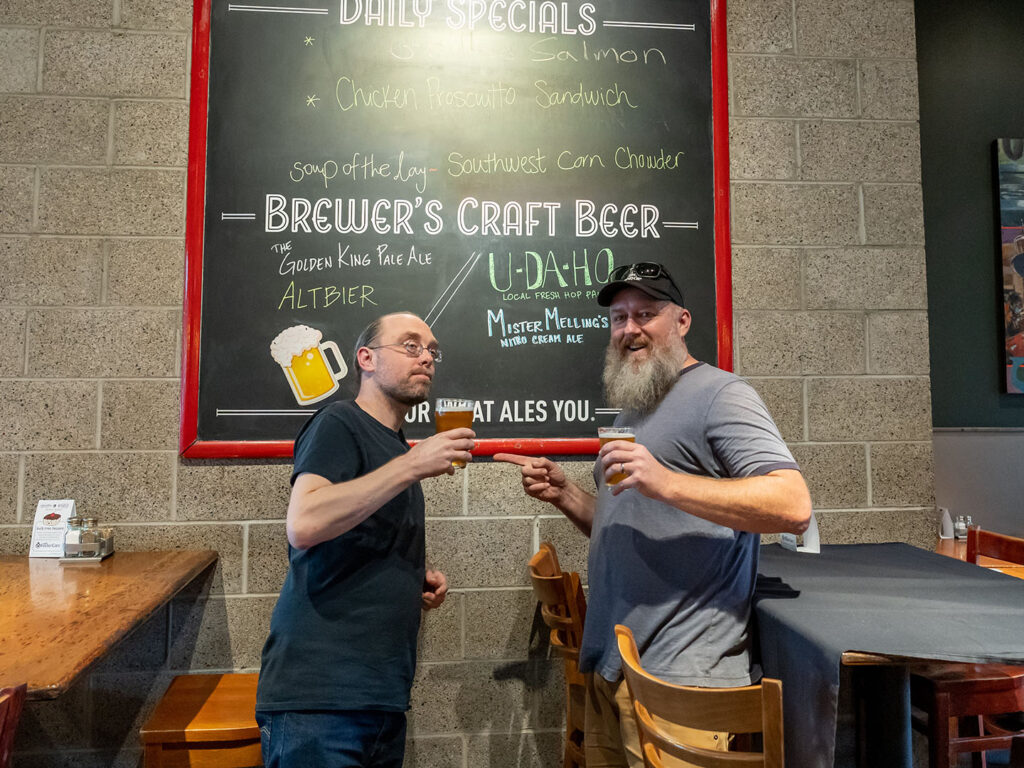 Check out this story on Melling's Nitro Cream Ale – this is a brand new beer on draft at the Squatters location in downtown SLC. And yep, its named after me. Its brewed in the style of my homelands creamy bitters and is downed right delicious. It's only on tap for a couple weeks – get it while you can.
Previously mentioned with no further update
These potential new businesses where mentioned in previous posts, we're still hoping to hear more!
Opening a new restaurant in Utah? Be sure to check out our Utah restaurant resources mini site for the businesses and services you will need to help you open your restaurant.
Keep the conversation going
Want to stay on top of the SLC food scene, minute by minute, dish by dish? Here are a few other places you should follow along:
Hi, I'm Stuart, nice to meet you!  I'm the founder, writer and wrangler at Gastronomic SLC.  I'm a multiple-award winning journalist and have written in myopic detail about the Salt Lake City  dining scene for the better part of seventeen years.
I've worked extensively with multiple local publications from Visit Salt Lake to Salt Lake Magazine, not least helped to consult on national TV.   Pause those credits, yep, that's me! I'm also a former restaurant critic of more than five years, working for the Salt Lake Tribune.    I'm largely fueled by a critical obsession with rice, alliteration and the use of big words I don't understand.   What they're saying about me: "Not inaccurate", "I thought he was older", "I don't share his feelings".
Want to know more? This is why I am the way I am.
This article may contain content provided by one of our paid partners. These are some of the best businesses in Utah. For a list of all our current and past relationships see our
partnership history page
.