Restaurant closures
Chedda Burger
Starting life as a food truck, this local burger concept from Nick Watts once operated three outposts around town. News confirmed this week sees the brand shrink to one remaining location at the The Gateway.
Following on from the shuttering of the original location the CB team confirmed on Facebook that the Foothill location would close immediately, "It's been an amazing 4 years but we are sad to announce we will be closing our foothill location tomorrow! We're so grateful for all of you who have made this location so amazing! Come see us at @atthegateway to get your #cheddafix"
There's no indication that the closure is related to the purchase of the Foothill Village area by Asana Partners, who themselves confirmed they'd be seeking no changes to the facility. See more on that here.
Core Life Eatery
A similar tale for this national healthy eats group of restaurants that has recently pared down their Utah locations. This thread over on the local SLC Reddit page indicates a number of closures with commenters noting that the City Creek and Millcreek locations are both now closed. The group retains a location in Sandy at this time.
Jim's Family Restaurant
KJZZ report on a devastating fire that has completely destroyed the Sandy location of Jim's Family Restaurant. In previous years the likes of Koko Kitchen and Red Maple have suffered similar fates; the latter thankfully bouncing back, but the former not yet making a re-appearance. Fans of the brand living in the general area should note a new Jim's recently opened up at the Quarry Bend Shopping Mall at 9236 South Village Shop Drive.
Sconecutter
The last location of Utah's iconic Sconecutter has now closed. The loss of the Sandy location marks the end of the Beehive-borne chain that slung popular scones for more than four decades. The property of the South valley location has now been purchased by investors.
Bamboo Japanese Cuisine
Closing their doors after five years in business, this Ogden Japanese restaurant took to Facebook, to thank their loyal patrons.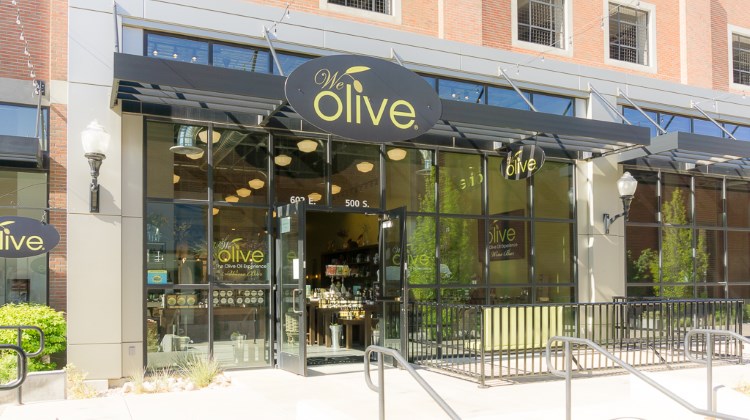 We Olive
The Trolley Square oil specialists will shortly be closing shop. Following on from recent news that their restaurant and wine bar space would cease, the brand have now announced the SLC location will close in its entirety. The brand contacted customer with the following information this month:
It will be 5 years next month since We Olive Salt Lake City opened its doors. What an unexpected journey the last five years have brought us. This fantastic journey wouldn't have been possible without you! However, after sincere thought and consideration, we've decided to set our sights on new goals and will be closing We Olive Salt Lake City for good next month.
Chickenology
The food truck that itself was born from the metaphorical ashes of the Temptasian restaurant has also now confirmed their cessation. Another Facebook thank you from the owners was as follows,
"Our dear friends who have supported us since our "Temptasian days" and our new friends who have recently started following us, We want to thank you for all your support throughout the years. Your enthusiasm and cheerleading is what got us through the rough times. We are grateful to have experienced this journey together with you! With that being said, after much thought and consideration we have decided to move on to a new chapter in life.
Today will be our last day running as a food truck. We apologize for not being able to give more notice due to some unforeseen circumstances. Again, thank you for being on this marvelous journey with us and for the friendships we've made along the way. Much love and appreciation,
Samuel and Jade (Temptasian/Chickenology)"
Restaurant and chef moves
Cafe Anh Hong
If you missed the recent news, here's one more reminder. One of Utah's finest Chinese restaurants is now back in business. Following the loss of their original State Street location over rent costs, the Cantonese spot took some time off to plan their next move. Here's the new menu for the brand new Sandy location that is now open for dine in.
Dirty Bird
Not a physical move per se, but this one an ownership update. In this press release today The McHenry Group confirmed that Wags Capital would require the local fried chicken concept, with a $20 million investment into the brand coming soon.
The acquirers apparently plan to open more than two dozen locations over the next two years, with fried chicken being one of the most in vogue food trends nationally; the chicken sandwich war still continues at pace. Michael McHenry (Ginger Street, Sundays Best, Oakwood) will retain a minor ownership interest in the business.
Jerry Pacheco / Bambara / Cinder Pig
I've waxed lyrical time and time again about one of my favorite chefs in town. An update recently came in that Jerry is on the move once more. In a bittersweet news his most recent concept Cinder Pig (whole hog BBQ) will be going on indefinite hiatus as he moves to take over the reigns of the Bambara kitchen as exec chef.
You might recall Pacheco was sous at the Monaco hotel fine dining spot for several years, under chef Nathan Powers at the time. I'm pretty excited to see how he will re-invigorate the menu; keep an eye peeled for some eclectic International flair with a solid Mexican note (I've tried his mole, and hot damn). No word yet on the next port of call for Nathan Powers.
Buzz Wiley / Rose Establishment / Pallet
Those who find themself missing the talents of Pallet's Buzz Wiley should note that he was rumored to be behind a menu update at the now re-opened Rose Establishment. The popular downtown coffee shop have now opened their doors to the public once again, with a larger space and revamped menu. The business has been mostly shuttered since C19 swept over the local dining scene in March 2020.
The business owners took that period to expand into the adjoining Pallet space, which sadly closed for good under the pressures of the pandemic.
And just for completions sake…
Riverton's Rock Creek Pizza has now re-opened in Sandy's Quarry Bend Shopping Mall. The Local Greek switched from Riverton to Taylorsville.
Menu watch
Ice Haus – German cuisine has been hitting the menu at pace of late at this Murray bar. With an eye on the impending Oktoberfest season (we will have a full rundown on all the options soon) this menu item is surely the piece de resistance. The Bavarian king platter comes with: a 'sausage party', two schnitzel, spaetzle, sauerkraut, pretzel bites, fries, side of gravy, beer cheese, and German mustard. Phew, I need a nap.
SkinnyFATS – This anchor business of the HallPass facility located at The Gateway recently added two new menu items as follows:
Shrimp tacodilla – tempura shrimp, spicy slaw, pico, chipotle aioli, and pepper-jack in a quesadilla shell
Turnip taco – filet mignon, pico, jicama, and habanero lime crema on a wheat tortilla
Porch – Tapas Tuesdays and wine and burger Wednesday's are still in full swing at Porch. The former sees five small plates while the latter offers ten buck burgers and five dollar wines. A steal.
Spitz – Following an apparently plenty successful test run, this multi-location Meditaranean spot recently confirmed the permanent addition of the new street gyro to their menu. The wrap comes with a choice of protein and loads on feta, Berliner sauce, tzatziki, onion, tomato and fries. I'll be honest, I was already adding my own fries to their delicious wraps prior to this, because, well, I ain't no dummy.
Nacho Daddy – Act fast and you can still grab the nacho of the month at Nacho Daddy. Available through the end of the month is the chimichurri nacho; the special comes with chimichurri marinated chicken, Monterey and cotija cheeses, avocado and cherry tomato pico de gallo over house-made corn chips.
Fleming's Steakhouse – Currently offering a 'parent's night out special' that is priced at $125 for two people. Dinner comes with 35oz prime tomahawk with two sales, two sides and two desserts. Available Tuesdays.
Avenues Proper – Traeger smoked pork belly tacos have just hit the menu here. A trio of tacos comes loaded with potato salad aioli, apple slaw and pickled red onions.
Review roundup
Looking for even more drool worth reading? Here are some of the latest reviews and profiles in other local press:
In other news
Hi, I'm Stuart, nice to meet you!  I'm the founder, writer and wrangler at Gastronomic SLC; I'm also a former restaurant critic of more than five years, working for the Salt Lake Tribune.  I've worked extensively with multiple local publications from Visit Salt Lake to Salt Lake Magazine, not least helped to consult on national TV shows.
I'm a multiple-award winning journalist and have covered the Utah dining scene for the better part of fifteen years.   I'm largely fueled by a critical obsession with rice, alliteration and the use of big words I don't understand.   What they're saying about me: "Not inaccurate", "I thought he was older", "I don't share his feelings".  Want to know more? This is why I am the way I am.
This article may contain content provided by one of our paid partners. These are some of the best businesses in Utah. For a list of all our current and past relationships see our
partnership history page
.