With thousands of votes cast, tallied – and laboriously spell checked and corrected – the results are now in. I'm excited to take the wraps off our 2021 readers choice awards. Voted for by the smartest and most informed food crowd in Utah – that's you dear reader.
The following are the results of the month long anonymous voting process in November; all votes are organic, nothing here is paid for. For our previous awards, check out the 2019 winners list here. Without further ado…
Best American restaurant
Chef Dave Jone's cooking won over hearts, bellies and minds here. Log Haven romps home with a commanding 21.9% of the vote. Second place is a dead heat between Copper Onion and Oquirrh.
Previous 2019 winner: three way tie between HSL, Hearth And Hill and Glitretind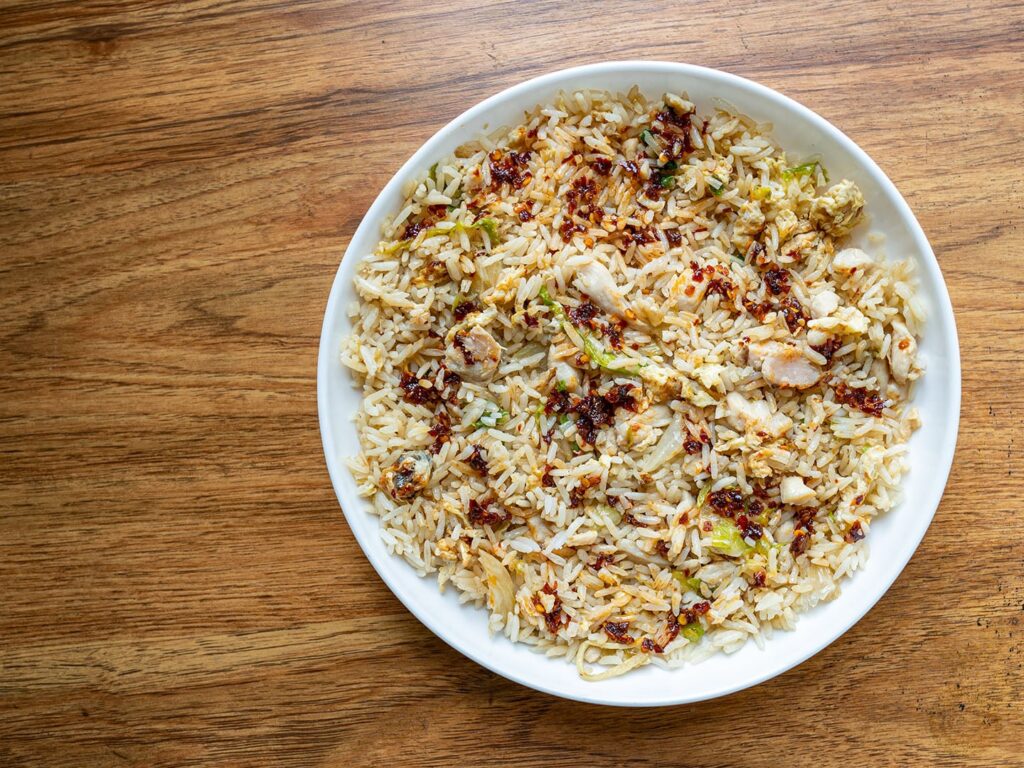 Best Chinese restaurant
While some categories feel like they'll never be disrupted, best Chinese food is an exciting place right now. Hong Kong Tea House places first with 8% of the vote but a wide variety of other spots share the runner up spot on 5.3% – Mandarin, New Golden Dragon, One More Noodle House. Plenty of other interesting choices aren't far behind either – Mom's, Foodie N Sweetie, Chinese Taste etc. This will be one to watch in the coming months and years.
Previous 2019 winner: The Mandarin
Best European
Cottonwood Heights based Franck's tops the voting in this category with 8% of the vote. Eva tails very closely in second place with 6.7%.
Previous 2019 winner: Franck's
Best Greek
Manoli's romps home for a second (contest) year in a row with a dominating 38.5% of the vote. Second place goes to Greek Souvlaki with 11.5% of the vote.
Previous 2019 winner: Manoli's
Best South Asian (Indian, Pakistani, Nepalese etc)
Bombay House takes the crown with a hefty 27.5% of the vote. Kathmandu secures 16.7% of the vote to take the runner up position.
Previous 2019 winner: Bombay House
Best Italian
Valter's Osteria leaps to the top of the pile with a hefty 21% voice share in this category; the downtown SLC restaurant helmed by Valter Nassi, no doubt helped along by a little RHOSLC boost. Our fabulous sponsors Caffe Molise place second with 7.9%
Previous 2019 winner: Sicilia Mia
Best Japanese
Takashi is a predictable winner in this category and grabbed 35.7% of the vote. And rightly so, they're a cut above most spots in town. Following close behind, another favorite of mine, and sponsor of this website – Kyoto with 14.8%
Previous 2019 winner: Takashi
Best Korean
Relative newcomer Baek Ri Hhyang sweeps to first place with 13% of the vote. The traditional Korean restaurant has been receiving a quietly-bubbling of praise in food circles for some time now. You can find them over in the South Salt Lake Chinatown complex. Myung Ga came a close second with 10.9%
Previous 2019 winner: Myung Ga
Best Mexican
Red Iguana continues to dominate, and this year is no different winning nearly a third of votes with 27.9% Chile-Tepin lags in second place with 7.1%.
Previous 2019 winner: Red Iguana
Best Middle Eastern
Another category where the winner seems a shoe in. Mazza tops the voting with 27.8%, although Laziz Kitchen sneaks into a quite close second place with 20.8%. This category is surely one to watch in the future especially with so many more great options coming online in recent years (Beirut Cafe, Kabob Bros to name two).
Previous 2019 winner: Mazza
Best South American
For those asking why I don't break this one down with more granularity (best Chilean, best Peru, best Argentinian) South American once agains wins the prize of "least voted" with only 15% or so of voters making a choice here.
Those that did cast a vote proclaimed Arempas the winner with 16.7% of the votes. Puro Peru takes the runner up spot with 11.1% of votes.
Previous 2019 winner: Asado, Rodizio Grill, Rubi's Peruvian Taste
Best Thai
Downtown SLC's Sawadee takes the crown with 22.4% of the vote, Trolley Square's Skewered Thai lands in second place with 11.2%
Previous 2019 winner: Chanon Thai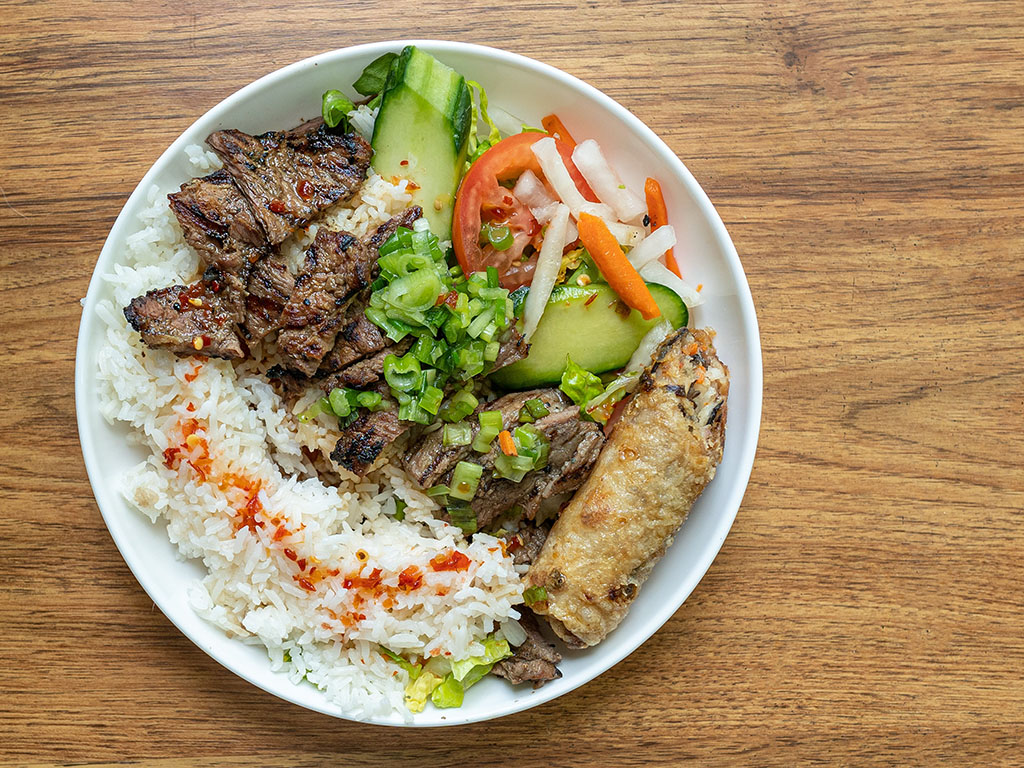 Best Vietnamese
Oh Mai scoops first place with 14.7% of the vote, while Sugar House's SOMI is a smidgeon behind with 12%.
Previous 2019 winner: Oh Mai
Best BBQ
An expected first place sees R&R with 27.8%. Second place goes to Pats with 20.6%. This particularly category was the one replete with the most "Doesn't exist" type answers. For the most part I'd agree, though I'd recommend keeping an eye on Richie Lush's BBQ out of Kamas. I just checked them out myself and… wow.
Previous 2019 winner: R&R BBQ
Best burgers
Even with so many fabulous burgers around down, Lucky 13 places first with a strong 21.3% of the vote. Proper Burger makes a reasonable second place finish with 12%
Previous 2019 winner: Lucky 13
Best desserts / sweet tooth treat
Gourmandise takes the prize with 13.9% while Fillings And Emulsions isn't too far behind on 8.9%. Given Utah's sweet tooth – some voters commented this section might need breaking out into further categories?
Previous 2019 winner: Gourmandise
Best pizza
The leviathan that is the The Pie takes the upper crust with 13.9%; Pizza Nono follows in second place with 6.3%
Previous 2019 winner: The Pie
Best ramen
Given the "ramening" our our streets these past few years, it's even more kudos to Tosh's Ramen for topping this category with a huge 36% of the vote. Yoko Ramen nabbed second spot with 15.7%
Previous 2019 winner: Tosh's Ramen
Best salads
The Dodo claims first place with 7.5% of the vote. Blue Lemon and Aubergine Kitchen share second place with 4.5%. I may update this category next year to be a little braided; think best salads / healthy eats. The former is of the major trends national, with acai bowls, poke spots and the like exploding.
Previous 2019 winner: Hearth And Hill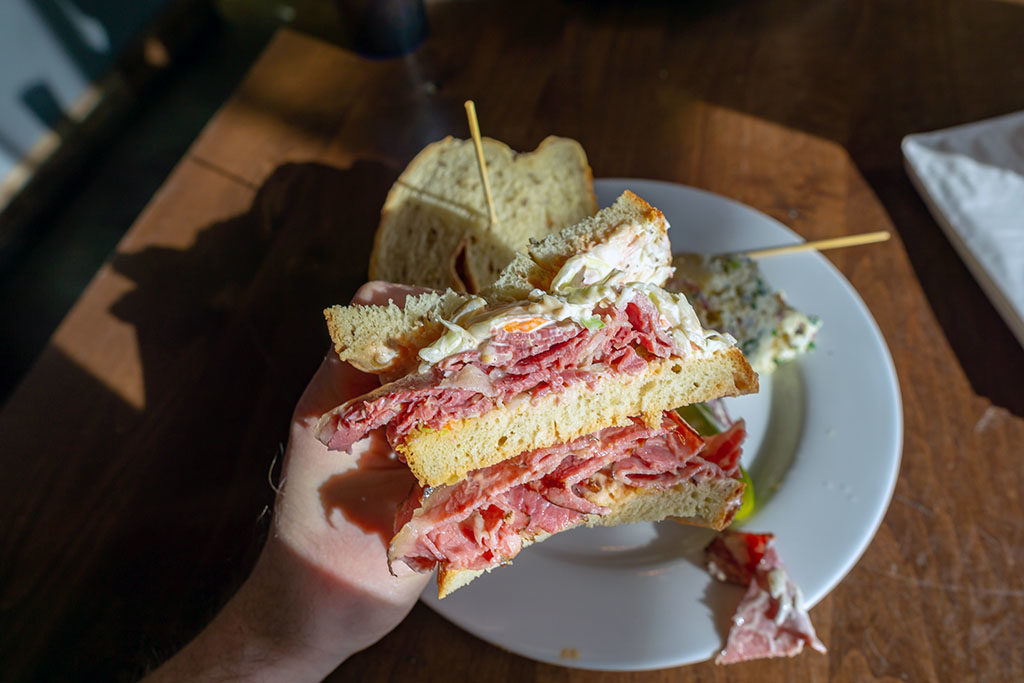 Best sandwiches
The soul satisfying Feldman's Deli claims a fine 19.2% win here – another supporter of this website too. Caputo's is no slouch either coming in as runner up with 14.2%
Previous 2019 winner: Feldman's Deli
Best seafood
Besting all other home runs is – Current – with an all conquering 49.5% of the vote. This win marks the biggest margin in any category. Trailing quite some ways in second place Harbor with 10.9%
Previous 2019 winner: Current
Best steak
A two way tie sees Ruths Chris and Log Haven share claim to the best steak in the state with 14.1% of the vote. Another national chain, Fleming's came in a close second with 12.7% Yet another massive national chain – Capital Grille – is expected to land in SLC this time next year, so this category will have another mammoth slugging it out.
Previous 2019 winner: Ruth's Chris
Best sushi
Takashi crushes the competition here, and is there any doubt that would be the case? 48.8% of voters named Takashi and Tamara Gibo's iconic spot their favorite in Utah. The margin of victory is second only to Current. The question of second place is more of a debate – Sapa takes that prize with 10.6% of the votes.
Previous 2019 winner: Takashi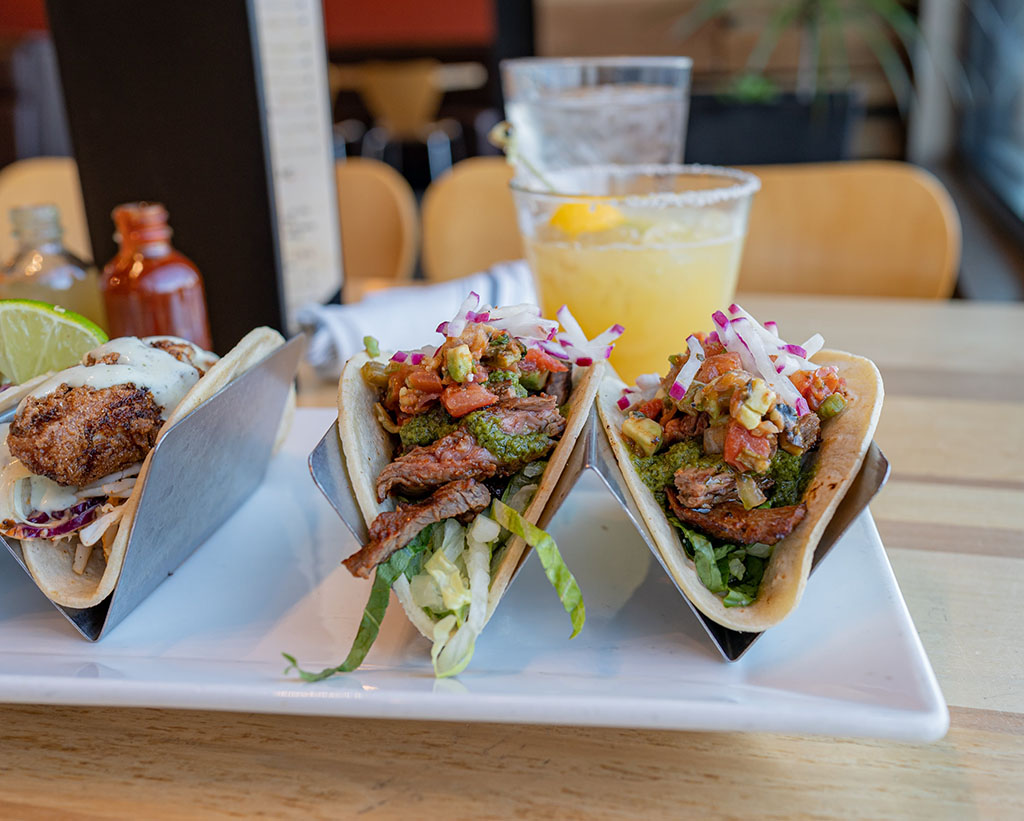 Best tacos
Newcomers Roctaco come right into contention, and share first place with Fort Union's Lonestar Taqueria with 9.5% of the vote. Our sponsors Taqueria 27 place in a very close second spot with 8.6%
Previous 2019 winner: Taqueria 27
Best vegan / veggie
Zest scoop 17.5% of the vote to be named best veggie option with Vertical Diner named runner up with 9.5%
Previous 2019 winner: Boltcutter
Best brunch
An extremely hotly contested category and one with a diversely split vote. Sweet Lake Biscuits And Limeade came out top with a relatively low 10.3% of the vote. Eggs In The City, Ruth's Diner and The Grand America all share a joint runners up spot with 5.2%
Restaurateurs take note – any category that lacks a titanic Takashi or Current like victory – means there's a mile of marketing space to make your restaurant THE place to go for a certain style/dish/meal, just sayin…
Previous 2019 winner: Stein Eriksen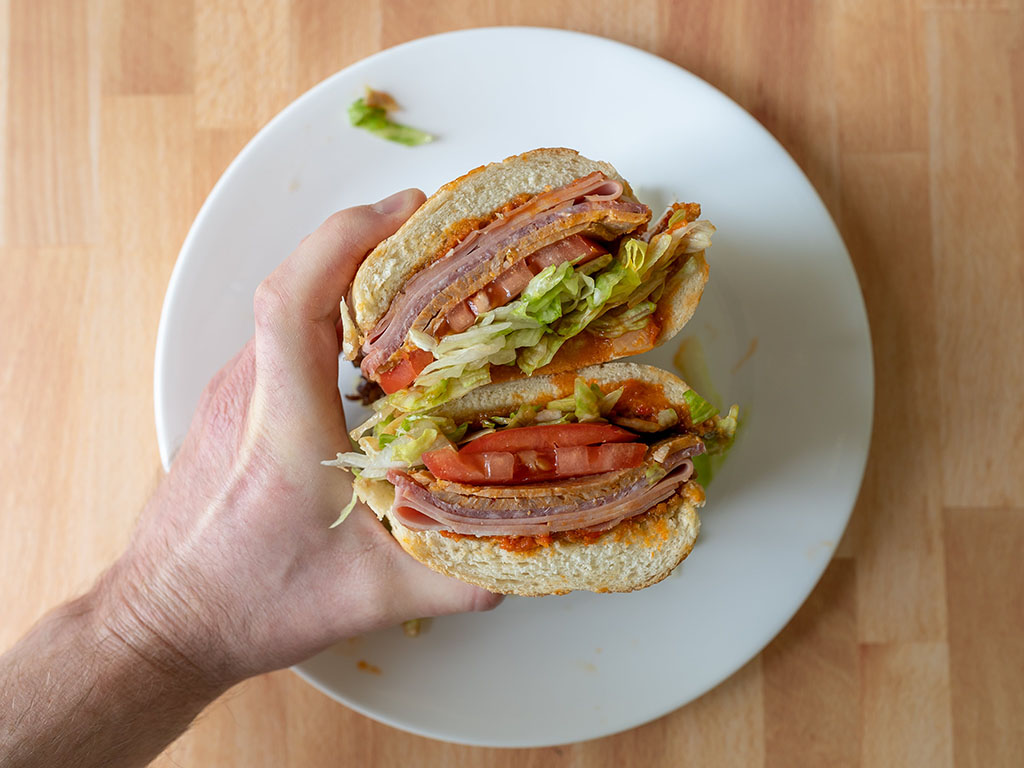 Best lunch
Caputo's was voted number one spot to lunch with 10.2%. Viet Pham's fried chicken spot Pretty Bird is a close runner up with 8%
Previous 2019 winner: Hearth And Hill
Best date night
Log Haven easily grab the crown here. The romantic Millcreek canyon restaurant nestled amongst soaring trees and waterfalls grabbed 20.8% of the vote. Newcomer Arlo shares the runner up spot with downtown stalwarts Bambara on 5.8% of the vote.
Previous 2019 winner: Oquirrh
Best late night
Pie Hole is the undisputed champ with 23.5% of votes cast. Pointing to a lack of clarity on available options, a quintet of businesses share runner up spot on 4.4% – Lake Effect, Arempas, White Horse, Betos, Varley. Also scoring 4.4%, multiple voters reckoning, "no option for late night eats".
Previous 2019 winner: Pie Hole
Best new restaurant
Arlo turned the most heads here, winning best new restaurant with 12.9% of votes. Arlo is the chef-driven restaurant that took over from the much loved Em's in the Capital Hill area North of the Aves. The duo of Ivy/Varley takes the runner up spot with 6.5%
Previous 2019 winner: Oquirrh
Best chef / baker / pastry chef
Filling And Emulsion's Adalberto Diaz is the winner with 9.4% of the vote. Les Madeleine's Romina Rasmusson is a close runner up with 7.8% of the vote.
Previous 2019 winner: Adalberto Diaz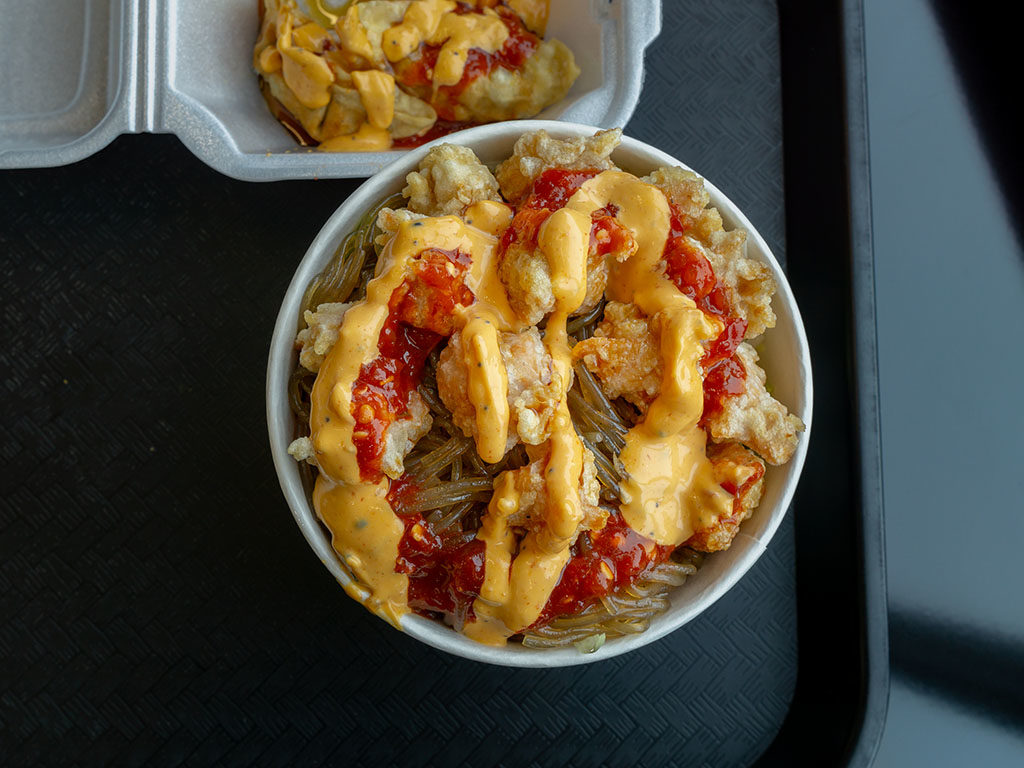 Best food truck
Cluck Truck takes the first place here with 11.3% of votes cast. Comfort Bowl shares runner up plaudits with Cup Bop on 5.7%
Previous 2019 winner: Cupbop, Facil Taqueria
Best overall restaurant 2021
Log Haven makes it four wins this year by securing 20% of the vote and winning our readers choice for the very best Utah restaurant in 2021. Make it five wins actually, as this win makes Log Haven the most acclaimed restaurant in our overall awards. Log Haven are another business we're proud to call a supporter too! Oquirrh takes the runner up spot with 6.2%
Previous 2019 winner: SLC Eatery, Hearth And Hill
Who else do you want to mention?
Penny Anns for best breakfast
Pretty bird
Angelena Fuller (Oquirrh)
Oquirrh
Best bar food White Horse
Copper Onion, Provisions, Caputo's, Pho Thin, Mazza, Fav Bistro, Pie Hole, Per Noi, Kathmandu, Pho Tay Ho, Afghan Kitchen, Beaumont Bakery and Cafe (best croissants), Left Fork Grill, Log Haven
Kathy Stephenson, Rio Grande, Seabird, Fenice
Bes boba – Moge Tee
Tacos Don Rafa
Cooking classes – Continuing Ed at the U, Harmons, SL Culinary
Fenice is amazing
Restaurants and foodies learned a great deal during the pandemic. The nimble ones have come back stronger than ever
Blue Copper for best coffee
HSL is one of my standards. Consistently good. Also Cucina
Pub – Red Rock Fashion Place
Gossip Tapioca has the best boba from scratch, Blacksmith Ice Cream, Pizzeria Tasso, Grid City Beer Works, Tuk Tuks, Afghan Kitchen
Water Witch
Best brewpub – Hopkins, Best counter serve/fast casual – Spitz
I think Thy Mims deserves a shout out for all the amazing work shes done in her life that was cut to short
Fillings And Emulsions is an amazing Cuban pastry shop. So low key, so bomb. Best Doughnut: Fresh Doughnuts and Deli
I also think a brew/distiller readers choice category or separate awards should happen! I'd vote beehive distillery for best distiller
Huge burger connoisseur here. Just want to point out how hard it is to answer best burger. A Crownburger is just as good, but totally not comparable to a Lucky 13 burger, which is not comparable to a Copper Family burger
I truly cannot speak highly enough of Moms. We get takeout almost every week
Pago
Legends best overall sports bar
Buds, Handlebar, Spitz
Bricks Corner (great Detroit style pizza)
Dont forget about Southern Utah. Several nice choices in Cedar City, including Centro Woodfired Pizza, French Spot, and Palette Bakery
Ruby Snap
Taqueria los Lee is a close 2nd in the taco category
Amber Billingsley (Flourish Bakery)
Gaetanos Sub Shop
LDs Cafe (Richland, Utah)
Garage Grill
HSL – second place for American
Makanmakan Asian Streat Food Fare
Over the Counter, Sharons, The Other Place, Cottonwood Cafe
Check out Celeste. Owner is fab and food over the top
Spitz
Beltex
Café Molise
caffe dbolla. Seventeen years. A coffee Mecca and local legend
Brownies x 3, Big O Doughnuts, Pie Fight (you need more sweets categories, haha). Also Alibi (best cocktails), Beehive (best distillery), Shades (best beer)
Sauce Boss Southern Kitchen (true blue Southern comfort food that is dynamite)
TF Brewing
Pizzeria Tasso
Bjorns Coffee
Pig & A Jelly Jar
Osteria Amore is #2 best Italian!
Sweet Hazel
Ozora Izayaka
Brickyard Bar
Chick Queen Korean fried chicken
Chick Queen
Thanks to Log Haven for their great and professional service
Blue Boar
5 seeds, Eating Establishment, and Woodland Bakery Best Breakfasts
Chinatown in South Salt Lake. Theres always something new and delicious
Localz Bistro
Oquirrh
Beaumont Bakery has the best avocado toast I have ever tasted
Log Haven
Copper Onion, Caputtos, Great Harvest, Marias Mexican, Silver Fork Lodge, Nonos Pizza, Barbacoa, Kathmandu
Special shout out to the real life and soul of all restaurants: the dishwashers
Log Haven
Sagato Bakery
Kevin Finch
Love Zao for fast healthy food
Nicos
Midway Tavern & Eats, Midvale
How about Greg Skedros founder of Mandarin Restaurant? At 92 years of age, he still goes to his pride and joy daily to say hello to dining guests. He founded Mandarin with his late wife in 1977
Conte De Fee (for dessert), Meet Fresh (for Boba), BAMBU (for waffles), Handels (for ice cream), Sailors Boil (for seafood boil), Hanaya Poke (for poke bowls), Tonkotsu Shabu (for shabu), Rubyis (for Peruvian), Curry Pizza (for pizza), Shiro Kuma Snow Cream (for dessert)
Keep the conversation going
Want to stay on top of the SLC food scene, minute by minute, dish by dish? Here are a few other places you should follow along:
Hi, I'm Stuart, nice to meet you!  I'm the founder, writer and wrangler at Gastronomic SLC.  I'm a multiple-award winning journalist and have written in myopic detail about the Salt Lake City  dining scene for the better part of seventeen years.
I've worked extensively with multiple local publications from Visit Salt Lake to Salt Lake Magazine, not least helped to consult on national TV.   Pause those credits, yep, that's me! I'm also a former restaurant critic of more than five years, working for the Salt Lake Tribune.    I'm largely fueled by a critical obsession with rice, alliteration and the use of big words I don't understand.   What they're saying about me: "Not inaccurate", "I thought he was older", "I don't share his feelings".
Want to know more? This is why I am the way I am.
This article may contain content provided by one of our paid partners. These are some of the best businesses in Utah. For a list of all our current and past relationships see our
partnership history page
.