Benedict, bacon, burgers…it can only mean one thing…brunch. For those who love to start a long lazy weekend with a handsome meal (and maybe a drink or two) SLC has you covered. The Beehive is home to a tremendous amount of bunch spots, menus replete with something for every taste; classic to contemporary to cocktails that will kick the weekend off in style. Here are some of our favorite destinations.
Avenues Proper
This Avenues neighborhood staple has been a must goto brunch spot for nearly a decade. The first restaurant in the Proper group of business serves up one of the best morning starts in town at the weekend. Options include biscuits and gravy, steak and eggs, eggs benedict and plenty of modern twists to keep things interesting. Fancy one of their award winning beers or a cocktail to wash things down with? Go right ahead.
76 8th Ave, Salt Lake City, UT 84103
(385) 227-8628
Brunch menu
Stratford Proper
While we're talking about the Proper group, it's worth mentioning the newer Stratford Proper too – the cute neighborhood cafe over on the East side of town. The menu takes it's lead from the downtown original and features breakfast and brunch classics as well as more interesting dishes such as Turkish eggs and breakfast pizza.
1588 Stratford Ave S, Salt Lake City, UT 84106
(385) 522-2637
Brunch menu
Flanker Kitchen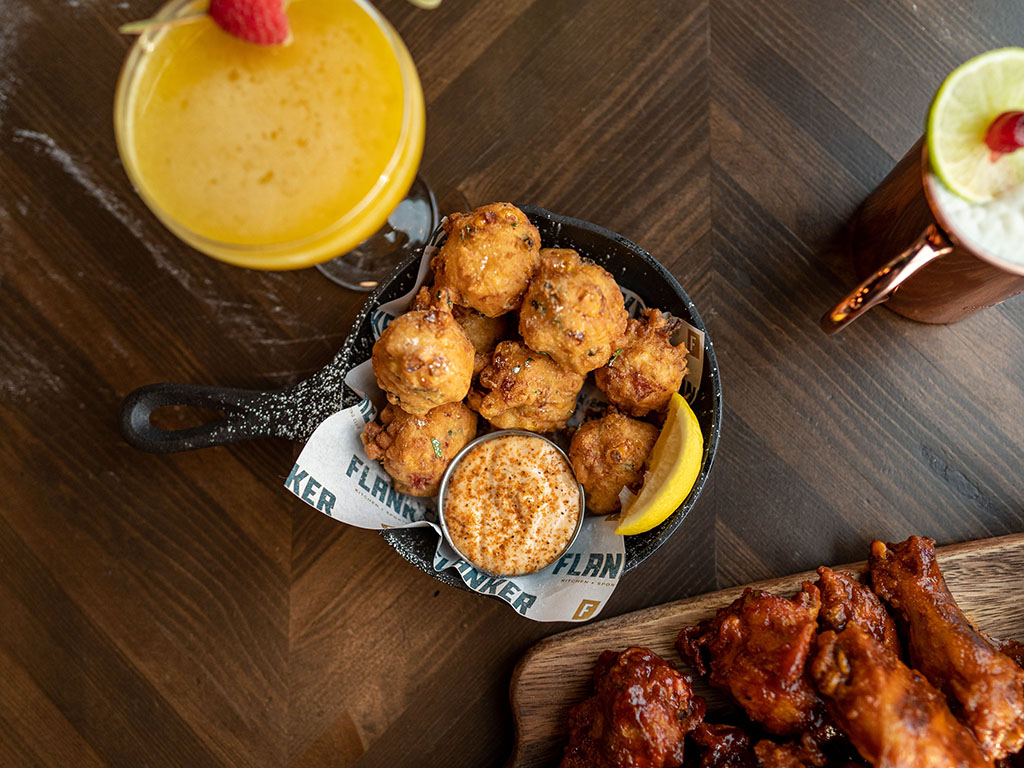 Flanker Kitchen and Sporting Club is a one stop location for food, fun, drinks – and yep – a great brunch experience. The massive 17,500 square foot facility is located in the The Gateway and comes our way from Vegas, a town that knows how to throw a party. The brunch menu at Flanker is replete with plenty of crave-able dishes – but don't miss their signature lobster bites, deep fried golden bites of lobster, finished tableside with a flurry of powdered sugar.
6 N Rio Grande St, Salt Lake City, UT 84101
(801) 683-7070
Brunch menu
Garage On Beck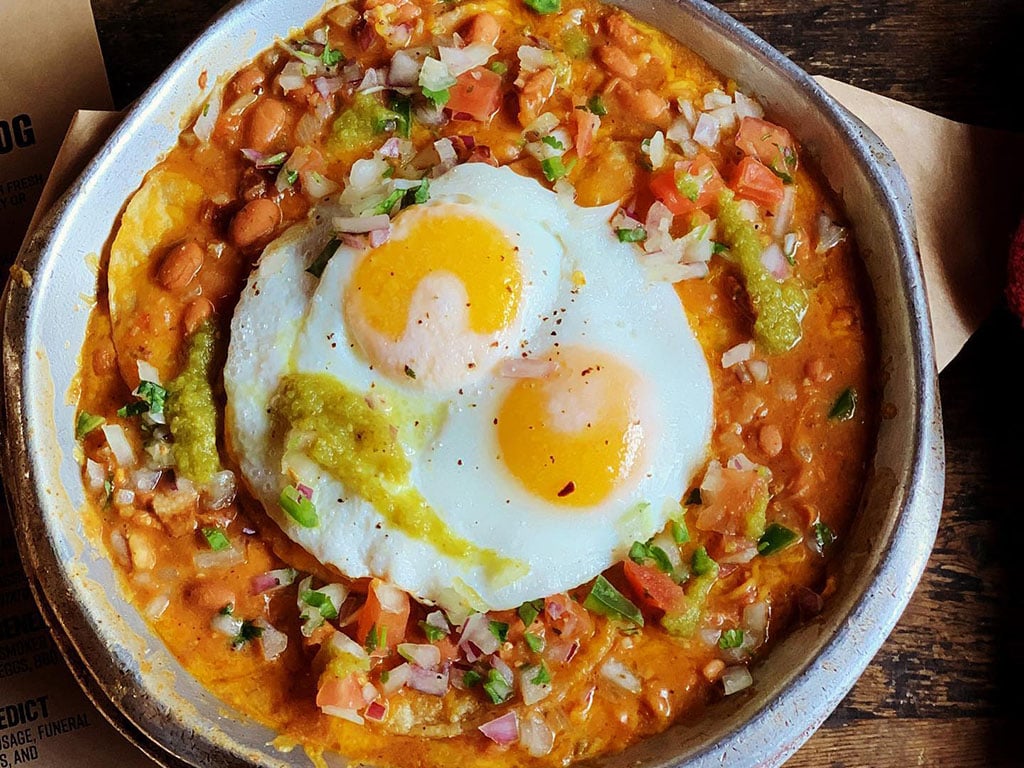 At this Marmalade neighborhood spot, brunch is served on Sundays 10.30 a.m. through 3.00 p.m. Sit inside or out and enjoy a special menu that includes items like the picture huevos rancheros. Other items include chicken and waffles Benedicts, omelettes, pancakes and more. The 21+ bar has a solid selection of brunch cocktails from seven bucks. Champagne by the bottle starts from $20.
1199 Beck St, Salt Lake City, UT 84103
(801) 521-3904
Sunday brunch menu
Pago On Main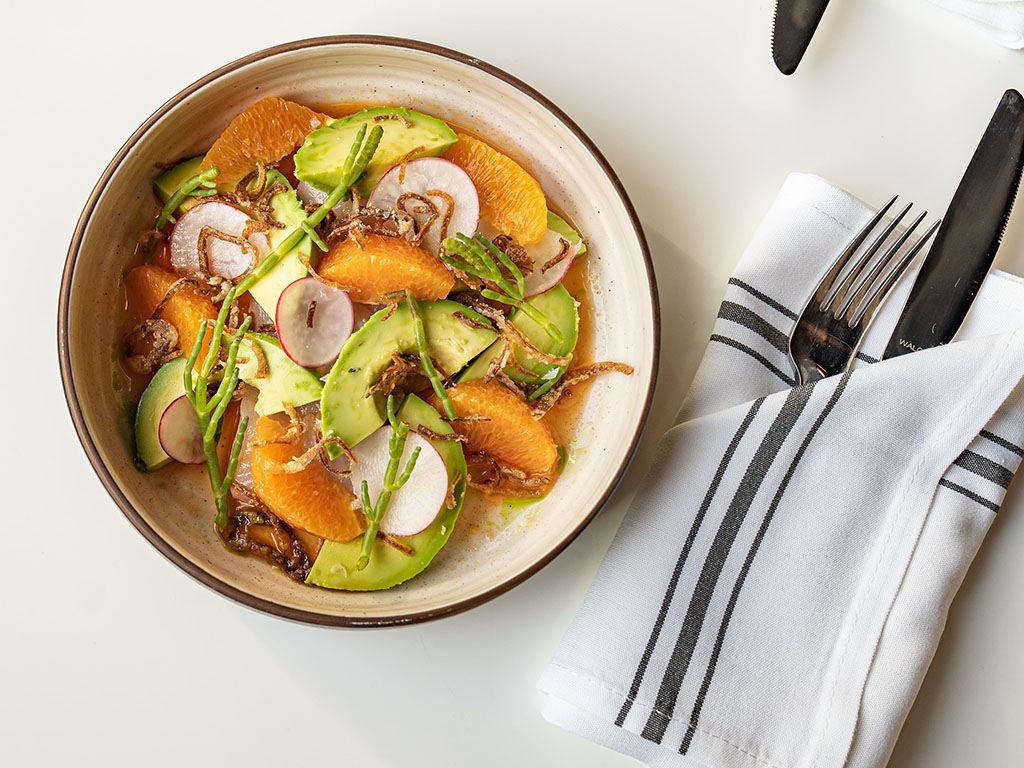 The second location for Pago, located on buzzy Main Street in downtown SLC. Brunch at Pago starts decadently with fresh oysters before moving onto chef driven fare featuring plenty of other local experts like Table X (bread) and Caputos (cheese).
341 S Main St, Salt Lake City, UT 84111
(801) 441-2955
Brunch menu
Oquirrh
It's the weekend and you need protein and a mimosa stat. Thankfully, if you're looking for brunch in Salt Lake City, you're in luck. We have a bajillion (its a word, trust us) options across the valley.
Salt Lakers love their brunch! Here are our ten picks for the best branches in town.
This downtown chef-driven restaurant is beloved for their eclectic take on fine dining, but they're also a great choice for brunch too. Lobster rolls, buckwheat pancakes, soft-shell crab Benedicts and on – the creativity from the dinner menu happily runs over into their weekend options too. Don't miss out the fun cocktail menu either that leans into local craft liquors.
368 E 100 S, Salt Lake City, UT 84111
(801) 359-0426
Brunch menu
Silver Fork Lodge
A brief drive up Big Cottonwood Canyon will lead you to this classic American styled eatery, that serves up majestic mountain views on the side. You'll want to get up here early to beat the crowds, but if you do you'll be rewarded with a menu with all the staples such as pancakes, omelettes, French toast and more.
11332 Big Cottonwood Canyon Road, Brighton, UT 84121
(801) 533-9977
Brunch menu
SLC Eatery
Hands down one of the best – if not the best overall – restaurants in the state of Utah. And now…open for brunch! The special menu follows the same approach as the innovative dinner menu – which is to say everything here is creative, fun and exquisitely crafted. There's everything from caramelized kimchi bowl with bulgogi beef through to Utah scones with cultured butter.
Brunch served: Saturday and Sunday 10 a.m. – 3 p.m.
1017 Main St, Salt Lake City, UT 84111
(801) 355-7952
Brunch menu
Oasis Cafe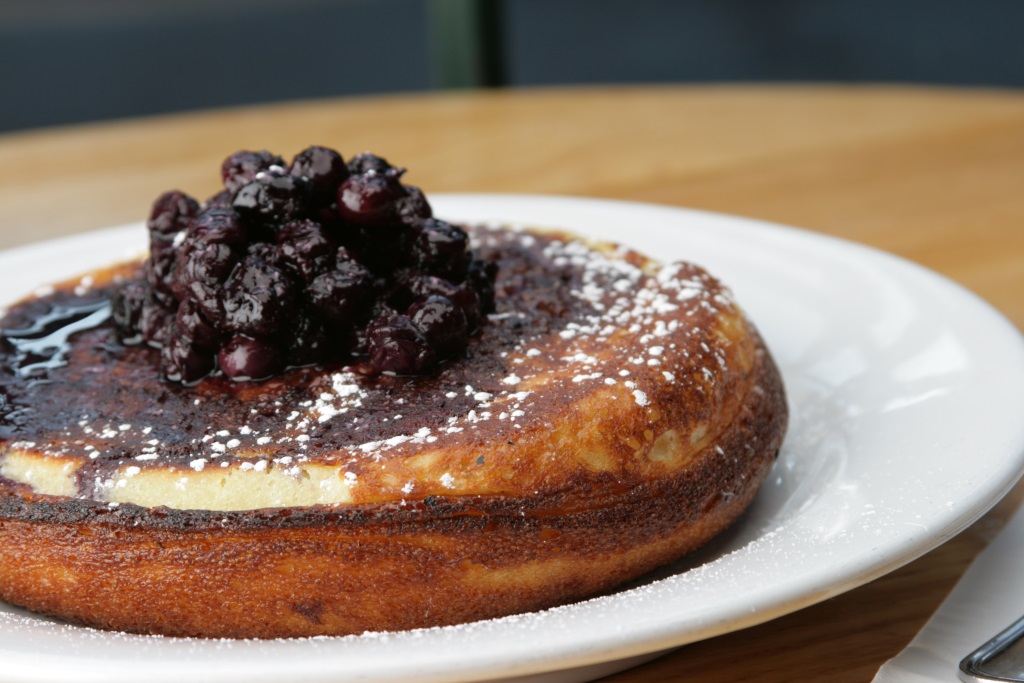 At this self styled 'oasis in the heart of the city' brunch isn't just something for the weekend. Step inside Oasis Cafe's tranquil space and you'll find brunch every day of the week. Favorites include the pictured German buttermilk pancake with blueberry compote.
Brunch served every day until 2.30 p.m.
151 S 500 E, Salt Lake City, UT 84102
(801) 322-0404
Brunch menu
Tradition
Reservations are always a good idea for brunch in Salt Lake City, but they're a must at this gem Opening in 2017 this contemporary American restaurant has become an instant hit with diners all hours of the day. At brunch you'll find all your favorites plus their signature pies – which you can't leave without ordering a slice (or four).
Brunch served Saturday and Sunday 10.00 a.m. – 3.00 p.m.
501 E 900 S, Salt Lake City, Utah
(385) 202-7167
Brunch menu
Caffe Niche
There's something for everyone on a brunch and lunch menu that stretches from a classic American breakfast to indulgent bites like the chocolate chip, raspberry French toast. The only downside? Having to choose from a menu that presents options as delicious as Kobe beef corned hash or biscuits and gravy, with house made cheddar jalapeno biscuits.
Brunch served Saturday and Sunday 8 a.m. – 3 p.m.
779 East 300, Salt Lake City, UT 84102
(801) 433-3380
Brunch menu
Manoli's
What about a sprinkling of Greek flavors for brunch? At Manoli Katsanevas' central ninth eatery you'll find a weekend brunch menu infused with unique flavors: Myzithra Pancakes, Lamb Burgers, Loukaniko and Eggs and more. And if that name sounds familiar you'd be right, the Katsanevas family is the one behind the uber popular Crown Burgers group of restaurants.
Unique, locally sourced Greek small plates, plus weekend brunch & clever cocktails in modern digs.
Brunch is served Saturday and Sunday 10.00 a.m. – 2.30 p.m.
402 East Harvey Milk Blvd (900 S) #2, Salt Lake City, UT 84111
(801) 532-3760
Brunch menu
Sweet Lake Limeade And Biscuits
One of the Salt Lake City Farmer's Market success stories; the business moved into a proper bricks and mortar location after wowing Salt Laker's with their biscuits. People still flock here for the biscuits and also the crazy creations such as the picture Hoss – a biscuit topped with fried chicken breast, egg, bacon, cheddar, sausage gravy and green onion garnish.
Brunch served Saturday and Sunday from 7.30 a.m.
54 W 1700 S, Salt Lake City, UT 84115
(801) 953-1978
Brunch menu
The Other Place
If you're feeling more like a traditional hearty plate for brunch, make The Other Place in downtown SLC your number one destination. This is the classic American diner, replete with friendly waitresses, ever flowing coffee, and a menu that hits every last comfort food button. We guarantee you won't leave hungry.
Brunch served: all day long breakfasts seven days a week year!
469 E 300 S, Salt Lake City, UT 84111
(801) 521-6567
Menu
Brunch bonus bits and bobs
Our sister website SLC Menu lists 100s and 100s of menus. Check out the brunch menu page to see what Italian restaurants are close to you right now.
What time can I get a drink at brunch in Utah?
Thinking about getting a drink with brunch? Utah restaurants can legally serve you the good stuff starting at 10.30 a.m. on Saturdays and Sundays, provided you're ordering food of course. Check out our guide to Utah liquor laws and our guide to the best mimosas in town as well.
Can I get unlimited or bottomless mimosas in Utah?
Sadly no. It is illegal to offer unlimited or all you can drink offers in Utah. That means you will need to pay for every bottle or glass of champagne served. Our mimosa page has many affordable options though, some from as little as two dollars a drink.
Should I get a reservation for brunch?
Definitely! You'll find that weekend brunch is one of the busiest dining periods for restaurants in Salt Lake City. If you want to avoid waiting in line, we'd recommend calling in advance to guarantee your table and time.
I heard that everywhere is closed in Sunday in Utah?
While that might have been true way back when, the truth is that these days there are 100s of restaurants open on Sunday. Breakfast, brunch, lunch and well into the evening, there's a myriad of options.
For a full run down of the many restaurants open on Sundays Utah, check out our sister site SLC Menu and their guide to restaurants open on Sundays. If you can't find anything on that mega-list, well, you're probably not really hungry!
Guide to brunch by city
If our top ten guide to brunch still has you pondering, what about these bonus suggestions ordered by location in the valley:
Who did we miss?
If you think we're missing a really great addition to this list, please email us at stuart@gastronomicslc.com – we'd love to hear from you. Let us know who you think should be on this list and why. If you have a really great picture of one of more dishes, please send that too! We're always excited to check our more businesses!
Hi, I'm Stuart, nice to meet you!  I'm the founder, writer and wrangler at Gastronomic SLC; I'm also a former restaurant critic of more than five years, working for the Salt Lake Tribune.  I've worked extensively with multiple local publications from Visit Salt Lake to Salt Lake Magazine, not least helped to consult on national TV shows.
I'm a multiple-award winning journalist and have covered the Utah dining scene for the better part of fifteen years.   I'm largely fueled by a critical obsession with rice, alliteration and the use of big words I don't understand.   What they're saying about me: "Not inaccurate", "I thought he was older", "I don't share his feelings".  Want to know more? This is why I am the way I am.