The following restaurants all have fantastic al fresco dining in the warmer months that we enjoy in Salt Lake City. If you're looking for something in the snow winter months, check out our list of restaurants with heated patios here. Also check out this page with a list of all the dog friendly patios in town as well!
Stoneground kitchen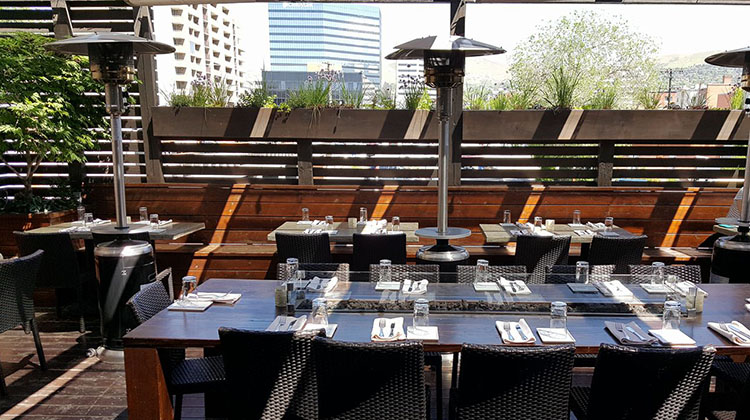 While Stoneground is located in the heart of the city, their patio is nicely hidden away from the hustle and bustle of the busy streets outside. Stop by in warmer months and enjoy their NY style pizzas and handmade pastas while dining al fresco.
The pretty patio space comfortably seats 45 and is also heated on colder days! While you're enjoying one of the best outdoor spaces in the city you can choose from a creative Italian menu that features dishes such as pork tenderloin with fried polenta, burette with harissa oil and black tagliatelli with lobster.
249 E 400 S, Salt Lake City, UT 84111
(801) 364-1368
Stoneground Italian Kitchen

We're proud to have Stoneground Italian Kitchen as the sponsor for this page.
Arlo Restaurant
A short walk from downtown SLC will find you at this neighborhood restaurant. The chef-driven menu by owner Milo Carrier is even more enjoyable enjoyed under the dappled light of the patios canopy.
271 N, Center St, Salt Lake City, UT 84103
(385) 266-8845
arlorestaurant.com
Avenues Proper
The Avenues gastropub has is a perfect spot to grab brunch on a sunny weekend morning; brunch is served Saturday and Sunday until 2 p.m. with $3 bloodies and mimosas – or get a mini pitcher with their midday menu till dinner at 5 p.m.
376 8th Ave, Salt Lake City, UT 84103
(385) 227-8628
avenuesproper.com
Bewilder Brewing
The cozy patio at Bewilder Brewing connects right to the bar, meaning it's just a couple seconds from al fresco drinking to ordering another of their stellar beers. Also worth your time, their excellent food menu overseen by chef Justin Fields. Fields' particularly specializes in a range of worldly-influenced brats and sausages.
445 400 W, Salt Lake City, UT 84101
(385) 528-3840
bewilderbrewing.com
Caffe Molise
In the heart of downtown SLC you'll find not only one of the best Italian restaurants in the city, but also one of the prettiest patios.
55 W 100 S, Salt Lake City, UT 84101
(801) 364-8833
caffemolise.com
Copper Common
Copper Common's patio sits adjacent to the hustle and bustle of downtown's Broadway street. The covered and enclosed enclave is a great spot to work your way through the bar's menu of small European plates, and 100% natural wine list. See our write up here.
111 E. Broadway, Salt Lake City, UT
(801) 355-0543
coppercommon.com
Desert Edge Pub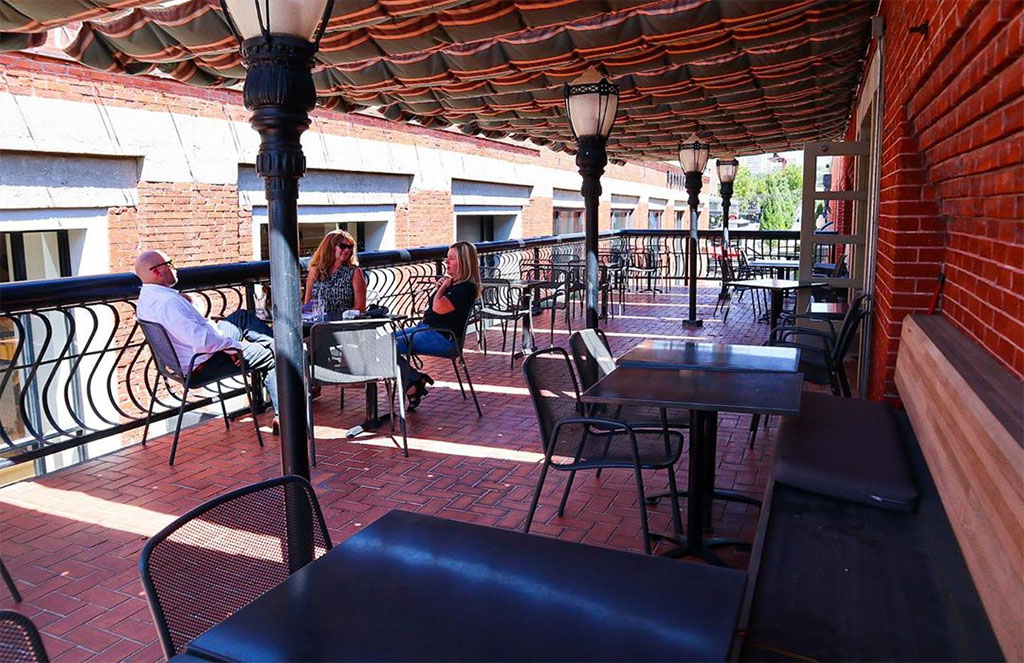 One of the oldest pub/breweries and still 100% locally owned, is this Trolley Square institution. The business started way back in 1972, expanding into craft brewing in 1995 – way before the current fad. Indeed Desert Edge was the first Utah brewery to win a gold medal at the Great American Beer Festival. From there, the business grew and grew to the bustling business it is today.
273 Trolley Square, Salt Lake City, UT 84102
(801) 521-8917
desertedgebrewery.com
East Liberty Tap House
The interior space transitions impressively to the outdoors in warmer months. With a full bar, snug patio and refined bar grub, this neighborhood casual eatery is a perfect place to grab a brew and burger over in the 9th and 9th area. Part of the Scott Evans group of restaurants.
850 900 S, Salt Lake City, UT 84105
(801) 441-2845
www.eastlibertytaphouse.com
Current Fish And Oyster
Some of Salt lake city's finest seafood and you can enjoy it al fresco at Current wether permitting. A solid wine list and stellar shellfish means whiling away an afternoon here a perfect pick; a glass of something light and crips, a plate of oysters, and a light breeze is
279 E 300 S, Salt Lake City, UT 84111
(801) 326-3474
currentfishandoyster.com
Cliff Dining Pub
This perfect sunny spot is ideal for Draper-ites. This South valley restaurant offers plenty of space in and out, higher end pub grub and overlooks the SLC valley for some greta views.
12234 Draper Gate Dr, Draper, UT 84020
(801) 523-2053
cliffdiningpub.com
De Los Muertos Mexican Kitchen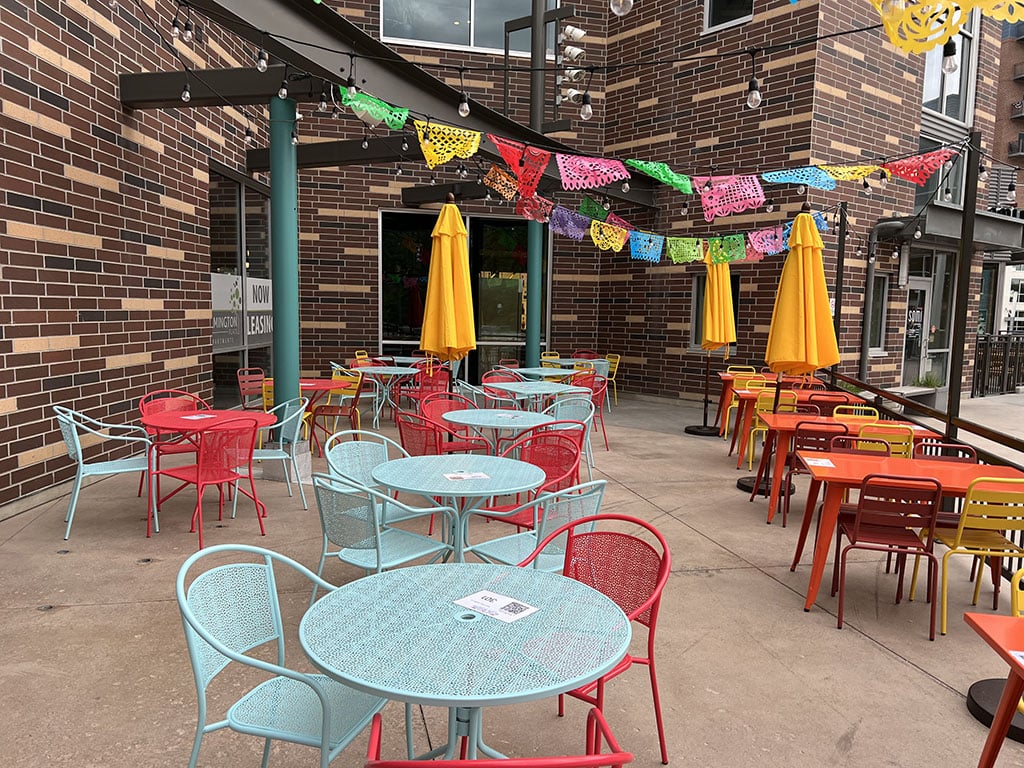 If you find yourself in Sugar House you will also find this colorful and vibrant patio. De Los Muertos Mexican Kitchen is located on the same plaza as Spitz, SOMI and Tea Bar, right next door to Traeger. The headline menu item by chef Aza Torres are Monterrey style burritos.
1215 Wilmington Ave, Salt Lake City, UT 84106, USA
(801) 869-1006
Garage On Beck
Seamlessly transitioning from inside to out, the patio at this SLC spot is beloved by in the know locals. The 21+ only bar is the spot for Summer drinks, not least, while also enjoying one of the best pub menus in town.
1199 Beck St, Salt Lake City, UT 84103
(801) 521-3904
garageonbeck.com
Ginger Street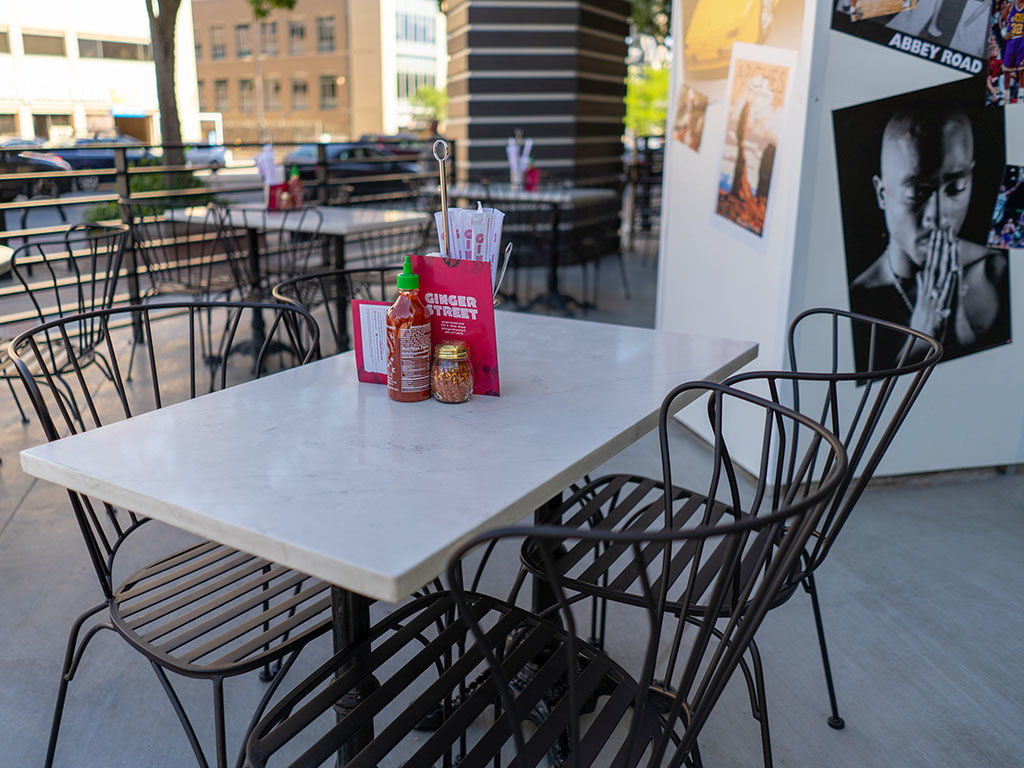 This downtown SLC spot focuses on the cuisine of South East Asian; you'll find everything from Thai satay through Chinese dumplings and bao at this trendy restaurant. Open seven days a week, the patio is also partially covered in spots.
324 State Street, Salt Lake City, Utah 84111
(385) 477-4975
gingerstreet.com
Gracie's
There's always a party going on at the rooftop patio at downtown Gracie's, well, when the weather is playing nice too of course! This restaurant slash club has an extensive bar menu and fancier pub group of you fancy a bite; at night when the sun goes down the place takes on a louder more energetic party vibe.
326 S W Temple, Salt Lake City, UT 84101
(801) 819-7565
graciesslc.com
Green Pig Pub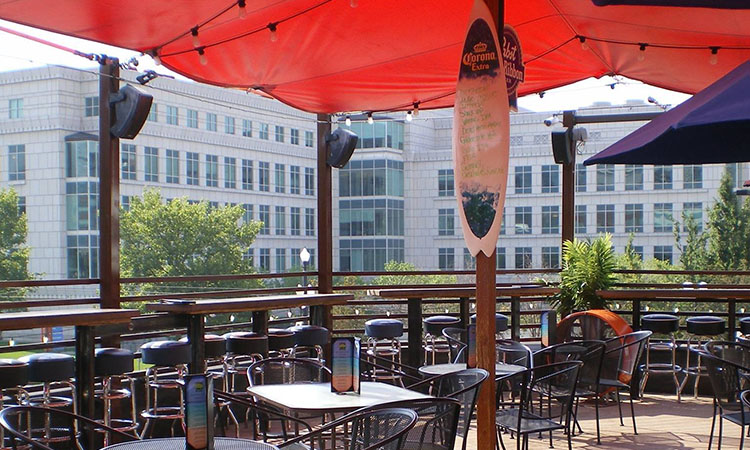 Another downtown pub with a rooftop patio, and always a fun destination in the warmer Summer months. The Green Pig has a full bar plus a bar food menu too.
31 E 400 S, Salt Lake City, UT 84111
(801) 532-7441
thegreenpigpub.com
Grid City Beer Works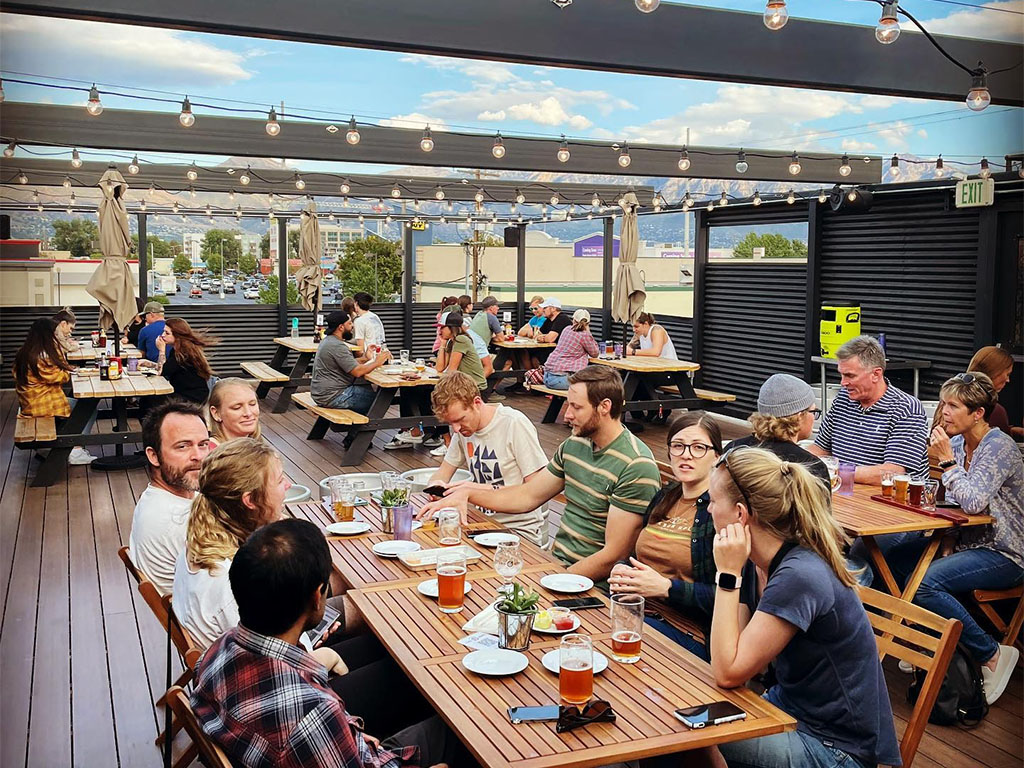 Grid City is one of the most notable new brew pub openings in recent times. The brewery has a particular excellence in English style brews, offering traditional beer engine style pumps for the perfect pint. On the food side of things Grid City checks all the pub grub boxes like burgers and fish and chips – but also goes much further. As well as offering a range of weekly specials, Grid puts out some might impressive vegan friendly dishes too. Grid City offer a rooftop patio that's also dog friendly too if you enter via the rear parking lot stair case.
333 2100 S, South Salt Lake, UT 84115
(801) 906-8390
gridcitybeerworks.com
HandleBar
This Marmalade neighborhood bar is dog friendly, covered with shades and also features two large fire pits for cooler events. Sister business to Piper Down and Ice Haus.
751 N 300 W, Salt Lake City, UT 84111
(801) 953-0588
handlebarslc.com
Ice Haus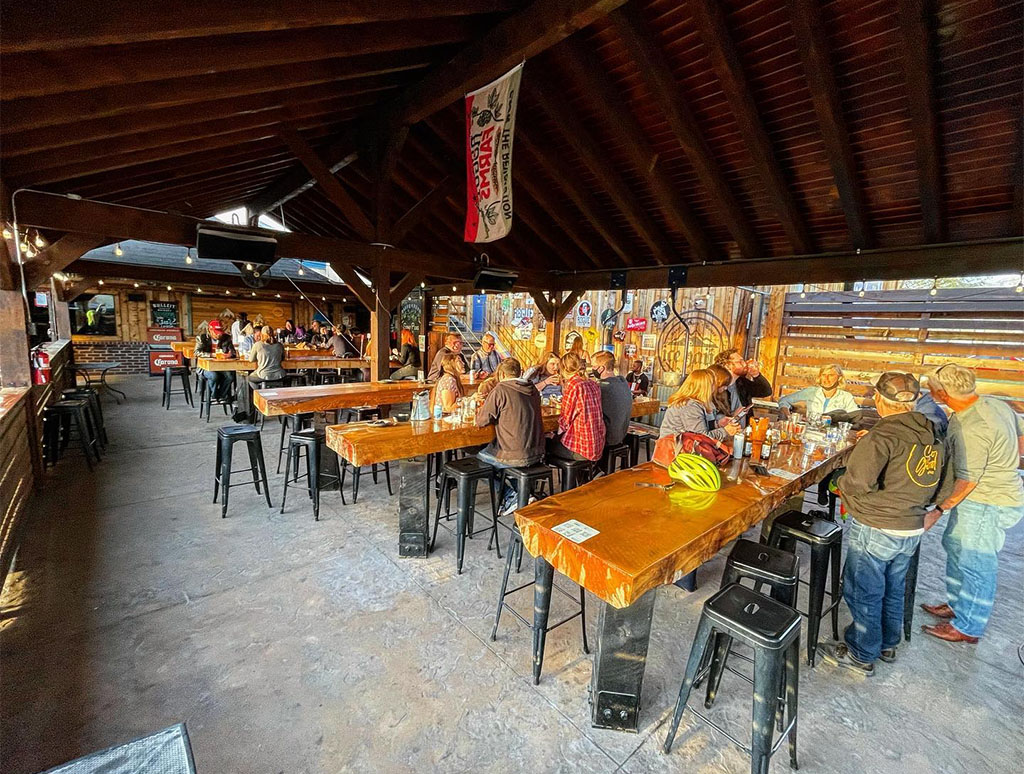 The Murray based Ice Haus has the expansive outdoor setting as you can see in the picture above. Stop by for a cold beer, or maybe enjoy a bite from their German-leading pub food menu too. Brats, burgers, fries, its all hearty and wallet friendly. It's also all available vegan too!
7 E 4800 S, Murray, UT 84107
(801) 266-2127
icehausbar.com
Oasis Cafe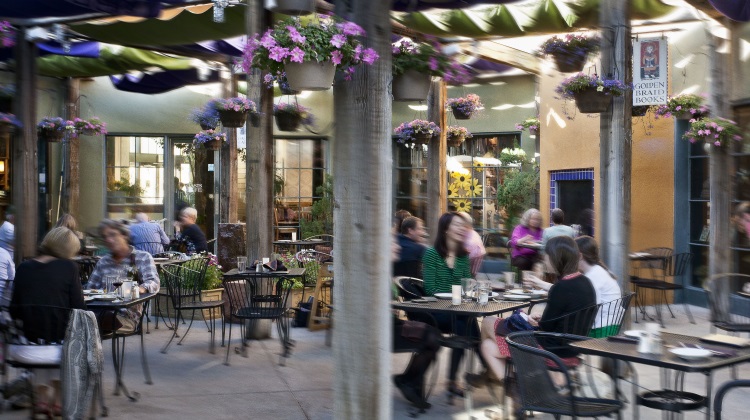 The patio at Oasis Cafe is a local's secret that you'll definitely want to discover for yourself. Encircled by the indoor restaurant space, you'd never spy it from the street. Brunch is served seven day at Oasis, as is lunch and dinner – which makes this restful space on the edge of downtown the perfect for any al fresco occasion.
151 S 500 E, Salt Lake City, UT 84102
(801) 322-0404
oasiscafeslc.com
Piper Down Pub
This State Street pub are famous for their Irish-theme and lively crowds, but did you know they have a rooftop patio? Now you do. The patio is perfect place to enjoy their pub grub menu that also has an extensive vegan selection too. Cheers!
1492 S State St, Salt Lake City, UT 84115
(801) 468-1492
piperdownpub.com
Provisions
Millcreek's Provisions are well known for chef and owner Tyler Stokes creative new American menu. In warmer months they also offer this dappled patio for guests.
3364 S 2300 E, Millcreek, UT 84109
(801) 410-4046
slcprovisions.com
Red Iguana 2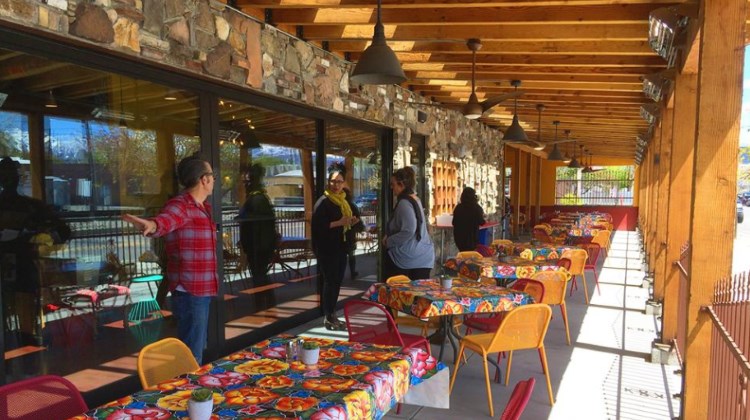 Head over to the second location of this iconic Utah Mexican eatery and you'll find this impressive 100ft long dining space. Tacos don Ramon, a margarita and some Summer sun, what more do you need?
866 W S Temple, Salt Lake City, UT 84116
(801) 214-6050
rediguana.com
Sapa
Another hidden gem, that you'd never know existed if you glanced at the unassuming building on State Street. Out back, this chic sushi restaurant is home to imported Vietnamese buildings that are 100s of years old. The impressive patio space is a wonderful space to enjoy Sapa's creative maki rolls and a full bar.
722 State St, Salt Lake City, UT 84111
(801) 363-7272
sapabarandgrill.com
Spitz
Grab great local beer, a doner kebab, sit outside and watch the world go by. The picture above is from Spitz's downtown SLC location, but all three (Sugar House and Cottonwood) have outdoor dining options too. A fun, casual spot with great food – to kick back at.
Ruth's Diner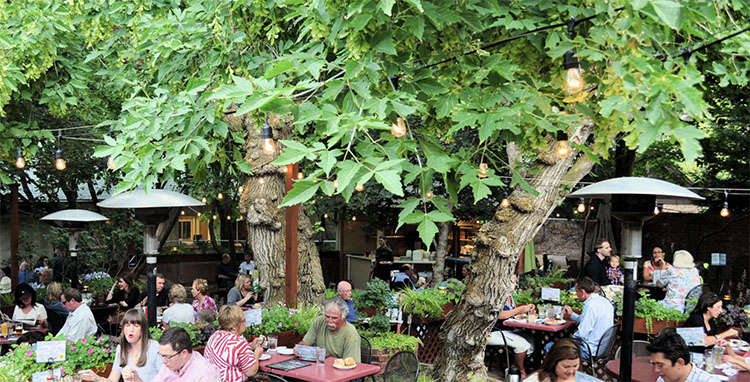 Head up Emigration canyon and you can enjoy outdoor dining while surrounded by mountains. The patio space behind the snug Ruth's Diner restaurant is packed all Spring and Summer long so plan accordingly; in the warmer months the restaurant is known for its breakfast and brunches plus evening Summer BBQs on the patio.
4160 Emigration Canyon Rd, Salt Lake City, UT 84108
(801) 582-5807
ruthsdiner.com
Van Ryder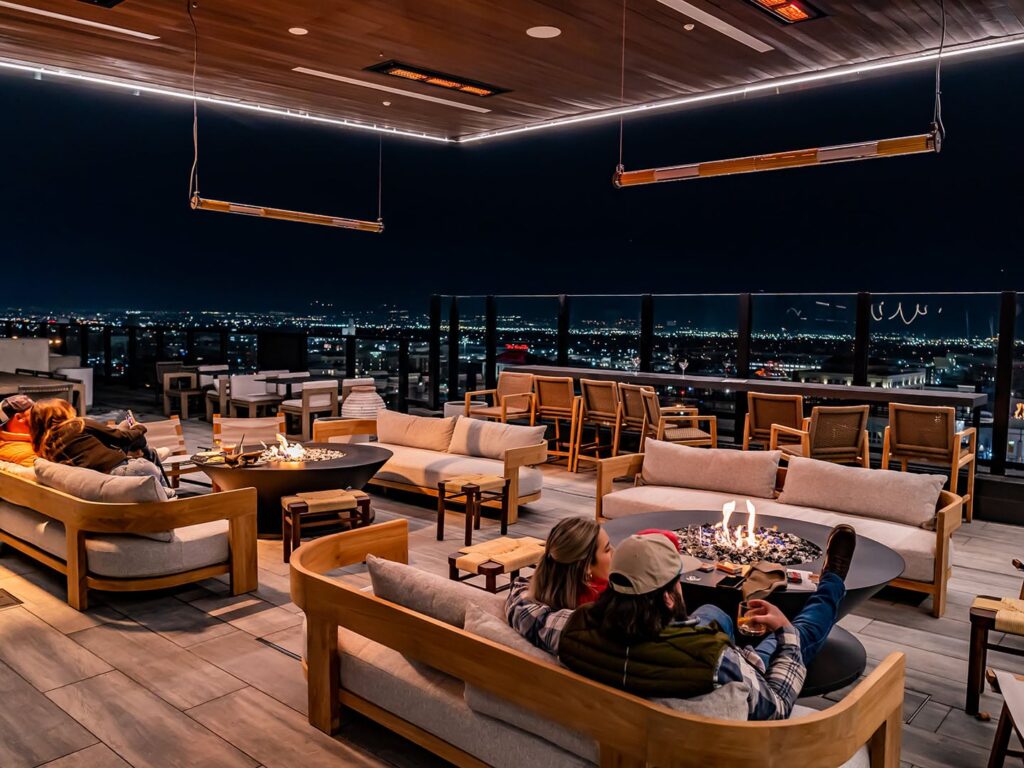 Found atop the Le Meridien and Element hotels in downtown SLC – this bar affords stunning Westerly views of the Salt Lake valley and Oquirrh mountains. The outside patio area is expansive and also includes all weather covered and heated seating – not least cost firepits. On the menu, craft cocktails, beer and wine, as well as a light snacks menu.
131 S 300 W, Salt Lake City, UT 84101
(801) 658-4400
Even more patios?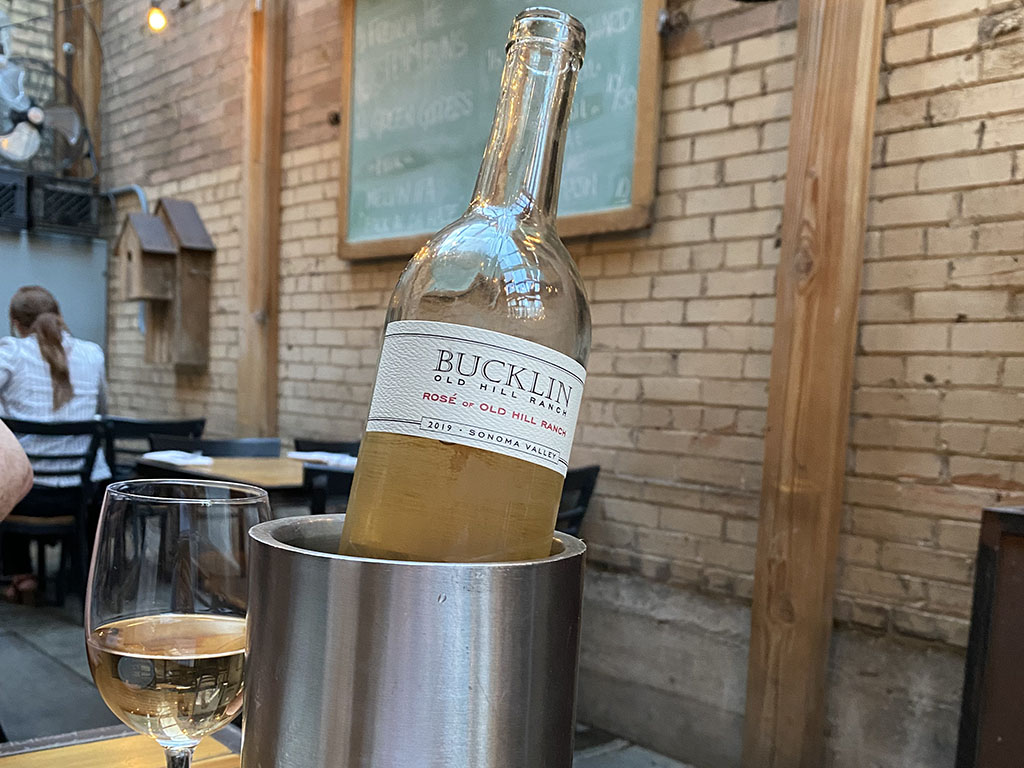 Here's a few more to go check out – we just haven't had time to source a photo for these patios just yet!
Eva
Chunga's
Kaze Sushi
Kimi's Chop Shop and Oyster House
Level Crossing Brewery
Stanza
Tiburon
VENETO
Wasatch Brew Pub Sugar House
Park City and Deer Valley patio dining
If you find yourself up in our beautiful mountains during warmer months, here are some restaurants to check out with patios:
Blind Dog Restaurant & Sushi
Cafe Terigo
No Name Saloon
Riverhorse On Main
Twisted Fern
Wasatch Brew Pub
Windy Ridge Cafe
Who did we miss?
Have we missed someone off of this list? If you have a suggestion for this page, perhaps something interesting and unique off of the beaten path let me know at stuart@gastronomicslc.com so we can share!
Maybe also check out
Maybe we can tempt you to something else delicious while you're here? Check out these other detailed guides, some of the most popular pages on our website:
Hi, I'm Stuart, nice to meet you!  I'm the founder, writer and wrangler at Gastronomic SLC.  I'm a multiple-award winning journalist and have written in myopic detail about the Salt Lake City  dining scene for the better part of seventeen years.
I've worked extensively with multiple local publications from Visit Salt Lake to Salt Lake Magazine, not least helped to consult on national TV.   Pause those credits, yep, that's me! I'm also a former restaurant critic of more than five years, working for the Salt Lake Tribune.    I'm largely fueled by a critical obsession with rice, alliteration and the use of big words I don't understand.   What they're saying about me: "Not inaccurate", "I thought he was older", "I don't share his feelings".
Want to know more? This is why I am the way I am.
Our sponsors and this page
This page may contain information about one of our sponsors. We only work with the very best businesses in the state, and routinely turn down offers to work with businesses we don't enjoy. If we can't hand on heart recommend them - they can't be a sponsor.
At this time we have the following sponosrs: BTG, Caffe Molise, The Dough Miner, Downtown Alliance, Feldman's Deli, Flanker, Garage On Beck, Hearth And Hill, Hill's Kitchen, Kao Thai, Kin Sen Asian Noodle Bar, Kyoto, LemonShark Poke, Log Haven, Oasis Cafe, Pirate O's Gourmet Market, SLC Eatery, Squatter's Downtown Salt Lake City, Stoneground Italian Kitchen, Urban Hill, Wasatch Brew Pub Sugar House, Whiskey Street, White Horse.
I encourage you to Google any of our sponsors and see the stellar reviews on multiple sites that they enjoy. For a list of all our current and past relationships see our partnership history page.