I was first briefed on Bar Nohm while sitting down with Sean Neves late last year. Back then we escape the winter and huddle over fire and flame as the tiki-forward ACME opened their doors. Skip forward six months and I'm back with the affable impresario of the Water Witch group; this time fleeing the scorching heat and touring a retooled Nohm. Bar Nohm in fact.
For those who might've missed Nohm the first time around, chef David Chon's briefly lived creation was wildly adored. Go check out those near as perfect Google review scores for proof positive. Sadly, Chon's original master plan was hamstrung by covid, pivoting before ultimately pausing. From there a partnership with the neighboring Witchers was hatched – Chon's striking talents fused with the undeniable powers of the adventurous bar. This week, the lights are on.
Stepping inside the space immediately transports me back to a recent trip to ATX; the kitchen's charcoal engine aromatically illuminating the space with diffused sultry smoke. The menu is built for festive clinking of glasses, and with campfire cooking memories ignited from the woody-perfume, you'll be eager to dig in well before holding a menu.
The interior has been intelligently reworked. Imported Dukta wood wraps the entry way, fluidly guiding guests past the host stand, first to a waiting area. Those anticipating a table can pitch up here with a glass or small bite. Past that, the modernist feel of the former Nohm has been augmented. The room is now broken up into a mix of group and intimate dining. The center of the main space features a long communal table, flanked on one side by the main bar, the other by small counters that gaze out through large windows.
A seven seater booth caps one end of the room, while the other side hides a duo of discrete booths. Those sit next to the kitchen perched chefs-counter – one of the remnants from Nohm – albeit dropped down a good few inches. A patio will also open shortly, while a connecting door allows patrons to move freely between Water Witch and Bar Nohm as they please.
It's from the chef's counter that you'll spy the kitchen's centerpiece – the binchotan grill. Another must-keep component of Nohm and hand designed by Chon himself. The consistent burning binchotan charcoal is garnished with local nuance from Santaquin sourced wood; and the relatively modest sized setup gives off remarkably oversized heat. Thirty seconds of admiring oohs and ahhs are about as much as I can muster.
Behind the bar there's perhaps more talent in this one spot than anywhere else in town. Amongst a lineup of familiar faces you're more than likely to spot Crystal Daniels, former beverage director at Post Office Place; who you might recall most recently scooped up a prestigious James Beard nod. Daniels is the brains behind the first cocktail I sup, the Nohm martini; a fascinating concoction of tequila, Pisco, wasabi, apple and bitter melon. One of Daniels' direct additions to the menu, I'm implored to start here, you'd be wise to as well.
Neves explains the bar setup is the cumulative experience of years of experience from the cosy Water Witch. Lessons of efficiency and execution have been mastered. Liquid CO2 powered glass chillers pop off in the background while the team do their thing; the cool sci-fi looking bar top gizmos can chill a glass for service in seconds.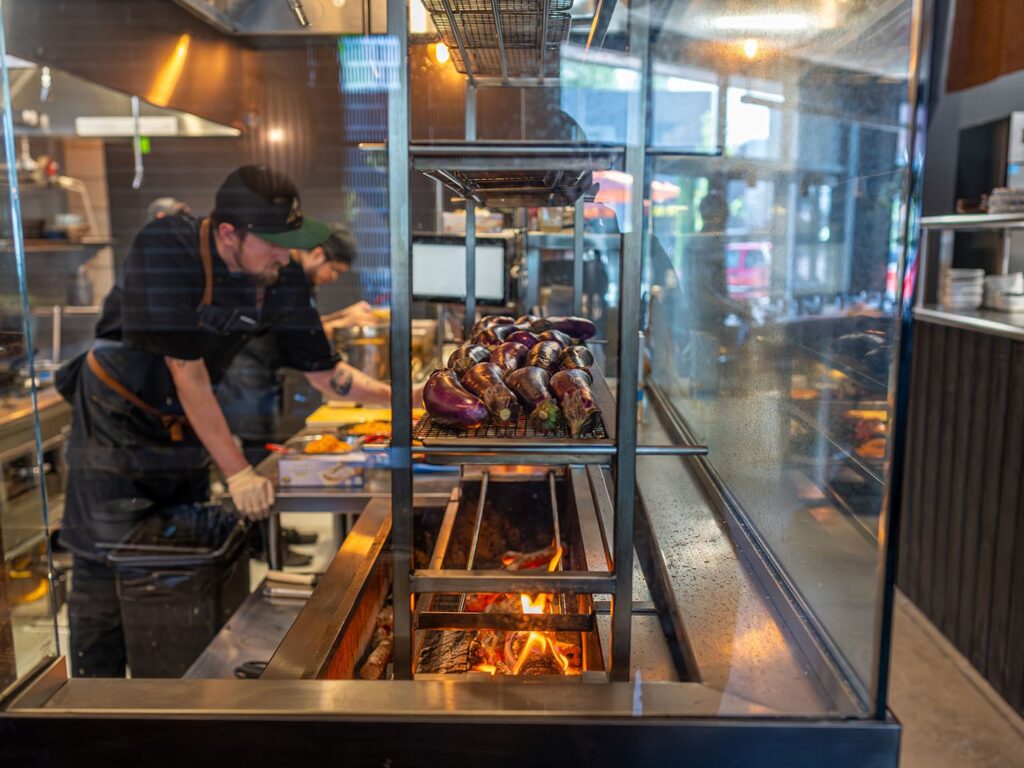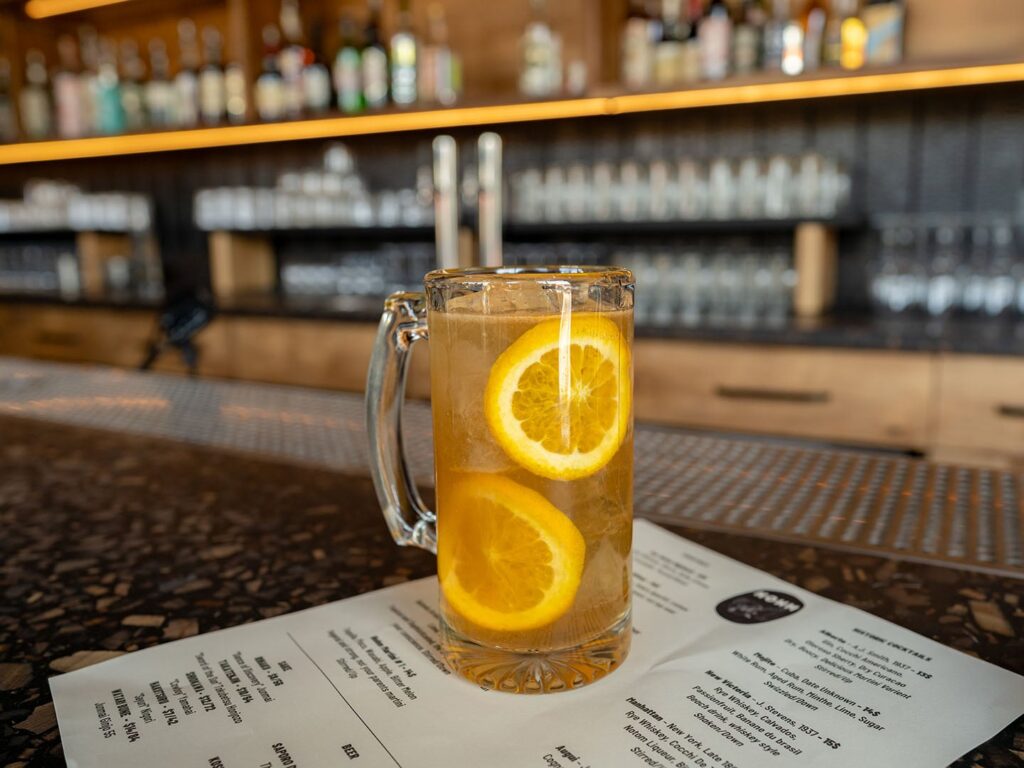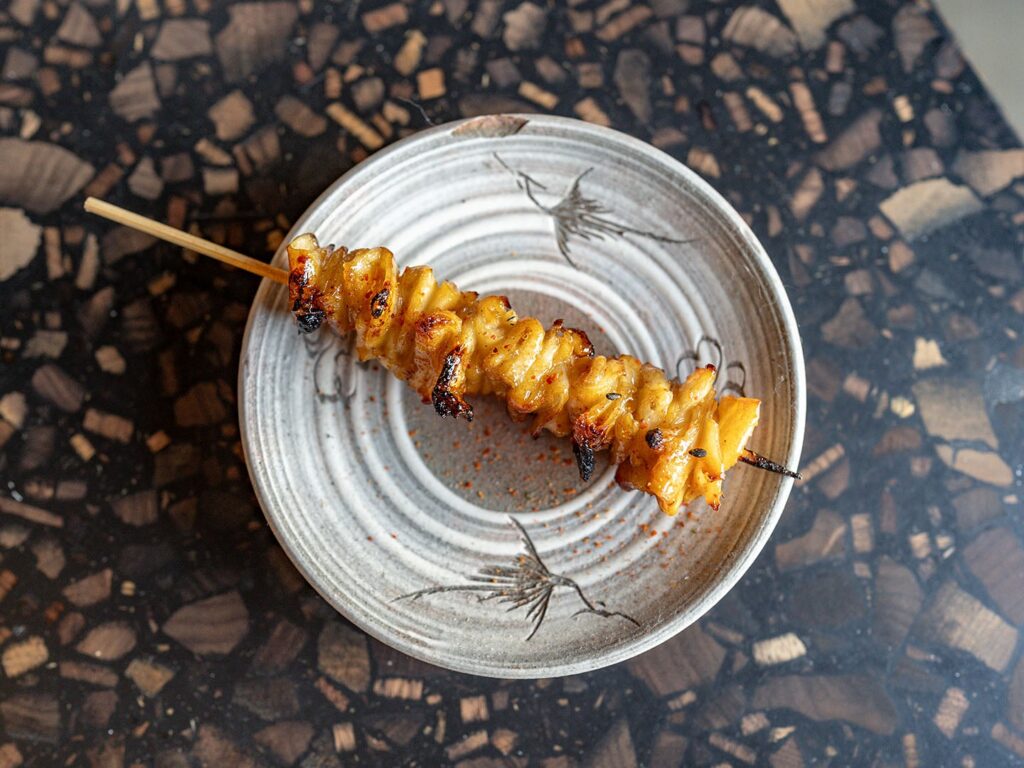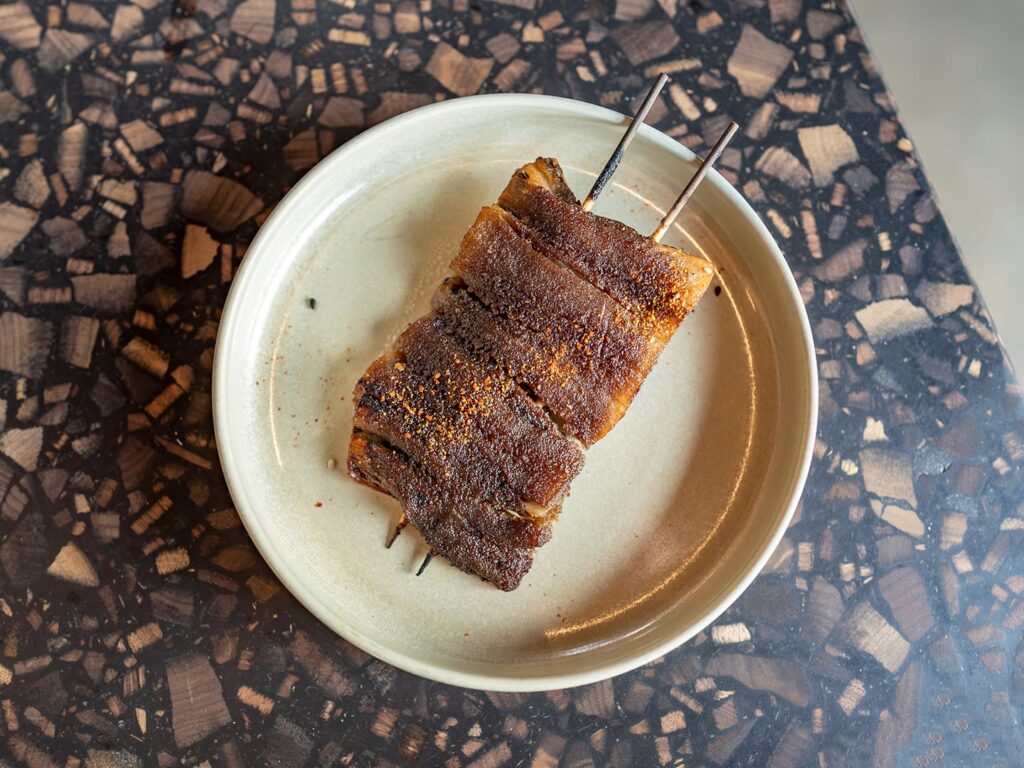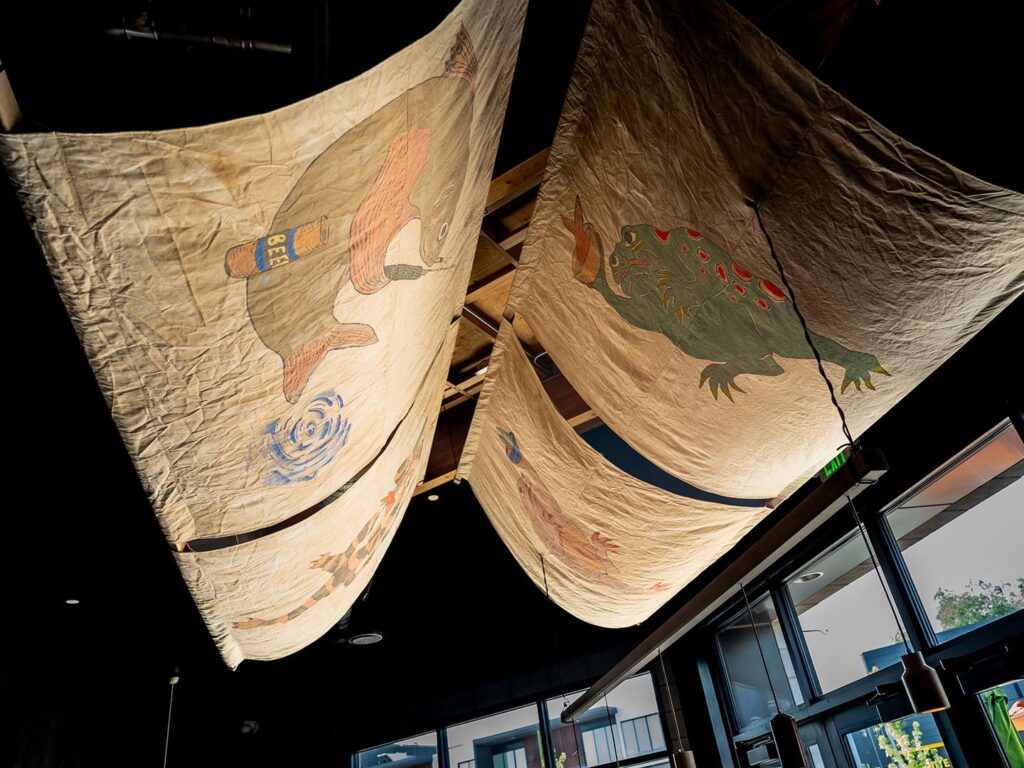 I start my meal with the curiously monikered chilled fried fish. Chunks of battered and fried mackerel sit with similarly treated tofu, all of which do indeed arrive room temp. Anyone who appreciates the allure of fried chicken direct from the fridge will completely understand this one. Mountain potato pancake shows up next. The starchy yam makes for a sweet and slippery interior before being galvanized with a battered and fried shell. The plate sized fritter offers textural contrast in every bite.
A selection of skewers from the smoldering grill are a must. Chicken tenders, chicken skin and eggplant are my choice. The tenders are the most popular I'm told, and the most immediately approachable, big bites speared with leeks. Grab three or four of these with a cold Sapporo on tap and chat it up. The skins provide far more textural intrigue though, interleaved confetti like slices of chewier roasted skin tinged with smoke. The eggplant comes double skewered, almost baby back like in appearance, flourished with shichimi (I think). Sweet and smoky and spicy.
Kimchi fried rice concludes my first meal, and it's a high point. Intended to be shared amongst two or three, I prove that one solemnly committed soul is also equal to the task. Served in a volcanic metal bowl, the heat lends caramelization to the grain – which itself has a smooth spicy warmth and sharp tangy edge. Restraint with the kimchi goes a long way though, and it's used mindfully here avoiding a mushy undoing. On top a circular procession of shrimp are joined by sliced Chinese style sausage. It's the shy star of the whole damn thing. House made by Chon, it's an ever tweaked recipe I'm told. Caramel sweet hoi sin flavors mingle with Waterpocket's anise-forward Oread. I desperately resist the urge to ask for a togo box of sausage.
I am drawn to the more challenging dishes no doubt, but that's not to say the menu isn't broadly accessible. Fried wings and grilled Branzino are slam dunks. Blue fin tuna is on the menu right now, not because the Bar Nohm aspires to be a sushi spot, but due to an impeccable product piquing Chon's exacting standards. When it's gone it's gone, there won't necessarily be more raw fish. This neatly sums up the chef's approach.
For his part, Chon won't be drawn on categorization. Pigeon holes are for the birds thank you very much. And those end up skewered and charcoaled – so just don't – ok. While the menu launches with the familiar Japanese and Korean influences of the former Nohm, Chon doesn't see that as a mandatory blueprint. If there is any defining concept at Bar Nohm, it's that this is food to share with drinks. Simple as. You're equally as likely to see French or Spanish dishes as the menu evolves. And evolve it absolutely will if indications are to go by.
The opening of Bar Nohm feels like yet another nudge of the needle for Salt Lake City. The menu is bolder and more ambitious than most. It's confidently assured. Remember when Copper Onion started plating bone marrow to a supposedly too queasy Utah? Then they couldn't keep up and everyone copied? This is another of those moments – invigorating. From where I'm sat there's nowhere like Bar Nohm in Salt Lake City right now. More of this please.
Keep the conversation going
Want to stay on top of the SLC food scene, minute by minute, dish by dish? Here are a few other places you should follow along:
Hi, I'm Stuart, nice to meet you!  I'm the founder, writer and wrangler at Gastronomic SLC; I'm also a former restaurant critic of more than five years, working for the Salt Lake Tribune.  I've worked extensively with multiple local publications from Visit Salt Lake to Salt Lake Magazine, not least helped to consult on national TV shows.
I'm a multiple-award winning journalist and have covered the Utah dining scene for the better part of fifteen years.   I'm largely fueled by a critical obsession with rice, alliteration and the use of big words I don't understand.   What they're saying about me: "Not inaccurate", "I thought he was older", "I don't share his feelings".  Want to know more? This is why I am the way I am.
This article may contain content provided by one of our paid partners. These are some of the best businesses in Utah. For a list of all our current and past relationships see our
partnership history page
.