Only got one night in town, here on business or just traveling through? If so, you might want to get the most bang for your buck. With so many places to eat in the city, here are ten good options for restaurants in downtown Salt Lake City; they cover everything from Italian to Japanese to classic American. We've been writing about the Salt Lake restaurant scene for more than a decade and we'd happily spend our own money – any day or night of the week – at all of these downtown SLC restaurants.
1 – White Horse Spirits And Kitchen
Pony up to the bar at White Horse and enjoy one of downtown SLC's best menus. The modern American Brasserie is open seven days a week and is a solid option for all occasions. The menu spans everything from bar snacks to fresh oysters through sandwiches and steaks. That's all backed by an extensively equipped full service bar and perhaps Utah's best selection of ciders, with more than two dozen from across the globe – with many on draft pours of 22oz!
Need to know: their wagyu burger is one of the best three burgers in Utah.
325 Main St, Salt Lake City, UT 84111
(801) 363-0137
whitehorseslc.com
2 – Whiskey Street
Just a few steps down from White Horse you'll find Whiskey Street. The template is the same – great food and great drinks in an ultra hip environment. That should come as no surprise of course as the two businesses are both part of the same Bourbon Group, responsible for some of the best dining destinations in town.
Again, the restaurant is open seven days a week, early to late and of course, brunch is served at the weekend. While Whiskey might be prominent in the name – the bar program here doesn't miss a beat – particularly of note is their craft cocktail program.
Need to know: get here earl, it's one of the busiest spots in town.
323 Main St, Salt Lake City, UT 84111
(801) 433-1371
whiskeystreet.com
3 – Bourbon House
We round out the Bourbon Group's trio of downtown dining options with their first outing, Bourbon House. This more laid back casual pub is a great goto for beers and burgers, or indeed plenty of other elevated bar bites; think pizzas, sandwiches, wings and more, all with a refunded twist.
19 E 200 S, Salt Lake City, UT 84111
(801) 746-1005
bourbonhouseslc.com
We're proud to have White Horse / Whiskey Street / Bourbon House as the sponsors for this page.
3 – Laziz Kicthen
In 2022 Laziz moved into the space once home to Curry Up Now, and brought with them a brand new flavor for downtown SLC. The menu at Laziz is modern Mediterranean with a sprinkling of Middle East flair. Think lamb burgers with hummus, shared mezze plates and delicious DIY bowls topped with the likes of falafel, salmon and steak. Don't miss their beignets with honey butter for dessert. Bonus points: if you're out for a night on the town – check out their hidden speak easy bar out back – Back Door offers a chic and sexy hangout for intimate drinks.
52 E 200 S, Salt Lake City, UT 84111
(385) 267-1161
lazizkitchen.com
4 – Urban Hill
One of the city's most sophisticated and elegant experiences. Urban Hill is helmed by chef Nick Zocco's whose resume lists Vegas' SW Steakhouse and Park City's intimate Tupelo. The menu showcases the best of both these worlds – high end proteins executed with perfect aplomb. See our full first look here.
10 S 300 W, Salt Lake City, UT 84101
(385) 295-4200
urban-hill.com
4 – Mr Shabu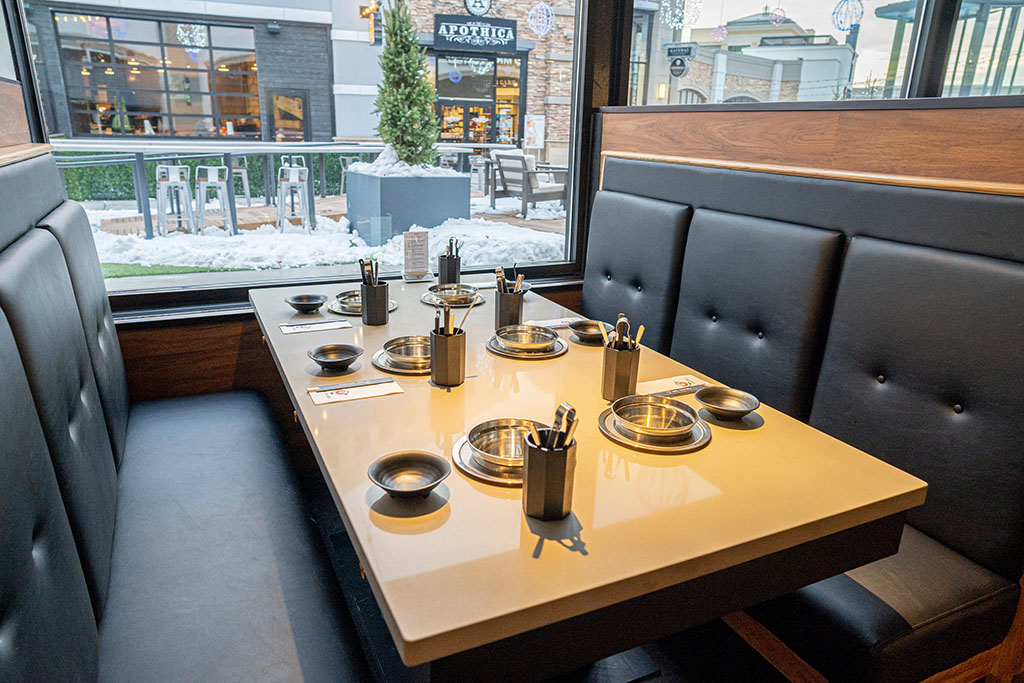 Located on the South edge of The Gateway open air shopping mall is this fabulous all you can eat spot. DIY hot pot dishes are the order of the day – perfect on rainy and snowy days. You can check out our full profile on the restaurant and experience here.
159 Rio Grande St, Salt Lake City, UT 84101
(801) 456-0273
mrshabu.com
5 – Takashi
Likewise, you can also obtain spectacular sushi in SLC. With the SLC international airport having daily flights to all corners of the globe – plenty of restaurants take advantage of that. Takashi is an award winning sushi spot that wouldn't be out of place in any major US city – yes its that good. Its also why its packed every single night. The restaurant doesn't take reservations, so get there early, or be prepared to stand in line for quite some time.
8 W Market St, Salt Lake City, UT 84101
(801) 519-9595
slcmenu.com/2011/04/03/takashi-restaurant-menu/
6 – Carson Kitchen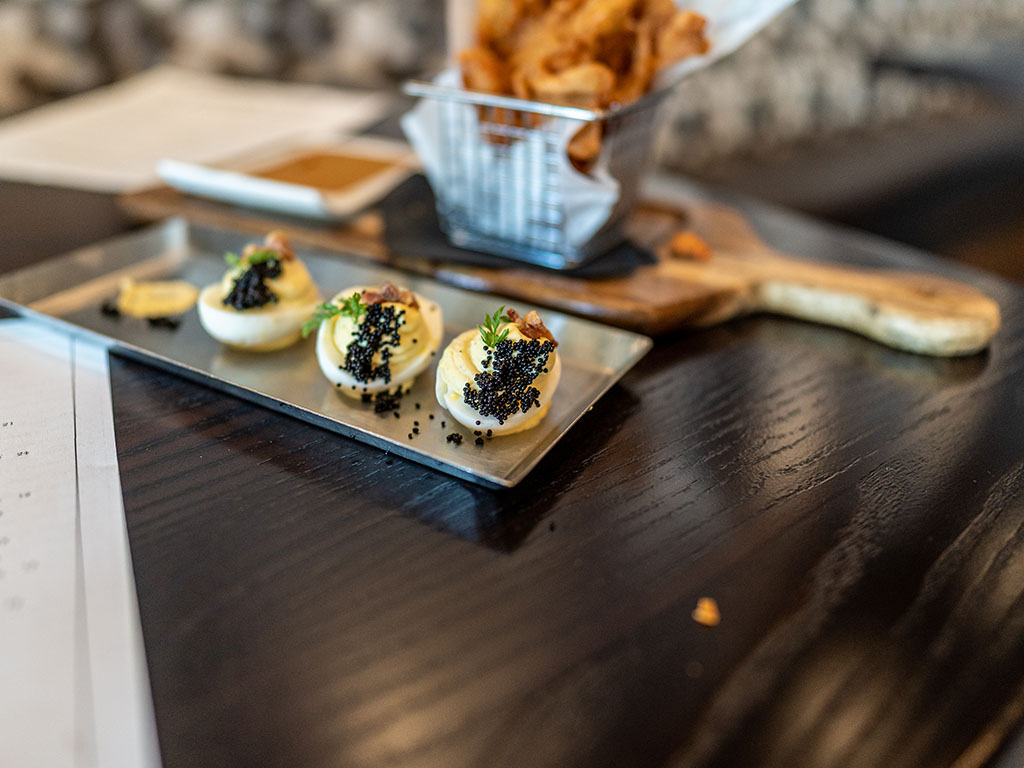 A trendy modern American spot in the heart of downtown. The restaurant comes to SLC via way of Vegas where the late chef Simon Kerry made his name with this chef driven menu. Check out our full review of the whimsical dishes at this restaurant.
241 W 200 S, Salt Lake City, UT 84101
(385) 252-3200
carsonkitchen.com/slc/index.html
7 – Caffe Molise
Just opposite the Salt Palace convention center is this wonderful eatery, one of the best Italian restaurants in downtown Salt Lake City. The menu is stacked with hearty pasta dishes that are executed with a rustic charm. In warmer months the outside patio is one of THE places to be in SLC, a perfectly pretty little spot with lots of shade. The wine list is impeccable, as it should be – the restaurant is attached to BTG Wine Bar next door; a by the glass concept with numerous boutique winery selections and flights.
5 W 100 S, Salt Lake City, UT 84101
(801) 364-8833
caffemolise.com
8 – Pretty Bird
Check the weather first. This original location of Viet Pham's Nashville style chicken shop is now a walkup window only affair. If the sun is shining though (and chances are it is in Salt Lake City) this is a great spot to grab a bite from the award winning chef's repertoire. New to the menu of late are the chicken tenders, juicy bites doused in the chain's signature blend of spices, underscored by sweet cinnamon.
46 Regent St, Salt Lake City, UT 84111
prettybirdchicken.com
9 – Copper Common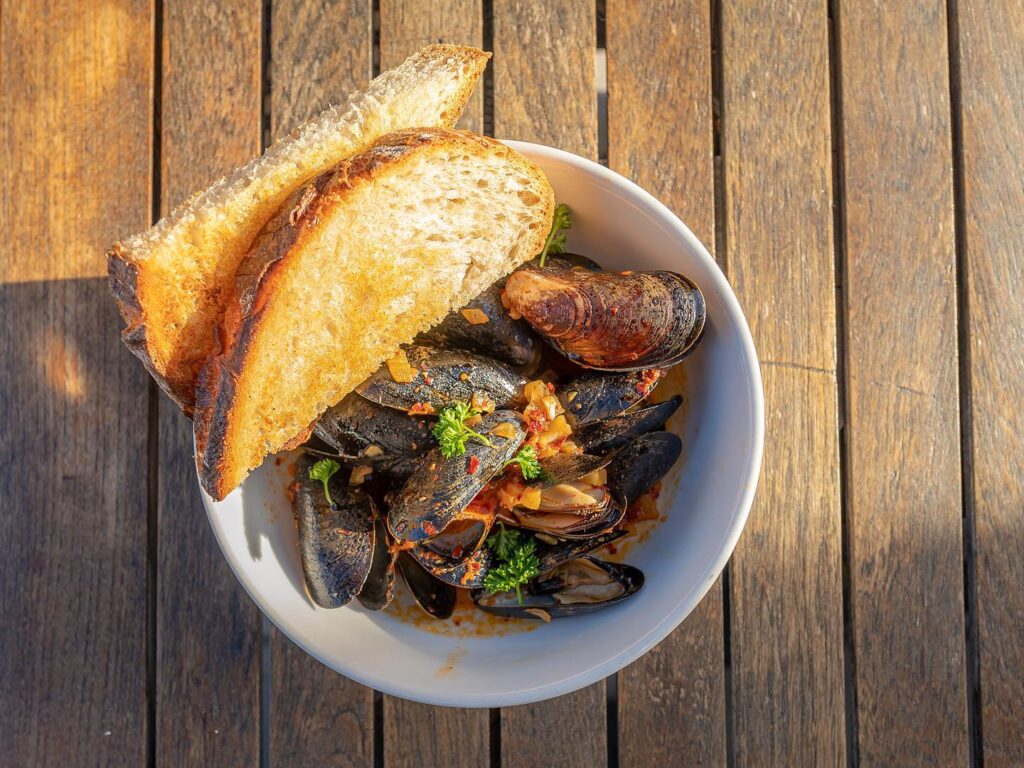 The cozy Copper Common offers a big city feel in a snug spot, just next door to sister restaurant Copper Onion. Some of the best mixologists in town work her, meaning your visit should definitely start with a look over their current cocktail menu. If the weather is amenable, absolutely get a seat on the covered patio along Broadway. Copper Common is the antithesis of that loud, obnoxious barn of a bar that you're looking to avoid.
11 E Broadway Suite 190, Salt Lake City, UT 84111
(801) 355-0543
coppercommon.com
10 – Flanker Kitchen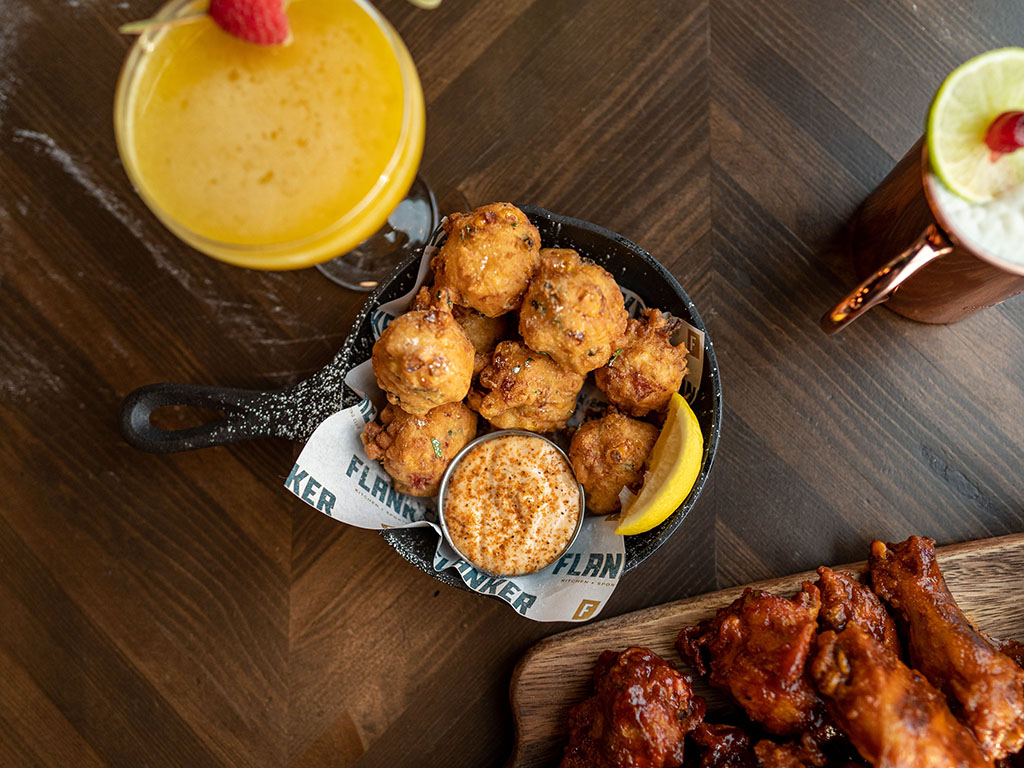 Located on the North side of The Gateway, Flanker makes a great pick for dinner if you're hitting up a Jazz game or a show at the nearby Depot; the restaurant is mere seconds walk from both venues. The menu at Flanker is a modern reworking of pub classics. Deep fried lobster bites are finished table side with a flurry of powdered sugar, chicken wings come with their own table top sterno heater for on demand crispy. Everything is supported by a solid roster of local beers, hand picked wines and seriously smart cocktails by the award winning Francesco LaFranconi.
6 N Rio Grande St, Salt Lake City, UT 84101
(801) 683-7070
flankerslc.com
11 – Oquirrh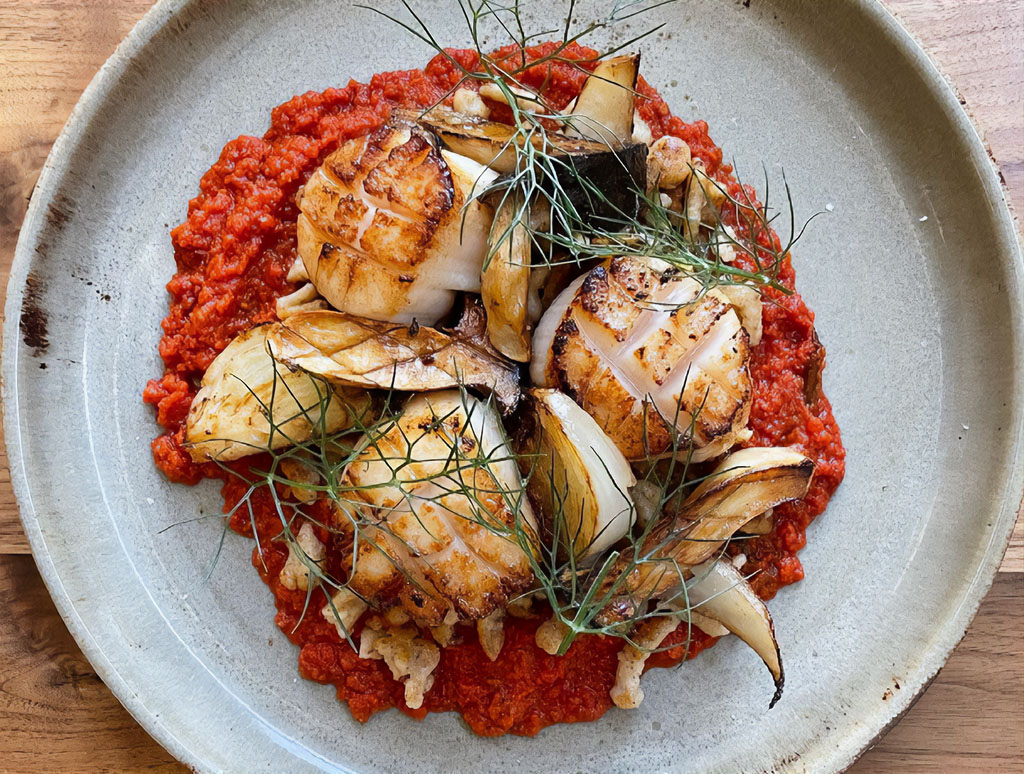 Oquirrh is the work of wife and husband duo Angelena and Drew Fuller. Drew works the back of hose and Angela is the beaming smile and service up front. Along with a stellar supporting crew this is one of the best chef-driven and seasonal menus in the state of Utah. Bar none.
368 E 100 S, Salt Lake City, UT 84111
(801) 359-0426
oquirrhslc.com
12 – HSL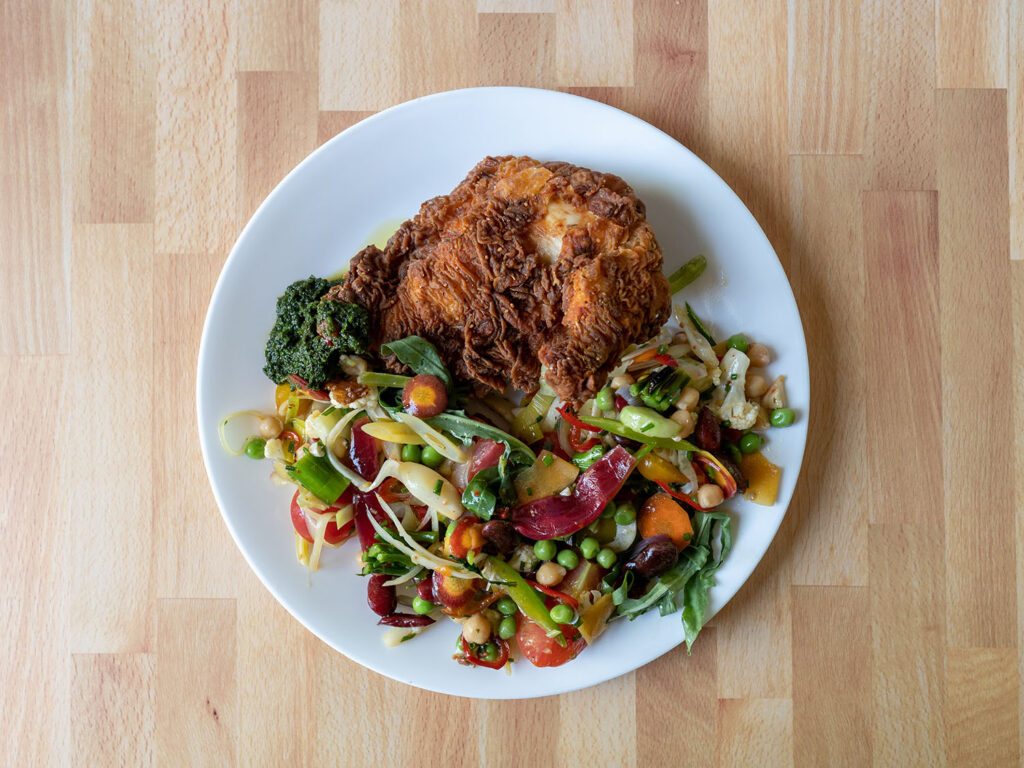 Another fine choice for meticulous hand crafted cuisine. HSL is the Salt Lake sister to Park City's Handle restaurant – and every bit as good. The fried chicken is a staple on an ever revolving seasonal menu – always grab some.
418 E 200 S, Salt Lake City, UT 84111
(801) 539-9999
hslrestaurant.com
13 – HallPass
Indecision got you stuck? HallPass at The Gateway is for you. The 'food hall' concept offers multiple culinary choices all under one roof, seafood to burgers to salads. There's also a full bar here that specializes in craft ales.
153 S Rio Grande St, Salt Lake City, UT 84101
(801) 415-9886
hallpassslc.com
14 – Bewilder Brewing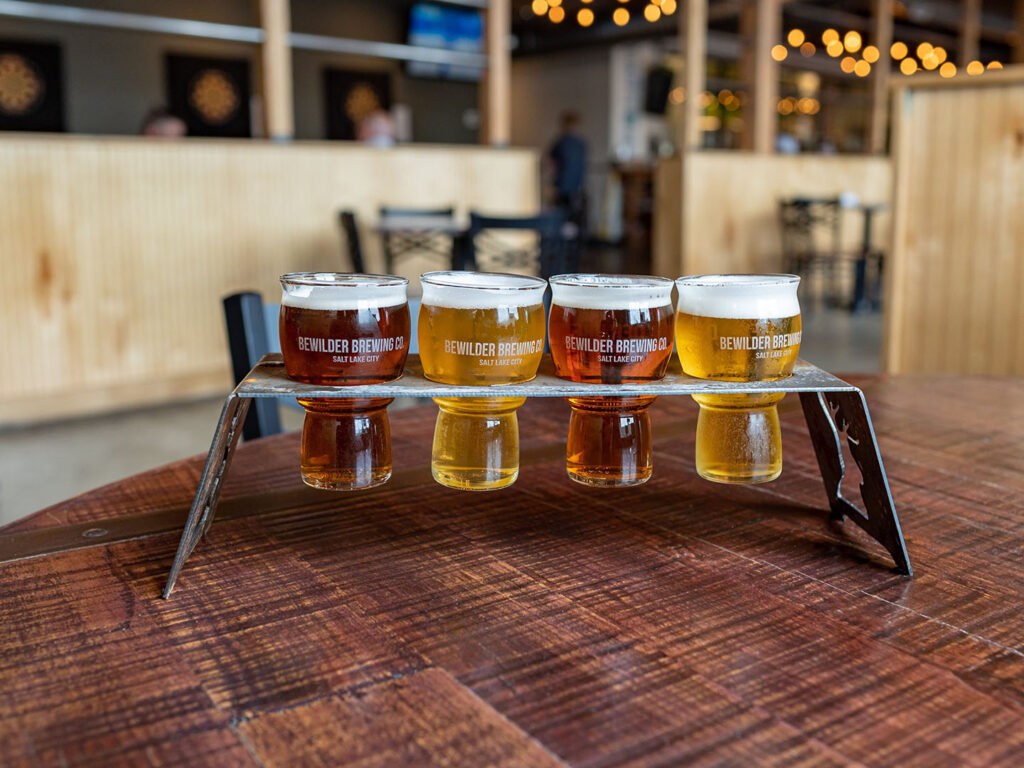 Bewilder Brewing is with the work of Salt City Brew Supply owners, Ross Metzger and Cody McKendrick. As you'd expect then, they know a thing or two about beer and put out a range of award winning brews.
You'll want to drop in for more than their traditional brews though, you'll want to to stop by to taste chef Justin Field's from scratch food. Field excels with his handcrafted sausages, offering a menu that rummages through a global recipe book encompassing everything from English bangers through German weisswurst and more. We initially wrote about Bewilder and Field's food here.
445 400 W, Salt Lake City, UT 84101
(385) 528-3840
bewilderbrewing.com
Best downtown restaurants by style
Looking for even more info about downtown SLC? Here are some of our picks based on different cuisines or dining options:
Questions about dining in downtown Salt Lake City
If you're new to SLC, or just coming in for work or leisure, you might have a few questions about our downtown area.
How walkable is SLC downtown?
The downtown Salt Lake City core is relatively small. You can easily walk from one side to the other in 15-20 minutes. SLC also offers the popular bike rental service, green bike, with pickup/drop off spots around town. Things can be challenging in both Winter and Summer though – snow, freezing temperatures or searing sun can put a real crimp in even the most ardent walker's plans.
In the middle of Winter temperatures can drop to below zero; in Summer, days over 100f are not uncommon. Don't feel afraid to take a Lyft or Uber a couple blocks away if needs be. You'll find plenty of ride share availability in downtown SLC all around the clock seven days a week.
How safe is downtown Salt Lake City?
Compared to other cities, SLC is relatively, safe all hours of the day. We'd recommend you use sensible street smarts as you would in any major town or city – stick to well lit streets with other pedestrians.
How busy is it downtown in Salt Lake?
Traditionally the downtown area of Salt Lake has been more commercial than residential, so weekdays are typically more busy than weekends. That's slowly changing in recent years, with more and more downtown housing coming online. The city is still relatively quiet once the office crowds head back to the suburbs each night. If a major convention is downtown, this can add significantly to the crowds. The same goes for a major concert or NBA game at the Vivint arena.
Do I need reservations to eat in downtown SLC
At the most popular restaurants, definitely. Even on weeknights, some of our more popular restaurants can have extensive waits without a reservation. Typically you should be able to walk into most restaurants with a reservation during weeknights, but hey, why take the risk?
How to get around downtown Salt Lake City?
We have both Lyft and Uber all over the Salt Lake valley, including the downtown area; moreover both services are allowed to pickup and drop-off at the airport too. As well as that you'll find the popular Bird and Lime scooter services across downtown SLC, not to mention the popular green bike rental service.
Hi, I'm Stuart, nice to meet you!  I'm the founder, writer and wrangler at Gastronomic SLC; I'm also a former restaurant critic of more than five years, working for the Salt Lake Tribune.  I've worked extensively with multiple local publications from Visit Salt Lake to Salt Lake Magazine, not least helped to consult on national TV shows.
I'm a multiple-award winning journalist and have covered the Utah dining scene for the better part of fifteen years.   I'm largely fueled by a critical obsession with rice, alliteration and the use of big words I don't understand.   What they're saying about me: "Not inaccurate", "I thought he was older", "I don't share his feelings".  Want to know more? This is why I am the way I am.