I've been writing about the Salt Lake City restaurant scene for more more than fifteen years and have dined at practically every downtown Salt Lake City restaurant. The following list of restaurants are some of my personal favorite spots in the city. They represent a mix of casual and fine dining, perfect for everything from a grab and go lunch through to a romantic date night out. I've listed restaurants by price point, use the menu below to skip ahead a section if you like.
$
This section comprises those restaurant's most gentle on the wallet. Expect to pay under $20 per person before tax and tip at these. These selections all make great great choices for a quick and affordable lunch if you're downtown too.
Caputo's – Part market, part deli and part restaurant – and handily, with multiple locations around town. The downtown location is the jewel in the operational crown but every Caputo's offer a similarly strong sandwich offerings. Their signature Caputo loaded with deli cuts is award winning, while their muffuletta is exceptional.
LemonShark Poke – Looking for light and healthy eats in the heart of downtown SLC, head to this Hawaiian informed restaurant. Choose from prebuilt bowls or custom DIY your own. Fun bento boxes are great for a grab and go meal in the downtown area – featuring everything you need, including utensils, right there in the convenient box.
Pretty Bird – This original location of Viet Pham's Nashville style chicken shop is now a walkup window only affair. If the sun is shining (and chances are it is in Salt Lake City) this is a great spot to grab a bite from the award winning chef. The standout item here is the hot chicken sandwich available in a range of spice levels.
Spitz – I love the bright Mediterranean flavors at Spitz. The star of the show is the doner, which in truth isn't really a traditional doner at all. It is however a fabulously layered lavish wrap that hits the spot, rain or shine. Fun restaurant vibes, local beer, wine and three locations.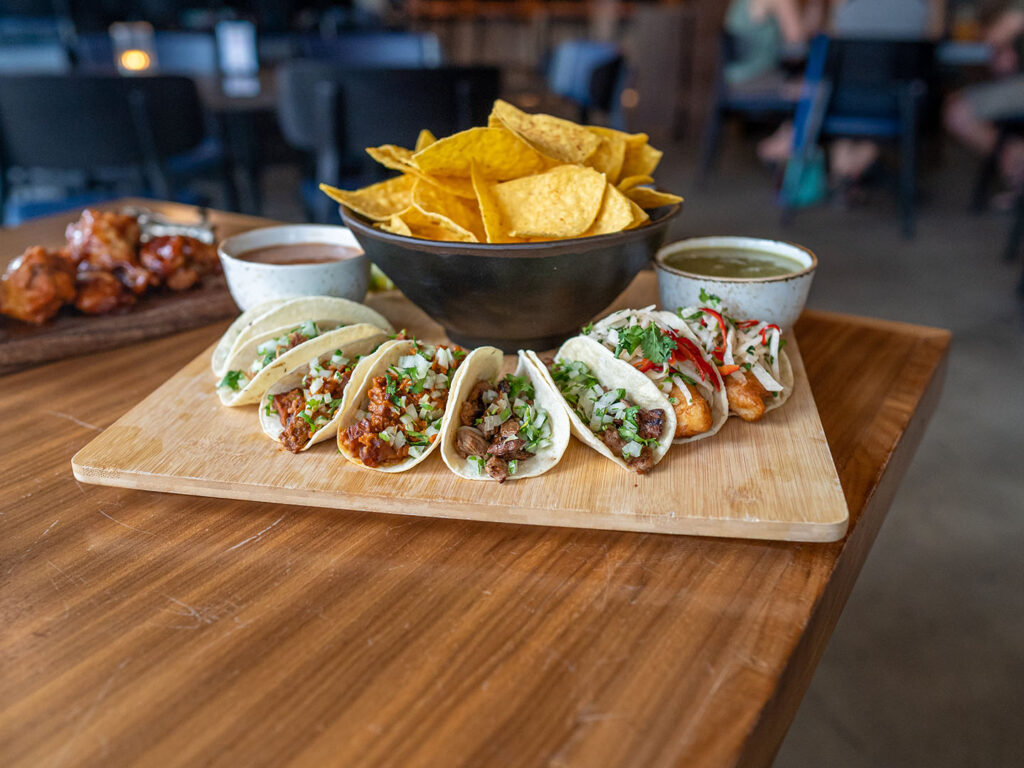 $$
These are mix of mid-range restaurants that span the spectrum of cuisines and flavors. Expect to pay around $20-$50 per person before tax and tip to enjoy the menu at these places.
Caffe Molise – One of the biggest names in downtown SLC, with multiple decades and awards under their belts. The Italian restaurant now lives life in the grand and historic Eagle building, worth a trip alone just to bask in the lavish digs. Start or bookend your meal with a trip to BTG Wine Bar that lives on the lower floor; the grown up bar offers more than 70 options by the glass and is staffed by ship smart wine experts.
Copper Common – This is one of my favorite downtown bars (21+ only), powered by an endlessly changing collection of small plates. Common is the offshoot of the neighboring Copper Onion, but it's my favorite by some margin due to the creativity of the cuisine. Also notable is the wine list, comprising 100% natural wines. I wrote about the Copper Common in more depth in this article.
Flanker Kitchen + Sporting Club – Located in The Gateway is this multi-purpose 17,500 square foot space. Home to a bar (Flanker is 21+ only), a secret cocktail parlor, full service restaurant, karaoke rooms, multiple large screens (for sports) and sports simulators – it's easy to get lost at Flanker for the whole night long.
Salt Lake Brewing Co – One of the biggest names on the food and drink scene. Now back in local hands after a storied change of ownership, the business is getting back to their very best relying on what they excel at – fabulous house brewed beers and a classic brewpub menu that's loaded with something for everyone. Great for all occasions, ages and large groups.
Whiskey Street – Home to the largest collection of whiskey in Utah, is this fun 21+ only bar on downtown's buzy Main Street. The menu is one of bar favorites elevated up a notch. Whiskey Street is one of the most popular weekend hangouts in the city – get there early.
White Horse – The follow on restaurant from White Horse, and one taking a chic'er more grown up path. The menu is more brsserie than bold bar. Enjoy seafood and shellfish, salads, and thoughtfully plated proteins. Do note White Horse is also a 21+ bar.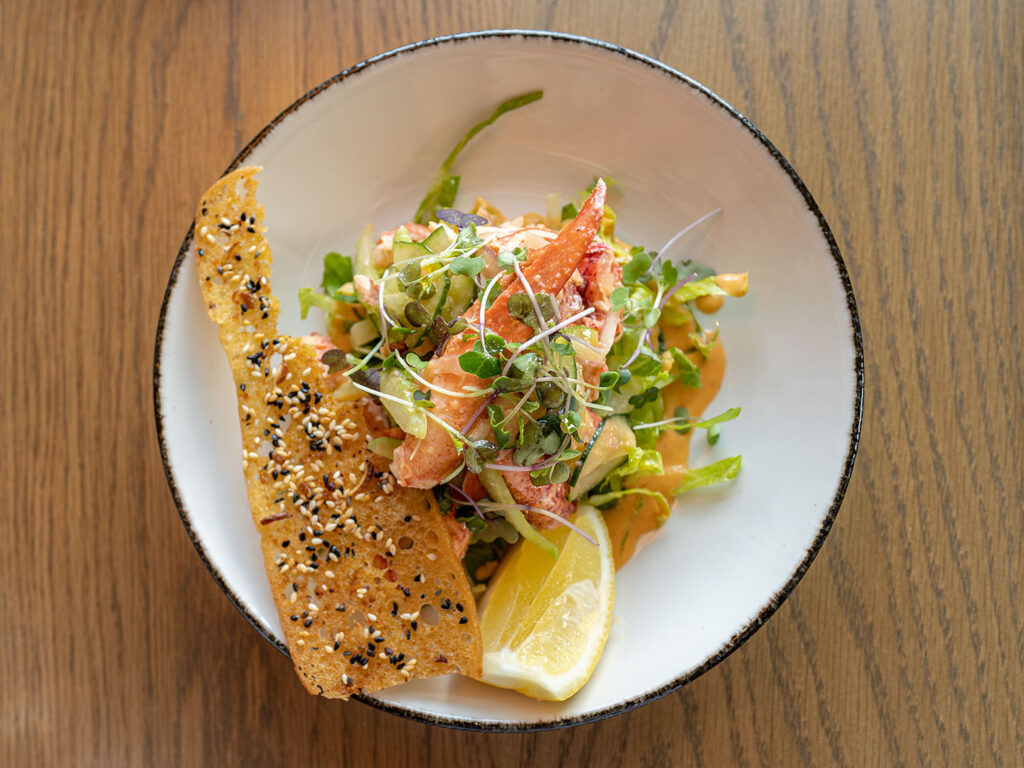 $$$
The following are the city's premium spots. They're all great places to celebrate a special occasion or check out creative cooking. These restaurants are also typically exemplified by chef-driven menus that often source seasonally and locally. High quality service and serious bar programs are also par for the course at these high end spots. Expect to pay more than $50 per person before tax and tip to completely full enjoy your experience.
Oquirrh – Nestled away on the Eastern edges of downtown SLC, Oquirrh is the type of restaurant everyone wants in their neighborhood. Owned and operated by husband and wife Angie and Drew Fuller, who take care of the front and back of house respectively. The New American menu follows the rhythm of the seasons is always impeccable. Cosy, creative and clever.
Stoneground Italian Kitchen – This downtown Italian sports a menu of house made pasta, eclectic pasta and hearty meat and fish dishes. Slightly hidden unless you have the information (you have now, so what are you waiting for) the outdoor patio makes for amazing al fresco eats. One of the best Italian restaurants in town.
Urban Hill – Vegas' SW steakhouse was just one big name on chef Nick Zocco's resume before landing here. I'm tremendously thankful that he did. New American cuisine is liberally informed by Zocco's Southwestern upbringing, and it's all served up inside one of the most stunning restaurant spaces in the state. I first stopped by the restaurant in their opening week in 2022, see my first look here for all the details.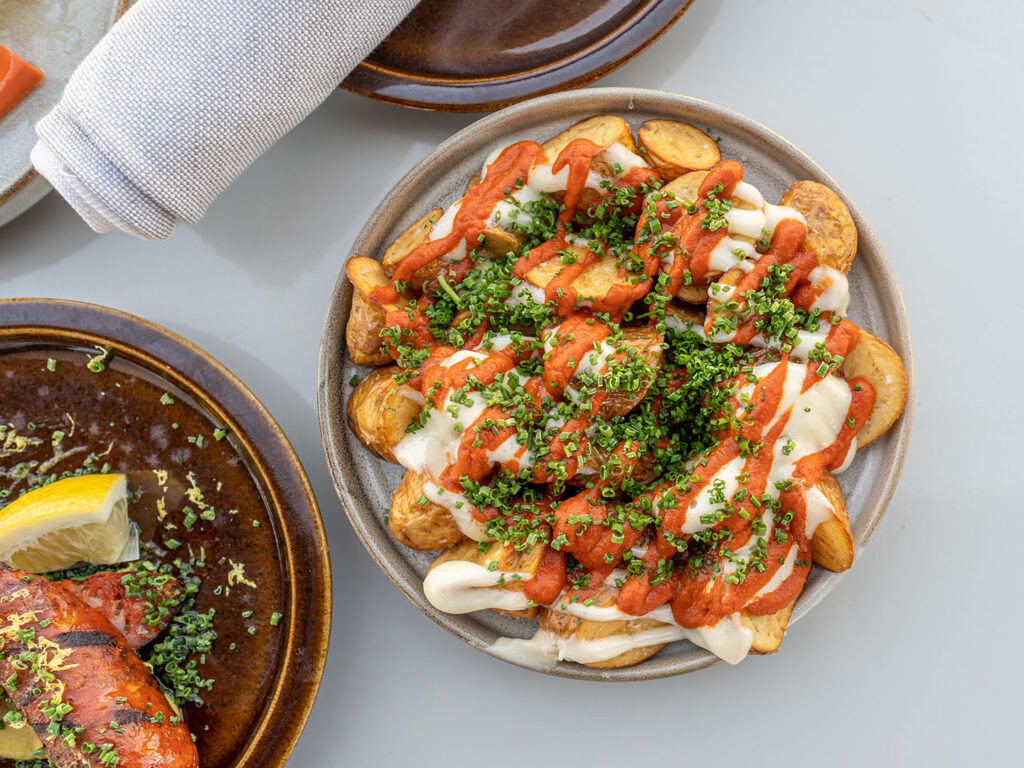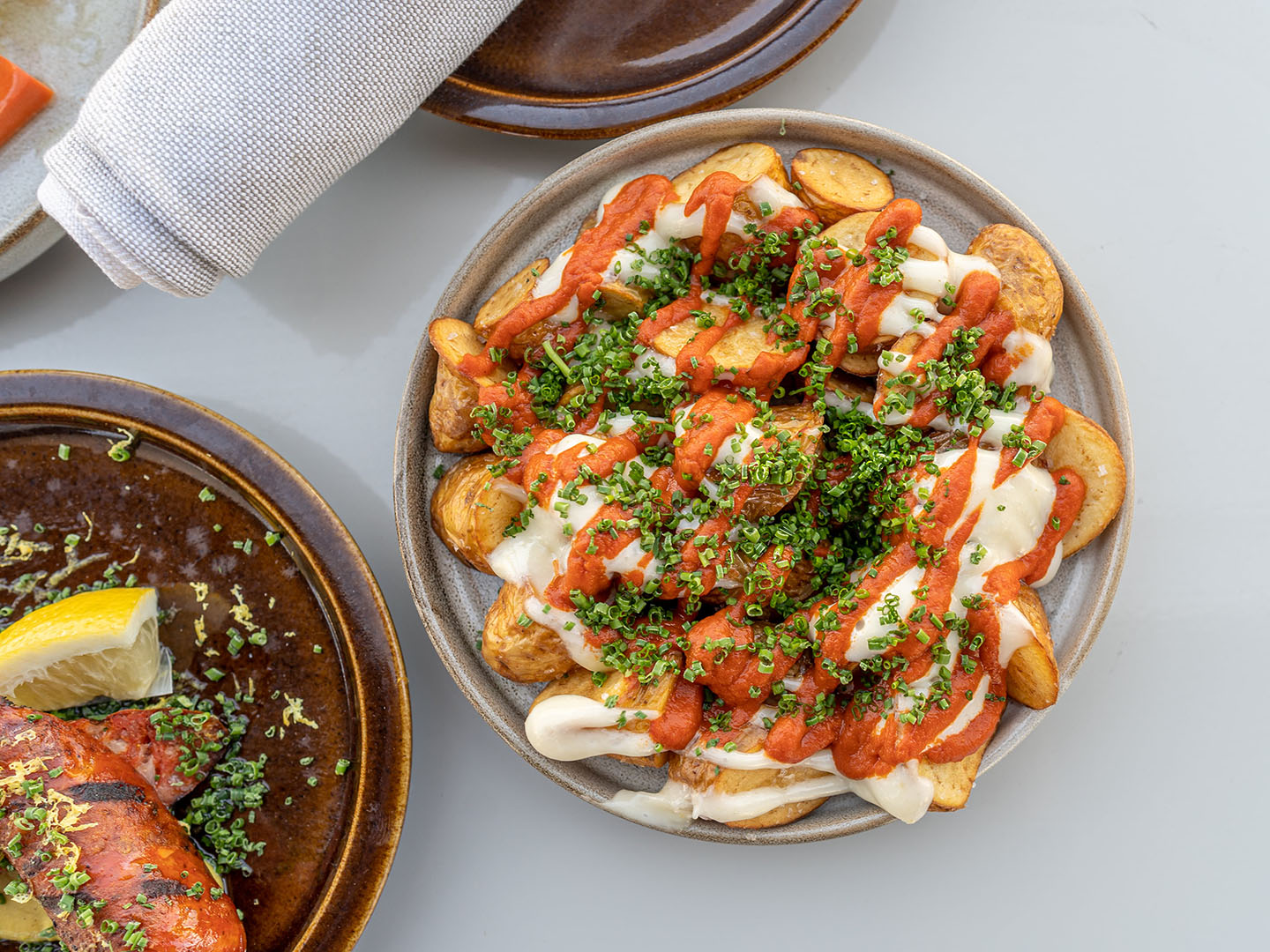 Best downtown restaurants by cuisine
Looking for even more info about downtown SLC? Here are some of our picks based on different cuisines or dining options: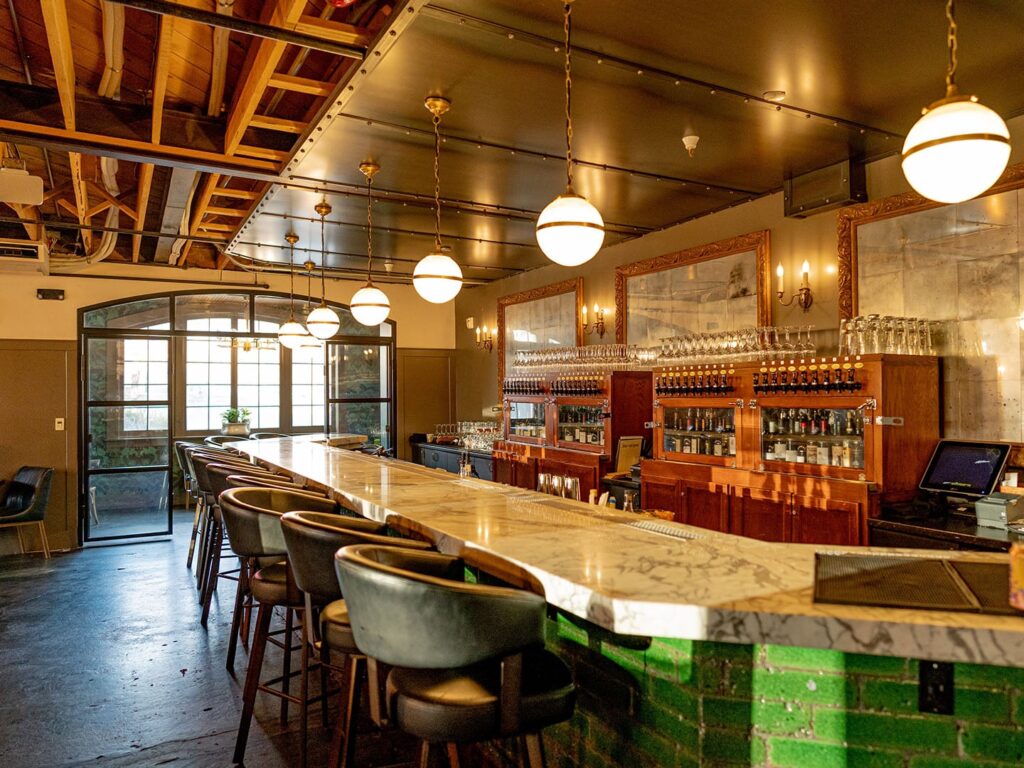 Best downtown bars
If you want a complete guide to Salt Lake City's bar scene, check out this list of my favorite SLC best bars. If you want to stay within the downtown area, the following are the best bars in my opinion:
Questions about dining in downtown Salt Lake City
If you're new to SLC, or just coming in for work or leisure, you might have a few questions about our downtown area.
How walkable is SLC downtown?
The downtown Salt Lake City core is relatively small. You can easily walk from one side to the other in 15-20 minutes. SLC also offers the popular bike rental service, green bike, with pickup/drop off spots around town. Things can be challenging in both Winter and Summer though – snow, freezing temperatures or searing sun can put a real crimp in even the most ardent walker's plans.
In the middle of Winter temperatures can drop to below zero; in Summer, days over 100f are not uncommon. Don't feel afraid to take a Lyft or Uber a couple blocks away if needs be. You'll find plenty of ride share availability in downtown SLC all around the clock seven days a week.
How safe is downtown Salt Lake City?
Compared to other cities, SLC is relatively, safe all hours of the day. We'd recommend you use sensible street smarts as you would in any major town or city – stick to well lit streets with other pedestrians.
How busy is it downtown in Salt Lake?
Traditionally the downtown area of Salt Lake has been more commercial than residential, so weekdays are typically more busy than weekends. That's slowly changing in recent years, with more and more downtown housing coming online. The city is still relatively quiet once the office crowds head back to the suburbs each night. If a major convention is downtown, this can add significantly to the crowds. The same goes for a major concert or NBA game at the Vivint arena.
Hot spots in downtown Salt Lake city
Main Street – The arguable beating heart of the city, and home to a bustling parade of bars and restaurants. On weekend evenings Main Street can be one of the buzziest and busiest parts of the city. There's always a lively crowd.
Edison Street – In contrast this small road, is off the beaten path, and many folks' radar. Starting at the 300 S entrance to the small side street you will find the fabulous Copper Common. Walking North down the street you will encounter Roc Taco (modern tacos), Franklin Avenue (great 21+ food/drink spot), Back Door (cozy cocktail lounge), and Laziz Kitchen (Mediterranean eats). Leading Regent onto 200 S. just over the road you will see Bar X, Beer Bar, and Taqueria 27.
The Gateway – Over on the Western edge of the city is this open air mall. The site has seen lots of changes over the years, with recent times seeing the entertainment/food/drink options being increasingly prominent.
Do I need reservations to eat in downtown SLC
At the most popular restaurants, definitely. Even on weeknights, some of our more popular restaurants can have extensive waits without a reservation. Typically you should be able to walk into most restaurants with a reservation during weeknights, but hey, why take the risk?
How to get around downtown Salt Lake City?
We have both Lyft and Uber all over the Salt Lake valley, including the downtown area; moreover both services are allowed to pickup and drop-off at the airport too. As well as that you'll find the popular Bird and Lime scooter services across downtown SLC, not to mention the popular green bike rental service.
Hi, I'm Stuart, nice to meet you!  I'm the founder, writer and wrangler at Gastronomic SLC.  I'm a multiple-award winning journalist and have written in myopic detail about the Salt Lake City  dining scene for the better part of seventeen years.
I've worked extensively with multiple local publications from Visit Salt Lake to Salt Lake Magazine, not least helped to consult on national TV.   Pause those credits, yep, that's me! I'm also a former restaurant critic of more than five years, working for the Salt Lake Tribune.    I'm largely fueled by a critical obsession with rice, alliteration and the use of big words I don't understand.   What they're saying about me: "Not inaccurate", "I thought he was older", "I don't share his feelings".
Want to know more? This is why I am the way I am.
Our sponsors and this page
This page may contain information about one of our sponsors. We only work with the very best businesses in the state, and routinely turn down offers to work with businesses we don't enjoy. If we can't hand on heart recommend them - they can't be a sponsor.
At this time we have the following sponosrs: BTG, Caffe Molise, The Dough Miner, Downtown Alliance, Feldman's Deli, Flanker, Garage On Beck, Hearth And Hill, Hill's Kitchen, Kao Thai, Kin Sen Asian Noodle Bar, Kyoto, LemonShark Poke, Log Haven, Oasis Cafe, Pirate O's Gourmet Market, SLC Eatery, Squatter's Downtown Salt Lake City, Stoneground Italian Kitchen, Urban Hill, Wasatch Brew Pub Sugar House, Whiskey Street, White Horse.
I encourage you to Google any of our sponsors and see the stellar reviews on multiple sites that they enjoy. For a list of all our current and past relationships see our partnership history page.