Despite what you might've heard, yes you can get a drink in Utah. And yes, yes you can get a great drink in Utah. If you're new to town you can read the current liquor laws here. Otherwise, lets dive right in, these are our favorite bars in Utah.
Best selection of whiskey in Utah – Whiskey Street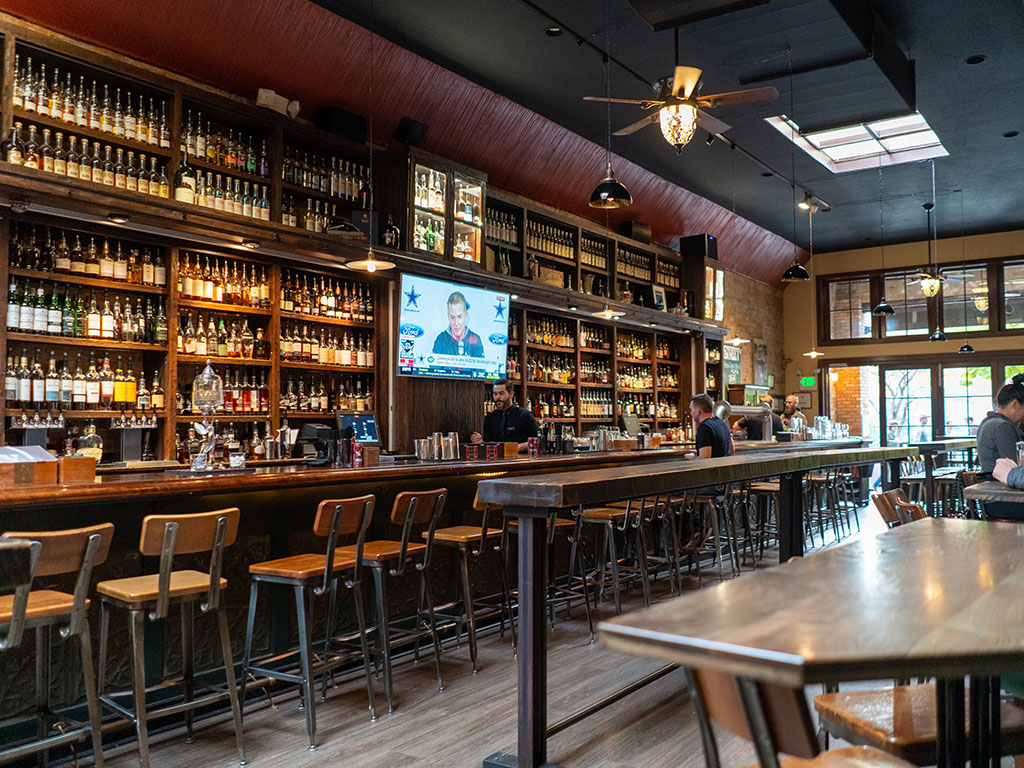 With a name like Whiskey Street, you better believe they have an inventory to back it up. With probably the biggest section in the state of Utah, the Main Street bar has row up row of whiskies from around the world. It doesn't hurt that the food is top notch as well here.,We're proud to have Whiskey Street as the sponsor for this page.
323 Main St, Salt Lake City, UT 84111
(801) 433-1371
whiskeystreet.com
Best low key downtown hang out – Copper Common
The cozy Copper Common offers a big city feel in a snug spot, just next door to sister restaurant Copper Onion. Some of the best mixologists in town work her, meaning your visit should definitely start with a look over their current cocktail menu. If the weather is amenable, absolutely get a seat on the covered patio along Broadway. Copper Common is the antithesis of that loud, obnoxious barn of a bar that you're looking to avoid.
11 E Broadway Suite 190, Salt Lake City, UT 84111
(801) 355-0543
coppercommon.com
Best bar to watch the game – Flanker Kitchen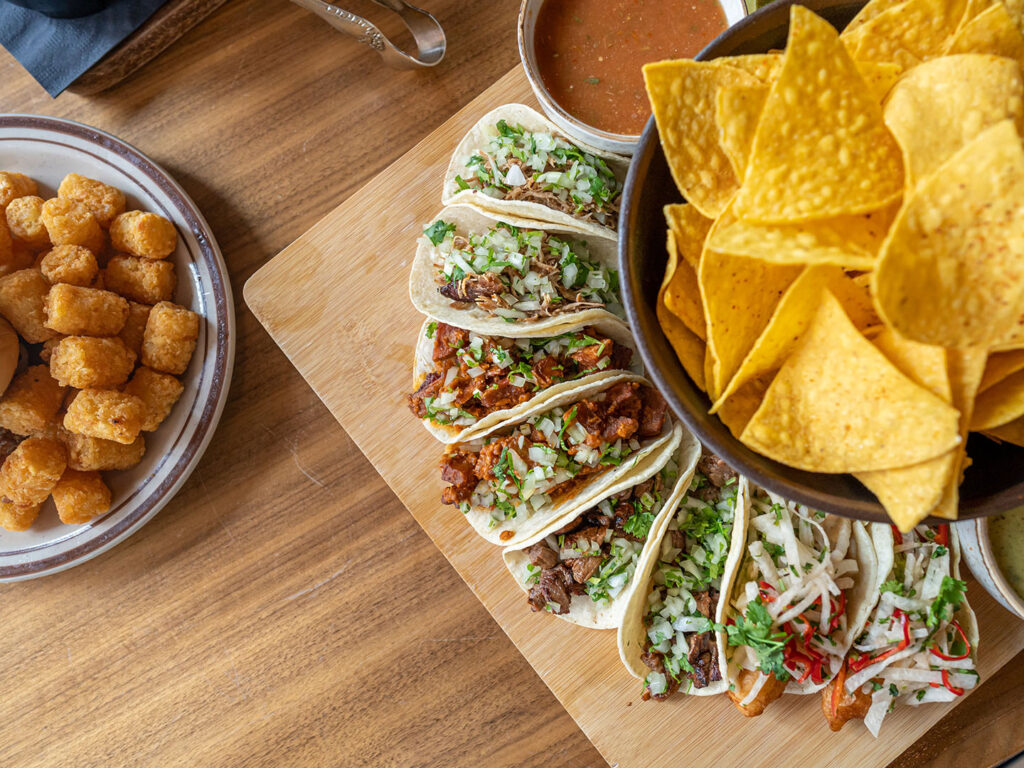 Located on the North side of The Gateway, Flanker Kitchen is a mix of food, fun and great drinks. This 21+ only spot covers some 17,500 square feet and boasts a kitchen of upscale bar classics, supported by a range of local beers, wine and cocktails by master mixologist Francesco Lafranconi. Flanker also offers hands on entertainment too – everything from karaoke through to sports simulators and classic pub games too. The bar is littered with TV's and a huge big screen, and always has the big game or fight to watch.
6 N Rio Grande St, Salt Lake City, UT 84101
(801) 683-7070
flankerslc.com
Best brats n beer – Bewilder Brewing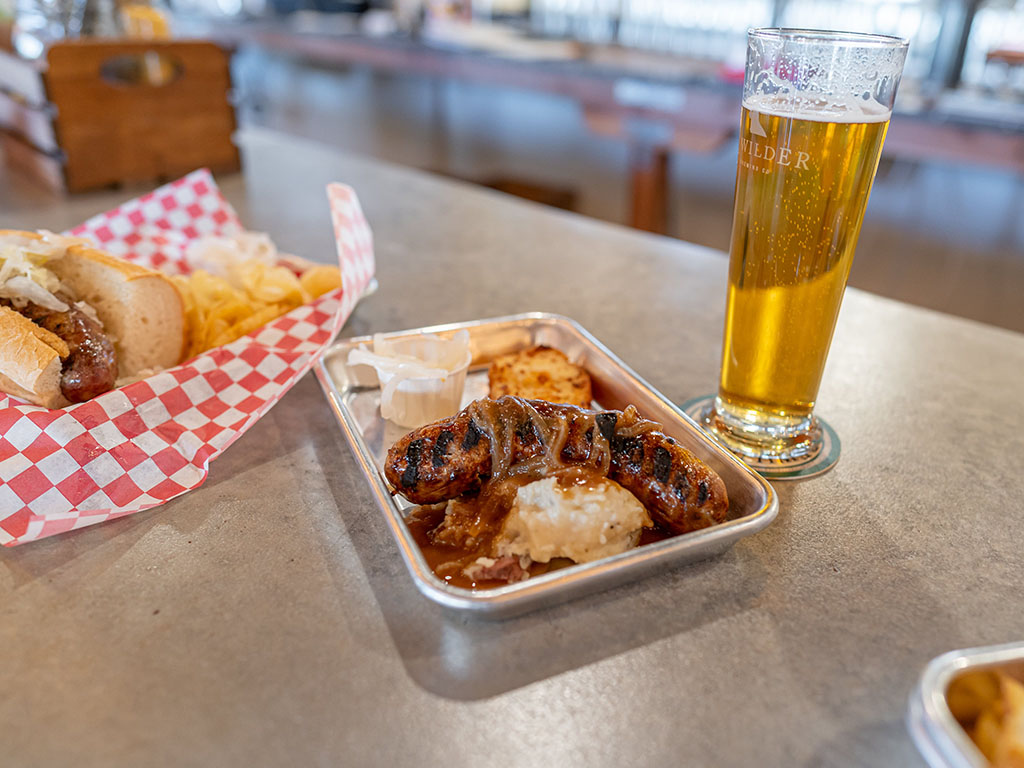 Hands down the best brats in town, not least because they're all made in house by the especially talented Justin Fields. In 2021 Bewilder switched from a restaurant to bar license meaning you can now enjoy a range of drinks at this downtown craft brewer (with or without their stellar food). See our first preview story here.
445 400 W, Salt Lake City, UT 84101
(385) 528-3840
bewilderbrewing.com
Best bar burger – Franklin Avenue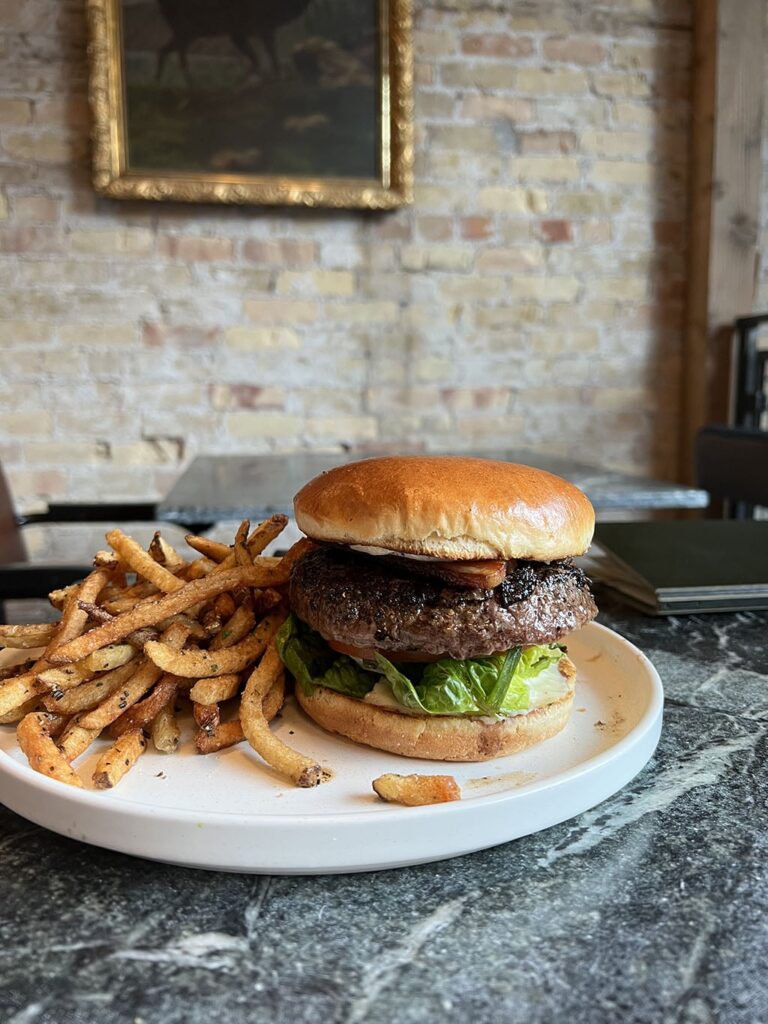 Franklin Avenue is the fourth bar from the Bourbon Group – and maybe their best yet. Located a few minutes walk of the busier Main Street on Edison Street it's home to plenty of chef Matt Crandall's fine creations. One of the star's of the menu is his exceptional burger. Rather than load on extraneous toppings Crandall keeps things simple and focuses on a stellar patty that uses Snake River Farms wagyu beef.
231 S Edison St, Salt Lake City, UT 84111
(385) 831-7560
franklinaveslc.com
Best wine bar – BTG
This one goes to BTG Wine Bar easily. With more than 50 different wines By The Glass (get it?) this is the spot for wine lovers of all types. The bar offers wines by the glass in two different pour sizes, full bottles and also wine flights. The flights and larger wine list are always in flux and flow – ably maintained by sommelier Louis Koppel – who you might remember as the talented chap that helped build up the extensive wine cellar at Spencer's steakhouse (still a great wine spot too!).
Koppel is always plotting something new on the list, so stop back often and you'll always be sure to find something new to explore; if in doubt just ask, he keeps the whole team well drilled and educated too. Also notable are the wine dinners and tastings held often at this wine bar. Paired with food from sister restaurant Cafe Molise, wine dinners are held regularly showcasing a specific winery or varietal. Always a great time and value.
63 W 100 S, Salt Lake City, UT 84101
(801) 359-2814
btgwinebar.com
Best dive bar – Bongo Lounge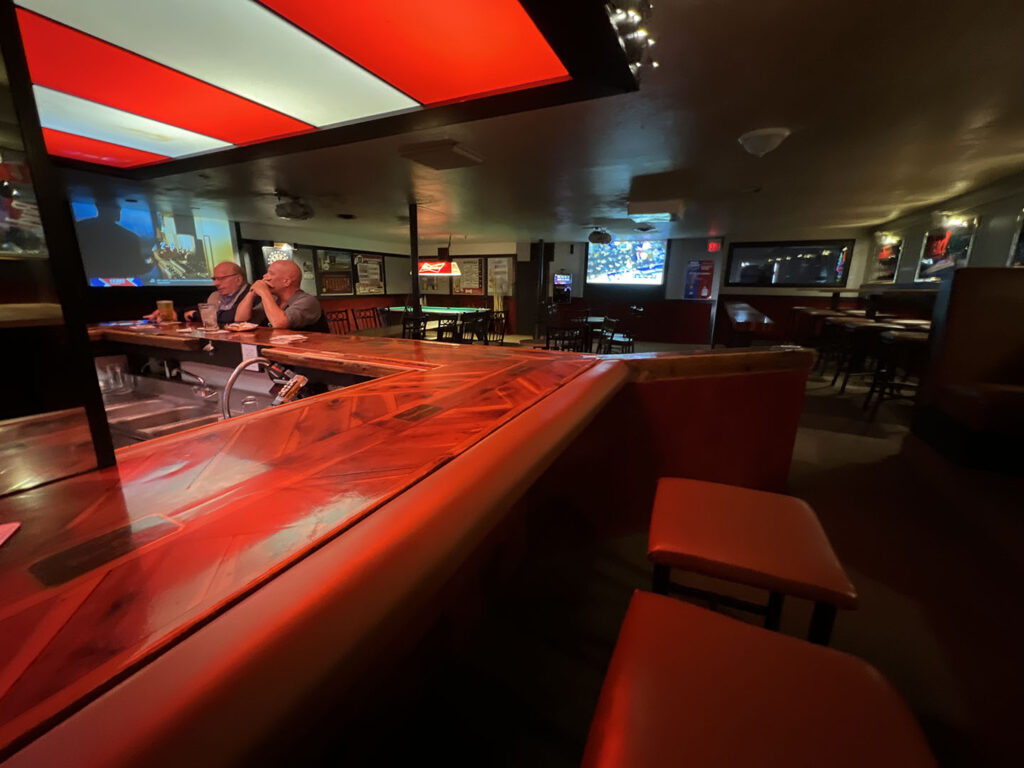 In our humble opinion, SLC's best dive bar is The Bongo Lounge – a kinda blink and you'll miss it spot on Highland Drive. Indeed nestled between the two ritzy Forsey's furniture locations, and with no windows of its own, most people don't even know this gem is here. And what a gem it is. In operation continually since opening in 1952, and showing no signs of slowing down, this a diamond in the rough. Inside, you'll find a familiar and friendly crowd always eager to strike up a conversation about anything and nothing – or maybe just catch the game on one of the screens. There's pool, darts and a pinball machine too.
You can grab an ice cold stein from as little as $2.75 if that's your poison, but there's also a decent selection of local craft brews for $4 a stein too. There's plenty of liquor if that's your thing, just don't be the chump that asks about the cocktail list. Know what you want before you order.
Extra bonus points: the Bongo is cash only, yep you read that right. There's no cash machine on site, just stop by the 7-11 a couple buildings down and you'll be fine. In our experience, this is a good thing, one drink at the Bongo can turn into five, real easy…
2965 S Highland Dr, Salt Lake City, UT 84106
(801) 466-1577
facebook.com/Bongo-Lounge-111689682200756/
Best gourmet bar bites – The Pearl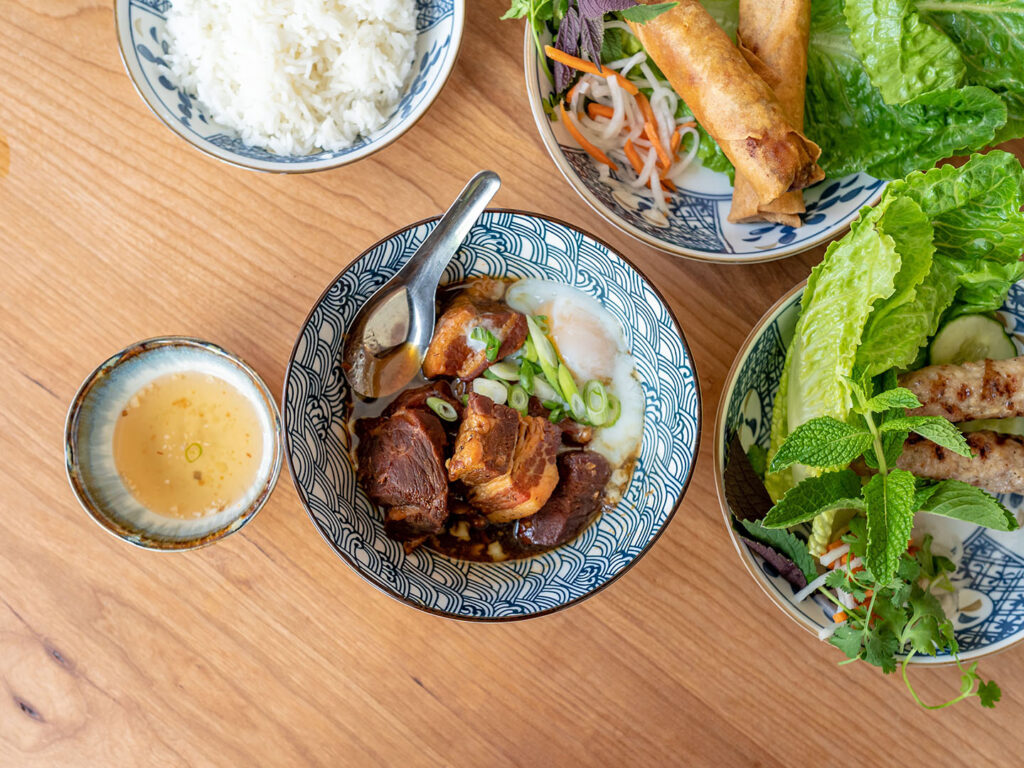 The Vietnamese street food of chef Tommy Nguyen takes center stage at The Pearl. The Central 9th spot features a rotating menu of small bites as well as a craft cocktail menu that competes with the best in town; as you would hope it does, coming from some of the same team as downtown SLC's Alibi You can read our full first look at The Pearl here.
917 200 W, Salt Lake City, UT 84101
Best Brew pub – Desert Edge Pub
Not many people know this but Desert Edge Pub was the first Utah craft brewer to win a gold medal at the Great American Beer Festival way back when in 1995 – way before the Utah craft brew scene exploded.
The brewpub continues this great tradition through to today, offering a line of regular brews on tap as well as rotating seasonals; our tip: always check what's on nitro. The bar has great food but if you stop by for drinks you'll need to order a bite to eat. Desert Edge offers a bites. menu just for this occasion though starting from as little as $2.
273 Trolley Square, Salt Lake City, UT 84102
(801) 521-8917
desertedgebrewery.com
Utah's oldest bar – Shooting Star Saloon
O.k. so what has the Bongo's 1952 beat? Only a select few, but Huntsville's Shooting Star Saloon has the honor of the longest running bar in all of Utah. In operation since 1892, some say the bar is oldest West of the Mississippi, a hard fact to disprove and then some.
The modest bar is definitely worth a trip if you're within an hour to two's drive. It's beer only but don't let that put you off. While you stop in to sink a few cold ones in the amazingly unique space (rumor has it thats $15K of dollar bills on the roof) order up one of their famous burgers too. No kale, no artisan buns, just simple, honest burgers cooked fresh on the grill.
7350 E 200 S, Huntsville, UT 84317
(801) 745-2002
facebook.com/ShootingStarSaloon/
Best neighborhood Bar
This is a subjective one for sure, but when asked, people time and again name Dick N Dixie's as the best neighborhood bar in Salt Lake City.
The relatively smallish bar has plenty of components that add up to make it great place to hand out: cheep drinks, a friendly crowd of regulars, a pool table, smoking patio, plenty of TVs…and it's the official hone of the Real Salt Lake. So if it's game day we're going to name this the best bar in SLC to watch Real Salt Lake too!
479 E 300 S, Salt Lake City, UT 84102
(801) 994-6919
facebook.com/pages/Dick-N-Dixies/425610124302901
Utah's best beer selection – Beer Bar
Stop your searching now and just head on down to the The Beer Bar in downtown Salt Lake City right away; sister bar to the adjoining Bar-X, Beer Bar is all about, well, the beer. The Beer Bar menu has enough selections to keep you going for weeks and weeks. Everything's served not only at the right temperature abut in the correct glassware too. These guys take their beer as seriously as you do.
Due to the selection, care and quality this place can get exceptionally busy in the evening. If you want to take some time to mull that IPA or gose in peace and quiet definitely come here on off hours. Also available at the Beer Bar are a range of gourmet brats – that match the German beer hall vibe inside – made by local butcher Frody Volgger of Salt And Smoke meats.
161 E 200 S, Salt Lake City, UT 84111
(385) 259-0905
beerbarslc.com
Best cocktail bar
When we want hand crafted cocktails, Under Current is always our number one destination. This chic little bar tucked away behind companion restaurant Current Fish And Oyster is the perfect spot for the whole evening or just a solitary sip. Managing partner, Amy Eldredge heads up the bar program at Under Current and is one of THE super-brains of the cocktail scene in Utah; having created bar programs all around town including noted luminaries such as Bar-X.
Under Current's offerings are always changing with the seasons, as is the small bites menu available as well. Cocktails poured here are creative, considered and classy; so much so, we lied, you won't be able to come here for just one…
279 300 E, Salt Lake City, UT 84111
(801) 574-2556
undercurrentbar.com
Best vegan friendly bar – Ice Haus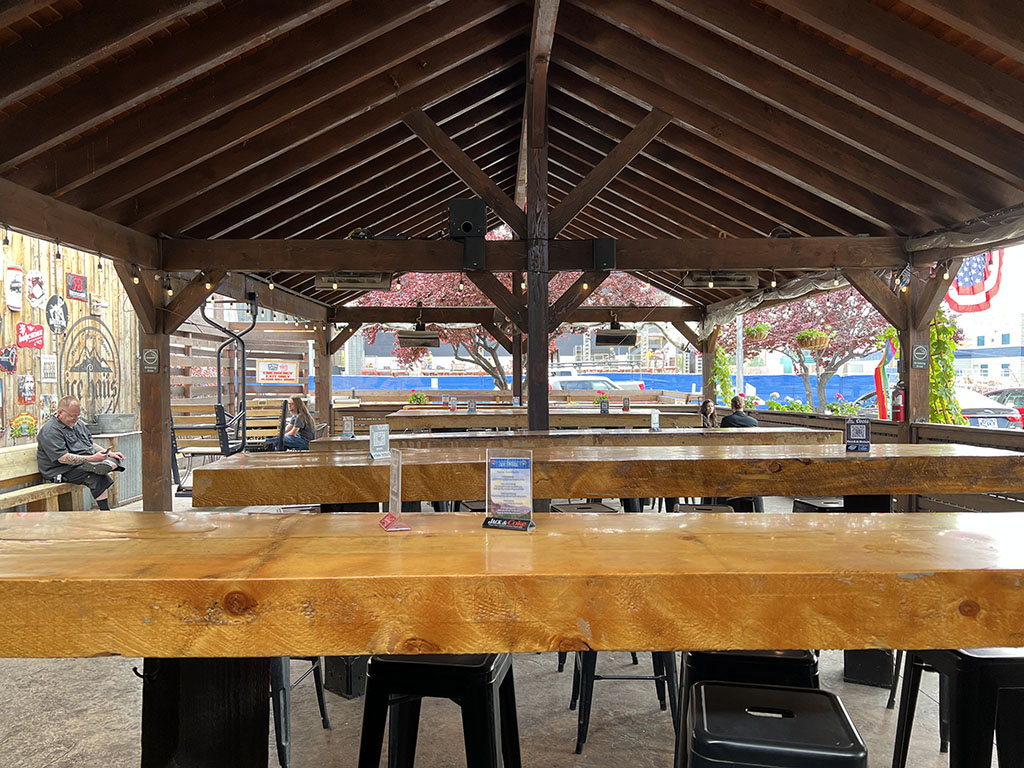 Head honcho Dave Morris actually co-owns a range of vegan friendly bars in town: Ice Haus, Piper Down, Ogden's Funk N Dive. As a vegan himself, you can rest assured that each stores, preps and cooks their vegan menu they offer completely separately. Ice Haus is the pick of the bunch though; it has a friendly welcoming atmosphere to everyone, great food (meaty options as well), tons of drinks and a space that routinely hosts special music and comedy nights.
7 E 4800 S, Murray, UT 84107
(801) 266-2127
icehausbar.com
Best hipster bar – Twilite Lounge
When we asked people to name their favorite bars for this page, The Twilite Lounge came up over and over. The message was the same, this is SLC's hipster hangout for the downtown crowd. Here's what people said when we asked them to sum up the Twilite:
Twilight Lounge. Sure it's full of so-called Hipsters but get over yourself. They're just regular people that don't dress the same as you. Cheap drinks. Cash only. Great vibe.
Cash only, cheap drinks, carpet that hasn't been changed since 1974, and a tabletop Pac Man machine? How could you go wrong?
Heck, Google even agrees saying about the 1947 opened bar: "No-frills bar with a retro vibe offering billiards, a few arcade games & a jukebox." Twilite also routinely hosts a number of food trucks, so you can grab a bite to eat too – check their Facebook pages for more details.
347 E 200 S, Salt Lake City, UT 84111
(801) 532-9400
facebook.com/twilitelounge1947
Best bar to take a date in SLC
Naturally this depends on the preferences of your date of course. That said, it's usually a safe bet that your date won't might comfortable surroundings, an extensive drinks menu and a more than competent food menu as the backdrop for your night out. With all that in mind, we think Lake Effect makes a perfect first date spot if bars are your thing. Inside Lake Effect, there's an eclectic mix of seating too; from the chic and lively bar to more private and snug sofa spaces.
Bonus points: Lake Effect is located right in the heart of downtown SLC making it ideal for your destination for the evening or merely as the starting point before you head off out for a night on the town.
155 W 200 S, Salt Lake City, UT, Salt Lake City, UT 84101
(801) 532-2068
lakeeffectslc.com
Other handy links
Late night eats in SLC – headed out for a night on the tiles? Bookmark this list of late night spots, and thank us later.
Utah County bars – for those looking for a spot to drink a little farther South in the valley.
Utah liquor laws – our continually updated guide to liquor laws in Utah; they're not half as bad as you imagine, find the full details here.
Utah brewers and breweries – Utah's craft brew scene is stronger than you think, here's the current list of all our craft brewers
Utah's distilleries – or maybe the strong stuff is more your speed, check out our guide to all of Utah's top distilleries.
Hi, I'm Stuart, nice to meet you!  I'm the founder, writer and wrangler at Gastronomic SLC; I'm also a former restaurant critic of more than five years, working for the Salt Lake Tribune.  I've worked extensively with multiple local publications from Visit Salt Lake to Salt Lake Magazine, not least helped to consult on national TV shows.
I'm a multiple-award winning journalist and have covered the Utah dining scene for the better part of fifteen years.   I'm largely fueled by a critical obsession with rice, alliteration and the use of big words I don't understand.   What they're saying about me: "Not inaccurate", "I thought he was older", "I don't share his feelings".  Want to know more? This is why I am the way I am.