1 – Caffe Molise
A stalwart of the downtown dining scene and one of the best independent restaurants in Salt Lake City. Chef and owner Fred Moessinger focuses on fresh ingredients to power the seasonal and regional Italian cuisine Caffe Molise is known for. Dishes to keep an eye out for include the spectacular Pappardelle Al Sugo with house-made fresh pappardelle tossed with a slow-cooked sauce of pork and beef with tomatoes and topped with Asiago, or for something sweeter, the classic and elegant Tiramisu – one of the best in town.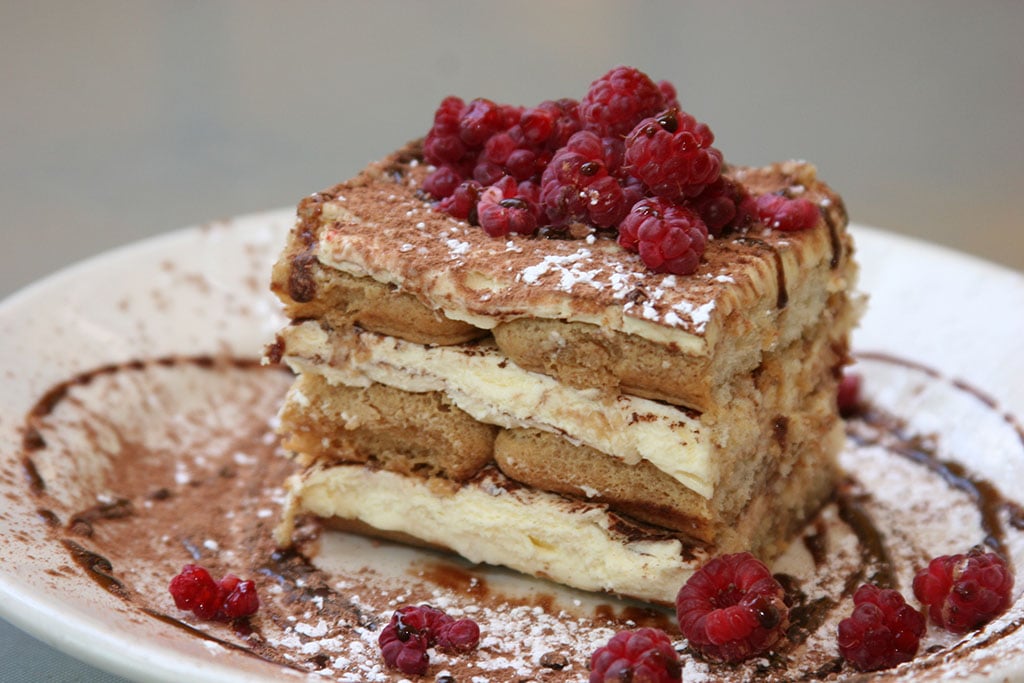 Located conveniently next to the Salt Palace and all of SLC's arts and entertainment venues, Caffe Molise makes for a great option for business dinners, convention dining or just a night out on the tiles. Which reminds us, be sure to check out the the adjoining wine bar, BTG, also owned by the same folks. BTG is perfect for pre or post dinner drinks and is the finest wine bar in Salt Lake city bar none.
55 W 100 S, Salt Lake City, UT 84101
(801) 364-8833
www.caffemolise.com
We're proud to have Caffe Molise / BTG as the sponsor for this page.
2 – Stanza
Built on the spot of the former Faustina, this Italian restaurant is not only one of the most elegant in town, but its one of the best as well. Under the helm of chef Jonathan LeBlanc Stanza takes a contemporary look at classic Italian dishes – beautiful cuisine that looks as good as the space its served within. The restaurant is one of the very few in town that makes all its pasta fresh in house, having a specific pasta chef on the payroll.
54 E 300 S, Salt Lake City, UT 84111
(801) 746-4441
stanzaslc.com
3 – Celeste Ristorante
Paolo Celeste, namesake of this popular Murray Italian restaurant first made his name in Salt Lake City with the much loved Michelangelo's restaurant in Sugar House. Skip forward a few decades and Celeste is back with a menu that showcases rustic dishes from his Tuscan home.
5468 900 E, Salt Lake City, UT 84117
(801) 290-2913
celesteristorante.com
4 – Stoneground Kitchen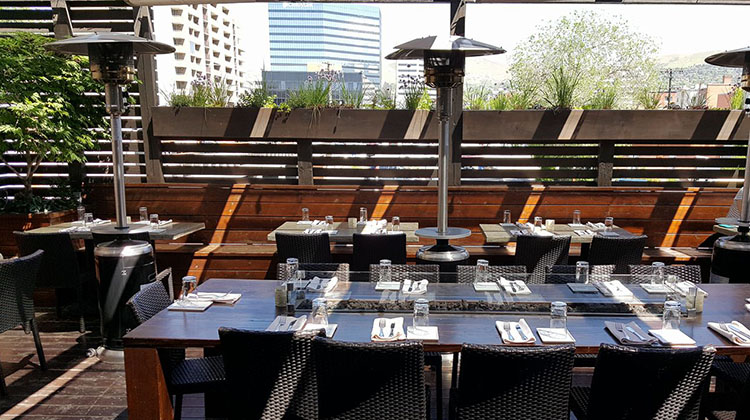 Rustic Italian recipes, thin crust pizzas and fresh pasta are the name of the game at this award winning downtown SLC Italian restaurant – that's a local favorite. Stoneground is best explained in their own words:
We love the upstairs outdoor patio, the wine list and pretty much everything about this comfortable but very cool trattoria. Chef Justin Shifflet makes pasta and pretty much everything else in house, including the balloon of foccacino hot from the oven. Your server bursts it tableside with his knife and with the braciole crudo, you're off to a terrific start to an Italian dinner.
249 E 400 S, Salt Lake City, UT 84111
(801) 364-1368
stonegroundslc.com
5 – Osteria Amore
This East side Italian eatery moved into the space formerly home to Aristo's. With their arrival the Greek menu is replaced with a fine dining Italian one.
224 S 1300 E, Salt Lake City, UT 84102
(385) 270-5606
osteriaamore.com
6 – Ghidotti's
Park City's serial restaurateur and entrepreneur Bill White, is the man behind this fabulous Italian goto in the mountains. Ghidotti's is White's homage to his mother's cooking traditions. As such many of the the dishes on the menu are based on cherished memories from White's childhood. Don't be fooled though, the menu offers much more than nostalgia; as with any of White's exceptional restaurants you can rely on solid cooking, first class service, an impeccable and luxurious space plus a fine wine list.
6030 Market St, Park City, UT 84098
(435) 658-0669
ghidottis.com
7 – Bartolo's
Bartolo's has locations in both Park City and Salt Lake City each offering fabulously creative modern menus seven days a week. The options run the gamut, everything rom rustic pasta dishes through seasonal entrees and unique appetizers.
1270 1100 E, Salt Lake City, UT 84105 | (801) 410-4606
1241 Center Dr, Park City, UT 84098 | (435) 604-0608
bartolos.com
8 – Veneto
Former Italian wine broker Marco Stevanoni opened Veneto to represent the dishes of his Northern Italian homeland. Born and raised in Verona, Stevanoni has a passionate commitment to classic Northern Italian cuisine; a region that often includes ingredients like rice, vegetables, and polenta prepared with meat, fish, or cheese. Other specialties include risotto, fish, game, and pandoro. And with Stevanoni's background in wine you can count on a killer wine list.
370 East 900 South, Salt Lake City, UT 84111
(801) 359-0708
venetoslc.com
9 – Carmine's
Located in Cottonwood Heights, Carmine's focuses on authentic Neapolitan pizzas, pastas, sauces and side dishes; the man behind all of this is chef Carmine, originally from the Naples area of Italy.
2477 Fort Union Blvd, Salt Lake City, UT 84121
(801) 948-4468
carmines.restaurant
10 – Settebello
Pizza Napoletana is the singular focus of this endlessly celebrated downtown pizza restaurant. This style of pizza means a soft dough is cooked quickly in a wood burning oven; the result is a thin pizza, with a pliable finish and unmistakable char marks form the blistering hot oven. Authentic ingredients and toppings are also the name of the game at Settebello – flour comes direct from Napoli, Parmesan comes from Modena – heck, even the ovens are handmade and imported from Napoli based artisans.
260 S 200 W, Salt Lake City, UT 84101
(801) 322-3556
settebello.net
Who did we miss?
If you think we're missing a really great addition to this list, please email us at stuart@gastronomicslc.com – we'd love to hear from you. Let us know who you think should be on this list and why. If you have a really great picture of one of more dishes, please send that too! We're always excited to check our more businesses!
Maybe also check out
Our sister website SLC Menu lists 100s and 100s of menus. Check out the Italian menu's near you now page to see what Italian restaurants are close to you.
Maybe we can tempt you to something else delicious while you're here? Check out these other detailed guides, some of the most popular pages on our website:
Hi, I'm Stuart, nice to meet you!  I'm the founder, writer and wrangler at Gastronomic SLC; I'm also a former restaurant critic of more than five years, working for the Salt Lake Tribune.  I've worked extensively with multiple local publications from Visit Salt Lake to Salt Lake Magazine, not least helped to consult on national TV shows.
I'm a multiple-award winning journalist and have covered the Utah dining scene for the better part of fifteen years.   I'm largely fueled by a critical obsession with rice, alliteration and the use of big words I don't understand.   What they're saying about me: "Not inaccurate", "I thought he was older", "I don't share his feelings".  Want to know more? This is why I am the way I am.
Our sponsors and this page
This page may contain information about one of our sponsors. We only work with the very best businesses in the state, and routinely turn down offers to work with businesses we don't enjoy. If we can't hand on heart recommend them - they can't be a sponsor.
At this time we have the following sponosrs: Avenues Proper, BGR Sugar House, BTG, Caffe Molise, Craft by Proper, The Dough Miner, Downtown Alliance, Feldman's Deli, Flanker, Garage On Beck, Hearth And Hill, Hill's Kitchen, Kao Thai, Kin Sen Asian Noodle Bar, Kyoto, Laziz Kitchen, Log Haven, Oasis Cafe, Pirate O's Gourmet Market, Proper Brewing, Proper Burger, Scion Cider Bar, SLC Eatery, Squatter's Downtown Salt Lake City, Stoneground Italian Kitchen, Urban Hill, Wasatch Brew Pub Sugar House, Whiskey Street, White Horse.
I encourage you to Google any of our sponsors and see the stellar reviews on multiple sites that they enjoy. For a list of all our current and past relationships see our partnership history page.