Breakfast. The most important meal of the day. Heck, possibly the most drool-worthy meal of the day. It's the time when your taste buds awaken to a world of sweet and savory delights, the first bite setting the tone for the entire day. When the morning sun begins to shine and the aroma of freshly brewed coffee fills the air, it's no wonder that we're all left craving a hearty breakfast. If you're fortunate enough to find yourself in the vibrant city of Salt Lake City (SLC), then you're in luck! With a plethora of mouth-watering options at your fingertips, the only challenge you'll face is deciding where to indulge your morning cravings.
From fluffy stacks of pancakes drizzled with warm, gooey syrup to crispy, savory bacon and eggs cooked just the way you like them, SLC's breakfast scene has something for everyone. Whether you're a health-conscious foodie searching for a protein-packed smoothie bowl or a lover of all things carb-loaded and smothered in cheese, we've got you covered. So, forget about the snooze button and let your stomach guide you on a culinary adventure through the city's top breakfast spots.
In the following list we'll be sharing our top picks for the best breakfast in Salt Lake City, delving into the cozy cafes, bustling bistros, and hidden gem eateries that are guaranteed to kickstart your day in the most delicious way possible. And for all the early birds out there, we'll even throw in a few 24/7 options for when those breakfast cravings just can't wait. So, grab a fork and knife, loosen your belt buckle, and get ready to embark on a tasty journey through the finest morning eats that SLC has to offer!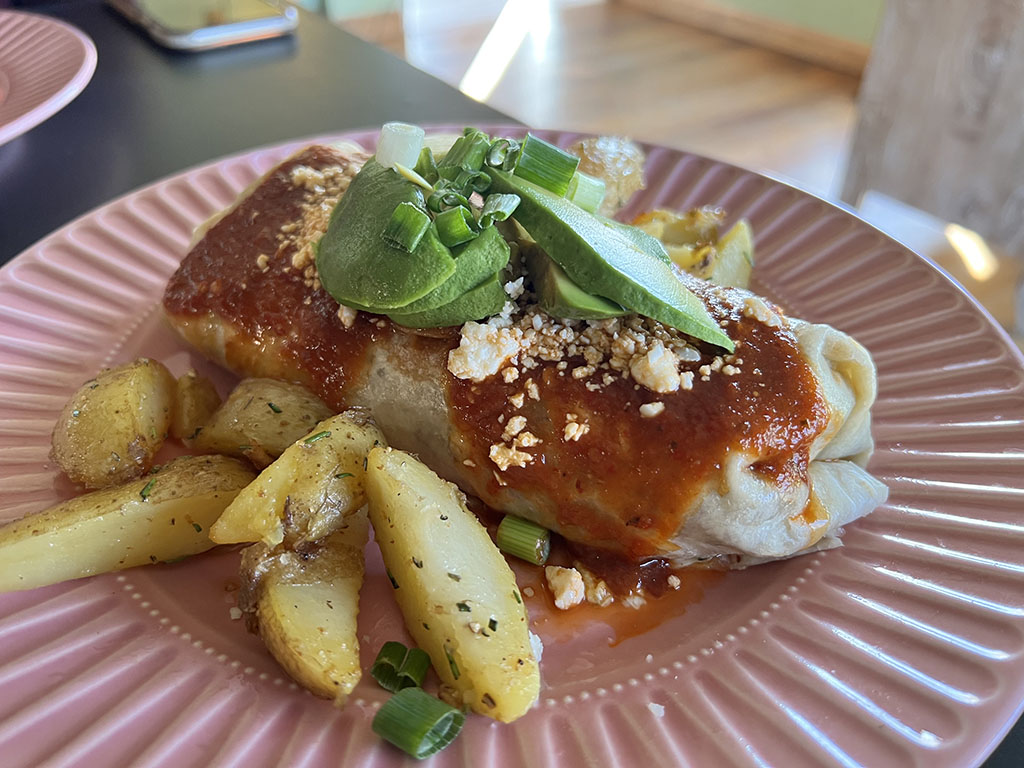 14 – Trolley Cottage Cafe
This cute little cafe just over the road from Trolley Square proper has a fun menu of gourmet picks to kick off your day with. Classics like omelets and benedicts sit alongside more interesting selections like pain perdu (French baguette toast) with orange "Grand Marnier" butter sauce, berries, mascarpone cream.
703 E 600 S, Salt Lake City, UT 84102
(801) 419-0579
trolleycottagecafe.com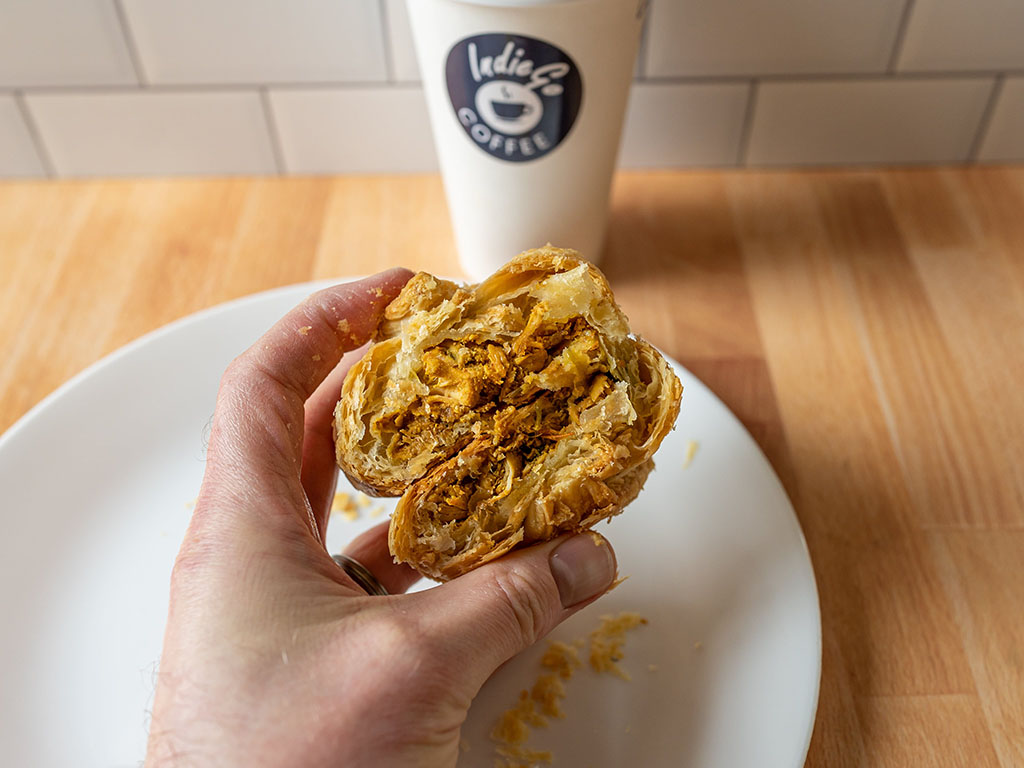 13 – IndieGo Coffee
If you're in a rush and just want to grab and go, check out this spot in South Salt Lake. IndieGo have all your caffeine needs ready to rock – as well as some fun pastries, both sweet and savory. My favorites are the Indian flavors found in some of their fabuouols hand pies – the chicken tikka and paneer tikka pies make for a unique start to the day.
3310 S 500 E, South Salt Lake, UT 84106
(801) 819-4911
indiegocoffee.com
12 – Baby's Bagels
You'll need to bring your own toppings to the table here – but for our money these are the best bagels in town. Baby's Bagel's has a weekly bagel 'drop' that you can either pick up in person or have delivered right to your door. You can read our full story on the business here then signup for their weekly drop newsletter.
11 – Eggbusrgh
The latest to chance their arm at this Peery Hotel location is Eggsburgh. I could make some eggsceptional puns here, but rather than crack you up, you would probably eggnore me. Egg. Look, I'm forty five, I have an almost genetical propensity to Dad joke at this point in my life, just let me get it out of my system. Eggs are of course the order of the day here. They come in a variety of configurations, benedict to omelet to skillets galore. Check out the full menu.
110 W Broadway, Salt Lake City, UT 84101
(385) 227-8171
eggsburgh.com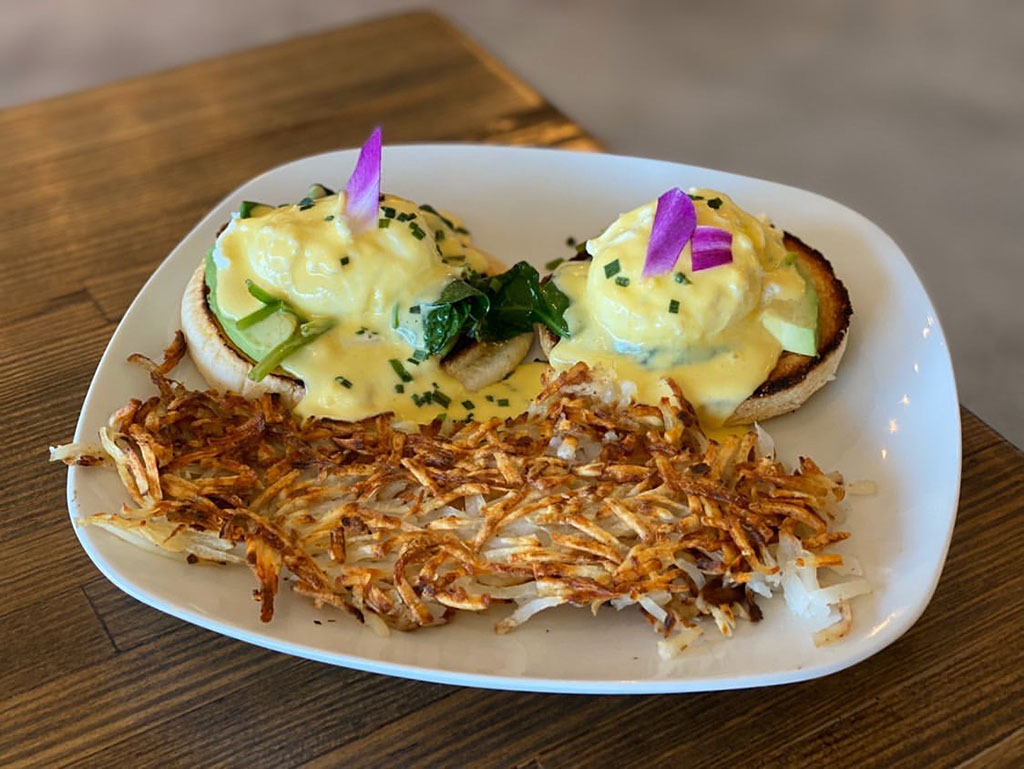 10 – Root'd Cafe
Once upon a time this was Franck Peissel's Franck's Angel Cafe. The spot in Cottonwood Heights is now Root'd Cafe, not to be confused with Roots Cafe a couple miles North mind you; and yes, I've already had that confusing conversation with someone myself already.
The menu is surprisingly affordable in today's age of twelve dollar avocado toasts. Check out the range of options under ten bucks not to mention smart wine choices such as the impeccable Carol Shelton for just $5.
2577 Bengal Blvd, Cottonwood Heights, UT 84121
(801) 878-9233
rootdcafe.com
9 – Feldman's Deli
Feldman's made their name with with their classic NYC-style half pound monster deli sandwiches. And while they're amazing creations you should definitely stop in for, you might not know the East side restaurant also serves breakfast. Served Tuesday through Saturday, 8 am – 10:30 am, Feldman's Deli menu is stacked with homestyle dishes like corned beef hash as well as selections that nod back to the owners' East coast roots like bagels with lox and schemar. The owner Michael Feldman is a Jersey native – so you know everything served up here is legit.
2005 E 2700 S, Salt Lake City, UT 84109
(801) 906-0369
feldmansdeli.com/home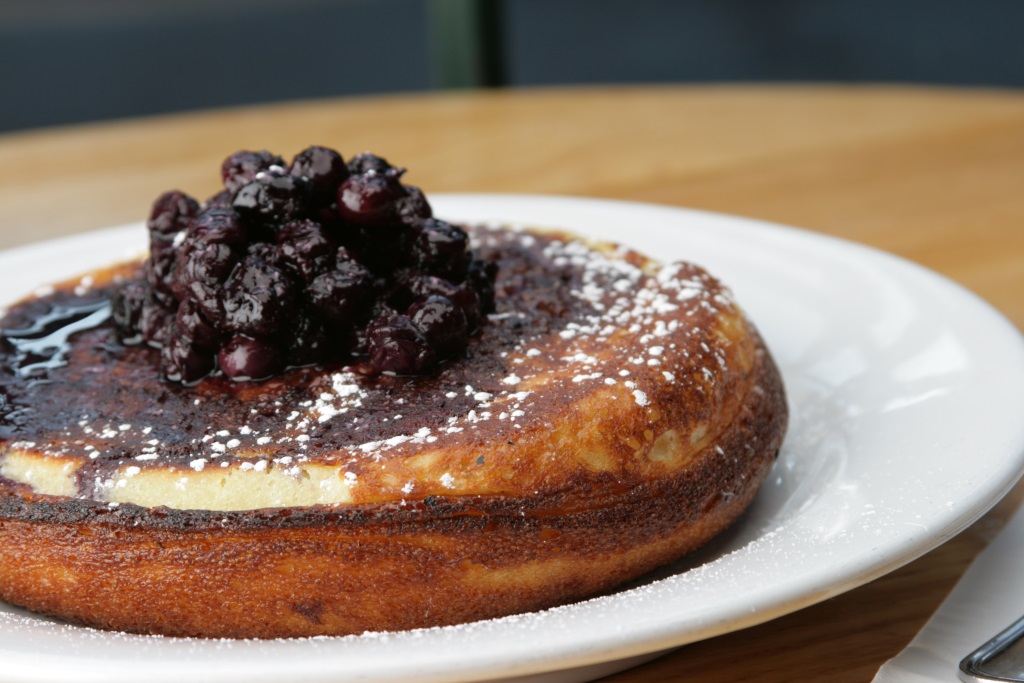 9 – Oasis Cafe
A tranquil getaway just on the edges of bustling downtown SLC makes this a great option to refuel and recharge in peace and quiet. Breakfast and brunch are served 7 days a week until 2 p.m. both inside the zen like space and outside on the pretty patio on warmer days.
Oasis Cafe also features a full bar, which means if breakfast needs that extra kick of a mimosa or bloody mary, the folks here have you covered. Do note that in SLC you can only order an alcoholic beverage in a restaurant after 11am.
151 S 500 E, Salt Lake City, UT 84102
(801) 322-0404
www.oasiscafeslc.com
7 – Bagel Project
The name says it all. This business was started as a project to prove that you can still make great bagels, even without NYC's lauded special water. Given the fact this bagel and bialy based business routinely sells out of their stock – made daily from scratch – we'd say they succeeded. The Bagel Project is open seven days a week, from 6.30 am on weekdays, 7.30 am on weekends – be sure to get here early to make sure you don't miss out!
779 S 500 E, Salt Lake City, UT 84102
(801) 906-0698
facebook.com/LikeTheBagelProject
6 – Ruth's Diner
An undeniable institution for breakfast in Salt Lake City. Ruth's Diner started life as the archetypal roadside trolley diner, and despite changes and expansions over the years, still remains a popular destination with locals and visitors alike.
One of the reasons are the wonderful views of Emigration Canyon where Ruth's diner is nestled; another of course is the food. Every meal at Ruth's starts with complementary 'mile high biscuits', fist sized, fluffy slices of buttery biscuit. You'll want to nibble on these, if only not to ruin your appetite for an eclectic breakfast menu that covers all the familiar bases from benedicts to breakfast burritos.
4160 Emigration Canyon Rd, Salt Lake City, UT 84108
(801) 582-5807
www.ruthsdiner.com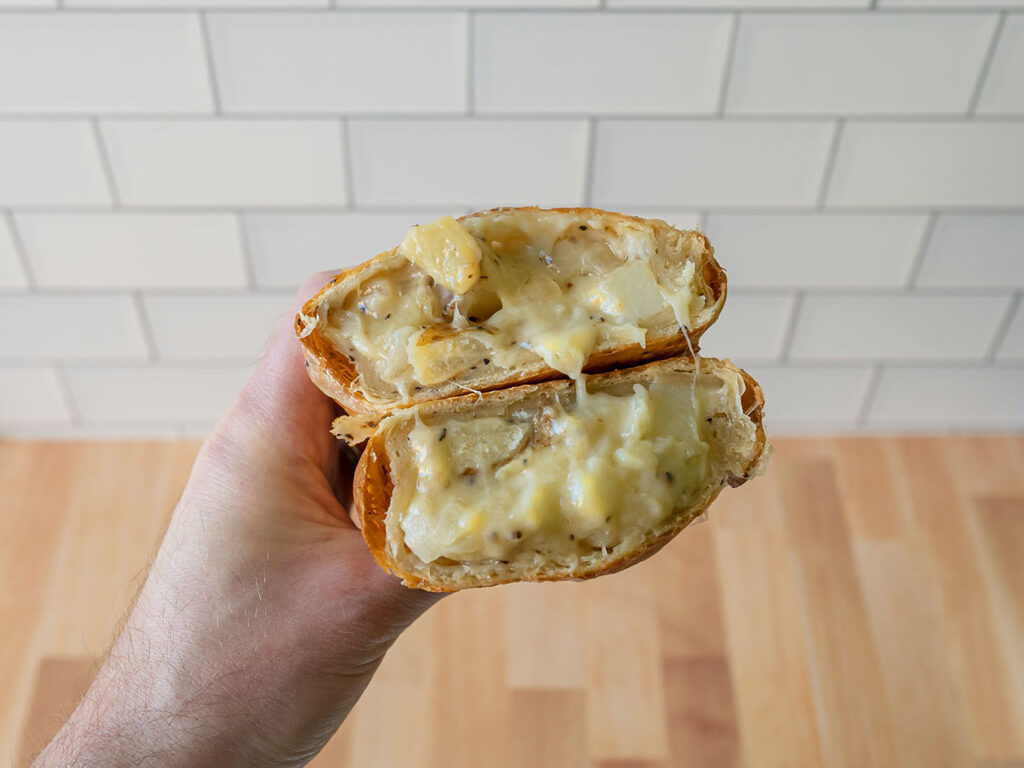 5 – The Dough Miner
For a left field breakfast pick, consider this Granary District business that specializes in Cornish pasties. Pasties start with a thick savory pastry, which yields to a variety of fillings, both traditional and creatively modern; the pictured funeral potato option makes fro a great hearty start to the day when you need a grab and go option. Bonus points: The Dough Miner also serves quality quality and espresso as well as house made impeccable doughnuts.
945 S 300 W, Salt Lake City, UT 84101
(385) 334-3389
doughminer.com
4 – Over The Counter Cafe
You'll find something common with a lot of our favorite breakfast spots in SLC – they all share longevity. They've been feeding locals happily for year upon year. There's something to be said for reliability and consistency, eseecpually when it comes to breakfast. Case in point, Over The Counter Cafe. This cafe has been serving up breakfast ever since its doors opened in 1983. Ever since then, the Millcreek based eatery has been delighting locals with stellar breakfast fare.
The cafe's approach to their menu explains their long lived popularity, much is made in house with care and love. Coupled with a wallet friendly menu and it's hard to beat if you're in the neighborhood. Open seven days a week 6.30 a.m. to 2 p.m.
2343 E 3300 S, Salt Lake City, UT 84109
(801) 487-8725
overthecountercafe.weebly.com
3 – Hub & Spoke Diner
One of SLC's newest restaurant's, not to mention one with a fine pedigree behind it. This modern spin on the classic all American diner, comes from Scott Evans, the chap behind farm to table pioneer Pago and the Spanish focused Finca restaurants. Like Evan's other restaurants the focus is on high-quality, locally-sourced ingredients as the basis of the menu. Everything is made fresh, nothing is frozen. While this means prices do skew marginally higher you will find local organic eggs, baked goods from the in-house bakery from scratch daily, not to mention house-made sausage, house-smoked bacon, and a variety of ice-cream shakes – with boozy varieties on hand too.
1291 South 1100 East, Salt Lake City, UT 84105
801-487-0698
www.hubandspokediner.com
2 – Beehive Breakfast
The little food stand that could. You'll find these guys slinging some slobberingly good looking breakfast foods in downtown SLC Monday through Saturday, 8-11 a.m. The picture above? Their worker bee sandwich, a mix of grilled golden hash brown, bacon, egg cheese and crispy onions. Today's top tip: no one counts calories during covus. Check em out here.
1 – The Other Place Restaurant
A classic American style diner atmosphere that will take you back to era's long gone. The dining room is functionality, the menu massive, and the servers fast and friendly. It's the kind of place where, "coffee?", is one of the first words spoken as soon as you arrive. It's a perfect breakfast spot when you crave a filling plate to start your day.
The menu offers everything from omelettes to heaving breakfast platters to Greek infused dishes. Bonus points? It's downtown and eminently affordable, much of the breakfast menu is easily affordable with just $10 to your name.
300 South 469 East, Salt Lake City, UT 84111
(801) 521-6567
Best breakfast by city
Here are our picks for the best breakfast by city in the valley:
Salt Lake City breakfast FAQ
Who has the best bagels in Salt Lake City?
Baby's Bagels are top of the list, but only produce their bagels once per week. You can read more about their business in our article here. Both Feldman's Deli and Cheryl's Bagels are also known for stellar product too, but beware, both can also sell out fast each day.
Where can I get a full English in Salt Lake City?
Sadly at this time there are no restaurants that serve up anything that comes close to the English classic; and take it from me, I'm a Brit. For the time being the best you can manage is to cook up your own bacon rashers and black pudding. Sorry.
Where can I find a real good congee for breakfast?
China Town eatery in South Salt Lake's China town complex has a menu that offers a few versions of this breakfast speciality dish. At the time of writing they open at 10.00 am.
Who has the very best pancakes for breakfast in Utah?
Locals rave, and I absolutely mean rave, about the lemon pancakes from Lazy Day Cafe in Millcreek. The lines out of the door should tell you all you need to know about these, they form early, every single day. Lazy Day's pancakes are made from scratch served, they come as a trio and are served with buttermilk.
Maybe also check out
Missed breakfast? Still hungry? Check out our brunch and lunch lists. Maybe we can tempt you to something else delicious while you're here as well? Check out these other detailed guides, some of the most popular pages on our website:
Hi, I'm Stuart, nice to meet you!  I'm the founder, writer and wrangler at Gastronomic SLC; I'm also a former restaurant critic of more than five years, working for the Salt Lake Tribune.  I've worked extensively with multiple local publications from Visit Salt Lake to Salt Lake Magazine, not least helped to consult on national TV shows.
I'm a multiple-award winning journalist and have covered the Utah dining scene for the better part of fifteen years.   I'm largely fueled by a critical obsession with rice, alliteration and the use of big words I don't understand.   What they're saying about me: "Not inaccurate", "I thought he was older", "I don't share his feelings".  Want to know more? This is why I am the way I am.
Our sponsors and this page
This page may contain information about one of our sponsors. We only work with the very best businesses in the state, and routinely turn down offers to work with businesses we don't enjoy. If we can't hand on heart recommend them - they can't be a sponsor.
At this time we have the following sponosrs: Avenues Proper, BGR Sugar House, BTG, Caffe Molise, Craft by Proper, The Dough Miner, Downtown Alliance, Feldman's Deli, Flanker, Garage On Beck, Hearth And Hill, Hill's Kitchen, Kao Thai, Kin Sen Asian Noodle Bar, Kyoto, Laziz Kitchen, Log Haven, Oasis Cafe, Pirate O's Gourmet Market, Proper Brewing, Proper Burger, Scion Cider Bar, SLC Eatery, Squatter's Downtown Salt Lake City, Stoneground Italian Kitchen, Urban Hill, Wasatch Brew Pub Sugar House, Whiskey Street, White Horse.
I encourage you to Google any of our sponsors and see the stellar reviews on multiple sites that they enjoy. For a list of all our current and past relationships see our partnership history page.