Salt Lake City has more Japanese dining options than you can shake a yakitori skewer at. From ramen to precise sashimi to innovative fusion cuisine, our fair city really has it all. But where is the best Japanese restaurant in Salt Lake City? We've got a few picks for you to get stuck into.
1 – Kyoto Japanese Restaurant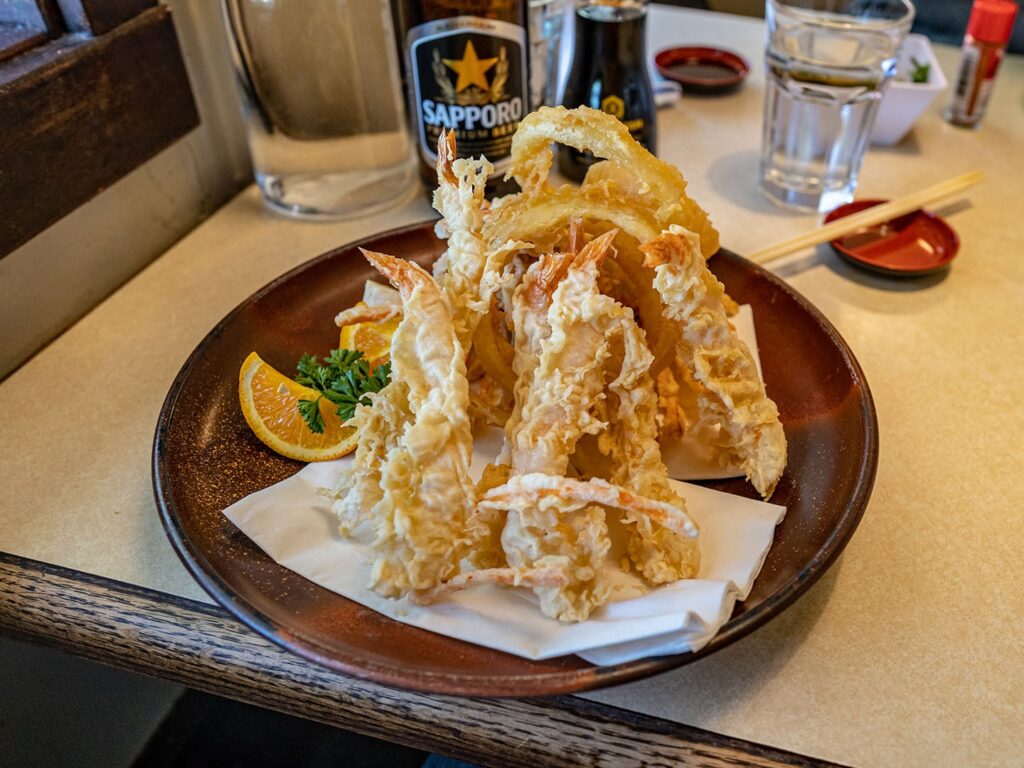 A staple since the 1980s and one of Utah's first Japanese restaurant's is Kyoto, located on the East side of town. Focused on authentic Japanese cuisine, not to mention housed in a traditionally upholstered Japanese space that's relaxed and bubbling with atmosphere. The space features private tatami style booths, a sushi counter and is always busy. Parking can be tight so plan ahead, or arrive early/later to avoid the rush.
One particular specialty at Kyoto Japanese Restaurant are the fabulous tempura shrimp served as part of a complete dinner with salad, soup and rice. They're the stuff of dreams, epic in both size and terrific crunch. In fact all the traditional comfort food dishes here rock: tonkatsu, sukiyaki, teriyaki, tempura and more.
1080 E 1300 S, Salt Lake City, UT 84105
(801) 487-3525
www.kyotoslc.com
2 – Bar Nohm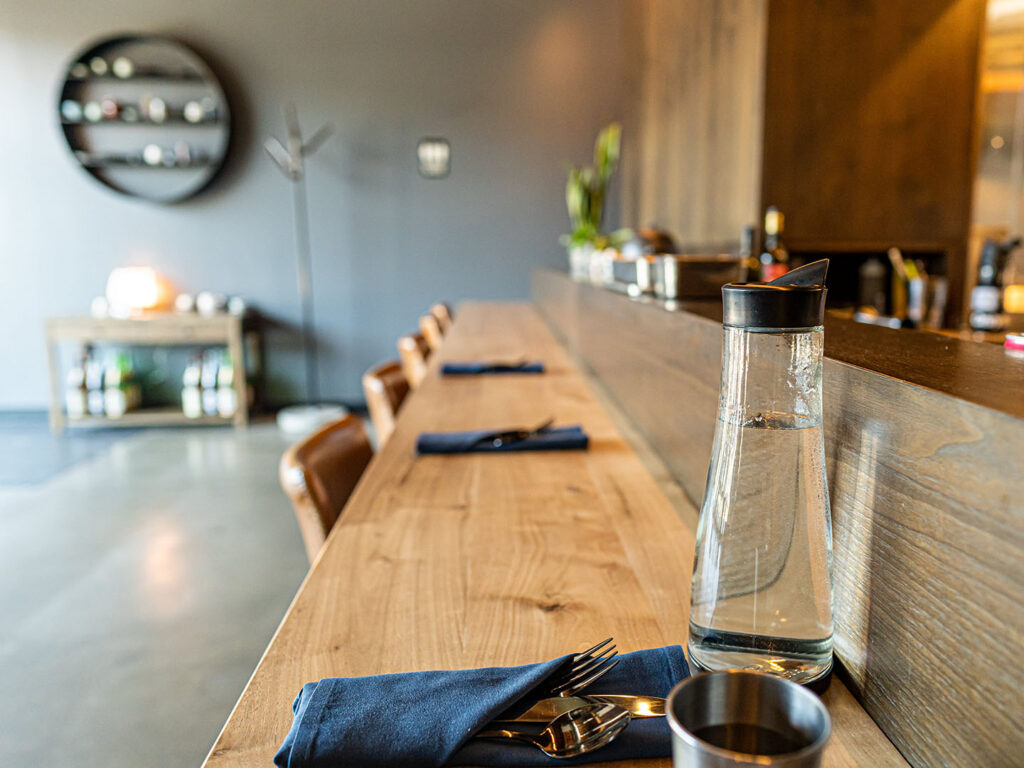 Strictly speaking, Nohm isn't a Japanese restaurant, but the influence is strong at this Central 9th spot. and to be clear; for example the custom built binchotan charcoal grill that powers a selection of grilled skewers. Read my full in depth preview of Bar Nohm here.
65 W 900 S, Salt Lake City, UT 84101
(801) 917-3812
nohmslc.com
3 – Sushi Groove
One of the newer kids on the block is Sushi Groove located on Highland Drive in the Sugar House district. Head on down to the 'groove and you'll find a local's hangout where on any given night you might find a DJ or live band playing; with the graffiti art walls and contemporary approach to sushi rolls you'll have a blast at this hip eatery.
For the best experience, try to score a seat at the sushi counter and pick your chef's brains on what's hot despite the vibe. Beneath all the cool veneer the restaurant harbors some killer fresh seafood – that's always move quickly due to the $2.50 Tuesdays ($2.50 for two pieces of any nigiri).
2910 Highland Dr, Salt Lake City, UT 84106
(801) 467-7420
www.sushigroove.us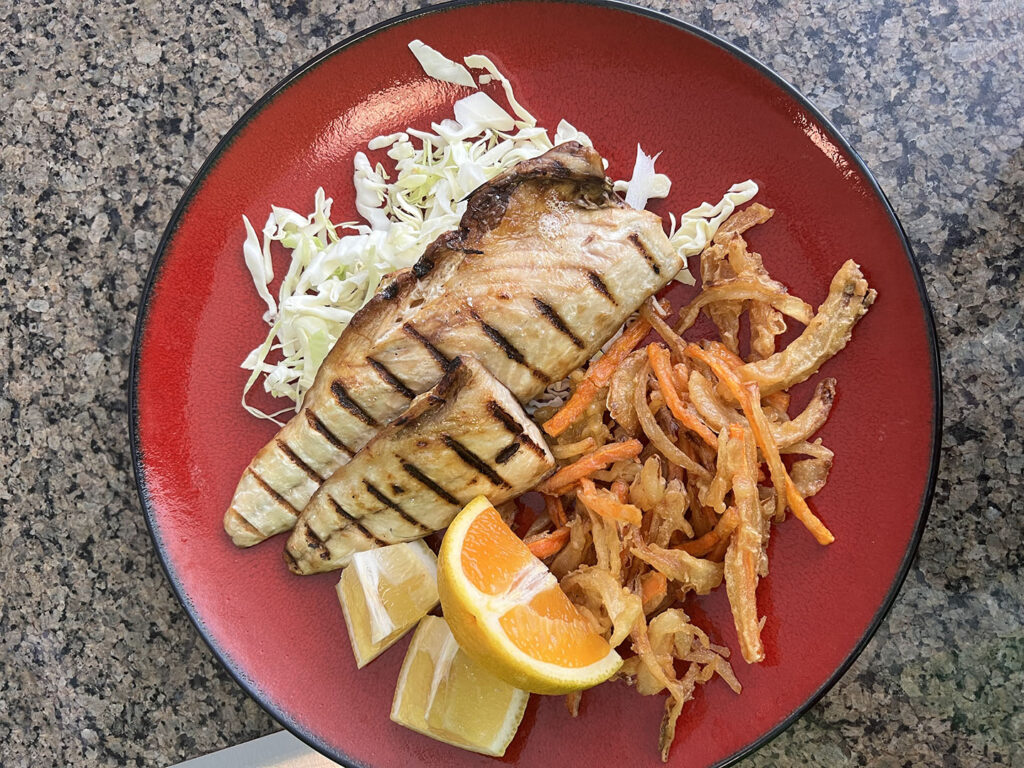 4 – Tanabata Japanese Restaurant
New for 2023 is this South Salt Lake spot taking over the space once occupied by EJO. Gone is the Korean menu, and in its place, an all new extensive Japanese offering. The menu at Tanabata offers both a traditional collection of maki, nigiri and sashimi as well as a broad selection of cooked dishes, udon to donburi to teriyaki. The prices here are a steal, entrees running $10-$12.
633 E 3300 S, Salt Lake City, UT 84106
(801) 981-5354
tanabataus.com
5 – Takashi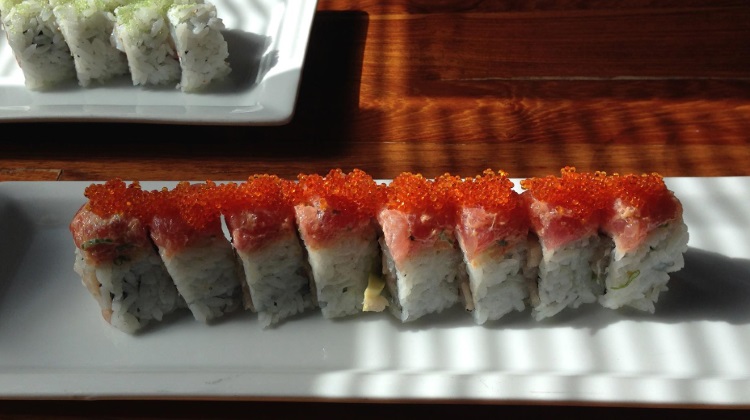 One of the finest sushi shops in the whole state if not up with the best in the country is Takashi. This fact is anything but a well kept secret, as the nightly crowds ill attest to; keep this in mind if heading on down, the restaurant does not take reservations and it's exceptionally popular. If you arrive later you'll be added to a wait list and you could wait a while. That said keep your eyes posted for 16 Post Office place opening in mid-late 2018; a new bar area form the same owners that undoubtedly will make for a great pre-dinner hang out spot.
Once you're in Takashi, you're in for a treat. Whether you sit at the sushi bar and enjoy traditional nigiri and sashimi or take a table and explore some of the contemporary (Beatles-themed) maki sushi roll – you will be rewarded by some of the most talented sushi chefs in town, handling some of the very finest product.
18 W Market St, Salt Lake City, UT 84101
(801) 519-9595

https://www.facebook.com/pages/Takashi/117898704903498
6 – Tsunami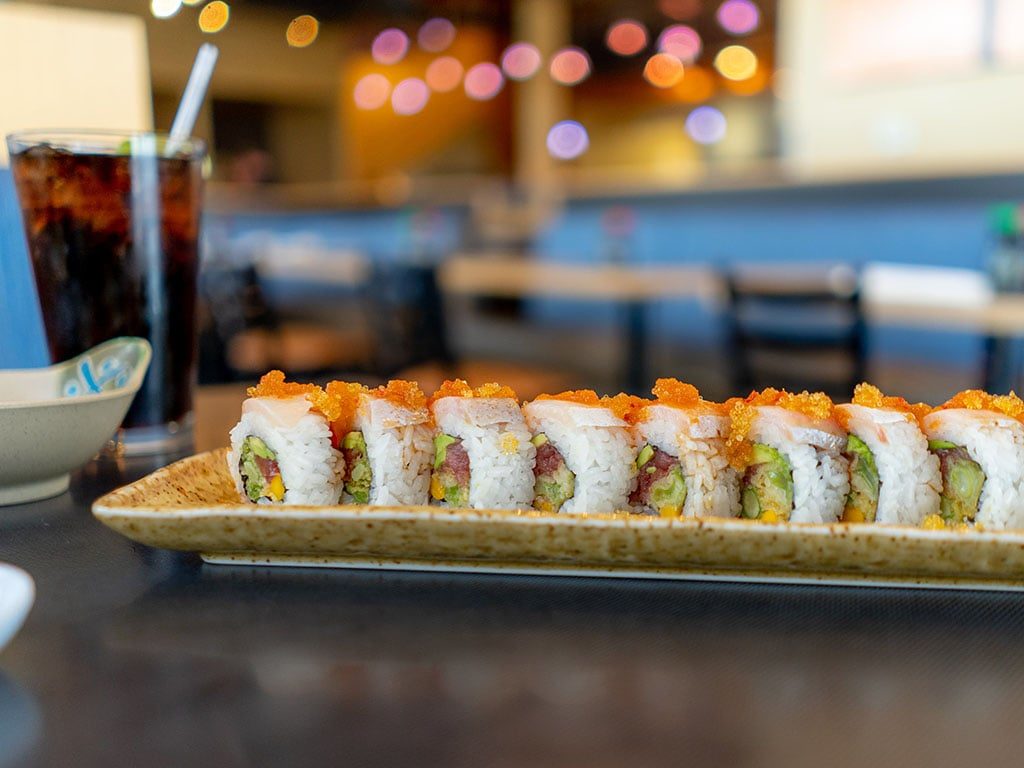 With locations up and down the Salt Lake valley, Tsunami is beloved by locals for their diverse menu of Japanese classics. After the solid array of small plates and appetizers you will find donburi, bento boxes, teriyaki dishes, tempura and much more. It goes without saying theres an extensive array of nigiri, sashimi and maki.
1059 E 900 S, Salt Lake City, UT 84105 | (385) 900-0288
7628 S. Union Park Ave, Midvale, UT 84047 | (801) 676-6466
10722 Riverfront Parkway, South Jordan, UT 84095 | (801) 748-1178
tsunamiutah.com
7 – Tosh's Ramen
You might remember Toshio Sekikawa from his days at Naked Fish and Mikado and Hapa Grill Before that. You'll know find Tosh at the helm of his won two restaurants focused on crafting some of the best ramen in town. While the two locations in SLC and Murray focus on richly flavored ramen they also offer a number of other traditional Japanese dishes: kushikatsu, katsu curry and rice, gyoza and more.
SLC | 1465 S State St, Salt Lake City, UT 84115 | (801) 466-7000
Murray | 1963 E Murray Holladay Rd, Holladay, UT 84117
toshsramen.com
8 – Kaze Sushi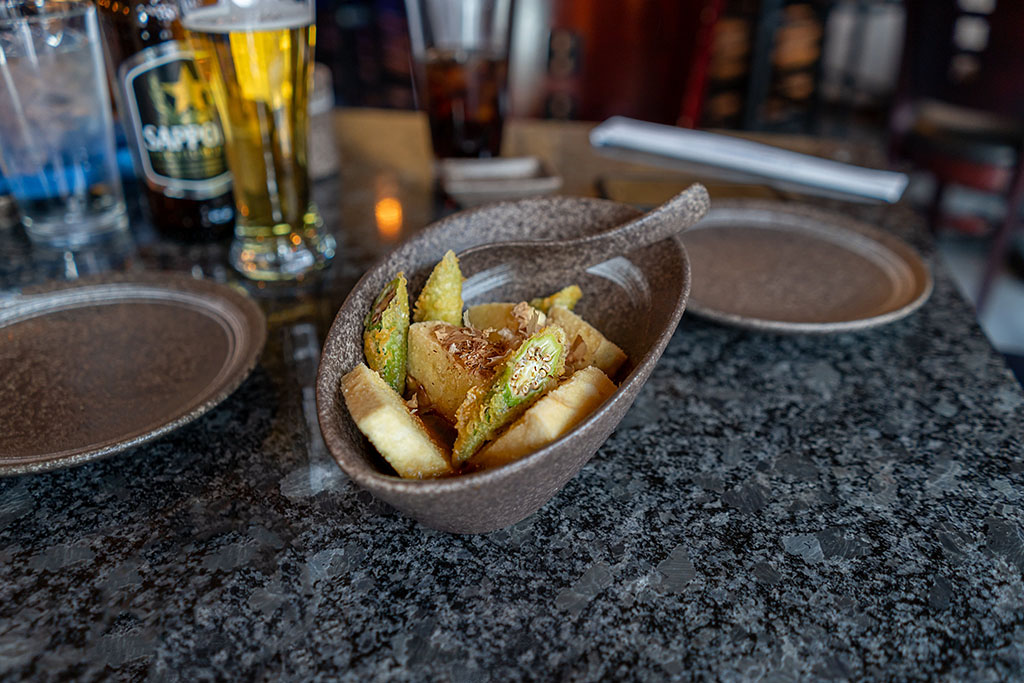 This downtown Salt Lake City Japanese restaurant is a great all rounder offering both cooked and raw dishes. There's a spacious sushi counter, ample table seating and a good selection of beer, wine, and sake.
65 E Broadway, Salt Lake City, UT 84111
(801) 800-6768
kazesushiut.com
Who did we miss?
If you think we're missing a really great addition to this list, please email us at stuart@gastronomicslc.com – we'd love to hear from you. Let us know who you think should be on this list and why. If you have a really great picture of one of more dishes, please send that too! We're always excited to check our more businesses!
Maybe also check out
Maybe we can tempt you to something else delicious while you're here? Check out these other detailed guides, some of the most popular pages on our website:
Hi, I'm Stuart, nice to meet you!  I'm the founder, writer and wrangler at Gastronomic SLC.  I'm a multiple-award winning journalist and have written in myopic detail about the Salt Lake City  dining scene for the better part of seventeen years.
I've worked extensively with multiple local publications from Visit Salt Lake to Salt Lake Magazine, not least helped to consult on national TV.   Pause those credits, yep, that's me! I'm also a former restaurant critic of more than five years, working for the Salt Lake Tribune.    I'm largely fueled by a critical obsession with rice, alliteration and the use of big words I don't understand.   What they're saying about me: "Not inaccurate", "I thought he was older", "I don't share his feelings".
Want to know more? This is why I am the way I am.
Our sponsors and this page
This page may contain information about one of our sponsors. We only work with the very best businesses in the state, and routinely turn down offers to work with businesses we don't enjoy. If we can't hand on heart recommend them - they can't be a sponsor.
At this time we have the following sponosrs: BTG, Caffe Molise, The Dough Miner, Downtown Alliance, Feldman's Deli, Flanker, Garage On Beck, Hearth And Hill, Hill's Kitchen, Kao Thai, Kin Sen Asian Noodle Bar, Kyoto, LemonShark Poke, Log Haven, Oasis Cafe, Pirate O's Gourmet Market, SLC Eatery, Squatter's Downtown Salt Lake City, Stoneground Italian Kitchen, Urban Hill, Wasatch Brew Pub Sugar House, Whiskey Street, White Horse.
I encourage you to Google any of our sponsors and see the stellar reviews on multiple sites that they enjoy. For a list of all our current and past relationships see our partnership history page.