Choosing somewhere to eat in Park City Utah can be a bewildering task. Restaurants line historic Main Street – top to bottom – not to mention the various resorts scattered around town too. And none of it comes cheap, expect to spend a pretty penny while in Park City. As such, you're going to want to be judicious with your dining dollars and time – which is hopefully where this list comes in!
The following restaurants are all places we've either dined at and had a great time personally or would happily plonk down our own money at tomorrow. A great meal should be expected at all of these Park City restaurants.
1 – Hearth And Hill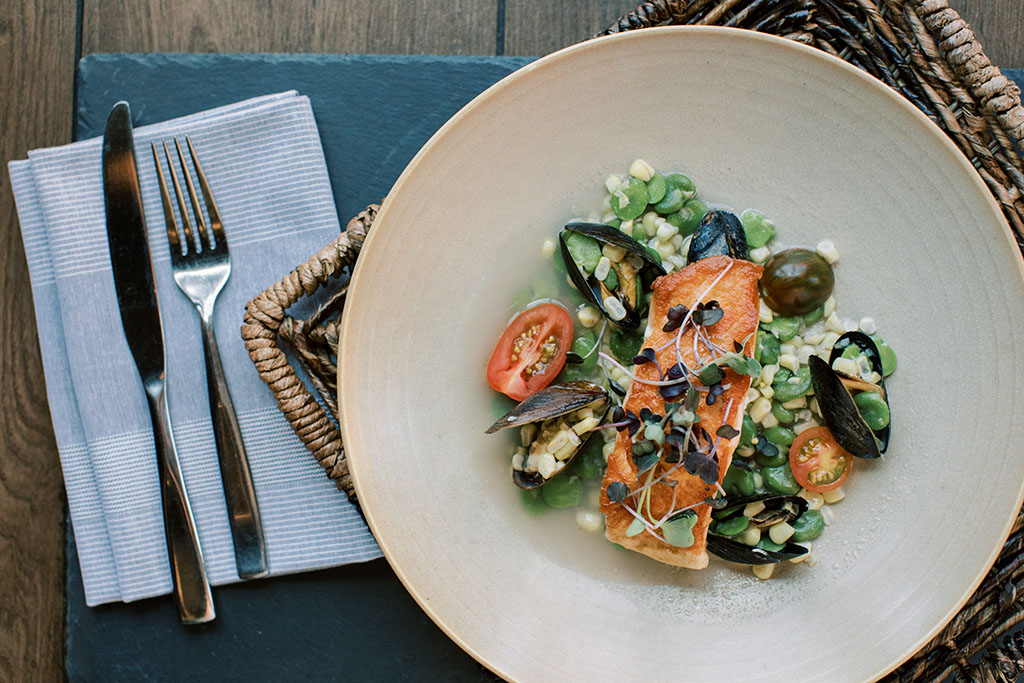 If you're finding the prices of Main Street increasingly exhausting – you'll want to head to Kimball Junction and this local restaurant that offers chef-driven cuisine at a price point that won't break the bank. This is where in the know locals head for an impeccable dining experience, and if you're visiting from out of state, you'll want to join them too. New American cuisine is the order of the day, with the menu regularly changing up as the seasons change.
153 Center Dr, Park City, UT 84098
(435) 200-8840
hearth-hill.com
2 – RIME
If you want my number one recommendation for a fabulous steak and all round experience – head directly to RIME. The fine dining spot in the St. Regis Deer Valley hotel has it all: expertly drilled staff, a great wine list, sublime mountain views – and yes – exceptional steaks cooked impeccably.
The steak menu has everything from petit files through to caveman like tomahawk steaks that you'll probably need to share. Pictured is their 22 ounce ribeye from Niman Ranch which offers a beautiful mix of marbled richness and savory beef umami.
2300 Deer Valley Dr E, Park City, UT 84060
(435) 940-5700
srdvdining.com/dining/rime
3 – Dos Olas
Located at the Pendry Park City (Canyons) is this fabulous Mexican spot. Chef Carlos Segura taps treasured family recipes from his Mexican City youth, to create a menu thats equal parts fun and delicious. The picture tinga tacos are a particularly speciality, cooked with chipotle and topped with corn, onions, crema and onion. Two come to an order, double wrapped in delicate corn tortilla.
2417 W High Mountain Rd, Park City, UT 84060
(435) 513-7198
dosolasparkcity.com
4 – Glitretind
This centerpiece restaurant of the luxury Stein Eriksen mountain resort is well worth the brief drive up Marsac Avenue; just 5-10 minutes drive from Park City's Main Street. The reason for making the journey is simple – chef Zane Holmquist's award winning cooking is some of the best in the state. Holmquist is a nationally recognized chef (everything from NYC's James Beard House through recurring stints on NBC's today show) and his talent shines through on every beautiful plate at Glitretind. Forbes four-star accredited, the menu changes seasonally showcasing local ingredients where possible.
7700 Stein Way, Park City, UT 84060
(435) 645-6455
steinlodge.com/glitretind.html
5 – Freshies Lobster Co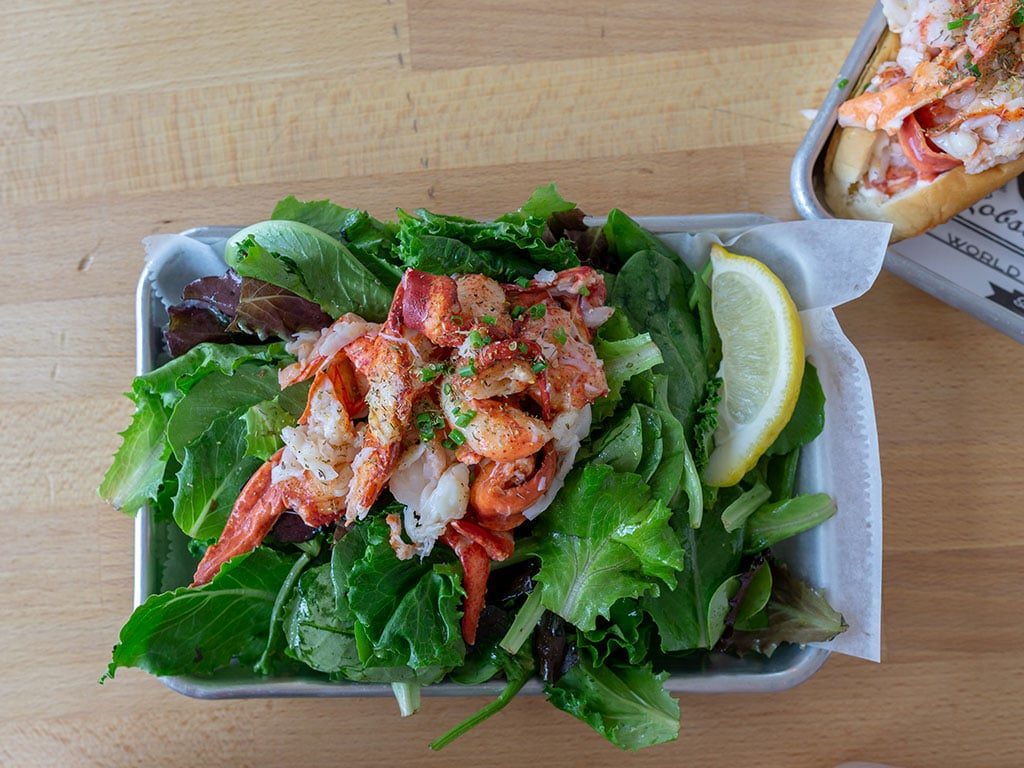 Fresh lobster rolls among the snowy peaks of Park City, seriously? Yep, we're deadly serious. Need convincing? In 2017 Freshies Lobster Co. beat all comers in Maine's Lobster Roll Festival, winning a coveted best lobster roll in the country award! In makes sense though, the product is flown directly from the East coast, hand couriered from the airport to PC and then handled with care by the chef owners – East coast natives.
897 prospector ave, Park City, Utah
(435) 659-6226
freshieslobsterco.com
6 – Reef's Restaurant
The Park City restaurant scene is dominated by New American dining options, so finding more eclectic flavors can always be a challenge; so when you find a gem like Reef's you come back time and again. Now located in the Deer Valley Club, the restaurant offers modern Mediterranean cuisine. That means all your favorites such as falafel, hummus, babaghanouj and more – all executed and plated with style.
7720 Royal Street East Deer Valley Club, Park City, UT 84060
(435) 658-0323
reefsrestaurant.com
7- Butcher's Chop House
Among the glitz of Main Street, Butcher's isn't the fanciest or swankiest place in town. But when I'm craving a steak or similar and I'm on Main Street and not wanting to break the bank – I come here. Throughout the year the restaurant offers 2-for-1 specials meaning your filet mignon is free if your partner orders up some delicious king crab legs for example. Deal. The staff is well drilled and the vibe is more casual than much of Main Street – which can be a welcome respite at times. There's a fun and casual bar up front too which makes a perfect place to while away an evening.
751 Lower Main Street, Park City, UT 84060
(435) 647-0040
butcherschophouse.com
8 – Billy Blanco's Motor City Mexican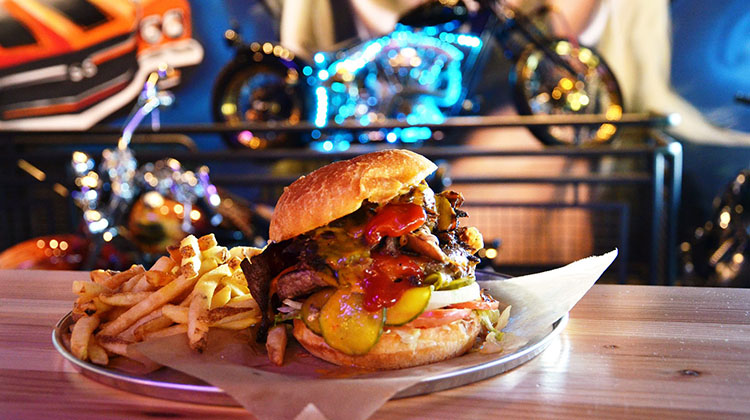 Don't let the over the top name, or the equally ludicrous interior (littered with muscle cards and bikes), throw you off. Billy B's is deadly serious about the food. The Billy Blanco in question is Park City restaurateur genius Bill White, which should tell you all you need to know – the food here is spot on. The menu is comfort food crafted with care and class: tacos, burgers, nachos and more.
8208 Gorgoza Pines Rd, Park City, UT 84098
(435) 575-0846
billyblancos.com
9 – Handle
If you only have time for one meal in Park City, make reservations for Handle right now and thank us later. You'll be glad you did, and then some. Chef and owner Briar Handly crafts some of the most elegant and refined cuisine of any restaurant in the state of Utah; let alone the resorts of Park City. The New American menu is always in flux and flow, changing with the seasons and the product from local farms, purveyors and producers. Handle (and sister restaurant HSL in SLC) wouldn't be out of place in any major US foodie city.
136 Heber Ave, Park City, UT 84060
(435) 602-1155
handleparkcity.com
10 – KITA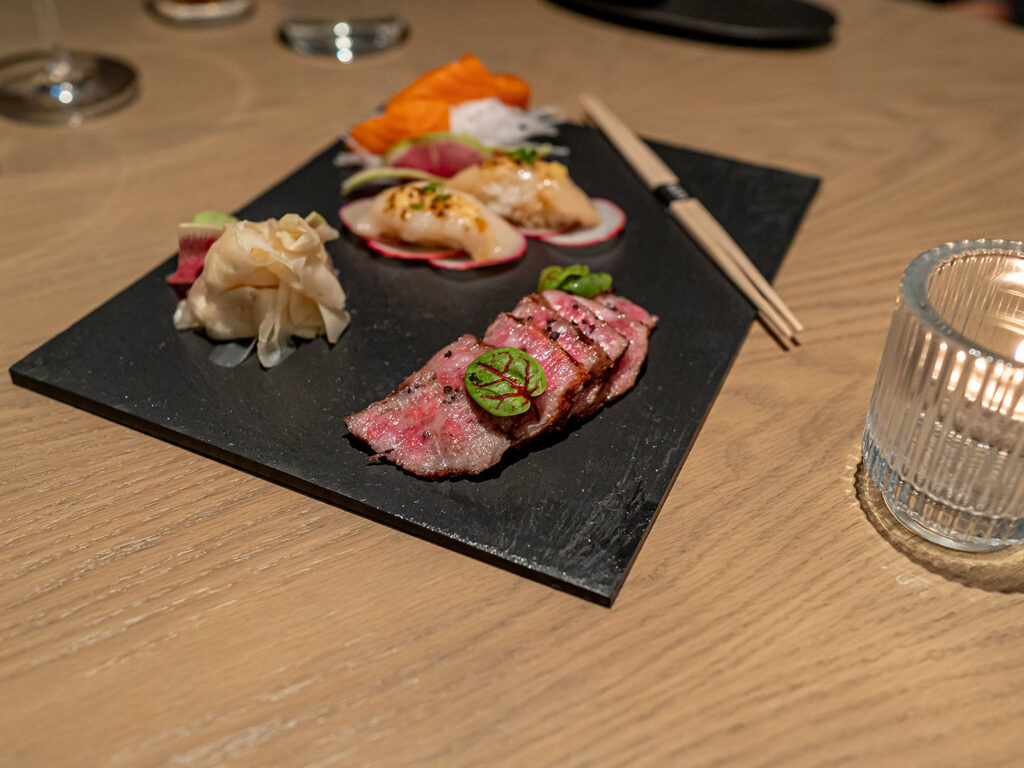 Looking for Japanese A5 beef in Summit County? Stop looking and head to KITA immediately. The Japanese steakhouse is part of the Pendry Park City resort and dazzles with a menu offering a range of seafood and steaks. The arguable pinnacle is the imported beef pictured above. KITA charge $30 per ounce of the A5 wagyu which is imported from Miyazaki prefecture.
2417 W High Mountain Rd, Park City, UT 84098
(435) 800-1990
pendry.com/park-city/entertainment/apres-pendry
Who did we miss?
If you think we're missing a really great addition to this list, please email us at stuart@gastronomicslc.com – we'd love to hear from you. Let us know who you think should be on this list and why. If you have a really great picture of one of more dishes, please send that too! We're always excited to check our more businesses!
Park City and Deer Valley FAQ
Where should I stay in Park City?
After living and staycationing in Utah for twenty years, you better believe I've stayed in more than a few of our local hotels. You can see our recommend list of Utah hotels here – up in Park City my current favorite is the Pendry resort. This is located in the Canyons Village and you can read my full write up here.
Getting around Park City
Both Uber and Lyft are quite active in Summit County, you should have no issues getting around using ride sharing apps. The airport to Park City run is a *very* common one and will run you $50-$100 depending on time of day. A number of the resorts also offer free transport around town, Park City itself also runs a free bus service, more info on that here. You can even track the busses in Park City using the provided app!
Maybe also check out
Maybe we can tempt you to something else delicious while you're here? Check out these other detailed guides, some of the most popular pages on our website:
Hi, I'm Stuart, nice to meet you!  I'm the founder, writer and wrangler at Gastronomic SLC.  I'm a multiple-award winning journalist and have written in myopic detail about the Salt Lake City  dining scene for the better part of seventeen years.
I've worked extensively with multiple local publications from Visit Salt Lake to Salt Lake Magazine, not least helped to consult on national TV.   Pause those credits, yep, that's me! I'm also a former restaurant critic of more than five years, working for the Salt Lake Tribune.    I'm largely fueled by a critical obsession with rice, alliteration and the use of big words I don't understand.   What they're saying about me: "Not inaccurate", "I thought he was older", "I don't share his feelings".
Want to know more? This is why I am the way I am.
Our sponsors and this page
This page may contain information about one of our sponsors. We only work with the very best businesses in the state, and routinely turn down offers to work with businesses we don't enjoy. If we can't hand on heart recommend them - they can't be a sponsor.
At this time we have the following sponosrs: BTG, Caffe Molise, The Dough Miner, Downtown Alliance, Feldman's Deli, Flanker, Garage On Beck, Hearth And Hill, Hill's Kitchen, Kao Thai, Kin Sen Asian Noodle Bar, Kyoto, LemonShark Poke, Log Haven, Oasis Cafe, Pirate O's Gourmet Market, SLC Eatery, Squatter's Downtown Salt Lake City, Stoneground Italian Kitchen, Urban Hill, Wasatch Brew Pub Sugar House, Whiskey Street, White Horse.
I encourage you to Google any of our sponsors and see the stellar reviews on multiple sites that they enjoy. For a list of all our current and past relationships see our partnership history page.