If you're feeling a little drubbed after recent weeks, you're alone. The preceding fortnight has been punch after smack after whack, and I'm sure there are more I've missed. With that in mind, time for some brighter news. Amidst all the current heavyweights hitting the canvas, there's still plenty of eager newcomers champing for a bout. O.k. enough torturing of that particular metaphor. Here's the latest on what's new and next on the Utah dining scene.
Afghan Baba
Recently opened in downtown SLC (268 S State), this new Afghan option finds itself in the space once upon a time home to the likes of Kabuli Cafe, Curry N Kabobs and House Of Kabob to name three. The restaurant is located upstairs, atop the market that greets you out front. The menu features a wallet-friendly looking mix of kabob, rice dishes and more; all overseen by chef Zahara who hails from Mazar E Sharif. Baba – apparently named after Ahmad Shah Durrani, father of modern day Afghanistan – is presently open Mon-Fri 11.00 – 3.00 for lunch, with a solo dinner service on Friday nights from five.
Caffe D'Bolla
John Piquet's mad science coffee lab has new digs. The boutique roaster that notably specializes in siphon coffee can now be found over at 299 S. Main after skedaddling down the road from 4th South. If you're obsessive over your coffee, d'Bolla is the start and end of your journey in Utah. Coffee is serious business here. Word to the wise for newbies: don't ask for flavored creamer.
ComCom Kitchen
Commissary kitchen ComCom now has a second location open over in Millcreek (894 E 3900 S). ComCom differs from most commissaries in that the setup allows for walk up orders for some of the ghost kitchen concepts that operate out of the facility; moreover this new spot oj the East side will also serve as a weekend food truck gathering spot.
Crack Shack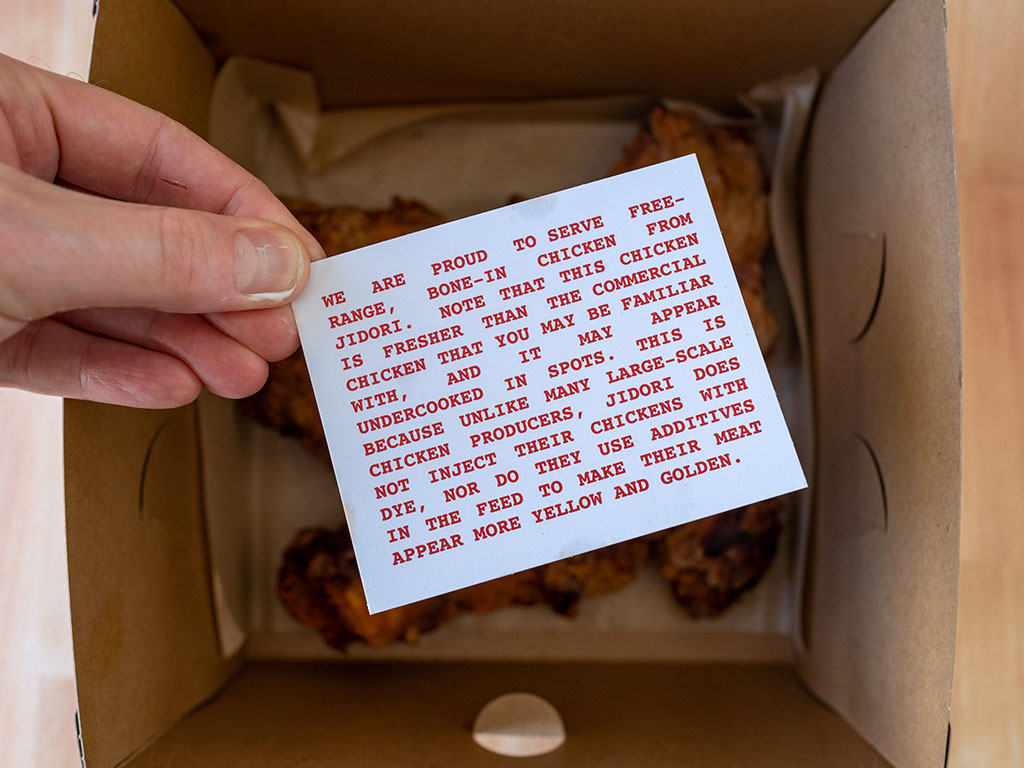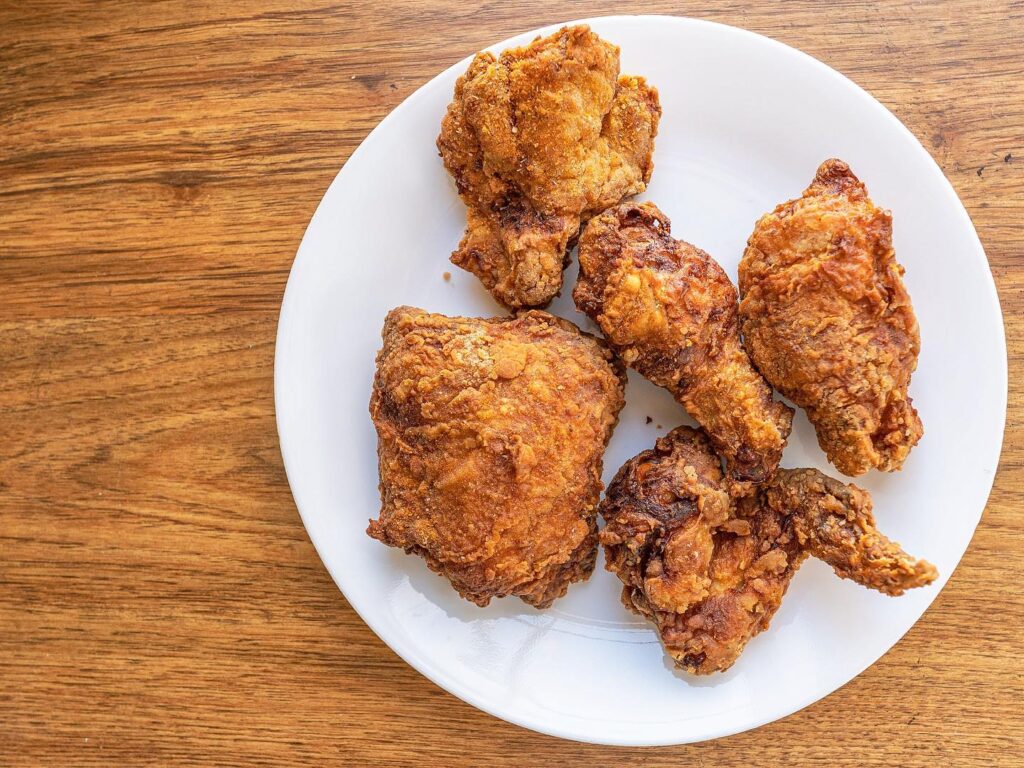 The Savory Fund backed Crack Shack has been on something of a Utah growth spurt of late in the Beehive. The latest spot from the San Diegan chain in Utah, can be found over in Riverton's sprawling new Mountain View Village. The facility boasts a slew of restaurants and shopping options. Here's the full press release from the architects behind the build:
. . .
The 1,000,000 square-foot destination was designed by AO (a full-service architecture firm with expertise spanning the full commercial real estate spectrum) to satisfy all the needs of a downtown and is poised to attract, cater to, and entertain guests from far beyond the immediate area.
AO, served as the design architect, architect of record, landscape and interior architect for the mixed-use entertainment center. Set within the fastest growing submarket in the United States, the experience-driven, 85-acre mixed-use destination from CenterCal is in the process of becoming the most dynamic central gathering place in Riverton and the entire South Valley. Residential units are in the works with SALT Development bringing the 280-unit Luxury Village Lofts set to open in the Spring of 2024.
A future Trax Line extension to South Street will offer easy access to the mixed-use open-air lifestyle development comprised of multiple retail options (from Vans to Lululemon and Anthropologie), restaurants serving cuisine from around the world, state-of the art office space, fitness, spas, a full luxury theater, pedestrian friendly outdoor plazas with dramatic fountains and mature landscaping, entertainment, and residential homes.
. . .
Alongside Crack, the village also has a number of other food vendors you might be interested in including:
WannaCinn
Santorini's Greek Grill
Handel's ice cream
Silverlake Ramen
And coming soon, the following I am told:
Kokonut Island Grill
Las Botellas Mexican food
Seoul Meat Co.
Toastique
Root'd Café
Sprinkles Cupcakes
Sweet Rolled Tacos
Hello Sugar
Creamd Market
This place apparently opened in June 2022 though it some how managed to slip under AESA. Thankfully I see it wasn't just me – a kindly reader who dropped me a note similarly stating, " though we just discovered it the other day while looking for something to cure a Sunday evening sweet tooth".
The Highland Drive based business offers a rotating menu with 30 flavors bolstered by seasonal specials. Open seven days a week, the cozy storefront also offers local Utah products (Gossner, Hunsaker Cheese, Grapefruit & Thyme Pies). Check em out here.
Crisp & Green
A new chain opening for Sandy, this one a national healthy eats brand. File this one under, "oh my god it's January, what have I done with my life, where can I go eat some vegetables and atone for the past thirty days." Here's the full press release from the company on their Utah debut:
. . .
CRISP & GREEN, the rapidly growing, fast casual destination that blends healthy and nutritious food, community engagement and complimentary fitness classes, today announced the opening of its first Utah location. Salt Lake City's first CRISP & GREEN will open in October in Towne Ridge Retail at 9710 S. State St., Sandy, Utah. CRISP & GREEN restaurants are open in Minnesota, Colorado, Florida, Nebraska, North Dakota, South Dakota, and Texas. There are 195 stores built or in development across 20 states.
"We are excited to open our first Utah CRISP & GREEN restaurant in one of Salt Lake City's most dynamic locations," said CRISP & GREEN Founder and CEO, Steele Smiley. "We know CRISP & GREEN's fresh, made-from-scratch, and healthy options will be a big hit with the residents of America's healthiest city. CRISP & GREEN is ready to become the fast and healthy option for people on-the-go." Five additional CRISP & GREEN locations are slated to open in the Salt Lake City metro in the next two years.
"CRISP & GREEN is a perfect match for the strong, vibrant and healthy community of Sandy," said Chad Fullmer, the CRISP & GREEN franchisee. "Sandy is a year-round destination for outdoor adventure seekers. CRISP & GREEN is poised to become the healthy choice where locals and visitors can gather to grab a great meal and fuel up to play in one of our 30 parks or catch a pro soccer game at Rio Tinto Stadium. Our residents and visitors will love CRISP & GREEN's fresh and healthy food delivered in a friendly and inspiring atmosphere in Towne Ridge Retail Center."
Established in 2016 by STEELE BRANDS' Founder & CEO Steele Smiley, CRISP & GREEN has delivered year-over-year growth by providing nutritious, made-from-scratch food in a fast andconvenient setting. More than just great food, the company places special emphasis on its "Commitment to Community" values by partnering with local fitness experts to providecomplimentary classes to their guests. Throughout the past five years, CRISP & GREEN has hosted more than 1,000 fitness events at its stores nationwide, creating a devoted following andhelping to make it one of the fastest-growing quick service restaurants (QSR) in the country.
As CRISP & GREEN expands across Utah, the company is focused on connecting with local communities, fitness studios and ambassadors to create a community center that goes beyond serving food.
Contribution / Mar | Muntanya / Salt Republic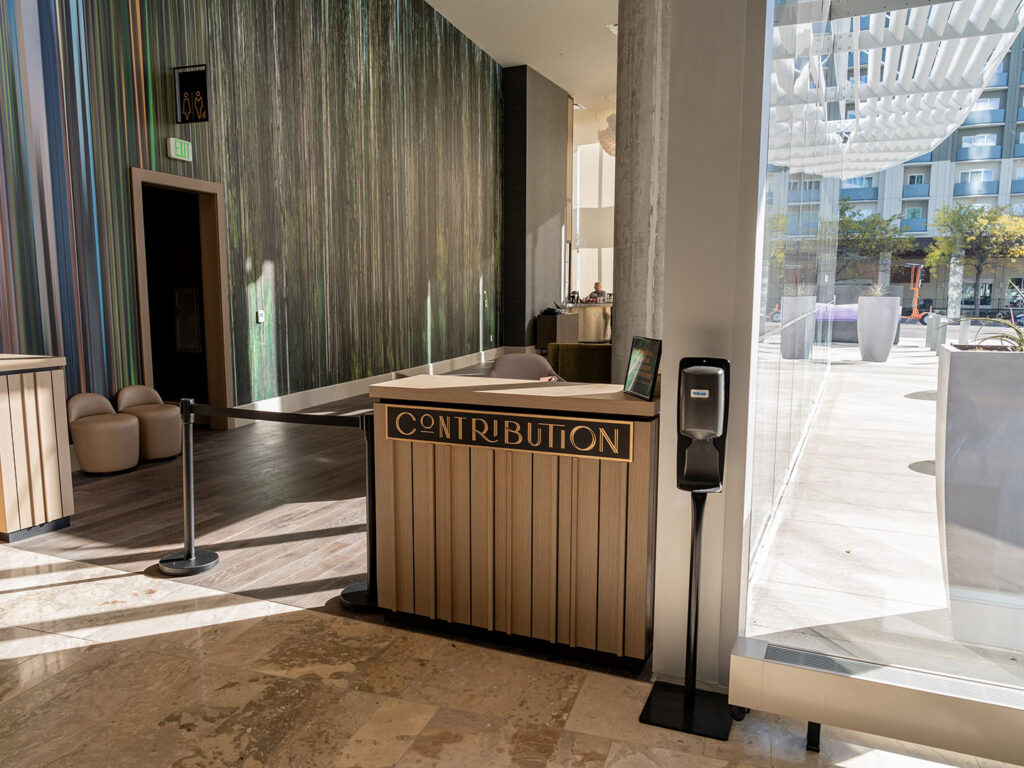 I've written a few times about these folks, and to confirm, the trio of new food and Bev options in the glamorously shiny new Hyatt Regency are now all open. Mar Muntanya (scallops and cava pictured top of page) is the ostensible destination dining spot on the 6th floor and serves up Spanish informed fare. Salt Republic can be found on the ground floor and serves as the hotel's more prosaic breakfast-lunch-dinner hang out; there's a pastrami burger lurking there in case you wanted to know. Lastly, also on the ground floor is Contribution – the hotel's bar located on the South East corner, makes for fun people watching from both inside out, and outside in, face pressed against the glass.
Green District
Another calorie-calibrated chain to land in Utah. Over in the Trib, Stefene Russell writes, "Green District, a Louisville-based fast-casual salad chain, is opening its first Utah location at 7141 South Bingham Junction Blvd, Midvale. Doors open at 10:30 a.m. on Thursday, Nov. 3."
Ichiro Ramen House
This Bountiful Japanese restaurant recently re-opened and with it, some new dishes I believe. On the ramen front, all the gang are here – shoyu, katsu, curry, miso and more – prices for a bowl range from about $14 – $17. As well as that there's rice dishes, udon and apps galore; Japanese staples such as karaage, takoyaki and gyoza.
Island Fin Poke
A different kind of bowl, this one from a national brand new to Utah. Now open in Salt Lake City and offering poke, here's the full press release:
. . .
Island Fin Poké – the fast-casual restaurant famous for its Hawaiian-style build-your-own poke bowls – is thrilled to announce the opening of its first location in Utah. Located at 613 E 400 S, the new restaurant will be a true family business, with the location being operated by Hannah Stout and her family. Stout, who has had a life-long passion of serving others and delivering exceptional hospitality, is elated at the opportunity to bring Island Fin Poké to the people of Salt Lake City. This will be the first Island Fin Poké restaurant she intends on opening in the area, with a goal to open more in the near future.
With the restaurant slated to open on October 24, Island Fin Poké of Salt Lake City will serve healthy and flavorful poké bowls (pronounced "poh-kay"). Poké is a popular Hawaiian dish consisting of proteins, nourishing toppings and served over lettuce or rice. Guests can choose from responsibly sourced ingredients and create their own customized poké bowl, with a selection of over eight proteins, 25 different toppings, nine gluten-free house-made sauces, and specialty mix-ins. The endless possibilities allow guests to get creative and try something new every visit. The Salt Lake City restaurant will offer third party delivery options, online ordering through the Island Fin Poké app and indoor seating.
"We love Utah and have made it our home for the past 10 years," said Stout. "SLC is such a special place and we could not think of a better community to bring this deliciously healthy food concept. We are so grateful to have our store manager, Clarissa Rodriquez on board with us to help bring our new restaurant to life. Food is one thing, but what we love most about Island Fin Poké is the brand's focus on the people. Working with an incredible manager and team who also share the vision of bringing great food to our community has been the most fun aspect of this project"
Opening her own business has been on Stout's mind for a while, but it wasn't until she did more research into the concept and tried Island Fin Poké's unique poké bowls across the state of Florida, that she finally found the perfect fit. While researching the concept, Stout tried as many Island Fin Poké locations as she could to experience the brand in its entirety. Throughout her journey, Stout fell in love with the brand's Hawaiian-inspired food, its beach décor and family-oriented company culture.
"The poké industry as a whole, continues to grow at a staggering rate, but our passion for our food almost transcends the business projections," said Mark Setterington, CEO and Co-Founder of Island Fin Poké. "There's something very rewarding in bringing healthy and traditional island flavors to local communities throughout the country."
The opening of the brand's first Utah location marks a significant step in Island Fin Poké's continued expansion throughout the U.S. For more information, visit
Italian Graffiti
Meanwhile, down in the Gateway, chef Marc Marrone's latest venture opened this past weekend. The fancy looking Italian Graffiti makes three for Marrone's Utah footprint – the other's being Central 9th's Snowmobile Pizza and Kist around the corner HallPass.
The menu starts with an eclectic antipasti menu which takes in everything from hamachi crudo through house made burrata and steak tartare. From there it's handmade pasta ($21 – $48), meat and fish ($29 * $69) and veggie dishes ($9 – $28). Marrone is the name over the door, but the larger team comprises Oz Gomez (baker), Patrick Ramsay (pasta) and Michael Tomarsky (corporate chef).
Jeeva's Greek Cafe
This one opened over in the City Creek food court this Summer, but apparently, I hadn't yet celebrated the fact on these hallowed pages; ergo, by way of completionism, here you go. Let no souvlaki be left behind. Jeeva's is a quick, casual Greek spot and I'm told by at least one person whose palette I trust – the gyros here are on point. Sandwiches start from $8.
Kiss My Boba
More boba, this coming to 67 West 1700 South, Salt Lake City.
Momo's Gourmet Cheesecakes
Cheesecake fans in SLC can now rejoice as this Provo original has made the journey North to open their sophomore effort in the capital city (29 E 400 S). The company offer everything from small bites through build your own full size cheese cakes priced $38 and upwards.
Mr. & Mrs. Crab Juicy Seafood & Bar
I love a good name, and man alive, what a name that is. Two ampersands, count em and weep! Now open in Taylorsville is the first location for this modest chain that calls home to nearly two dozen locations. The menu is the seafood boil approach you might know from a variety of spots across the Wasatch; first innovated here in SLC proper by Bucket O Crawfish, fact fans will note. Over at the new M&MCJS&B you can find shrimp, crawfish, blue crab, blue mussels, green mussels, snow crab, Dungeness crab, lobster tails, king crabs, and well…lots more…
Ono's Malasadas
New to malasadas? Let me wikipedia that for you real quick, "a malasada is a Portuguese confection. It is a fried type of doughnut, made of flattened rounds of yeast dough, flavoured with lemon zest and coated with granulated sugar and cinnamon."
Those of you at the back smugly nodding to each other… what about savory malasadas then? Nope? Good. Ono's Malasadas food truck made brick n mortar opened just a few days ago and promptly sold out. Check em out.
Paellas Callapso
Love paella? Then you'll probably love this all new Midvale food truck that specializes in the dish; not least a range of other items like pepito de carne and, er shawarma oddly enough. Follow along on IG.
Patty Shack
Over in Taylorsville this brand new burger brand seems to be playfully inviting a visit from the Shake Shack legal team. The spot moves into the small space left vacant by the closure of Bell's Deli and bring with them a banner that looks oh so very familiar. The menu thankfully differs from the famed New York brand who insist on buttering their buns and overpowering their patties (maybe just me that one?).
The grand opening for Patty Shack is this week, November 23rd. You can swing by and grab a pastrami burger, or the monstrous 'Patty Daddy', a triple stacked pastrami cheeseburger.
Royal Hotpot And BBQ
State Street's Dim Sum House (1158 S. State) has now been replaced with this hotpot spot. Ooh that's fun to say. Hot pot is quickly becoming the new ramen, boba and poke bowl don't you know.
Slim Chickens
A third location for this popular fried chicken spot known for their tenders recently opened in Pleasant Grove. More info here.
Spill The Tea
More boba, this time for Taylorsville. The grand opening was this past few days.
Supremo Pizza
"NY Style Pizza in SLC, Fresh Dough Made Daily". So goes the headline item for the pies at the new Supremo Pizza parlor in Midvale. Open daily you can find the menu here.
Tacos El Robert
Thanks to the Logan Foodies group for this one. Tacos El Robert just opened in Cache County and brings a menu of tacos, burritos, mulitas and volcanes. Proteins cover the gamut, tripa and lengua through asada and pollo. Whatever you pick hand made. tortillas support everything served.
Ten Seconds Yunnan Rice Noodle
With Pho 33 now migrated to South Salt Lake, this Sichiuan-spiked hot pot spot has now moved into their former home.
Tous Le Jours
Here's the press release from the company on the first Tous Le Jours Utah location:
. . .
TOUS les JOURS, a French-Asian bakery café chain offering more than 300 different kinds of artisan pastries, gourmet cakes and desserts baked in-store daily, is excited to announce that its Midvale location is now open for business, marking the brand's first store in the Beehive State. The Utah TOUS les JOURS is owned by franchisee Kyung H. Cho of Trans Way Services, INC. Located on Fort Union Blvd., TOUS les JOURS is now serving its wide array of baked goods, both sweet and savory, and unique coffee and beverage options to the vibrant Midvale community.
"When I first stepped into a TOUS les JOURS location, I was immediately attracted to the franchise opportunity and impressed by the brand's robust offerings, including its unique pastries, fresh breads and comprehensive beverage lineup," said Cho. "As Salt Lake County continues to expand and flourish, Midvale stood out to me as the ideal destination for a TOUS les JOURS store, envisioning the bakery café chain as a haven for the local community to gather and enjoy a fresh pastry and cup of coffee."
With a brand promise to provide freshly baked goods every day, TOUS les JOURS takes great pride in dreaming up delicious pastries, cakes and desserts, which are artfully designed to provide the most memorable experience for every guest and anyone who receives a TOUS les JOURS creation. While there is certainly something for everyone at TOUS les JOURS, one of brand's bestselling items is its signature Cloud Cake, which consists of a fluffy delicate sponge cake filled with freshly made whipped Cloud cream flavors like milk, chocolate, strawberry and green tea. TOUS les JOURS serves many authentic French-Asian baked goods, such as milk bread, macarons, loaves, and croissants, along with its own unique creations and innovative seasonal offerings.
With more than 20 years of franchising experience, TOUS les JOURS franchises 80 stores in the U.S. and over 1,650 bakeries all around the world. Due to its extensive franchising knowledge, unique positioning and cultivated leadership team, the brand continues to attract franchise partners who are interested in diversifying their portfolios with a proven concept in the popular bakery market. Those looking to learn more about company expansion plans and the many benefits of joining the TOUS les JOURS franchise family should visit https://www.tljus.com/franchise/.
Vietopia Bistro
Previewed back in October 2022, this new Vietnamese eatery in Draper opened just a few days ago.
Coming soon
Not quite here yet, but any day soon we should be reporting on the opening of the following businesses.
Aqua Terra Steak & Sushi
Here's the full press release for this new opening coming to the City Creek this December. Aqua Terra comes to SLC from Ascend Hospitality Group, a name behind several steak operations plus Famous Dave's BBQ:
. . .
If you can't decide between a contemporary sushi selection or the appeal of a crafted steak dinner, you're in luck. Soon you won't have to choose, you can have both and more. City Creek Center is excited to introduce AQUA TERRA Steak + Sushi, a brand-new culinary experience that offers the best of both land and water, will be opening its doors this fall.
"We are thrilled to add AQUA TERRA Steak + Sushi to our selection of dining options," said City Creek Center General Manager Linda Wardell. "It's an inspired and intriguing concept with a creative menu. It'll soon be one of the most exciting new places in the downtown restaurant scene."
Set to occupy a lower-level space on the west side of the Main Street bridge at City Creek Center, AQUA TERRA Steak + Sushi will deliver a curated and intentional dining experience in a sleek but approachable atmosphere. Premium steak and wild game cuts, a wide-ranging sushi, omakase and crispy rice menu, and an array of sake cocktails and wine offerings highlight an elevated dining experience. Not to mention, the space, which blends Art Deco style with Rocky Mountain-inspired elements, will be dazzling yet inviting.
The new restaurant concept is operated by Ascend Hospitality Group, a Black-and-female-led restaurant group with locations in Utah, Washington, Oregon, and Arizona.
Beard Papa
The "worlds best cream puffs" will be coming to Salt Lake City any day now – Sugar House to precise. Here's the complete presser from Beard Papa on this soon to open spot:
. . .
The world-famous fresh and natural cream puffs chain, Beard Papa's, is finally coming to Salt Lake City Sugarhouse region. With its Japanese origins and cult following, the dessert destination is set to officially open in late 2022.
Originally founded in Osaka, Japan, in 1999, Beard Papa's started as a small bakery and quickly grew to more than 400 locations, in 15 countries and territories, while gaining global recognition for their light and airy cream puffs. The Japanese dessert chain specializes in creating the world's best cream puffs and offers a wide variety of customizable delights.
Guests are able to create their custom flakey puff confections by choosing between eight cream puff shells: original, chocolate eclair, green tea eclair, strawberry eclair, honey butter eclair, OREO® cookie crumble eclair, dulce de leche eclair, and crispy almond. Guests are then presented with a selection of airy cream custard filling flavors that range from traditional staples to monthly featured seasonal flavors.
"We are thrilled to bring Beard Papa's unforgettable cream puffs to Utah!" says Tyler Reed, Director at Beard Papa's Utah. "Whether you're a long-time fan or a first-timer, we are confident that Beard Papa's will become your favorite go-to for a quick treat, to meet with friends, or your next big event."
The menu does, however, extend beyond just puff pastries with offerings such as cheesecake, chocolate fondant, savory pastries, and an exclusive blended drinks menu.
"The cream puffs are baked fresh on-site daily and are some of the largest cream puffs you will ever experience. The all-natural recipe is simply addicting. I've never met anyone that has tried Beard Papa's that doesn't crave it again the days following," says Mark Nathan, Marketing Director for the franchise. "The product is unique in that there is nothing else like it on the market. From the high-quality ingredients used in the custard filling to the puff shells that are freshly baked throughout the day, the Beard Papa's experience is unmatched."
The Break Sports Grill
This South Jordan sports bar and restaurant are looking set to move to the big city, and I am assuming, snag some of the nearby Vivint pre and post game business. This post on Facebook points to the imminent opening of their new downtown spot, found in the old Rib & Chop House location.
Buena Vida
Wondered what's happening over at the now defunct La Trattoria Di Francesco in the 15th and 15th? Wonder ye no more. Mexican cuisine courtesy of serial-restaurateur Alan Galeano will be making it's mark at the spot soon under the name Buena Vida. Galeano – the name behind restaurants like Buono Vita, El Chubasco, Brick & Mortar – spoke to the Tribune on the restaurant, specifically with an eye on the prices. The previous tenants were known for offering steaks priced at the Salt Bae esque levels of $260
In the interview Galeano said, "It's going to be super reasonable, because I'm not doing this
short-term. My restaurants are long-term. I need to work with the public, and the people down there — we asked around and my real estate agent asked people what they wanted there, because I have Italian restaurants, Spanish restaurants, burger places, Asian restaurants. I have a pho place, I have a Thai place. So they wanted Mexican."
The Trib went on to confirm the menu will include "standard Mexican menu items, such as burritos, tortas, tacos and tostadas", as well as saying "Many items would have a twist — for example, they will serve octopus tacos and spicy salmon tostadas."
Citizen
News from Building Salt Lake here – on this new bar expected to come as part of a new residential building in downtown SLC.
Fish On Bistro
A new brick and mortar concept for the Fish On Gourmet food truck folks. Fish On Bistro should be coming to Murray soon enough, we previewed it on our New In Utah Instagram page here.
Holy Water
This picture flung my way in the last 48 hours for this apparent new "coffee & bites" spot located at 712 E 100 S. Their instagram promises "a secular coffee experience" but their website is of yet still to be christened.
Level Crossing Brewing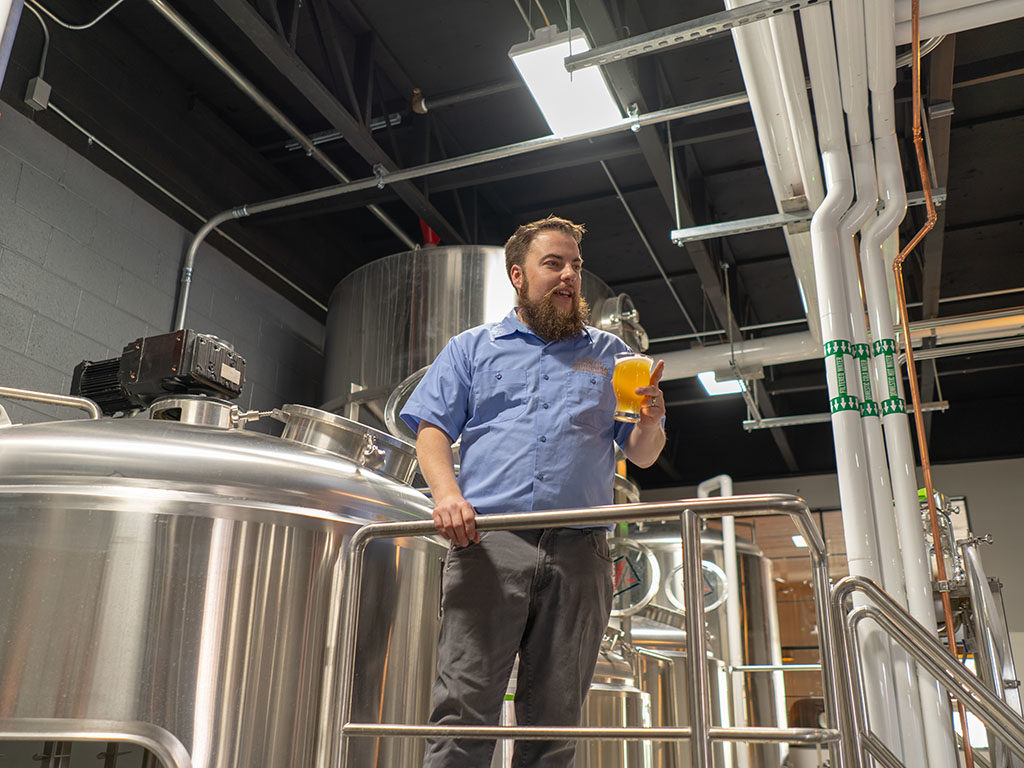 Level Crossing are set to open a second location in the Post District at 550 S. and 300 W. The effort is expected to essentially replicate their South Salt Lake original. Building Salt Lake write that:
"The plan is to basically duplicate the current offering, which includes wood-fired pizzas, sandwiches and salads plus "heavy beer" (known in most other states simply as "beer"), "draft beer" (known in most other states as "Utah beer"), wine and liquor. The new bar will be largely the same as the existing one except for the production facility. It will have 82 seats inside and 72 outside."
Lovebirds Hot Chicken
Coming soon to American Fork, a new location for the fried chicken folks.
Penny Ann's Cafe
Bountiful, a Penny Ann's is headed your way. It looks set to come to a refurbished former Cafe Rio (next to TJ Maxx).
Quesabirrias
Coming soon to Heber City (550 W 100 S) if birria is your thing you will want to track these folks.
Street Tacos Don Joaquin
Another tip from the Trib who write that, "Street Tacos Don Joaquin, based in Provo, is opening a Salt Lake City location at 423 W. 300 South."
Taste Of The Caribbean
After spotting this sign, I did a little digging. This one looks like a brand new Caribbean food truck rolling our way, no word on when exactly.
Thieves Guild Cidery
Thieves Guild is expected to bring a craft micro cidery and bar to 730 W 900S in Spring of 2023. While their website is all mysterious and stuff, our cadre of eagle eyed scouts found this sign.
Waterwheel Kitchen
The Trib's Stefene Russel broken news on this one, in her weekly newsletter. Russel writes that this one will be, "a Middle Eastern restaurant based out of Spice Kitchen Incubator, appears to be moving into a brick-and-mortar space — the restaurant has applied for a business license at 877 W. 400 South. More information as we have it."
Previously mentioned with no further update
We've written about the following new restaurants in recent posts tracking new restaurants around SLC. We've heard no further news on these at this time:
Opening a new restaurant in Utah? Be sure to read our restaurant resource section which includes info on everything from marketing through POS systems.
Keep the conversation going
Want to stay on top of the SLC food scene, minute by minute, dish by dish? Here are a few other places you should follow along:
Keep the conversation going
Want to stay on top of the SLC food scene, minute by minute, dish by dish? Here are a few other places you should follow along:
Hi, I'm Stuart, nice to meet you!  I'm the founder, writer and wrangler at Gastronomic SLC.  I'm a multiple-award winning journalist and have written in myopic detail about the Salt Lake City  dining scene for the better part of seventeen years.
I've worked extensively with multiple local publications from Visit Salt Lake to Salt Lake Magazine, not least helped to consult on national TV.   Pause those credits, yep, that's me! I'm also a former restaurant critic of more than five years, working for the Salt Lake Tribune.    I'm largely fueled by a critical obsession with rice, alliteration and the use of big words I don't understand.   What they're saying about me: "Not inaccurate", "I thought he was older", "I don't share his feelings".
Want to know more? This is why I am the way I am.
This article may contain content provided by one of our paid partners. These are some of the best businesses in Utah. For a list of all our current and past relationships see our
partnership history page
.