For fans of this local mini-chain, clear the whole of your August calendar, because Midvale is set to become the fourth location in Viet and Alexis Pham's burgeoning fried chicken empire. According to DABS July agenda notes, the business has applied for a limited service liquor license – which affords beer and wine sales. With the duo plotting an August opening – the restaurant is currently hiring for team members to staff the new 84047 location (7169 S. Bingham Junction Blvd.)
At this time, it might be worth reviewing the story to date, so pull up a stool. Viet Pham first made his name in Utah with the fine dining Forage, a molecular-gastronomy collab with chef Bowman Brown. The restaurant opened in 2009 and offered an idiosyncratic treat for marooned Utah foodies; plating as it did, a nightly eleven course tasting menu for a measly $89. Even to this day the format is almost completely devoid in the Beehive; Millcreek's Table X are the only name I can think of that followed in similar footsteps.
When Forage turned the lights off in 2016 (paving the way for Veneto to take over the space), Pham departed the local food scene, embarking on a variety of TV projects; notably besting Bobby Flay twice on the famed chef's one on one cook off show. After a two year hiatus, and endless speculation, Pham returned to Utah.
In a move about as diametrically-opposed to Forage as possible, Pham turned his attention to fried chicken rather than foie gras; apparently being turned onto the popular Nashville style preparation while roaming Orange County during filming for his appearances on the Next Food Network Star – the same launch vehicle that propelled Guy Fieri to Lagrange point success.
Pham – a Food & Wine Magazine Best Chef winner in 2011 – naturally tapped his fine dining background to create what some reckon is the best fried chicken sandwich for 100s of miles in any direction. Case in point, in an interview with Park Record this year, he confided it took no less than three years of experimentation with a variety of bakers and companies before he was finally happy with the bun the company uses.
Attention to detail is of course everywhere as he also went on to explain, "we start with the bottom bun, and then put sauce on it. Then we put on the chicken, pickles and slaw and then the top bun. It has to be done in that order, because if you put the slaw on before the pickles, it would not taste right." Pretty Bird's chicken is prepared using double battered boneless chicken thighs, brushed in buttermilk then coated in flour. The chicken is then fried in a fancy pants pressure fryer for the prized taste that fans crave.
The first restaurant opened in downtown SLC in 2018 to a baying crowd. The restaurant saw almost instantaneous lines out of the doors and down Regent Street. To this day, the line is often just as re-assuringly long.
Pretty Bird MK2 came next, opening in the Spring of 2021, moving into the spot left vacant by the departed Sampan (just over the road from Dee's at 675 E 2100 S). The opening came with a small menu expansion, adding chicken breast tenders alongside the hefty thigh-borne sandwiches and quarter cut prices of bird. The sophomore opening also saw the downtown location switch to walk-up window only; a smart move for the original's snug 525 square foot environs. Skip forward to this year and Park City came online around February, offering another dine in location for Pham-fans. Which brings us to this Summer and the latest venture.
At the time of writing there's no further info on what we might expect from the Midvale opening; but those who have sampled the current menu will no doubt be happy with simply more of the same. Stay tuned for more info, and in the interim, if you fancy changing up your fried chicken sandwich game – here are some other choices around town.
Pretty Bird
7169 S. Bingham Junction Blvd
Midvale UT 84047
Crack Shack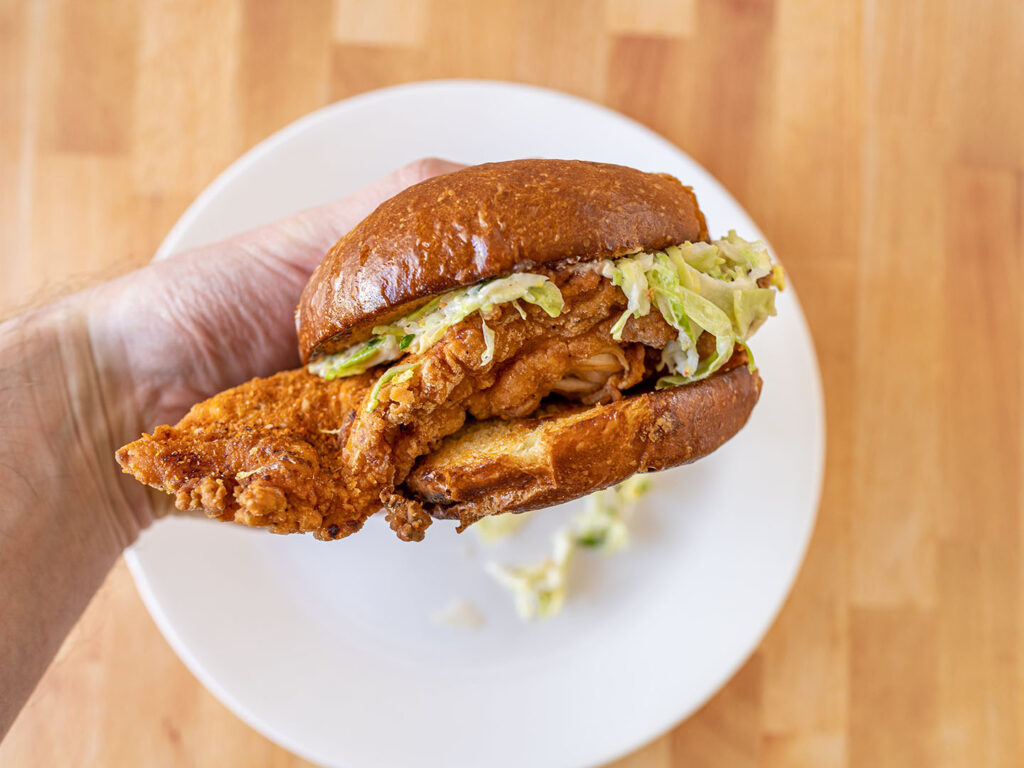 Despite the somewhat dubious name, the chicken sandwiches at this San Diego import are very much on point. Crack Shack use Jidori chicken (humanely raised, California based farms) as the core of their whopping fried chicken sandwiches, that are available in a range of flavors. The pictured Coop De Ville comes with pickled fresno chilies, pickles, lime mayo, napa cabbage on a buttery brioche bun.
912 E 900 S, Salt Lake City, UT 84105
(385) 715-0250
crackshack.com
Ginger Street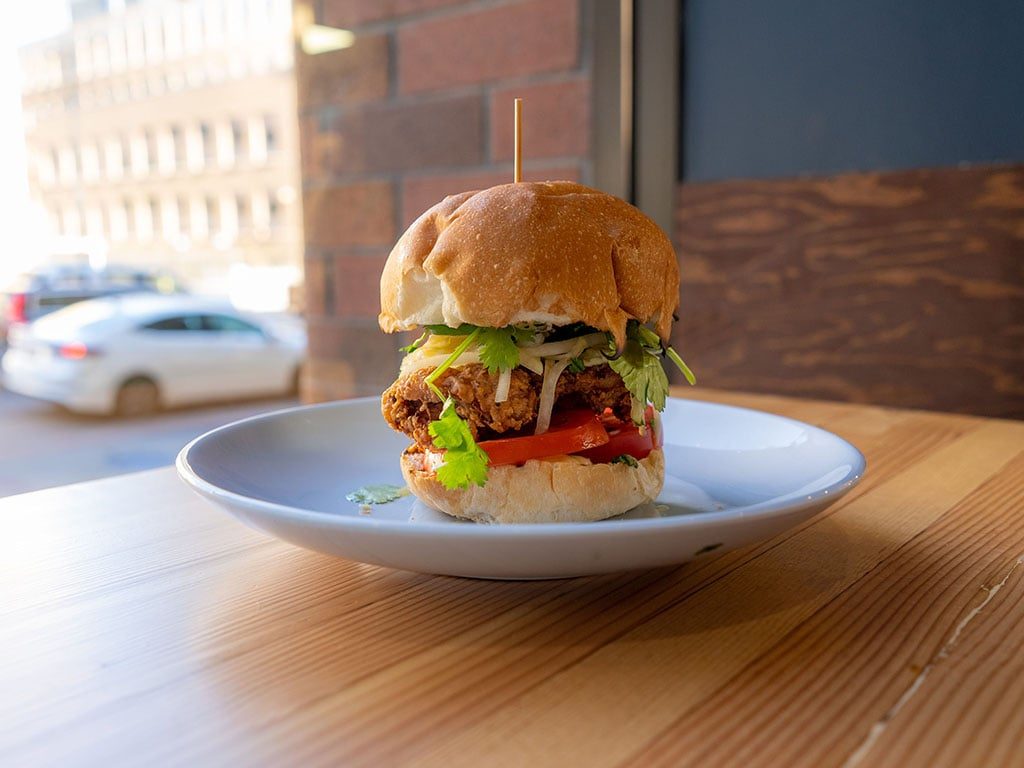 South East Asian flavors power this one at downtown SLC's Ginger Street. The handsome sandwich piles on green papaya slaw, tomato, jalapeño, Kewpie Mayo – and also uses a brioche bun.
324 S State St, Salt Lake City, UT 84111
(385) 477-4975
gingerstreet.com
Kokonut Island Grill
This one is a monster of a sandwich, and unapologetically messy with it too. The heaving Katsu Chicken comes with fried chicken, lettuce, tomato, onion, katsu sauce and spicy mayo. Bring a napkin.
Various locations
kokonutislandgrill.com
Avenues Proper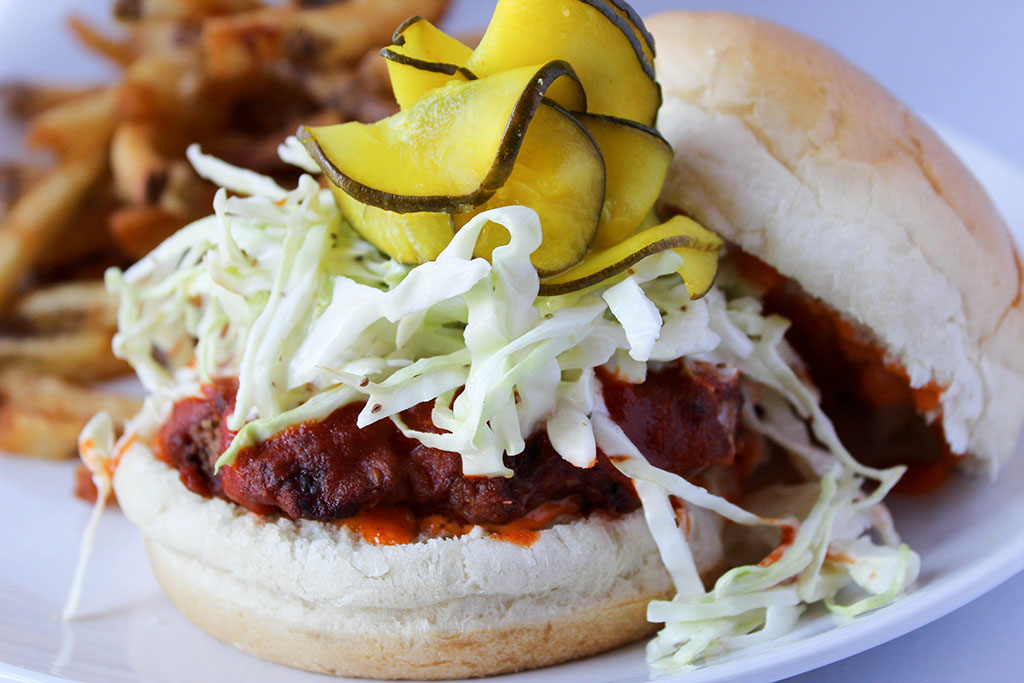 This Avenues brew pub turns to ground chicken – rather than regular fried breast or thigh – for their spicy fried creation. Slaw and pickles add a nice zesty and crunchy contrast.
376 8th Ave, Salt Lake City, UT 84103
(385) 227-8628
avenuesproper.com
Popeyes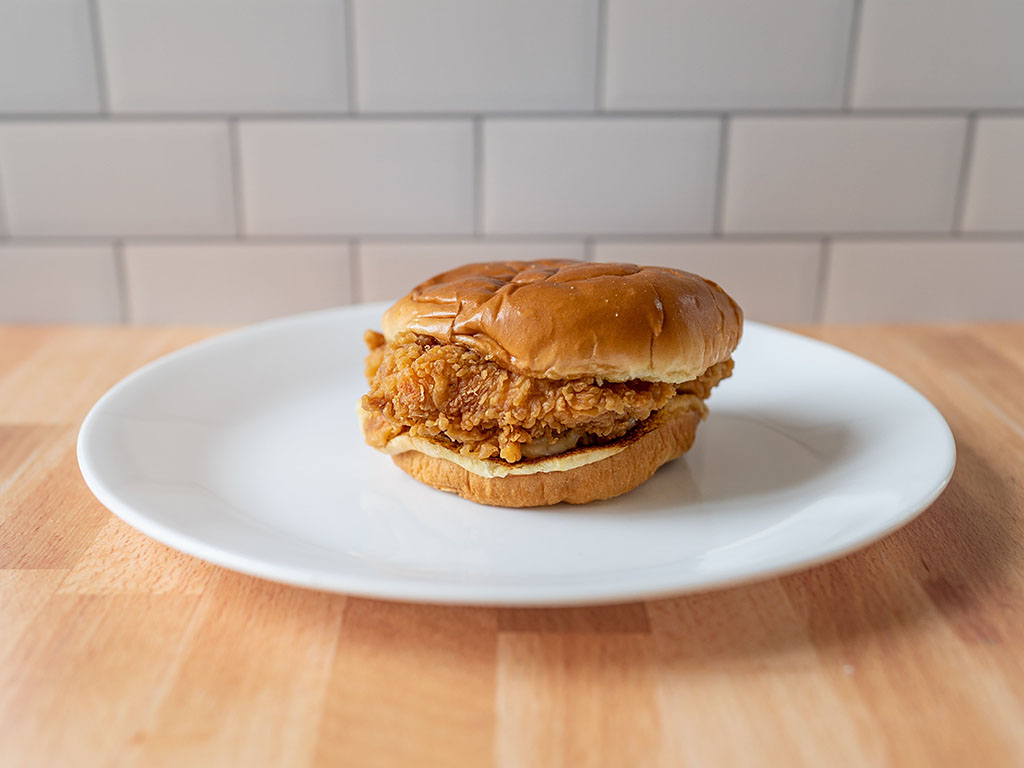 I know I know, it's fast food, but for the money, it's hard to beat the OG (contemporarily speaking) fried chicken sandwich. This still stands above the competition in my mind, when it comes to a sub five buck fried sandwich. If you want to support a local upstart, the KFC Chicken Sandwich is a decent second place fast food sandwich in my book.
Various locations
kokonutislandgrill.com
Keep the conversation going
Want to stay on top of the SLC food scene, minute by minute, dish by dish? Here are a few other places you should follow along:
Hi, I'm Stuart, nice to meet you!  I'm the founder, writer and wrangler at Gastronomic SLC.  I'm a multiple-award winning journalist and have written in myopic detail about the Salt Lake City  dining scene for the better part of seventeen years.
I've worked extensively with multiple local publications from Visit Salt Lake to Salt Lake Magazine, not least helped to consult on national TV.   Pause those credits, yep, that's me! I'm also a former restaurant critic of more than five years, working for the Salt Lake Tribune.    I'm largely fueled by a critical obsession with rice, alliteration and the use of big words I don't understand.   What they're saying about me: "Not inaccurate", "I thought he was older", "I don't share his feelings".
Want to know more? This is why I am the way I am.
This article may contain content provided by one of our paid partners. These are some of the best businesses in Utah. For a list of all our current and past relationships see our
partnership history page
.