It's been a busy old month since the last roundup of new openings in Utah; if you've managed to snaffle your way through all twenty in the weeks since, well, in short order: what's wrong with you? I salute you. Can I join you? Yes, yes, stop with the blathering, you're here to unearth what's next to eat. Here it is. Oh that burrito? You'll need to keep reading to find out…
Block Party 2700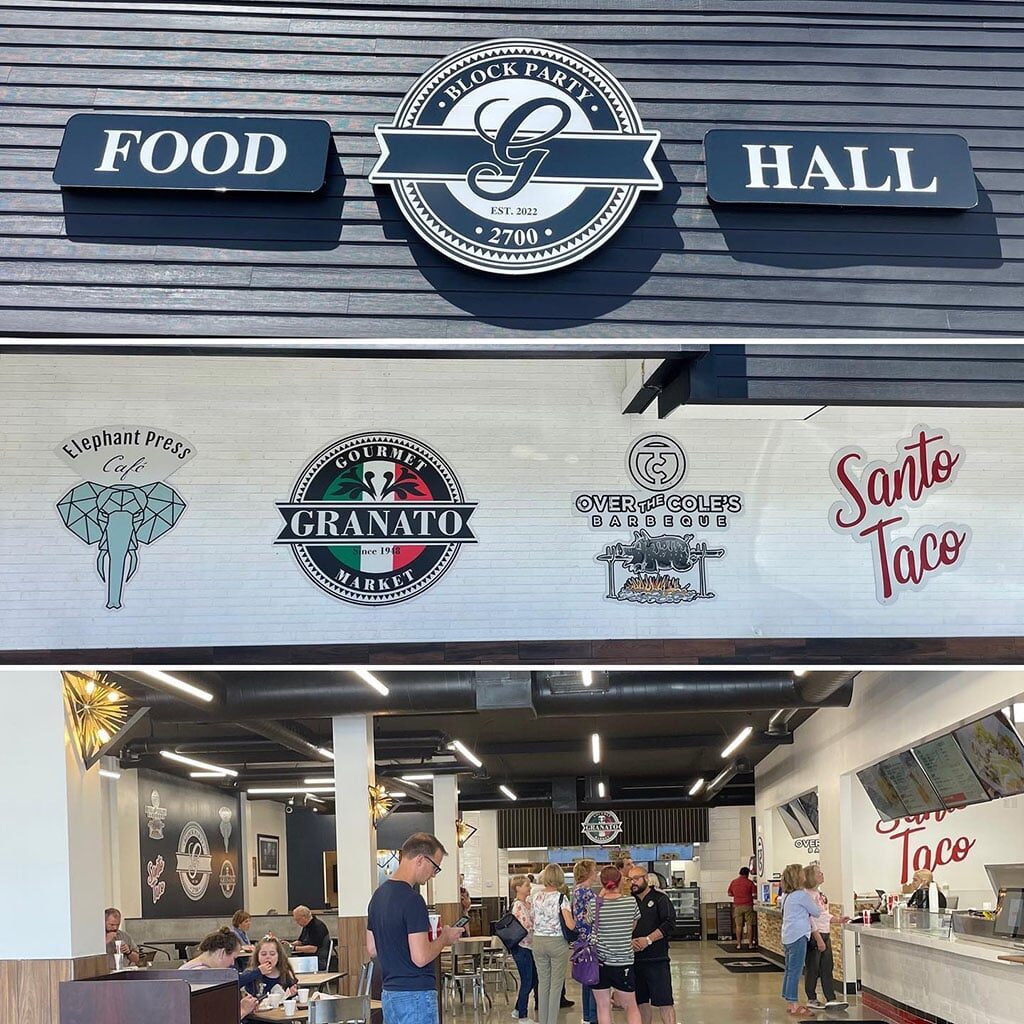 It's been a long time coming, but the national embrace of food halls is finally starting to catch hold here in Utah. As with most trends, our big-city cousins are typically five to ten years ahead of us. If you're still new to the party, here's the quick 101 on food halls: a big space, chopped up into unique kitchens, each focused on a specific type of food. Grab one of this, two of that, sit in and enjoy in a communal dining room.
Speaking of parties then, residents of Holladay this week toasted the opening of what you might argue is SLC's first true food hall. HallPass was for sure the first to hit the Beehive, but Block Party is the first in Salt Lake county to really champion a mix of disparately owned vendors.
Anyway, the food hall at 4044 S 2700 E on the site of the former Granato's Deli in Holladay is home to several options if you swing on by:
Elephant Press Cafe – pastries from Fillings & Emulsions, hot and cold drinks
Santo Tacos – Mexican cuisine
Over the Coles – BBQ with a variety of in-house smoked meats, fresh sides, and sauces
Granato Gourmet Market – hot pizza and pasta, sandwiches, salads, and dessert
Self-serve Marketplace
You can see the full list of menus here. Block Party is the first of many food halls you can expect in these parts over the next 12 months. I've rounded up everything you can expect here.
4044 S 2700 E, Holladay, UT 84124
blockparty2700.com
Brocheta
This one appears to be a new food option inside one of Shades Brewery locations; either the South Salt Lake tap room, the new downtown location, or perhaps both? The brewery itself mentions the newer downtown location, reviews cite SoSL. At any rate the interesting new food option is the work of Ida Villasana, who has partnered with the brewer to offer a range of Latin flavors to pair with the unique suds at Shades. Think chimichurri crowned chorizo dogs and sweet corn cobs doused with cotija and pico. Certainly beats the boring old brewery burger.
154 W Utopia Ave, South Salt Lake, UT 84115
(435) 200-3009
shadesbrewing.beer
Capt Remo
Canton Soifua is the name behind this seafood-focused food truck now roaming SLC streets. I briefly mentioned this one in last month's roundup, but details where scant on the ground. That still seems to be the case as the business gears up. For now you can follow along on Instagram here, and also here's a little snippet over on Google:
"Sharing our love for fresh fish and all the ways to enjoy it. Poke bowls, fish tacos to garlic shrimp and some seasonal specials. Know the source of your fish and where it comes from to gurantee a high quality Grade A fresh product that our customers will keep coming back for. Cook what is in season to enjoy the many diiferent ways fish is served up in the islands. Captain Remo is not just a name but a fishing vessal out of the Honolulu harbour. Its not also just a FV, Captain Remo is the owner of our food establishment. Captain Remo is not just an owner, He's a legend. From the harbours of Honolulu to American Samoa to San Diego and back to Honolulu. Fishing the whole of the Pacific Ocean to bring you the best!.. Boat to Bowl..Lessgoo!!"
Emigration Cafe
Perhaps the number one cause of "what do you know about…" emails I've received over the last few months is this new spot. Opened in the former One-O-Eight space, and Sea Salt before that, the casual cafe is Scott Evans' latest venture.
Emigration Cafe functions as a contemporary all day cafe offering a counter service breakfast, full service lunch and full service dinner. The menu features Roman style wood fired pizza, salads, sandwiches and mains. A careful glance over the veggie resplendent plates and ingredients shows a nod and a wink to one of Evans' chef-crushes, Yotam Ottolenghi.
1709 E 1300 S suite 108, Salt Lake City, UT 84108
emigrationcafe.com
Gordos Tacos and Beer
Another buzz-generator (based off the number of folks look for info on our site) is this newly opened spot along 9th East. Once home to Cous Cous (and I think Bajio Mexican Grill before that?) is Gordos Tacos and Beer – a new Mexican restaurant in Murray. The menu is concise and wallet friendly, offering, err tacos and beer.
5470 S 900 E, Salt Lake City, UT 84117
(801) 783-7616
De Los Muertos Mexican Kitchen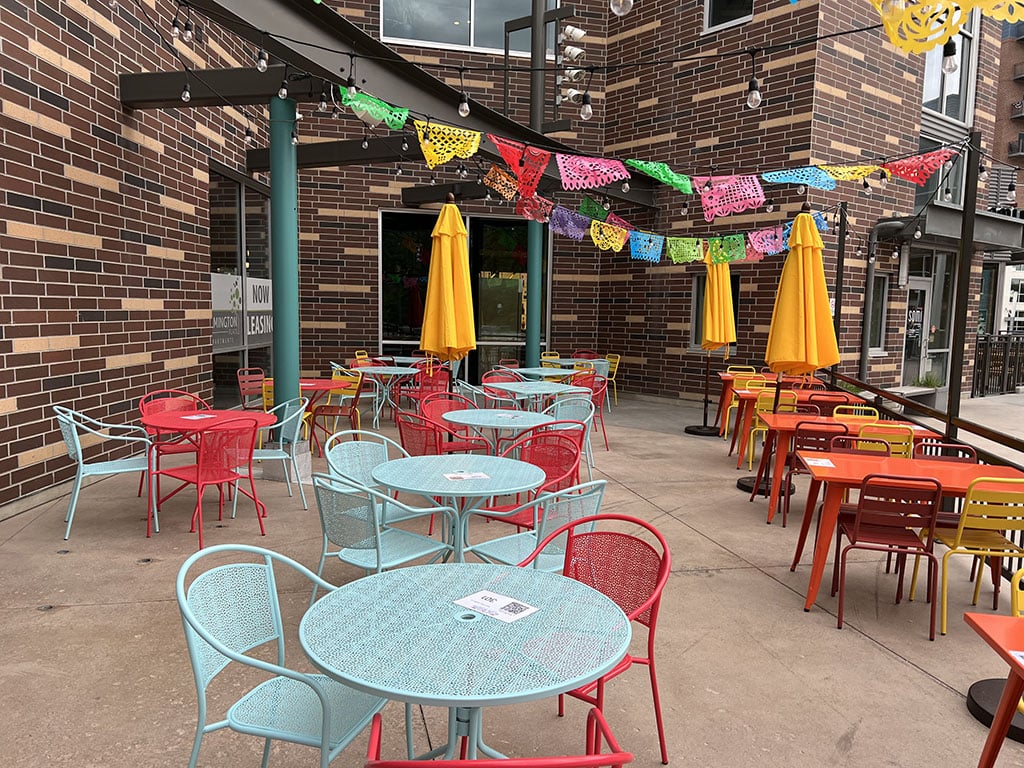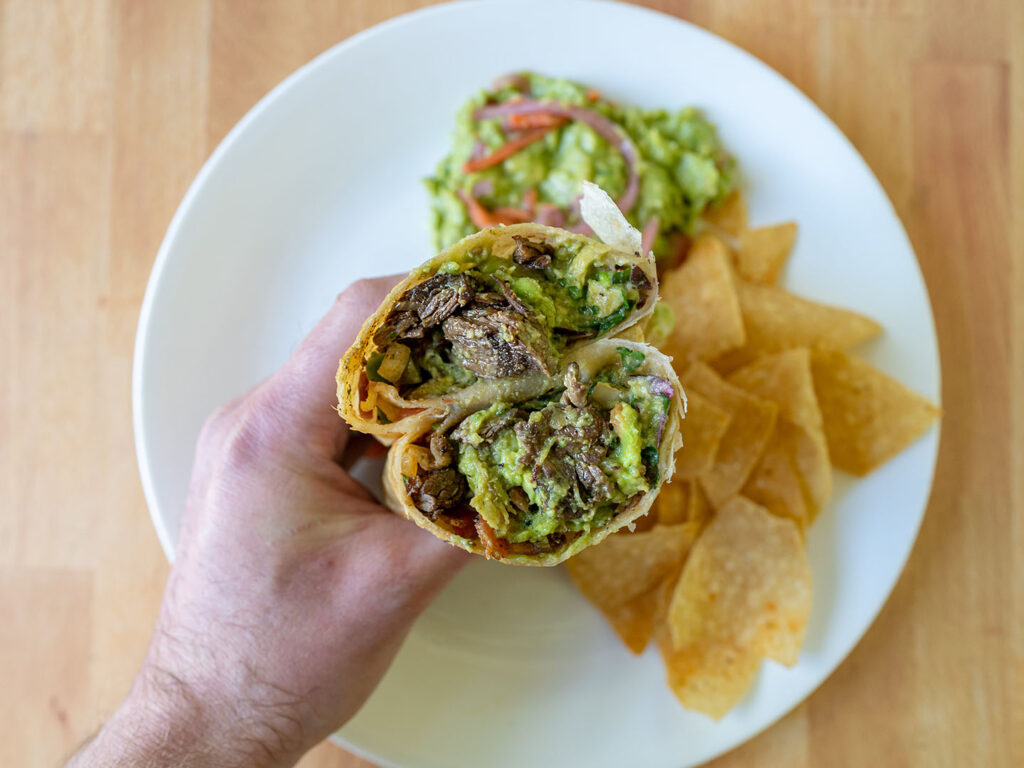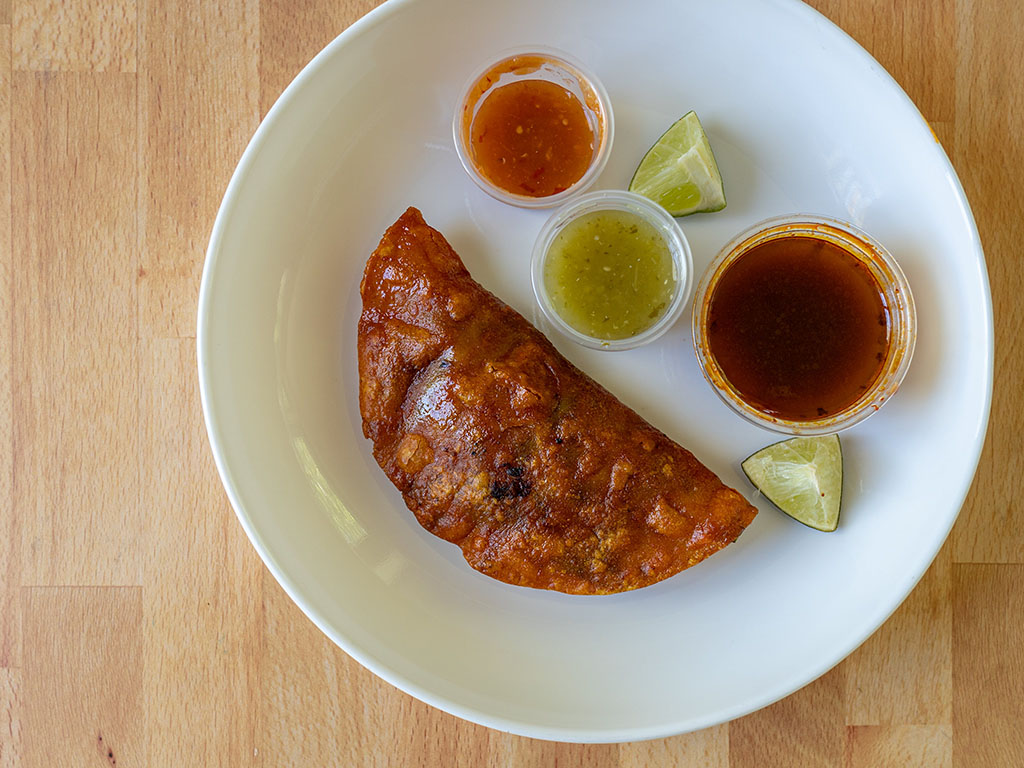 In comparison then, this new spot opening in Sugar House did so with a hush and whisper; possibly due to the restaurant still slowly hiring and tooling up. De Los Muertos in Sugar House slots in neatly between Traeger nation HQ and SOMI. Outside a colorful bedecked patio beckons for those warmer months, and inside, a menu by chef and owner Aza Torres is build around Monterey style burritos. Grab a napkin if you choose the doused birria tacos pictured above.
215 Wilmington Ave Suite 104, Salt Lake City, UT 84106
(801) 869-1006
Flavas by Maria's Kitchen
This one opened up in February, so here by way of completionism. This new food truck operates from the Ogden area and reckon they have the "best birria tacos as well as burritos, nachos, elote cups."
JJ Donuts
This one from our what's new, blow by blow Instagram account, newinutah. Remember to follow along there if you want the bleeding edge of what's new, the moment it breaks.
15 US-89, North Salt Lake, UT 84054
(385) 399-7399
Laziz Kitchen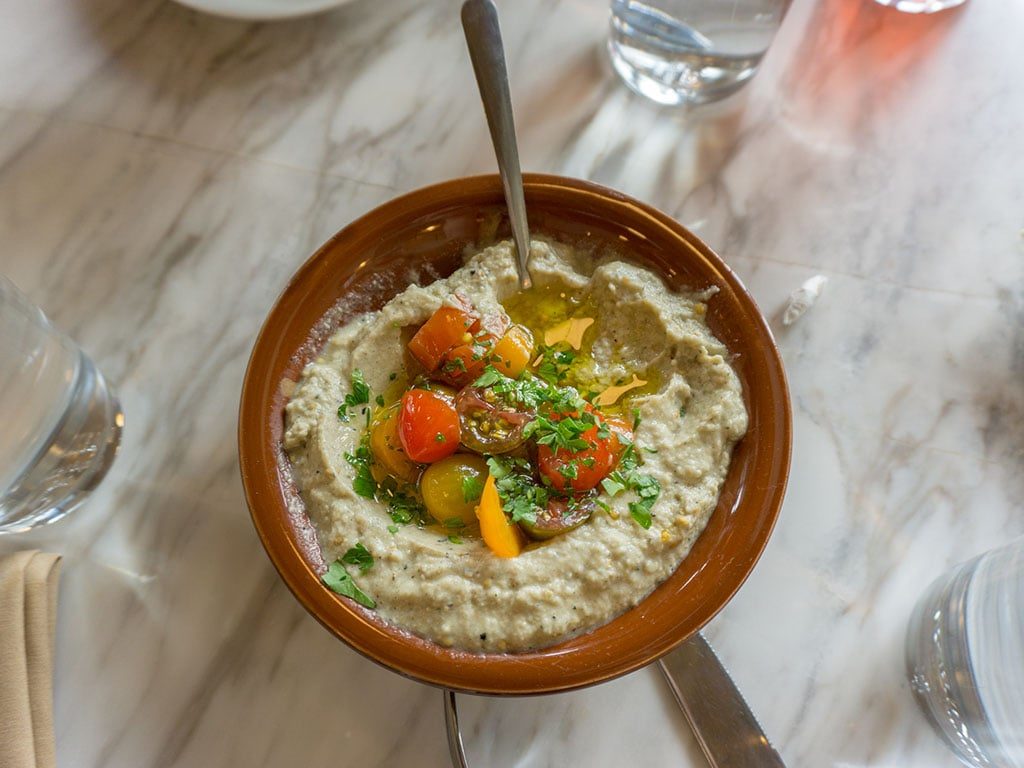 Pitching up in Midvale's old Curry Up Now (survived by the lone downtown location in SLC now) is the second outing for this Lebanese favorite of many. Here's the full presser from the company:
Laziz Kitchen is excited to announce the opening of its second location! This time, they're setting up shop in the southern end of the valley located at 1076 Ft Union Blvd, Midvale. New partners to Laziz Kitchen/Laziz Foods Group, the Netto and Hannon family, are looking forward to welcoming fans of the eatery and new customers alike with the same delicious food and an inviting atmosphere.
"We are excited to be expanding the Laziz Kitchen brand with the addition of our Midvale location," said John Netto. "Laziz Kitchen is a local favorite rooted in a fresh and fun atmosphere, good food, community engagement, and a strong passion for bringing culinary diversity to Salt Lake City."
Laziz Kitchen will hold a ticketed soft opening on Wednesday, May 18th, and will open for regular business on Thursday, May 19th, 2022. They invite guests to enjoy the modern take on not-so-traditional Lebanese cuisines with a family-friendly atmosphere. Come for the Zaatar Roasted Veggie Bowl, famous Hummus, fried Cauliflower Florets, or the ever-popular Lamb Burger. A kid's menu will be coming soon to this location.
"With Utah being the fastest-growing state in the country and also the youngest state by age, it's so exciting to grow the Laziz Kitchen brand into new corners of our community," said Co-founder of Laziz Kitchen, Derek Kitchen. "Laziz Kitchen has been and will always be a place of inclusion and warmth for all people. When you come to Laziz, we want you to feel like you're coming home. We pride ourselves on being a place that is welcoming and inclusive for all."
Also worthy of note, if you haven't been in a while, the menu has evolved quite a bit since their initial opening in the Central 9th.
1076 Fort Union Blvd,Midvale, UT 84047
lazizkitchen.com
The Paleta Bar
This one according the Trib's Stefene Russel, accordingly, "Utah's first location for New Mexico-based ice pop shop The Paleta Bar in Provo (1283 N. University Ave.). Paleta is Spanish for "ice lolly," and Mexican paletas, unlike sugar-water-and-food-coloring Popsicles, are made with fresh fruit, cream and milk. The Paleta Bar also offers chocolate-dipped ice pops."
1283 N University Ave Suite 101, Provo, UT 84604
(801) 691-1879
Poke And Sushi Hut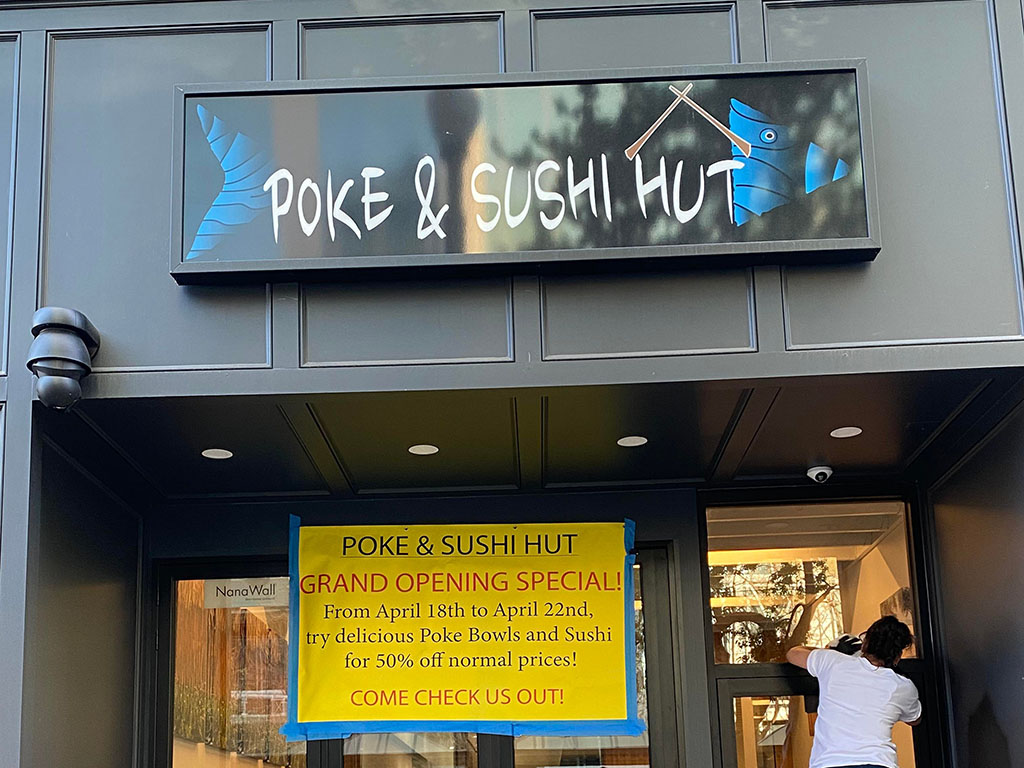 Would it even be a real new restaurant roundup without mention of boba, poke or fried chicken? No. No it wouldn't Enter stage left then, this new hopeful to Main Street's bustling streets. Open 7 days a week, 10 a.m. to 8 p.m. the menu does exactly what the name says on the tin, at wallet friendly prices too. Poke bowls run $10-$14 with maki sushi starting from $6.49 for a basic Cali roll.
270 S Main St, Salt Lake City, UT 84101
(385) 867-5100
pokeandsushihut.com
Richie Lush's BBQ
I waxed lyrical about the Kamas original. Sure, it was off the back off one meal (a rube maneuver I know, but hey, Kamas), but it was easily the best BBQ I've eaten in Utah in a half decade. Easily. Anyway, the inaugural location is presently closed for repairs, just as this new spot in Park City opens to welcome guests.
7182 Silver Creek Rd
Park City, UT 84098
lushsbbq.com
Shanasheel Grill
Formerly Ishtar Grill and Shawarma King before that, this Millcreek space is now Shanasheel Grill; it's unclear if the change in names has changed the ownership or operations, but do let me know. At any rate while you might have spied the name on delivery apps for a while, May is the formal official opening of this Mediterranean spot. The menu reads like my kind of party – big plates of bone in meat atop lusciously layered rice.
3300 S 725 E, Millcreek, UT 84106
(801) 668-2507
shanasheelgrill.com
Sushi Pro
Another mentioned last month, and by way of completion again, another now officially open this month. Sushi Pro is a sushi truck from chef Josh Talley.
4337 Harrison Blvd, Ogden, UT 84403
(385) 432-0834
sushiproogden.kwickmenu.com
Vivi Bubble Tea
Would it even be a real new restaurant roundup without mention of boba, poke or fried chicken? No. No it wouldn't Enter stage left then, this new hopeful to SLC's bustling streets. We last mentioned this one in December 2021, and it appears the bubble tea shop is now in business
665 E 400 S suite A, Salt Lake City, UT 84102
(385) 799-2722
facebook.com/vivibubbleteaslc/
Yoko Taco
This one has been a while coming, last mentioned in October 2020, but the new concept from downtown's Yoko Ramen is now here. Located in the Granary district, which is a hop and skip from the Central 9th (let me know if you're getting dizzy) the menu is modern is concise and modern. Tacos run $4-6 and creations include item such as the pork belly with kimchi, fried chicken with salsa and a crispy pig ear with tomatillo salsa.
85 W 800 S, Salt Lake City, UT 84101
(385) 218-4325
facebook.com/yokotacoslc
Coming soon
Aunty's Hawaiian Kitchen
Coming soon to Riverton, is this new Hawaiian option.
12544 S Pasture Rd Ste E, Riverton, UT 84096
(385) 296-7065
Bistro Provenance
This one should raise some pulses. Headed to Provo in the coming months a brand new French bistro – a culinary option that is sorely lacking on the Utah landscape. Owned by Chad Pritchard of Oregano Italian Kitchen and Fat Daddy's Pizza, the menu look set to scratch an itch for many a Francophile; French onion soup, charcuterie, moules frites and confit canard are just a few of the classics set to come to Utah county.
63 E Center StProvo, UT 84601
facebook.com/BistroProvenance
Crave Cookies
Sandy should get a new outlet of this cookie brand soon.
9680 S State St, Sandy, UT 84070
cravecookies.com
Dirty Bird Fried Chxx
Would it even be a real new restaurant roundup without mention of boba, poke or fried chicken? No. No it wouldn't Enter stage left then, this new hopeful sometime soon to the streets of Clearfield. Pencil May 23rd in your diary for the grand opening . The company serves up fried chicken sandwiches and has existing locations in Ogden and Provo.
846 W Antelope DrClearfield, UT 84015
dirtybirdchxx.com
Dough Miner
Be still my beating heart. No literally, my heart will be still if I indulge here too much. I had to leave the UK and it's myriad assault of pies, sausage rolls, puddings, and pasties in fear of my own life. But they found me, you can never escape, pasties are now here in Utah. No, not those pasties. Stop it. These are of the Cornish variety, hot water crust pastries, thick and arterially oppressive, stuffed with vegetables and meat. Once upon a time, London Market slung the odd U.K. pie and pasty around these parts, but thankfully for my well being, they've been absent from our streets for some time. Until now…
945 S 300 W, Salt Lake City, UT 84101
doughminer.com
Italian Graffiti
A little more info has arrived on this new concept for The Gateway. Here's the latest press release info and some renders of what to expect:
Italian Graffiti is the first full-scale restaurant by Nice Hospitality, the visionary team behind HallPass and SkinnyFATS. This new venture will offer a contemporary interpretation of classic Italian fare and hand-crafted family recipes from Chef-Partner Marc Marrone's Italian-influenced upbringing in New York City. Building upon nearly 20 years of experience earned at world-class restaurants across the country, Chef Marc brings a wealth of knowledge and expertise to Nice Hospitality's newest venture. Guests can expect to be immersed in the art of vibe dining with Italian Graffiti's expansive wine menu, open format cooking, daily house made pasta, a full bakery, and dry aged meat program. The area's first modern osteria will feature floral-inspired decor with one-of-a-kind art installations throughout the dining room, bar, and lounge areas.
"With grandparents who immigrated from Italy, my most cherished family traditions centered around sharing homemade meals together. I want our guests to experience that same gracious hospitality and convivial atmosphere," says Marc Marrone. "The popularity of HallPass at The Gateway paved the way for this new concept as we feel it has increasingly become a coveted dining and entertainment destination in Salt Lake City."
Maria's Mexican Grill
Set to open in the old Geckos space in South Jordan is a second location for Maria's – the folks behind the popular Mexican eatery in Millcreek. More info.
781 W 10600 S, South Jordan, UT 84095
Nomo Asian Grill
Anther newinutah find, but one with not much info for the time being. Nomo is replacing OMO Korean BBQ on 35th South – a spot that has been host to a rotating roster of restaurants down through the years. The most notable business to operate our of the location was Pho Green Papaya aeons ago; a mighty fine Vietnamese spot missed by many. Many have followed in their foodsteps here, before the recent KBBQ spot, names include Noodles & Chopsticks and El Pariente.
3500 S 2000 WWest Valley City, UT 84119
Mint Tapas
Still rumor, but frankly it's all over town, Mint Sushi will shortly be making their third appearance at the old Copper Kitchen in Holladay. More details as I have it, and remember, it's only a rumor until I say it isn't, or err, they do.
4640 S. 2300 East, Holladay, Utah 84121
Urban Hill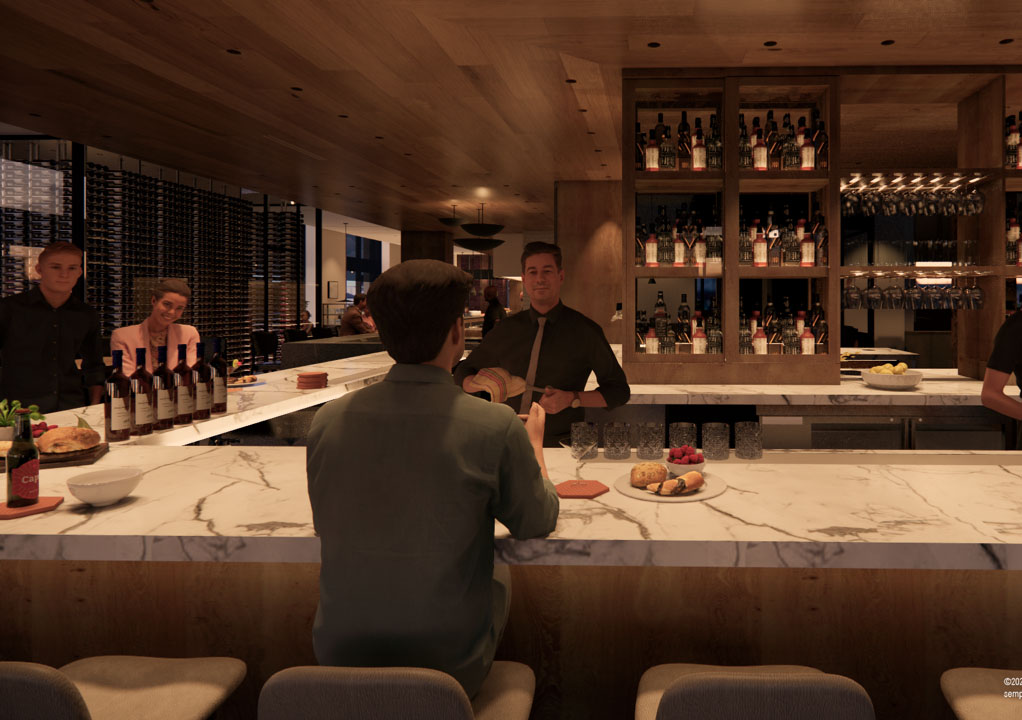 Here's the latest press release on this one. TL;DR this is the upscale spot from PC's Hearth And Hill, coming to the newly minted Post District (there's another for you):
Following the successful opening of their catering outpost and café Hill's Kitchen in Park City in the spring of 2022, the Leave Room For Dessert Eateries' (Hearth and Hill) team is excited to continue expansion plans in Utah by announcing the kick off for construction on their next, and perhaps most high-profile to-date restaurant project, Urban Hill—a high-end 7,200 sq. ft. chef-driven concept coming to the new Post District mixed-use development of Salt Lake City at 550 South/300 West. With Utah having the fastest-growing population in the US, the group hopes to deliver on a demand for higher caliber restaurants in the up-and-coming culinary market of Salt Lake with Urban Hill later this year.
The full-service, 190-seat restaurant designed by Denver-based firm Semple Brown will feature a formal dining room showcasing commissioned art by local artists, a state-of-the-art display kitchen, a spacious bar area, plus a 90-seat, 1,500 sq. ft. patio. Urban Hill will present modern, innovative cuisine– much of which will come out of a custom wood-fired grill– a specially curated wine collection, local craft beers and cocktails and more, all within a sophisticated, high-design space.
"We like blazing new trails. In Park City, Hearth and Hill was a pioneer of sorts in the Kimball Junction area, which now is known as 'the other Main Street.' We take pride in helping make a moribund part of town vibrant, while being convenient to our associates and guests, and are confident about the same resurgence occurring at Post District," says LRFDE Co-founder David Kirchheimer.
At the helm of the culinary program is LRFDE Culinary Director Jordan Harvey (Apex at Montage Deer Valley, Zoom, Sweet Basil) alongside Executive Pastry Chef Jessie Rae Nakoneczny (Stein Erikson Lodge, Sundance Resort, The Saltry), who together have already been making waves with their thoughtful cuisine at the group's flagship restaurant Hearth and Hill and now Hill's Kitchen. Joining them is Executive Chef Nick Zocco (Tupelo, SW Steakhouse/Wynn Las Vegas) and Sous Chef Kyle Williams (Handle Restaurant, Powder at the Waldorf Astoria) who will oversee the day-to-day at Urban Hill. Together, the all-star team is thrilled to take their culinary skills to new heights while still being rooted in sourcing locally and operating sustainably—two core values of LRFDE—to create an elevated experience for diners of SLC.
"Urban Hill's proximity to the business district and sports and cultural venues makes it a natural for our first fine-dining restaurant," adds Leave Room For Dessert Eateries' Co-founder Brooks Kirchheimer. "We've loved the positive response we've received from our guests at Hearth and Hill and now Hill's Kitchen in Park City, and we're excited by the prospect of helping elevate Salt Lake's fine-dining scene by bringing this new level of Leave Room For Dessert Eateries to this burgeoning neighborhood."
Wanda Lee's Chicken Coop
Expected late Summer 2022 to 2115 South State Street according to their website; which itself uses the exact same layout and design as a certain Dolly Donuts. Oh and it also mentions dolly potatoes and planks too. So I'm guessing a copy and paste web designer, or, more likely, a second concept from the same folks. And yep, that's the address of the old Busy Bee. Hopefully they grill up a garlic burger in their storied honor!
2115 South State Street
wandaleeschickencoop.com
Previously mentioned with no further update
We've written about the following new restaurants in recent posts tracking new restaurants around SLC. We've heard no further news on these at this time:
Keep the conversation going
Want to stay on top of the SLC food scene, minute by minute, dish by dish? Here are a few other places you should follow along:
Hi, I'm Stuart, nice to meet you!  I'm the founder, writer and wrangler at Gastronomic SLC; I'm also a former restaurant critic of more than five years, working for the Salt Lake Tribune.  I've worked extensively with multiple local publications from Visit Salt Lake to Salt Lake Magazine, not least helped to consult on national TV shows.
I'm a multiple-award winning journalist and have covered the Utah dining scene for the better part of fifteen years.   I'm largely fueled by a critical obsession with rice, alliteration and the use of big words I don't understand.   What they're saying about me: "Not inaccurate", "I thought he was older", "I don't share his feelings".  Want to know more? This is why I am the way I am.
This article may contain content provided by one of our paid partners. These are some of the best businesses in Utah. For a list of all our current and past relationships see our
partnership history page
.