Neutral Ground
Kicking off this month's roundup of the new and notable updates on our dining scene – this intriguing new opening. Neutral Ground is the work of John Belvin Jr. – former Louisianan private chef and now – Utah based restaurateur.
Belvin brings with him a range of traditional New Orleans' dishes such as boulette, etoufee and a range of po boys; not least straying into some fun creative territory with the likes of Cajun pasta (pictured above) with crab, shrimp, cajun chicken and smoked sausage.
For now the business is in a soft opening of sorts, operating only as a to go option for the time being. You can check out their full menu here which is available Tuesday through Saturday, 11.00 a.m. – 7.00 p.m. Social media posts indicate the business is eyeing an April date for dine in. A glance of their social media account suggests the former Nomad Eatery space out by the airport they call home, has been given a luxurious make over.
Definitely one to keep an eye on, and already generating some solid plaudits, "killer fried chx, legit southern comfort food", as our contributor Christy puts it (pictured).
2110 W N Temple St, Salt Lake City, UT 84116
(801) 953-0443
IndieGo
I previewed this new South Salt Lake Coffee shop last month, and am happy to report February sees them open to the public. The menu also has a few surprises up it's sleeves; alongside the cortado and latte – chicken tikka pies anyone?
3310 S 500 E, South Salt Lake, UT 84106
(801) 819-4911
Pretty Bird Park City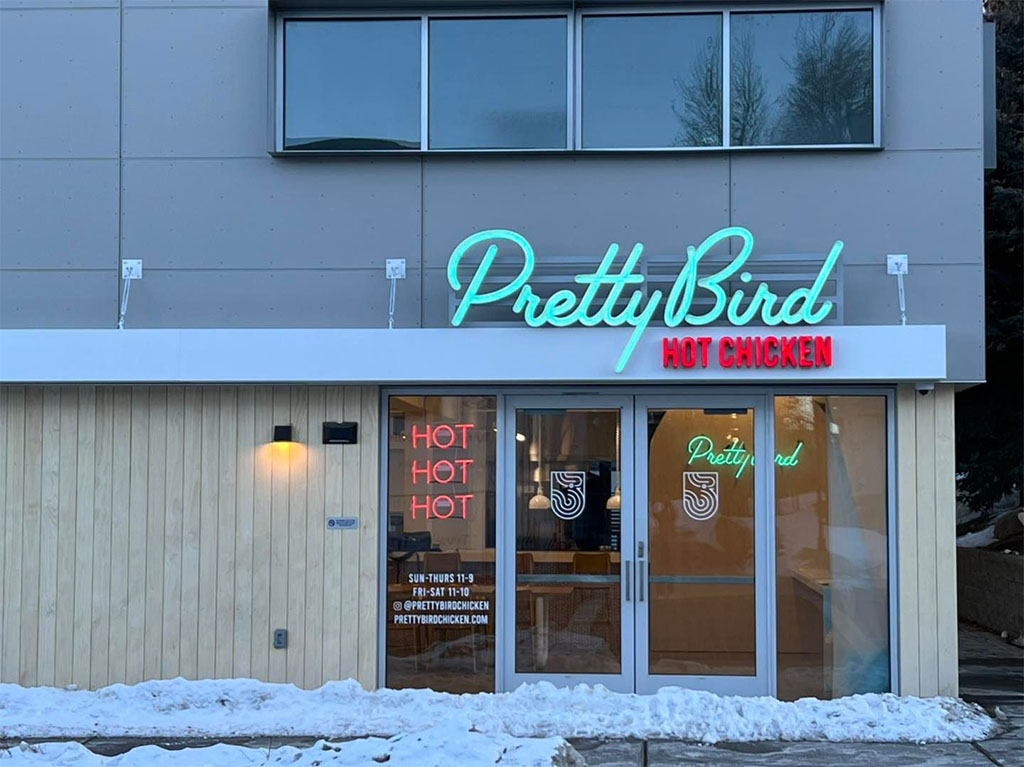 The third location of Viet Pham's Nashville hot chicken empire is now open in Summit County. The Prospector Avenue business recently flung their doors open – you can see some snaps from the opening day over on City Collective. 2021 saw the business revamp their Utah setup – their original downtown SLC shop becoming a walkup only option, with a new Sugar House location becoming the flagship store. The PC opening is expected to be followed by a Boise, ID location.
1775 Prospector Ave, Park City, UT 84060
prettybirdchicken.com
Red Fort Cuisine of India
Now completing their expansion – hailing from St. George originally – Layton can now welcome this new Indian eatery. The menu ticks all the boxes you'd expect.
1600 Woodland Park Dr, Layton, UT 84041
(801) 820-6646
redfortcuisine.com
Tin Roof Grill
This Sandy restaurant is now back in business, welcome customers back to their tables this month. Open seven days a week serving breakfast, lunch and dinner – the business (I believe) is now under new ownership.
9284 S 700 E, Sandy, UT 84070
(801) 566-3931
tinroofgrill.net
Yalla Kosher
Look. I love tacos and boba like the next guy, but man cannot live off of tapioca and birria alone. Which is why news that this Heber food truck would be headed SLC way made me sit up and take notice. Yalla promises a variety of Kosher-friendly Israeli cuisine, something we're not particularly awash with. The truck is operated in partnership with Chabad Lubavitch of Utah.
You and I Kitchen
Pho and banh mi are the order of the day at this new Vietnamese spot, owned and operated by chef Sean Do. The opening is the second for the local business – you'll find the original over in West Jordan. In an ever inflating world, prices here are wallet-friendly with plenty under ten bucks.
8528 S 1300 E, Sandy, UT 84094
(801) 930-9944
youandikitchen.com
Coming soon
Adelaide Restaurant And Bar
That's the name for the new hotel restaurant coming as part of the Le Meridien hotel opening planned for the Fall this year. In a news update from Visit Salt Lake, the organization confirmed the following about the new opening:
The Le Meridien and Element hotels will open in October of this year, adding another 264 rooms to Salt Lake's convention district. The hotels will be in a singular building adjacent to convention center and to the Vivint Arena, home of the Utah Jazz. The Le Meridien boasts 144 guestrooms, approximately 10,000 square feet of meeting space, a rooftop bar, and the Adelaide Restaurant & Bar, featuring elevated farm-to-table southern cuisine. The Element offers 120 guestrooms, a rooftop bar, and a comfortable yet upscale lobby with a fire place and floor to ceiling windows.
A food hall for Granary District
The always in the know Building Salt Lake reported on this new concept coming to the space the departed Rico Foods leaves available. In this story, BSL's Taylor Anderson writes about the folioing new facility
Mountain West commercial real estate is actively working to lease out space at 545 W. 700 S., near what is becoming the heart of the rapidly redeveloping Granary District. A flyer for the space advertises a bar and tavern fronting 700 South, a food hall fronting Woodbine Street, food trucks halfway down and office space. The space was formerly home to Frida Bistro and the headquarters of Rico Brand. After Frida closed, it was briefly replaced by Rico Cocina y Tequila Bar. The immediate area is considered somewhat walkable but is teed up to see immense redevelopment that is already underway. Slackwater Pizzeria & Pub is set to open across the street adjacent the Industry SLC office building that seems to have catalyzed a construction frenzy.
The new facility joins The Local Market & Bar – another food hall headed our way – that we previewed back in December here. Utah hasn't yet nailed the food hall concept, so successful and prevalent in other cities around the nation, let's hope one or both or these does!
Cheryl's Bagel's
This one spotted over on a local Facebook group. No ETA yet, but it looks like a new bagel shop is headed Ogden's way:
I own Cheryls Bagels and I recently signed a Letter of Intent to open a bagel shop in Ogden. In the meantime I am reaching out to the owners of brick and motar small business in the following towns: Ogden, Salt Lake City, North Salt Lake, West Haven,Roy, Clearfield, or South Weber to see if any would be interested in partnering with me as a pick up location for pre-orders.
Crema Coffee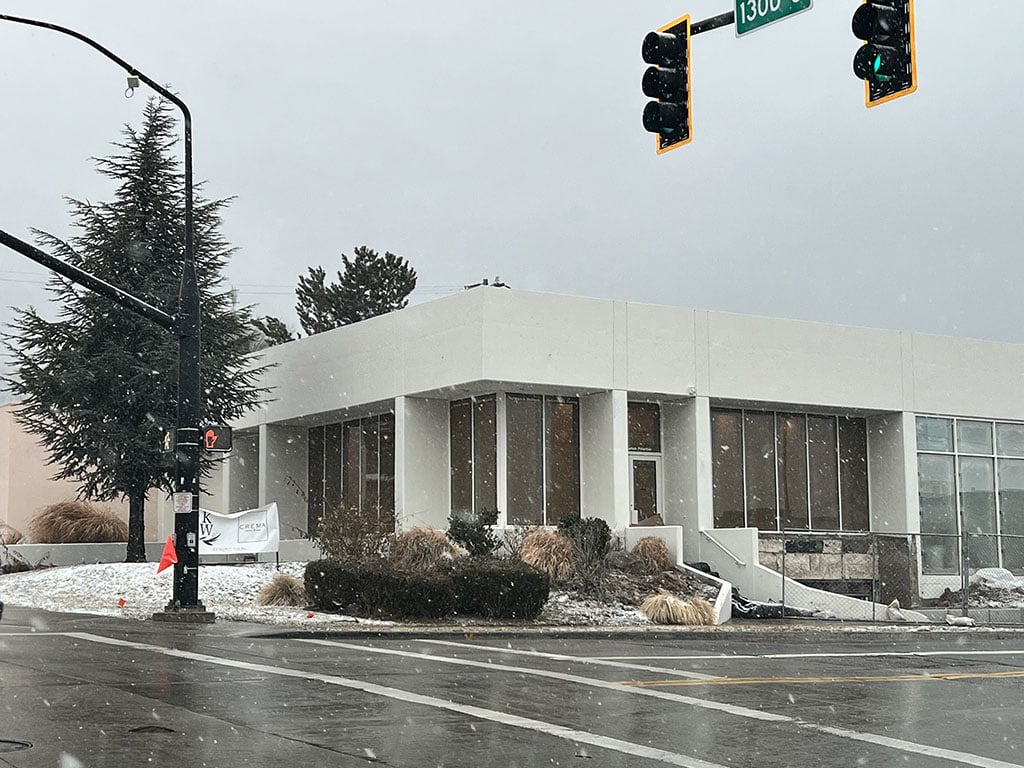 Another eagle eyed spot. This one from our friends over at Salt Plate City – who sent the above shot my way – a new coffee shop coming to the corner of 2100 S and 1300 E.
Cupbop
Make that 35 locations – for the homegrown Korean fast food outlet. Yep, you read that right, thirty five.
J. Dawg's
Another locally grown chain. You might recall that the brand departed downtown's Main Street in recent times – their former location finding a new tenant in Pago On Main. This post indicates the brand will have a busy 2022, targeting a trio of new locations in Logan, Spanish Form and Riverdale.
Miyazaki
The former Twigs space at Fashion Place Mall looks set to be home to a new higher end Japanese restaurant. Representatives for the new Miyazaki have been spotted sourcing staff for the new concept. The business looks to be part of the same restaurant group taht brought Nino Viejo to Farmington last year.
Sol Agave
A second location of this well regarded American Fork restaurant is headed to downtown SLC later this year. The restaurant group based out of California are set to open a brand new 4,600 square foot location in this new ten story construction.
The 650 S. and Main Street location will feature similar cuisine to that found in the Utah County location – a menu that differs from most with dishes such as grilled Spanish octopus making for a more creative menu than most.
Sushi Pro
Conveyor belt sushi is expected (from social media posts) to make a return to Utah with the upcoming opening of this new spot in Ogden. The whirligig-o-plates format has been completely missing from the Beehive for years – the last I can recall – a short lived effort many a moon ago located in the Century Plaza over in Sugar House.
4337 Harrison Blvd, Ogden, UT 84403
(385) 240-8458
sushiproutah.com
Tea Rose Thai Express
This post from Anny Sooksri, hints at the imminent opening of a new fast concept for the restaurateur. Sooksri, owner of Thai eateries FAV Bistro, Chabaar and Tea Rose Diner – most recently opened Bakes N Bubbles over in Murray.
Tacomania
Riverton will have a new taco destination soon. Tacomania – currently in business as a food truck – plans to open a spot in the city by the end of March.
Xing Fu Tang
You thought we hit peak boba? You thought wrong. So very wrong. Taiwanese chain Xing Fu Tang recently announced their impending arrival in Utah. No word yet on a specific location.
Previously mentioned with no further update
We've written about the following new restaurants in recent posts tracking new restaurants around SLC. We've heard no further news on these at this time:
Keep the conversation going
Want to stay on top of the SLC food scene, minute by minute, dish by dish? Here are a few other places you should follow along:
Hi, I'm Stuart, nice to meet you!  I'm the founder, writer and wrangler at Gastronomic SLC.  I'm a multiple-award winning journalist and have written in myopic detail about the Salt Lake City  dining scene for the better part of seventeen years.
I've worked extensively with multiple local publications from Visit Salt Lake to Salt Lake Magazine, not least helped to consult on national TV.   Pause those credits, yep, that's me! I'm also a former restaurant critic of more than five years, working for the Salt Lake Tribune.    I'm largely fueled by a critical obsession with rice, alliteration and the use of big words I don't understand.   What they're saying about me: "Not inaccurate", "I thought he was older", "I don't share his feelings".
Want to know more? This is why I am the way I am.
This article may contain content provided by one of our paid partners. These are some of the best businesses in Utah. For a list of all our current and past relationships see our
partnership history page
.