1 – Kao Thai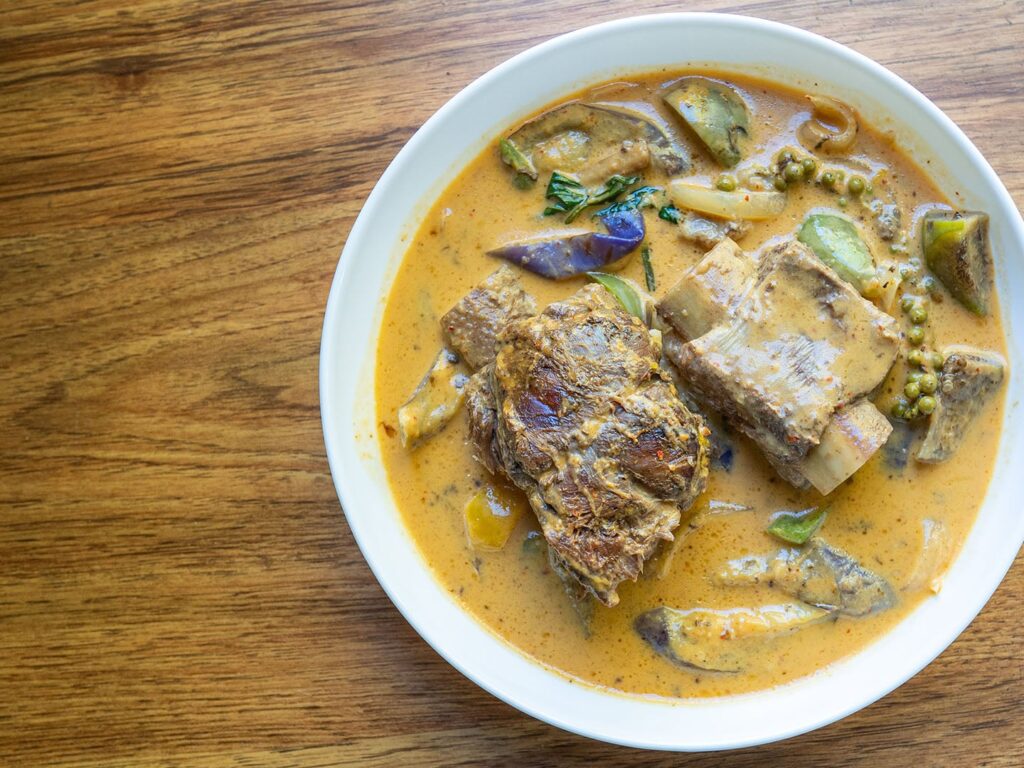 Tucked away on the East benches of Millcreek, you will find Kao Thai, a fabulous Thai restaurant. Inside the well appointed modern space, you will find both authentically cooked Thai classics, as well as contemporary spins too – Thai ceviche anyone?
The owners have been cooking away on the SLC dining scene for many years at a variety of restaurants you've probably enjoyed, and are now cooking up a great menu at Kao Thai. The menu also includes a range of Thai dishes you might not find elsewhere; check out that fork tender braised short rib above, and we have it on good authority that their Khao So is as good as you get in Chiang Mai.
3011 E 3300 S, Salt Lake City, UT 84109
(385) 202-7257
kaothai-slc.com
2 – Sushi Groove
Lying somewhere between Sugar House and Millcreek proper – it's close enough and more than good enough – to make this list. The vibe at Sushi Groove is fast, fun and friendly. There's a wide range of modern maki rolls with plenty of in the moment specials. sit at the sushi board though and quiz your sushi chef about what's fresh – Sushi Groove also has a great selection of nigiri and sashimi too. Keep their $2.50 Tuesdays in mind as well – all nigiri is just $2.50/2 pieces!
2910 S Highland Dr, Salt Lake City, UT 84106
(801) 467-7420
sushigrooveutah.com
3 – Gurkhas
From some of the team behind Highland Drive's Kathmandu, which itself was from some of the team behind downtown SLC's Himalayan Kitchen way back when. Gurkhas offers a strong Indian and Nepalese menu that always executed reliably.
3025 E 3300 S, Salt Lake City, UT 84109
(801) 755-3499
gurkhas.pizzamico.com
4 – Katrina's Mexican Restaurant & Cantina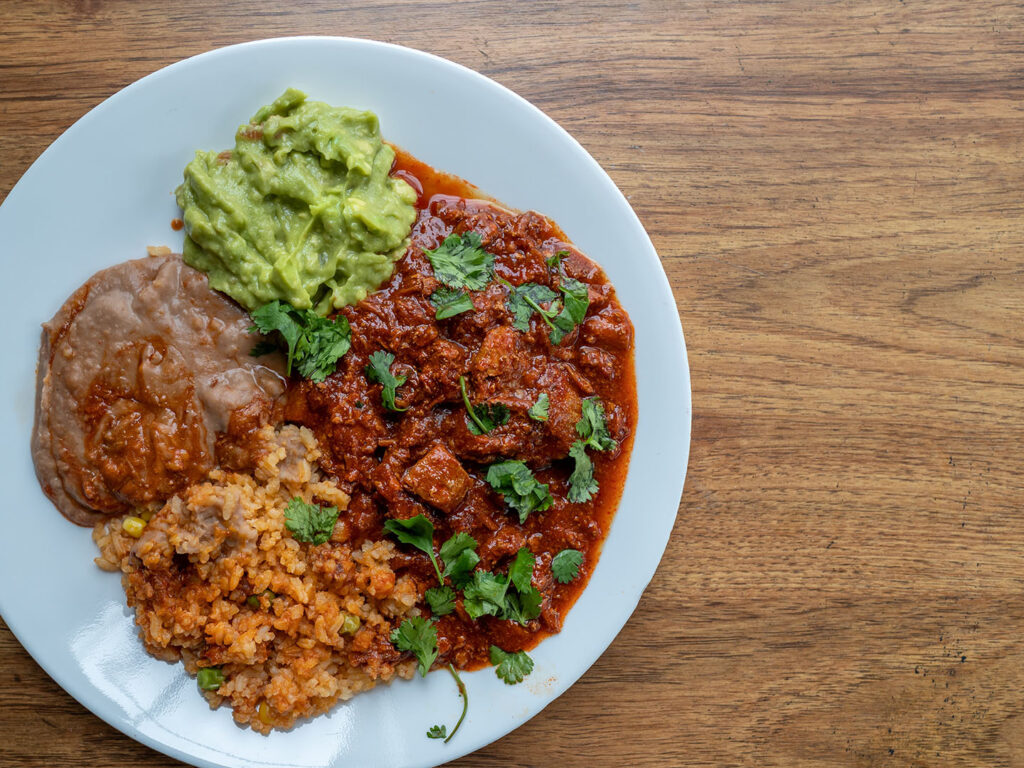 Sliding into the former Cafe Silvestre space along 33rd South, the restaurant sports an attention grabbing menu. Case in point and pictured top, Katrina's chile Colorado, a dish that leaps from page to belly with ease. The chile-fueled terracotta sauce is the star of the show here; an account of hour upon hour of slow cooking, also highlighted by the tender pork pieces throughout. You can taste the carefully guarded family recipe in each bite. For the spice-afeared, flavor more than flame shines through.
3041 E 3300 S, Millcreek, UT 84109
(385) 259-0093
katrinasmexicanrestaurantcantina.com
5 – Table X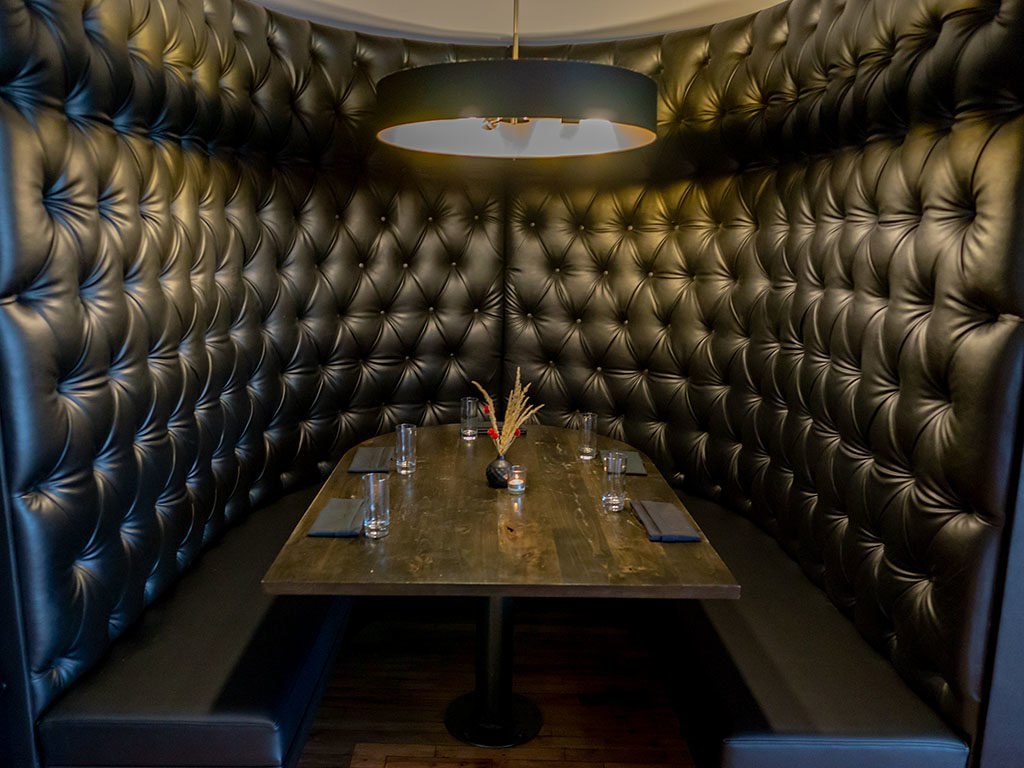 One of the few fine dining destinations you'l find outside the downtown core can be found right here in Millcreek. The cuisine of owner operators chefs Mike Blocher, Nick Fahs and David Barboza focuses on local sourcing and seasonality; it doesn't hurt that every plate is a drop dead gorgeous work of art as well. The restaurant offers a chefs tasting menu too should you wish to explore the depth of the trios cooking.
1457 E 3350 S, Salt Lake City, UT 84106
(385) 528-3712
tablexrestaurant.com
6 – Maria's Mexican
This family run Mexican restaurant moved into the space left vacant by the former Cowboy Grub restaurant in Millcreek. At Maria's you'll find an expansive menu of Mexican and American favorites; everything from award winning smothered burritos through to moles and even cheeseburgers! The restaurant also opens seven days a week for breakfast, lunch and dinner – making it a perfect pick any time of the day or week.
3336 S 2300 E, Salt Lake City, UT 84109
(801) 883-9774
mariasmexicangrillslc.com
7 – Over The Counter Cafe
Short-order cooking and classic American diner food is why you head to this Millcreek institution; which was first opened way back when in 1983. Restaurants don't get to their fourth decade in business by accident. Locals flock here for breakfast favorites such as their famed lemon pancakes and savory treats like thick, freshly cut bacon.
2343 E 3300 S, Salt Lake City, UT 84109
(801) 487-8725
overthecountercafe.weebly.com
8 – Feldman's Deli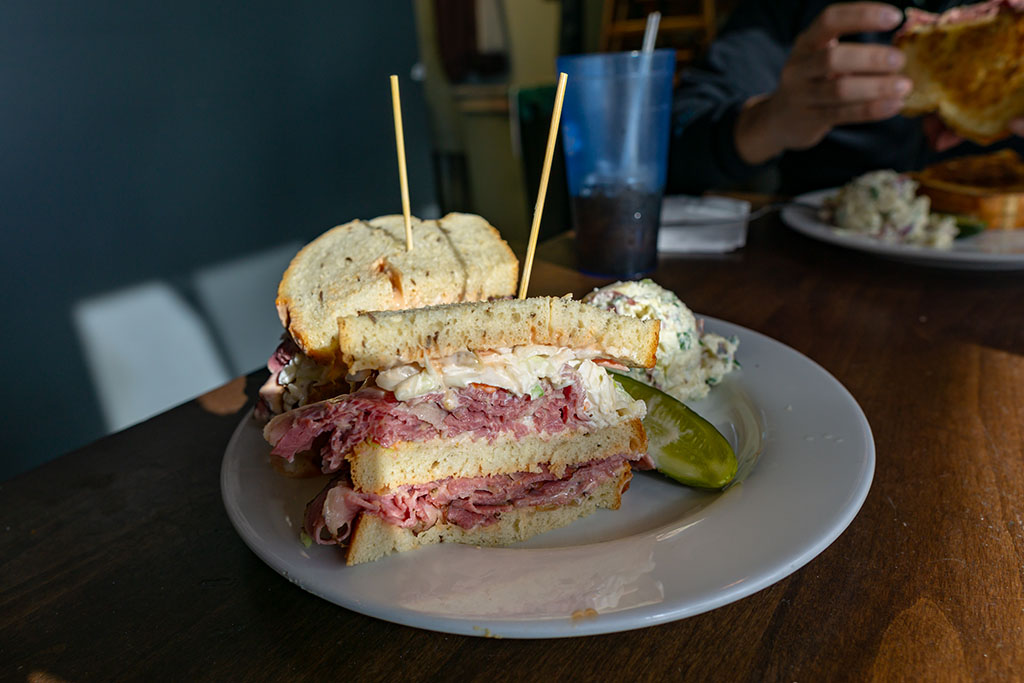 This East side lunch hot spot is known for its humungous sandwiches – monstrous half pound creations that beg you to take one more bite. Owner Mike Feldman hails from Jersey and the restaurant is his nod to his home state; indeed Feldman's Deli imports its luscious deli meat direct from NYC. Close your eyes, take a bite and you'll swear you're not in Utah anymore.
2005 E 2700 S, Salt Lake City, UT 84109
(801) 906-0369
feldmansdeli.com
9 – Root's Cafe
This fun coffee house serves breakfast and lunch seven days a week, with a particular focus on fresh and healthy dishes. The menu features fresh-pressed juices, gourmet sandwiches, pastries and much more.
3474 S 2300 E, Salt Lake City, UT 84109
(801) 277-6499
rootscafeslc.com
10 – Provisions
This New American restaurant with an eye catching interior has been a hit with Millcreek locals ever since owner/chef Tyler Stokes opened the doors. The menu has something for everyone across small and large plates, with plenty of modern creative touches. The restaurant opens for dinner and brunch on the weekends.
3364 S 2300 E, Salt Lake City, UT 84109
(801) 410-4046
slcprovisions.com
Our sponsors and this page
This page may contain information about one of our sponsors. We only work with the very best businesses in the state, and routinely turn down offers to work with businesses we don't enjoy. If we can't hand on heart recommend them - they can't be a sponsor.
At this time we have the following sponosrs: Avenues Proper, BGR Sugar House, BTG, Caffe Molise, Craft by Proper, The Dough Miner, Downtown Alliance, Feldman's Deli, Flanker, Garage On Beck, Hearth And Hill, Hill's Kitchen, Kao Thai, Kin Sen Asian Noodle Bar, Kyoto, Laziz Kitchen, Log Haven, Oasis Cafe, Pirate O's Gourmet Market, Proper Brewing, Proper Burger, Scion Cider Bar, SLC Eatery, Squatter's Downtown Salt Lake City, Stoneground Italian Kitchen, Urban Hill, Wasatch Brew Pub Sugar House, Whiskey Street, White Horse.
I encourage you to Google any of our sponsors and see the stellar reviews on multiple sites that they enjoy. For a list of all our current and past relationships see our partnership history page.