We've all been there. Your plans overran, you're wandering the streets of SLC – desperately in search of a restaurant open late into the night. As you search in vain, the whole town seems to be shuttered up like the villain and sheriff are about to dust off.
Luckily we do actually have eateries open past 10.00 p.m., you just need to know where to look. The following list should all open later; which we count as having kitchens open past ten o' clock.
Note. In the light of Covid-19 many businesses have struggled with staffing and their hours may have changed. While we make every effort to ensure the info listed here is accurate, please do check with a restaurant directly before planning your journey.
Copper Common
This chic and intimate bar pours 100% natural wines, local beer and carefully considered craft cocktails; more importantly it also cooks up some fabulous small plates, all with European inspiration and flavor.
Late night eats: Wednesday – Sunday, kitchen till 11.00 p.m.
111 E. Broadway, Salt Lake City, UT
(801) 355-0543
coppercommon.com
Franklin Avenue
The latest concept from the Bourbon Group opened in 2022, building on the success of those before it (see below). You can read our full review of the restaurant and the menu here – suffices to say, it's probably the best to date.
Late night eats: kitchen open seven days a week until midnight.
231 S Edison St, Salt Lake City, UT 84111
(385) 831-7560
franklinaveslc.com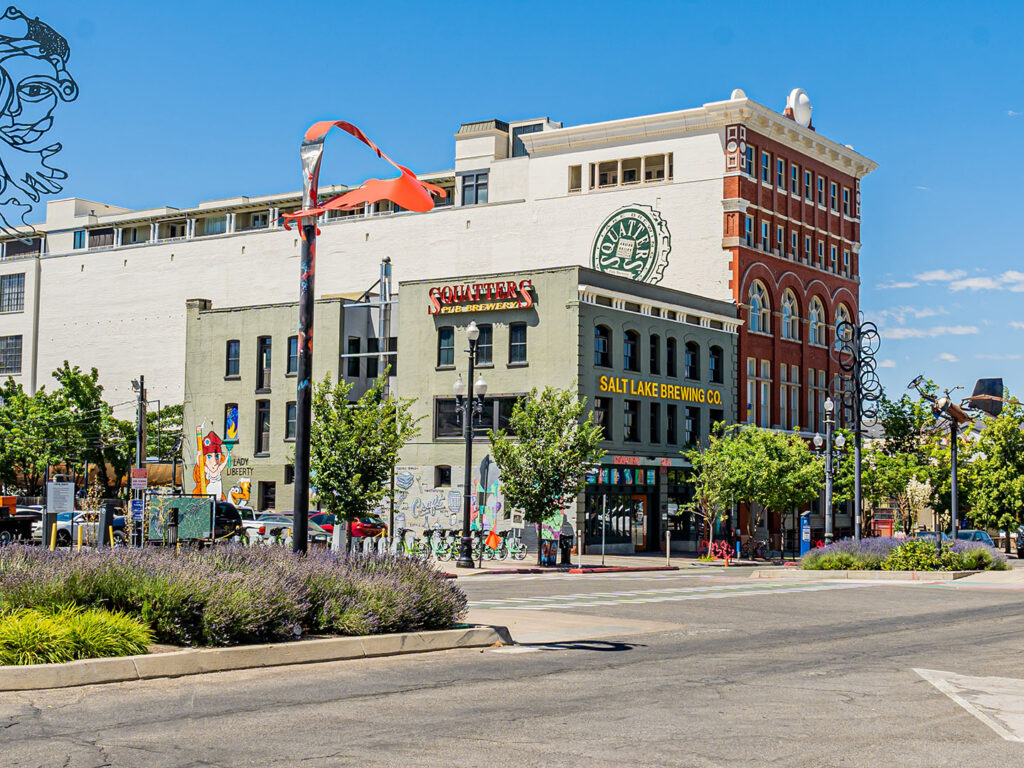 Salt Lake Brewing Co
Utah's original brewpub has an extensive menu with a little something for everyone. Now back in local hands the pub is open seven days a week and opens later into the evening.
Late night eats: open till 11.00 p.m. seven days a week.
147 W. Broadway
Salt Lake City, UT 84101
(801) 363-2739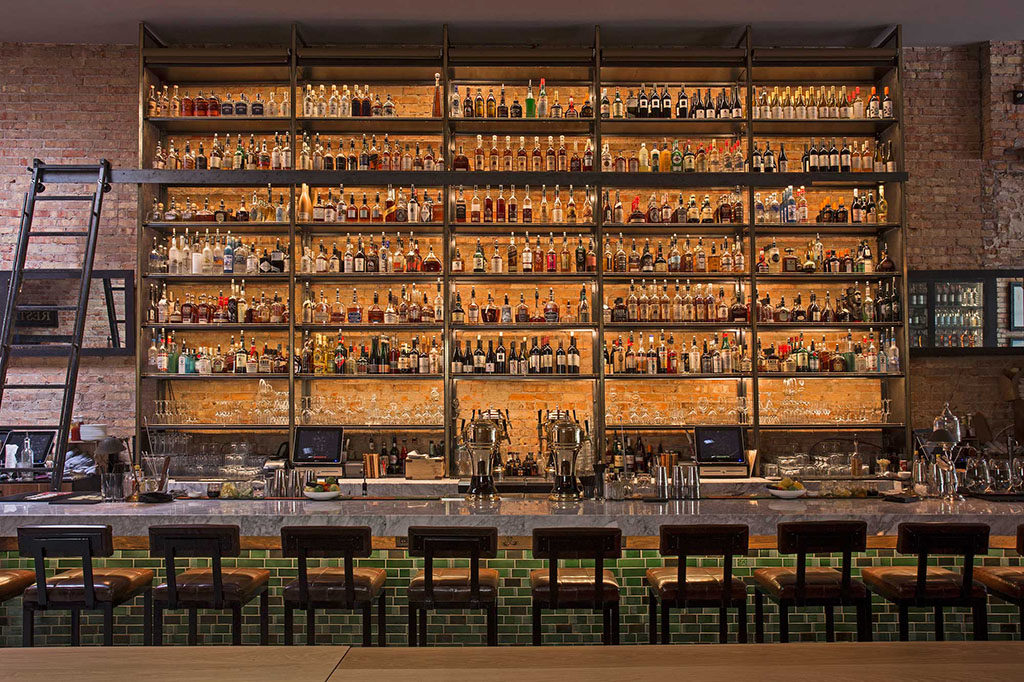 White Horse
Another Bourbon Group 21+ only restaurant and bar, this one found on buzzy Main Street. The restaurant offers a menu of American brasserie dishes, replete with plenty of fresh shellfish and a solid hard cider offering.
Late night eats: kitchen open seven days a week until midnight.
323 S Main St, Salt Lake City, UT 84111
(801) 433-1371
whiskeystreet.com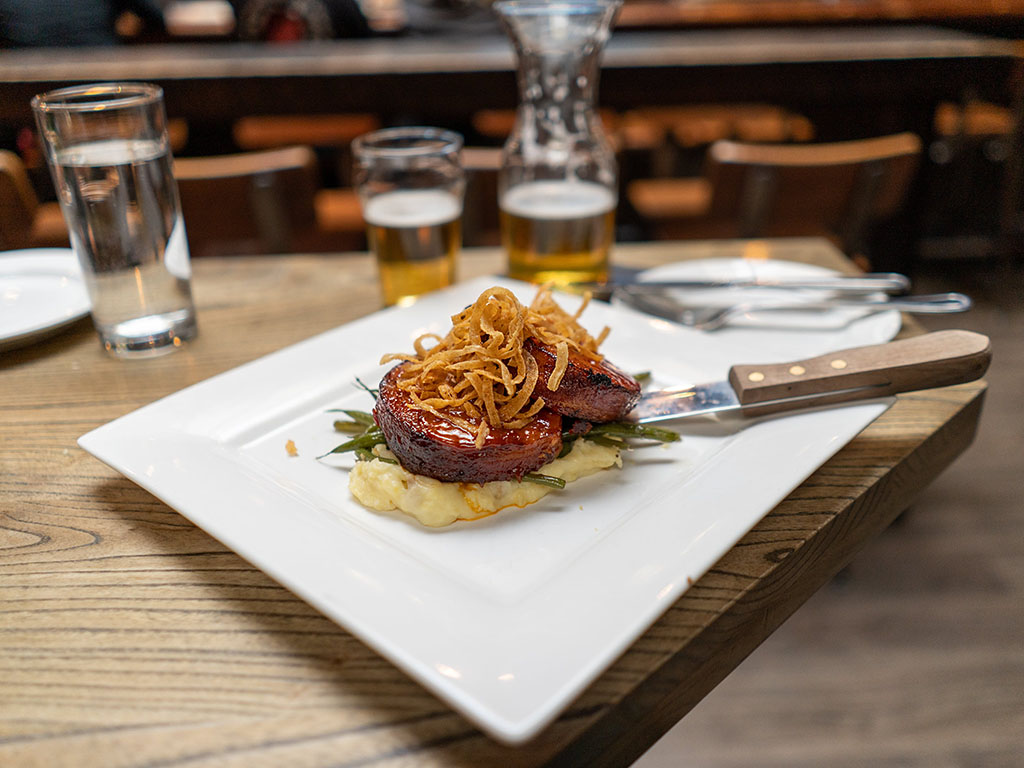 Whiskey Street
Lastly, not by no means leastly, this first proper bar and restaurant effort from the Bourbon team. the bar features Utah's largest selection of whiskey and is backed up by a solid food menu. Think bar classics like burgers, salads, meatloaf and more – but taken up a few notches.
Late night eats: kitchen open seven days a week until midnight.
325 S Main St, Salt Lake City, UT 84111
(801) 363-0137
whitehorseslc.com
The Pie Pizzeria
It's not just pizza that The Pie is serving up well into the night at their university location. In addition to pizzas ranging from 13 inches to a crazy 23 inches the restaurant offers wings, salads, pasta, baked subs and zappis (their own version of the classic calzone). There's also a handful of gluten free selections too, to cover everyone's late night needs. Delivery is also available until 11 or late most nights.
Late night eats: Monday – Thursday until 1 a.m., Friday and Saturday until 3 a.m.,
Sunday until 11 p.m.
The Pie (University)
1320 E 200 S, Salt Lake City, UT 84102
(801) 582-0195
www.thepie.com
Alberto's
This downtown Mexican spot offers a fast casual place to grab a quick bite. Choose from a variety of dishes such as tacos, burritos, nachos, quesadillas as well as a number of specialty plates. like camarones a la diabla or chili relleno.
Open late Mon – The until midnight. Friday till 2 a.m. Saturday until 11 p.m.
Salt Lake City 511 S. 300 W. Salt Lake City, 84101
(801) 531-0411
albertosmex.com
Arempas
Open late at weekends and located in the heart of downtown Salt Lake City is this Venezuelan restaurant. Arempas are especially known for their arepas and empanadas – perfect dishes for a late night bite. The restaurant also offers a fully vegan friendly menu too.
Open late Friday and Saturday until 3 a.m.
350 S State St, Salt Lake City, UT 84111
(385) 301-8905
arempas.com
Bourbon House
This downtown bar offers a fun bar menu that has an elevated twist. Also part of the group ran by the same team that operate White Horse and Whiskey Street (see below). 21+ only.
Kitchen open late Wednesday through Saturday until midnight.
19 E 200 S, Salt Lake City, UT 84111
(801) 746-1005
bourbonhouseslc.com
Dee's Family Restaurant
This classic American diner has been a staple of Sugar House for decades; locals relying on the comfort food classics year in year out. The restaurant is open late every dat, even more so at weekends.
Opens late till midnight Sun-Thu, open till 2.00 a.m. Fridays and Saturdays.
2104 S 700 E, Salt Lake City, UT 84106
(801) 487-6761
East Liberty Tap House
Part of the lager restaurant group comprising Finca, Pago and Trestle Tavern, East Liberty is open seven days a week till midnight. The full food and bar menu is available each and every night – just ehad to the 9th and 9th neighborhood and order up a hearty plate like the pictured sloppy joe above. Opens late:
Opens late Thursday-Saturday until 11 p.m.
850 900 S, Salt Lake City, UT 84105
(801) 441-2845
eastlibertytaphouse.com
Gourmandise
Got a late night sweet craving that requires something more refined than skulking around the sev aisles? If its the weekend – you may be in luck if you check out the wonderful baked goods from downtown SLC's Gourmandise. Selections change daily but you can expect to see treats such as Pear Almond Tartlette, Éclairs, Strawberry Rings, Traditional English Trifle and Pain au Chocolat; plus there's a range of savory snacks too. Opens late:
Friday and Saturday until 11 p.m.
250 S 300 E, Salt Lake City, UT 84111
(801) 328-3330
www.gourmandisethebakery.com
Ivy / Varley
The is a 21+ bar located in the former BTG wine bar location. The bar opens late into the night and offers a number of New American dishes.
Opens late seven days a week until 1 a.m.
55 W 100 S, Salt Lake City, UT 84101
(801) 895-2846
theivyslc.com
Kitchen Me
Open for both pickup and delivery, six days a week, until late is this Thai spot in North Salt Lake.
Open late till midnight Monday and Tuesday, till 2.00 a.m. Wednesday through Saturday.
23 900 W, Salt Lake City, UT 84116
(385) 320-2123
kitchenmeslc.com
Lake Effect
This high end bar in downtown Salt Lake City, also has a focus on refined food. If you're facing late night nibbles, you can stop by any day 11 p.m. through 1am for their late night menu. The late night menu offers tacos, taps and snacks such as chips and nachos. Maybe grab a cocktail too while you're at it. 21+ only.
Open late Monday through Sunday until 1 a.m.
155 W 200 S, Salt Lake City, UT, Salt Lake City, UT 84101
(801) 532-2068
lakeeffectslc.com
Little World
This popular Chinese take out spot just outside of downtown SLC has been popular with locals for year after year. After 8.30 p.m. Little World offers a late night eats menu for take out or delivery. Check it out on our sister site here.
Open late seven days a week for take out or delivery until midnight.
1356 State St, Salt Lake City, UT 84115
(801) 467-5213
littleworldslc.com
London Belle
Opens late Monday – Wednesday until 11 p.m. and Friday – Saturday until 1 a.m.
321 S Main St, Salt Lake City, UT 84111
(801) 363-8888
londonbelleslc.com
Lucky 13
Lucky 13's loaded burgers are often held up as some of the very best in the state – heck some reckon the world. Whoever you believe bosses the burger world though, there's no denying that the late night hours (seven days a week) of Lucky 13 – put them ahead of the rest as the night ligers on. 21+ only.
Open late seven days a week – kitchen last call at midnight.
135 W 1300 S, Salt Lake City, UT 84115
(801) 487-4418
lucky13slc.com
The Pie Hole
Looking for a late night spot and somewhere to spend your bitcoin in one go, look no further than the Pie Hole in downtown SLC. What about a slice of vegan pizza, available daily? The menu at Pie Hole fits every appetite – grab a single simple slice from as little as $2.09 or grab the 19″ Pie Hole Supreme loaded with pepperoni, Italian sausage, Canadian bacon, olives, mushrooms, bell peppers and onions ($22.39). Drinks are bargainous too, PBR's for a buck and microbrews just $3. Opens late:
Sunday through Thursday until 2 a.m.
Friday and Saturday until 3 a.m.
344 S State St, Salt Lake City, UT 84111
(801) 359-4653
www.pieholeutah.com
The Roll Up Crepe
Utah county citizens need not miss out on late night eats either – the "Best crepe secret in Utah" is open late every day except Sunday. Get a light bite from their signature crepe menu (starting at $5.99) or sample something heartier from their range of panini ($7.95). Opens late:
Monday – Saturday until midnight.
1605 S State Street, Orem Utah 84097
(801) 882-7373
www.therollupcrepe.com
Street Tacos
Opens late Monday through Friday until midnight, open until 4 a.m. Saturdays.
243 W 400 S, Salt Lake City, UT 84101
(801) 364-0249
street-tacos.square.site
Who did we miss?
If you think we're missing a really great addition to this list, please email us at stuart@gastronomicslc.com – we'd love to hear from you. Let us know who you think should be on this list and why. If you have a really great picture of one of more dishes, please send that too! We're always excited to check our more businesses!
Also check out
Hi, I'm Stuart, nice to meet you!  I'm the founder, writer and wrangler at Gastronomic SLC; I'm also a former restaurant critic of more than five years, working for the Salt Lake Tribune.  I've worked extensively with multiple local publications from Visit Salt Lake to Salt Lake Magazine, not least helped to consult on national TV shows.
I'm a multiple-award winning journalist and have covered the Utah dining scene for the better part of fifteen years.   I'm largely fueled by a critical obsession with rice, alliteration and the use of big words I don't understand.   What they're saying about me: "Not inaccurate", "I thought he was older", "I don't share his feelings".  Want to know more? This is why I am the way I am.
Our sponsors and this page
This page may contain information about one of our sponsors. We only work with the very best businesses in the state, and routinely turn down offers to work with businesses we don't enjoy. If we can't hand on heart recommend them - they can't be a sponsor.
At this time we have the following sponosrs: Avenues Proper, BGR Sugar House, BTG, Caffe Molise, Craft by Proper, The Dough Miner, Downtown Alliance, Feldman's Deli, Flanker, Garage On Beck, Hearth And Hill, Hill's Kitchen, Kao Thai, Kin Sen Asian Noodle Bar, Kyoto, Laziz Kitchen, Log Haven, Oasis Cafe, Pirate O's Gourmet Market, Proper Brewing, Proper Burger, Scion Cider Bar, SLC Eatery, Squatter's Downtown Salt Lake City, Stoneground Italian Kitchen, Urban Hill, Wasatch Brew Pub Sugar House, Whiskey Street, White Horse.
I encourage you to Google any of our sponsors and see the stellar reviews on multiple sites that they enjoy. For a list of all our current and past relationships see our partnership history page.