Despite what you may have heard, yes you can get a drink in Utah. While Utah liquor laws might be the subject of much playful media mocking – you may be pleasantly surprised by what you find here.
Utah is far from the dry state many think it to be. We definitely have our own esoteric rules, but none that should stop you having a fun (and responsible) time here in Utah. Here are the rules for getting a drink in Utah.
What's with all this lite beer stuff I hear about
One of the biggest misconceptions about drinking in Utah, is the notion we only have access to 'lite beer'. That confusion arises from the fact the state of Utah judges alcoholic content of drinks by weight, a rather anachronistic system that most of the world stopped using aeons ago. 3.2 by weight actually equates to 4% by volume (ABV) – yep that's right – the same rough strength as most sessionable world beers (e.g. Guinness is usually 4.2% by volume).
In late 2019 this 3.2 ABW / 4.0 ABV beer started to vanish from shelves as Utah updated its laws. 5% ABV beer is now the maximum strength you can buy in grocery stores, gas stations etc.
Another slight quirk is that you won't find beer stronger than 5% ABV on tap in any Utah bar – even brewpubs. Depending on the bar, you may find varieties of higher strength brews offered by the bottle or can – just not on draft. With everything though there's a golden lining, if you sample one of our many awesome brewer's higher strength beers in bottle – the chances are it's going to be pretty fresh.
One slight caveat is that wine and cider are not covered by this rule – you may see wine and cider of any strength on draft.
What about cocktails
The legal maximum pour is a metered 1.5 ounces, and there are no free pours in Utah unless you're at a "private" or "special" event. However a mixed drink may comprise 1.5 ounces primary liquor and additional extra full ounce provided this secondary pour comes from a bottle clearly marked 'flavoring', and differs from the first. E.g. a vodka tonic with 2.5 ounces vodka would not be permissible, but a drink like a Vesper using vodka and gin may be allowable (if the gin was marked solely as flavoring).
Buying drinks in a restaurant
Restaurants currently can pour you a drink starting at 11.30 a.m. during the weekday; and from 10.30 a.m. on Saturdays, Sundays, and state/federal holidays – so you can drink your mimosa or Bloody Mary an hour early during brunch.
One of the most confusing set of laws for visitors to Utah, is our rules covering imbibing at a restaurant. Much of this stems from the various licenses the state allows restaurants to apply for. Most restaurants hold a full license, allowing them to serve all types of alcohol so long as the diner "intends to dine."
Generally you will find your server merely asks you 'are you dining with us tonight' after you sit down, and you're free to order a drink, while you peruse the menu if you indicate you will be also eating. Ordering just a small snack or nibble is fine too, but you must order at least one item of food from the menu. It's really not the big deal folks make it out to be, if you didn't know about the rule in advance, you'd likely never encounter it.
You may find yourself in a restaurant that seemingly does let you order drinks without ordering food – these are in fact technically bars who operate under a bar license. This also means those under 21 won't be able to dine there, or even be allowed on the premises. This rule is strictly applied due to the severity of punishments levied on businesses that don't comply. As such always have your ID ready, even if you're 95. Some places just operate a default, card everyone rule and again, strictly apply it without exception.
Finally we have the much derided 'Zion Curtain' – a term referring to the divider, present in some restaurants, that separates bartenders and their preparation of drinks from customers. This law was actually updated in 2017 and most restaurants have now torn down the curtain. The caveat is that minors must be seated 10 feet from the bar area, this new buffer zone is playfully known as the Zion moat.
How many drinks can I have at once in Utah?
If you're dining at a restaurant you can have any of the following combinations of drinks at once (often referred to, as in front of you):
One cocktail and a single 5% ABV beer
Two 5% ABV beers, or a "flight" of beers in separate glasses, but totaling 16 ounces or less
A single 5% ABV beer and a 5 ounce glass of wine
One five-ounce glass of wine, or a wine flight in multiple glasses that doesn't exceed 5 ounces, total
A five ounce glass of wine and a cocktail
A bottle of wine, which you pour into your own glass yourself after the initial five-ounce pour from your server
If you have at least four people at your table, you can order a jeroboam, which is 1.5 liters
What you can't have, is two separate cocktails at the same time.
Buying drinks in a Utah bar
Most bars operate under a bar license, meaning they're able to purchase anything you or I can buy from the state ran liquor store, and retail at a fair markup to their customers. You may have heard about our private club rules – they were dropped years ago. This means anyone can now drop into any bar they like – provided they're over the age of 21. If there's a cover charge or other fee to enter the premises this is being levied by the business, not the state.
While individual bars may keep their own hours, they're legally allowed to open seven days a week and serve from 10.00am till 1.00am. Patrons legally need to be off the premises by 2am.
Some outlets may retain only a 'tavern license'. These might be smaller beer bars or locations such as bowling alleys or golf courses – they only sell beer upto 5% ABV on draft, can or bottle, nothing more. Most bars you will come across in SLC will retain regular bar licenses, it's quite difficult these days to find beer only bars.
Just for fun, the rules at our airports are unique too. In airport lounges – liquor, wine and beer can be served from 8.00am until midnight. Alcoholic beverages may be sold with or without food, and patrons may be served at a bar or table.
Buying drinks to go in Utah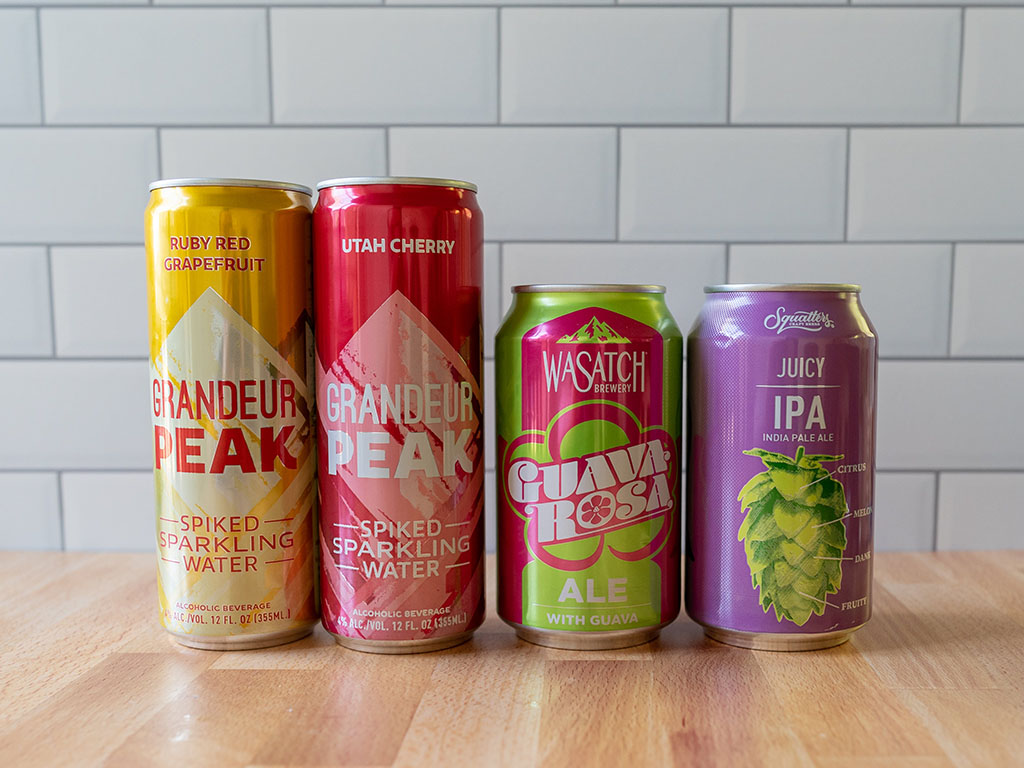 At grocery stores you will find alcoholic beverages upto 5% ABV, available for purchase until 11.00 p.m. Some convenience stores can sell beer 24/7 depending on the city. You may purchase beverages seven days a week from these locations. If you're in a restaurant and have leftover wine you may ask your server to seal the bottle and take it with you to go – just make sure you store it in the trunk of your vehicle if driving.
Generally speaking, to purchase anything stronger than 5% ABV for your own consumption elsewhere you will need to visit one of our Utah State Liquor Stores. Here you will find everything from stronger beers through wines and liquor.
Each store varies in both hours of operation and stock carried. All are closed on Sundays and public holidays.
The exception to the above rules are Package Agencies – defined by the state as "liquor outlets operated by private individuals or corporate entities under contract with the state for the purpose of selling packaged liquor, wine and beer to the general public for off-premise consumption". Package agencies are often ran in smaller towns, businesses, or at resorts where it makes little sense for a fully fledged State Liquor Store.
Crucially important to note is that some of our finest home grown brewers and distillers are marked as "Type 5" package agencies. These companies can sell their product direct to you, from their manufacturing facility – 365 days a year if they choose to do so. Check out our full guide to buying liquor, wine and beer on Sundays in Utah.
More on drinking in Utah
Here are a few more resources you might be interested in:
Disclaimer: please note that while we do our best to keep this page upto date with the most recent Utah liquor laws it's possible the page may contain errors or omissions.  The information presented is for general reference only, please consult the DABS for precise upto the minute information.
Hi, I'm Stuart, nice to meet you!  I'm the founder, writer and wrangler at Gastronomic SLC; I'm also a former restaurant critic of more than five years, working for the Salt Lake Tribune.  I've worked extensively with multiple local publications from Visit Salt Lake to Salt Lake Magazine, not least helped to consult on national TV shows.
I'm a multiple-award winning journalist and have covered the Utah dining scene for the better part of fifteen years.   I'm largely fueled by a critical obsession with rice, alliteration and the use of big words I don't understand.   What they're saying about me: "Not inaccurate", "I thought he was older", "I don't share his feelings".  Want to know more? This is why I am the way I am.
Our sponsors and this page
This page may contain information about one of our sponsors. We only work with the very best businesses in the state, and routinely turn down offers to work with businesses we don't enjoy. If we can't hand on heart recommend them - they can't be a sponsor.
At this time we have the following sponosrs: Avenues Proper, BGR Sugar House, BTG, Caffe Molise, Craft by Proper, The Dough Miner, Downtown Alliance, Feldman's Deli, Flanker, Garage On Beck, Hearth And Hill, Hill's Kitchen, Kao Thai, Kin Sen Asian Noodle Bar, Kyoto, Laziz Kitchen, Log Haven, Oasis Cafe, Pirate O's Gourmet Market, Proper Brewing, Proper Burger, Scion Cider Bar, SLC Eatery, Squatter's Downtown Salt Lake City, Stoneground Italian Kitchen, Urban Hill, Wasatch Brew Pub Sugar House, Whiskey Street, White Horse.
I encourage you to Google any of our sponsors and see the stellar reviews on multiple sites that they enjoy. For a list of all our current and past relationships see our partnership history page.