Arempa's Venezuelan Cuisine
Late night dining options have never been SLC's forte, but downtown SLC just got a little more interesting for night owl's with the opening of this Venezuelan eatery on busy Main Street. The restaurant stretches their opening hours until 3 a.m. on Thursday, Friday and Saturday.
The menu features arepas, empanada, cachapa, patacon and more; all more infinitely interesting than the swathes of ramen and sushi that have proliferated downtown lately.
Also – busy Main Street – who'd have thunk we'd be using those three just a decade ago.
350 S State St, Salt Lake City, UT 84111
(385) 301-8905
arempas.com
Beehive Distilling Bar
Joining the burgeoning brewery and bar scene in South Salt Lake is this modest affair located inside the Beehive Distillery building. Indeed Building Salt Lake goes as far as naming this part of town Brewery Row.
This is the type of row I can get behind. Other types of row involving nonsense such as hard work in a boat and falling asleep in front of a spreadsheet. Other rows I'd like to encourage: gyro row, bratwurst row, fried chicken row. Actually…
2245 S W Temple, South Salt Lake, UT 84115
(801) 326-3913
beehivedistilling.com
Birdhouse
856 E 900 S, Salt Lake City, UT 84105
(801) 441-2213
birdhouseslc.com
Why did the chicken cross the road? To escape the rampant explosion of fried chicken shops across the Wasatch Front of course. Shouldn't have bothered. The other side of the road was home to more of the same, and into the pressure fryer he went. After a brief buttermilk brining naturally.
Birdhouse is one such poultriffic new opening. Located in the 9th and 9th area it's the latest work of Scott Evans' ever expanding empire (Pago, George, Trestle Tavern etc). Adjacent to sister business East Liberty Tap House (that converted to a 21+ bar in 2019), Birdhouse is a family friend venue that serves up fried chicken in a variety of formats.
Chickens take note, this is your DEFCON one moment.
Bok Bok Utah
Bok Bok. Presumably that's the sound a chattering of chickens make as their exodus for the state border begins. Also, it's the name of a new fried chicken spot in Provo, the sophomoric effort of an existing American Fork based business. Korean Fried Chicken is the name of the game, and in case you wondered, the business is unrelated to a similar named affair out of Vegas; I was and was promptly corrected.
Also, might I suggest you move your investment funds from tech stock to chicken stock at this juncture*
1181 N Canyon Rd, Provo, UT 84604
facebook.com/bokbokutah/
Lumpy's Brickyard Bar
Home to pole dancing, a radically revamped interior, weekend yoga sessions, a newly minted food and drink menu and much much more. The revamped Lumpy's on Highland is now known as Brickyard Bar, Lumpy's Highland or Lumpy's Brickyard Bar. One of the three anyway. The new owners are throwing an awful lot of things at the wall to see what presumably sticks.
The new menu covers a lot of of familiar ground, offering lunch, dinner and brunch. And yes, there's fried chicken.
3000 Highland Dr, Salt Lake City, UT 84106
(801) 883-9845
Cannery Creamery
This one comes via a heads up from a reader of the site. Reminder time – if you know of any new openings around town that we might've missed, never be afraid to drop me a line with the info. Anyway here's the tip off:
I haven't seen a mention of the new Cannery Creamery in North Ogden yet, just opened up in the middle of the summer. The place has the quirks you'd expect of a business in that part of the state (closed on Sundays, nothing coffee flavored on the menu), but they have really good ice cream in lots of fun flavors.
2000 N Washington Blvd, North Ogden, UT 84414
(801) 389-6011
Charlotte Rose's Carolina BBQ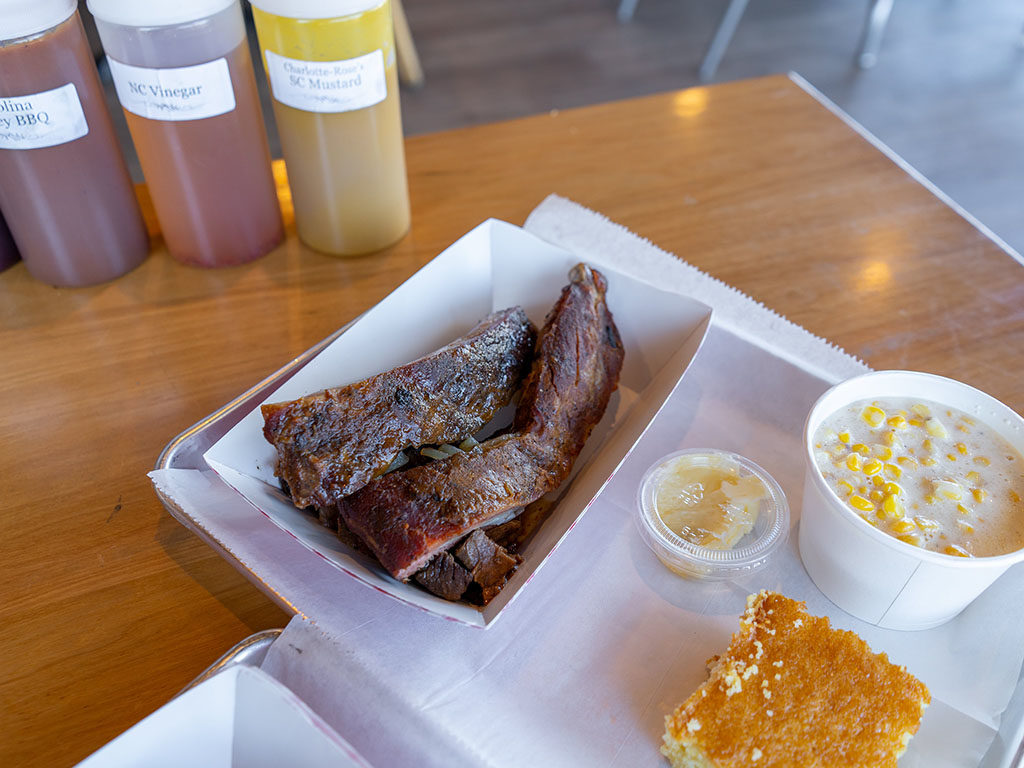 Making the trip South from Bountiful and pitching their smoker up on the edge of Millcreek is this Carolina style Q joint. Reviews are almost universally positive which is jars uncomfortably with my own single experience so far. The sadly less than stellar visit was marred by bland chicken, watery pork and limp ribs.
I will say the cornbread is some of the best around and the quartet of nuanced sauces provided were a welcome touch; especially in stark contrast to the more commonly seen "Moaarrrrrr Sugar™" brand that Utahns seem particular fond of.
BBQ is of course a cruel and frustrating master and timing is everything. Hit up anywhere in town when the meat's just ready and you'll probably think you hit the motherlode. Stop back again another day and you might find warming pans and languishing meats.
Hopefully my own visit was a one off. I'll definitely be back on a different day and time, and hopefully catch the Q as it's coming off the smoker direct.
792 E 3300 S, UT 84106
(919) 244-6604
crcbbqut.com
Chick Queen
More fried chicken, this time over at South Salt Lake's China Town complex. The menu offers Korean Fried Chicken in both bone in and boneless varieties. Vegetarians – you might just want to look away at this point – or assist in some underground railroad chicken activity. It's not going to get better if you keep reading.
3390 State St, South Salt Lake, UT 84115
(385) 229-4290
Cultivate Craft Kitchen
The paint is barely dry on this Draper dazzler that's recently added a much needed spritz of higher end dining to the Southerly wilds of the valley. The restaurant comes from the same folks behind Cliff Dining Pub and notes and features a menu that sets sail around a world of flavors including: Cuba, Italy, Jamaica, France, Greece, Korea and even…England.
Speaking as I do for all English people in the Americas, the menu's promise of "English chips" is as bold a claim as it gets for a true-limey. Them's fighting words. I'll report back.
12234 South, Draper Gate Dr Suite 105, Draper, UT 84020
(801) 274-4230
cultivatecraftkitchen.com
Dawgz N Leenks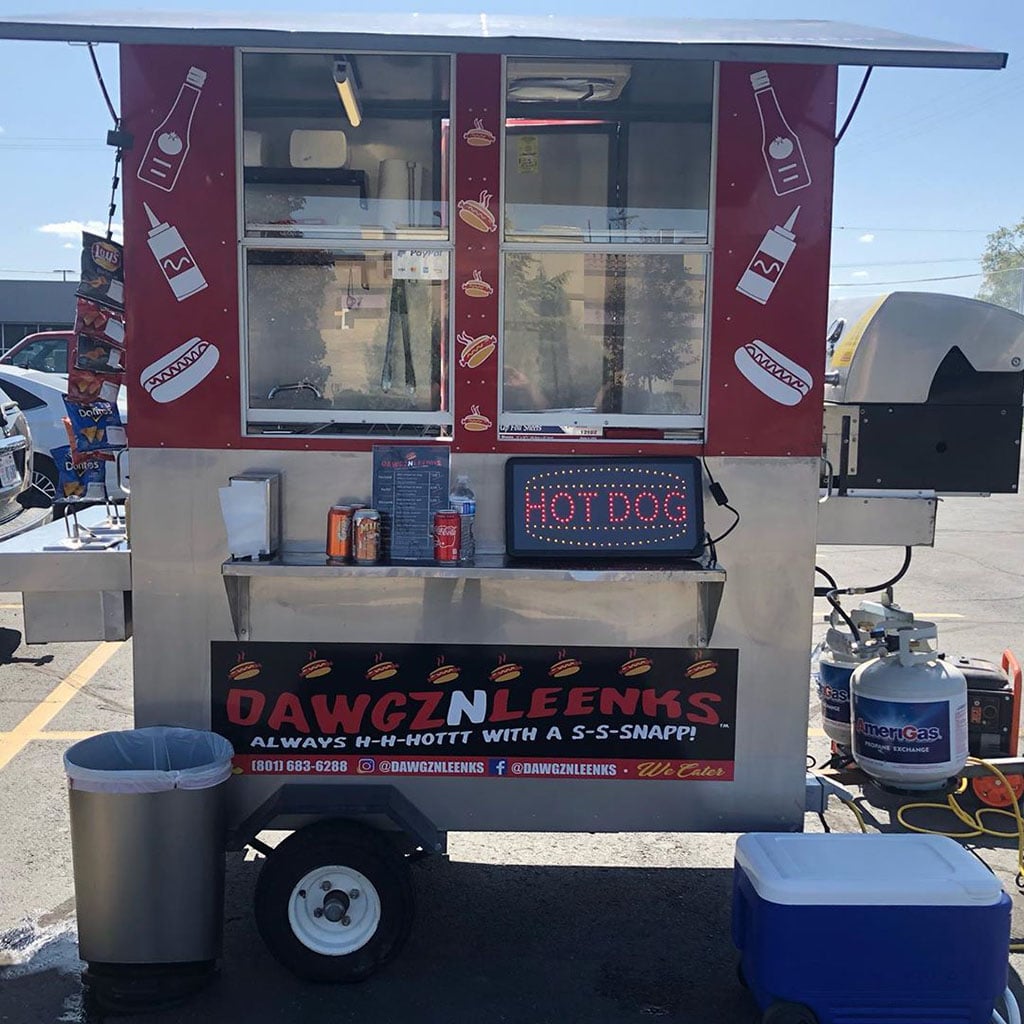 About as old school as it gets. In the recent mad rush of increasingly fanciful food trucks, Dawgz And Leenks keeps it simple and sane. There are no potted ferns along the serving counter, no fusion foibles or hipster humdrum. This is a hot dog cart. Plain and simple.
The basics start from about four bucks which means you should be able to eat here by scrabbling for change down the back of the sofa.
Diversion Social Eatery
Burgers, pizza and tacos form the holy trinity of the menu core at this new Marmalade restaurant. The restaurant also carries a full bar license meaning you grab a craft beer or cocktail with your carnitas.
535 North 300 West, Salt Lake City, UT 84103
(801) 657-7326
diversioneatery.com
Emigration Brewing Co
While the monster that is Ruth's continues to pack em in seven days a week, this next door spot has failed to capture the attention like it's chain smoking neighbor. The latest iteration is a mix of cafe, coffee shop and at some future point – an onsite micro brewery.
Apparently Emigration Canyon was once home to a rather robust brewery operation. Who knew. The website for the business speaks about hoping to recapture some of that storied history.
4170 Emigration Canyon Rd, Salt Lake City, UT 84108
(385) 800-1098
emigrationbrewing.com
Gura's Spice House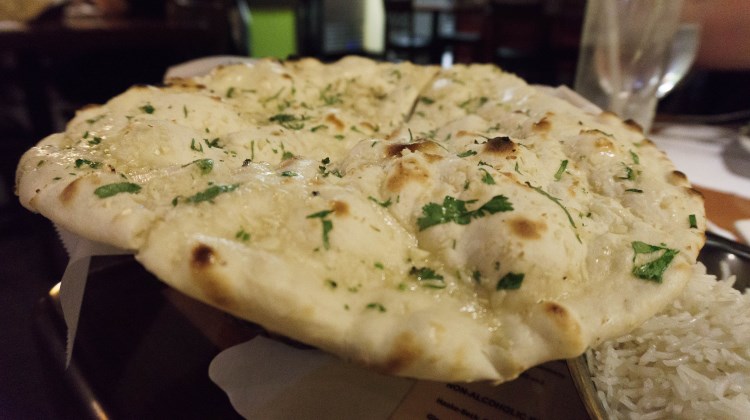 Once upon a time I reviewed the Herriman outpost of Gura's while freelancing for the Salt Lake Tribune. I can't seem to find the original online anymore, so here's the original unedited rough draft where you can read all about my first experience with the exceptional Gura's, and believe it or not, Peggy The Dog.
The new Gura's opens up in the spot left vacant by Kiraaak (not a typo, they loved their aaas) and before that Copper Bowl. Here's hoping third times the charm for the spot and this cuisine.
214 W 600 S Salt Lake City, UT 84101
(801) 419-0723
gurasspicehouse.com
Kluck's Krispy Chicken
Chickens departing Utah, do not do so via Orem, lest you be met by the portly Kluck. The menu is relatively spartan, providing a few other delicacies such as brisket with funions, fried chicken with bacon and doritos, plus elotes sprinkled with hot Cheetos.
Which reminds me. When is Utah getting those dispensaries again, um, asking for a hungry friend.
1066 S 750 E, Orem, UT 84097
(801) 310-4477
Handel's Homemade Ice Cream
A curiously animated eyebrow always starts to wriggle when a national interloper comes to town; and especially when it's one that attempts to join a party that's already swinging. Lets be clear, Utahns love ice cream. Utahn love the cheap stuff, and they love the fancy pants stuff. There's almost as much ice cream here as there is fried chicken.
Anyway, this national chain is now in Utah, setting up shop in Sandy. The brand offer cones, sundaes, smoothies, sherbets and lots more. They do so in an "olde" way too reckoning, "Since 1945, Handel's Homemade Ice Cream is made fresh daily on site. Recognized as the #1 ice cream in the world, we use only the best ingredients available and always in abundance."
26 W 11400 S, Sandy, UT 84070
(385) 787-1122
handelsicecream.com
Good Burger
Speaking of which, this Boise based burger brand (try saying that with a mouthful of cheeto sprinkled elote) recently opened up in the Layton Hills mall. Either they're mad or geniuses. Lets be clear, Utahns love ice cream burgers. Utahn love the cheap stuff, and they love the fancy pants stuff.
Alongside burgers though, the business has a second ace up its sleeve; pouring a portion of proceeds from the profits into a variety of community minded efforts. Apparently Good Burger "is all about creating the goodest burger and doing the goodest good" – their words not mine.
Another Utah location is mooted for downtown SLC a little later this year.
1201 N Hill Field Rd, Layton, UT 84041
(208) 407-4493
itsagoodburger.com
Maple Garden
Not completely new, but Ogdenites might want to note the return of this Chinese restaurant set to reopen in Union Station. More info over at the Standard Examiner.
3798 Washington Blvd, Ogden, UT 84403-1740
(801) 621-1888
Mazza
After quietly going about their business for how knows how many years, a third opening of this locally grown Lebanese outfit sprang up in Sandy relatively recently. The new location brings owner-chef Ali Sabbah's award winning cuisine to the burbs.
It's genuinely refreshing to see such quality cuisine making it's way out of the metro-core. When asked where to eat in Sandy, I'll no longer have to blink and sorry-not-sorry state Crown Burgers.
Good lord, I just imagined a crown burger topped with some carefully shredded lamb shank from Mazza. This is how my brain spends most of its waking life folks.
10660 State St, Sandy, UT 84070
(801) 613-9562
facebook.com/mazzaslc
Mint Tapas And Sushi
You might recall this Sandy spot under its former moniker – Blue Marlin. Somewhat unexpectedly, and as far as I can tell without much backstory, it recently became Mint. The cuisine is still Japanese, but the the creativity seems to have been amped up a few notches. The restaurant has been offering a number of multi-course dinners of late with several eye popping plates.
Oh, and if this all comes as terrible news, I want my Blue Marlin back – well – it looks like the business is set to bring that in good time too. Expect to see the Blue Marlin name come back as a downtown SLC based business. Because thats where all the new sushi restaurants now have to open by law. Google it.
8391 700 E, Sandy, UT 84070
(385) 434-8022
mintsushiutah.com
Oishi Ramen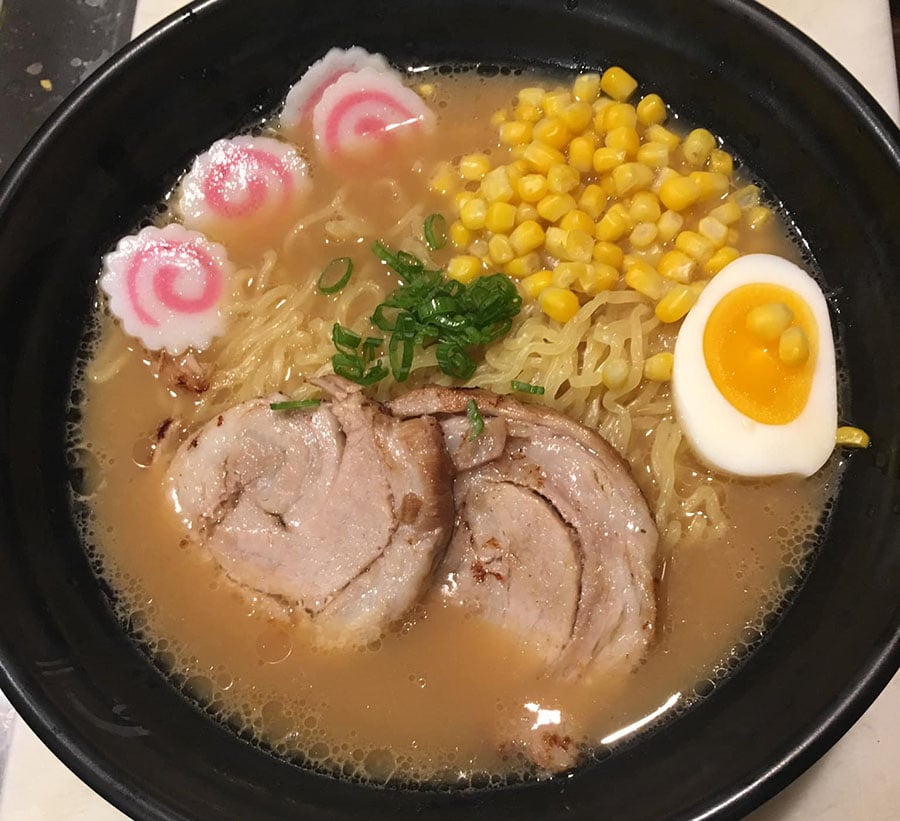 You thought we could get through a whole new restaurant roundup without mention of a new ramen restaurant. You thought I wouldn't leap on the opportunity to make some frazzled comment about the noodle oblivion. Well, you we're wrong on both counts. We have yet another ramen spot in town and plenty more are coming (see further down). This one joins the fun and games over at the SoSL China Town complex.
3424 S, State St, South Salt Lake, UT 84115
(385) 242-7075
facebook.com/OishiRamen3424/
Orange Blossom Cafe
Hands up who can't get The Man In Black out of their head reading that name. This humble Sunset, Utah restaurant takes Scandinavian-inspiration to pump out a d. Talking to the family owned business the Standard Examiner writes:
The menu is powered by a Scandinavian-inspired cold-smoking process that flavors meats before cooking. Steak burgers, sirloin cheesesteak and chicken salad sandwiches — plus pulled-pork burgers — are the products of 12 to 18 hours of cold smoking. Even our veggie burgers are smoked.
289 W 1300 N, Sunset, UT 84015
(801) 678-6480
Osteria Amore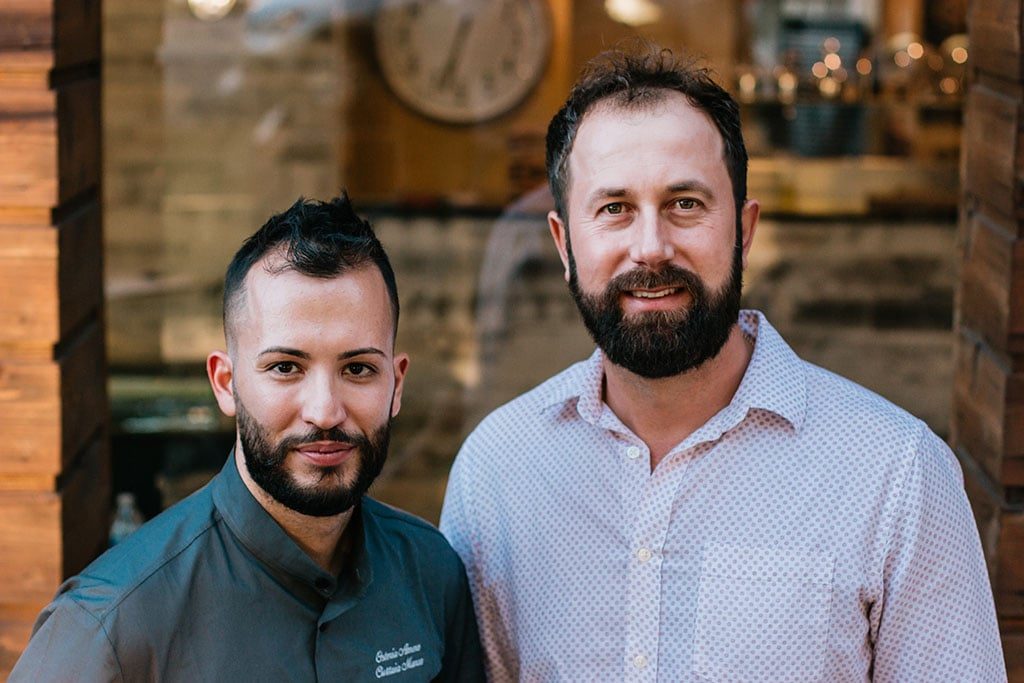 No doubt on several folks' radars for some time is this new Italian restaurant from alumni of the all dominating Sicilia Mia chain. The restaurant opened up their doors just a few weeks ago in the old Aristo's spot by the U and are keen to underscore they're taking their own unique path. There are no flaming wheels of cheese here. Presumably that helps with the insurance at least.
Anyway here's the formal PR blurb from the business:
A new Italian restaurant near the University of Utah, at 224 S. 1300 E., is set to open this month. Osteria Amore, owned and operated by Eduardo Daja with head chef Marco Cuttaia. The restaurant, which is the brainchild of Daja and Cuttaia, will occupy the space formerly held by Aristo's, a longtime neighborhood favorite until its closure in April of this year. The interior has been remodeled to attain a contemporary yet homey feel, and to make space for a wood-burning pizza oven and wine bar.
Daja and Cuttaia have a combined 30 years in the restaurant business; both began their culinary careers as teenagers in Italy—Daja in Bologna and Cuttaia in Palermo—where they developed refined palettes, learned traditional and modern cooking techniques, and discovered a true passion for food. They came together by chance as adults living in Salt Lake City, and have joined together to open a restaurant that they believe will bring the best of authentic Italian cuisine to the valley they've grown to love.
Osteria Amore's menu will highlight original recipes that bring the flavors of northern and southern Italy together in distinctive dishes including fresh handmade pasta, desserts featuring house-made gelato, and wines curated by the owner and head chef.
224 1300 E, Salt Lake City, UT 84102
(801) 946-6917
Pho Salt Lake
That really is the name of this new restaurant. Pho Salt Lake might just possess the most nondescriptly-forgettable name in town. I found this snippet over on Yelp reading this spot in South Salt Lake's merry-go-round Chinatown:
Ho Mei opened 2013 closed 2017
Pho Hue Ky opened 2017 closed Mid 2019
Pho Salt like open Aug 2019
And that's basically all I know.
3390 South State St, South Salt Lake, UT 84115
Pie Bar
Just in time for the myriad of cash, cashmere and cayennes to descend on Park City for the ski season, this new heart stopping opening from Alpine Distilling. I say heart stopping because, cmon, PIE BAR. I feel like I need to say those words a few more times.
Here's the full presser from the business:
Alpine Distilling, Park City's award-winning locally-owned-and-operated craft distillery, announces The Alpine Pie Bar, a new concept serving classic andmodern cocktails with locally-made, seasonal pies. A complementary model in a restaurant space, The Alpine Pie Bar invites guests to arrive early for a light cocktail in a relaxed setting followed by a great meal, wine and service at one of Park City's many outstanding restaurants. After dinner, relax and solidify memories over delicious pies from local baker Auntie Em's and Alpine's own award-winning spirits.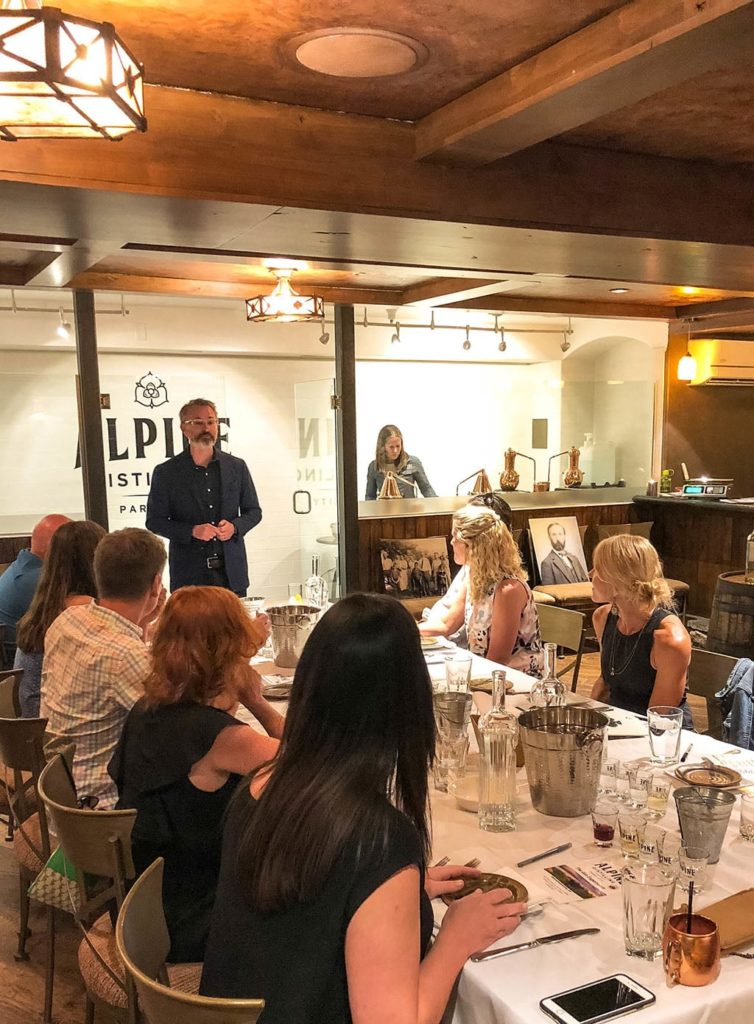 Located in the lower level of 350 Main St., The Alpine Pie Bar is an over-21 space also home to Alpine Distilling's Gin Experience, a comprehensive, hands-on lesson in the history and distillation of gin that has been lauded by numerous publications including Forbes; Travel +Leisure, HOTELS magazine, and others. Guests can make The Alpine Pie Bar part of their GinExperience by enjoying pie and cocktails while crafting their own custom gin. The Alpine Pie Bar is currently open from 3-9 p.m., Wednesday through Sunday.
Founder and Distiller Robert Sergent conceived of The Alpine Pie Bar as a place to enjoy Alpine spirits without pretense. He says pies and cocktails make a surprisingly good pairing (EDITORIAL INTERJECTION: pies pair with everything always!), especially when they include complementary seasonal ingredients. The pie menu is seasonal and guests can always look forward to classic and innovative cocktails. Founded in 2016 by Rob and his wife, Sara Sergent, Alpine Distilling has earned the recognition of spirits enthusiasts worldwide as well as numerous international awards.
Alpine Distilling produces the highest-quality premium spirits for active, creative and mindful individuals who are drawn to the mountain lifestyle of Park City, home to two world-class ski resorts and endless miles of hiking and biking trails. Each hand-crafted spirit starts with mountain water from a deep aquifer in Silver Creek, which originates near Alpine Distilling's state-of-the-art facility. Then, drawing on the endless inspiration of an alpine environment and Rob's family roots in Kentucky, Alpine Distilling combines classic distilling principles with creativity to produce one-of-a-kind spirits. Alpine spirits are distilled on site in custom stills.
350 Main St, Park City, UT 84098
(435) 200-9537
alpinedistilling.com/tastings
Punch Bowl Social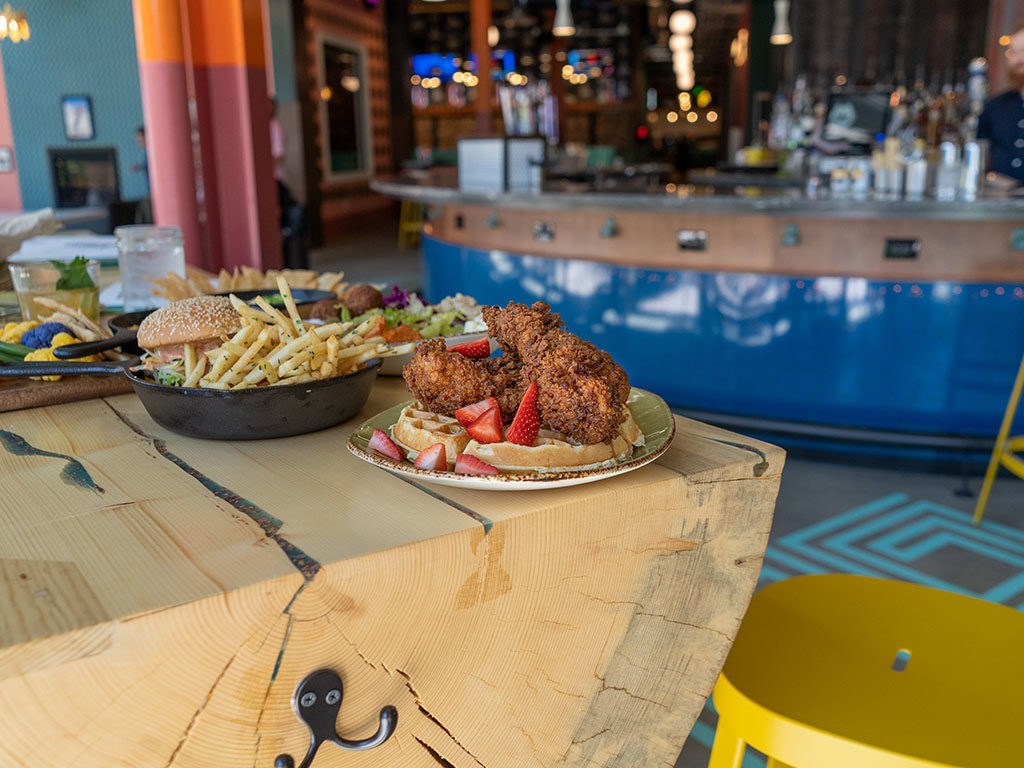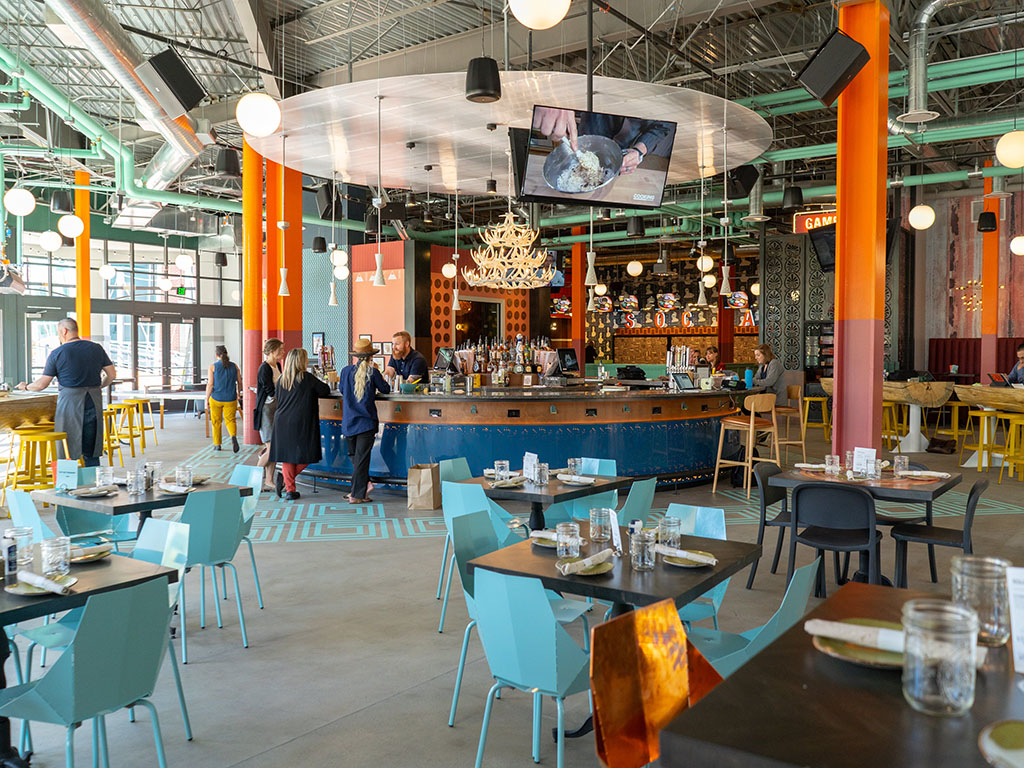 We've previewed this new opening several times now, so hopefully you're fully aware of this fun new spot over at The Gateway. On the off chance that you still haven't heard the good news, here's the elevator pitch.
This 21+ facility is a bar-restaurant-entertainment concept. Yes it's a chain, but yes it's also executed with aplomb. Whatever an aplomb actually is. There's fantastic fried chicken, there's private karaoke and mini bowling, there's great craft cocktails. Grab a free board game from their selection and hang out, check out the darts, foosball or arcade machines. Whatever you do: go.
Spitz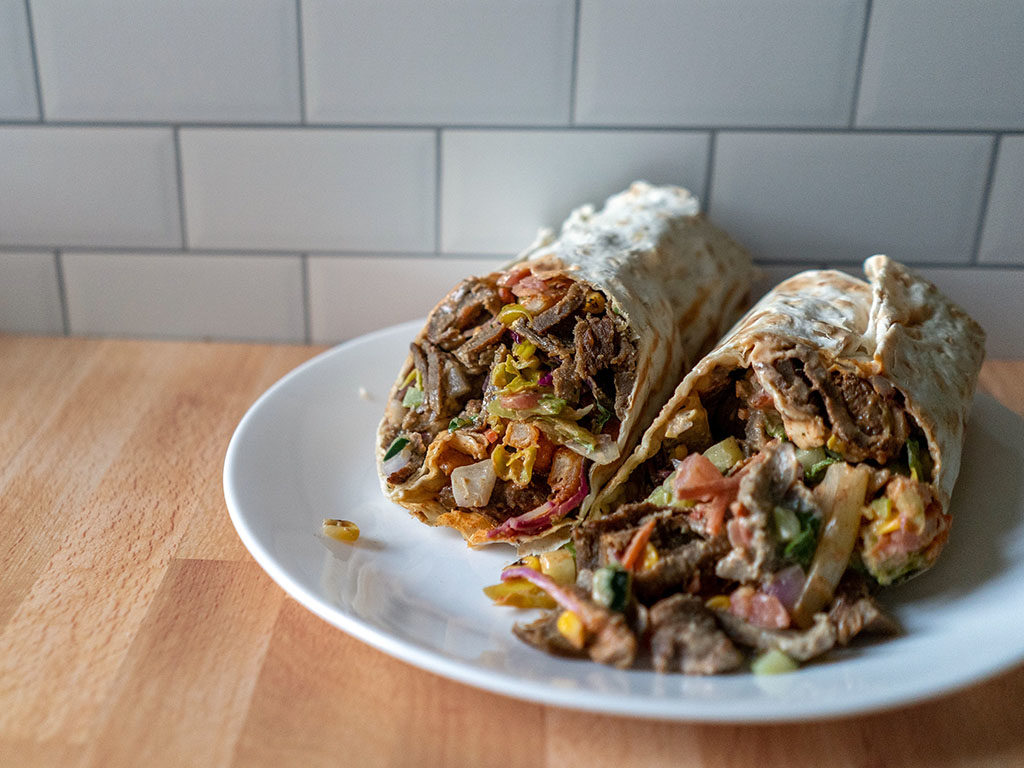 A good month for Draper and the South valley all around. Spitz recently extended their local imprint (they're out of Cali originally I believe) with this new location over in Draper.
For reference, the above picture monster is the "Beast Mode" doner kebab that the Door Dash app now lets you order. That takes a regular doner wrap and loads it up with fries, pickled corn and carrots, roasted corn, spicy sauce and extra peppers. And if you're careering to an early coronary like me, you'll do the smart thing and upgrade to double meat too.
The paper thin wrapping heaves under the bursting weight of the content. Not unlike me trying to get into my jeans on a daily basis at this point. Word to the wise: Levi's 513's with their 3% Elastene content is stretchy goddamned heaven.
62 E 12300 S, Draper, UT 84020.
(801) 432-8204
spitzrestaurant.com
Real Taqueria
This new Holladay taqueria started life as a food truck until recently making the leap to a bricks and mortar operation. The restaurant moves into a now defunct KFC restaurant (rejoice chickens) on the corner of Highland Drive and Murry-Holladay Road.
There's a respectable selection of proteins at Real Taqueria including tongue and cactus amongst more familiar options like barbacoa and asada. Prices start from $2.99 per taco.
869 E Murray Holladay Rd, Holladay, UT 84117
801) 432-7962
realtaq.com
Salt Stone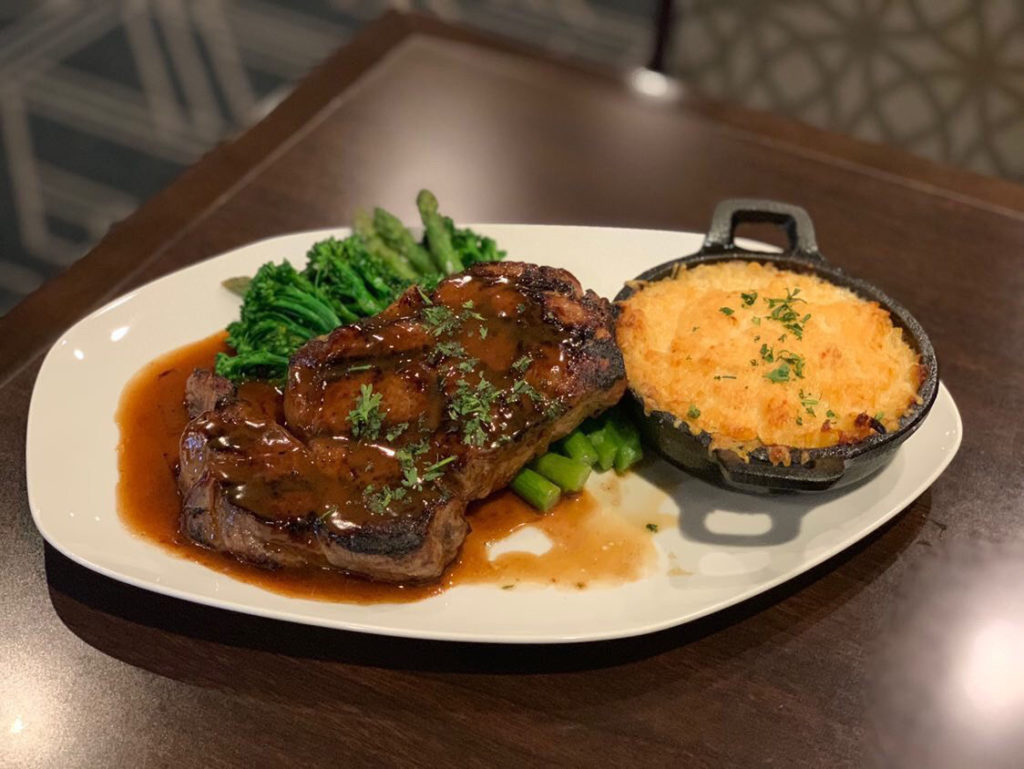 Writeup and pics provided by Salt Plate City: Salt Stone, located inside the Salt Lake Marriott Downtown at City Creek, recently reopened its doors with a new look, new name, and new menu. The menu, created by Executive Chef Jason Gray, is as comprehensive as you'd expect from a hotel's featured restaurant but brings with it many dishes and ingredients from right here in Utah. Wasatch Meats ribeye and short rib, Fog River trout, Slide Ridge honey, Creminelli meats, High West Bourbon, and Gold Creek Farm cheeses, just to name a few, pop up throughout the menu, which also includes traditional "Utah cuisine" like green jello, scones, and funeral potatoes.
75 S W Temple, Salt Lake City, UT 84101
(801) 537-6023
Saffron Circle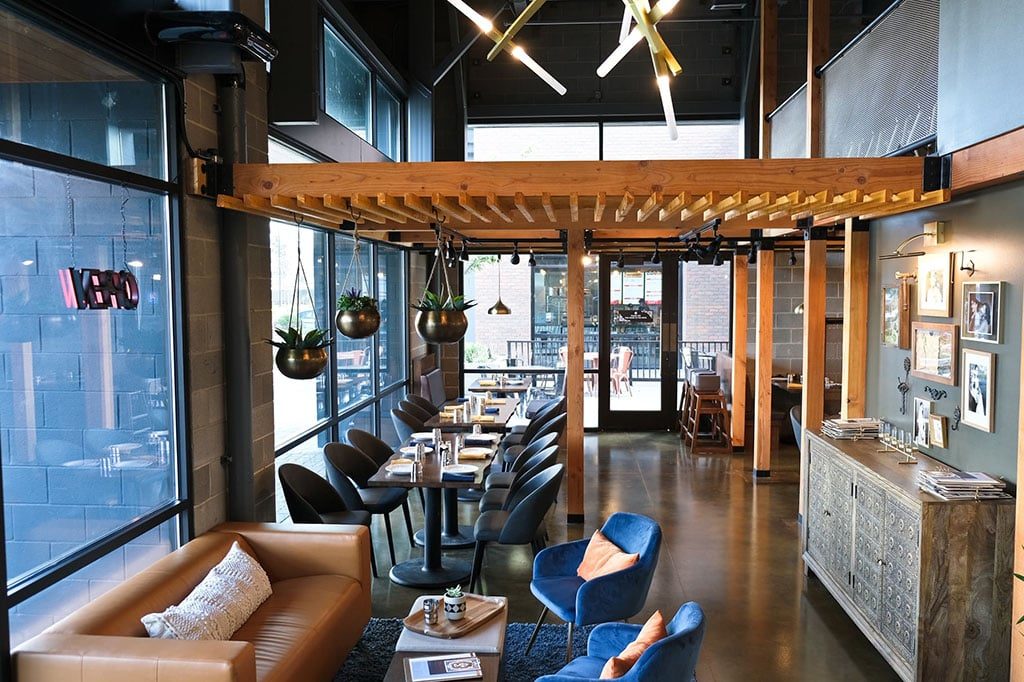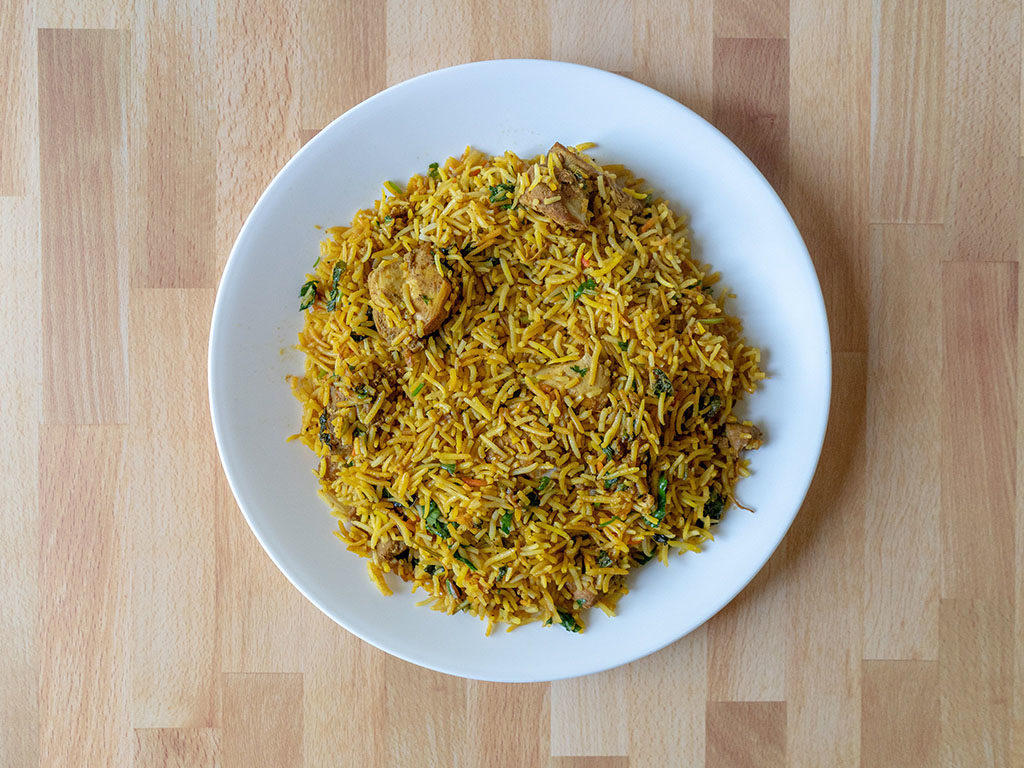 We recently wrote about this new opening in much more detail here. The TL;DR is this is set to become Riverton's goto restaurant. The fanciest of the Saffron Valley businesses to date isn't messing around. The interior looks like a million bucks, the menu offers a tasting selection, and the liquor options are hands down the best of any Indian restaurant in town naming checking the likes of Ransom, Kiitos and High West.
Colonial | 26 E St E, Salt Lake City, UT 84103
Bistro | 79 E 2100 S, Salt Lake City, UT 84115
Canteen | 1098 S Jordan Pkwy, South Jordan, UT 84095
Circle | 4597 W. Patridgehill Lane, Riverton, UT, 84096
saffronvalley.com | order delivery (affiliate)
Taco Loco
Delivered right to your door or desk, Chicago style tacos and torta. You can find more details over on their Instagram page, delivery requiring a $20 order minimum. No idea what Chicago style is mind you, I don't see any sports peppers over there.
Tin Angel Eccles
The original Pioneer Park location of Tin Angel Cafe is now closed. More than a few naysayers said nay when the original took root opposite the unglamorous city park location a decade ago.
This next spot, on the ground floor or the Eccles Theatre is arguably more of a ballsy choice for owner-operator duo Kestrel and Jerry Liedtke.
131 Main St, Salt Lake City, UT 84111
(801) 328-4155
Tokyo Teriyaki
We'v been tracking this one for a while, but it's all go finally; at least after this Friday (November 1st) when the Sugar House location opens its doors. In in the interim the Midvale location is already open and slinging teriyaki bowls.
Tokyo Teriyaki is the work of the same family that recently shuttered the long time favorite Kowloon Cafe in West Valley City. While the new business is focused don a completely different format and cuisine, they've hinted they might offer Kowloon favorites as specials down the line.
7121 S Bingham Jct Blvd, Midvale, UT 84047
(801) 666-8867
7 Buddha Tea
I don't have a huge amount of detail on this one just yet. 7 Buddha Tea is a new bubble tea and dessert spot over in Murray. Opened by the same family behind Pho Saigon everything I've heard so far has been particularly positive. For more info, Salt Plate City tipped me off to this one. Find the menu here.
Coming soon
Next up a list of maybes, definitely maybes and unsubstantiated rumors direct from the mill. Some of these should open their doors in the coming weeks and months. Some of them might be mere myth.
Alpha Coffee
Expected to join the ongoing shenanigans of Regent Street in downtown SLC is this militarily-themed coffee shop. This part of SLC is currently in flux seeing the recent closures of both Fireside On Regent and the Last Course dessert cafe.
Calavera Cantina
I don't have much on this one yet. Bar-ring (lol) their DABC application for a full liquor license there's not much more to go off here. Licenses are in such dramatically short supply right now, I wouldn't expect any movement for some time.
Update: after hearing the ongoings at the DABC meeting today (Oct 29th) there's no more projected bar licenses for 2019. What's more, there are just three anticipated for 2020 in total! It's gonna be some year.
Fat Jacks Burger Emporium
Building on their downtown SLC burger business, Fat Jacks are headed Northward. Ogden to be precise. You're getting an emporium Ogden.
Fratelli Ristorante
Not a new opening per se Sandy but moving to the corner of 86th South and 13th East. The Fratelli team are projecting a February 2020 completion but as with all restaurant build-outs take that with a grain of orzo.
Fresh Fin Poke
Joining a raft (or should that be shoal?) of local competitors comes this out of state newbie by way of Milwaukee. Fresh Fin is headed to downtown SLC sometime soon.
Good Day Cafe
Little to no info on this one just yet, except a small tip from a site reader indicating this would be the potential business replacing the now dearly departed Meditrina.
Kung Fu Hotpot
This one sent to me by a reader of the site, I haven't yet spied any corroborating info, but hey…
"Just heard that Kung Fu Hotpot are opening a new location near China town on state street and their plan is to open in September 2019. Hope the rumors become a reality."
La Trattoria Di Francesco
This one should be set to open pretty much any day now. Devour mag writes about the concept:
"The Mirenda family who owns five Italian restaurants in Utah is excited to announce a new way to feast on their delicious Sicilian food. La Trattoria di Francesco (1500 S. 1500 East, SLC ) will be opening soon. "This restaurant is the real Italian deal—all of our other restaurants are 98% Italian and this one is 100%.
It offers 100% Italian culture," says Mirenda. The restaurant features two rooms with a capacity of 8-25 people. "Within these rooms, the kitchen is visible," Mirenda says. "It's possible to see a display of all of the cuts of meat and fish we offer." He explains that dinner at this location is a leisurely experience of 11⁄2 to two hours in which the courses are prepared separately upon ordering. As a final course, diners may choose from two homemade desserts made from scratch. "
1500 S 1500 E, Salt Lake City, UT 84105
facebook.com/La-Trattoria-Di-Francesco-109354873816272
Momi Donuts
Like donuts? Like mochi? Tired of chicken. This one is for you. Set for the The Gateway, hopefully sooner than later. Here's the full press release:
The Gateway, Utah's premier community gathering, dining and entertainment destination will welcome Momi Donuts in Fall of 2019. Momi's mochi donuts are one of the hottest new food trends coming out of Asia and Momi Donuts will be the first mochi donut bakery in Utah. Located in Restaurant Row on the south end of the property, Momi Donuts will be a popular new addition of more than 554 square feet of dining to the Gateway's growing list of specialty restaurants.
Pon de Rings, a type of mochi donuts, are sweet and chewy, not cakey or heavily battered like their western counterparts. They are made with naturally gluten-free glutinous rice flour and tapioca starch, instead of traditional white or wheat-based flours. Each donut is made up of eight connected balls or "donut holes" forming a ring. Each glazed with delicious flavors, Momi Donuts will offer original specialty glazes, including strawberry, cookies and cream, and other seasonal flavors.
"We're excited to introduce this delicious concept to Utah," says Jacklyn Briggs, marketing director for The Gateway. "Mochi donuts are truly unique and we know people are going to be surprised and delighted with the texture and taste when they try them. They join our other first-to-Utah concepts like the brand-new food hall and Punch Bowl Social."
The address will be 158 South Rio Grande St, Unit B, Salt Lake City, UT 84101 and website (now under construction) will be www.momidonuts.com.
Momo's Japanese Sushi & Ramen
This one via this months DABC meeting notes. Set to open in Logan.
Nohm
This one has me intrigued. Again, coming across it by chance in a DABC filing, this gastropub is working towards an opening in the Central 9th area. Thankfully it's only bar licenses that are scant right now, there are plenty more full service restaurant licenses to go around for some time yet.
The menu at Nohm looks set to be heavily influenced by Korean and Japanese flavors, offered in a casual pub format. They're currently in the build out and hiring stages, you can follow along with their progress on Instagram here. Also curiously, they're listing the old Meditrina address as theirs too.
Nomad Eatery
Hopefully opening their doors before the end of the year, an SLC location for this popular Rose Park restaurant that has garnered endless praise and plaudits for their clever comfort food menu. Moving into the space left empty by Eggs In The City, they'll be bringing their wildly popular fried chicken sandwich with them too.
2795 S 2300 E, Millcreek, UT 84109
nomad-eatery.com
O´Crab – West Jordan
Little to nothing on this one so far except a listing for a liquor license at this months DABC meeting. Set to open at Jordan Landing my money would be on the boil in the bag seafood/shellfish setup that seems to be increasingly popular. If you know otherwise, lemme know.
Ogden River Brewing
A new craft brewery and restaurant. The Standard examiner writes:
"ORB will be located at 358 Park Blvd., next to the Ogden River Parkway and just behind Slackwater Pub & Pizzeria. The building will feature an outdoor patio next to the pathway and a second-level event deck with views of the river and mountains. The restaurant's menu hasn't been set yet, but it'll likely be an "American bar-type menu" with hamburger and steaks among the offerings."
1921 Lincoln Avenue, Ogden, Utah 84401
(385) 244-0042
ogdenriverbrewing.com
All Star Bowling / Pins And Ales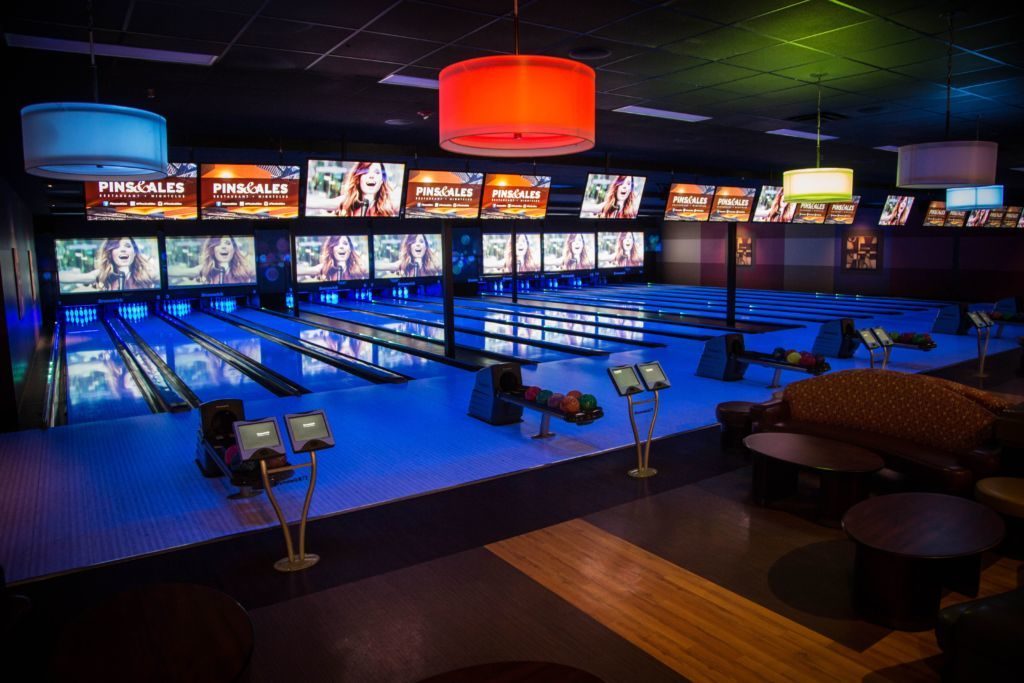 Come the middle of November and this new entertainment facility should be a go. Opening up in the Valley Fair Mall the business joins existing operations in Draper, West Jordan and Tooele.
It's been many years since I visited the first opening in this long term project, Tooele's Bonneville Brewery, but if memory serves the beer, food and fun were all mighty fine. Here's the full press release for the opening including all the details about the grand opening and series of events:
Utah's own fast-growing family entertainment center company announces their long-anticipated opening of All Star Bowling & Entertainmentand Pins & Ales at Valley Fair with two open-to-the public events at this exciting new destination for fun.
The festivities kick off on Friday, Nov. 1 with a charity benefit party for the 21+ set from 7 – 10 p.m. Held in Pins & Ales this "first peek" will feature boutique bowling, bocce ball and bar games, a sampling of Chef Mags' bar bites and music by DJ Fresh(ness). The cost is just $20 and 100 percent of ticket proceeds benefit the Alzheimer's Association of Utah. Cocktail specials and their own Bonneville Brews will be available for purchase. Tickets are available at bit.ly/pinsales_alz.
The big Grand Opening celebration will be held Saturday, Nov. 9. From 10 a.m. until 2 p.m., in partnership with the Granite School District. The public will be offered a $20 gaming card for $10, with proceeds going to Choose Gang Free. The fun includes a DJ, balloon artist and face painting. The first 50 people in the door will get a pass for a free game of bowling and shoe rental, a $10 game card and one free pass for bumper cars and laser tag. The next 150 people in the door will receive a free $10 game card.
Also, on Nov. 9 from 6 until 9 p.m., it's a big public party for the Grand Opening of Pins & Ales for adults aged 21+, there will be free bar games and free menu tasting stations. Specialty cocktails, Bonneville Brews and other alcoholic beverages will be available for purchase.
"We are pleased to welcome All Star's fifth location to Valley Fair. Not only will they have a dramatic impact on the west side of the county, they also will have a tremendous economic impact, hiring more than 100 people with a payroll of more than $1.5 million," said Salt Lake County Mayor Jenny Wilson. "They have also made a great commitment to the area with a $10 million build-out of this new 70,000 square foot facility."
"We are dedicated to our community and want to make sure we are contributing in a meaningful way," said Suzi Summer, All Star Bowling & Entertainment's Director of Sales. "As we celebrate this momentous milestone opening, we are proud to donate all proceeds of ticket sales to Alzheimer's Association of Utah and to 'Choose Gang Free."
Modeled after its Draper location, All Star Valley Fair, boasts a high-tech family-friendly bowling center of 32 lanes with unique technology and luxury seating plus nighttime cosmic bowling experiences with art lasers and black lights. More than 130 of the latest interactive and virtual reality games, from old-school table air hockey and basketball to the latest technology games, generate redeemable points. Families can enjoy bumper cars with fast cars and high-energy music or laser tag with lasers, mirrors, haze and unique themes. It's the perfect place for a party with friends, date night or corporate celebrations. This is the fifth location in the valley, joining Draper, Sandy, West Jordan and Tooele. Hours of operation, Mon.-Thurs. 10 a.m. – midnight, Fridays, 10 a.m. until 1 a.m., Saturdays 9 a.m. – 1 a.m. and Sundays 9 a.m. – midnight.
Pins & Ales 21+ nightclub adds to the fun for the 21+ crowd. This high-energy nightclub and sports bar open to adults 21+, is a truly unique mix of VIP upscale bowling lanes, DJs, large screens, dance music, delicious dining and nightclub scene entertainment with hand-crafted cocktails and selections from their very own Bonneville Brewery. Revelers can celebrate at the large island bar in the vibrant lounge or around a firepit on the patio. Entertainment options at Pins & ales include giant Jenga, corn hole, shuffleboard and bocce ball courts. Hours of operation: Tues. – Sat. 11 a.m. – 1 a.m. and Sunday and Monday 11 a.m. until midnight.
Mouthwatering chef-inspired American cuisine with more than 100 menu choices includes delicious shareables like wings, loaded nachos, oven-baked artisan pizza and a full range of starter plates, inspired sandwiches, gourmet burgers and healthy salads. House specialties like taco platters, beer-battered fish and chips, Santa Fe barbecue chicken or a delicate honey miso glazed salmon filet are offered. There is something to tempt every palate and full service to the lanes for serious aficionados. For the thirsty, All Star boasts a full bar with hand-crafted cocktails and full line of brews from their very own Bonneville Brewery in Tooele, Utah, whose non-alcoholic options include Captain Benjamin's Root Beer and Lady Elizabeth's Cream Soda.
"All Star Bowling & Entertainment and Pins & Ales fit in perfectly with all of our exciting changes at Valley Fair," said Jessica Peterson, Marketing Manager for Valley Fair. "Between our full calendar of community-driven events and infusion of new retail, dining and entertainment, we are proud to offer incredible lifestyle experiences to the community."
3601 S. 2700 W. West Valley, UT 84119
allstarbowlingandentertainment.com
Slackwater Pizzeria And Pub
Utah Beer News has the full skinny on this Ogden-transplant that's aiming fo a November 4th opening in Sandy. Highlights for the 7,000 square foot SL Valley iteration of the popular pub include:
The bar area (21+, though the rest of the restaurant is family-friendly) features two walls of tap handles — eight on one and 20 on another
A back-loading cooler stores cans/bottles for 225+ brands, making it easy to rotate stock
The restaurant seats about 225. That number jumps to 320 when adding in two patios (which include fire pits reminiscent of the original Slackawater)
A massive pizza oven can cook 48 pizzas at a time
An accent wall behind a stage will showcase artwork by local artists on a rotating basis
I told you it was a good month for the South valley!
10290 S State St, Sandy, UT 84070
(801) 930-5147
slackwaterpizzeria.com
Wingin It
No update of late but this Northern Utah food truck made noises about planing a bricks and mortar store back in August.
Wing Coop
Set to join Diversion in a revamping Marmalade area is this second location for Wing Coop. Oft-winner of SLC's best wing (no I'm not getting into that debate) is set to open very soon. Known for their fried wings and a variety of 17 unique sauces including the likes of honey habanero, raspberry chipotle, loco lime, peanut curry and more.
Seriously chickens.
Yoshi's
The Murray casual Japanese eatery is planning an upcoming downtown SLC location. More info at the following link.
Others to watch
We've written about these before, but they've still yet to open their doors. You can read the previews via the links below. We'll keep watching and waiting and let you know as they open:
Bewilder Brewing – last mentioned in June
Carson Kitchen – last mentioned in April
Congregation Spirits – last mentioned in June
Curry Up Now – last mentioned in June
Hot Buns – last mentioned in June Hearing word this has been axed sadly
Nacho Daddy – last mentioned in April
Lucky's Iron Door Roadhouse – last mentioned in August
Mr Shabu – last mentioned in August
Noodle Run – last mentioned in August
Ramen Legend – last mentioned in August
Sweet Rolled Tacos – last mentioned in April
Ta'contento – last mentioned in April
Skinny Fats – last mentioned in June
Sweet Lake Biscuits And Limeade – last mentioned in August
Sweet Rolled Tacos – last mentioned in April
Trolley Wing – last mentioned in April
Tsunami 9th and 9th – last mentioned in June
Vessel Kitchen – last mentioned in June
Opening a new restaurant in Utah? Be sure to check out our Utah restaurant resources mini site for the businesses and services you will need to help you open your restaurant.
*Please don't take your investment advice from barely functioning food writers.
Hi, I'm Stuart, nice to meet you!  I'm the founder, writer and wrangler at Gastronomic SLC.  I'm a multiple-award winning journalist and have written in myopic detail about the Salt Lake City  dining scene for the better part of seventeen years.
I've worked extensively with multiple local publications from Visit Salt Lake to Salt Lake Magazine, not least helped to consult on national TV.   Pause those credits, yep, that's me! I'm also a former restaurant critic of more than five years, working for the Salt Lake Tribune.    I'm largely fueled by a critical obsession with rice, alliteration and the use of big words I don't understand.   What they're saying about me: "Not inaccurate", "I thought he was older", "I don't share his feelings".
Want to know more? This is why I am the way I am.
This article may contain content provided by one of our paid partners. These are some of the best businesses in Utah. For a list of all our current and past relationships see our
partnership history page
.