This week saw the first weekend of 2021's Open Street's initiative; the perfect Summer long antidote to a year of being locked down at home. Every week (Thursday – Sunday) SLC's Main Street is made pedestrian only from 400 South right up to South Temple.
With the multi-block stretch of Main shut down to auto traffic, businesses can extend their service areas onto sidewalks offering increased outdoor dining and shopping. The inaugural opening this weekend also also saw Busker Fest hit the streets with a program of 30 nightly performances on Main, Regent Street, Gallivan and Exchange Place.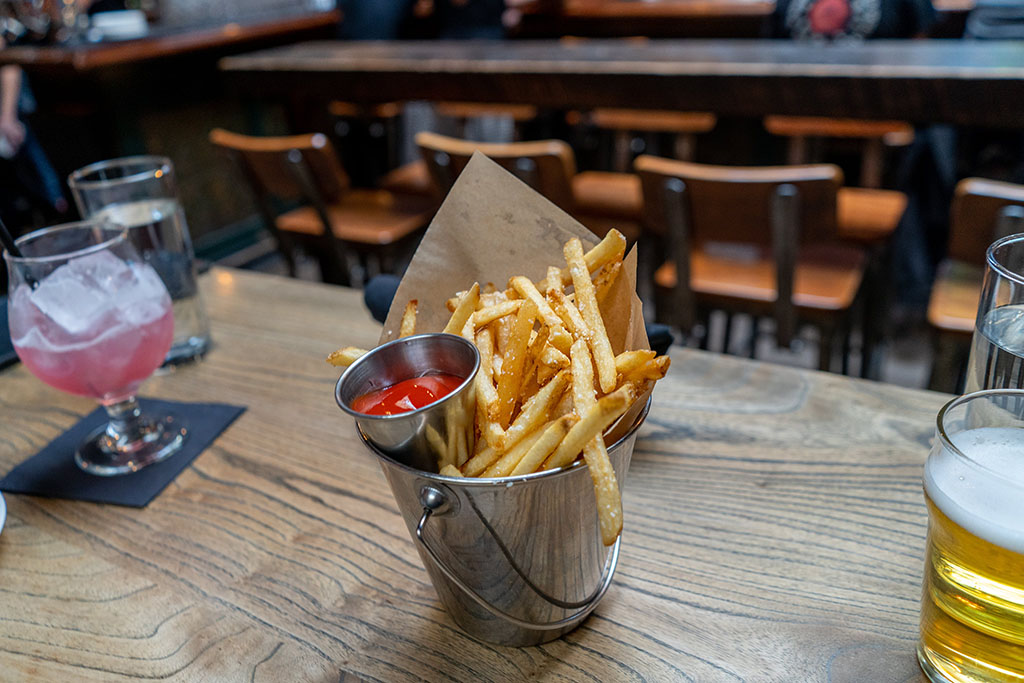 Supporting the pedestrian-friendly update, take note of the free two-hour parking at City Creek Center as well as this new UTA late night service. ADA information is also available via the Open Streets site.
For more info on what's happening this Summer and Fall check out our recent recap of the big events coming up here.
IRS explains which meals qualify for temporary 100% expense deduction
This one from local restaurant org SLARA caught my eye, "Did you know that the IRS is now temporarily (through 2023) allowing a 100% tax deduction for restaurant expenses?! Yes. Here is the information if this applies to you. Please support your independent restaurants and bars!" .
The Facebook post links to further reading over at the Journal Of Accountancy that states:
Under Sec. 274(n)(1), a deduction for any expense for food or beverages is generally limited to 50% of the amount that would otherwise be deductible. However, the Consolidated Appropriations Act, 2021, P.L. 116-260, enacted a temporary exception to the limitation for amounts paid or incurred after Dec. 31, 2020, and before Jan. 1, 2023, for food or beverages provided by a restaurant (Sec. 274(n)(2)(D)). This temporary 100% deduction was designed to help restaurants, many of which have been hard-hit by the COVID-19 pandemic.
Copper Creek Pub And Grub closes
Taking to Facebook midway through the month, this restaurant with nearly two decades under their belts, sadly called it quits as follows:
It is with deep sadness I announce the closure of Copper Creek Pub & Grub. After almost 17 years and, many wonderful memories I must say goodbye. It is regrettable to say, after surviving the many months of this pandemic through all your support, I find myself unable to staff my beloved restaurant adequately.
This has been a grave issue for many months and, shows no signs of improvement. A terrible and unfortunate response to the pandemic. This coupled with ongoing personal health issues, prohibits me from continuing to move forward. I cannot thank you or, my staff enough for the years of love, support and loyalty. I will remember each of you fondly always.
It has been our greatest pleasure to serve each of you and, we thank you for the opportunity.
Sincerely and with best regards, Vanessa & The Copper Creek Family.
Harmons Cheese Festival
Cheese lovers mark June 12th in your diary. Via press release:
With more than 200 specialty cheeses from around the world, Harmons has you covered.
The all-day, in-stores cheese festival held June 12 offers customers 25% off all specialty cheese for the day.
Featured cheeses at the festival include:Parmigiano Reggiano – Harmons works with the Lemmi family who own and operate Caseificio La Madonnina on the outskirts of Parma, Italy. Harmons has had a relationship with the Lemmi family for more than 13 years. All Parmigiano Reggiano is aged over 24 months. 
Harmons Fresh Mozzarella – Made fresh in store by Harmons' cheesemongers. 
Harmons Parmesan Crisps – Made fresh in store by Harmons' cheesemongers.
Feta – Perfect for a summer salad or pairing with watermelon.
Smoked Gouda – Great for topping a burger, or enjoying on a picnic.
Hearth And Hill new Spring options
Via press release:
Hearth and Hill restaurant, the popular "gathering spot" for Park City locals and visitors, offers fresh flavors of spring with its new lunch, dinner and cocktail menus. Executive Chef Jordan Harvey, Pastry Chef Jessie Nakoneczny, Bar Manager Daisy Clark and their talented teams provide patrons delicious cuisine, dessert and cocktail creations, while canine guests enjoy their own springtime treat – a complimentary Hearth and Hill logoed tennis ball.
"The Hearth and Hill family is excited to offer our new spring menus that feature the freshest, locally sourced ingredients available for the season," said Proprietor Brooks Kirchheimer. "We invite guests to enjoy snacks, lunch, dinner or a cocktail, and we encourage their furry friends to join them on our dog-friendly patio."
Fresh additions include the new Spring salad (Ranui greens, avocado, beet, radish, Silver Queen goat cheese, maple vinaigrette) and Kale Caesar (kohlrabi, crouton, grana Padano parmesan). Additional lunch menu items include an Italian Hoagie, Roasted Chicken on ciabatta, the award-winning H and H Burger, and Veggie Sandwich.
Kick off dinner with Fig and Speck Flatbread, Baked PC Creamery Brie or Potato Pierogi, or snack on Beer Battered Cauliflower, fries with garlic parmesan, or Hearth and Hill's signature Cheddar Biscuits. Dig into Big Glory Bay Salmon, Wild Alaskan Halibut, Korean Fried Chicken, Carne Asada and Cauliflower Enchiladas. Enjoy a sweet finish from amazing desserts such as Warm Flaky Brioche, Huckleberry Almond Cake, Maple Lime Chocolate Bar, Mexican Caramel Shortbread and Sticky Toffee Pudding.
Build-your-own Old Fashioned and seasonal cocktails such as Paradise Mountain (Antelope Island rum, Giffard banana, pineapple, orange, tamarind shrub), Spicy Sunshine (tequila, lime, jalapeño, pineapple), Pink Sky (Moab Tight Squeeze gin, Alpine preserve, lemon, cranberry, mint), and PC Sangria (brandy, Alpine preserve, orange, demerara, red wine) are available to enjoy all day long. An extensive beer and wine list, as well as doggone fun mocktails – Boone's Brew (Ritual cocoa, graham cracker sprinkle, whipped cream), Jack's Juice (Pyne Farm cherries, limeade), Layla's Lemonade (strawberry, basil seed, thyme), and Tank's Twist (pineapple juice, peach, mint) – round out Hearth and Hill's spring sippers.
Current hours at Hearth and Hill are as follows:
Tuesday – Saturday: 11:30 a.m. – 8:30 p.m. and Sunday Brunch: 10 a.m. – 3 p.m. Reservations for either dine-in or dine-out options, including take-out, free delivery, frozen items, etc. are available on-line or by calling the restaurant at 435-200-8840.
In other news
Keep the conversation going
Want to stay on top of the SLC food scene, minute by minute, dish by dish? Here are a few other places you should follow along:
Hi, I'm Stuart, nice to meet you!  I'm the founder, writer and wrangler at Gastronomic SLC.  I'm a multiple-award winning journalist and have written in myopic detail about the Salt Lake City  dining scene for the better part of seventeen years.
I've worked extensively with multiple local publications from Visit Salt Lake to Salt Lake Magazine, not least helped to consult on national TV.   Pause those credits, yep, that's me! I'm also a former restaurant critic of more than five years, working for the Salt Lake Tribune.    I'm largely fueled by a critical obsession with rice, alliteration and the use of big words I don't understand.   What they're saying about me: "Not inaccurate", "I thought he was older", "I don't share his feelings".
Want to know more? This is why I am the way I am.
This article may contain content provided by one of our paid partners. These are some of the best businesses in Utah. For a list of all our current and past relationships see our
partnership history page
.