In his first meeting taking the reigns from former chairman John T. Nielsen, commissioner Thomas Jacobson ran a briskly paced meeting that sped through the docket at an enjoyable pace. A few notable items that came up:
The list of businesses requiring extended closures has slowly been whittled down to just a small handful. Publik Eds were the last notable business requesting a smidge more time to re-open. The University area business was granted an extended closure until August 13th.
Scion in the Central 9th also requested a little extra time. Commissioner Jacobson again made his thoughts clear that businesses purchasing a bar license on the open market should ideally be ready to open within 30 days thereafter. Scion's GM Rio Connelly explained a range of issues facing the modest sized (1700sq ft) cider focused bar; stating that final construction would begin soon with an aim to complete in September – October at the very latest. The commission allowed one more extension until October with Jacobson warning, "if you're not open in October, I'm sure there's gonna be a real issue that you're gonna need to talk to us about".
In the section of the meeting that covered new bar license, Scott Evans spoke before the commission and confirmed that Casot (15th and 15th) would be "a little wine bar" which is currently on schedule for and end of August opening. Evans confirmed the space is "really really small", 1700 square foot in total, the wine bar occupying 600 of that.
Bar licenses
And then the bit of the meeting where everyone is on tenterhooks. Going into the July meeting two bar licenses were available in the state of Utah; Ben Winslow snapped this picture of the complete picture of licenses too. One more bar license should become available in September, with a further additional license in November, with expected population increases.
With such constrained supply the commission has been keen for businesses to state their realistic opening dates. Therein, these were the nine applicants going into the meeting and their respective projections for opening their doors to a thirsty public:
Eight Settler's, Salt Lake City, projected opening July 2021
Spiritual, St George, projected opening July 2021
Casot, Salt Lake City, projected opening August 2021
The Spoke, Moab, projected opening September 2021
Bout Time Pub & Grub, Vineyard, projected opening September 2021
Garage Grill, Herriman, projected opening October 2021
Edison House, Salt Lake City, projected opening March 2022
Fife Brewing Company, Salt Lake City, projected opening April 2022
Bout Time Pub & Grub, Bluffdale, projected opening July 2022
Eight Settlers (currently operating a full service restaurant license) was the only businesses to be granted a license, the remaining license punted to August's meeting. Commissioner Jacobson underscored the DABC's aim to only give out licenses to business good to go asking, "we give you a license today, you're open tomorrow ?". A positive response (and a final walk through from DABC staff) means the Cottonwood Heights restaurant now has a bar only space.
Full service restaurant licenses (liquor, wine beer)
Copper Creek Pub & Grub, Salt Lake City
Doug's BBQ, Monticello, conditional
Wimpy and Fritz, Ogden, conditional
Via 313 Pizzeria, Orem, conditional
Fenice Mediterranean Bistro, Salt Lake City, conditional
The Capital Grill #8069, Salt Lake City, conditional
U Club, Salt Lake City, conditional
Stanza Italian Bistro & Wine Bar, Salt Lake City, conditional
Trolley Wing Company, Taylorsville, conditional
Limited service restaurant licenses (beer, wine)
R & R BBQ, Farmington
R & R BBQ, Lehi
R & R BBQ, North Salt Lake
R & R BBQ, Provo
R & R BBQ, Salt Lake City
R & R BBQ, Spanish Fork
Tias Artisan Bakery & Restaurant, St George
Side of Aloha, Draper, conditional
Richie Lush's Tennessee BBQ, Park City, conditional
Lastly Offset Brewing in Park City was approved for a Type 5 package agency (ability to retail their own manufactured products direct to consumers).
Kimi's sues DABC over lost license
Those bar licenses I mentioned earlier? They might yet have another business snapping one up. A story over in the Trib this month details how Kimi Eklund of Kimi's Oyster Bar and Chophouse in Sugar House is now suing the DABC to re-instate their forfeited license.
You might recall the details of this meeting where the DABC revoked Kimi's bar license, arguing bar area had violated regulations around extended closures; Eklund and her legal representative countered that the bar was indeed open, albeit with no customers to serve due to the ongoing pandemic.
The Tribe writes the matter will now be heard by the 3rd District Court. Until then Kimi's continues to operate with a full service restaurant license.
August liquor discounts
New releases, discounted liquor, discontinued stock – its all here in the August Drink In Utah report. Check then out here.
Ogden's Own new canned cocktails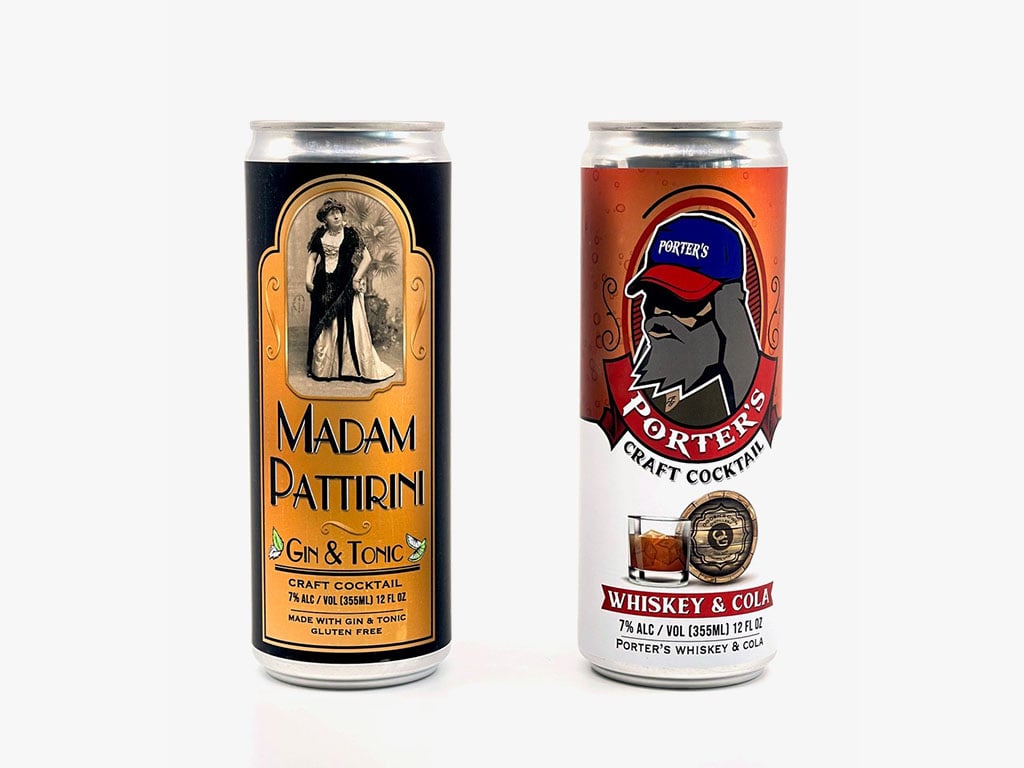 Via press release
Madam Pattirini Gin & Tonic
A blend of Madam Pattirini Gin and carbonated tonic water, the herbaceous flavors and exotic citrus notes of Madam Pattirini make it the perfect base for a modern, canned take on a classic "G&T" cocktail. Juniper forward with hints of Sicilian Lemon and Nigerian Ginger, Madam Pattirini blends harmoniously with the subtle flavors of tonic water, culminating in an assertive yet not overly-bitter gin & tonic as fit for sipping poolside as it is a night on the town. 7% ABV for a 355ml can. $3.99 per can.
Porter's Whiskey Cola
How can you go wrong with a whiskey cola? Ogden's Own has concocted its own take on everyone's favorite cola to perfectly marry with the oaky, spirit-forward elements of its Porter's Canadian whiskey, resulting in a classic whiskey cola that provides balanced sweetness, carbonation, and delightful spice wi
Epic Brewing brands now in cans
Via press releases
On July 2nd, Epic Brewing Company will debut the first of five classic brands in 12oz cans scheduled this summer! The move comes after Epic Brewing acquired a canning line from its neighbors on 700 S, Kiitos brewing. With the addition of a canning line at our Salt Lake City brewery, Epic hopes to reach a broad audience of craft beer lovers who prefer to pack cans when they head out on adventures.
Spiral Jetty IPA – named after Robert Smithson's artwork on the Great Salt Lake – features resinous pine aromas and tropical notes typical of American hops. Ultra-premium Maris Otter malt balances this beer's dominant hop profile and leaves a pleasant, cleansing bitterness on the finish. Available Friday July 2nd.
We're especially pumped about Jetty because it's a Utah exclusive and already a fan-favorite. Now that it's being packaged in cans, we anticipate it flying off our shelves and directly into coolers that will make their way all across the state. Available only at 825 S State Street. Come load up a backpack or paktech to conveniently take on your next adventure.
Later this summer, we'll release the following beers in 12oz aluminum vessels.
Available July – Pfeifferhorn Lager
Available August – Brainless Belgian Golden Ale, Hopulent IPA, Doubleskull Doppelbock
DABC appoints new commissioners
Via press release
Today the Utah State Senate voted with unanimous support to approve Governor Spencer Cox's nominees to serve on the Utah Alcoholic Beverage Control (ABC) Commission. Those approved today include reappointed commissioner Thomas Jacobson and two new members, Jennifer Tarazon and Natalie Randall.
"Alcoholic Beverage Control commissioners help to lead the department's multi-pronged mission to provide a service that brings millions of dollars to vital community programs, reduce underage drinking, and act as a partner to local business owners and Utah's tourism economy," said DABC Director Tiffany Clason. "The newly appointed and reappointed commissioners are excellent additions to the ABC Commission. They will serve the community well, bringing with them diverse backgrounds and experiences that provide valuable perspectives."
The newly approved commissioners offer the following quotes:
"It is a privilege to serve the State of Utah and have the confidence of the Governor and Legislature. My goal is to continue to promote the responsible administration of the laws and regulations of the state and assist our citizens with their business objectives when they elect to offer alcohol to their patrons," said Thomas Jacobson.
"I am honored that Governor Cox has entrusted me with the opportunity to serve the state through this appointment to the DABC Commission. For the last several years, I have worked in professional and volunteer roles to advocate on behalf of our small business community and to promote Utah as a great place for diverse talent to live, work and thrive. I am excited to take on such an important responsibility and will do my best in executing the duties that this post requires," said Jennifer Tarazon.
"Utah is a great state that boasts work and family life balance, paired with natural amenities that make us a renowned destination for visitors. A key element that further enhances the makeup of Utah is through the ever growing culinary and beverage experiences Utah businesses provide. The DABC is a dynamic organization that supports experiences and is a business itself. I hope that my prior and current experience in working with varied stakeholders engagement and businesses – particularly within the tourism industry, can lend in supporting the DABC in becoming more efficient, consumer-friendly, and communicative as a business to customers and to their licensees. Uniquely, in my experience living and working in rural Utah – I hope that I can provide further perspective and opportunity to the commission in supporting our rural partners," said Natalie Randall.
Clason also recognizes outgoing ABC commissioners John T. Nielsen and Steven Bateman who served since 2013 and 2014, respectively.
"My sincere gratitude goes to former commissioners Nielsen and Bateman who ethically and tirelessly served on the ABC Commission for several years. They dug into complicated policy to make decisions to best serve Utahns. I know I speak for the entire DABC team in thanking them for their service," said Clason.
The new appointees support Governor Cox's goal for increasing diversity on Utah's boards and commissions as part of the One Utah Roadmap's Equity and Opportunity section, says Clason.
Utah Beer Fest gets new home
Via press release
The 11th annual Utah Beer Festival took a year hiatus in 2020 (surprise, surprise), but returns in 2021 bigger and badder than ever before. Utah's largest beer sampling event features over 200 beers and ciders from local, regional and international breweries and cider houses.
"We're excited for the Utah Beer Festival to return in 2021," said Festival Director Pete Saltas. "It's a great community event that's become a city staple every August. The Utah Beer Festival is an opportunity for the state's beer drinkers to enjoy and sample a variety of the states' award-winning brews. We're excited to work with The Gateway and revitalizing downtown."
Your Utah Beer Festival passport, available for purchase on www.UtahBeerFestival.com or at the door, is your ticket to get in and start tasting. Just take your passport to a brewer tent, punch the passport, and receive a 5-ounce sample cup or 12-ounce sized cup.
"We are thrilled to be the new home of the Utah Beer Festival. It's is a perfect fit for us as we strive to host top-tier events that bring locals and visitors together," said The Gateway's marketing director, Jacklyn Briggs. "We love the energy of this festival and its mission to showcase and celebrate the best of craft beer."
About the Festival
The Utah Beer Festival began in 2010 with 10 participating breweries. The craft beer scene had existed in Utah decades before then, however it was around that time that our state saw a massive growth in new breweries and new beer creations.
The inaugural Utah Beer Festival was a hit among local beer consumers, and many participants have attended the festival every year since. As the demand for craft beer grew, so did the Utah Beer Festival—now there are over 50 breweries attending, even some international, including most of Utah's 30+ breweries.
Facts
11th annual
50 breweries
over 250 beers
300,000+ ounces of beer poured in 2019
Expected attendance: 10,000
This is an open-air, all ages event, though to drink alcoholic beverages, you need to be IDed and purchase separately.
To consume beer, you must be over 21 years of age with valid ID and purchase a Utah Beer Festival passport.
The 2021 Utah Beer Festival recommends mask usage and will follow local government Covid-19 rules and restrictions
What You're Supporting

Since inception, the Utah Beer Festival has donated over $100,000 dollars to local nonprofits. In 2021, proceeds from the festival will support Press Backers, a 501(c)(3) organization that supports local journalists and independent news gathering.
Do you appreciate local journalism and want to donate directly to Press Backers? Visit www.PressBackers.com for more information.
In other news
Keep the conversation going
Want to stay on top of the SLC food scene, minute by minute, dish by dish? Here are a few other places you should follow along:
Hi, I'm Stuart, nice to meet you!  I'm the founder, writer and wrangler at Gastronomic SLC.  I'm a multiple-award winning journalist and have written in myopic detail about the Salt Lake City  dining scene for the better part of seventeen years.
I've worked extensively with multiple local publications from Visit Salt Lake to Salt Lake Magazine, not least helped to consult on national TV.   Pause those credits, yep, that's me! I'm also a former restaurant critic of more than five years, working for the Salt Lake Tribune.    I'm largely fueled by a critical obsession with rice, alliteration and the use of big words I don't understand.   What they're saying about me: "Not inaccurate", "I thought he was older", "I don't share his feelings".
Want to know more? This is why I am the way I am.
This article may contain content provided by one of our paid partners. These are some of the best businesses in Utah. For a list of all our current and past relationships see our
partnership history page
.