Hoagies, subs, tortas. grinders, héros, open faced – you name it – we got it in the Beehive state. If you can't find a delicious sandwich on the streets of the Wasatch Front, you really aren't trying hard enough. Here are a list of or favorite sandwiches around Salt Lake City.
10 – Beehive Distillery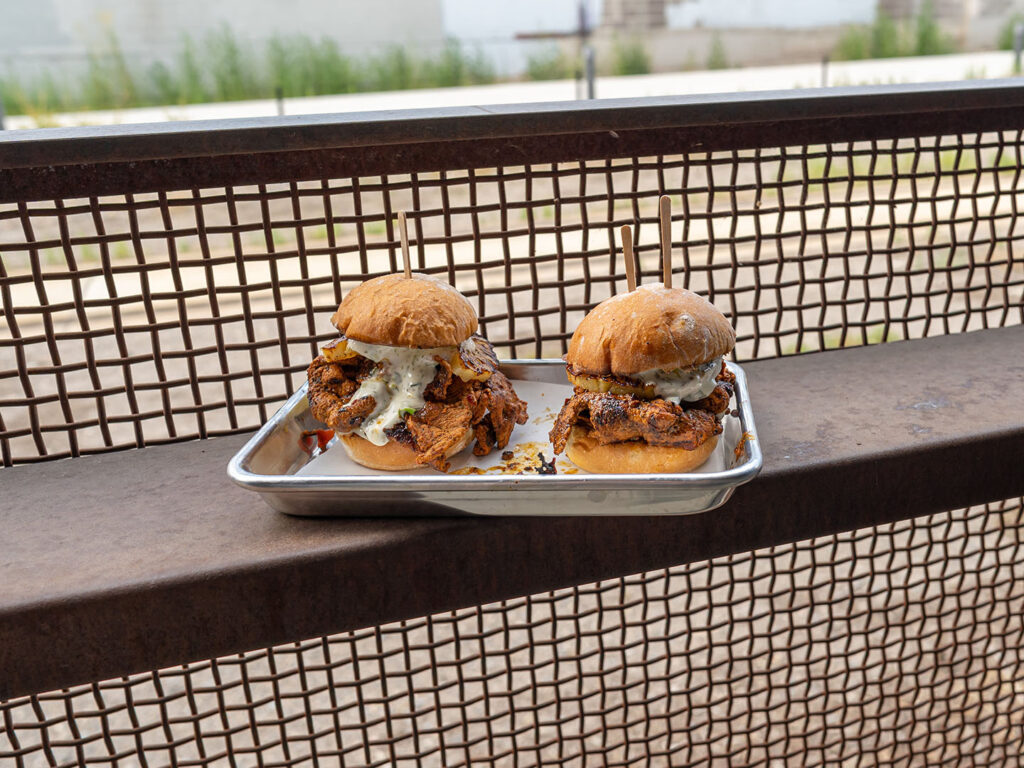 These sliders from South Salt Lake's Beehive Distillery are the highlight of the compact eight plate menu. Priced just six bucks a pop, they feature handsomely marinated pork, cilantro ranch and Oaxaco cheese. The final touch, a glowing golden sun of charred pineapple beaming down on the stack. It serves as the perfect excuse to stay for another round.
2245 S W Temple St, South Salt Lake, UT 84115
(385) 259-0252
beehivedistilling.com
9 – Freshies Lobster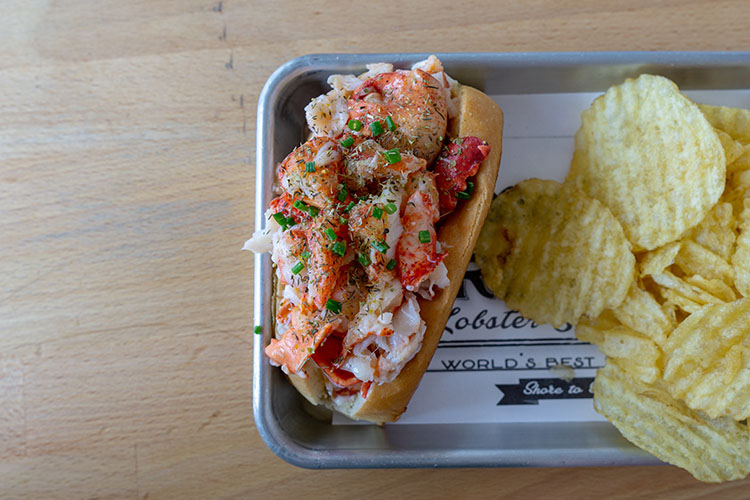 Award winning East coast lobster rolls draw folks from far and wide to this SLC sandwich shop. Sure, they aren't cheap, but neither is overnighted lobster from back East either. Freshies even managed to nab the title of worlds best lobster roll while going up against some of the big guns from the East coast once – need more convincing?
356 East 900 South, Salt Lake City, UT 84111
(801) 829-1032
slcmenu.com/2018/09/04/freshies-lobster-co-menu/
8 – Caputo's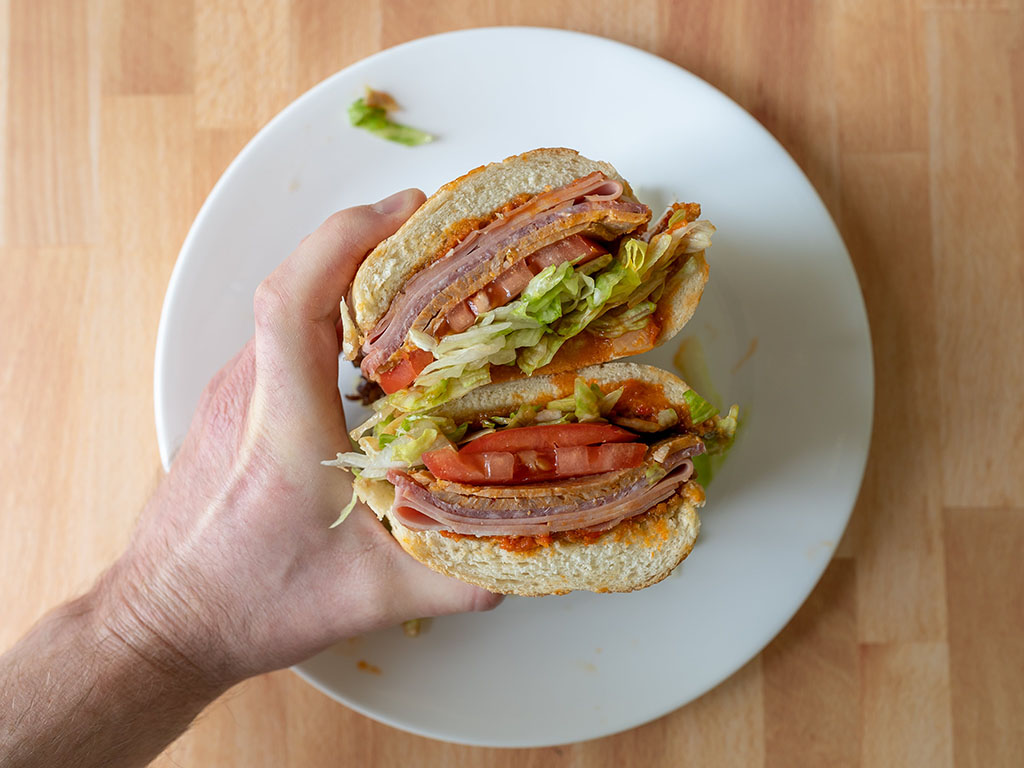 The signature 'Caputo' is the classic deli sandwich, layering on a variety of meats and cheese. It's also available at all three main Caputo locations throughout the valley.
314 W 300 S, Salt Lake City, UT 84101
4673 S 2300 E, Holladay, UT 84117
2810, 1516 S 1500 E, Salt Lake City, UT 84105
caputos.com
7 – Bewilder Brewing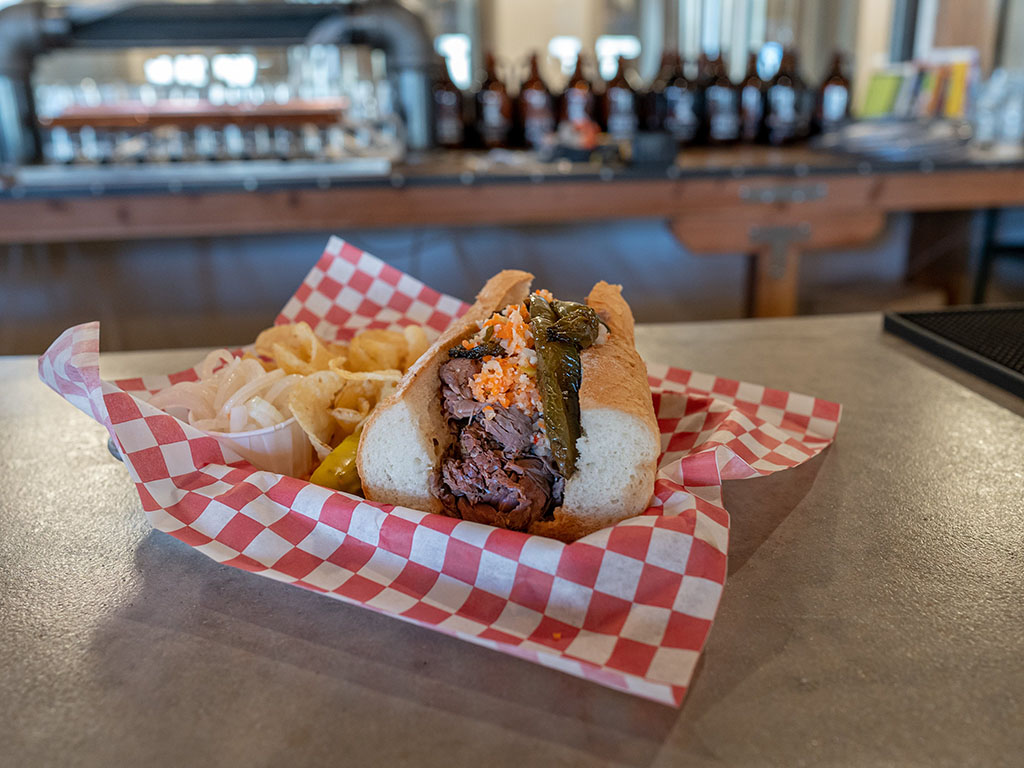 For our money the very best craft brewery food in town – not least helped by the fact they have a stellar kitchen crew on site; this isn't the run of the mill heat and serve burritos or nachos. Bewilder is home to some of the best sausages in town and a really amazing Italian beef.
445 400 W, Salt Lake City, UT 84101
(385) 528-3840
bewilderbrewing.com
6 – Stratford Proper
There are plenty of sandwiches up for grabs on the menu at Stratford Proper. This East side eatery is the latest opening from the guys over at Avenues Proper / Proper Brewing / Proper Burger.
Replacing the former Per Noi restaurant and significantly updating and expanding the space, the restaurant serves as neighborhood hang out. Coffee and pastries in the morning through sandwiches for lunch and fuller entrees at dinner.
1588 Stratford Ave S, Salt Lake City, UT 84106
(801) 953-1262
http://www.stratfordproper.com

5 – Deadpan Sandwich @ Woodbine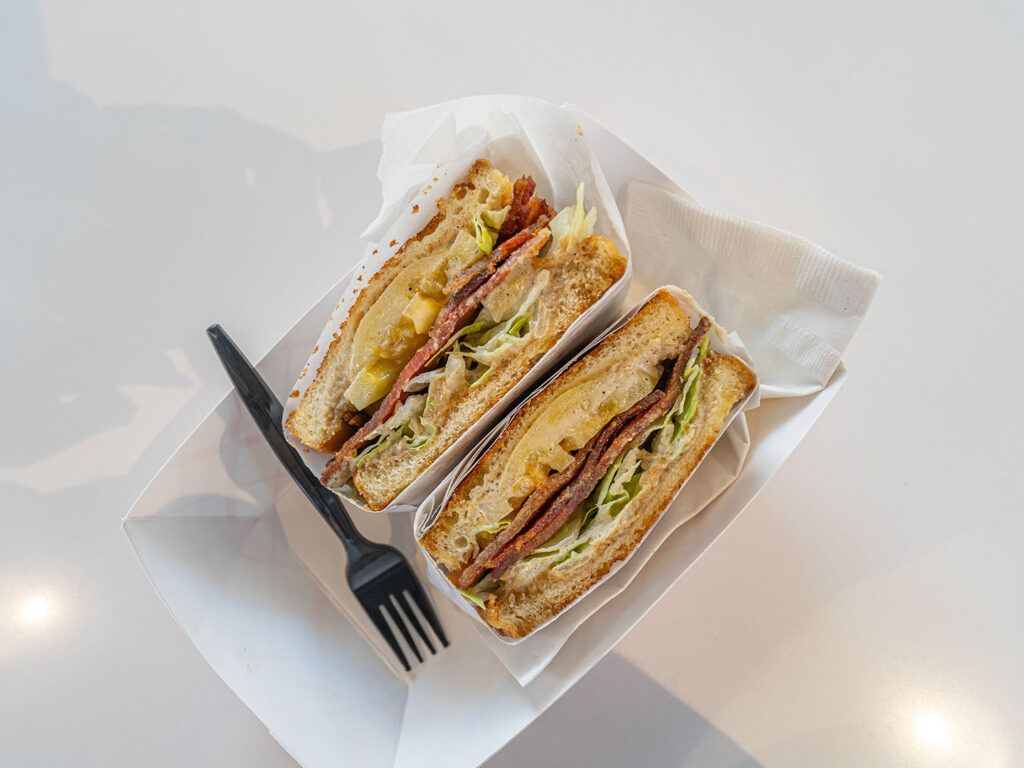 Deadpan Sandwich is a specialty sandwich restaurant, and one of the first businesses to open in the Woodbine Food Hall & Tavern. Deadpan offer a creative menu of sandwiches that all come on quality grilled bread. Pictured is their B.L.O.T, a fun spin on the well trodden BLT. Deadpan's version layers on caramelized onions (that's the O!) and thick slices of pickled green tomatoes.
545 W 700 S, Salt Lake City, UT 84101
slcmenu.com/2022/08/17/woodbine-food-hall-tavern-menu/
4 – Flanker Kitchen
Located in the The Gateway in downtown SLC is this massive 17,500 square foot facility; you'll find multiple bars, upscale and fun bar food, not to mention tons of hands on fun like sports simulators, karaoke, bowling and more. The sandwiches on offer at Flanker are upmarket versions of your pub favorites – burgers, fried chicken and pulled pork (pictured).
6 N Rio Grande St, Salt Lake City, UT 84101
(801) 683-7070
flankerslc.com
3 – Pretty Bird
Some say this Viet Pham fried chicken spot has the very best fried chicken in town – and by proxy – the very best fried chicken sandwich. The style is Nashville hot chicken in a variety of spice-levels.
146 Regent St, Salt Lake City, UT 84111
prettybirdchicken.com
2 – Little Saigon
Banh mi in the heart of Sugar House. This small restaurant offers a range of the popular Vietnamese/French sandwiches, with many modern interpretations like garlic butter steak and the pictured, short rib.
2021 E Windsor St, Salt Lake City, UT 84105
(801) 906-8630
littlesaigonutah.com
1 – Feldman's Deli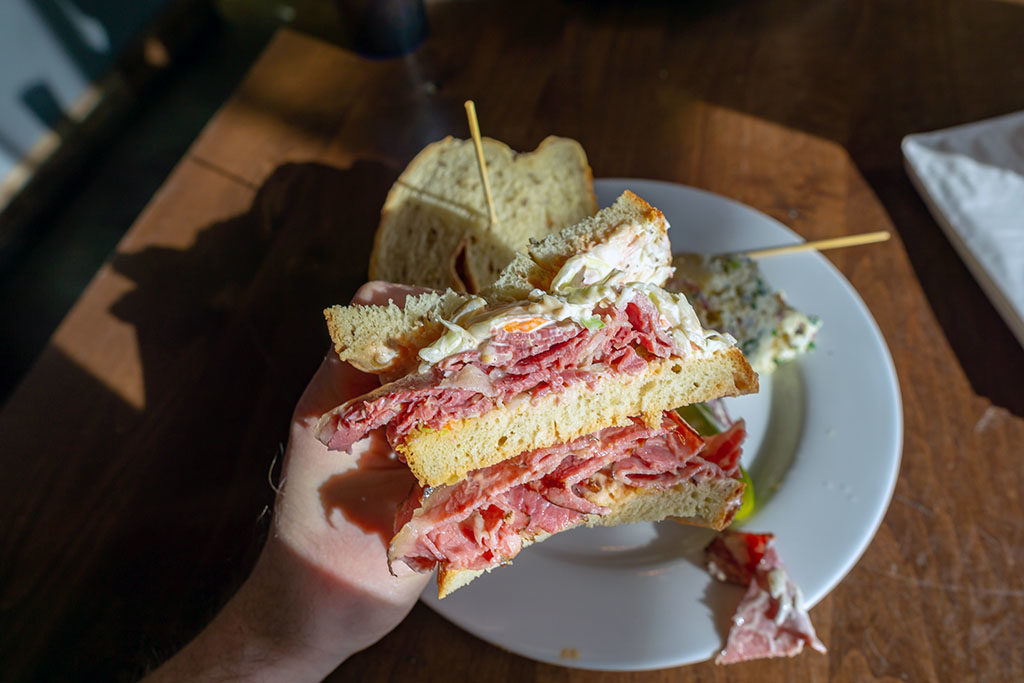 Stop what you're doing right now and head to Feldman's for some of the most sublime sandwiches in all of Salt Lake City. The star of the menu at this NYC-styled deli is mammoth half pound sandwiches, each one an ode to the owners roots from back East, Jersey to be precise. Indeed that's where the luscious pastrami and corned beef are imported from, not least other items like authentic pickles and NYC cheese cake too.
The fabulous corned beef and pastrami is hand carved daily at Feldman's and everything that's not carefully shipped from the East coast, is hand made in house.. From the classic corned beef with mustard through the funky sloppy Joe or soul satisfying reuben – each creation is a masterpiece. Moreover, these enormous sandwiches are enough to share, or split over two meals.
And it's not just the best sandwiches in Salt Lake City you will find here (though honestly you'll be hard pressed not to order one), the restaurant also seeks to offer a true taste of authentic Jewish deli's from New York. The business offers a variety of homemade entrees including pierogi, stuffed cabbage, kielbasa, brisket, bacon-wrapped meat loaf, homemade bagels, matzo ball soup and more. Stop by for dinner (Thursday through Saturday) to check out some of these rustic entrees, plus a range of specials. Also keep note of Feldman's breakfast hours and start your day with a bagel, some lox, and perhaps a schmear?
We're proud to have Feldman's Deli as the sponsor for this page.
2005 E 2700 S, Salt Lake City, UT 84109
(801) 906-0369
feldmansdeli.com
Maybe also check out
Maybe we can tempt you to something else delicious while you're here? Check out these other detailed guides, some of the most popular pages on our website:
Who did we miss?
If you think we're missing a really great addition to this list, please email us at stuart@gastronomicslc.com – we'd love to hear from you. Let us know who you think should be on this list and why. If you have a really great picture of one of more dishes, please send that too! We're always excited to check our more businesses!
Hi, I'm Stuart, nice to meet you!  I'm the founder, writer and wrangler at Gastronomic SLC; I'm also a former restaurant critic of more than five years, working for the Salt Lake Tribune.  I've worked extensively with multiple local publications from Visit Salt Lake to Salt Lake Magazine, not least helped to consult on national TV shows.
I'm a multiple-award winning journalist and have covered the Utah dining scene for the better part of fifteen years.   I'm largely fueled by a critical obsession with rice, alliteration and the use of big words I don't understand.   What they're saying about me: "Not inaccurate", "I thought he was older", "I don't share his feelings".  Want to know more? This is why I am the way I am.