The following list starts with some of my personal favorite restaurants in the city of Holladay. If you're new to town, just traveling through, or even a local in search of something new, you might want to check these out. Holladay is a relatively small city, and quite close to several other great places to eat. You might also consider checking out restaurants in Murray, Millcreek, South Salt Lake and Cottonwood Heights.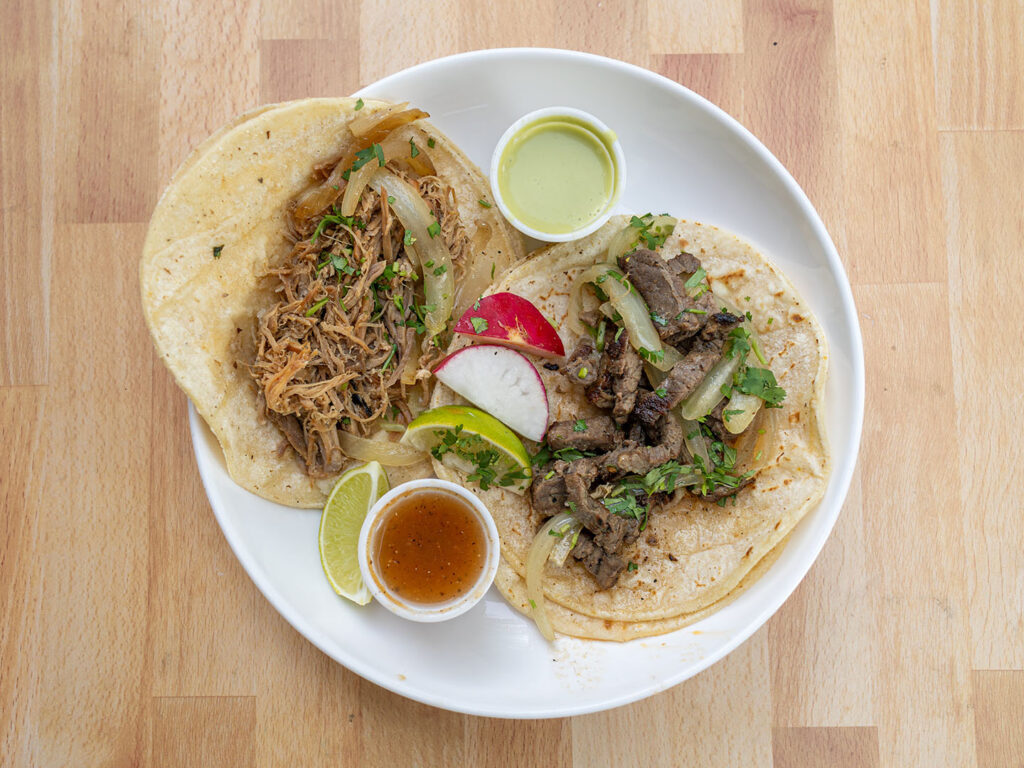 Address: 1869 E Murray Holladay Rd, Holladay, UT 84117
Cuisine: Tacos, Mexican
The Valdez family craft a menu of authentic Mexican cuisine – and a core part of that – fabulous tacos. Options are extensive with al pastor, asada, barbacoa, carnitas, lengua, pollo asada, veggies and nopalitos. Double wrapped in corn tortilla and served a simple mix of onions, radish and lime, a solid pick here are the barbacoa tacos; shreds of earthily seasoned beef.
Address: 6263 Holladay Blvd, Holladay, UT 84121
Cuisine: fine dining
This fine dining establishment was first helmed by French chef Franck Peissel. After Peissel's departure for pastures new, the restaurant continued under his name; these days chefs Adam Vickers an Robert Perkins are at the helm. The duo put out a creative and innovative menu that's one if the boldest and brightest outside of downtown SLC. Pictured is their Thursday burger special were the restaurant put out one of the city's best burgers, the exact creation changes weekly.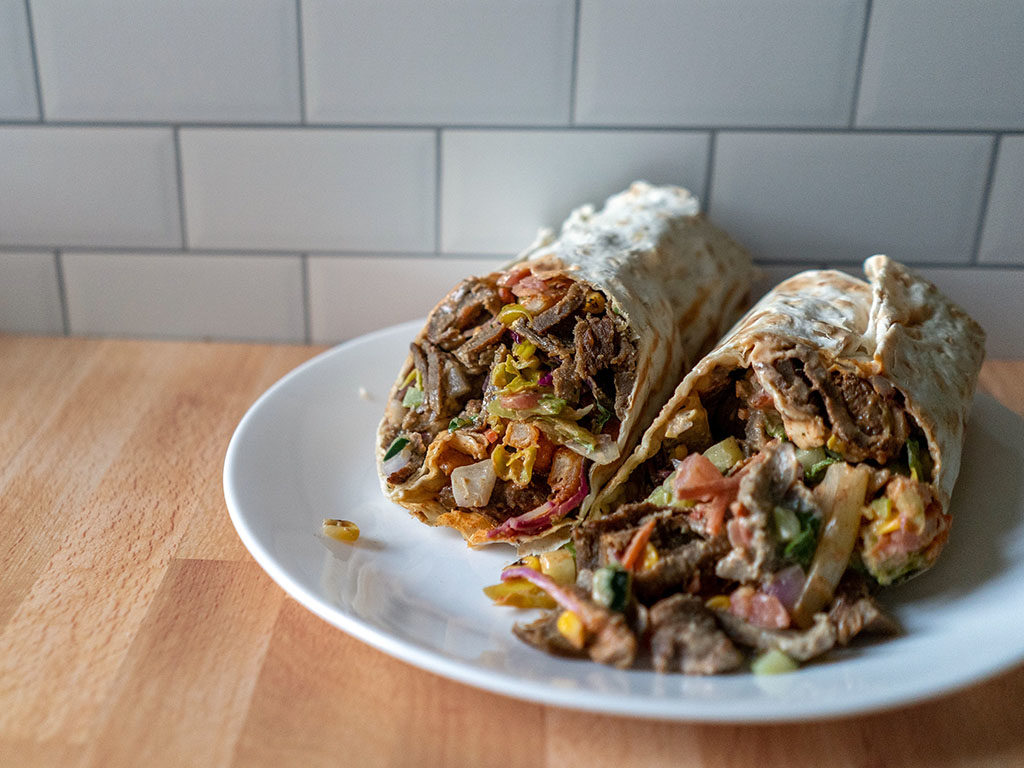 Address: 3158 E 6200 S, Holladay, UT 84121
Cuisine: Mediterranean, gyros
Doner kebabs are the name of the game at this heavily influenced Mediterranean spot; while not 100% authentic to the likes of Turkish or German interpretations, they're packed with flavor and immensely satisfying. Beyond the stuffed lavash there are other treats too such as Street Cart Fries (fries loaded up with more toppings than is sane) and vibrant salads. The restaurant sports local beer, wine and has a hip, trendy crowd around the clock.
Address: 1963 E Murray Holladay Rd, Holladay, UT 84117
Cuisine: Japanese, ramen
While founder Toshio Sekikawa might have long since moved on, his legacy lives on at this Holladay spot. Ramen is of course the specialty of the house, which offers no less than seven different variations; tonkotsu through karai through curry. Pictured is the kurimi black shoyu ramen, a riot of umami.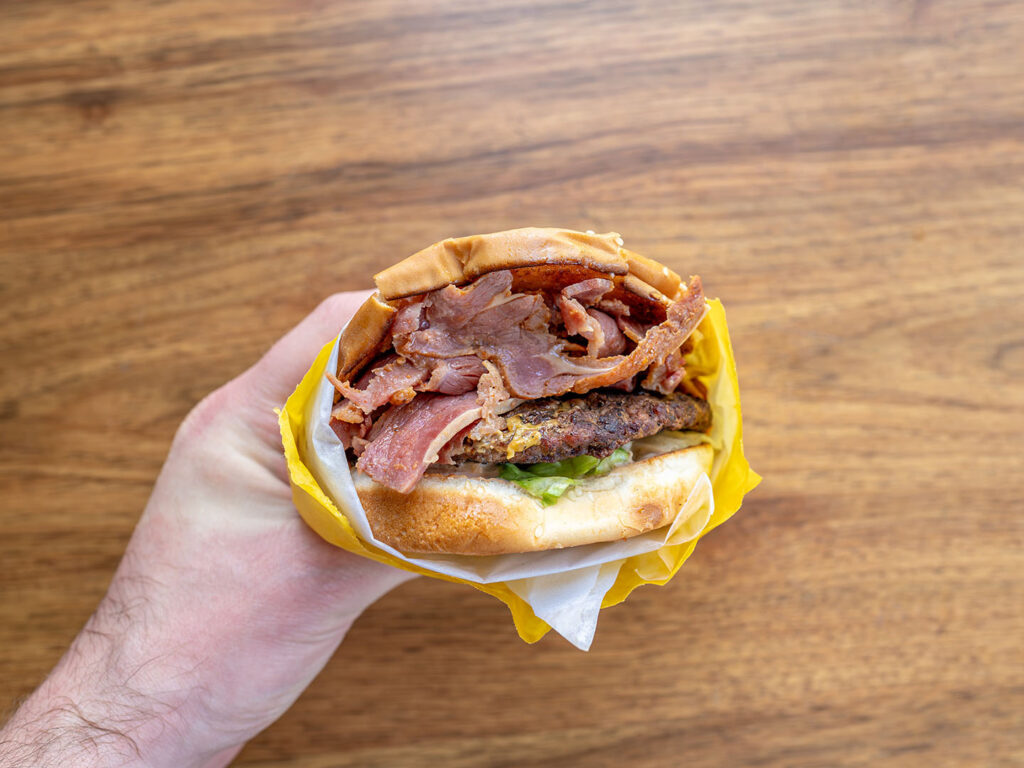 Address: 4689 Holladay Blvd E, Holladay, UT 84117
Cuisine: Burgers
A Utah original that people flock to, and not without good reason. For more than three decades the Katsanevas family have ran a tight ship offering a blend of American and Greek fast food. You'll find locations all over town, and debate about which is the best; but what you'll see flying out of the order window over and over is the signature Crown Burger. This mighty monster comes topped with a dizzying pile of juicy pastrami atop the flame grilled burger patty. If you're always looking to take things over the top like me – consider a side of gyro meat as a final embellishment. Then prepare for a nap.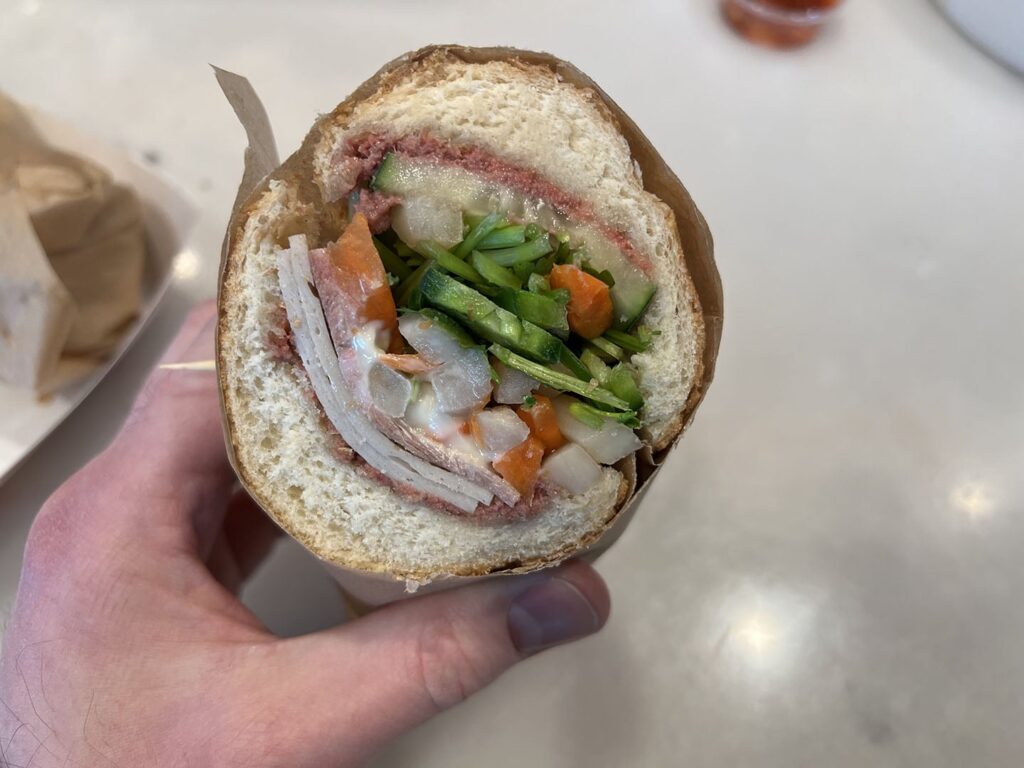 Address: 6093 S Highland Dr, Holladay, UT 84121
Cuisine: Vietnamese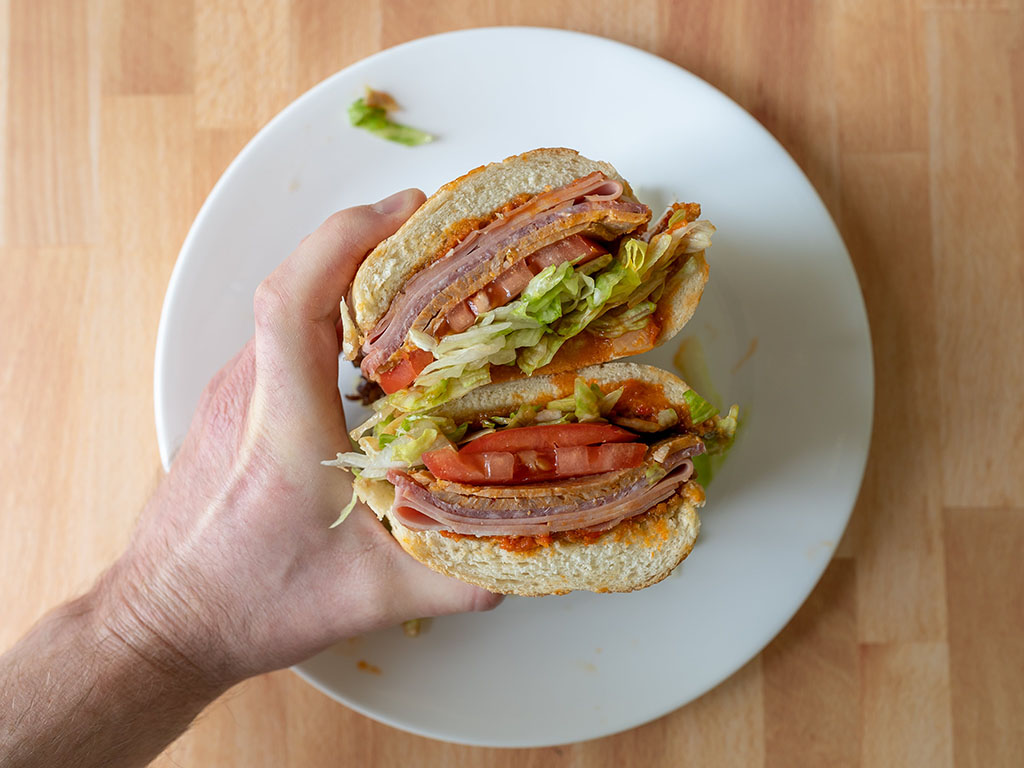 The signature 'Caputo' is the classic deli sandwich, layering on a variety of meats and cheese. It's also available at all three main Caputo locations throughout the valley. For me that's the highlight of the sandwiches, but everything here is great, from their zest muffuletta through their hearty meatballs. Bonus points: you get to shop at their fabulous market before or after dining an absolute treasure trove of imported European treats, olive oil through conservas.
Address: 4673 S 2300 E, Holladay, UT 84117
Cuisine: Sandwiches, deli, grocery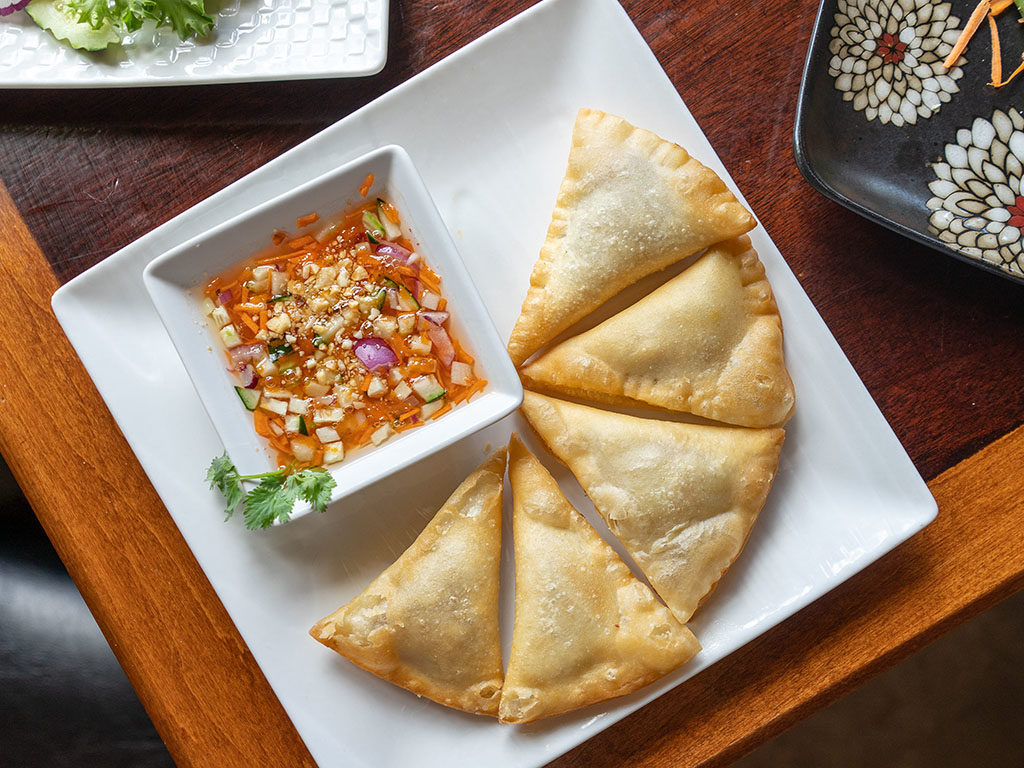 Address: 1984 E Murray Holladay Rd, Holladay, UT 84117
Cuisine: Thai
Address: 4828 Highland Dr., Holladay, UT 84117
Cuisine: Indian
More Holladay Utah dining options
The above are my personal favorites when dining out in Holladay, but of course, there are several other fine options. These restaurant's all have great reputations and might satiate a particular craving if you're nearby:
Hi, I'm Stuart, nice to meet you!  I'm the founder, writer and wrangler at Gastronomic SLC.  I'm a multiple-award winning journalist and have written in myopic detail about the Salt Lake City  dining scene for the better part of seventeen years.
I've worked extensively with multiple local publications from Visit Salt Lake to Salt Lake Magazine, not least helped to consult on national TV.   Pause those credits, yep, that's me! I'm also a former restaurant critic of more than five years, working for the Salt Lake Tribune.    I'm largely fueled by a critical obsession with rice, alliteration and the use of big words I don't understand.   What they're saying about me: "Not inaccurate", "I thought he was older", "I don't share his feelings".
Want to know more? This is why I am the way I am.
Our sponsors and this page
This page may contain information about one of our sponsors. We only work with the very best businesses in the state, and routinely turn down offers to work with businesses we don't enjoy. If we can't hand on heart recommend them - they can't be a sponsor.
At this time we have the following sponosrs: BTG, Caffe Molise, The Dough Miner, Downtown Alliance, Feldman's Deli, Flanker, Garage On Beck, Hearth And Hill, Hill's Kitchen, Kao Thai, Kin Sen Asian Noodle Bar, Kyoto, LemonShark Poke, Log Haven, Oasis Cafe, Pirate O's Gourmet Market, SLC Eatery, Squatter's Downtown Salt Lake City, Stoneground Italian Kitchen, Urban Hill, Wasatch Brew Pub Sugar House, Whiskey Street, White Horse.
I encourage you to Google any of our sponsors and see the stellar reviews on multiple sites that they enjoy. For a list of all our current and past relationships see our partnership history page.