Even the most spend-happy of us have no doubt sobbed in the streets the last couple of years; a credit card receipt in one hand, a sorrily small takeout order in the other. My own whiplash 'what the what' incident occurred when a certain fast food chain hocking a chicken sandwich combo for some seventeen bucks. I'm calling it here – the new normal will quickly be $20 for lunch folks. Love it or hate it, this is the future and it's looking like one full of AI and empty wallets.
With that in mind, I tasked myself (and some other foodie brains) with digging up info on the most keenly priced places around town; those still clinging to prices reminiscent of a forgotten era. The rules of my roundup? Regular menu items priced under ten dollars before tax and tip; also selections that will leave you suitably sated and ready to press on with the day.
Note: prices are either from my own dining adventure the past couple of weeks, or gleaned from the various restaurants online menus. Caveat emptor and all that.
Town And Country Market
While nearby Grove Market gets the bulk of the fanfare (and commensurate hustle and bustle) this humble South Salt Lake spot is my pick for a hearty sandwich on a tight budget. Practically every sandwich on the menu under the magic ten dollar mark. Handily so in fact. You'll only need to reach for more change should you opt for one of the monster ambassador rolls, which like Grove, will feed several people or several sittings.
Once you step through the doors at Town And Country you'll order at the counter and choose your options. A smiling someone will quickly build the hand held of your dreams as you watch. There are no computerized ordering kiosks, QR codes or pinging apps. It's as wonderfully yesteryear as the range of chips and snacks on offer in the market are eclectic. The business is primarily a grab and go spot, but if the weather is playing ball there are a number of picnic style benches out front.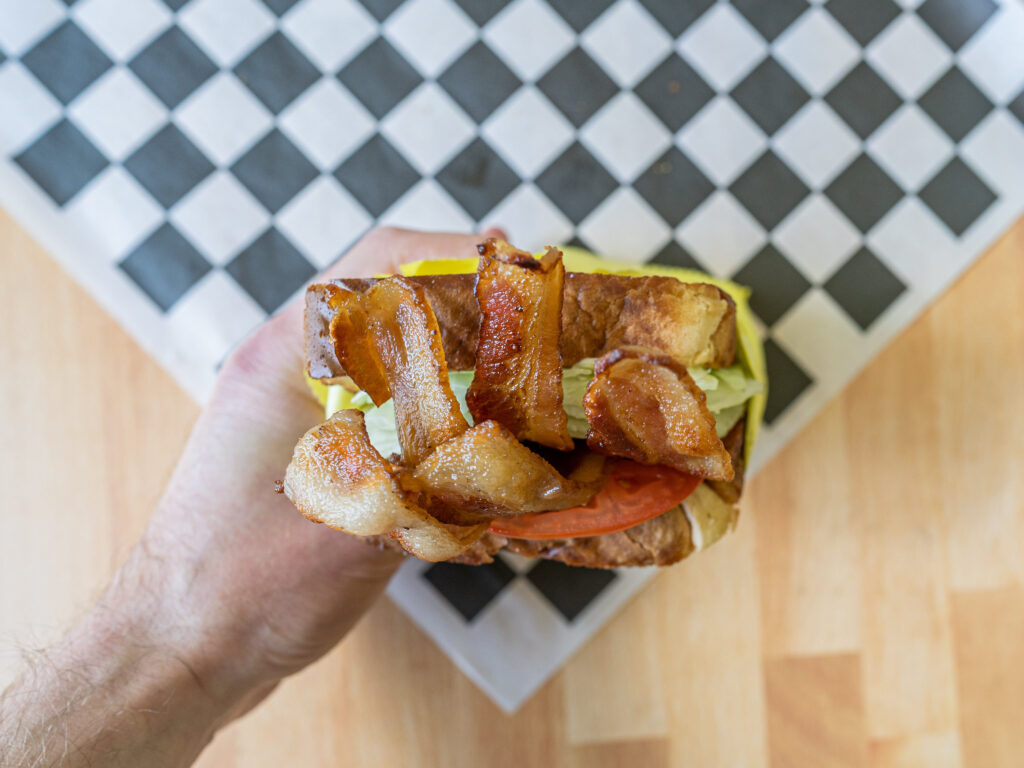 Golden Gyros
It's increasingly difficult to grab a gyro for less than ten dollars in these challenging times. One spot where you can still manage this feat is Golden Gyros. Theirs also happens to be a heftily constructed one too, layered with a rib sticking pile of meat. The gyro runs $8.39 and comes with the option of creamy tzatziki or tangier tomato based red sauce; get both and order a side of fry sauce for a trio of smotherings. It's still under the ten dollar threshold. An even keener deal on the Central 9th spot's menu is the BLT – crispy bacon comes wrapped lovingly in thick sliced Texas style toast. The calorie count will keep you motoring for hours.
Japan Sage Market
If you know, you know. This market slash lunch spot has one of the biggest steals in town on their menu – offering three dishes for under six bucks. A bowl of ramen, udon or Japanese curry can be yours for just $5.99. A side of gyoza is also a minuscule $3.50, and as if to anger the gods of inflation even further, Japan Sage Market offers a ramen and gyoza combo for $8.99.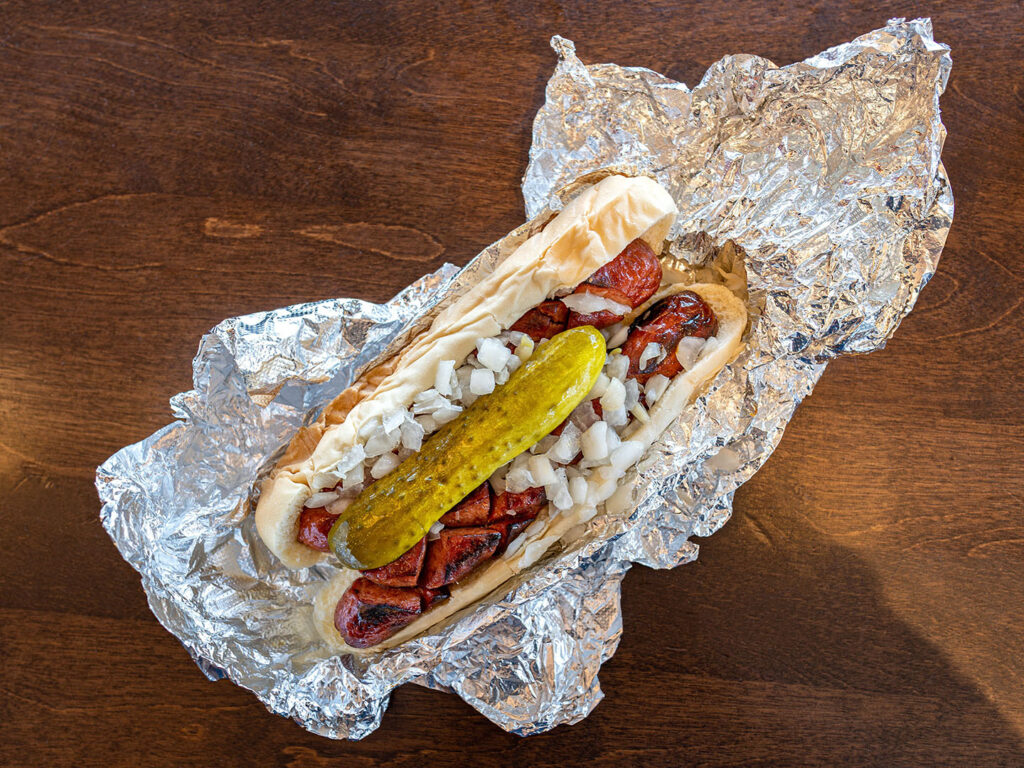 J. Dawg's
It's all about the "double barrel" at this Utah original hot dog shop. The menu is concise and quick, but whether you go with the all beef dog or the Polish, just ask for the double barrel, and hey presto, your bun is loaded up with a duo of dogs. You can mix and match one of each if you're feeling sassy too. From there wend your merry way to the toppings bar and pile on all the finishing touchings you feel like. The whole shebang comes in under the ten dollar mark, but isn't mentioned formally on the menu as far as I saw when I recently stopped in.
Beirut Cafe
Pictured is the lamb shish kafta which sneaks onto the list just a penny under at $9.99. A thin flatbread envelops a deliciously juicy lamb shish kafta, which like most everything here is made from scratch in house. The wrap is put over the top by a mix of Beirut Cafe's electrifying house pickles. Meat not your thing? The hummus is arguably the best in Utah, at least if I am involved in the argument that is. I'm unsure to the secret, but it's a lavishly velvety thing and makes for perfect dipping with their pita. A generous order of hummus costs $7.99 and is served with pillowy soft pita gratis.
Guisados Home Style Mexican Cooking
I could happily pick from a dozen or more restaurants and recommend you a fabulous taco or three. Names like Chunga's, Tacos Garay or Facil, I'm sure you have your own. Instead I'll share with you my own latest favorite spot – Guisados. The Taylorsville Mexican restaurant offers more than ten taco options all priced a shade under three bucks. I'm a big fan of the brightly pineapple-spiked al pastor – but the achiote rubbed cochinita pibil runs a close second.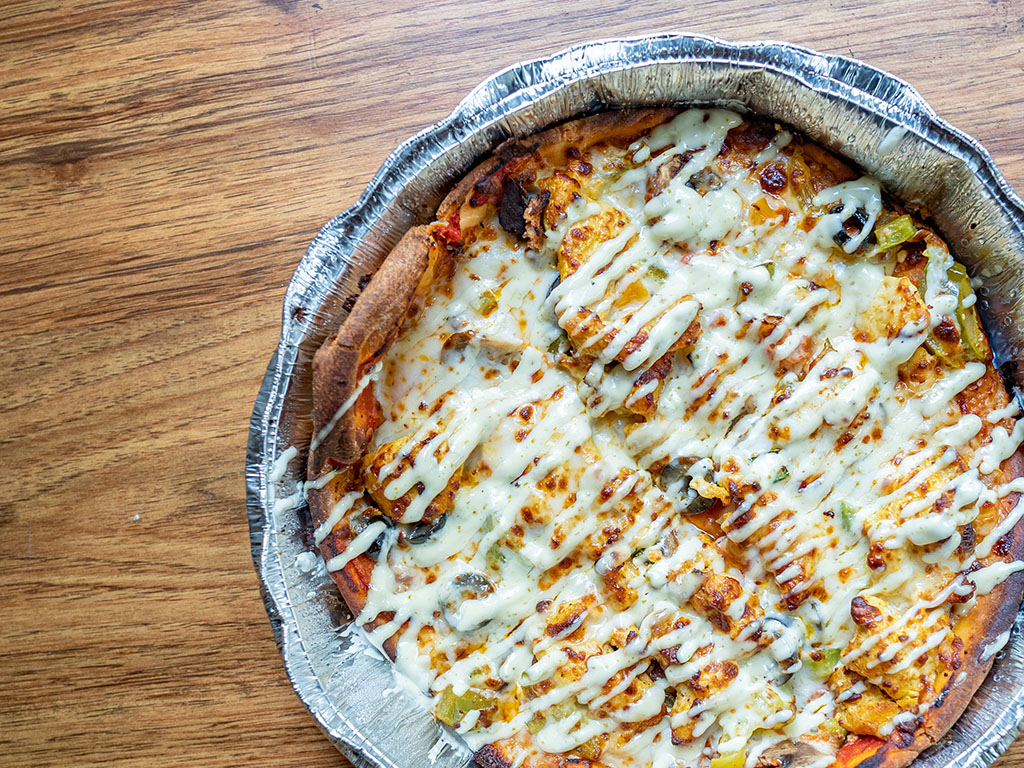 Kabob Bros
Head over to Midvale and you'll find the fusion fun of Kabob Bros. Their kabob'za blends the best of the American and Pakistani flavors the restaurant offers. The veggie version of the dish clocks in at $9.99. The nine inch pies comes on a crisp homemade naan topped with masala pizza sauce, mozzarella, feta, and veggies.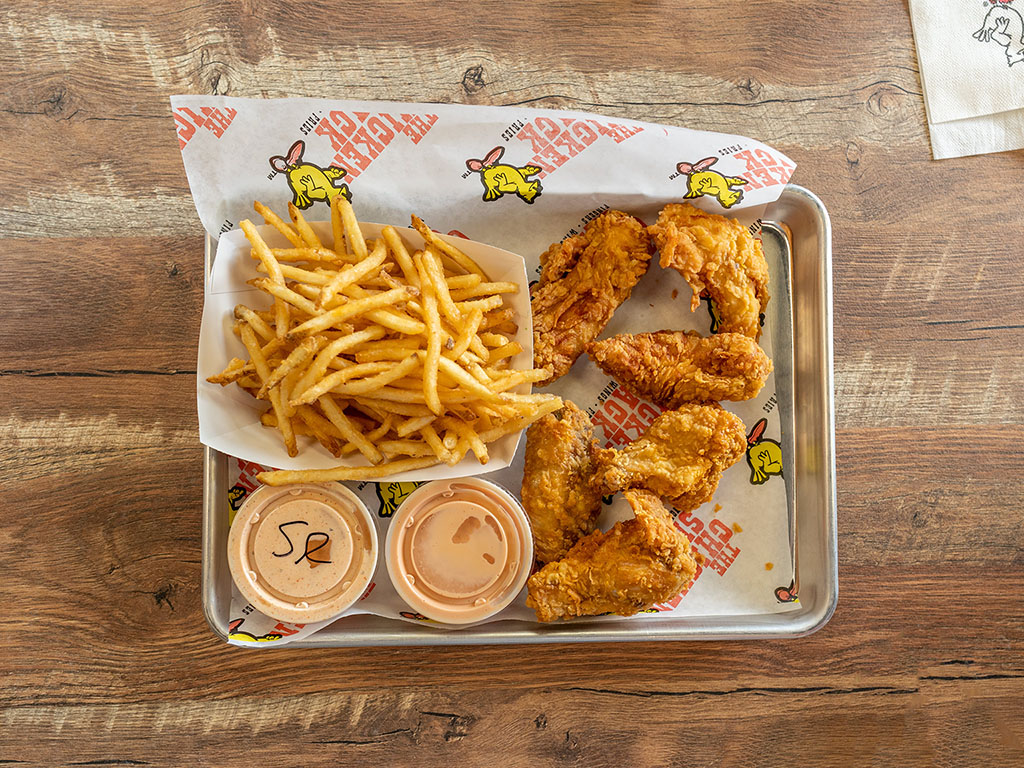 Chicken shack
As prices continue to creep at many a national chain, the menu at Chicken Shack features fast food favorites that won't break the bank. This mini regional chain that hails from Vegas offers two chicken fingers, a side of fries and drink that will set you back a not unreasonable $8.99.
Siegfried's Deli
You'll need to scrabble down the back of the sofa to get the pictured schnitzel and two sides at $10.99 – but the menu here has plenty to make you smile for under $10. With a ten in your back pocket you can dine like a king at Siegfried's. Goulash, pork steak, a 1/2 chicken entree all come under the magic mark. Grilled sandwiches are an affordable $7.99 while cold options start at $6.99.
Noemi's Cafe
The empanadas are the star of the show at this Chilean food truck turned brick and mortar business. They're also priced at, or under, five bucks. That means your main decision at Noemi's will be whether to snag a couple of the savory pastries or maybe take a peak in the dessert case – delectable alfajores are priced just $3.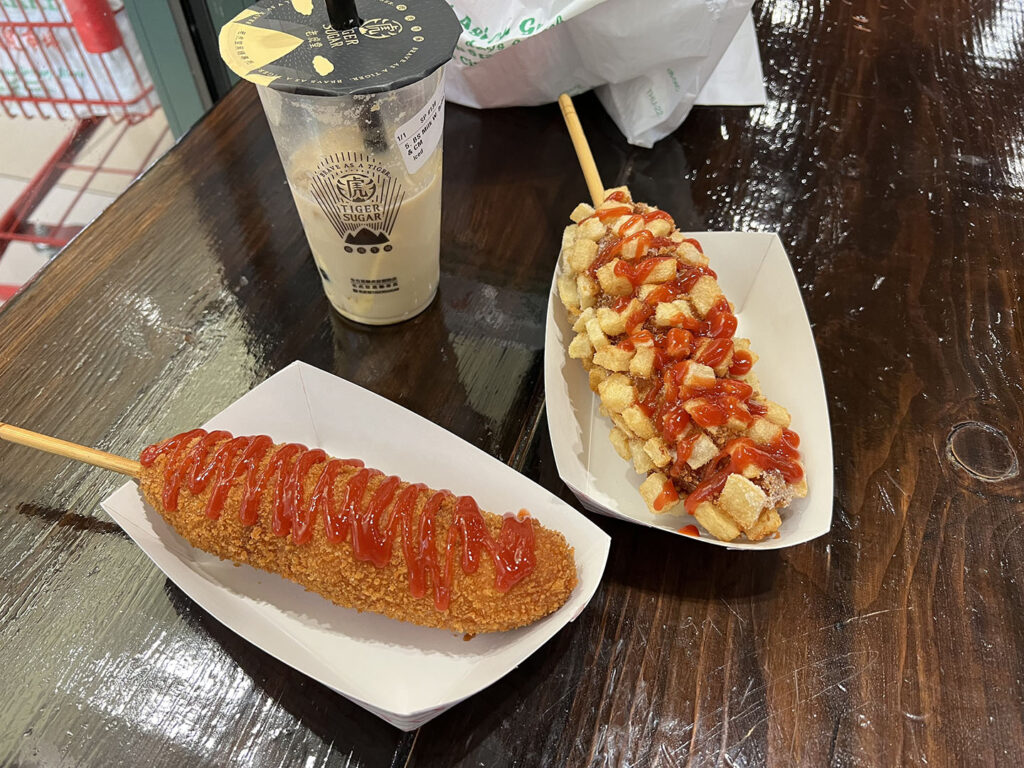 San Fran Burrito n Fryz
The Korean corn dogs of SFBnF can be found just past the main doors at China Town. While they might seem like snacks on the surface, these deep fried treats are anything but. One of these alone is probably enough to power you for hours. The prices are low enough that you can snag two if you want. Feeling like you really need to carb load? Grab a sausage corn dog and a side of gloriously greasy tater tots for $9 all in.
New Golden Dragon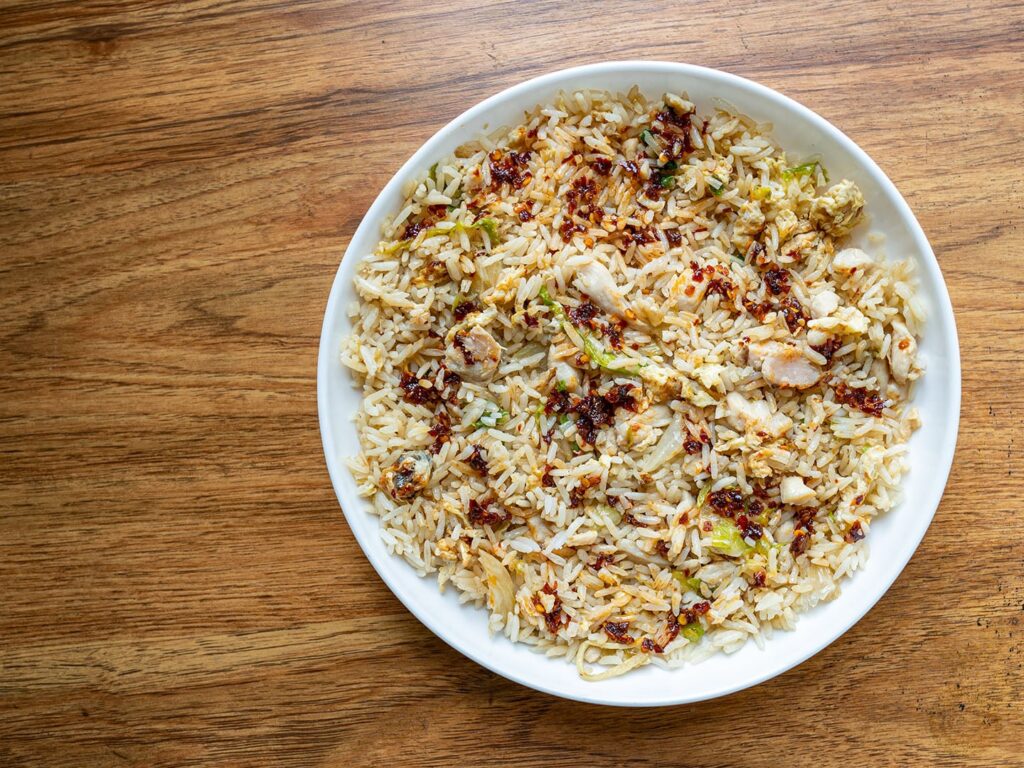 While the regular menu at New Golden Dragon is fabulous stuff (the pictured salted fish fried rice is my mainstay) you sadly won't be able to wave a ten around in here with much luck. The real deals are instead to be found on the lunch menu, where more than three dozen selections can be found happily under the nine dollar mark.
Specials and daily deals
I'd be remiss to not also call out some of the sharpest specials and deals around town too. Here's a few I know of (and remember to always check with the restaurant for availability), let me know who I missed in the comments below!
Sushi Groove – $2.50 Tuesdays are one of the must reasons to visit this Millcreek sushi spot. Nigiri (two pieces) are all priced at two bucks and fifty cents. Day long drink specials priced similarly are also available.
Yoko Tacos – $2 tacos and $2 beers should be available Tuesdays as far as I know. The last formal post I can find by the business was some time ago – but relatively recent social media stories report this one still in action.
Pie Hole – 2 slices and a soda will set you back $6.44 at lunch on Monday's – while their weekday happy hour sees any two slices priced $4.97.
Costco – A timely and friendly reminder here that you don't technically need a membership to access the shopping giant's food court. Two dollar pizza slices, buck fifty dogs, you can go wild with the menu here and stay happily under the ten mark. Likewise the IKEA food counter too…
RoHa Brewing – Stop by the brewery tap room on Tuesday's to snag two grilled cheese sandwiches for a measly five bucks.
Pig & A Jelly Jar – While I can't find confirmation of this particular deal recently, the restaurant was known for their Thursday special, $5 chicken and waffles.
O' Shucks – Known for their $3 burger and beer specials, this reddit thread reports select sushi specials under the five dollar mark too.
Keep the conversation going
Want to stay on top of the SLC food scene, minute by minute, dish by dish? Here are a few other places you should follow along:
Hi, I'm Stuart, nice to meet you!  I'm the founder, writer and wrangler at Gastronomic SLC; I'm also a former restaurant critic of more than five years, working for the Salt Lake Tribune.  I've worked extensively with multiple local publications from Visit Salt Lake to Salt Lake Magazine, not least helped to consult on national TV shows.
I'm a multiple-award winning journalist and have covered the Utah dining scene for the better part of fifteen years.   I'm largely fueled by a critical obsession with rice, alliteration and the use of big words I don't understand.   What they're saying about me: "Not inaccurate", "I thought he was older", "I don't share his feelings".  Want to know more? This is why I am the way I am.
This article may contain content provided by one of our paid partners. These are some of the best businesses in Utah. For a list of all our current and past relationships see our
partnership history page
.