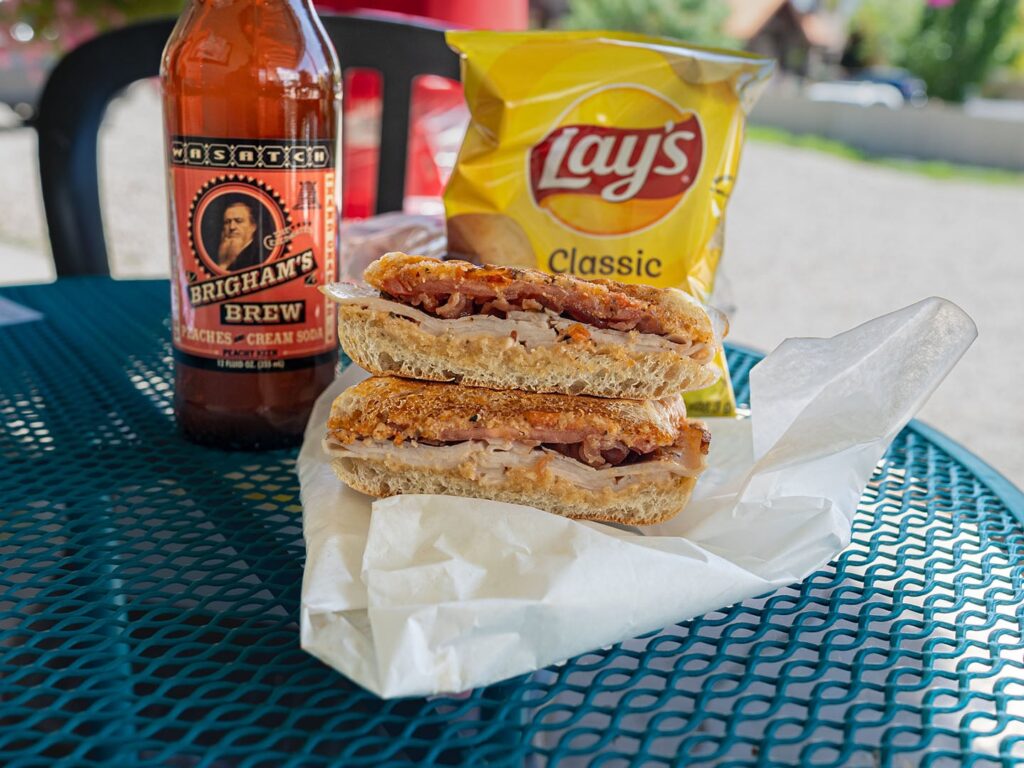 Pirate O's Gourmet Market
While many know this Draper market for their fabulous chocolate and candy lineup – fewer are wise to their top notch sandwich counter. Traditional cold cuts are offered alongside my favorite – perfect grilled panini sandwiches. These can be enjoyed on the cute outside patio and feature luxurious ingredients. The pictured turkey and bacon comes with house made roasted tomato hazelnut pesto, tomato chipotle mayo, crisp bacon and turkey.
You can take your sandwich to the next level by exploring the store's walk in refrigerated section which is home to a huge range of gourmet sodas from around the world.
11901 S 700 E, Draper, UT 84020
(801) 572-0956
pirate-os.com/menu
Sauce Boss Southern Kitchen
Utah has a real shortage of dining options from the American South, but in Draper you'll find one of the very few, and what a gem it is too. Sauce Boss Southern Kitchen is the work of chef and owner Julius Thompson; the business began life as a food truck before finally cementing its physical location in Draper in 2019. You can see the delicious menu here.
877 E 12300 S, Draper, UT 84020
(385) 434-2433
Spitz
Check out this Mediterranean inspired hang out with an edgy vibe. Doner kebabs are the name of the game here but there are other treats too such as Street Cart Fries (fries loaded up with more toppings than is sane) and vibrant salads. The restaurant sports local beer, wine and has a hip, trendy crowd around the clock.
62 E, 12300 S, Draper, UT 84020
(801) 432-8204
spitzrestaurant.com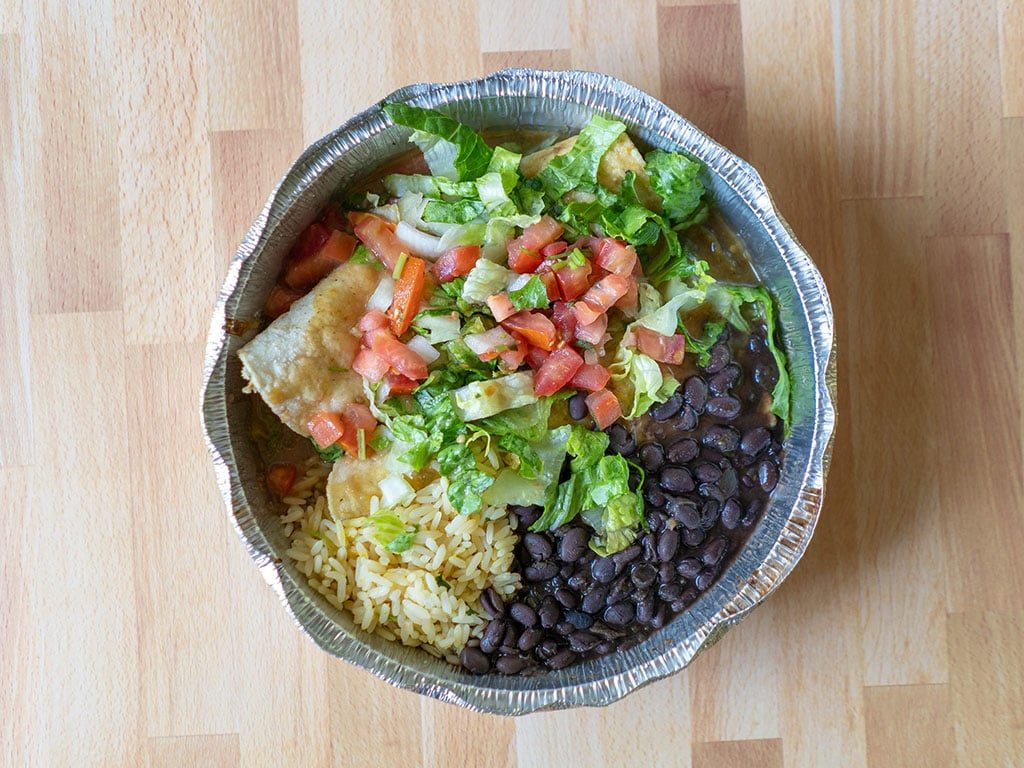 Costa Vida
Draper is rife with chain dining options – there's no escaping it. But hey, that's not necessarily a bad thing ny any means, you just have to know which to pick! Our selection for fast-casual, grab n go eating is this fresh and healthy Mexican chain. Their salads, enchiladas and bowls can be customized any way you like and always hit the spot; without any of that sluggishness from deep fried fast food.
213 E 12300 S, Draper, UT 84020
(801) 523-6000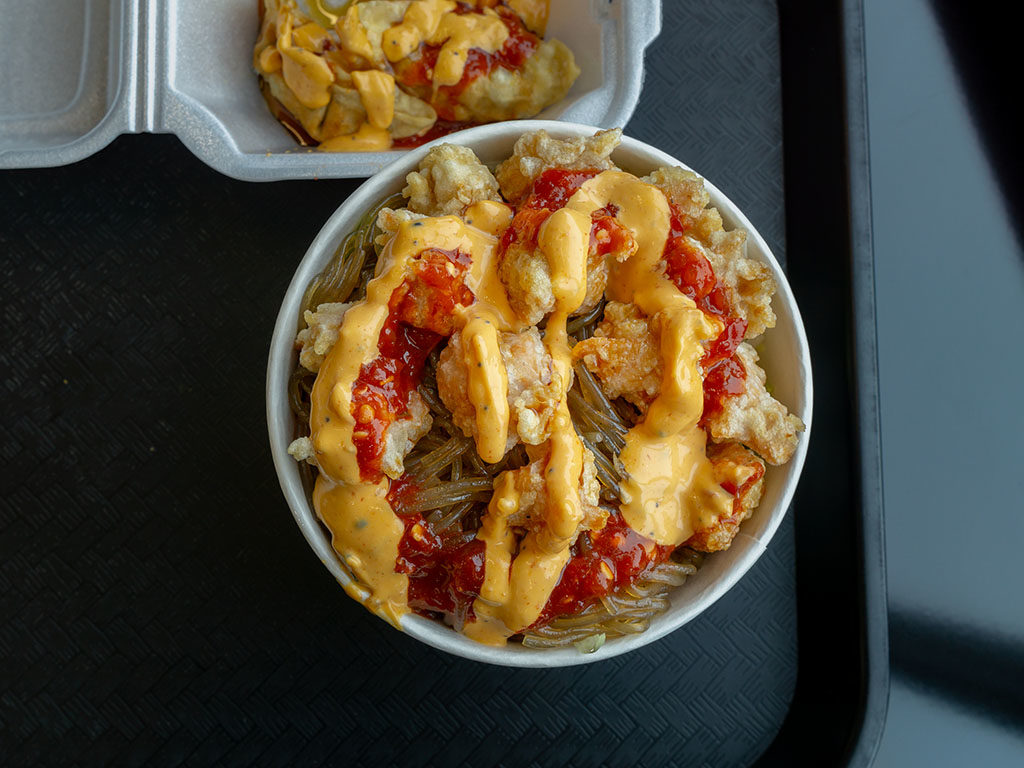 Cupbop
Another chain, but this one local. The Korean flavors of Cup Bop can be found all over Utah, including Draper. Fans of this local upstart love the bold South East Asian flavors married with the convince of the build your own cup format. Word to the wise: Cupbop lets you gussy up your noodle bowl creation with a range of hot sauces, weak through incendiary, 1-10!
593 E 12300 S, Draper, UT 84020
(801) 613-9567
Gourmadise
A perennial favorite with Salt Lakers is this cafe-bakery hangout that has pretty much something for everyone. Gourmandise is known for its selection of baked goods and sweet treats but also offers a casual cafe experience too, offering light bites such as salads and sandwiches. Swing by to grab something to go, or pull up a chair and linger a while.
SLC | 250 S 300 E, Salt Lake City, UT 84111 | (801) 328-3330
Draper | 725 E 12300 S, Draper, UT 84020 | (801) 571-1500
Oak Wood Fire Kitchen
Chef Brandon Price heads up a contemporary New-American kitchen at this Southerly restaurant. The restaurant is handily open seven days a week serving up a menu that touches on plenty of modern-must haves: locally sourced ingredients, craft cocktails, local beers and more.
715 E 12300 S, Draper, UT 84020
(801) 996-8155
Penny Ann's Cafe
Looking for the classic American breakfast spot? You found it. This Draper location of Penny Ann's Cafe is one of three in the valley; each offering the same robust and reliable menu of breakfast classics such as omelettes, pancakes and hearty breakfast plates.
280 E 12300 S, Draper, UT 84020
(801) 662-0009
Hi, I'm Stuart, nice to meet you!  I'm the founder, writer and wrangler at Gastronomic SLC.  I'm a multiple-award winning journalist and have written in myopic detail about the Salt Lake City  dining scene for the better part of seventeen years.
I've worked extensively with multiple local publications from Visit Salt Lake to Salt Lake Magazine, not least helped to consult on national TV.   Pause those credits, yep, that's me! I'm also a former restaurant critic of more than five years, working for the Salt Lake Tribune.    I'm largely fueled by a critical obsession with rice, alliteration and the use of big words I don't understand.   What they're saying about me: "Not inaccurate", "I thought he was older", "I don't share his feelings".
Want to know more? This is why I am the way I am.
Our sponsors and this page
This page may contain information about one of our sponsors. We only work with the very best businesses in the state, and routinely turn down offers to work with businesses we don't enjoy. If we can't hand on heart recommend them - they can't be a sponsor.
At this time we have the following sponosrs: BTG, Caffe Molise, The Dough Miner, Downtown Alliance, Feldman's Deli, Flanker, Garage On Beck, Hearth And Hill, Hill's Kitchen, Kao Thai, Kin Sen Asian Noodle Bar, Kyoto, LemonShark Poke, Log Haven, Oasis Cafe, Pirate O's Gourmet Market, SLC Eatery, Squatter's Downtown Salt Lake City, Stoneground Italian Kitchen, Urban Hill, Wasatch Brew Pub Sugar House, Whiskey Street, White Horse.
I encourage you to Google any of our sponsors and see the stellar reviews on multiple sites that they enjoy. For a list of all our current and past relationships see our partnership history page.