I love pho more than Kanye West loves Kanye West. On my deep dive pho-rensic investigation, I ate and reviewed over 60 bowls of pho at all 45 pho restaurants in Salt Lake, Utah, and Summit County. You might know me as the Pho King from instagram where I documented this entire process.
Throughout the project, I plotted each restaurant onto a chart that depicted how I thought each bowl compared to the others. For the 36 restaurants in Salt Lake County, I ate a bowl on nearly consecutive days over a period of a little over a month. The restaurants in Utah and Summit County were added afterwards. Here are what the final results for the graph were:
Phở-n fact: If we combined all the noodles that I ate end-to-end into a single mega-nood, that bad boy would stretch for almost 3 miles – the height of 12 empire state buildings, as long as 42 football fields, and as tall as 657 9th and 9th whales. Despite the immense length of this absolute giga-nood, it doesn't compare to the length I was willing to go to find Utah's best pho.
Growing up in South Jordan, I pretty much only ate Vietnamese food when my family cooked it. Years after I moved out, I tagged along with some friends who were craving pho. At that point, it must have been several years since I had a bowl. Eating pho that day was like catching up with an old friend, reminiscing moments of childhood nostalgia. Over the next couple of months, I wondered why somewhere along the way in my life, I stopped eating the food I grew up with. I would occasionally catch a glance of my reflection in the broth. Who am I? What's important to me? Why can't I properly pronounce chúc mừng năm mới!?
Being raised between American and Vietnamese culture sometimes felt like I was the rope in a perpetual game of tug-of-war. It was like embracing aspects of one culture often meant giving up elements of the other. For me this was especially true with trying to wrap my head around Viet traditions and language. The exception was when it came to food. With food I felt fluent in both worlds, or maybe it's as if having a mouthful of deliciousness removes the need for words at all. Food and culture are intrinsically interwoven and I've used pho as a bridge to learn a thing or two about my Vietnamese heritage. Frankly, it became an obsession. I wasn't only trying to find the best bowl of pho. I was also trying to find myself. *cue corny inspirational music*
The Pho King pho chart
"Pho King approved" and "not pho me" (x-axis) describes how good I think a bowl is. I could ramble on and on about this topic. In fact, I did exactly this. For the sake of keeping this article to-the-point, I described my thought process behind what makes good pho in full detail in a separate article. You can read it here.
"Herbal, spiced broth" and "beefy broth" (y-axis) describes the flavor profiles of the broth. The degree of seasoning and beefiness is mostly preferential and is independent from how "good" a bowl is. Spices like star anise, cinnamon, and cloves are what make pho taste distinct from other noodle soups. They give pho a fragrant, almost herbal flavor.
The chart can be divided into quadrants. A great pho broth is both seasoned and beefy, but sometimes the flavor of a bowl leans more towards one or the other. Generally, this is how I would describe what a bowl of pho in each quadrant would taste like:
1 – A broth with a beefy foundation that is heavily seasoned with herbal-ish spices. In my descriptions, I try to mention what specific spices I taste. Typical spices are star anise, cinnamon, and clove. Other common spices are black cardamom, coriander seed, and fennel.
2 – These broths are seasoned, but don't have the beefy undertones to support them. The worst of these broths taste like noodles in a salty herbal tea with no depth.
3 – There's some beefiness there, but the taste reminds me of bouillon cubes – flat. These broths have little seasoning or depth.
4 – These broths have the depth of beefiness that I look for, but are light on seasoning. This could be good or bad based on your preferences. The most beefy of quadrant 4 is very tasty, almost indulgent in savoriness.
A great bowl of pho will be both seasoned and beefy, but the prevalence of these flavors sometimes lean more towards one side of the spectrum. Beefiness is absolutely essential to pho, but too much will make the dish overly heavy. High levels of beefiness might even make it reminiscent of completely different dishes, like the braised beef noodle that's popular at One More Noodle House in South Salt Lake for example. Highly recommend, by the way. A hearty soup can really hit the spot, but when I'm craving pho, overwhelming beefiness is not what I'm looking for. The key here is balance, but it's also a matter of preference.
You might notice that I compare several bowls on this list to the one at a restaurant called Asian Palace. In my opinion, AP serves the most average pho in all of Utah in terms of flavor profile and quality. Their bowl is the best frame of reference. This isn't to say that being average is a negative. Their chili oil doesn't get nearly as much recognition as it should. The reason why Asian Palace isn't in the middle of the chart is because I feel bad when I have to place restaurants onto the left side. I found myself shifting everything towards the right as if that would make a difference.
Sweet Pho Broths
Most styles of pho that are popular will include some yellow rock sugar, but some of the restaurants I visited had broths that were noticeably sweeter than the others. This is an aspect of flavor that the original graph didn't account for. Of course, I plotted this out as well but only for the bowls that I thought were especially sugary. Admittedly, I'm sensitive to sweetness. Someone that appreciates a mixture of sweet and savory flavors would most likely rank these restaurants more favorably than I did.
The Pho King playoffs
Once I visited every restaurant and completed the chart, it was time to put my reviews to the test. In the spirit of competition, I decided to do head-to-head comparisons to determine the final rankings of the highest ranked pho joints.
I took the top 8 restaurants and loosely seeded them into a bracket style competition. I called it, "The Pho King Playoffs". I invited 15 pho-natics to be the judges that ultimately determine the restaurant that earns the bragging rights of having the best pho in Utah.
Over the course of the playoffs, I had the absolute privilege of dining with some of the best judges I could ask for. These judges included new and old friends, power duo and owners of Pretty Bird Viet and Alexis Furkioti Pham, and last but not least, your very own Stuart Melling who graciously offered to feature this article. To all of you, thank you so much.
Pho judges
The format of the competition was simple. For each match-up, three judges including myself would have a bowl from both restaurants and place our vote for the better pho. Whichever restaurant got the most votes would move onto the next round while the loser was eliminated. The outcome of the playoffs as well as the pho-nale, aka the Souper Bowl, are revealed at the end of the list.
The rankings – the important part starts here
Full disclosure: even though I'm a noodle nerd, anyone's opinion is just as valid as mine. If you have your own favorite pho restaurant, then that's more than enough reason to keep supporting them. My favorite places are getting too crowded anyways.
Without further ado, here are the rankings. I went to a total of 45 restaurants, but the point of my project was to highlight the best places to grab a bowl. I didn't see the point in bringing up my least favorite pho shops. I'm starting the list at where I would consider "quality pho" to begin, at restaurant number 25. If you don't see your favorite restaurant on this list? Well I got bad news for ya, bud. In the case that you insist on reading what I had to say about the 20 restaurants that didn't make the cut, you can find the original IG post on this spreadsheet.
These rankings are based only on pho. Other items on the menu were not taken into consideration. Again, what I think makes good pho can be read here in full detail.
The top 25
For pictures, click the headings…
Do you have a Vietnamese grandmother? You do now. Located in what looks like someone's home, is the comfortingly quaint experience of going to grandma's house for some Sunday pho.
Pho Tay Ho has a sizable following. My most controversial opinion is probably ranking PTH at number 25, barely making the cut for this list. The pho here is not bad by any means. I think it's actually prepared well.
Years ago, Pho Tay Ho used to be my go-to spot for pho. Post-Covid it just doesn't hit the same way as I remember. The broth is less flavorful, the meat is run-of-the-mill. I don't find the broth at PTH flavorful enough to stand on its own feet. I feel like I almost have to add sauces into the bowl.
People rave about their chili oil. It goes well with their pho, but I find the chili oil itself to be ordinary. I think it's strange to add sauces directly into your broth instead of having them on the side to dip, but a bowl here with some chili oil thrown in might be exactly what you'd look for on a cold winter day.
The forte of PTH is the ambience. There's nothing else like it in Utah. You're in a repurposed home turned restaurant. You can peek into the kitchen and see chefs that might remind you of your dear abuela. I can have a similar pho experience by visiting my own grandma. Maybe this is why I don't value PTH as much as other people? At Pho Tay Ho, it feels like you're family. Olive Garden should be taking notes.
1766 S Main St, Salt Lake City, UT 84115
(385) 240-0309
photayho.com
The broth is similar in taste to Asian Palace. Not particularly spiced, but subtle umami. Pleiku has better quality meat in a modern atmosphere while Asian Palace's broth is more flavorful with bigger portion sizes and slightly lower prices. Something else to consider is that Asian Palace has ample parking, day or night. Pleiku is the opposite, being downtown on Main Street.
I'm placing Asian Palace higher than Pleiku for two reasons. I enjoy their broth more and the chili oil at Asian Palace has to be in the top 3 for me.
264 S Main St, Salt Lake City, UT 84101
(801) 359-4544
pleikuslc.com
All Chay is an all vegan, all Vietnamese restaurant. But you probably already knew that. Immensely popular, and rightly so.
Their pho broth might surprise you. I didn't feel like there was anything particularly missing from it, despite it being completely vegan. Very savory. It's difficult to place All Chay on the pho graph since it's obviously not beefy, but it wasn't strong in herbal spices either. I'm just going to place it right on the horizontal line of the graph.
Instead of the typical beef cuts, All Chay's pho comes with fried tofu and two types of soy based imitation meat. I enjoyed the lighter colored one and the tofu, but I don't know how I felt about the texture of the imitation beef.
I also got a plate of all their rolls. Each roll is named after one of the four seasons. I call it "The Vivaldi Plate". All of them were solid, each with noods, lettuce, cucumber, and some pickled carrots and daikon. What sets them apart are the proteins. Call me boring, but my favorite was the summer roll which just has fried tofu.
"Chay" means vegetarian in Vietnamese but can also be interpreted as "meatless". You won't have to worry about this here, but if you're vegetarian or vegan this might be a helpful tip for other pho joints:what they call pho chay will not have meat, but may or may not be served with beef/chicken broth. Never hurts to ask.
1264 W 500 N, Salt Lake City, UT 84116
(801) 521-4789
SOMI has a refined modern vibe and I think they nailed it. You can tell they put a lot of work into their presentation.
The taste of the broth is unique; I don't think there's any other pho in Salt Lake like it. In fact, it reminds me more of something like braised beef noodle soup than pho. I suspect there might be soy sauce added? Regardless, it's tasty but I wish the broth had a little more depth. The beef was especially tender and tasty, but there's not very much of it considering they charge more than other pho restaurants. The meatballs were just okay, pretty standard.
1215 Wilmington Ave, Salt Lake City, UT 84106
(385) 322-1158
somislc.com
Highly requested. I've been messaged by maybe a dozen people to try this place out.
Slight flavors of black cardamom and clove. The broth is noticeably darker than what's typical and tastes sweet. It reminds me a lot of Little Saigon in Sugar House. A sweet broth served in a fast casual environment with a big following.
In terms of broth, both Little Saigon and Viet Deli are of somewhat similar quality. Viet Deli will be ranked lower than Little Saigon because of its less tender meat and its broth having slightly less oomph. Though in the grand scheme of things, Viet Deli is solid.
274 Crossroads Blvd, Saratoga Springs, UT 84045
(801) 407-1285
vietdeliutah.com
I love Thai food. It almost hurt a little to order the pho instead of trying one of my favorite Thai dishes, so I settled on getting chicken satay as an appetizer.
I'm a fan of the chicken satay. The peanut sauce was good, but the star of the show was the other sauce it came with. Not going to pretend I know what it was, but it was sweet, tangy, and came with chunks of peanuts and cucumber. The chicken was juicy. I loved the texture that the peanuts and cucumber added.
I don't think Fav Bistro would claim to specialize in pho, but I came at the request of someone that insisted that it was worth trying – and it was. Surprisingly, I think they can hold up in a fight even against some of the valley's pho focused restaurants.
The broth is quite unique. Different flavors from the average bowl of pho; it even had celery in it. Can't pinpoint exactly what I was tasting, but I enjoyed it. If I were to guess it's lemongrass and garlic? The meat was solid. A mixture of cuts, all tender.
1984 E Murray Holladay Rd, Holladay, UT 84117
(801) 676-9300
bestthaifoodinutah.com
Not to be confused with Pho Little Saigon in Taylorsville nor Pho Saigon in Murray and West Valley.
A huge fan favorite. Tons of people have been asking me to come here. Unfortunately, I'm almost expecting a mob with pitchforks and torches outside my apartment after I post this. The meat was high quality, but the broth was too sweet for me. I wouldn't go as far as to say the broth is bland, but I wished it had a bit more oomph. It was like the other flavors couldn't escape from underneath the sweetness.
If you like your pho spicy, I recommend trying something that's become quite the pho trend. It's called pho sate and you can get it at Little Saigon. It has ot sate, Vietnamese chili oil, added to the pho broth. You might recognize ot sate as the same chili oil that's used to make bun bo hue. Highly recommended.
2021 Windsor St, Salt Lake City, UT 84105
(801) 906-8630
littlesaigonutah.com
Unlike the majority of these other pho joints, this was my first visit. Overall it's pretty good. Unique broth, strong in black pepper. In fact, black pepper was the main spice. The broth is of quality, it's rich and deep. The beef was tender. I particularly enjoyed their meatballs. The server was especially charismatic and friendly.
Solid. The reason Red Lotus isn't ranked higher is because even though they nail the fundamentals, it doesn't excel in any particular aspect like the best places in the valley do. Overall, still a great bowl. I thoroughly enjoyed this one.
329 S State St, Salt Lake City, UT 84111
(801) 363-1977
redlotusbistro.com
The entire time I was here I felt so silly. I forgot my monocle in my other Bugatti!! At the time of visiting, this bowl of pho set me back about $35 after tax and tip. I'll give it to them; the restaurant looks great and the pho was tasty, but does a bowl that costs two to three times more taste two to three times better? For me, I'm going to say no.
The highlight of this bowl for me was the chili oil that was added to the dish of sriracha and hoisin. A spicy and garlic-y delight. The broth was unique in flavor, though a bit oily. The menu states that they use a secret blend of spices and honestly, I'm stumped for what's in this. There's the flavors of the usual pho blend of seasoning but there's a layer of something else that tastes fragrant. Maybe lemongrass or some kind or aromatic spice? Admittedly, it's very tasty. It's well worth trying if you're curious. There's nothing else in the valley like it.
This was some good pho, sure. If you just finished shredding the slopes and need some hot soup to warm your soul then Saola is for sure the place to be. At this price point I'd rather go elsewhere unless I was in the immediate area or really craving their unique broth. I don't care what anyone says – the egg-shaped bowl isn't going to change my mind.
7307 Canyon Centre Pkwy, Cottonwood Heights, UT 84121
(801) 944-2949
saolaeats.com
Asian palace has two locations – one in West Valley and another on State Street in SLC. I don't think they're different enough to warrant two separate reviews. This bowl was huge! I ordered a regular and maybe finished just half the noodles. I wouldn't be surprised if the large was served in a bathtub.
A solid bowl of pho. Their broth has a more subtle flavor. On my initial broth taste test, I found myself going for several more spoonfuls than I usually do. I realized what I was tasting was umami; very addictive. The beef was tender, but wasn't especially notable. The chili oil here is a must, it's pretty bomb.
1774 3500 S, West Valley City, UT 84119
(801) 972-2835
1446 S State St, Salt Lake City, UT 84115
(801) 485-1646
Not to be confused with Pho Bien Hoa.
You might recognize Pho Hoa as the biggest pho chain in the world. Founded in San Jose, California, they've expanded to over 70 locations in 7 countries. Pho Hoa used to be the place to go back in the day, at least for my parents and their social circle. I have memories of my parents often running into some old friends either at the restaurant or the Asian grocery store next door. For the next several eternities, my sisters and I would be trapped until the adults finished catching up. Talk about childhood trauma, am I right?
This one's an herbal-ish broth, strongest in star anise. They give you a ton of tender meat, but probably not as much as Asian Palace at the other end of the block. I'd say in terms of rankings, the two places are neck and neck. I tend to crave herby broths more often, so personally I prefer Pho Hoa. When it comes to value though, Asian Palace has the highest PPD (Pho Per Dollar) in the valley.
3460 S Redwood Rd, Salt Lake City, UT 84119
(801) 972-9000
The Chinatown in Salt Lake is more of a block than a town, but it just might be the most nood-dense area in all of Salt Lake. All within a couple dozen yards to satisfy your mood for noods are: Pho Salt Lake, Pho Hong Chau, One More Noodle House, and the local strip club!
Their pho came out very, very hot. Always a great sign. You want your pho to be hot enough to warrant a lawsuit if you spill some on your lap. Soup is just better hot and I appreciate it when the broth slightly cooks my bean sprouts and herbs so that their flavors steep into the broth.
Subtle in flavor and cilantro-heavy. It brought a freshness to the bowl but I could see this being a nightmare for anyone that hates cilantro. Make sure you check that none of it gets stuck in your teeth before you leave! The service can be slow but the pho is solid. One of the few places in the valley that serves ox-tail pho.
3390 S State St, South Salt Lake, UT 84115
(385) 528-0570
I used to live relatively close to Pho 28 and came here often. The biggest problem here is the consistency. The only two things that are the same every time I go are the friendly staff and how quickly the food comes out. The actual taste of the pho can be different every time I go.
This time around, the bowl was more on the herby side. The quality of meat was like usual, solid. But dang, do they give you a ton of beef. How much I like Pho 28 depends on each visit. I would say it ranges from average to pho-tastic. I'm ranking it at number 13 because this is where I'd say a typical bowl here sizes up. I wish I could rank it higher but it's just not consistent enough for me to do so.
They also serve ox-tail as an add-on for pho!
428 E 900 S, Salt Lake City, UT 84111
(801) 364-9918
pho28ut.com
Gossip is located right next to Pho Cali. Compared to Pho Cali, gossip has a more modern feel. It's spacious, more relaxed, and it has the corner spot of the strip – tons of windows. On the Sunday afternoon I visited, both places were packed. I think that's a testament to that you really can't go wrong with either.
The broth at Gossip is sweet, but not overly so. Flavors of clove and black cardamom, there's a nice beefy foundation to bring it all together. A good portion size.
Gossip might be my favorite place to get bún bò huế. They've also stepped up their herb game. The last time I visited, there were 4 different herbs served including perilla leaves. Note that availability of herbs may vary.
1629 W 3500 S, West Valley City, UT 84119
(801) 886-2868
gossiptapioca.com
Not to be confused with Pho Little Saigon in Taylorsville or Little Saigon in Sugar House.
The pho at Pho Saigon's Murrary location is different enough to get its own ranking. Slightly sweet, the taste of cloves stands out in the broth. It has much more depth than the one in WVC. The beef was tender and the portion size was just right. One of the 3 places I've found that serves culantro aka mexican coriander. The others being Pho 777 and Gossip.
Pho Saigon in Murray is one of the only places in the valley that serves Vietnamese style chili oil, called ớt sa tế. My advice? Go with the chili oil every time. Nearly always made in-house, Vietnamese chili oil is made with garlic, lemongrass, and annatto seed. Though note that most pho restaurants will serve a more Chinese styled oil that omits lemongrass and garlic.
Pho Saigon gets bonus points for having great chili oil, but when it comes to pho? I'm a traditionalist and honestly a bit of a snob. I almost never add condiments directly into pho and Pho Saigon's broth by itself isn't multidimensional enough for me to rank it higher. I'm biased against spicy pho, but I highly recommend adding chili oil into your broth anyways. It tastes great and I need to get over myself. I can see someone who likes spicy pho ranking Pho Saigon much higher than the number 11 spot.
4907 State St, Murray, UT 84107
(801) 590-8277
Using the slang my younger cousins taught me, I would say that this pho was straight bussin AF. No cap, fam. Bet.
The broth is highly seasoned. Rich in flavor with specifically black cardamom; it really came together once I added a squeeze of lime and ripped a leaf of Thai basil in. The thing I love the most about herbal and spiced broths is how well they compliment the garnishes. The bitterness of the spices is edged off by the acidity of lime and freshness of the herbs. I left satisfied and impressed.
Easily the best pho south of West Valley.
1823 W 9000 S, West Jordan, UT 84088
(801) 849-0765
pho9.weebly.com
Not to be confused with Pho Hoa.
Pho Bien Hoa was my family's second favorite pho place growing up. I haven't been here in a while and was surprised to see they did some remodeling. Half the restaurant was turned into a boba shop with a lounging area. Looks pretty good!
A great choice for your pho craving. Their pho broth was subtle, but tasty. The main spice notes were coriander seed. The beef was fatty and tender. They offer 4 different sizes at modest prices, the regular is a good amount of pho.
Pho Bien Hoa is solidly in the top 10 places to get pho in the valley. It's impressive that they've maintained consistency in quality after all these years.
4146 Carriage Square, Taylorsville, UT 84129
(801) 969-2515
orderphobienhoa.com
Pho Thin is based on the famous restaurant in Hanoi with the same name. Chef Tuan Vu, also the chef/owner of Saola, says the recipe is based on the same one his uncle uses in Vietnam.
Although the pho here is made in the typical Southern style that most people are familiar with, Pho Thin offers Northern Viet sides including onions in vinegar and Chinese donut sticks to dip.
I actually prefer Pho Thin to Saola, despite Saola's pho being the more premium version. The first similarity that I noticed was that the broth at both places were more oily than what's typical.
Typically, all fat is skimmed off the top of a pho pot as it simmers. The fat collected is known as nouc beo (pronounced almost like "nook bell") and can be ordered as a side, even though it's almost never on the menu at any restaurant. Obviously fat and water don't mix, but this is also true for certain flavor compounds. It seems like Pho Thin leaves more oil in their broth than the other restaurants in Salt Lake. It adds a richness of flavor that's usually absent in other bowls in SLC. I'm a fan.
The bowl at Pho Thin is less herby, but similar in taste to Asia Palace. Subtle, but umami. I'm going to have to say that Pho Thin beats Asia Palace here, but something to account for is that the bowl at Asia Palace has a much bigger portion with lower cost.
2121 S McClelland S, Salt Lake City, UT 84106
(801) 485-2323
phothinslc.com
Pho Hong Chau is one of the two pho restaurants in the Chinatown Plaza, the other being Pho Salt Lake. Being here reminded me of the vibe pho restaurants had before Vietnamese food started to get really popular, before about 2010.
The quality of the meat was awesome. The broth was tasty, but oily. Subtle in flavor, not really any strong notes of herbiness. Overall a solid bowl of pho, especially for their low prices. I prefer Pho Hong Chau to the nearby Pho Salt Lake, but I have to admit that I wish every restaurant served their pho as hot as Pho Salt Lake does.
Pho Hong Chau is known for having authentic and tasty non-pho dishes. The times I've been here in the past, a friend of mine would always get one of their dishes called hu tieu my tho, also listed as the my-tho malony noodle soup. Everyone at the table had to steal a bite or two. It's another noodle soup that's packed with the works: seafood, pork, and veggies. In my opinion, this dish outshines their pho.
I can also vouch for their banh khot.
3390 S, Salt Lake City, UT 84115
(801) 906-8858
phohongchau.com
Yes, Fat Fish is a sushi bar. Before you (sushi) roll your eyes, I have to tell the story of why a sushi joint has good pho.
Way back when, when I was but a wee bean sprout, there was a restaurant in West Valley called The Green Papaya. The Green Papaya was popular for its pho and other Vietnamese dishes. Eventually, the owners decided to close the doors of the Green Papaya, but then went on to open up a sushi restaurant while keeping pho on the menu. Spoiler: that sushi restaurant was called Fat Fish.
Unfortunately, Fat Fish also suffers from consistency issues. When it's good, it's real good. The broth this time was more herby than I remember. Whenever I go, I get anything with their marbled brisket. Some real chef-kiss worthy stuff here.
It's a strange experience to be enjoying pho, and then looking up and seeing colorful sushi rolls on the tables around you. I've been here several times and I've never gotten over it to this day. The next time your significant other or whatever wants sushi but you want pho, well…here you go. They also have another location in Bountiful.
1980 W 3500 S, West Valley City, UT 84119
(801) 887-7272
fatfishslc.com/wvc
An old favorite of mine. If you followed my first round of pho reviews in 2021, you might remember that Pho Cali was my original number one pick for the best pho in the valley. While visiting all these pho places I realized that a few of them have consistency issues. I've been about a dozen times to Pho Cali now and it's sometimes like a new bowl every visit. On their best days, the pho is phở-nomenal. On their off days, it's still good but being unlucky just feels bad. It's like drawing the "go to jail" card in Monopoly. Do not pass go. Do not collect $200.
The broth tastes on the herbal side with the standard star anise, very deep. The beef is awesome. The garnish plate comes with some cilantro. Always a bonus for me, I'll take it.
Pho Cali is my favorite place for bún thịt nướng chả giò which roughly translates to, the noodle salad type thing with veggies, a chopped eggroll, and a grilled pork chop.
1631 W 3500 S, West Valley City, UT 84119
(801) 972-2808
I was pleasantly surprised at how much I enjoyed Rollz. Most of the fast casual Vietnamese shops specialize in banh mi while their pho leaves more to be desired.
The broth is beefy and rich, but also moderately sweet. A very flavorful soup packed with umami, but with subtle flavors of herbal spices. Personally, I think the broth at Rollz is as sweet as pho broth can be without being overwhelming to me.
The beef is incredibly tender, but it depends on what you order. I highly recommend ordering anything with flank. Avoid the pho tai if you can help it. For their rare beef, Rollz uses eye of round, one of the most lean and chewy cuts of beef out there. The best beef cuts to eat with pho are the ones that are slow cooked in the broth for hours, like in pho chin.
Ox-tail pho is served here. Almost always a good sign even if you don't order it. Ox-tail makes a great broth and any restaurant that offers it will almost certainly use it in their broth-making process.
5480 S Redwood Rd, Taylorsville, UT 84123
(801) 966-7888
One of the recipients of Salt Lake Magazine's dining awards for best restaurant, The Pearl is another favorite of mine and an outlier in Utah's pho scene in terms of the atmosphere. Most notably, The Pearl is a bar (21+) and only serves pho on Sunday evenings. Just 70 bowls are prepared before they sell out.
I'm usually skeptical about restaurants that seem like they're going for a trendy, modern atmosphere. I'm especially put on the defensive if they serve Asian food. Sometimes it feels like more thought was put into the vibe and taking advantage of food trends rather than the food itself. To be honest, I was apprehensive to try a bowl of pho here. I mean, they have damn jazz nights, for crying out loud. I'm happy to report that The Pearl is legit. The vibe is great and so is the grub.
Though chicken pho is very traditional, you can find your bowls topped with the ever-changing and creative weekly specials such as pork belly, smoked brisket, or whatever else Chef Tommy Nguyen (Takashi, Rye, Alibi) masterfully crafts for the night. There's great value in tradition, but when it comes to innovative ideas that work? I'll be the first to volunteer attaching a turbine to my ancestors rolling in their graves to power whatever apparatus The Pearl uses to concoct their creations.
Chicken pho broth has a lighter taste than the beef variation. My favorite part of the pho here is the contrast of the lightness of the broth with the richness of the specials. The first time I had the pork belly, I was blown away as it melted in my mouth. There was a week where fried chicken pho was a special and I still have friends bugging me to ask Tommy if it'll ever be back on the menu. Bring the chicken back, Tommy! With the pho or whatever else you think is a good idea. I'll take anything at this point.
Pho is typically not a spicy dish, but ớt sa tế (Vietnamese chili oil) is available on request. Chef Nguyen developed the recipe while making tacos for Alibi. It's been a hit since day one. I highly recommend throwing some into your bowl if you want to take it to the next level. In my opinion, it's in consideration for the best chili oil in Utah. Disregard everything I said about keeping sauces out of your broth and throw some chili oil in. It's that good.
Vegan pho and the classic rare beef pho can also make appearances onto the weekly pho menu. You'll find the rare beef here is flank. It's much more tender than the typical eye of round steak that most restaurants use for their rare beef pho. Bonus points to The Pearl.
The Pearl's regular menu offers other Vietnamese dishes that I can easily vouch for, namely the banh mi and egg rolls. I'm also a fan of their ca phe cocktail, inspired by Vietnamese iced coffee.
917 200 W, Salt Lake City, UT 84101
The pho-nale
The final showdown came between Pho 33 and Pho 777. With the effort of 16 judges and over 100 collective bowls of pho, I'm proud to announce Pho 777 as the winner of the Pho King playoffs with a judge vote of 2-1. P777 is a gem to the Salt Lake Valley as well as the state of Utah. The pho scene in Salt Lake has made great strides this last decade and Pho 777 is leading the charge.
For this one, I decided to give up my spot as a judge. My goal of having other judges in the first place was to bring in other voices. After all, no one man should have all that power. In hindsight it was probably too little too late, but I'll make note for the 2027 pho-lympics.
Here's what the judges had to say about Pho 33 vs. Pho 777
Loved Pho 33, it was un-pho-gettable. I appreciated the Serrano peppers and how they used lime; Pho 777 had lemon instead. At P777, the broth seemed oily and my noodles were over cooked. The noodles at 33 were photastic. Both places could have definitely served hotter pho but 777 had more of a star anise flavor that 33 didn't. Pho 33 had more chicken and their broth looks cleaner. 33 gets my vote.

-Alexis Furkioti Pham (voted for Pho 33)
It's a tough one. It's a toss up for me. Both phos had their faults and both were good for different reasons. I know the readers tend to not like ties…

If a gun was pointed at me then I would choose 777.

-Viet Pham (voted for Pho 777)
This was a really tough call for me. Both Pho 33 and Pho 777 had sublime highlights that made picking a favorite child near impossible. Frankly it was the small details that tipped me over the edge.

Pho 33 had an incredibly full bodied broth, one I could gulp down by the gallon. Soothing and fatty rich with a velvety finish. It's hard to fault them on their enormous portion sizes too, especially the generous quantity of meat, all excellent quality, no filler. Pho 777 meanwhile was a thinner broth but replete with more nuance and complexity, more warm spices and intrigue. I loved the addition of culantro, and pho-pas or not, I love dousing everything with the house chili oil here. The bright modern space is probably also my preference to dine at too.

While my head went with 777's complex broth and better sides, my heart (belly) went with the richness of 33s. Honestly, my vote could have easily been reversed on a different day. Sadly I am being forced under pain of death by the Pho King to choose, so I went with 777.

-Stuart Melling (voted for Pho 777)
My vote wasn't in consideration for the official count, but I'll give my take anyway. It's my article, I can do what I want. This decision was a toughie. At the time of voting I chose Pho 33. This would mean the finals ended with an unofficial tie, but I don't think this tells the entire story.
I continued to visit both Pho 33 and 777 over the last couple of weeks. I realized something. Both places are Pho King approved, but Pho 33 isn't something that I can have too often. It's heavy – tons of meat paired with a sweet and hearty broth. This is great every once in a while, but I'm nearing 30. My body is starting to become very responsive to what I should and shouldn't be eating. The days of inhaling an entire bag of pizza rolls and functioning as a normal human being are over. When I finish a bowl of pho at 777, I feel like a video game character that just chugged a vitality potion and healed for a full health bar. I can't say the same about Pho 33.
I also found that 33 was having consistency issues, while 777 was impressing me with both their pho and non-pho dishes. If you were to ask me right now, my vote would go to Pho 777.
Pho 33 has a savory, yet slightly sweet broth. Not as spiced as Pho 777, but still very flavorful. Their bowl feels almost indulgent with how heavy the meal feels. I like to say Pho 33 is the Arby's of pho restaurants. They got the meats. With how substantial this bowl is, I wish they included more cilantro and green onion. I usually ask for extra. Having something green helps to convince myself that I'm eating a balanced meal. This makes no sense but let me have this one. I usually feel revitalized when I walk out of a pho restaurant. When I walk out of Pho 33, I stumble to my car before falling asleep in the parking lot. I mean this is the best way possible. This place is great.
The value on the eponymous dish, the Pho 33, is insane. A bowl with the same variety and amounts of meat could easily be over twenty bucks at another location. An order of a small is a full meal and will only set you back about $13 at the time of writing. It includes almost every cut of beef that I'd want in pho: oxtail, brisket, flank, among many more.
Side Note: When it comes to tripe and tendon, I find that there's people that say they have to be in your bowl to have "authentic" pho. This is untrue. The beautiful thing about pho is that you can make it into whatever you want, no two people enjoy their pho in the exact same way. With tripe and tendon, I think it's like pickles or cilantro – you either love it or hate it. It's worth giving a try, but it's also valid to never want to eat it again. Growing up, my dad and I would give our tripe to my mom who would kindly accept. If you ask to skip out on the tripe and tendon, I can confirm that Pho 33 will give you an extra amount of the other cuts to compensate.
The pho 34 is also a great choice. It's the same as the pho 33 but instead of oxtail, it comes with beef short ribs. If you're not comfortable with meat on the bone in your soup, I recommend the brisket pho.
Sliced serrano peppers are served instead of the usual jalapeño. The chili oil here tastes similar to tom yum and is available on request.
When it comes to their pho, their extensive selection of proteins is a little overwhelming. I recommend the signature pho 33/34, or really anything with brisket. I discourage ordering pho with filet mignon or Kobe beef. I've found that it isn't worth it, not just at Pho 33, but generally at any pho restaurant.
285 E 2700 S, South Salt Lake, UT 84115
(801) 889-4090
pho33utah.com
A true gem to Salt Lake. Pho 777 is officially my pick for the best bowl of pho in Utah. The name comes from owner Thé Trương having seven siblings, as well as his goal of having each customer feeling like they hit the jackpot with each visit.
I love this place. The pho is everything I want pho to be. It's just simply good. It's a soup with depth that feels rejuvenating. The broth is exceptionally seasoned particularly with black cardamom, star anise, and cinnamon. Black cardamom gives the bowl at 777 a very distinct flavor; an extra squeeze of lime goes extraordinarily well with their broth. The meat is always tender and their oxtail just simply slaps. They give a wider option of herbs than other restaurants, including culantro (aka Mexican coriander) even when it's out of season. A substantial expense for the restaurant. Respect.
I appreciate the intensity of their chili oil. You don't have to use very much of it unless you really want to. It was a great way of adding heat without masking the flavors of the pho.
Though 777 is a great restaurant, I have thoughts on the consistency of temperature. The pho always comes out hot, but there's been times where it's cooler than usual. This is a minor gripe. If I'm being honest, I'm here twiddling my thumbs thinking of legitimate criticisms.
Pho 777 recently relocated into a larger location. Their previous location was modestly sized and tucked away onto a side street. It would often get a bit jam-packed, given how popular they were. Thankfully, they relocated nearby onto Redwood Road into a much larger space. But here's the thing, they're still consistently packed. What the pho. Who's letting the secret out?!
With an expanded restaurant comes an expanded kitchen. Before their relocation Pho 777 was limited with a small kitchen, combined with a high volume of customers. They were restricted in the amount of food they could serve before selling out, prompting a closing hour of 7 p.m. I'm told their new kitchen is about three times as large and has allowed them to extend their opening hours until 9 p.m. on most days of the week!
Despite their busy schedule, I had the fortunate opportunity to meet with Thuỷ Lâm for an interview.
Note: This interview was conducted in a mixture of English and Vietnamese. I took liberties in translating/rephrasing with help from their daughter, Tiên.
Pho 777 is a family business headed by Thé Trương, Thuỷ Lâm, their children, and not to mention their awesome and attentive staff.
Thé Trương and Thuỷ Lâm have 61 collective years of working in Salt Lake's restaurant industry. When their family immigrated to Utah in 1990, they knew that food was their passion. It only took Thé two weeks to begin working as a chef at a local Vietnamese restaurant. Thuỷ also began her new American career in the food industry, although from a more humble position as a dishwasher at the Little America Hotel in downtown Salt Lake. She's proud to tell me that she rose up to the position of sous chef by 2019.
"When we cook for our customers, we only serve what we would for our family. Our recipes are derived from our blood, our minds, but most importantly our hearts."

Thuỷ Lâm, Pho 777
Thuỷ began to tell me of how grateful she is about the success of the restaurant. It wasn't always sunshine and rainbows, she begins to explain. The restaurant opened in 2019 right before the pandemic. If you're older than 4 years old, you may recall the tail end of 2019 as the beginning of a pretty bad time for everybody. This was especially true for the folks of Pho 777.
Thuỷ was laid off from Little America. Their family already sunk money into starting their business, but couldn't open to serve customers. They fell behind in their mortgage payments as well as the rent for the restaurant. Mrs. Lâm explained the predicament they were in:
"During Covid, it came down to two choices. Either we sell our home or we sell the business. I told my husband Thé that we have to sell our home because we have to believe in our restaurant."

Thuỷ Lâm, Pho 777
I'm glad to report that their risk paid off. Pho 777 is busier than ever. Part of me wants to withhold all this information before I start seeing a line go out the door. They gave me a tour of their kitchen. Thuỷ was happy to show every inch and began to tell me about their secret techniques until Tiên berated her mother into putting a zip on it. Damn you, Tiên, damn you to hell.
I won't share these secrets, but what I will say is this. I'm impressed with the costly ingredients they're willing to import almost as much as I am with their excruciating attention to detail. What I was shown were fine ingredients and much more than I expected any restaurant to give a second of thought to. I suspect their profit margins are razor thin, only sustainable because of the sheer volume of customers their restaurant rightfully earns.
A great example of Pho 777's willingness to produce a great product is their use of oxtail. Once regarded as scrap meat, oxtail is now a premium specialty cut. Every cow has just one tail and the demand has surged for this secret ingredient. Even if you're not interested in trying to figure out how to maneuver around an oxtail's odd shape, seeing oxtail on the menu is a good sign. Any restaurant that offers oxtail almost certainly uses it to make their broth. It has everything you need to make bomb pho broth: beef, fat, and connective tissue.
Given oxtail's high price and low frequency of being ordered in Utah, I see oxtail as an indication of a restaurant that's willing to throw down the money to make some outstanding broth. At the time of writing, the oxtail at my go-to grocery store is nearly eight times more expensive than the standard beef bones used to make pho. Given the prices at Pho 777 are in the same ballpark with restaurants that I suspect are taking pho shortcuts, a bowl of pho here really does feel like hitting the jackpot.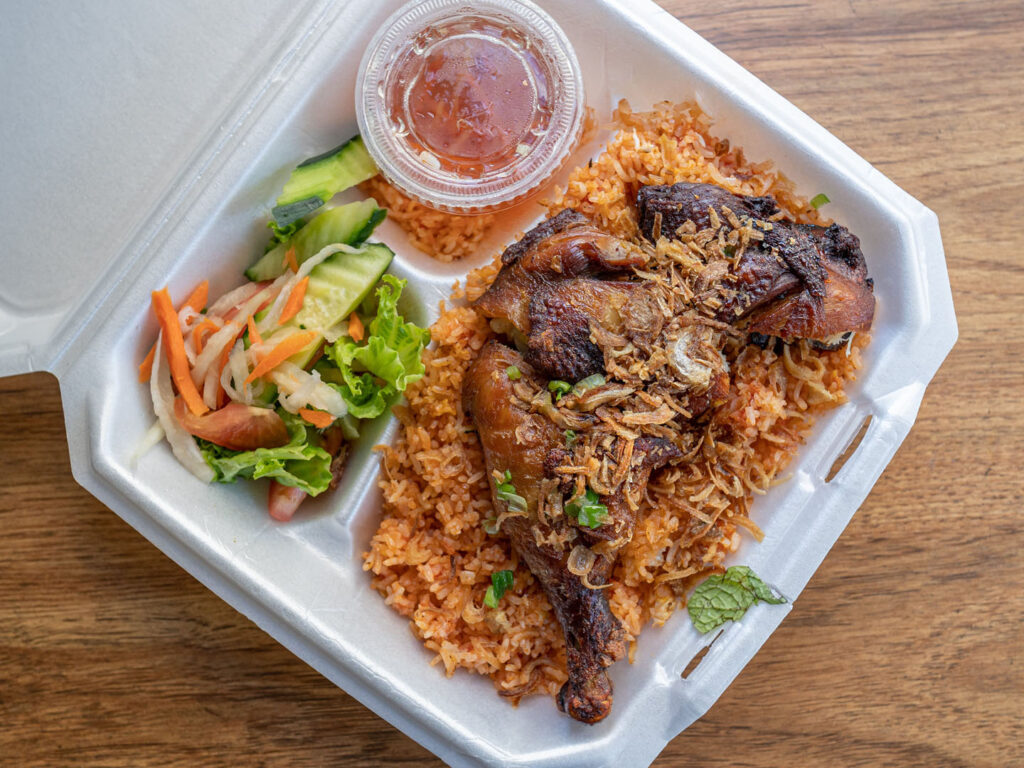 For the longest time, I was under the impression that making great pho would take up too much time and space in the kitchen to allow for other dishes to flourish. Pho 777 has proven me wrong. You can expect their other dishes to shine, such as their roasted chicken with tomato fried rice. I was blown away. This is coming from someone that doesn't even particularly like rice. Both the rice and chicken are immensely flavorful. Topped with dried shallots and a side of veggies and nuoc mam. I'm suddenly realizing that I'm past due for a visit to 777.
Some other recommendations straight from the owners include: Fried summer rolls, Chicken lettuce wraps, Wonton egg noodle soup, hot and spicy sate egg noodle soup, and beef stew with a baguette.
Customers are welcome to park in the lot of John Paras Furniture if Pho 777's lot is full. Ask about first responder and military discounts!
It's impossible for me to stress how much I would encourage anyone to check out Pho 777. I hope you enjoy your visit as much as we did. For me, the experience at the triple seven is un-pho-getta-bowl.
3585 S Redwood Rd, West Valley City, UT 84119
(385) 528-0189
Keep the conversation going
Want to stay on top of the SLC food scene, minute by minute, dish by dish? Here are a few other places you should follow along:
Image credit, Midjourney 5.1.
Sup, I'm Brandon! I'm also known as the noodle whisperer, the broth sommelier, but most often as the Pho King. I grew up in the Salt Lake Valley, but spent summers in Southern California — debatably the Vietnamese food capital of America. I've worked in multiple restaurants, but also have a science background. I've even had a brief stint with NASA! I love food, dad jokes, and overthinking. I guess all of this rambling was just a natural progression, eh?
You can find more of my blabberings on Instagram.
This article may contain content provided by one of our paid partners. These are some of the best businesses in Utah. For a list of all our current and past relationships see our
partnership history page
.