Food trucks lead the discussion this month, as we look back over what's newly opened the past several weeks; presumably with the warmer months in mind, and the plethora of food anchored festivals in the works for the next few months. Let's dive in, and start with that headline item…
Bobby D's Da Beef N Hot Dog Joynt
Let's just call it Bobby D's because, the full name, is almost as big a mouthful as the loaded Chicago dogs this new food truck is slinging. Since the much mourned loss of John Carrsquilla's Johnniebeef's, this is the first business to really pick up the baton for the classic concoction. Speaking of which, the full gang is here – starting with Vienna beef dogs and ending with a soft poppy seed bun. There's neon green relish, sparky peppers and everything else. Also on the menu, Italian Beef sandwiches, who are making an ever increasing presence on Utah menus. True to the original Chicago sandwich, feel free to order it dipped or wet. Remember kids, ketchup is high treason, so don't ask. Don't even look at the ketchup. Or at least scurry back to the secrecy of your car to apply covertly.
Arctic Circle
Cache County denizens, this one's for you – an all new Arctic in your area. Here's the full press release on the launch:
. . .
Arctic Circle, an Utah-born food and frozen treat favorite for more than 70 years, is expanding its presence in Northern Utah with a new location in Smithfield. After a full remodel, Arctic Circle has inherited a location on the corner of 100 South and Main Street that has already served Smithfield families and visitors for years. Formerly an A&W Restaurant, the community rallied around the food spot after a fire completely destroyed the building in 2004.
The Smithfield location, which joins the Arctic Circle in Logan to serve its patrons in Cache County, will have seating for 44 and employ up to 33 workers. "We're excited to have another opportunity to serve the great families and folks who call Northern Utah home," Arctic Circle CEO Kasey Christensen said. "Good food and great ice cream treats have already been a winner at that location. Arctic Circle is the perfect fit for the area."
Established first as a 'tiny little refreshment stand' at a Pioneer Day celebration in Salt Lake City in 1924 by Don Carlos Edwards, Arctic Circle has since grown into one of the most recognizable family-friendly fast-food restaurants – not only in Utah, but also in Arizona, Nevada, Oregon, Washington, Idaho, and Wyoming as well.
The originators of the now-regionally beloved condiment, Fry Sauce, Arctic Circle has also made its name for menu items like 100% real Alaskan Halibut, Black Angus hamburgers, and a wide selection of Above the Rim shakes, sundaes, and frozen treats.
Cafe Bloomm
Open for breakfast and lunch seven days a week, this new cafe spot over in Roy. ABC4 ran this story on Bloomm spot writing, "Marikh Mathias and Chef Ian Groesbeck have created the perfect coffee shop for any occasion. Their favorite item, the Pretzel Sandwich Bun, is made of eggs, bacon, cheese and a pretzel bun, adorned with their signature mustard sauce. "
Cousins Maine Lobster
Here's the full press release for the arrival of this food truck group Utah, which began May 5th with an event at Ogden's Talisman:
. . .
Cousins Maine Lobster, leading food truck concept and provider of the tastiest Maine lobster rolls across the country, announces their expansion to the Salt Lake City area at an upcoming grand opening at Talisman Brewery in Ogden, UT. May 5th
CML Salt Lake City marks the eighth corporate-owned unit and is under the leadership of Jake and Erin Mutscheller.
"We were looking for a strategic western city for our next corporate food truck and Salt Lake City immediately stood out. It is one of the top food truck cities in America and we are thrilled to expand to such a strong market. Jake and Erin have assembled an incredible team to take on this new venture," explained Sabin Lomac, Cousins Maine Lobster co-founder, who will attend the grand opening.
"Salt Lake is a great foodie city with rapid growth and a strong economy. The community has been incredibly welcoming and the Food Truck League has been a great resource for our development. We are getting an overwhelming amount of booking and catering requests; it's been incredible. We are filling up fast and it just solidifies all we believed in with Salt Lake," Jake Mutscheller elaborated.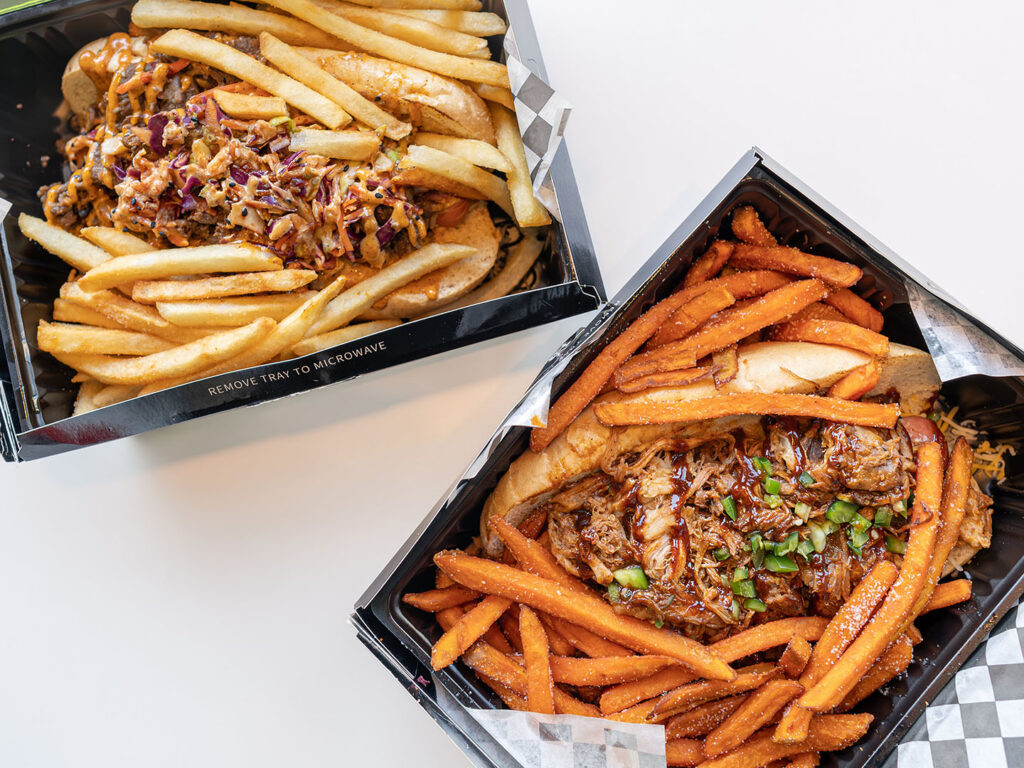 FEASTbox
A raft of FEASTbox locations have recently debuted in the Beehive, the latest of which can be found in Sugar House. Pitching up at the old Habit Burger along McLelland, the restaurant debuted at the end of last week. Offering free boxes to the first 100 punters, you know I was there at 11.00 a.m. sharp. Look, I'll even attend your time share presentation for a free pen, it's a problem. I know.
This big bucks backed brand has rolled out in major fashion. The spot in the heart of Sugar House offers a walk up, dine in, or grab and go option – for a larger model that is clearly built around delivery channels. The food, neatly boxed as the name implies, is served in nifty branded containers, the interior removable and marked as microwave safe.
The menu is a simple one, various construction formats supported by several protein options grouped under Texas, Korean and Hawaiian. From there you can choose a hefty box stuffed with a variety of meats, or opt for a simpler sandwich, loaded dog, or topped fries. Pictured above the Lonestar and Janchi dog, topped respectively with pulled pork and beef bulgogi. The prices and portion sizes are notable. Each of the above dogs priced at $10.95 (side included), probably puts it as one of the most affordable and heartier deals in the neighborhood.
Jersey Bagels
Remember to follow along with our sister IG account New In Utah. That way you'd already be ahead of these posts on what's new, getting the updates in real time. If you do follow over there you'll already know about this new food truck that specializes in bagels. Starting from $6.95 with a variety of toppings, here's the menu.
K-Pot Korean BBQ & Hot Pot
Following their full service restaurant license award at the March DABS meeting – this Taylorsville hot pot stop is now open for business. Hot pot dining has been all the rage of late, with K-Pot offering a mix of DIY dining styles; both Korean BBQ and hot pot bubbling pots are offered in tandem. As far as I know this is the only spot in town that offers both side by side.
Las Botellas
Anticipated by many, the lights are now on at this grand concept in Riverton's Mountain Village complex. The restaurant bills itself as, "a high-end, Mexican-inspired experiential restaurant with heavy emphasis on entertainment. Offering guests an exclusive opportunity to enjoy food prepared by a Michelin star experienced culinary team while enjoying live music, fire dancers — and so much more."
Lazy Sunday
Not much info I can dig up on this one beyond their Yelp profile, which was recently tagged as a new opening by the review site. This Poplar Grove spot appears to open early at 7.00 am.m every day of the week.
Pizza Nono
Open for a little while now, but I am making a final note in this article, by way of completionism. Expanding from the original 9th and 9th location, the new restaurant sets up shop in the rapidly finalizing Millcreek Commons along 3300 S. Go grab a slice of Nono's thin slice, Neapolitan style pizza, dine al fresco, and check out the new Millcreen town hall construction as it tops out.
P.F. Chang's Murray
A second Salt Lake County location for the popular nationwide Chinese chain is now open. Here's the complete press release issued by the company for the opening:
. . .
P.F. Chang's announced the opening of the new full-service Bistro location at the Murray Fashion Place Mall in Murray, Utah today as part of its continued growth across Utah and nationwide. From inspired menu favorites to elaborate decor, guests at the new Bistro are guaranteed a best-in-class experience.
 
Embracing a nationwide brand refresh, P.F. Chang's Murray – Fashion Place sets the stage for unforgettable spring celebrations with its upscale ambiance and lively decor. Guests can indulge in an array of delectable scratch-made dishes, including the original Chang's Chicken Lettuce Wraps, Crispy Honey Chicken and Mongolian Beef, alongside indulgent specialty items like Wagyu Steak and Oolong Chilean Sea Bass.
"We are thrilled to open our newest Bistro location in Murray, Utah, providing residents with an exceptional dining experience that showcases the bold and elevated flavors that P.F. Chang's is renowned for," said Genaro Perez, senior vice president of marketing at P.F. Chang's. "As we continue our expansion in the region, this opening represents our commitment to offering unforgettable moments for our guests as they celebrate graduations, birthdays, holidays, anniversaries and everyday special occasions with us."
For guests who wish to order takeout or delivery, P.F. Chang's is now offering the brand-new Celebration Kit for Four, including all the details needed to bring an authentic P.F. Chang's celebration to their own table. This specialty package features gold chopsticks used for special celebrations at P.F. Chang's, dragon confetti mix to adorn the table, hand-folded origami crane card holders with notecards to personalize guests' names, and more. The Celebration Kit for Four is $18 and available for purchase as an add-on when ordering online for takeout, catering or delivery and can also be purchased in-restaurant when picking up an order.
 
Spanning 6,059 square feet and accommodating 155 guests, the P.F. Chang's Murray – Fashion Place Bistro marks the company's fourth location in the Salt Lake City area. This milestone opening arrives nearly 24 years after the debut of P.F. Chang's Salt Lake City, cementing the brand's enduring popularity and growth. Furthermore, P.F. Chang's is planning for additional Bistro openings nationwide throughout 2024, solidifying the polished-casual restaurant's position as an industry leader.
Guests can visit the new P.F Chang's Murray – Fashion Place at 6191 S. State Street #N045, Murray, Utah 84107, operating daily from 4 p.m. to 10 p.m. Extended hours to include P.F. Chang's lunch menu will begin on June 14 and will be open daily 11 a.m. to 10 p.m.
Pork N Roll
One more food truck for you. "We're masters of pork", goes the introduction on this Facebook post where I spied their launch. "We do pork belly plates, burger, garlic sauce and some more delicious dishes with Colombian inspiration." From that brief snippet alone I'm sold. A little Google magic unearths this menu for the Midvale based truck – and it's one packed to the gills with porky goodness.
Seasons Plant Based Kitchen
After taking an extended hiatus during the depths of the Covid-era, this well regarded vegan restaurant is now back in business. Making the move from State Street, the plant-based menu can be found this time in the trendy Central 9th neighborhood. Located right next door to the fabulous Scion Cider, it makes for another addition to the buzzy area; this might be one of the hottest blocks in town. The line up in the immediate vicinity now includes Seasons, Scion, Laziz, Central 9th Market, Water Witch, Snowmobile Pizza, Blue Copper Coffee and The Pearl. Nohm is expected to relaunch very soon as Bar Nohm, with Hoppers brew pub also coming back online here.
Back to Seasons though, which remains true to their original location – a fine dining plant-based menu. The soft opening was barely a handful of days ago, with the restaurant posting their re-launch menu here on Facebook.
Silverside Deli
I believe this new sandwich spot replaces the former Corleone Italian Restaurant along the popular McLelland Street in the heart of Sugar House (just a few doors down from FEASTbox mentioned earlier). Open for a week or two now the menu is a compact one affording slightly more than a half dozen options. The Italian beef makes a showing again (pictured here), and one wonders if the impending second series of The Bear might inspire even more. Also on the Silverside menu, a chopped cheese, a mid-West classic that you don't see around these parts too often.
Spudnik Donuts
This one courtesy of Sean Means over at the SL Trib, "Spudnik Donuts, a doughnut maker that specializes in potato-flour creations, opened last week in Provo. It's inside Heart and Soul Karaoke, at 52 W. Center St., Provo." Be sure to signup to the Trib's weekly Utah Eats newsletter here for weekly Utah food updates from their team.
TY Fish & Chips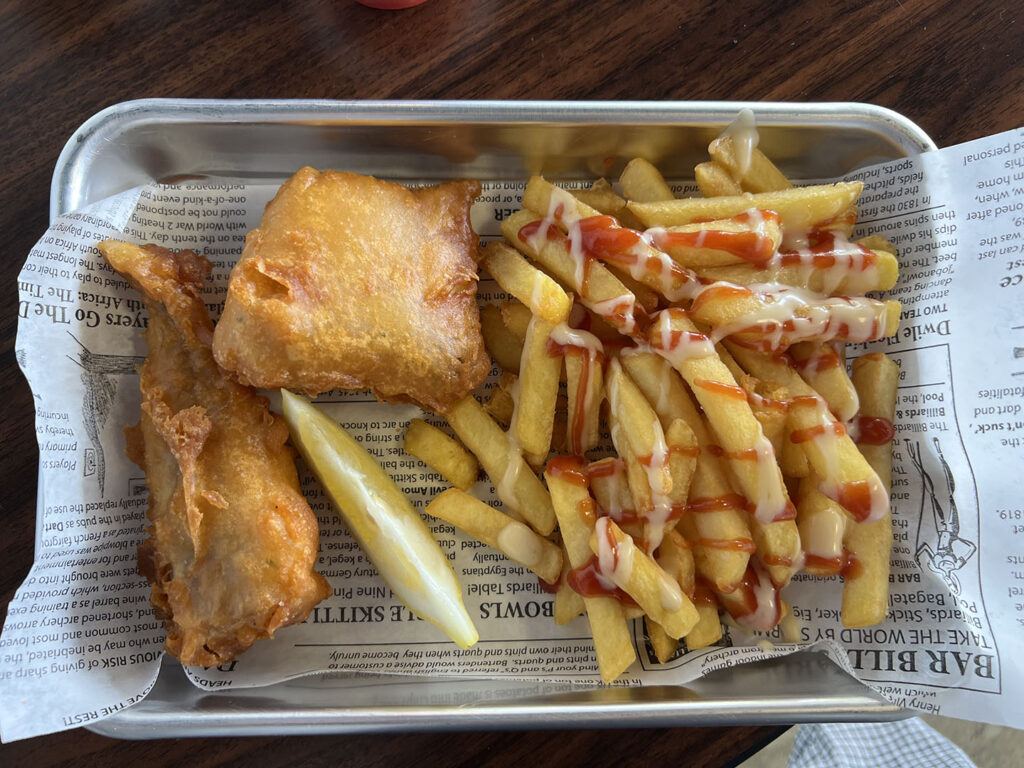 With all the recent food trends in the city (ramen, hot pot, Italian beef and more) here's one more my Blighty heart hopes will take hold. Hot on the heels of Murray's relatively recent Fish On, one more location to get your fish and chip game on.
TY is the work of Ty Hoang and the menu features an intersting spin on the British staple. A signature tartar sauce is quickly followed by Asian twists: mango curry, honey wasabi, miso garlic and lemon sweet chili. You might know Hoang already, as the co-founder of Chopfuku.
Coming soon
Here's a few more in the works and what I've heard so far…
Aker
This name has been on the list for quite some time, and with little to no news about them, I actually removed them from the grand list of ones to watch. Then all of a sudden they popped up on the Salt Lake City permit list here. What we know now is that the business will come to "9 E Exchange" which I presume puts the restaurant around the corner from the old Maxwell's and roughly opposite Twyst. As a reminder, Aker is also on the DABS list of pending businesses looking to acquire a full bar license.
Beer Zombies
One more permit filing, which again seems to confirm that the Vegas-based Beer Zombies are planning something in the Trolley Square area. As a reminder, this is the craft beer brand that currently serves as the watering hole at The Gateway's HallPass food hall.
Crack Shack
ABC 4 confirmed in this piece that St. George will be the next spot to see this chicken chain spread their wings.
Good Pie
This permit filing states, "This building is currently being used for two tenants. Bob's Magazine and Video on the West side, and UHAUL on the East side of the building. Bob's Magazine and Video is going to be converted into a pizzeria, named Good Pie. This remodel will involve minor cosmetic changes, as well as changes to the MEP systems for both tenants. There will also be a garage bay door installed on the North side of the building for UHAUL."
Happy Lamb Hot Pot
A friendly reader recently sent me a quick snap from the streets of Murray – 6562 S State St to be exact. The tip off shows that Happy Lamb Hot Pot (a very popular global chain) are planning to launch sooner than later; the picture sent to me shows a now hiring banner.
Matteo Italian Restaurant
Coming to the old Ascent Kitchen space by the looks of it – a new Italian spot for Salt Lake City.
Red Fuego
Saratoga Springers will be able to enjoy the Peruvian charbroiled chicken of this group very soon. The company confirmed a Utah county location will be landing sooner than later.
Slackwater Pub And Pizzeria
A fourth location for the quickly expanding slice and pint store is set for Herriman. Here's the full press release on what to expect:
. . .
Slackwater announced plans to expand to its fourth location in Herriman, Utah. Slackwater is locally owned and operated and is more than just a place to grab a slice – it's a hub of creativity, community, and delicious food. With a laid-back vibe, cool decor, great music, and friendly staff, you'll feel right at home when you enter our doors.
"We are thrilled to announce the opening of our fourth location in Herriman, Utah! As we continue to grow, we are excited to share our passion for delicious pizza, craft beer, and exceptional dining experiences with the Herriman community," said Justin Gumm, Co-Owner of Slackwater. "We can't wait to welcome you to Slackwater Pizzeria and share our love for good food and good times!"
Slackwater Pizzeria plans to break ground on its fourth location during Q2 of 2023. Once built, The Herriman concept will join three other restaurants, its Hometown Ogden location, the flagship in Sandy, and one in Salt Lake City's Granary District.
Mountain West Commercial Real Estate (MWCRE) agents Preston Miller and Spencer Greer and MWCRE agents Garrett Blomquist, Chad Moore, and Scott Brady representing Anthem Developer facilitated the land acquisition for Slackwater at the Anthem Center in Herriman, Utah.
"Assisting our client in acquiring the land at the Anthem Center in Herriman, Utah, was a rewarding experience. We take pride in helping our clients achieve their real estate goals, and this acquisition is a testament to our commitment to delivering exceptional service and results." – Spencer Greer, MWCRE agent.
The Anthem Center is at 5253 W Anthem Park Blvd in Herriman, Utah. Slackwater Pizzeria will join the list of other establishments like Mister Car Wash, Slim Chickens, Taco Bell, and Panda Express.
Stella's Crepes
Coming soon to Payson, one more food truck for the list, this one serving up crepes.
STK
You might recall way back in February, I teased the possibility of an STK steakhouse coming to Utah. That has now been officially confirmed by the organization. The restaurant is expected to, "occupy 8,500 sq. ft. of interior space and 2,000 sq. ft. of patio space on the ground floor end cap of the West Quarter's first residential building".
Tacocat
Coming in June to Wanship's ritzy Lodge @ Blue Sky – a new quick casual options for visitors and guests alike. Here's the full preview press release from the company:
. . .
The Lodge at Blue Sky, Auberge Resorts Collection, is thrilled to announce the launch of Tacocat – a new, sustainable pop-up stand serving Mexican cuisine. Located on the property's Arena Lawn, lodge guests and Utah locals can enjoy elevated Mexican street food for dinner two to three times a week beginning late June through the end of August. Sustainable practices are at the forefront of the experience, from zero waste to upcycled furniture.
"My mom and I used to stop at Taco Tienda on Blackstone in Fresno, California when I was a little kid," says Blue Sky owner, Mike Phillips. "I got hooked on authentic street tacos right away. Tacocat is our Blue Sky casual homage to street tacos from Fresno to Tijuana. There's no better treat than a fish taco with a mezcal margarita on the lawn at the Arena."
The menu, curated by Yuta Executive Chef Jason Franey, celebrates traditional Mexican dishes with freshly harvested produce from Gracie's Farm, Blue Sky's onsite regenerative farm. Prices range from $5 à la carte tacos to family style offerings at $50 per person . The menu is playful and the atmosphere is relaxed with an outstanding tequila and mezcal selection for adults. The menu features many dishes that are friendly for vegetarian, pescatarian and gluten-free diets, such as: The Fat Cat taco with pork verde, the UFO taco with tempura tofu and a Salsa Bar with 14 different offerings. The beverage menu includes signature cocktails The Vitamin ABC with carrot, orange & silver tequila andGracie's Green with celery, basil, kale & reposado, along with non-alcoholic Paletas (popsicles) and Jugo Fresco (juice) of the day.
Situated by the Arena with views of the Wasatch Mountains, diners can easily spot the brightly-painted horse trailer bar serving cold libations. Not only will Tacocat offer outdoor communal seating, but the casual and fun environment will be amplified with outdoor games and occasional live music. Tacocat embraces sustainability by offering zero food waste, zero single-use items, and upcycled furniture and glassware. There will also be a retail stand selling Tacocat branded hats and t-shirts.
Tacocat will be open most Tuesdays, Wednesdays and Thursdays beginning June 27 through August 31st. Dinner will be served 6pm-9pm. In the event of rain, Tacocat will be located inside the Arena.
"We're delighted to introduce this special culinary experience-Tacocat-to our guests. Our aim is to offer a fun and delicious dining experience that celebrates the things we value most-good friends, good food, and good times." says Joe Ogdie, General Manager at The Lodge at Blue Sky.
Tandoori Taqueria
Meanwhile, this filing indicates a new location for the Indian-Mexican fusion menu of TT. The address of 156 E 900 S appears to be the former Huddart Floral.
Taqueria 27
I'm told that Eagle Mountain will be the next location for this taco-group.
Urban Sailor Coffee
One for the quickly finishing Post District build, here's the release:
. . .
Urban Sailor Coffee announced plans to open a second location in Salt Lake City's Post District. Urban Sailor's flagship location is in Sugar House; their mantra focuses on specialty "Third Wave Coffee," which means using the best green beans they can find, then roasting and extracting skillfully using the best equipment and techniques available. Urban Sailor strives to make the best coffee cup while providing a unique and memorable experience.
"We are thrilled to bring Urban Sailor Coffee to the heart of Salt Lake City and share our passion for quality coffee with the community," said co-founder Tyler Anderson. "We believe in creating a unique and welcoming atmosphere where everyone can come and enjoy a delicious cup of coffee."
Urban Sailor Coffee leased nearly 1,000 SF inside Post District, Salt Lake City's Post District is home to four of the newest apartment communities in Salt Lake City- The Register, Post House North, Post House South, and 801 Flats. Each residence offers its unique style of living, all anchored by a community unlike any other. Building three at the Post District is zoned mixed-use, mixed family.
MWCRE agents Andy Moffit, Garrett Blomquist, and Scott Brady represent Post District's development firm.
"We are excited to welcome Urban Sailor coffee to the Post District development and provide residents and visitors with exceptional coffee and a vibrant atmosphere," said agent Andy Moffitt. "We believe Urban Sailor's commitment to quality and community aligns perfectly with our client's vision for Post District."
Urban Sailor Coffee joins other notable Post District Tenants like Sunday's Best, Level Crossing Brewing Company, MENSHO Ramen, and Urban Hill.
Via 313 Murray
A further location for this Savory Fund backed pizza spot is in the oven. Confirmed on Instagram, the chain's Detroit style pizzas should hit the streets of Murray soon.
Umbrella Cafe
No major intel here, apart from this filing, which indicates a coffee bar is going in at 511 W 200 S.
The White House
To end, some meatier news. Over in Park City O'Shucks are set to expand their imprint in Summit County with a big new build. Here's an excerpt of what to expect from a much bigger story by TownLift:
"O'Shucks is set to open in Old Town this summer at 628 Park Avenue, the former brief location of Church Public House on the corner of Park Avenue and Heber Avenue. The O'Shucks Restaurant Group is expanding beyond its long-standing Main Street location and offering a unique blend of breakfast, sushi, and bar food.
"The White House" will be owned and operated by a team of experienced restaurateurs and staff. The all-in-one location includes O'Shucks, Ahh Sushi, and B&D's breakfast restaurant. B&D's serves a variety of breakfast favorites, including eggs Benedict, chicken and waffles, and its signature scones with honey butter. Ahh Sushi serves a selection of sushi rolls, sashimi, and other Japanese dishes and a full bar with a variety of beers, wines, cocktails, and, of course, the garlic burger. There will be live music, and Saturday evenings will feature Cactus Cola and classic rock dancing."
Previously mentioned with no further update
We've written about the following new restaurants in recent posts tracking new restaurants around SLC. We've heard no further news on these at this time:
Opening a new restaurant in Utah? Be sure to read our restaurant resource section which includes info on everything from marketing through POS systems.
Keep the conversation going
Want to stay on top of the SLC food scene, minute by minute, dish by dish? Here are a few other places you should follow along:
Hi, I'm Stuart, nice to meet you!  I'm the founder, writer and wrangler at Gastronomic SLC.  I'm a multiple-award winning journalist and have written in myopic detail about the Salt Lake City  dining scene for the better part of seventeen years.
I've worked extensively with multiple local publications from Visit Salt Lake to Salt Lake Magazine, not least helped to consult on national TV.   Pause those credits, yep, that's me! I'm also a former restaurant critic of more than five years, working for the Salt Lake Tribune.    I'm largely fueled by a critical obsession with rice, alliteration and the use of big words I don't understand.   What they're saying about me: "Not inaccurate", "I thought he was older", "I don't share his feelings".
Want to know more? This is why I am the way I am.
This article may contain content provided by one of our paid partners. These are some of the best businesses in Utah. For a list of all our current and past relationships see our
partnership history page
.