Welcome back aboard the good ship new and notable, and frankly, what's been a relative calm sea. The pace of openings over the past month has been more sedate than that prior,; though looking ahead, it still seems like we're in for a buoyant year. So, hoist the mainsail and allow me to stop torturing this poor metaphor. Read on for all the latest openings on the Utah food and drink scene. Remember, you can catchup on our past coverage here.
Van Ryder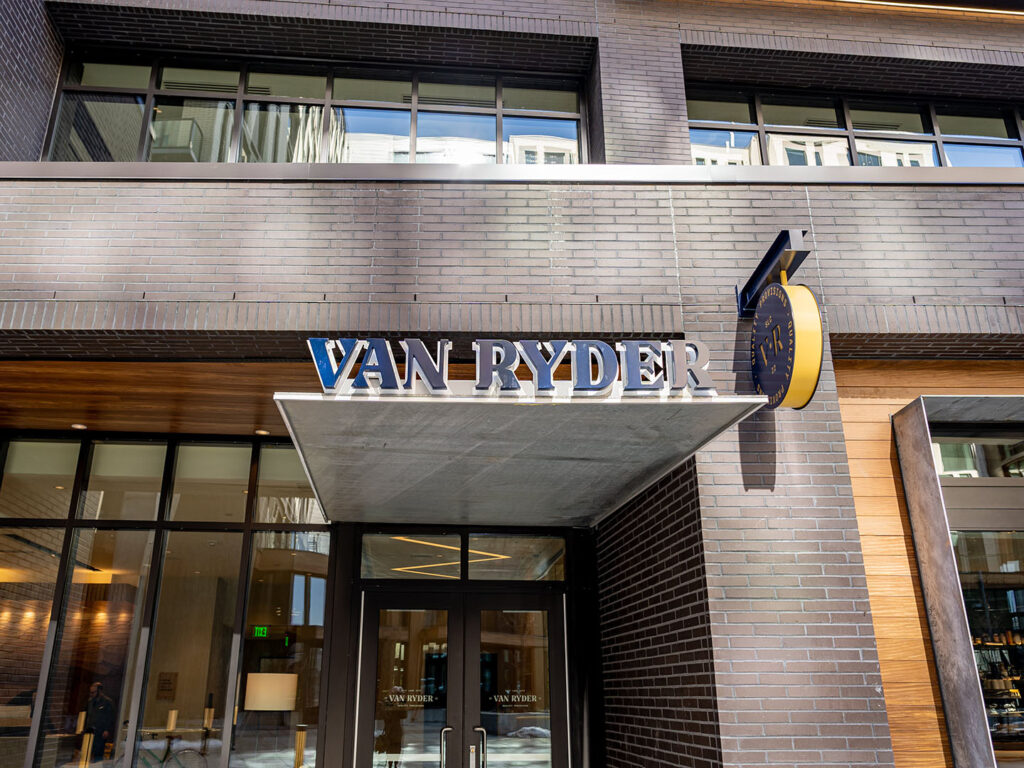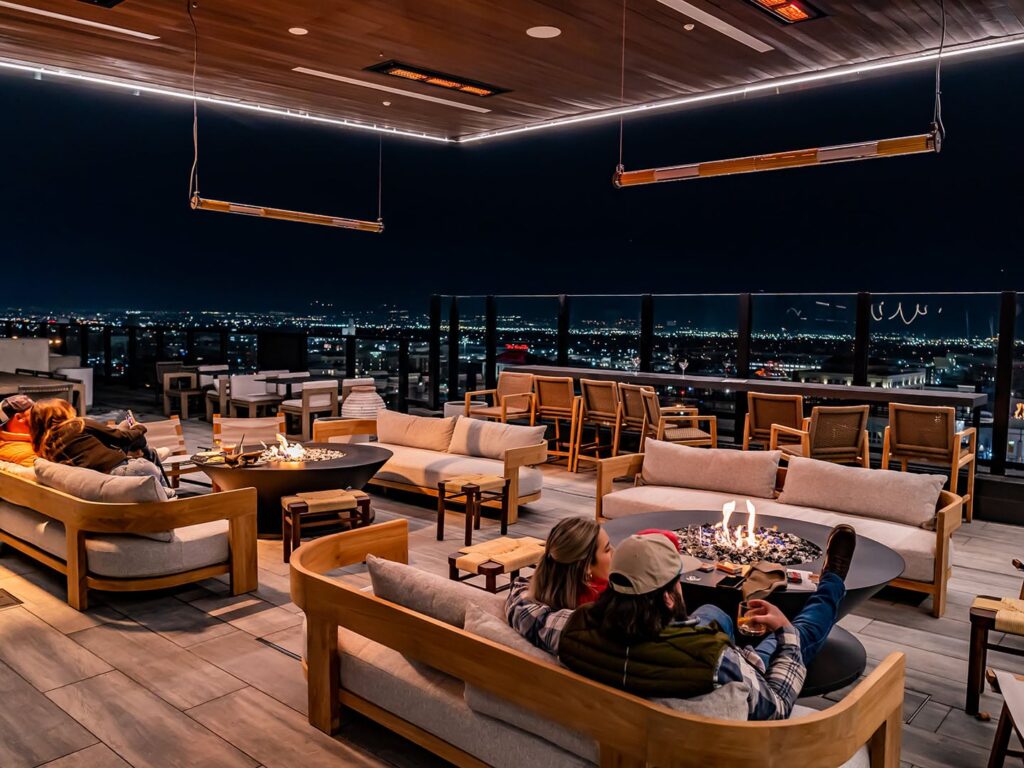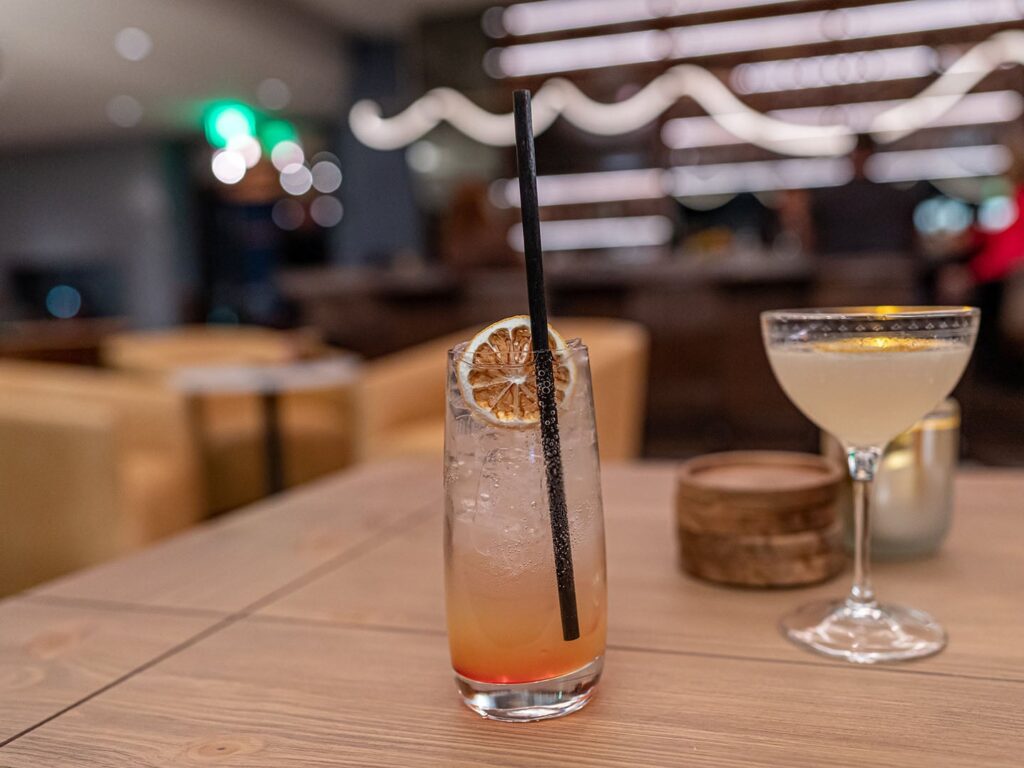 Last month, you may recall I recapped the opening of Adelaide, this the ground floor restaurant that serves the attached duo of Le Meriden and Element hotels (both Marriott properties). Since that article, the properties' signature rooftop bar have unlocked the doors and donned the cowboy hats. Seriously. These guys love a good hat. It's all Western vibes at the 21+ only space, named after cowboy artist, Jack Van Ryder.
Van Ryder is accessed via elevator – just outside of the Adelaide restaurant, and also directly from the street facing the Charles apartments. A quick ride to the twelfth floor (if memory serves) takes you to the ritzy joint; where the outside patio space is the main draw. It's an expansive space that runs the whole side of the building's Western roof line. The Northern aspect is covered, heated and features all season fire pits. Grab a menu, snuggle up around the fire and gaze off dreamily.
The prices are as impressive as the views mind you. A trio of pork belly bao are priced at $17 while more humble house made potato chips, a mere $13. A glass of Gruet rose costs as much as a the whole bottle in the liquor store. But those views, boy those views, they are salve for many a sin. Come Spring and Summer this will be one of the destination spots in the city. The sunsets over the Oquirrhs should be spectacular. Take my money already.
9th Street Coffee and Donuts
Moving into the space left vacant by the now departed Big O Doughnuts (just across the road from Golden Gyros) is this new addition to the Central 9th neighborhood. Detailed info on 9th Street Coffee seems sparse on the ground for now; though I imagine coffee and err donuts, are a safe bet.
Ambrosial
Newly opened in Provo is Ambrosial, a dedicated gluten free bakery. Currently open on Friday nights 5.00 – 10.00 p.m. and Saturdays 11.00 a.m. through 10.00 p.m. the bakery specializes in custom cakes.
Bout Time Bluffdale
Following their recent receipt of an oh so precious bar license, the fourteenth location of this local sports bar chain opened up their 14th location. Here's the full release on the details from the company:
. . .
Bout Time held a ribbon-cutting ceremony in partnership with Bluffdale City and Mayor Natalie Hall to celebrate the occasion. The event took place on Thursday, March 9, at the Bluffdale pub.
The pub is built on the site of the Hot Springs Hotel and Brewery, which was a Utah Pony Express station, inn, and brewery founded in 1856 by Porter Rockwell. The brewery was Utah's first and, at its peak, made 500 gallons of beer a day. 167 years later, beer is now back in Bluffdale.
"We are so excited to bring our unique experience to Bluffdale and open our doors," said Tim Ryan, CFO of Bout Time Pub & Grub. "Our goal is to create a place where neighbors can come together and enjoy great food, drinks, and company. We want people to feel like they are part of the family when they walk through our doors."
The Bluffdale pub offers a fun and exciting atmosphere, perfect for cheering on your favorite teams. Enjoy delicious, fresh food, refreshing drinks, and more TVs than tables.
Ryan adds, "We want everyone who visits to have a great time. Whether you're looking for an after-work hangout spot or to catch the latest UFC action – this is the place."
Namash Swahili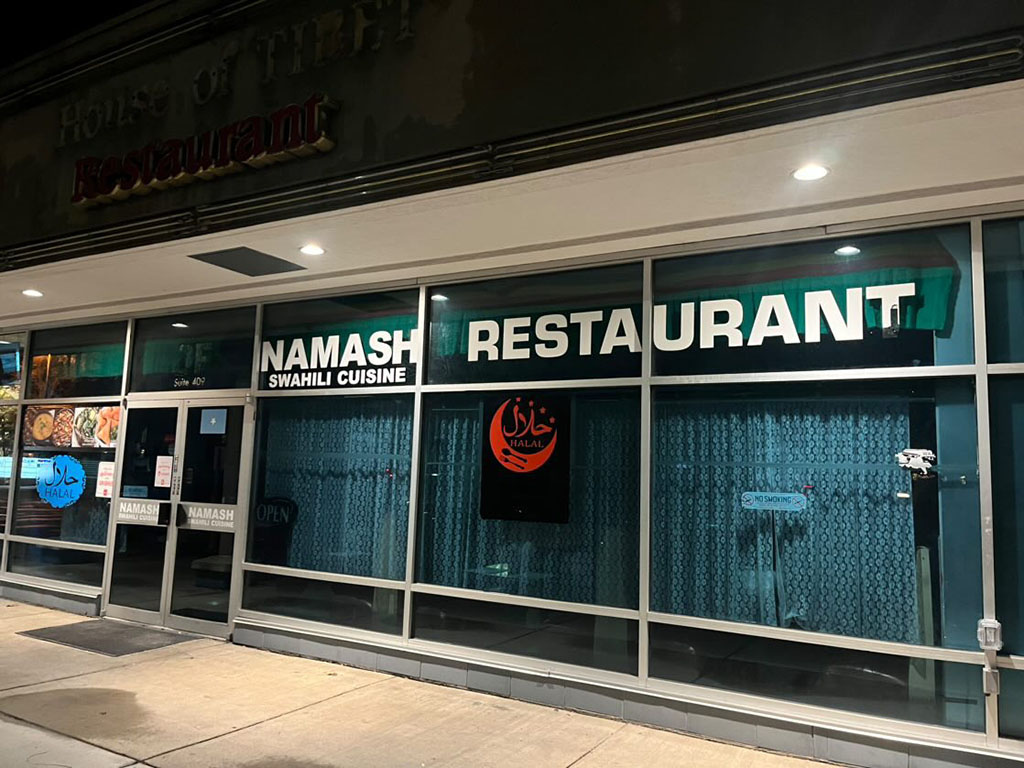 An eagle eyed reader was quick to turn me onto news of this one. It looks like Abaadir restaurant is no more. In its place is Namash, an East African restaurant, successfully grown out of the Spice Kitchen incubator. The business previously operated a food truck, now taking on more permanent digs just outside of downtown SLC.
On their story, Namash write, "Originally from Somalia, (chef) Najati came to the United States in 2008. She learned to cook at age 12 from her mother, who also owned her own food business. Najati spent her childhood selling her mother's cooking and eventually her own on the streets in Kenya. Najati wanted to start her own business, Namash Swahili Cuisine, so that the Salt Lake community could share her experience of being home. She prides herself on great customer service and serves authentic Somali and Kenyan family recipes. Najati recommends trying the chapati, chicken curry, and coconut beans!"
The Local Market + Bar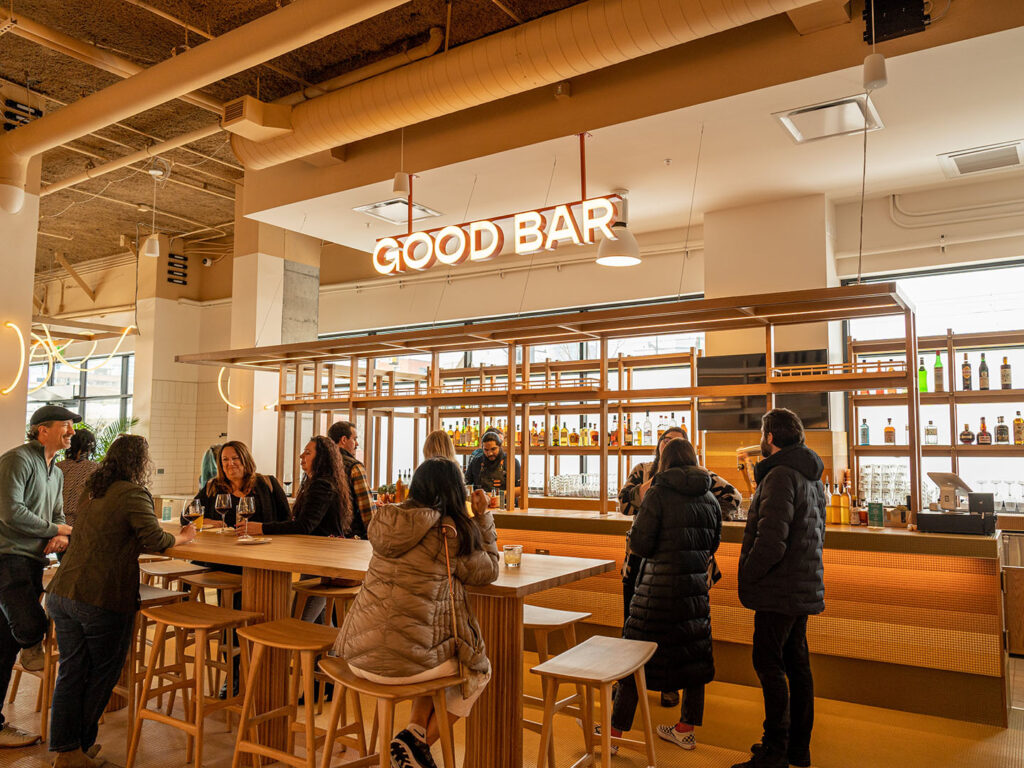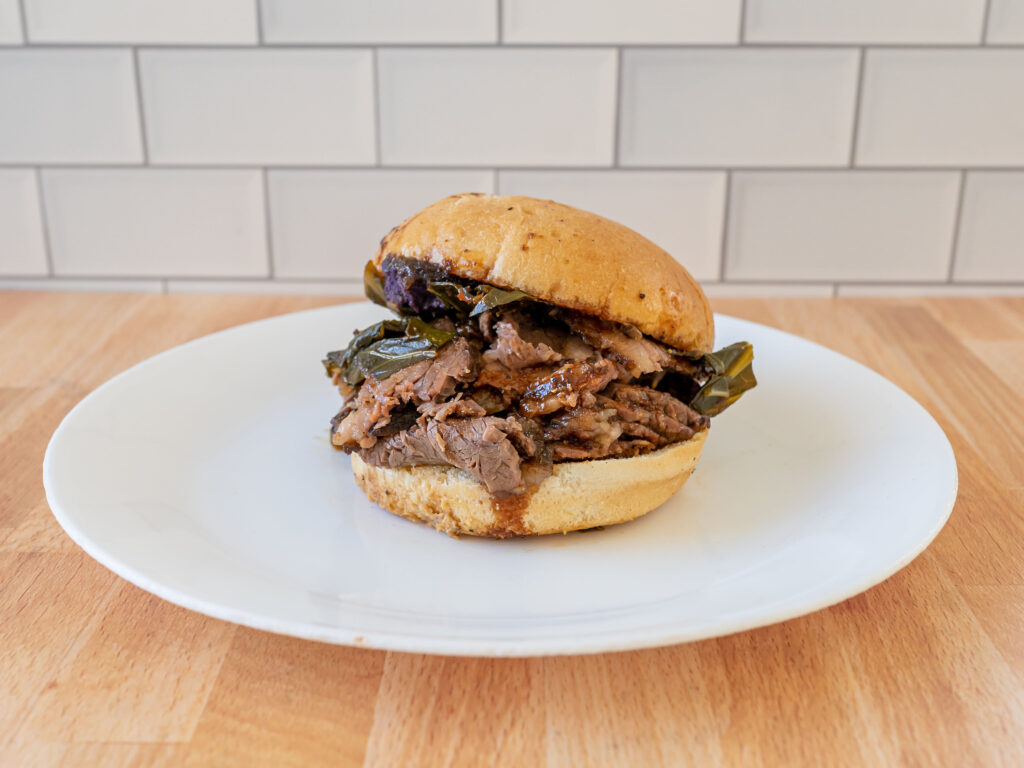 Since I previewed the opening of our latest food hall back in February, the doors have finally opened, and I've been back a few times proper. My initial thoughts are that this might be my favorite multi-vendor space in the city so far. The layout is straightforward and the lineup of companies a good, if predictable array. Check out the menus here. I've heard some quarters gripe about the mix of national names amidst scrappier locals – I call hogwash. Green Chile House – a local Utah mom and pop – have been given a new lease of life by Local; and are quite excellent too I should add.
My most recent encounter with The Local led to the pictured brisket "stacked" sandwich, dutifully ordered with extra meat. Because why wouldn't you tick any box that offers "extra". The sandwich is the work of Hog & Tradition ran by local chef Geoff Patmides (The Local Greek). It's a shirt ruining monster of a jenga pile, and will set you up for the whole day. There's plenty of juicy brisket (though I confess the smoke flavor didn't shine through all that well) which is supported by a cast of stars: collard greens, mac n cheese, purple candied yams. On the side comes more: apple spiked slaw, gold and ruby sauces (mustard and traditional Q to you and me) – they're all stacked teeteringly atop – if you're wise like me that is. Bring napkins.
Mambo
A fusion of Cuban, Dominican, and Puerto Rican cuisine located in the heart of downtown Provo. So goes the spiel for this newly minted operation. The restaurant appears to be build on the foundation of a similarly styled food truck, whose menu starts with a handsome looking Cuban sandwich before moving onto loaded fries, bowls, tacos and quesadilla. Hands up who's noticing all the truck>bricks transformations going on right now.
Mayor Voss
The transition of Brick & Mortar to Mayor Voss is now complete. As best as I can tell anyway. I've tried to find out more information, but have so far failed in my task. I do know that the liquor licensing changed hands in recent weeks, but no know more than that and the name change. Report back if you have the deets.
Nick The Greek
St. George is the first Utah location (I think) for this national Greek chain. The company writes that Nick the Greek, "was born after one of three close-knit cousins, Nick (Baby Nick), traveled home from a trip to Greece and realized that there was nowhere near home where he could get quality gyros. As second-generation restaurateurs, Nick and his two cousins, also named Nick (Big Nick and Little Nick) decided to start their own modern restaurant concept. The Nick the Greek concept was born." Gyros and pita wraps comprise the majority of the menu and start from $11.95.
Number One Thai Fusion
Bountiful is home to this newcomer. The fusion? The menu Number One menu straddles Vietnamese, Thai and Japanese cuisines. Bento boxes sit alongside pho and tempura – though are never quite formally fused together. Mind you a brief examination of their menu does provide some interesting changes of pace; lobster curry, Thai style sausage and a cheese finished pad Thai?
Taqueria Martini
This one opened up back in January but escaped my radar until the Trib recently did a profile piece on the family owned business. The story recounts the tale of owners Martin Galicia and wife, Patricia Martinez, who operate this Taylorsville Mexican restaurant. The article calls out the Mexican New York steak, and a version of the "weekend parrilladas" as standout items to try. The story notes that:
"'Americans come here and ask me [Galicia] what a Mexican New York Steak is,' he said, referring to a marinated New York cut topped with a spiced sauce and served with rice, beans and vegetables. They are getting familiar with it. In the future, I hope it becomes a popular dish. Their parrilladas, though, have even more Mexican essence and are big enough to feed a family, including beef, chicken, shrimp, chorizo, tortillas and elotes with queso fresco."
La Dahlia Mexican Kitchen
Enfrijoladas, entomatadas, huevos rancheros – each and every one a mere ten bucks; and all available form this new cloud kitchen concept that serves as pickup or delivery spot.
Coming soon
85 Degrees Bakery Cafe
Based on a certain picture sent my way this morning it looks like South Salt Lake's China town will soon see a location of this franchised bakery. Currently baking in California, Washington, Oregon, Nevada, Texas, Hawaii, and Arizona – the Beehive is next.
Bobby D's
Those lamenting the loss of Johnniebeef's inimitable charms would do well to keep an eye on this new food truck. The premise is essentially the same as the much loved and lost Midvale classic (here's my story on them from, eek, nine years ago. It includes a lovely tale about a Chicago DMV). Anyway, classic Chicago dogs and Italian beefs could be back on our streets any day now – make mine an extra large, hot peppers and ran through the river.
Celebrity's Soul Food
Building Salt Lake wrote the following about the potential opening of this one, "It's too early to say for sure, but the groundwork that's being laid to add vibrancy to the west side of Salt Lake City might be coming to fruition. A pair of building permits indicate that a soul food restaurant called Celebrity's Soul might be opening a franchise at 23 N. 900 W. in the city's Poplar Grove neighborhood. The company, which specializes in soul food, has locations in Florida, Memphis and Draper. Representatives for the company didn't immediately respond to a request for comment.
A second permit indicates that the building will also include space for a ghost kitchen, or a type of commissary kitchen that provides incubator space for budding restaurateurs. A representative for that company also didn't respond to a request for comment. If the two play out the way they appear, it seems the incoming density on the west side is beginning to attract businesses into the area. It would be a welcome addition, as much of the development near North Temple is single-use residential."
Curry And Tikka
C&T are an all new Indian food truck, almost ready to rock the streets.
Mensho
Headed our way from Japan and San Fran – the latest addition to the Post District lineup. Sean Means over in the Trib broke news on this one writing, "Mensho, an award-winning Japanese restaurant with locations in San Francisco and Tokyo, is planning to open a location in downtown Salt Lake City's Post District, at 550 S. 300 West. Be sure to signup to the Trib's weekly Utah Eats newsletter here for weekly Utah food updates from their team. The developers press release for the opening can be read in full here.
STK Steakhouse
While I've not heard back from the company officially, it looks increasingly likely that this one is nailed on. I'll report more info as and when we do hear formal confirmation.
Kara's Cupcakes
Joining Urban Hill, sophomore efforts from Level Crossing and Sunday's Best, as well as the aforementioned Mesh – is this new cupcakes business I am told.
Lemon Shark Poke
After a multi year stasis I removed this one from our list of ones to watch. Then news hit my inbox this week from a reader, "Don't know if you saw this, but the long-delayed Lemon Shark Poke on Broadway appears to have traction again. There is a new "Now hiring" sign in the window, and activity inside including what looks like rice cookers. Honestly thought this one was killed by COVID, but apparently not!"
MMK's
Coming to Provo April 1st, and no, it ain't a joke. MMK will bring Filipino food to Utah County denizens.
Salt Lake City Bites
Building Salt Lake reported on this one. The 9th West location formerly slated for Congregation Spirits (a team up between Lotus and Water Witch) will now operate as a ghost kitchen facility.
Taste Of Texas
Mysterious posted by Les BBQ is this one. Here's hoping this one pans out as a bricks and mortar location for the local BBQ food truck.
Previously mentioned with no further update
We've written about the following new restaurants in recent posts tracking new restaurants around SLC. We've heard no further news on these at this time:
Opening a new restaurant in Utah? Be sure to read our restaurant resource section which includes info on everything from marketing through POS systems.
Helps us choose the best Utah restaurants!
Right now our 2023 Reader's Choice Awards are underway. We want your help in deciding the very best food and drink spots in Utah. This year we're taking a completely different approach as well. All we need is three names and 60 seconds of your time -> find out more and how to vote.
Keep the conversation going
Want to stay on top of the SLC food scene, minute by minute, dish by dish? Here are a few other places you should follow along:
Hi, I'm Stuart, nice to meet you!  I'm the founder, writer and wrangler at Gastronomic SLC.  I'm a multiple-award winning journalist and have written in myopic detail about the Salt Lake City  dining scene for the better part of seventeen years.
I've worked extensively with multiple local publications from Visit Salt Lake to Salt Lake Magazine, not least helped to consult on national TV.   Pause those credits, yep, that's me! I'm also a former restaurant critic of more than five years, working for the Salt Lake Tribune.    I'm largely fueled by a critical obsession with rice, alliteration and the use of big words I don't understand.   What they're saying about me: "Not inaccurate", "I thought he was older", "I don't share his feelings".
Want to know more? This is why I am the way I am.
This article may contain content provided by one of our paid partners. These are some of the best businesses in Utah. For a list of all our current and past relationships see our
partnership history page
.