After a brisk start to the year in January, it's heartening to see yet another strong month of restaurant openings across the state. In this latest roundup of openings across Utah, the total for the last thirty days or so comes in at a smidge under the two dozen mark. If we keep that cadence up we'll smash the 160+ that opened in 2022. Onto what's what then.
Adelaide Urban Brasserie
Adelaide is the ground floor spot that serves as the breakfast, lunch and dinner option for the newly christened Element and Le Meridien hotels. The downtown Salt Lake City hotels sit on the nascently monikered West Quarter; the whole area is set to see massive redevelopment and soaring builds in years to come. Here's one such story covering the changes over on Building Salt Lake.
Back to the restaurant though, and knock me over with a svelte piece of linen, this place swoons with soft touches. Gone are the industrial swathes of concrete and hard surface so often found in contemporary restaurants (we're past that now right, please, please?) – in their place – caramels, drapes, soft lighting and plush banquettes. While I lunched down on a chicken milanese, I had flashes of Singapore's Raffles hotel, and brief remembrances of Thomas Keller's many Bouchons.
Pinning the food down is a little more tricky. The restaurant bills their menu as featuring, "locally-sourced ingredients delivered with a French twist. From breakfast through dinner, every meal is uniformly inventive." I'll report back when I'm able to eat my way through more of the menu.
Biscuit & Hogs
Biscuit & Hogs is "a sister company of The Original Sunrise Cafe. The Original Sunrise Cafe opened its doors in 1988 and has grown to be one of the most prominent restaurant brands in Idaho. You can expect B&H to supply the same great food, amazing customer service, and healthy portions as The Original Sunrise Cafe but with a twist."
B&H are now open seven days a week, 7.00 a.m. through 10.00 p.m. with the new Ogden restaurant encouraging guests to "release your inner pig" through a new menu featuring hand rolled biscuits, sous vide pork belly and what they reckon are the biggest pancakes you'll ever see. Now them's fighting' words.
Cafe Limon
Opening just days after our last recap, Cafe Limon is the work of chef and owner Spencer Langi. At the brand new Cafe Limon, Langi fuses his Tongan American heritage with a variety of Latin American-inspired dishes. In this KSLTV interview he speaks to dishes such as chipotle pulled pork empanadas as an example of the approach. The restaurant follows on from Langi's near 10 year career in the catering biz and finds its home in West Valley City.
Chicho's Flavors
If you find yourself over in Clinton, you'll want to seek out this new food truck which is now serving up Dominican Republic flavors via the gift of empanadas. Prices start at $3.50 for options that include chicken, beef, pork, and breakfast.
Curry Connect
Meanwhile over in Sandy's Aspen Plaza, this new Indian eatery takes over the kitten of the former Namaste Kitchen. Curry Connect offers a familiar South Asian menu but offers a few interesting selections I've not seen before; a gobi 65 reads as a fun twist on the more commonly seen spicy chicken dish, while curry leaf fried chicken sounds equally intriguing.
Tacos El Guero 3
I first jotted down this opening after stumbling across a recent Reddit discussion which noted their top notch birria and amazing enchiladas Michoacana. Based off of Google, it looks like the third location for Tacos El Guero is now open in the old Mi Lindo Nayarit (145 E 1300 S) just outside of downtown SLC. I may be a little late to the party on this one which looks to have been open a couple of months at this point. Still onto the new list it goes!
Jose and Selena Gutierrez are the husband and wife team behind the opening, which marks the third installment in a growing expire. Locations in Heber and Kamas precede this most recent Salt Lake County posting. Those aforementioned empanadas Michoacana by the way – they come five fried corn tortilla to an order, topped with guajillo sauce and served up for a wallet friendly $11.49.
Frankie And Essls
News of this new Liberty Park business first came across my desk by way of our oft-contributor Christy who posted this from the restaurant's soft opening, "There's a new breakfast sandwich in town. Frankie And Essls is soft-open on the southwest corner of liberty park, frying delicious free range eggs (when you see those rich orange yolks, you know) and adding them to soft, buttery, toasty brioche buns. this one is the green goddess with avocados, veggies, pickled serranos, and a lil cup of hot salsa i dumped all up in there (always). great drip coffee from." Frankie you ask? That's the owner's dog.
Homecoming Southern Kitchen
The latest outing from the BonPatt Restaurant Group (Fat Jack's Burger Emporium, Christopher's Prime and many more) recently opened their doors over on the corner of 200 S. and West Temple in downtown SLC. Yep, that's the old Olive Garden spot, and yep, the interesting reads a heckuva lot more compelling. The menu taps Southern inspiration and brings a rib sticking lineup to the core of the city.
Hot Buns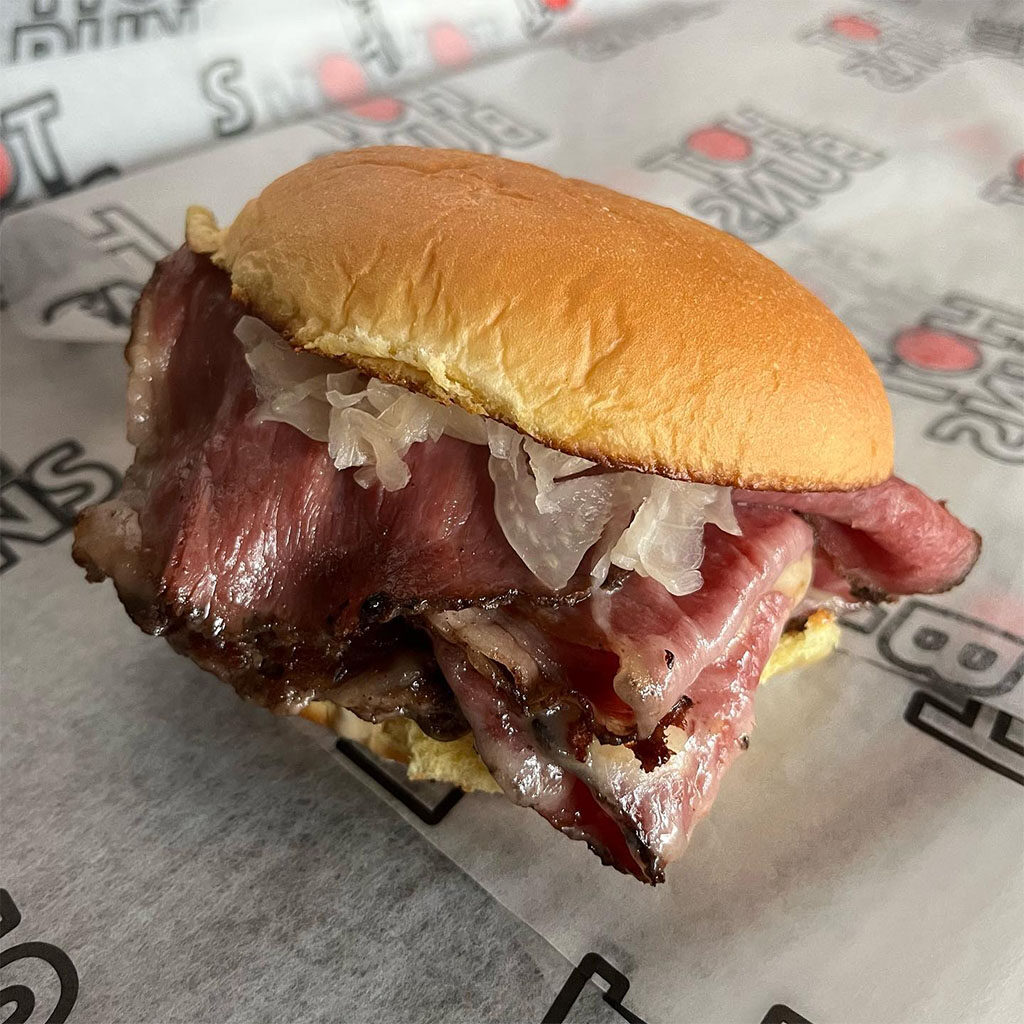 Now finally opened after nearly four years in the nebulous making is Hot Buns, a new walk up window from Ryan Lowder and crew. Attached to the East side of Copper Common in downtown SLC, those with wizened enough memories might recall this was once upon a time slated to open with Tommy Nguyen at the helm – slinging a compact menu of Chinese cuisine.
Since that first 2019 concept though – and a couple of years Covid interlude – the business has launched under a different guise. Burgers and dogs and things loaded with luscious pastrami is now the order of the day. The window opens late at the weekends too – should you be in the market for post pub calories.
Houston Hot Chicken
Houston, we have a problem. At least that's the phrase you might find yourself uttering should you find yourself signing HHC's waiver and ordering up the spiciest of their fried chicken sandwiches. Should you have made such a grievous sagacious decision you will be given a sandwich replete with two million scovilles of punishment. And also a side of paramedics I presume.
Houston Hot Chicken then is the latest contender when it comes to the ongoing competition for best chicken sandwich. Landing in Lehi, those who find themselves capsaicinally challenged should note sandwiches are available in a variety of heat levels, including honey butter. Sandwiches start at $12.99. The chain opens in Utah by way of Texas, and finds itself part of a Mountain West / South West expansion push. Other locations include California, Arizona and Nevada.
Jollofology
Over in the Tribune, Sean Means provides the following heads up on this new business operating out of Danny Cheng's ComCom Kitchen, "Jollofology, a Black female-owned business serving vegan Nigerian fusion cuisine. Topping the menu is a Jollof 101 dish, designed to teach newcomers about the cuisine." Be sure to signup to the Trib's weekly Utah Eats newsletter here for weekly Utah food updates from their team.
La Stellina
This one comes by way of press release. La Stellina is a new Italian option over at Deer Valley's St. Regis. Here's the presser:
The St. Regis Deer Valley, one of the world's most luxurious mountain resorts, today announced the opening of a new high-design Italian restaurant, La Stellina ("Little Star"), serving timeless Italian cuisine guided by local star Chef Matthew Harris. La Stellina features elaborate mosaic floors, and welcoming wood, marble, and brass finishes with stylish black-and-white prints that evoke vintage Italy- retro-inspired elegance meets family flair.
Inside the La Stellina kitchen a team of passionate chefs knead pizza dough using timeless Italian techniques, inspired by Chef Harris' one-on-one training with Italian cesarine— home cooks who teach from the comfort of their own family kitchens. Safeguards of Italy's cultural heritage, cesarines' recipes have been passed down for generations. Mozzarella is hand-pulled to perfection as a copper-tiled pizza oven soars above 500°F to achieve the right temperature for classic, crispy pies. Simple, fresh ingredients translate into sophisticated flavors at this innovative restaurant. Locally sourced produce combines with authentic Italian meats, cheeses, and pastas to create dishes that appeal to every age and every palate.
Starters include Compressed Melon with Prosciutto and Aged Balsamic; and La Stellina Panzanella with Focaccia, Cured Tomatoes, Olives, Chicory, Basil and Ricotta Salata. Main Courses include "Cioppino" with Clams, Mussels, Shrimp, Squid, White Wine, Basil and Focaccia; and Whole Roasted Branzino with Broccolini and Lemon; Crispy Chicken Piccata with Lemon, Capers, Black Pepper, Arugula and Parmesan.
Pastas include Ricotta Agnolotti with Swiss Chard, Mortadella and Truffle Butter; and Spaghetti Pomodoro with Crushed Tomato Sauce, Basil and Pecorino. Pizza offerings feature White Clam pizza with Fresh Shucked Clams, Garlic and Oregano; Spicy Sausage with Broccoli Rabe, Lemon and Mozzarella; and Fresh Spinach with Herbs, Chili and Ricotta. The menu is rounded out with side dishes such asMagnate's Meatball, and Spinach, Garlic, Lemon and Parmesan. A Children's Menu is available featuring Spaghetti and Tomato Sauce, Chicken Parmesan and Cheese Pizza.
"La Stellina is a chef's dream," said Chef Matthew Harris. "Under the tutelage of several Italian cesarines, I learned to cook true, authentic Italian food. I am thrilled to offer the timeless combination of locally-sourced fresh ingredients with Italian meats and cheeses to create the finest in Italian dining for our guests."
General Manager of The St. Regis Deer Valley, Mr. Tyler Mugford, said, "We are delighted to introduce our new dining experience, La Stellina. Perfect for diners of every age after a day on the slopes or exploring Park City's Main Street, La Stellina is the centerpiece of the Resort's new Snow Park Building, a hub of activity that also includes the Astor Bar and Topgolf Swing Suites."
La Stellina, open for dinner Wednesday through Sunday from 5:00 PM to 10:00 PM, is located in the Resort's Snow Park Building, easily reached from the Resort's main building, and also accessible from the Resort's Lower Funicular Building via covered walkway. If arriving by car, complimentary Valet Parking is available at the Snow Park Building, located at 2300 Deer Valley Drive East, Park City, Utah 84060. Reservations for La Stellina can be made at https://srdvdining.com/dining/la-stellina, or by calling 435-940-5700.
Pitada Brazil
Now open in Orem, and with a promise of authentic Brazilian food is Pitada Brazil. The menu reads an affordable one, starting with a classic – feijoada. Also today I learned that Brazilian stroganoff is a thing. Who knew.
Pink Sweet Cafe
Love pink? Love sweets? You're gonna love these guys. All new for Riverton and open just a few days ago is Pink Sweet Cafe. Open seven days a week the newly minted spot promises, "We are a brand new Middle Eastern pastry & sweets shop."
Salt City Sliders
This all new food truck is now roaming around town offering up a menu that's simple and to the point. There are sliders and they all cost six bucks. They all read pretty fabulously too.
Salt Egg City
A tip of the hat to SLC Lunches for this intel. Salt Egg City is a shiny new delivery focused option opening at 8.00 a.m. daily and looking to sate those early morning cravings. Sandwiches run eight bucks including the pictured egg, bacon and cheese. And just look at that thick cut bacon. The business looks like it operates out of the ComCom Kitchen space, you can find them on DoorDash. One to bookmark for next time you're struggling to start the day on the right foot.
Slopestream
Another one from the folks over at the Trib who report, "The luxury ski resort Montage Deer Valley has added a new dining destination, called Slopestream. It's a converted Airstream RV on the patio outside Burgers & Bourbon, and boasts "an elevated take on street food." The seasonal menu includes poutine, Slopestream chili, and a chopped smoked prime brisket plate. Slopestream also is offering a seasonal beverage program, with local beers, saloon-inspired cocktails, wines and champagne."
Smokin Roadside Grill
Now open in Salem, this brand new BBQ spot. Smokin started life as a food truck, before owner Rob Pierce made the recent leap to bricks and mortar.
Stacked Sandwich Co.
TownLift reported on this recent opening for Summit County, which sees Jason and Katie Greenberg bring a new sandwich option to Prospector. Locals might already know the Greenbergs from their previous efforts with Nosh, the Israeli-informed Park City restaurant. Prices for salads and stacks alike start from $13 and rise through $18 or so – including spins on classics like the BLT, banh mi, caprese and more. There's surprising little info out there right now on Stacked, head to that TownLift article for more info and menu.
Susy's Kitchen
This formerly air stream hosted mobile business has now found perma-digs in Midvale. The menu at Susy's features dishes from chef and owner Susana McMahon which include a range of house made pasta dishes, pizza and burgers.
Thai 101
If my memory isn't lying to me, this spot on the edge of downtown SLC was home to Indian restaurants Kiraak and Copper Bowl down through the years. It's now living life as a brand new Thai restaurant opening at the start of this month. The Thai 101 menu features familiar staples, not least a few more interesting dishes such as soft shell crabs pong garee – "fried giant soft-shell crabs stir fried with eggs, milk, onion, bell peppers, green onion, cilantro and yellow curry powder".
Wildfin American Grill
This Pacific North West arrival should now be open in Riverton. The chain which also operates in OR, WA and ID serves up a large menu, all tied together with a strong seafood theme. The menu features a particularly noteworthy commitment to sustainability – something I'd love to see more of in landlocked Utah. WildFin state that they work with both the James Beard Smart Catch program and the Monterey Bay Aquarium, to serve up only sustainable seafood.
Xiao Bao Bao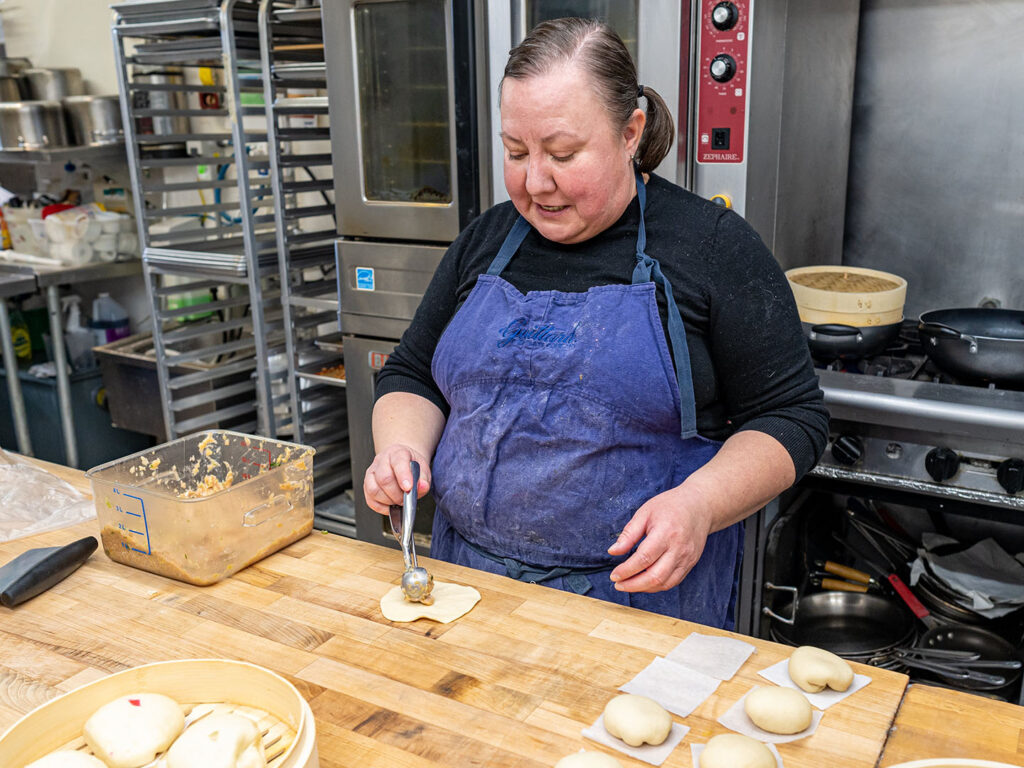 Friday February 10th was the first popup prior for Romina Rasmussen's all new project. You can read my initial preview here. The TL;DR is that she's teamed up with brother's Derrick and Dwight Yee, to crank out an entirely new grab and go business, starring Chinese steamed bao as the main protagonist.
The first popup saw lines around the block and Xiao Bao Bao sell out way ahead of scheduled. Rasmussen confirmed the crowds blew away her expectations as some 500 bao quickly went out the door. Stay tuned to their social media channels for the announcement of the next installment; I'm told there'll be at least a doubling of production for that outing.
Zimbu Sandy
A second location for this Nepali and Indian restaurant is now open over in Sandy (9710 S. State). You might recall the business first launched in the City Creek food court, where the original still operates. The sophomore effort retains the build it yourself menu which has guests choose a base, a protein and a sauce.
Coming soon
Auntie Em's
Posting to social media, this new Park City bakery confirmed their opening should be any day now. The company write, "You haven't heard from us in awhile because, when I say we've been buried in work, I mean we've been buried in work. We're finally clawing our way out of construction and I am so excited to show and to share that we are putting the finishing touches on our very own bakery — stay tuned for details about our grand opening but mark your calendars for next Monday, 2/20/23 (Presidents' Day). "
Curry Pizza Lehi
Lehi should make a quintet of locations for this home grown pizza chain that started life in little Bicknell. The brand post this in recent days confirming their imminent South valley arrival.
Hoppers
You might recall we broke the story on the new location for Hoppers last year. I've not heard too much since, but did just spot these renders from Atlas Architecture which look pretty nifty if you ask me. Atlas have their fingerprints all over the remade neighborhood, so expect great things.
The Local
In case you missed this one, I'm including it here by way of completionism. I swung by this new food hall last week and bar some illumination and fire suppression tweaks, it's all pretty much ready to roll. Eight tenants will man the stations here.
Mayor Voss
This IG post suggests that Edison Street's Brick & Mortar is set to be relaunched as Mayor Voss. I've reached out to the account in question (the only real trace I can find) and will report back as and when I hear more. No word on if this will be the same operating team or new owners. The Jan DABS meeting was where I first spied this one, requesting a change of liquor license ownership.
Pho Thin
File this one under "scurrilous social media rumor", alongside, "this needs fact checking". If rumor is to be believed, Pho Thin will move from their central Sugar House home to the snazzy Saola building in Cottonwood Heights (just behind the Porcupine). The two businesses have a shared ownership I believe.
Root'd Cafe
According to notes from January's DABS meeting Riverton should be seeing a location of Root'd Cafe come Spring. Meeting notes suggest a protected opening of April 27th.
Stack 571 Burger & Whiskey Bar
According to similar DABS notes, South Jordan should be getting a location of this mini chain anytime soon as well. Arriving in the Mountain View Village the chain also currently operate in WA and ID. A cursory Google also suggests that the same company that runs 571 also operates WildFin who I mentioned earlier on.
Sunday's Best SLC
A second location for Michael McHenry's brunch concept restaurant is now confirmed for the Post District in downtown SLC. You'll find them in the space just a few steps West of Urban Hill. Here's the full presser from the company on what to expect:
The country's Hottest All-Day Brunch Oasis, Sunday's Best, is coming to downtown Salt Lake City! Positioned in the heart of the city in the newest apartment communities, Post District. An oceanside oasis awaits guests who are wanting to brunch while enjoying live music in a tropical -style atmosphere.
"We are excited to bring our high-energy, good vibes, chef crafted resort-style Oasis to the heart of downtown Salt Lake! We couldn't think of a better venue than partnering with the Post District community who's reimagining shopping, dining, nightlife, and elevated experiences to our beloved city. Get ready to take pleasure in the best of the best by escaping to a sun shining, birds chirping, DJ spinnin, champagne poppin' destination. Our new 10,000 sq ft location stands 2 Floors high, filled with lush interiors and rich textures, lively dance floor, awe-inspiring outdoor atrium overlooking our cityscape, and an upscale, never done before Rooftop Day Club! It invigorates all your senses and leaves you wanting more! We couldn't be happier to join the Salt Lake Proper community. Our mantra has always been By The Neighborhood, For The Neighborhood, so coming downtown and joining local leaders like visionary grill masters–Traeger, award winning Restaurateurs–Urban Hill, and proven, craft beer aficionados–Levels Crossing Brewery, only makes sense. It's in our DNA to immerse ourselves in our community and we plan on doing just that. We can't wait to Brunch Hard with you!" said Michael McHenry, Co-Founder of Sunday's Best and The McHenry Group.
Post District is home to four of the newest apartment communities in Salt Lake City—The Register, Post House North, Post House South, and 801 Flats. Each residence offers its own unique style of living, all anchored by a community unlike any other. Building one at the Post District is zoned mixed use, mixed family. There is a total of 10,648 SF of leasable space with 7,020 SF on the Main Level and 3,628 SF on Level 2.
Mountain West Commercial Real Estate (MWCRE) agents Garrett Blomquist, Andy Moffit, and Scott Brady are helping Post District find Tenants for the community.
"The Post District development is home to some of Utah's most desirable accommodations and amenities. Fine Dining, Accessories, Libations, and Entertainment in the heart of Downtown Salt Lake City and the Granary District," MWCRE Agent Garrett Blomquist said. The Post District captures all aspects and comforts of Urban Living. The Vision and Professionalism of the Development team (BCHG Holdings, Lowe Property Group, Bridge Investment Group, and Qfactor) have made working on this project one of the best experiences we have had. They say what they are going to do and create an amazing partnership with the tenants and businesses we are bringing to the project. It makes working on projects of this scale, a lot of fun."
Permit watch
Credit to Building Salt Lake and their permit search system for this new section. Where I can, I'll be signing off these roundups with a look at recently filed planning permission requests. These may or may not pan out, but give an early indication of new restaurant arrivals. You can access BSL's permit search system by signing up and becoming a paid member of their site.
Loki Coffee – The filing speaks to a "remodel for new coffee shop in existing retail space", over at 325 E 900 S. The space recently underwent this fancy update.
TBA Sugar House Thai – A Thai restaurant will be making its home in the former Schmidt's Pastry location in Sugar House (609 E 2100 S) according to this filing. The spot has seemingly been listed on LoopNet since the baker departed, offering a potential new tenant some 2400 square foot to operate within.
Previously mentioned with no further update
We've written about the following new restaurants in recent posts tracking new restaurants around SLC. We've heard no further news on these at this time:
Opening a new restaurant in Utah? Be sure to read our restaurant resource section which includes info on everything from marketing through POS systems.
Keep the conversation going
Want to stay on top of the SLC food scene, minute by minute, dish by dish? Here are a few other places you should follow along:
Hi, I'm Stuart, nice to meet you!  I'm the founder, writer and wrangler at Gastronomic SLC.  I'm a multiple-award winning journalist and have written in myopic detail about the Salt Lake City  dining scene for the better part of seventeen years.
I've worked extensively with multiple local publications from Visit Salt Lake to Salt Lake Magazine, not least helped to consult on national TV.   Pause those credits, yep, that's me! I'm also a former restaurant critic of more than five years, working for the Salt Lake Tribune.    I'm largely fueled by a critical obsession with rice, alliteration and the use of big words I don't understand.   What they're saying about me: "Not inaccurate", "I thought he was older", "I don't share his feelings".
Want to know more? This is why I am the way I am.
This article may contain content provided by one of our paid partners. These are some of the best businesses in Utah. For a list of all our current and past relationships see our
partnership history page
.