1 – Celeste Ristorante
Chef and owner of Celeste, Paolo – started his culinary career in Utah as one of the co-founders of Sugar House's original Michelangelo's; a much loved and missed restaurant long since faded into the mists of time. Skip forward more than two decades, lots of travel and many changes – Paolo returned to SLC in 2017 to bring is signature Italian cooking back to Utah, and the lucky folks of Murray.
The critically acclaimed menu focuses on Tuscan cuisine, and has more than one unique dish to experience. Cinghiale in umido – wild boar chunks simmered in red wine and tomato sauce – anyone?
5468 900 E, Salt Lake City, UT 84117
(801) 290-2913
celesteristorante.com
2 – Taqueria 27
Owners Todd and Kristin Gardner haven't looked back since they opened their first taco joint on Foothill Drive many moons ago. The format is simple: made from scratch tacos, daily specials that emphasize vibrant and creative flavors – and all served up in a hip, contemporary setting. This location is situated in the Fashion Place mall. T27 as it's known by its many fans also has a great liquor menu replete with a hefty selection of fine tequilas too.
6154 S Fashion Blvd #2, Murray, UT 84107
(801) 266-2487
taqueria27.com
3 – Greek Souvlaki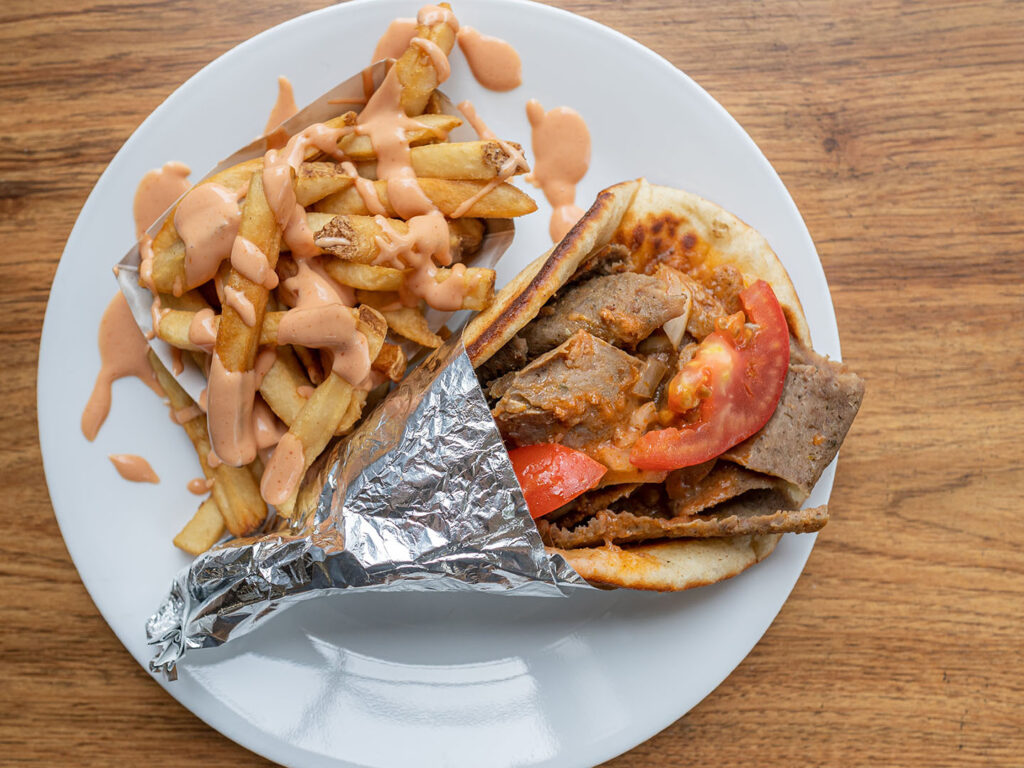 You'll find plenty of fast food Greek options around the SLC valley – not least in Murray too. Greek Souvlaki is one of the main names in town and is one of our favorites too. We're particular fond of their gyro, sliced layers of luscious gyro meat on a fluffy pita – topped with onion, tomato and your choice of red or white sauce; hint: you can totally ask for both!
5692 900 E, Murray, UT 84121
(801) 266-3336
greeksouvlaki.com
4 – Ice Haus
One of the hidden gems of Murray is this unassuming businesses tucked away off of State Street. While this is a bar first and foremost (21+ make sure to bring your ID) – that doesn't mean they don't take their food seriously. The menu here is bar food with a German influence – think brats and burgers with sauerkraut aplenty.
Particularly of note at the Ice Haus is the extensive vegan menu. As large as the carnivoristic menu itself, it doesn't pull any punches in offering some of the best vegan comfort food in town; vegan chicken wings to vegan poutine! Everything is stored, prepped and cooked 100% separately too, to ensure a pristine vegan product. Prices are unfailingly friendly and the the bar is open seven days a week, with special events and menus on various days of the week.
7 E 4800 S, Murray, UT 84107
(801) 266-2127
icehausbar.com
5 – Tea Rose Diner
Serial restaurateur Anny Sooksri took her first step onto the SLC dining scene with this Murray Utah location. Tea Rose Diner is a modest little restaurant for sure, but don't think that applies to the food. The cuisine here is Thai, which means bold and vibrant dishes aplenty, and Tea Rose excels.
Of particular note at Tea Rose Diner – the restaurant does not shy away from the authentic heat and spice of Thai cuisine. Dishes are offered on a scale of 1-10 and first timers are recommended to never go over 2-3 – this is the real deal. Spice lovers should head here immediately.
65 E 5th Ave, Murray, UT 84107
(801) 685-6111
facebook.com/Tea-Rose-Diner-195097803840149/
6 – Fat Boy Phillies
This home spun eatery is a blink and a miss it affair along the hustle and bustle of State Street. We guarantee you won't want to miss this fantastic little eatery though. The menu hones in on perfecting fantastic Philly cheesesteaks and little else. The restaurant makes as much as it can in house and cooked fresh daily too.
5823 State St, Murray, UT 84107
(801) 261-0313
facebook.com/Fat-Boy-Phillies-390265938157833
7 – Zao Asian Cafe
A local mini chain that has grown and grown over the years, which assuredly speaks to the simple and healthy setup the restaurant affords guests. The concept here is fast casual – ideal for when you're in a rush. You head along the line, select this, add that, and your dish is made before your eyes at light speed. Zao's proteins are offered in a variety of format: rice bowls, tacos, salads and banh mi. Service is lightning fast at Zao, you're dish is ready immediately, no wait, no fuss. Just quick and healthy delicious food.
5263 State St, Murray, UT 84107
(801) 290-2797
zaoasiancafe.com
8 – Bohemian Brewery & Grill
O.k. some might take us to task for liberally stretching the borders of Murray, but this restaurant is just a minute or two past the official city borders. Bohemian has been a staple for more than two decades offering a heady menu of Bavarian/Czech inspired food and beers. And what beers too, the brewery side of the business is focused on lagers and pilsners – be sure to check out their brews.
94 Fort Union Blvd, Midvale, UT 84047
(801) 566-5474
bohemianbrewery.com
9 – Mr Charlie's Chicken Fingers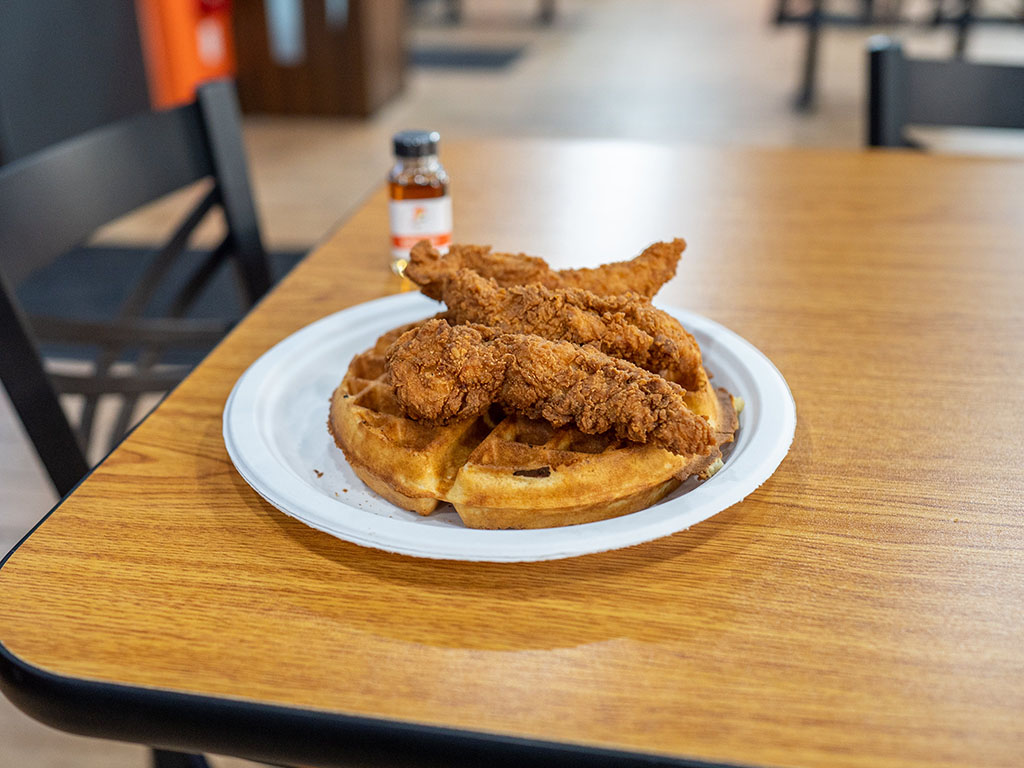 As you might guess from the name, Mr Charlie's specializes in just one thing: chicken fingers. And as you might expect for a restaurant that cooks just one thing and one thing along, these are pretty darned good chicken fingers. Perfect for a quick snack, cheap lunch or meal on the go.
554 W 4500 S, Murray, UT 84123
(801) 803-9486
mrcharlieschickenfingers.com
10 – Capriotti's
Sure, it might be a national chain, but some of the sandwiches at this particular chain are fabulous. Pictured – The Bobbie – a mix of house roasted turkey, stuffing and cranberry. You can satisfy those Thanksgiving leftover sandwich cravings all year around here.
6002 S State St, Murray, UT 84107
(385) 425-3111
order.capriottis.com
Dining close to Murray Utah
If you're close to Murray, you're also close to the following neighborhoods, you might to check these out too:
Who did we miss?
If you think we're missing a really great addition to this list, please email us at stuart@gastronomicslc.com – we'd love to hear from you. Let us know who you think should be on this list and why. If you have a really great picture of one of more dishes, please send that too! We're always excited to check our more businesses!
Our sponsors and this page
This page may contain information about one of our sponsors. We only work with the very best businesses in the state, and routinely turn down offers to work with businesses we don't enjoy. If we can't hand on heart recommend them - they can't be a sponsor.
At this time we have the following sponosrs: Avenues Proper, BGR Sugar House, BTG, Caffe Molise, Craft by Proper, The Dough Miner, Downtown Alliance, Feldman's Deli, Flanker, Garage On Beck, Hearth And Hill, Hill's Kitchen, Kao Thai, Kin Sen Asian Noodle Bar, Kyoto, Laziz Kitchen, Log Haven, Oasis Cafe, Pirate O's Gourmet Market, Proper Brewing, Proper Burger, Scion Cider Bar, SLC Eatery, Squatter's Downtown Salt Lake City, Stoneground Italian Kitchen, Urban Hill, Wasatch Brew Pub Sugar House, Whiskey Street, White Horse.
I encourage you to Google any of our sponsors and see the stellar reviews on multiple sites that they enjoy. For a list of all our current and past relationships see our partnership history page.