Salt Lake City and the surrounding area is home to a diverse range of Vietnamese cuisine. Casual mom and pop eateries through to chic modern spins – you can find it all. The following Vietnamese menus are our favorites in SLC.
1 – The Pearl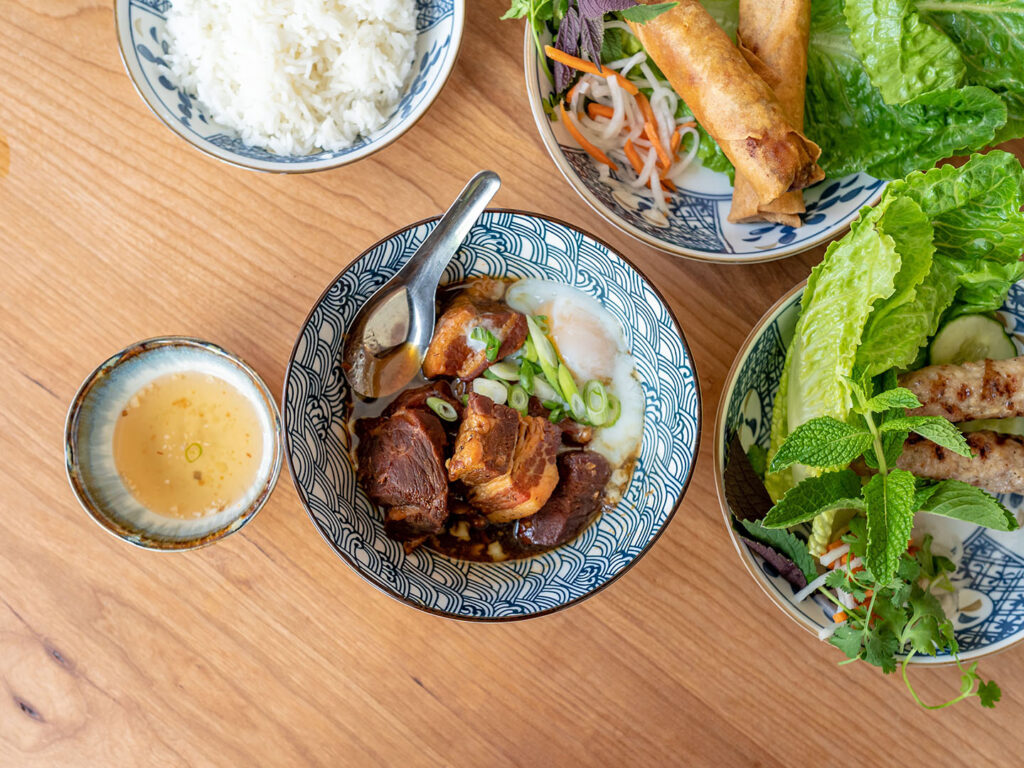 The Vietnamese street food of chef Tommy Nguyen takes center stage at The Pearl. The Central 9th spot features a rotating menu of small bites as well as a craft cocktail menu that competes with the best in town; as you would hope it does, coming from some of the same team as downtown SLC's Alibi You can read our full first look at The Pearl here.
917 200 W, Salt Lake City, UT 84101
2 – Pho 777
Those looking for the best pho in Utah will want to make a beeline right away to this West Valley mom and pop. The cozy restaurant offers a menu featuring more than a 100 dishes. Among them fifteen different specular pho dishes, not least a rather stunning shaking beef. Check out our full story that covers Pho 777 here.
1835 W 3600 S Suite A, West Valley City, UT 84119
(385) 528-0189
3 – SOMI Vietnamese Bistro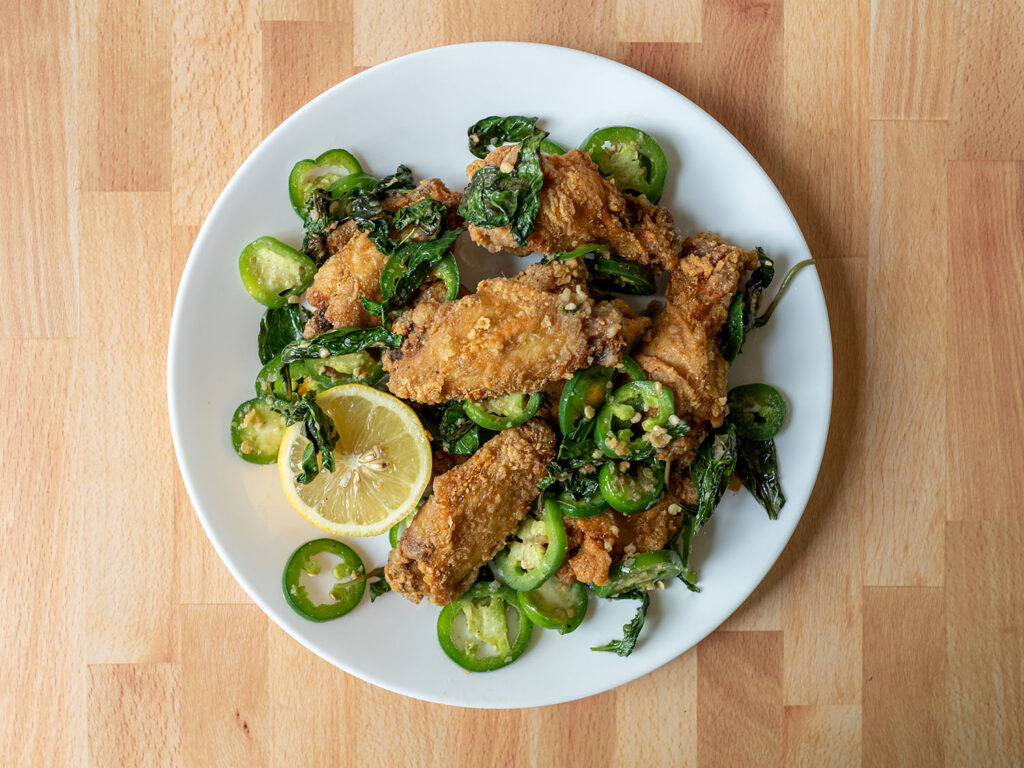 Another Sugar House restaurant, and one that takes also modern and upscale in a very contemporary space. Pho, rice dishes, rice plates, vermicelli noodle dishes – all the classics are represented well, and plated beautifully. As well as authentic Vietnamese dishes you'll also find a range of refined Asian dishes: peking duck, shaking beef, crispy whole branzino and more.
1215 E. Wilmington Ave, Suite 100, Salt Lake City, UT 84106
(385) 322-1158
somislc.com
4 – SAOLA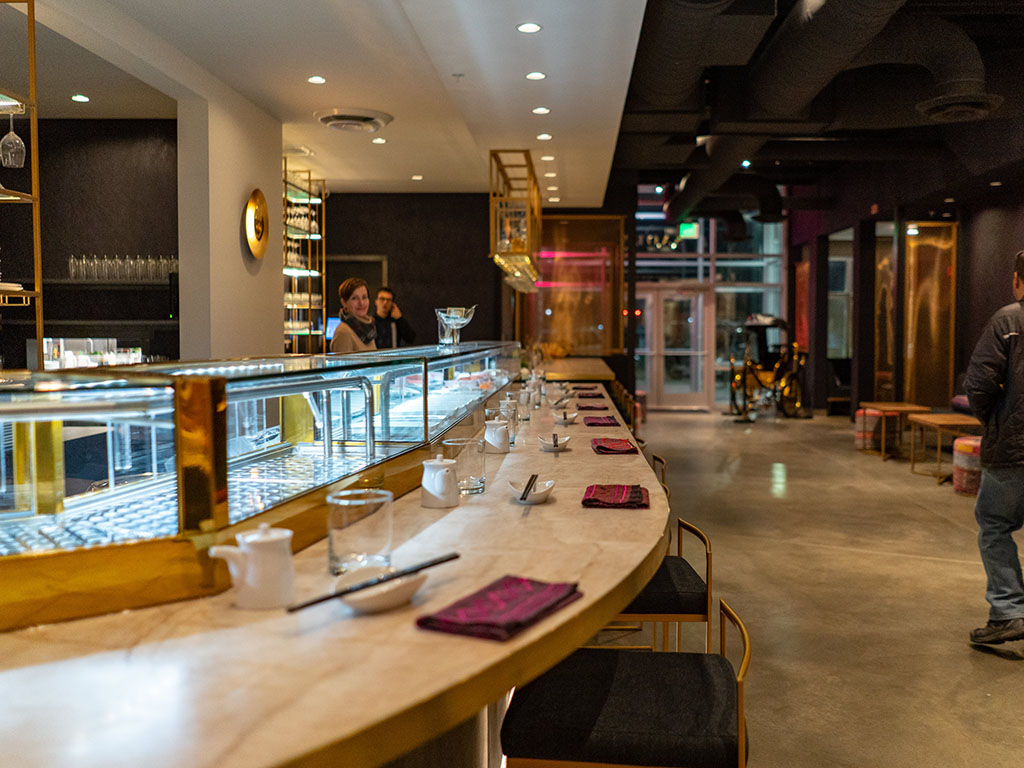 SAOLA is a chic modern Vietnamese restaurant located in Cottonwood Heights. It features a large and elegant dining room as well as a spacious sushi bar. We particularly love their small plates, which make fabulous sharing alongside their craft cocktails.
7307 Canyon Centre Pkwy, Cottonwood Heights, UT 84121
(801) 944-2949
saolaeats.com
5 – Little Saigon
A fast casual eatery, on the edge of Sugar House. The specialty is banh mi, grab and go Vietnamese sandwiches, but also on offer: rice plates, noodle dishes and appetizers like wings and spring rolls.
2021 E Windsor St, Salt Lake City, UT 84105
(801) 906-8630
littlesaigonutah.com
6 – All Chay
This modest West side Vietnamese restaurant is 100% vegan friendly. You won't even find fish sauce here, this place is legit, and massively popular as a result. You will find every Vietnamese staple on their menu, banh mi, bun, rice dishes, you name it.
1264 500 N, Salt Lake City, UT 84116
(801) 521-4789
slcmenu.com/2015/07/09/all-chay-menu/
7 – Indochine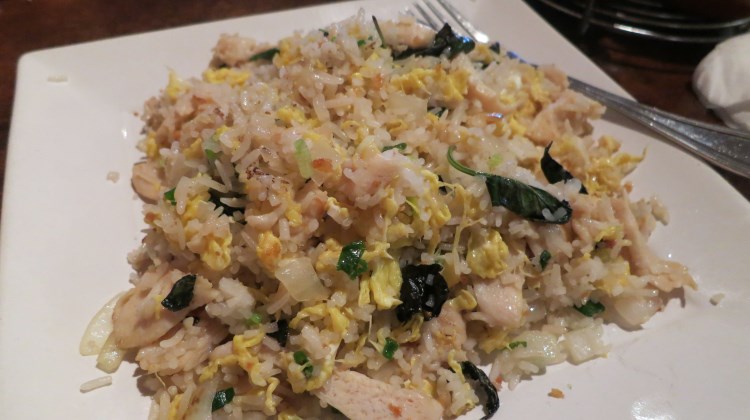 Just on the edge of the University of Utah, this popular Vietnamese goto offers dishes you might not find on other menus around town. Coconut curry mussels, steak vietnamienne, fried rice with basil and garlic – a particular favorite of mine. And of course you will find lots of traditional Vietnamese cuisine on offer too, including a dash of Chinese dishes as well.
230 S 1300 E, Salt Lake City, UT 84102
(801) 582-0896
indochineslc.com
8 – Oh Mai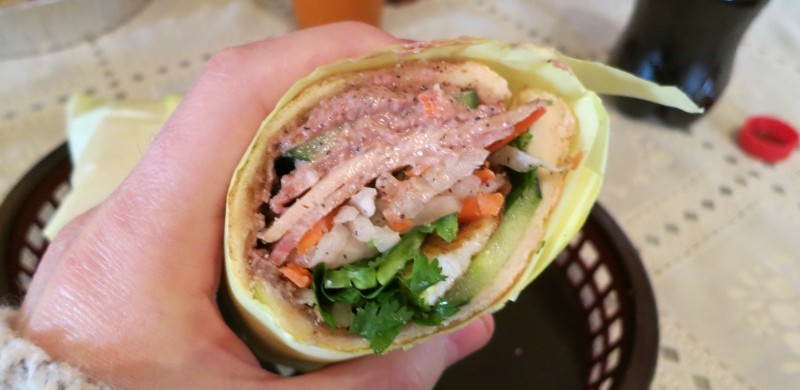 Now with four locations across the valley, there's seemingly no stopping the success of Oh Mai. It's easy to see why of course – the banh mi sandwiches here are some of the best in town. Not only are they wallet friendly, but the choice is first rate. Banh mi come in twelve different varieties at every location: cold cut, honey glazed pork, yellow curry chicken, vegan, lemongrass bean curd, shredded pork, sardine, garlic butter rib eye, spicy beef short rib, sunny side up egg, braised pork belly and brisket. Phew!
South Salt Lake | 3425 State St, South Salt Lake, UT 84115 | (801) 467-6882
Salt Lake City | 850 State St, Salt Lake City, UT 84111 | (801) 575-8888
Holladay | 6093 S Highland Dr, Holladay, UT 84121 | (801) 277-9888
1644 West Towne Center D D6, South Jordan, UT 84095 | (801) 274-4111
ohmaisandwich.com
Vietnamese food in SLC FAQ
Who has the best pho in Salt Lake City?
When it comes to this vibrant Vietnamese noodle dish, there is fierce debate over who has the best. Indeed you will find dozens of pho focused eateries up and down the valley. We think this is the best assessment we've seen to date. This local super star ate at every pho spot they could find and produced the following list:
1st – Pho Cali, 1631 W 3500 S, West Valley City, UT 84119
2nd – Pho 777, 1835 W 3600 S suite A, West Valley City, UT 84119
3rd – Fat Fish, 1980 W 3500 S, West Valley City, UT 84119
4th – Pho 28, 428 E 900 S, Salt Lake City, UT 84111
5th – Pho 33, 7640 State St, Midvale, UT 84047
Where can I get the best banh mi in Salt Lake City?
For us, the best can be found at either Oh Mai or Little Saigon.
Who did we miss?
If you think we're missing a really great addition to this list, please email us at stuart@gastronomicslc.com – we'd love to hear from you. Let us know who you think should be on this list and why. If you have a really great picture of one of more dishes, please send that too! We're always excited to check our more businesses!
Maybe also check out
Maybe we can tempt you to something else delicious while you're here? Check out these other detailed guides, some of the most popular pages on our website:
Hi, I'm Stuart, nice to meet you!  I'm the founder, writer and wrangler at Gastronomic SLC; I'm also a former restaurant critic of more than five years, working for the Salt Lake Tribune.  I've worked extensively with multiple local publications from Visit Salt Lake to Salt Lake Magazine, not least helped to consult on national TV shows.
I'm a multiple-award winning journalist and have covered the Utah dining scene for the better part of fifteen years.   I'm largely fueled by a critical obsession with rice, alliteration and the use of big words I don't understand.   What they're saying about me: "Not inaccurate", "I thought he was older", "I don't share his feelings".  Want to know more? This is why I am the way I am.
Our sponsors and this page
This page may contain information about one of our sponsors. We only work with the very best businesses in the state, and routinely turn down offers to work with businesses we don't enjoy. If we can't hand on heart recommend them - they can't be a sponsor.
At this time we have the following sponosrs: Avenues Proper, BGR Sugar House, BTG, Caffe Molise, Craft by Proper, The Dough Miner, Downtown Alliance, Feldman's Deli, Flanker, Garage On Beck, Hearth And Hill, Hill's Kitchen, Kao Thai, Kin Sen Asian Noodle Bar, Kyoto, Laziz Kitchen, Log Haven, Oasis Cafe, Pirate O's Gourmet Market, Proper Brewing, Proper Burger, Scion Cider Bar, SLC Eatery, Squatter's Downtown Salt Lake City, Stoneground Italian Kitchen, Urban Hill, Wasatch Brew Pub Sugar House, Whiskey Street, White Horse.
I encourage you to Google any of our sponsors and see the stellar reviews on multiple sites that they enjoy. For a list of all our current and past relationships see our partnership history page.