If you can't find a good burger in Salt Lake City – you're going it wrong. From North to South we have everything from cheap and cheerful mom and pop joints through to luxurious gourmet restaurants. There's seemingly no lack of appetite for burgers from Salt Lakers either. The following are some of our favorite burger choices from across town.
1 – BGR – Burgers Grilled Right
While BGR might be a national chain, it's a modest, boutique one; and it's one focused on quality and definitely one worthy of your attention and time. Currently the only BGR in Utah can be found in the heart of Sugar House on Wilmington.
First up, the name tells you right away what to expect at this gourmet burger joint. Burgers at BGR are grilled to order: rare, medium, welldone, or anything in between – you call the shots here. Same goes for your bun choice too where you can select from a brioche bun, gluten free, pretzel bun or lettuce wrap.
And you know when a restaurant is happy to serve you a burger to order – that means you can count on quality. At BGR everything is top shelf and fresh, from the premium 6 oz beef patties to their all natural chicken burgers, turkey burgers, sushi grade ahi and hand made veggie burgers. The same goes for their range of complimentary and premium toppings too – made fresh in house when appropriate.
As well as all that BGR is open seven days a week, opening at 11 a.m each and every day. That means you can have burgers for brunch or burgers for bedtime – closing time is 10 p.m. most nights except for Sundays (9 p.m.). Need another reason to swing by? There's a great selection of craft beer, wine and thick hand-spun milkshakes too!
1202 E Wilmington Ave, Ste 120, Salt Lake City, UT 84106
(801) 487-6301
bgrtheburgerjoint.com
We're proud to have BGR as the sponsor for this page.
2 – Franklin Avenue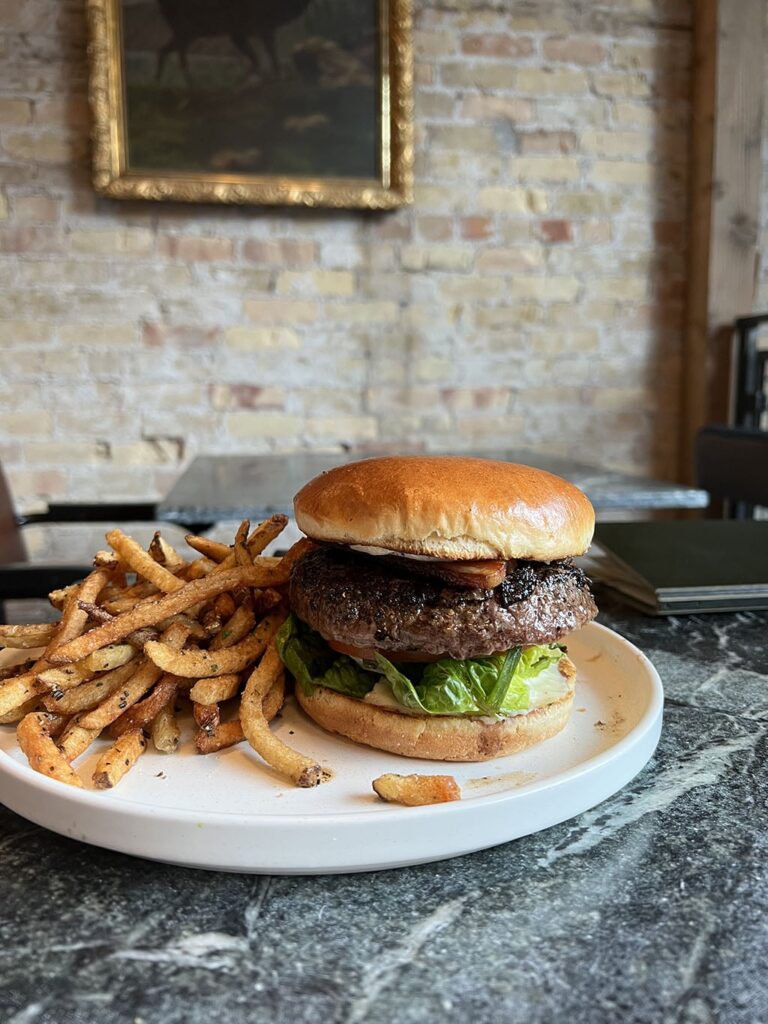 Franklin Avenue is the fourth bar from the Bourbon Group – and maybe their best yet. Located a few minutes walk of the busier Main Street on Edison Street it's home to plenty of chef Matt Crandall's fine creations. One of the star's of the menu is his exceptional burger. Rather than load on extraneous toppings Crandall keeps things simple and focuses on a stellar patty that uses Snake River Farms wagyu beef.
231 S Edison St, Salt Lake City, UT 84111
(385) 831-7560
franklinaveslc.com
3 – Central 9th Market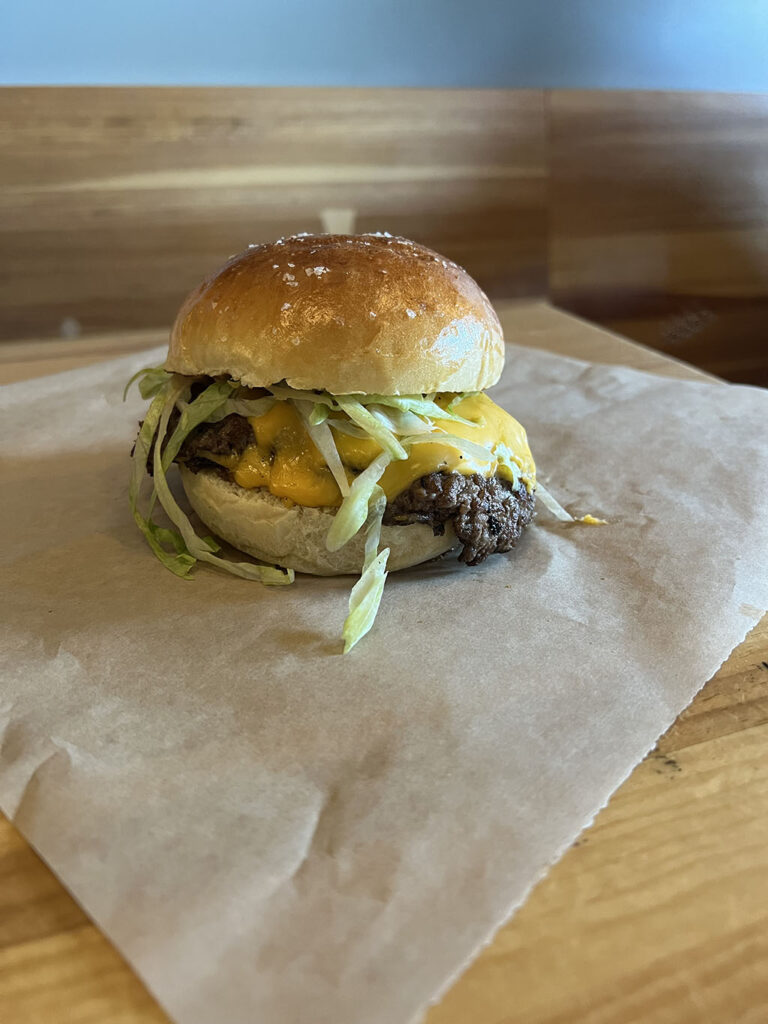 Available on Monday evenings at this Central 9th district spot, a fabulous burger special that locals line up for. Two smash style patties are cooked quickly before being loaded up onto a house made bun with lettuce and cheese. It's that simple, and frankly it's a transcendent burger. Enjoy it next door at Water Witch over a craft cocktail.
161 W 900 S, Salt Lake City, UT 84101
(385) 332-3240
central9th.com
4 – Copper Onion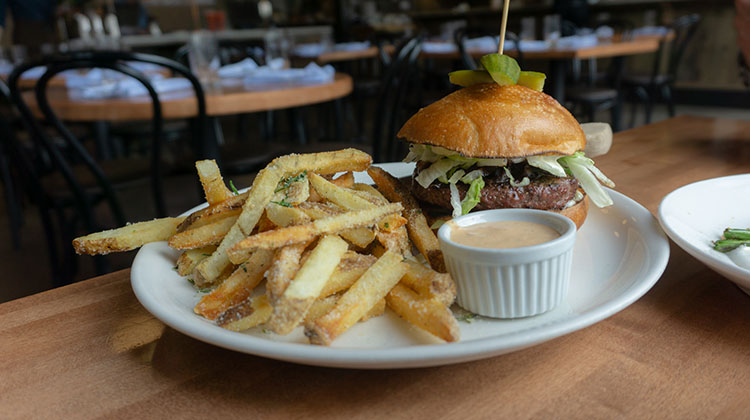 If you find yourself at any one of these three restaurants, you're in for an extra special burger treat. Each location cooks the groups signature CO Burger – a masterpiece of burger . From the in house ground meats right through to beautiful caramelized onions that top the burger – this is a serious contender for single best burger in all of Utah. Extra bonus points: Copper Kitchen cooks many of their proteins, including their burger, over an open wood grill.
Copper Onion | 111 East Broadway #170, Salt Lake City, UT 84111 | (801) 355-3282
Copper Common | 11 Broadway #190, Salt Lake City, UT 84111 | (801) 355-0543
Copper Kitchen | 4640 S 2300 E #102, Holladay, UT 84117 | (385) 237-3159
5 – Yanni's Greek Express
This Sugar House spot can often be overlooked in favor of their more famous peer (see below) – but the multi-decade running Yanni's makes a mean pastrami burger. And in our opinion, the luscious layers of pastrami are better than the more famous option in town. But hey, that's just our opinion.
2761 Highland Dr, Salt Lake City, UT 84106
(801) 466-6525
slcmenu.com/2011/01/09/yannis-greek-express-restaurant-menu/
6 – Crown Burgers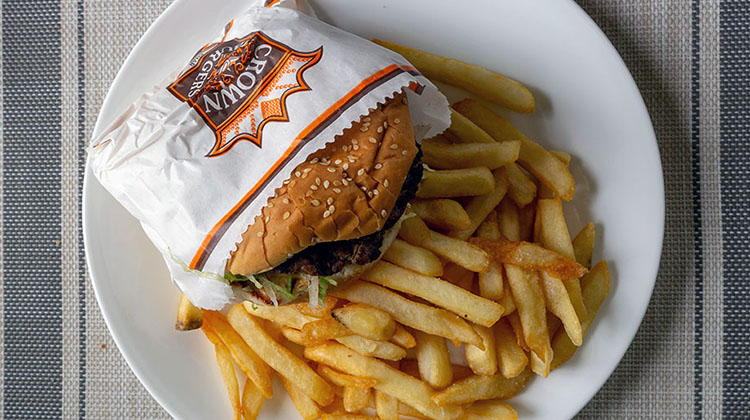 A Utah original that people flock to, and not without good reason. For more than three decades the Katsanevas family have ran a tight ship offering a blend of American and Greek fast food. You'll find locations all over town, and debate about which is the best; but what you'll see flying out of the order window over and over is the signature Crown Burger. This mighty monster comes topped with a dizzying pile of juicy pastrami atop the flame grilled burger patty.
Various locations
crown-burgers.com
7 – East Liberty Tap House
Grab a burger and beer at this cosy neighborhood bar/restaurnat in the 9th and 8th area. Owned and operated by Scott Evans – the chap by nearby Pago – and also Finca and Trestle Tavern. ELTH has a fun patio too out front to enjoy your burger as the sun sets on warmer days.
850 900 S, Salt Lake City, UT 84105
(801) 441-2845
eastlibertytaphouse.com
8 – HSL
The sister location to Park City's Handle (Handle Salt Lake – get it?) is chef and owner Briar Handly's ode to New American cooking. That means a reliance on local farms and producers to support a menu thats always in seasonal change. One thing that doesn't change is their solid beef cheek burger, available seven days a week. Be sure to keep an eye on their social media accounts as the bar area often offers a great burger special not to be missed.
418 E 200 S, Salt Lake City, UT 84111
(801) 539-9999
hslrestaurant.com
9 – Lucky 13
The worlds best burger moniker might be a little hyperbolic, but these guys still make a great burger. This a 21+ only, road house style bar/restaurant and they're known for one thing: fantastic burgers. Well, two things, great bacon. Their house smoked bacon is some of the very best in all of Utah. It's hard to recommend any one burger on a menu packed with fabulous creations – including a mind boggling burger challenge that few can beat.
135 West 1300 South, Salt Lake City, UT 84115
(801) 487-4418
lucky13slc.com
10 – Morty's Cafe
Morty's Burger Café is a casual restaurant in Logan serving locals and USU students alike. Morty's offers a creative menu of burgers, all of which are eminently affordable – not one breaks eight bucks!
780 E 700 N, Logan, UT 84321
(435) 535-3276
mortyscafe.com
11 – Proper Burger
Brought to you by the same folks behind the Avenues Proper gastropub and the next door Proper Brewing Co – is this mid range burger bar. Its a little higher end than a mom and pop, but by no means a gourmet hoity toity place. There's a creative list of burgers on the menu here, and it's always changing. They rock a fantastic vegan and veggie burger, and best of all, you can take your burger over to Proper Brewing next door and enjoy it with a two notch brew.
865 Main St, Salt Lake City, UT 84111
(801) 906-8604
properburgerslc.com
12 – Shooting Star Saloon
Always worthy of a mention when talking about Utah's burger scene – as this is purportedly Utah's oldest running bar (non stop since 1879). Some say it's the longest running bar Wets of the Mississippi in fact. The burgers here are solid and simple. You can forget your kale toppings, your avocado and your craft beer to pair. Indeed, don't even thing about asking for subs or changes – the signs that festoon the walls make it clear: have what's on the menu or hit the road.
7350 E 200 S, Huntsville, UT 84317
(801) 745-2002
facebook.com/ShootingStarSaloon/
13 – Warren's Craft Burger
Up North in Ogden is this hidden gem of a burger restaurant. Often overlooked due its location, don't underestimate the burgers from this creative restaurant. In our book these are some of the very best in all of Utah and well worth the drive. For example, check out the Breakfast All Day burger above – tater tots, bacon, egg on a burger? Yes!
2302, 258 25th St, Ogden, UT 84401
(801) 781-5005
mycraftburger.com
What's the deal with pastrami burgers in Utah?
You might have heard about our local obsession, scratch that, local genius that is pastrami burgers! To find out all the need to know details on Utah's pastrami burgers, the where, why and how – check out our guide to the best pastrami burgers in Utah.
Who did we miss?
If you think we're missing a really great addition to this list, please email us at stuart@gastronomicslc.com – we'd love to hear from you. Let us know who you think should be on this list and why. If you have a really great picture of one of more dishes, please send that too! We're always excited to check our more businesses!
Reader suggestions
We asked and you responded! Here are some of the burgers recommended by our readers:
R&R BBQ – Caveman Burger – smoked sausage, pulled pork, jack cheese, fried jalapeños
Hi, I'm Stuart, nice to meet you!  I'm the founder, writer and wrangler at Gastronomic SLC; I'm also a former restaurant critic of more than five years, working for the Salt Lake Tribune.  I've worked extensively with multiple local publications from Visit Salt Lake to Salt Lake Magazine, not least helped to consult on national TV shows.
I'm a multiple-award winning journalist and have covered the Utah dining scene for the better part of fifteen years.   I'm largely fueled by a critical obsession with rice, alliteration and the use of big words I don't understand.   What they're saying about me: "Not inaccurate", "I thought he was older", "I don't share his feelings".  Want to know more? This is why I am the way I am.