The quest for the perfect burger in Salt City City is one I've been committed to for the better part of fifteen years. The venues have ranged everwhere from unpretentious mom-and-pops through upscale gourmet eateries. If there's a burger on the menu – I'm eating it. It's the reason why I'm one half of the Utah Burger project. I take my burgers seriously.
The following are my favorite ten spots to bag a burger in town; restaurant's I've personally enjoyed over and over – and where the burger always shines. If you scroll past my top ten list you'll also find some other intriguing options around; they don't quite make my own best of the best, but still worth a look.
The Copper Onion – my top pick
Need to know: Utah's best burger
Neighborhood: Downtown Salt Lake City
Address: 111 East Broadway, Salt Lake City, UT 84111
In my ongoing adventures to secure the very best burger in Utah, I've consumed an ill advised number of creations, please don't tell my doctor. Over those years, I've ordered Copper Onion's signature burger time and again – and without question – this is the best I've tasted in Utah.
From the in house ground meat blend right through to beautiful caramelized onions that top the burger – this is a masterpiece of a burger build. More impressive still is the consistent quality, with the kitchen team always on point – even after a decade the burger still beats the rest. This is an excellent burger and where I'd send anyone looking for the best in the state.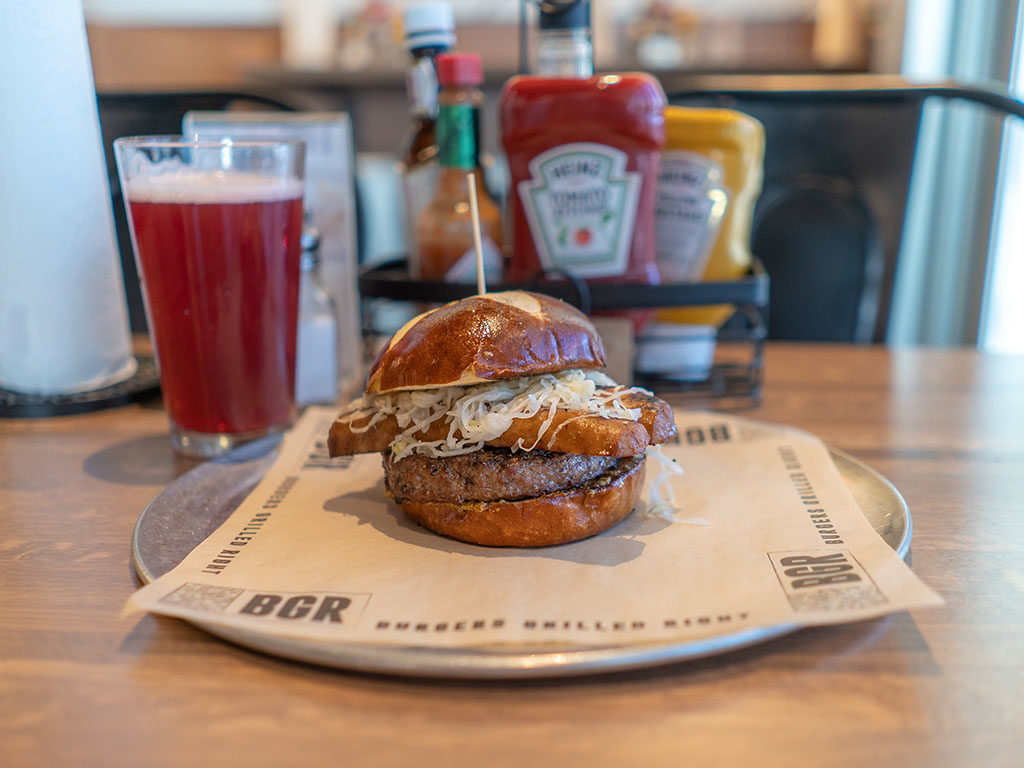 BGR / Burgers Grilled Right – my top pick
Need to know: Sugar House spot with local beer
Neighborhood: Sugar House
Address: 1202 Wilmington Ave #120, Salt Lake City, UT 84106
While BGR might be a national chain, it's a modest, boutique one; and it's one focused on quality and definitely worthy of your attention and time. Currently the only BGR in Utah can be found in the heart of Sugar House on Wilmington.
Per the name, burgers at BGR are grilled to order: rare, medium, well done, or anything in between – you call the shots here. Same goes for your bun choice too where you can select from a brioche bun, gluten free, pretzel bun or lettuce wrap. Bonus points for the seasonal specials and Utah sourced beer.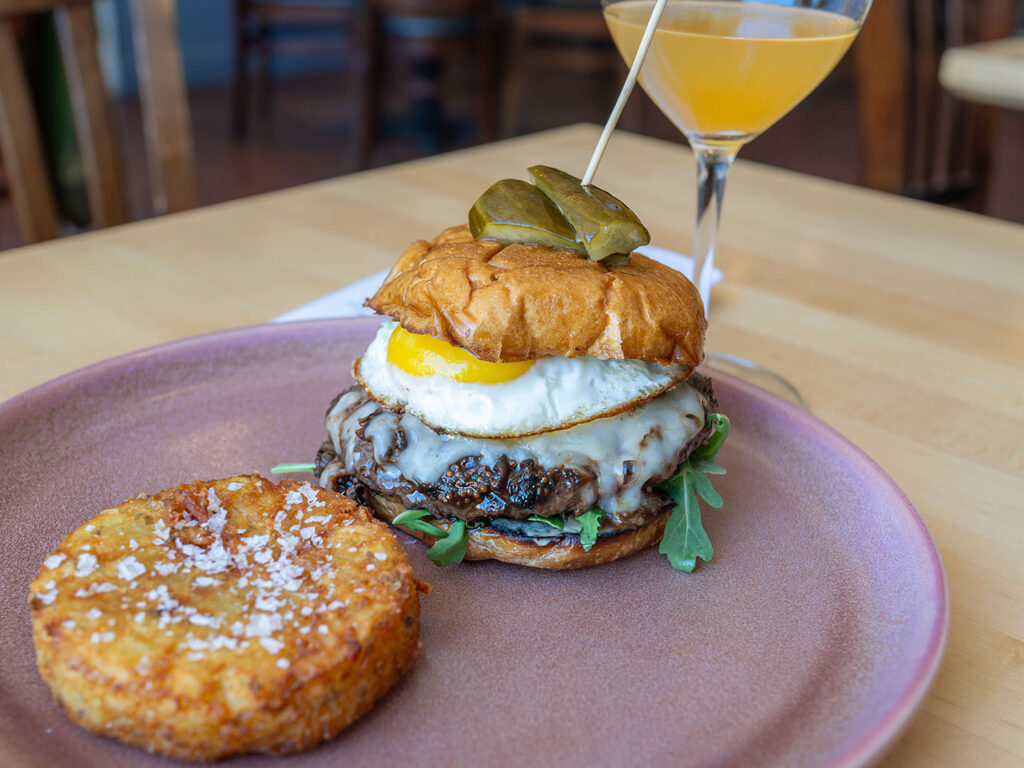 Oquirrh – my top pick
Need to know: A brunch burger that will cure any hangover
Neighborhood: Downtown Salt Lake City
Address: 368 E 100 S, Salt Lake City, UT 84111
Only available on their Saturday brunch menu, this burger is well worth making an early morning reservation for. While delicate fried egg is an optional extra, I recommend you ask your server to add it. Alongside the Alpine cheese, foie gras aioli, bacon onion jam and rich brioche, if this doesn't hit the hangover spot, nothing will. The house made hash brown on the side just happens to also be the best in town too.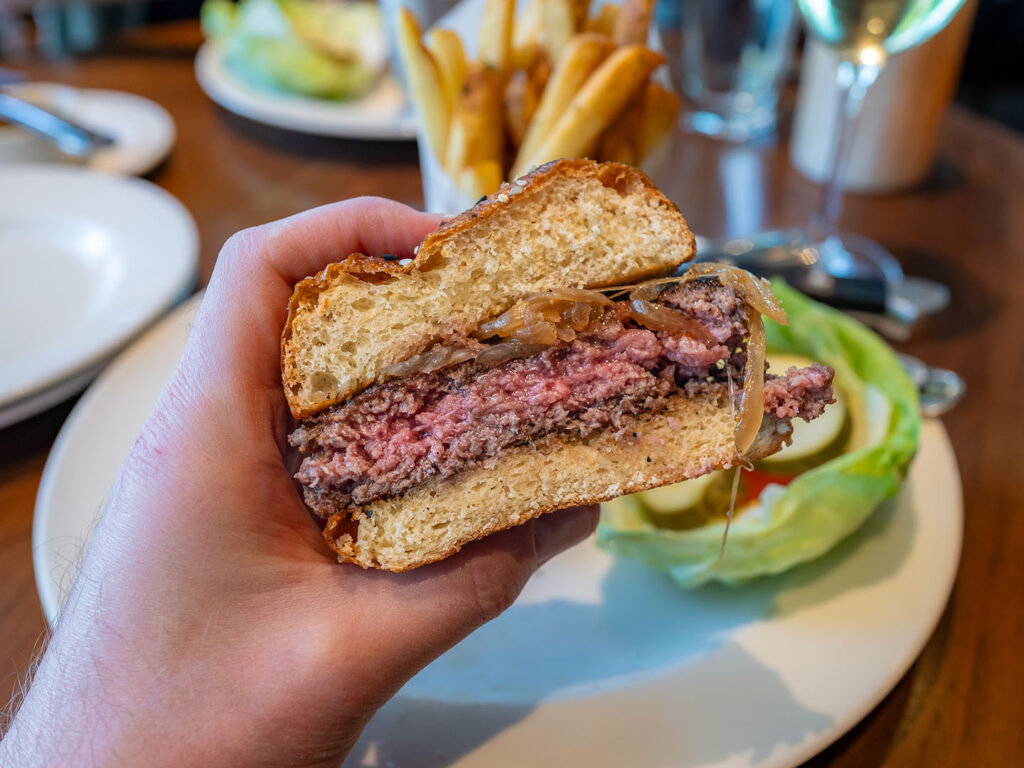 Capital Grille – my top pick
Need to know: A classic burger composition perfected
Neighborhood: Downtown Salt Lake City
Address: 40 E 100 S, Salt Lake City, UT 84111
It might be a chain, but the burger at this downtown spot is an excercise in simplicity and execution. The kitchen advises a medium-rare temperature to allow the custom Pat LaFrieda meat blend to really shine. The Grille's "Signature Cheeseburger" is served only at lunch and also comes with snappy grilled onions – parmesan and truffle fries come on the side. CG's burger hits that very specific craving, when you're in the mood for the classic cheeseburger done right.
Franck's – my top pick
Need to know: Creative chef driven burger with weekly re-arrangement
Neighborhood: Cottonwood Heights
Address: 6263 Holladay Blvd E, Holladay, UT 84121
The exact nature of this one changes every week, with this fine dining spot offering an ever changing Thursday burger special. What remains the same each time is the ludicrously juicy burger. Seriously, the burger patty here is probably the best in the state I've ever tasted; the meat is loosely packed with a fabulously, almost tartare like texture. Take my tip and let the kitchen do their thing on the temp; then expect your burger around the medium/rare mark and all the better for it. Limited numbers of the burger special numbers are available each Thursday evening; arrive early and check Franck's social media for the latest composition.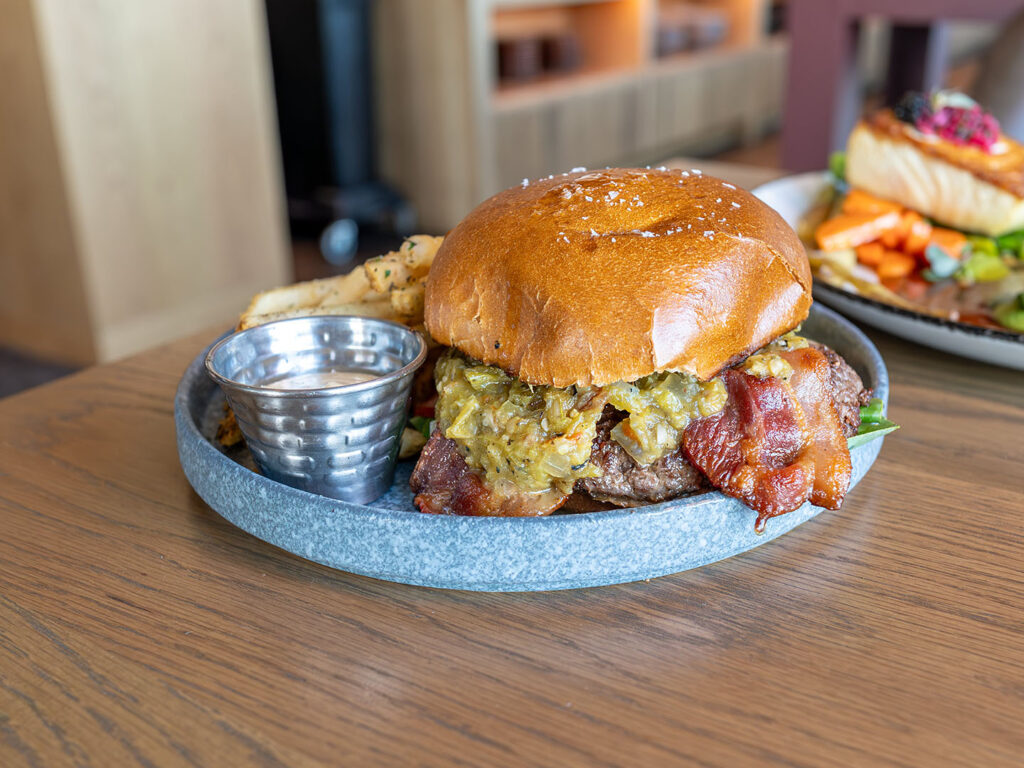 Urban Hill
Need to know: Southwestern flair meets fine dining
Neighborhood: Downtown Salt Lake City
Address: 510 S 300 W, Salt Lake City, UT 84101
One of the latest additions to my top ten list of favorite SLC burgers is this addition to the Urban Hill menu. hitting the menu this Summer the burger leans on chef Nick Zocco's Southwestern background. the star of the show is a hearty slather of vibrant New Mexico hatch chiles. A solid Niman Ranchbased smash burger comes next, as does perfect smoky bacon.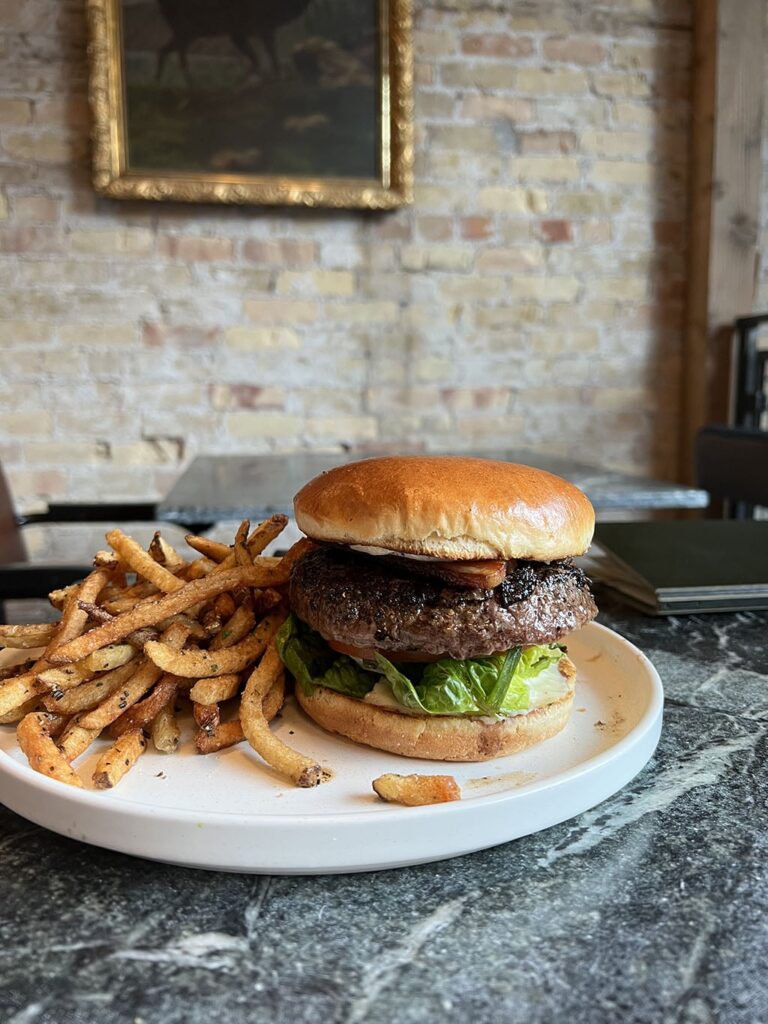 Franklin Avenue
Need to know: A reliable downtown pick
Neighborhood: Downtown Salt Lake City
Address: 231 S Edison St, Salt Lake City, UT 84111
Franklin Avenue is the fourth bar from the Bourbon Group – and maybe their best yet. Located a few minutes walk off the busier Main Street on Edison Street it's home to plenty of chef Matt Crandall's fine creations. One of the star's of the menu is his exceptional burger. Rather than load on extraneous toppings, Crandall keeps things simple and focuses on a stellar patty that uses Snake River Farms wagyu beef.
The burger is largely the same that you'll also find at White Horse as well – featuring the same impeccable SRF beef and thick, smoked bacon.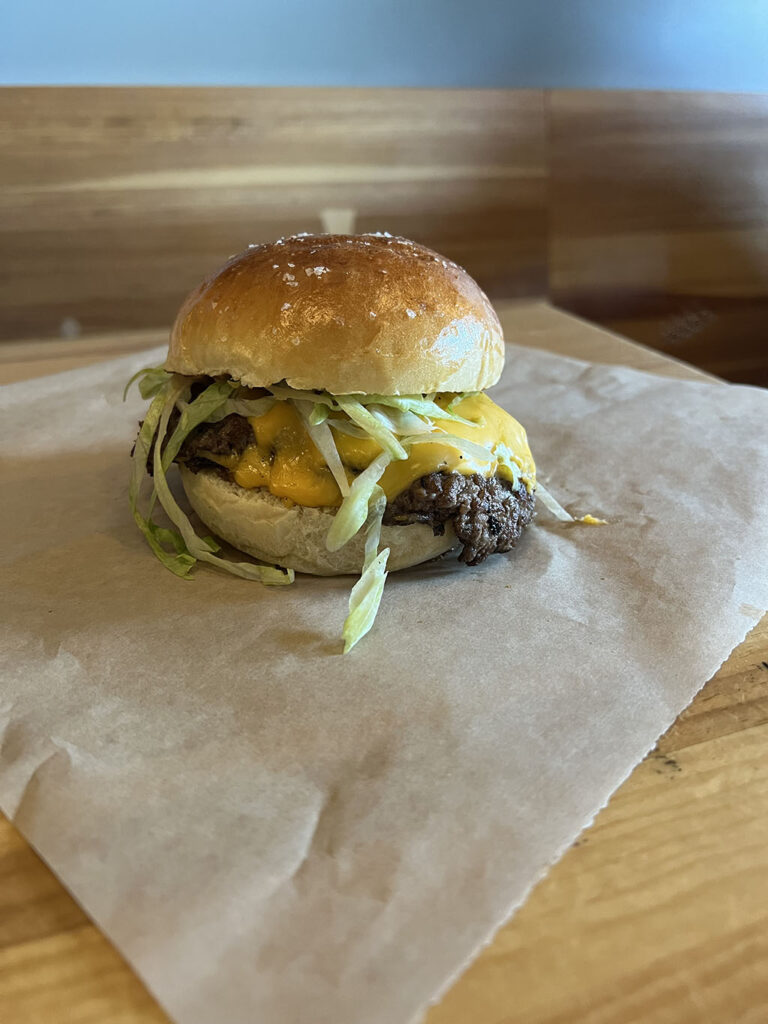 Central 9th Market
Need to know: A weekly special that draws lines down the street
Neighborhood: Central 9th
Address: 161 W 900 S, Salt Lake City, UT 84101
Available on Monday evenings at this Central 9th district spot, a fabulous burger special that locals line up for. Two smash style patties are cooked quickly on the flat top before being loaded up onto a house made bun with lettuce and cheese. It's that simple. Enjoy it next door at Water Witch over a craft cocktail. You'll happen to notice that's what the entire bar is also doing as well.
Proper Burger Company
Need to know: Burger and a beer? How can you not?
Neighborhood: Salt Lake City
Address: 865 Main St, Salt Lake City, UT 84111
Brought to you by the same folks behind the Avenues Proper gastropub and the next door Proper Brewing Co – this mid range burger bar. It's a little higher end than a mom and pop, but by no means a gourmet hoity toity place. There's a creative list of burgers on the menu here, and it's always changing. They rock a fantastic vegan and veggie burger, and best of all, you can take your burger over to Proper Brewing next door and enjoy it with a top notch brew.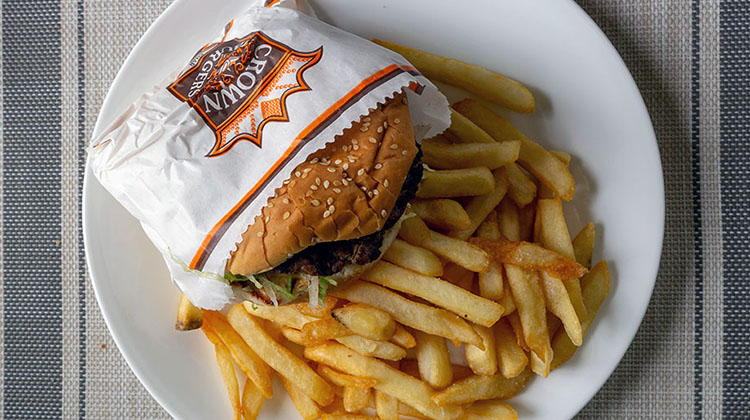 Crown Burgers
Need to know: The home of pastrami burgers
Neighborhood: Various
Address: Various
A Utah original that people flock to, and not without good reason. For more than three decades the Katsanevas family have ran a tight ship offering a blend of American and Greek fast food. You'll find locations all over town, and debate about which is the best; but what you'll see flying out of the order window over and over is the signature Crown Burger. This mighty monster comes topped with a dizzying pile of juicy pastrami atop the flame grilled burger patty. If you're always looking to take things over the top like me – consider a side of gyro meat as a final embellishment. Then prepare for a nap.
More Utah burger options
As I continue my journey around Utah's burger scene, my own top ten is always changing. Indeed I to plan to keep on exploring and tasting until there's not a burger bun left unturned; and that doesn't seem likely anytime soon!
With that in mind, here are some other intriguing options for your own burger adventures around the state. They might not make my current top ten, but that doesn't mean they aren't enjoyable burger builds in their own right.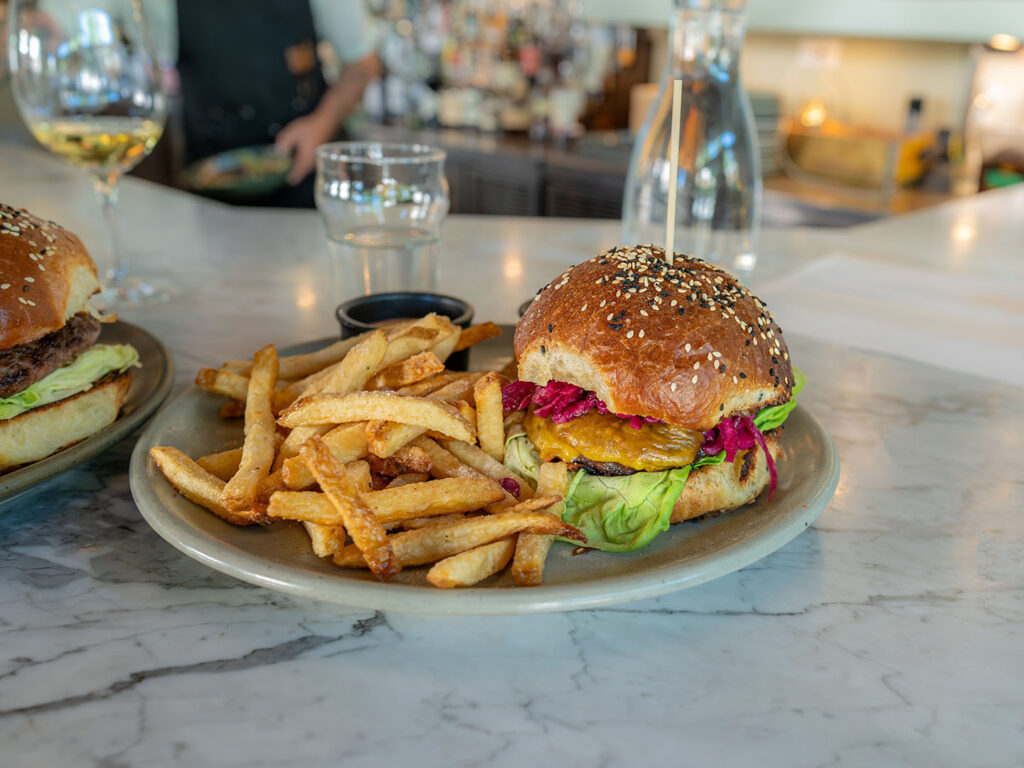 HSL
Neighborhood: Downtown Salt Lake City
Address: 418 E 200 S, Salt Lake City, UT 84111
The sister location to Park City's Handle (Handle Salt Lake – get it?) is chef and owner Briar Handly's ode to New American cooking. That means a reliance on local farms and producers to support a menu thats always in seasonal change. One thing that doesn't change is their solid burger. The latest rendition is best ordered medium and comes on a spectacularly light, house made brioche bun. The light and bouncy bun is joined by sharp pickled red cabbage and tangy tomato jam. Malt vinegar French fries come on the side – and yes there's fry sauce too.
Lucky 13
Neighborhood: Ballpark
Address: 135 West 1300 South, Salt Lake City, UT 84115
The worlds best burger moniker might be a little hyperbolic, but these guys still make a mean burger. This a 21+ only, road house style bar/restaurant and they're known for one thing: fantastic burgers. Well, two things, great bacon. Their house smoked bacon is some of the very best in all of Utah. It's hard to recommend any one burger on a menu packed with fabulous creations – including a mind boggling burger challenge that few can beat. In recent years the restaurant has opened a second location that offers both an all ages and 21+ space. Head to Lucky's Iron Door Roadhouse in South Jordan.
Shooting Star Saloon
Neighborhood: Huntsville
Address: 7350 E 200 S, Huntsville, UT 84317
Always worthy of a mention when talking about Utah's burger scene – as this is purportedly Utah's oldest running bar (non stop since 1879). Some say it's the longest running bar West of the Mississippi in fact. The burgers here are solid and simple. You can forget your kale toppings, your avocado and your craft beer to pair. Indeed, don't even thing about asking for subs or changes – the signs that festoon the walls make it clear: have what's on the menu or hit the road. Shooting Star is cash only and a classic.
East Liberty Tap House
Neighborhood: 9th and 9th
Address: 850 E 900 S, Salt Lake City, UT 84105
Grab a burger and beer at this cosy neighborhood bar/restaurnat in the 9th and 8th area. Owned and operated by Scott Evans – owner of nearby Pago – and also Finca and Trestle Tavern. ELTH has a fun patio too out front to enjoy your burger as the sun sets on warmer days.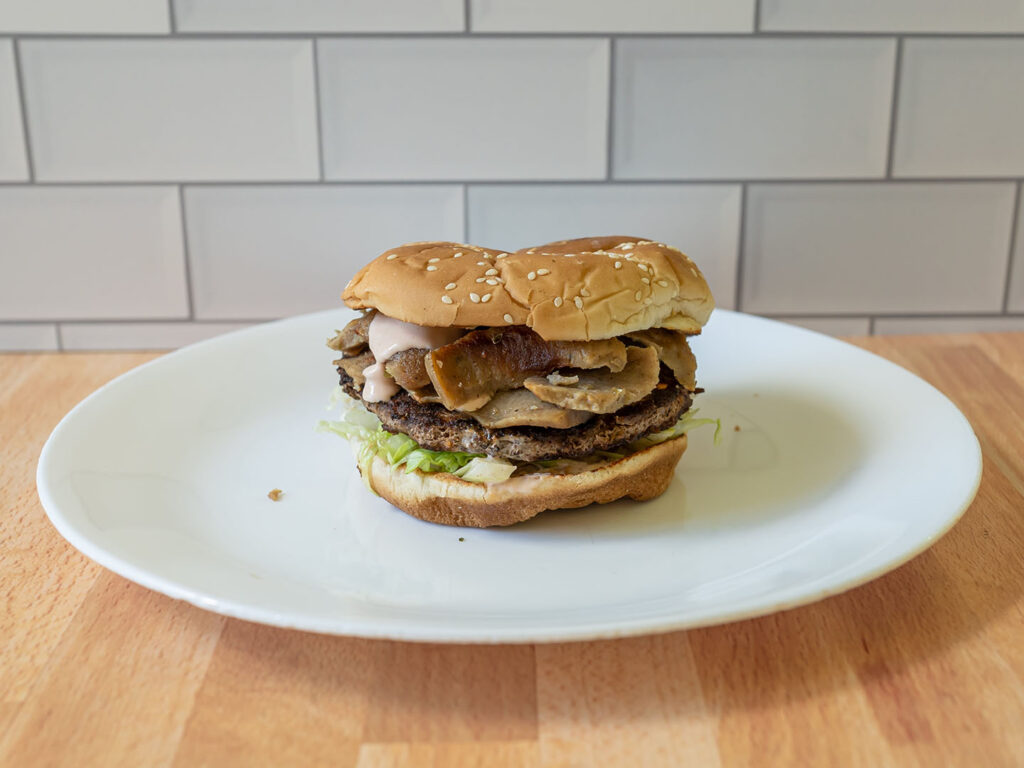 Golden Gyros
Neighborhood: Central 9th
Address: 259 W 900 S, Salt Lake City, UT 84101
You'll need to get creative to make this one, it's not listed on the menu per se. Simply order their house burger and also a side order of gyro meat. From there, some judicious use of fry sauce to merge the two makes for an excellent burger. You can find Golden Gyros in the quickly developing Central 9th neighborhood.
Yanni's Greek Express
Neighborhood: Sugar House
Address: 2761 Highland Dr., Salt Lake City, UT 84106
This Sugar House spot can often be overlooked in favor of their more famous crowned peer – but the multi-decade running Yanni's makes a mean pastrami burger. In particular the pastrami here is some of the best in town. Well worth your time and money if you feel like changing up your Greek-burger game.
Laziz Kitchen
Neighborhood: Various
Address: Various
For a unique fun spin, try the lamb burger at any of the Laziz locations. The bacon is swapped out with crisped and sweet beet chips. There are three Laziz restaurants in town and all sport great beer and wine lists to pair the burger with.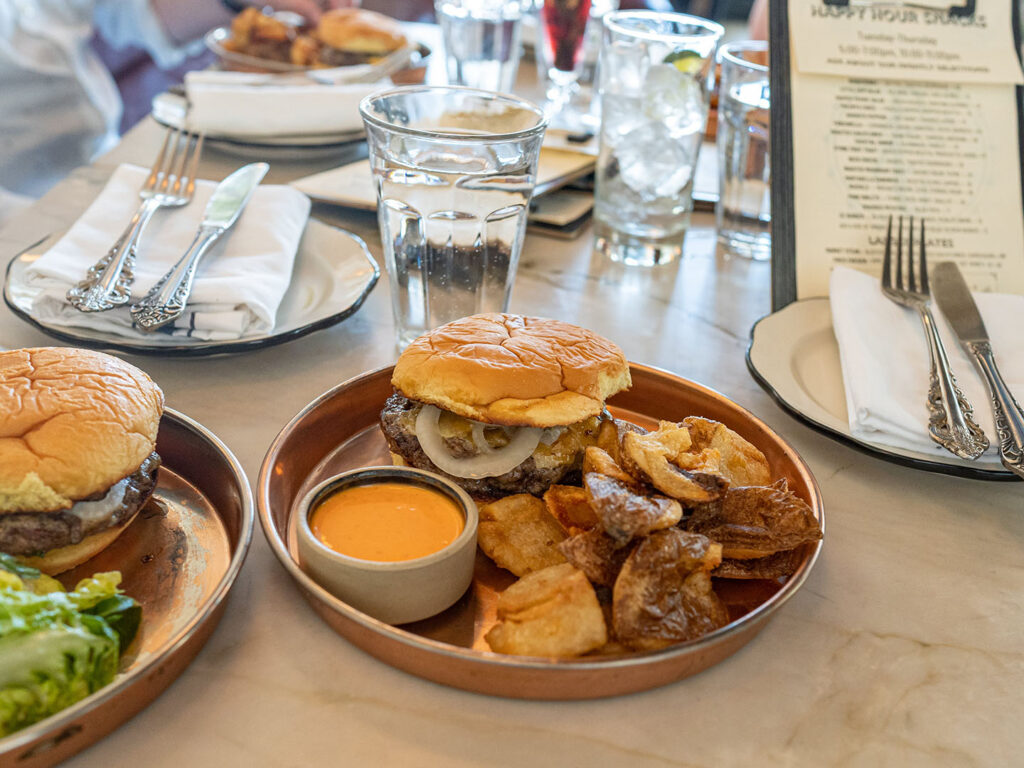 Copper Common
Neighborhood: Downtown Salt Lake City
Address: 111 E Broadway, Salt Lake City, UT 84111
Located in downtown Salt Lake City, this sister restaurant to Copper Onion, happens to make its very own burger. It's a thinner smash burger style patty, cooked quick and hot, then served on sweet brioche. Copper Common's burger isn't quite as magical as the Onion's version for my money, but it's still a solid buy. It's also a wallet friendly choice too.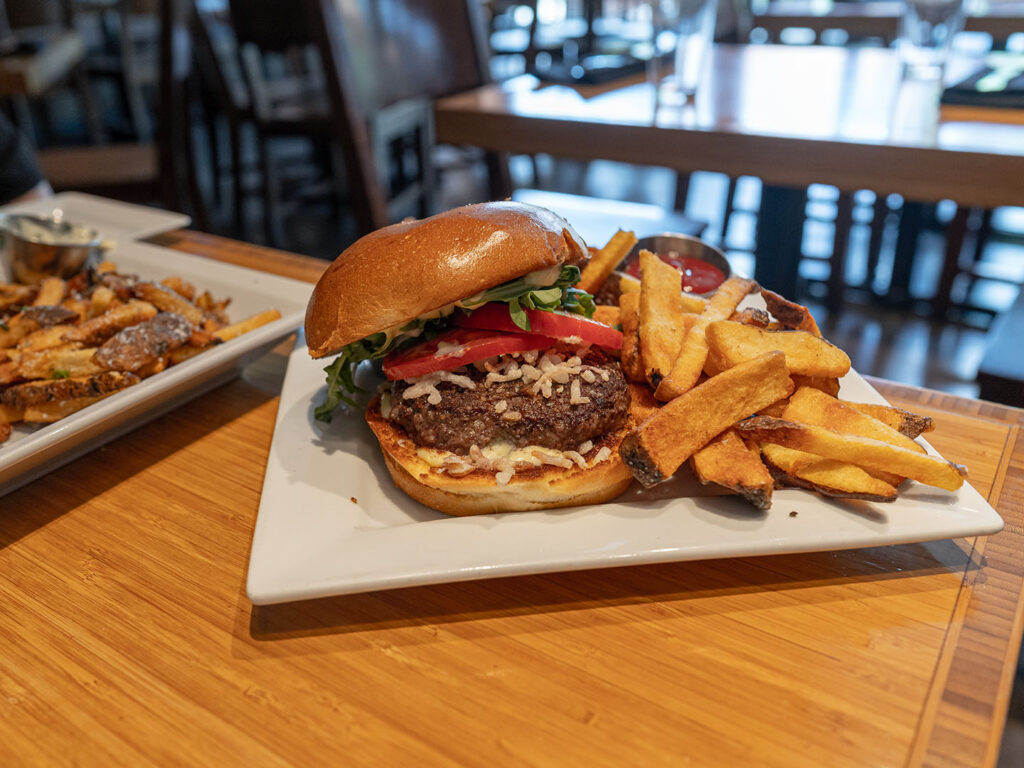 Avenues Proper
Neighborhood: Avenues
Address: 376 8th Ave, Salt Lake City, UT 84103
Located in the Aves, this restaurant is one of my favorite to hit up for mid-afternoon cravings; that weird hinterland that's not quite lunch, not quite dinner. The restaurant remains open between both services, and you guessed it, always has a beautiful burger on the menu. The Avenues Proper burger is a hearty build with generous amounts of garlic and mayo, plus house cut steak fries too.
Apres Pendry
Neighborhood: Deer Valley
Address: 2417 W High Mountain Rd, Park City, UT 84098
Located in the fancy pants Pendry Park City resort is Apres Pendry, the hotel's main restaurant that opens for breakfast, lunch and dinner. The pictured burger is on the higher end of the price spectrum, but there's no denying this twin patty creation hits the spot.
Brickyard Bar
Neighborhood: Sugar House
Address: 3000 S Highland Dr, Millcreek, UT 84106
The self styled home of the Utes can be found just as Millcreek transitions to Sugar House on Highland Drive. The 21+ Brickyard Bar has a couple of fine burgers, pictured is the eponymously named one. It's a hefty construction with 1/3lb chuck patty, white cheddar, Traeger smoked bacon jam, house made bread & butter pickled jalapenos, greens, charred onion aioli, crispy fried onions, and comes served on a brioche bun.
Pago On Main
Neighborhood:Downtown Salt Lake City
Address: 341 S Main St, Salt Lake City, UT 84111
Another one from Scott Evans' restaurant empire – this one from Main Street's Pago. The burger comes with an 8oz grass fed beef patty, white cheddar, pickled onions, arugula, truffle frites. The fancy toppings means it clocks in just over the $20 mark.
Warren's Craft Burger
Neighborhood: Ogden
Address: 3955 Riverdale Rd, Ogden, UT 84405
Up North in Ogden is this gem of a burger restaurant. Often overlooked due its location, don't underestimate the burgers from this creative restaurant. In our book these are some of the very best in all of Utah and well worth the drive. For example, check out the Breakfast All Day burger above – tater tots, bacon, egg on a burger? Yes!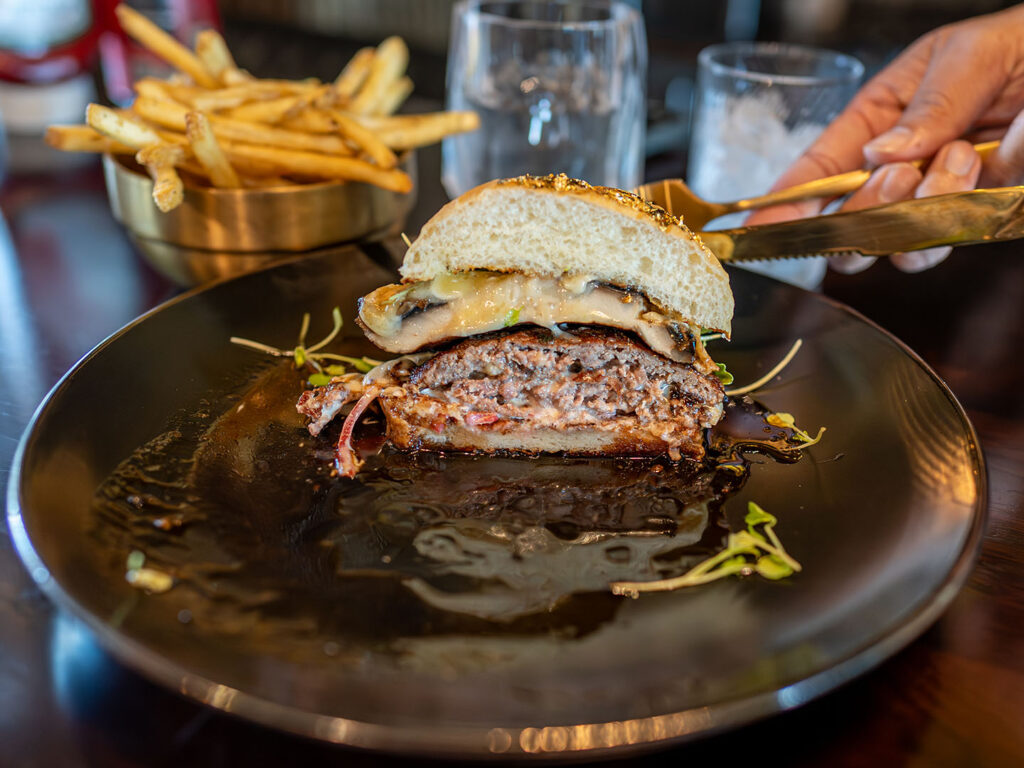 Fancy Burger
Neighborhood: Orem
Address:  37 W University Pkwy, Orem, UT 84058
All the burgers at this Orem spot start with smash style patties and house made Hokkaido style milk buns. Available in single, double or bigger configurations – the headline item here is the *fancy* burger. The precise composition changes each month and can
Loco Burger
This quickly growing local chain is home to the self styled "original Mexican burger". A range of options are available, including some piled high patties; my pick is the pictured salchi burger. The quarter pound charbroiled patty comes with avocado, cheese, onion, tomato, lettuce and  pieces of Mexican salchichas, little cuts of turkey hot dogs.
Neighborhood: Various
Address:  Various
What's the deal with pastrami burgers in Utah?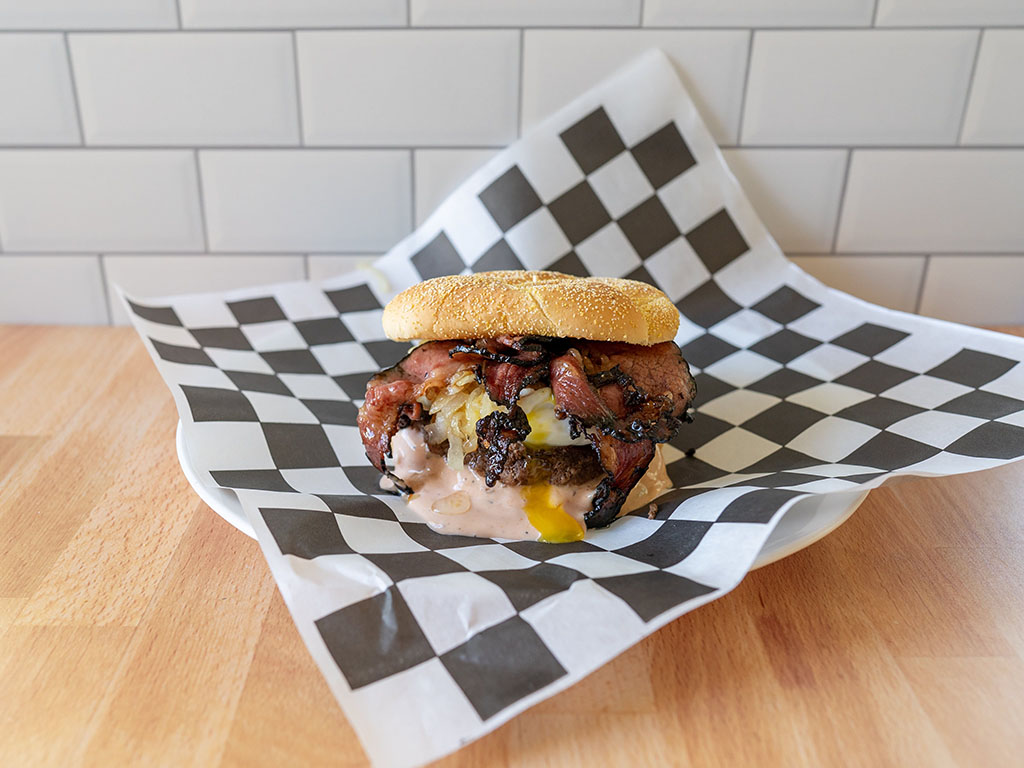 You might have heard about our local obsession, scratch that, local genius that is pastrami burgers! To find out all the need to know details on Utah's pastrami burgers, the where, why and how – check out our guide to the best pastrami burgers in Utah.
Who did we miss?
If you think we're missing a really great addition to this list, please email us at stuart@gastronomicslc.com – we'd love to hear from you. Let us know who you think should be on this list and why. If you have a really great picture of one of more dishes, please send that too! We're always excited to check our more businesses!
Reader suggestions for best burger in Utah
We asked and you responded! Here are some of the burgers recommended by our readers and their thoughts:
R&R BBQ – Caveman Burger – smoked sausage, pulled pork, jack cheese, fried jalapeños
Burger Bar in Roy. "This burger is just a classic old style burger, the cheese Big Ben is the go to burger, and what really puts it over the top for me is the bun, the bun on this burger is the unsung hero and they way of describe it wouldn't make it sound super tempting but trust me the burger meat and bun combo just hits right."
.357 burger. "Located at the TNT gun range in Murray, this is a place in the same vein as Tony burger or 5 guys where you pick your own toppings. This burgers seasonings hit just right and make for one of the best if not the best by my taste buds burger in Utah."
Hi, I'm Stuart, nice to meet you!  I'm the founder, writer and wrangler at Gastronomic SLC; I'm also a former restaurant critic of more than five years, working for the Salt Lake Tribune.  I've worked extensively with multiple local publications from Visit Salt Lake to Salt Lake Magazine, not least helped to consult on national TV shows.
I'm a multiple-award winning journalist and have covered the Utah dining scene for the better part of fifteen years.   I'm largely fueled by a critical obsession with rice, alliteration and the use of big words I don't understand.   What they're saying about me: "Not inaccurate", "I thought he was older", "I don't share his feelings".  Want to know more? This is why I am the way I am.
Our sponsors and this page
This page may contain information about one of our sponsors. We only work with the very best businesses in the state, and routinely turn down offers to work with businesses we don't enjoy. If we can't hand on heart recommend them - they can't be a sponsor.
At this time we have the following sponosrs: Avenues Proper, BGR Sugar House, BTG, Caffe Molise, Craft by Proper, The Dough Miner, Downtown Alliance, Feldman's Deli, Flanker, Garage On Beck, Hearth And Hill, Hill's Kitchen, Kao Thai, Kin Sen Asian Noodle Bar, Kyoto, Laziz Kitchen, Log Haven, Oasis Cafe, Pirate O's Gourmet Market, Proper Brewing, Proper Burger, Scion Cider Bar, SLC Eatery, Squatter's Downtown Salt Lake City, Stoneground Italian Kitchen, Urban Hill, Wasatch Brew Pub Sugar House, Whiskey Street, White Horse.
I encourage you to Google any of our sponsors and see the stellar reviews on multiple sites that they enjoy. For a list of all our current and past relationships see our partnership history page.