If I had to take one dish to a desert island, it might just be tacos. Salt Lakers pretty much share this general consensus as you will find every configuration of taco known to humankind across the valley. Whether it's dollar street tacos, taco carts, modern tacos or gourmet tacos in fancy settings with top shelf tequila – you can find it here in SLC.
But what about the very best tacos in Salt Lake City? Which tacos send the crows wild? Well, according to my own research, these are the very best tacos around…
Guisados Home Style Mexican Cooking
My top pick
This Taylorsville mom and pop is home to nearly a dozen different taco styles. Pictured above is the al pastor, cochinita pibil and tinga de pollo. Tacos are provided on robust, single layered house made corn tortilla and come with all the toppings and sides you need to take your tacos to the next level. My particular favorite is the pineapple sharpened pastor pork. A little flurry of cilantro and diced white onion – perfection.
2654 W 4700 S, Salt Lake City, UT 84129
(385) 237-3960
facebook.com/GuisadosLLC/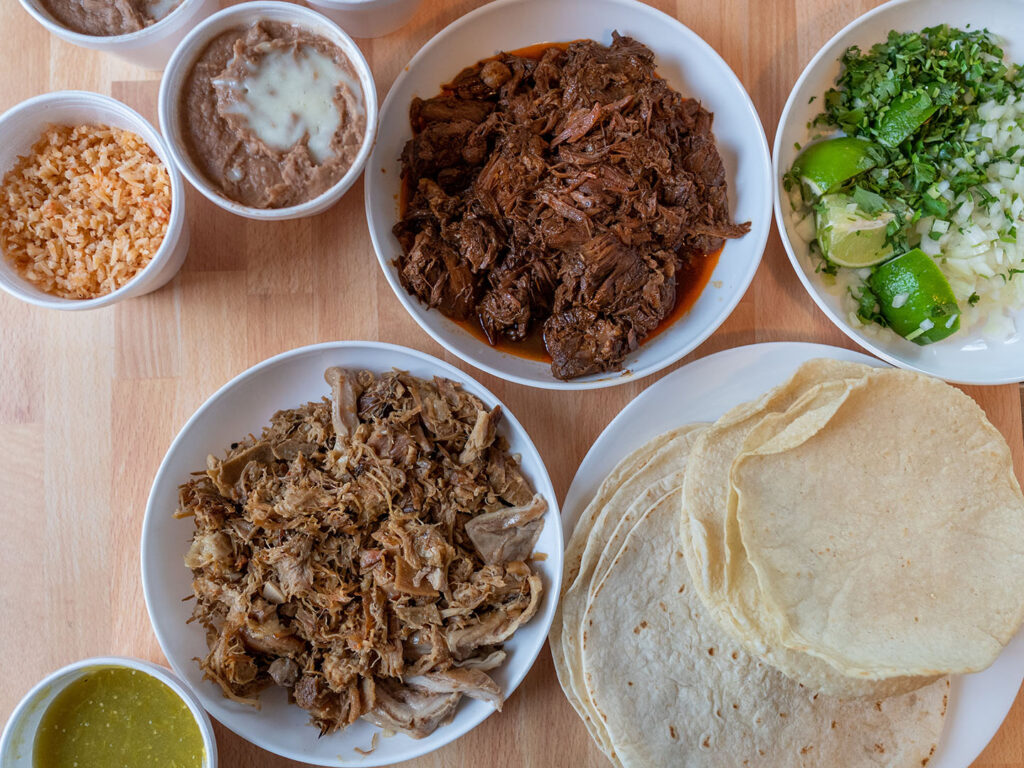 Tacos Garay
My top pick
When we see people ask, "who has the very best taco in Utah", this Salt Lake City taco spot invariably gets mentioned. Indeed, it pops up with surprising frequency considering how under the radar this joint is. Head to this locals secret and enjoy asada, pastor, pollo, lengua, cabeza, buche, carnitas and more.
909 300 W, Salt Lake City, UT 84101
(801) 532-2621
tacosgaray.com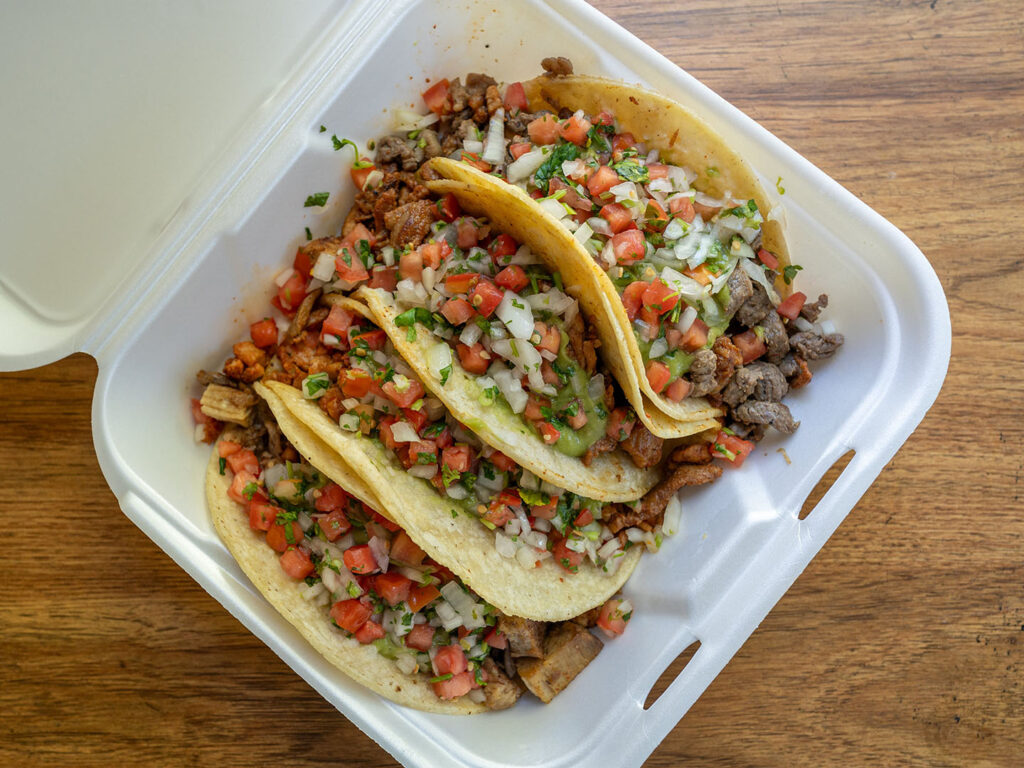 Emiliano's Taco Shop
My top pick
Taking over the location of the much missed Taqueria Los Lee, Emiliano's takes the baton at this South Salt Lake spot. The tacos come in both street and regular sizes, pictured above are the full sized versions. Prices run roughly $3-$5 and the options include carne asada, adobada, carnitas, lengua, dish and shrimp. Emiliano's continues the gold standard for tacos in this location. My personal favorite is the carne asada, big chopped pieces of tender beef.
2646 S 700 E, Salt Lake City, UT 84106
(385) 259-0764
orderemilianostacoshopmexicanfood.com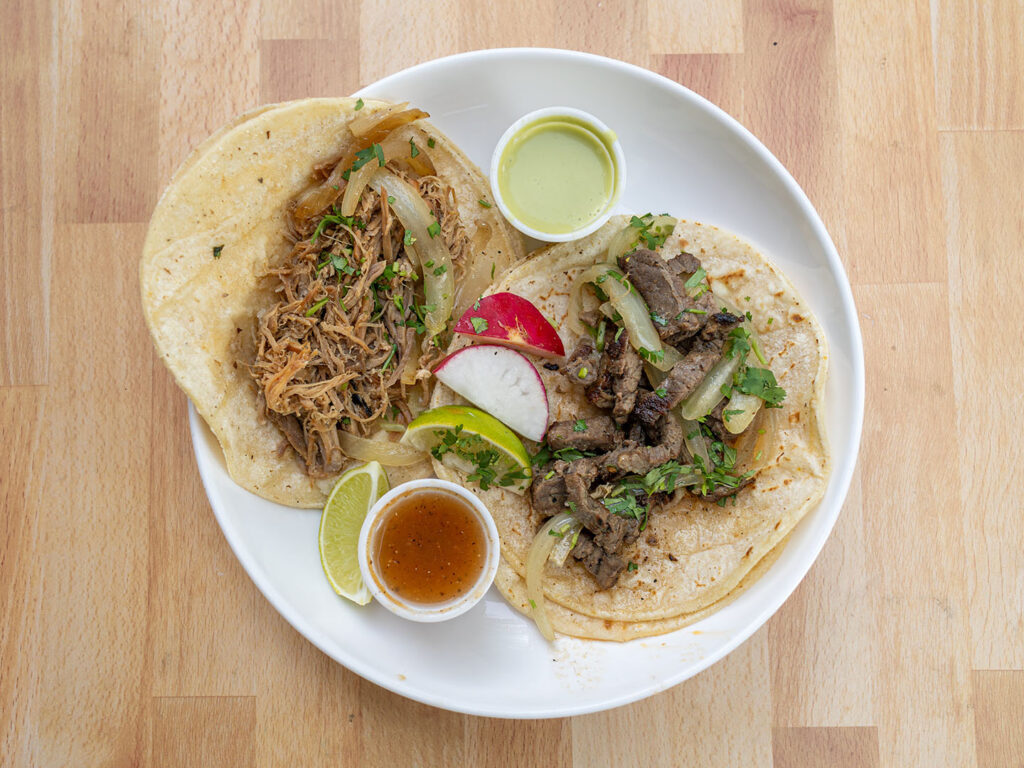 Real Taqueria
My top pick
Over in Holladay, the Valdez family craft a menu of authentic Mexican cuisine – and part of that – fabulous tacos. Options are extensive with al pastor, asada, barbacoa, carnitas, lengua, pollo asada, veggies and nopalitos. Double wrapped in corn tortilla and served a simple mix of onions, radish and lime, a solid pick here are the barbacoa tacos; shreds of earthily seasoned beef.
1869 E Murray Holladay Rd, Holladay, UT 84117
(801) 432-7962
realtaq.com
Dos Olas
Located at the Pendry Park City (Canyons) is this fabulous Mexican spot. Chef Carlos Segura taps treasured family recipes from his Mexican City youth, to create a menu thats equal parts fun and delicious. The picture tinga tacos are a particularly speciality, cooked with chipotle and topped with corn, onions, crema and onion. Two come to an order, double wrapped in delicate corn tortilla.
2417 W High Mountain Rd, Park City, UT 84060
(435) 513-7198
dosolasparkcity.com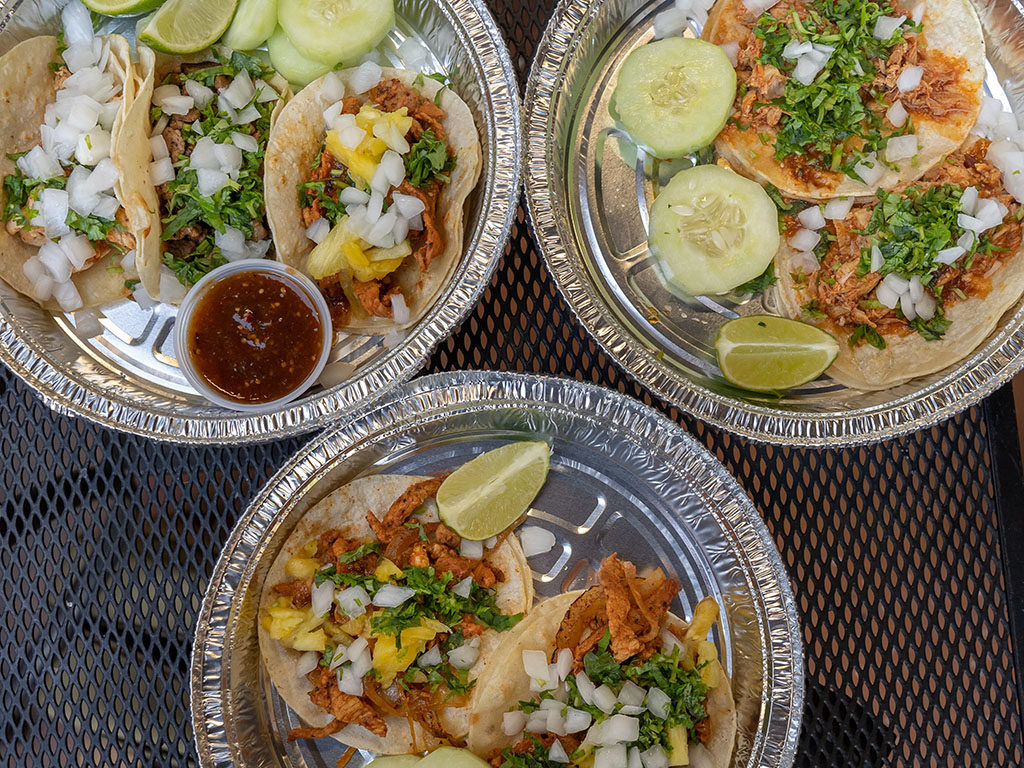 Chunga's
Chunga's has two locations on the West side of the valley – both offering the same great deal: fabulous tacos at fabulous prices. Tacos are available ala carte for just $2.50 and are worth every penny. Chunga's is known for its al pastor but everything is worth your time and attention in truth.
Rose Park | 180 S 900 W, Salt Lake City, UT 84104 | (801) 953-1840
Glendale | 1895 S Redwood Rd, Salt Lake City, UT 84104 | (801) 973-6904
chungasslc.com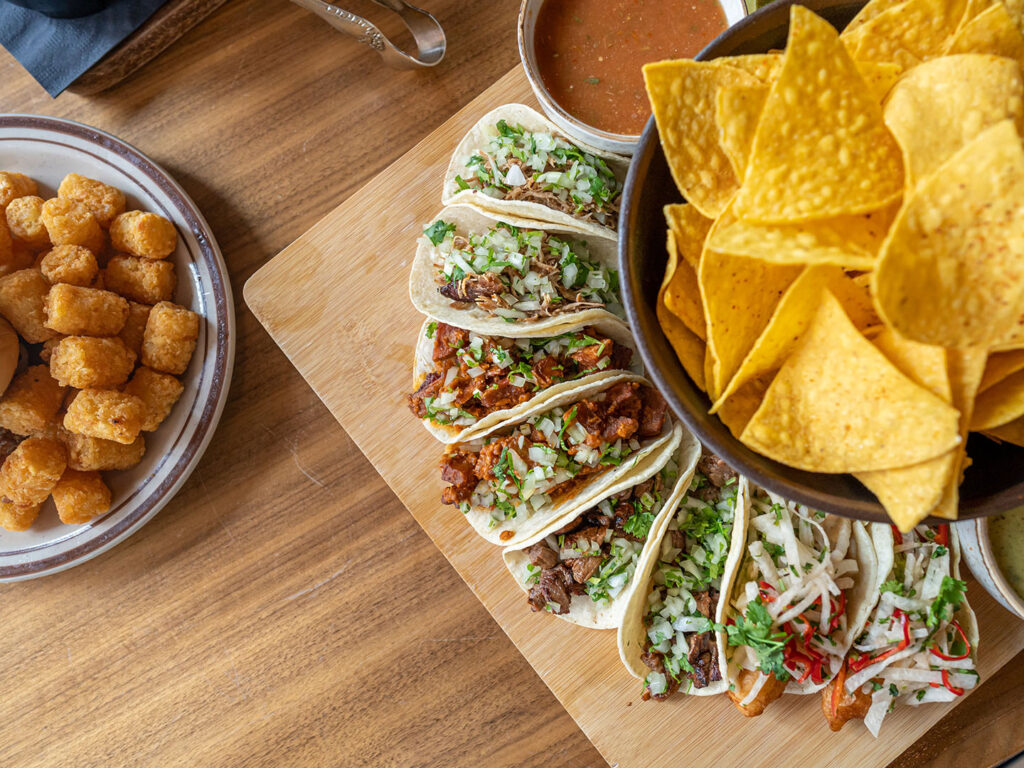 Flanker Kitchen
Located in the The Gateway in downtown SLC is this massive 17,500 square foot facility; you'll find multiple bars, upscale and fun bar food, not to mention tons of hands on fun like sports simulators, karaoke, bowling and more. Chef Roman Contreras previously chef'ed in San Diego prior to Utah, so definitely begin your exploration of the menu with his fabulous taco platter which features four fabulous tacos: carnitas, carne asada, vegan chorizo and battered fish. The accompanying tomatillo salsa is also out of this world.
6 N Rio Grande St, Salt Lake City, UT 84101
(801) 683-7070
flankerslc.com
ROCTACO
ROCTACO offers a modern and creative take on the humble taco. Creations include the Korean-styled K-Pop, the Indian-inflected Tikka as well as more traditional flavors such as al pastor and mahi mahi fish tacos.
248 S Edison St, Salt Lake City, UT 84111
(801) 905-8016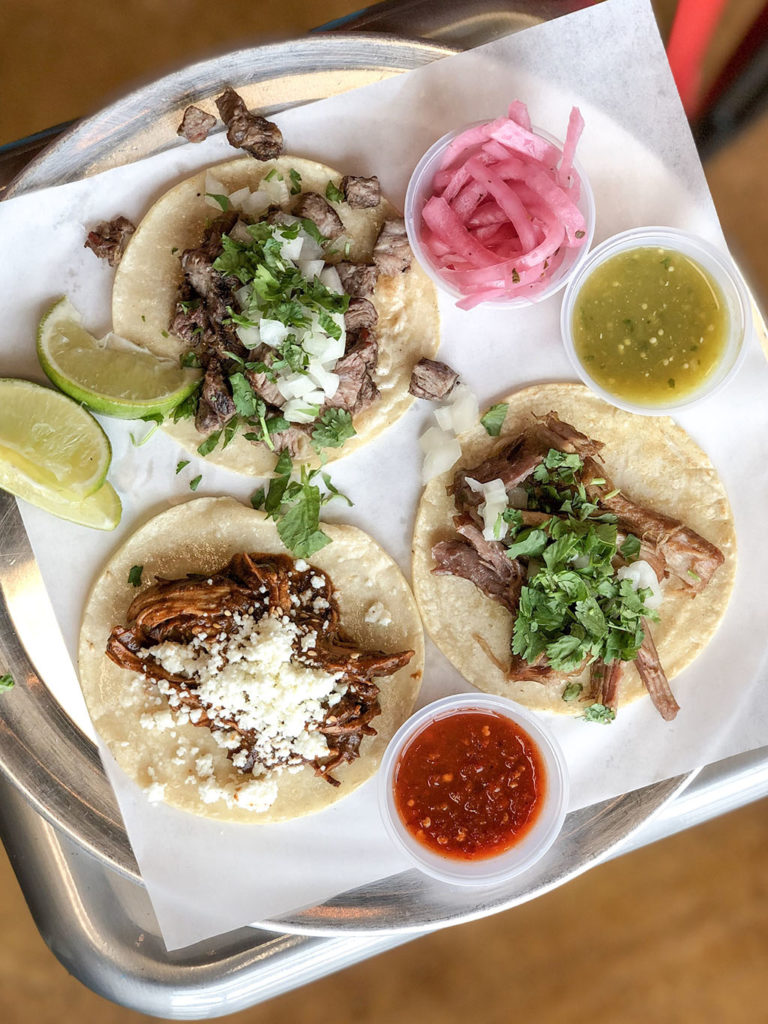 Santo Tacos
Here's what our good friends at SLC Eats say about this impressively modern Rose Park taco spot: The menu is clean and simple. Almost In-N-Outesque. You have your choice of tacos, quesadillas, mulitas (quesadilla made from corn tortillas), asada fries, nachos, and burritos. Pretty simple. The fun begins once you notice the amount of meat choices you have: I counted sixteen different choices, with three of them vegetarian. The more adventurous diners may gravitate towards their tacos de cabeza (head meat tacos), tripa (tripe), and lengua (tongue), leaving carnitas, carne asada, grilled chicken, and brisket to everyone else.
910 N 900 West, Salt Lake City
(801) 893-4000
slcmenu.com/2019/01/25/santo-tacos-menu/

Tacos Mi Caramelo
Indoor street tacos! Crazy but very real. These delicious Tijuana style tacos are the best value for less that $2 a taco. The amazing variety of meat choices will leave anyone satisfied. Authentic al pastor, carne asada, cabeza, maciza, ojo and tripa are just a few of the choices. Also available in quesadillas or mulitas.
1808 W 3500 S, West Valley City, UT 84119
(801) 883-9245
tacosmicaramelo.com

Tacos Don Rafa
When it comes to street tacos enjoyed right on the roadside fresh off the car – no one comes close to Tacos Don Rafa. Ask anyone who knows anything about tacos – and this name will always be top of the list. Tacos remain a wallet friendly $1 even in 2019.
798 State St, Salt Lake City, UT 84111
(801) 809-5197
tacosdonrafa.com
What our readers reckon
Our readers sent us the following recommendation and insist we (and you!) should check out these other taco spots in town
El Mexiquense
El Rey Del Taco
Taco Taco
Taqueria El Rey De Oros
Who did we miss?
If you think we're missing a really great addition to this list, please email us at stuart@gastronomicslc.com – we'd love to hear from you. Let us know who you think should be on this list and why. If you have a really great picture of one of more dishes, please send that too! We're always excited to check our more businesses!
Maybe also check out
Maybe we can tempt you to something else delicious while you're here? Check out these other detailed guides, some of the most popular pages on our website:
Hi, I'm Stuart, nice to meet you!  I'm the founder, writer and wrangler at Gastronomic SLC; I'm also a former restaurant critic of more than five years, working for the Salt Lake Tribune.  I've worked extensively with multiple local publications from Visit Salt Lake to Salt Lake Magazine, not least helped to consult on national TV shows.
I'm a multiple-award winning journalist and have covered the Utah dining scene for the better part of fifteen years.   I'm largely fueled by a critical obsession with rice, alliteration and the use of big words I don't understand.   What they're saying about me: "Not inaccurate", "I thought he was older", "I don't share his feelings".  Want to know more? This is why I am the way I am.
Our sponsors and this page
This page may contain information about one of our sponsors. We only work with the very best businesses in the state, and routinely turn down offers to work with businesses we don't enjoy. If we can't hand on heart recommend them - they can't be a sponsor.
At this time we have the following sponosrs: Avenues Proper, BGR Sugar House, BTG, Caffe Molise, Craft by Proper, The Dough Miner, Downtown Alliance, Feldman's Deli, Flanker, Garage On Beck, Hearth And Hill, Hill's Kitchen, Kao Thai, Kin Sen Asian Noodle Bar, Kyoto, Laziz Kitchen, Log Haven, Oasis Cafe, Pirate O's Gourmet Market, Proper Brewing, Proper Burger, Scion Cider Bar, SLC Eatery, Squatter's Downtown Salt Lake City, Stoneground Italian Kitchen, Urban Hill, Wasatch Brew Pub Sugar House, Whiskey Street, White Horse.
I encourage you to Google any of our sponsors and see the stellar reviews on multiple sites that they enjoy. For a list of all our current and past relationships see our partnership history page.