Zaferan Cafe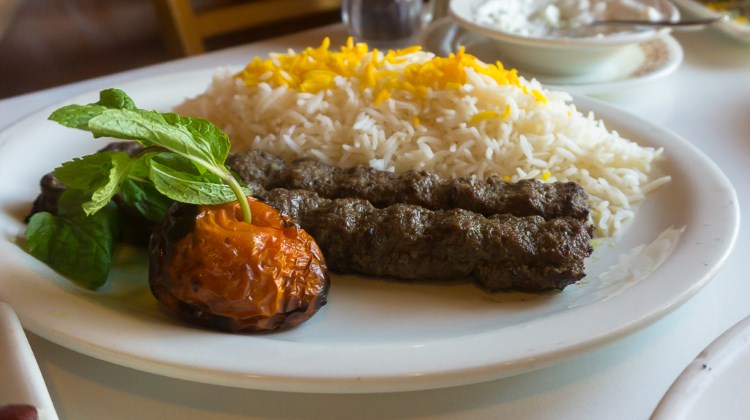 Undeniably one of the very best restaurants in Cottonwood Heights; not least one of the very best Middle Eastern restaurants in the state too. Iranian cuisine is the focus of a delicious menu here: hearty stews, fine rice preparation and juicy skewers of meat.
7835 Highland Dr, Cottonwood Heights, UT 84121
(801) 944-6234
zaferancafeut.com
Spitz
Loaded fries, bountiful salads and juicy meat stuffed wraps are the order of the day here. Oh, and pretty much all of those ingredients recombined in various fashions with each other too! The vibe is modern and fun, and there's craft beer and wine too.
SLC | 35 E Broadway, Salt Lake City, UT 84111 | (801) 364-0286
Sugar House | 1201 Wilmington Ave, Salt Lake City, UT 84106 | (385) 322-1140
Cottonwood Heights | 3158 6200 S, Holladay, UT 84121 | (801) 930-5114
spitzrestaurant.com
Lone Star Taqueria
Now a stalwart of the dining scene, Lone Star has been slinging tacos with aplomb for as long as we can remember. The casual atmosphere makes it a perfect place to swing by for a delicious lunch or Summery evening on the patio. The restaurant also features a drive thru that's inevitably back to back – proof positive that these are great tacos.
2265 Fort Union Blvd, Cottonwood Heights, UT 84121
(801) 944-2300
lstaq.com
Francks
This fine dining establishment was first helmed by French chef Franck Peissel. After Peissel's departure for pastures new, the restaurant continued under his name; these days chefs Adam Vickers an Robert Perkins are at the helm. The duo put out a creative and innovative menu that's the boldest and brightest outside of the downtown SLC bright lights.
6263 Holladay Blvd, Holladay, UT 84121
(801) 274-6264
francksfood.com

Oh Mai
This burgeoning banh mi empire shows no signs of slowing down. With locations across the valley (including Cottonwood Heights), you're always close to fabulous Vietnamese sandwiches, noodle dishes, rice dishes and more. Bonus points, the budget prices will leave you feeling doubly happy.
GR Kitchen
7702 Union Park Ave, Midvale, UT 84047
(801) 352-7406
eatgrkitchen.com
Beirut Cafe
Love Lebanese cuisine? Then come on down to this brand new (for 2019) restaurant in the heart of Cottonwood Heights. The menu blends skewers of roasted meats, pita and hummus with more American centric favorite slice burgers and Farr's ice cream. Something for everyone!
Sicilia Mia
Downtown SLC | 10 East Broadway, Salt Lake City, UT | (385) 420-4114
Millcreek | 2020 East 3300 South, Salt Lake City, UT | (385) 202-7236
Holladay | 4536 S. Highland Dr., Salt Lake City, UT | (801) 274-0223
Cottonwood Heights | 2578 Bengal Blvd., Cottonwood Heights, UT | (801) 666-6918
Farmington | 895 W. East Promontory, Farmington, UT | (385) 988-3727
siciliamiautah.com